Pitch at the Phocuswright Innovation: Launch
Innovation: Launch is an opportunity to present your product and impress travel experts. To present Travelpayouts Digital Partnership Platform at Innovation: Launch, we had to qualify among many other candidates, and we made it.
Our PR director Janis Dzenis presented Travelpayouts' partnership philosophy, how it translates into product features and helps build mutually beneficial relationships between travel brands and 300 000 content creators and webmasters. The speech went well, and we got a good score from the judges.
Here are some quotes from the judges:
"I really appreciate the vertical focus on travel. Finding influencers is really tough… If you can help with that, it's terrific!"
"I think this is the fastest growing space in tech today – social-influence-based purchasing. So I think travel really needs it. I think blogging alone is probably one thing, but how to monetize the social influence along with it, I think, can drive tremendous value. And nobody has cracked that".
"I really appreciate the fact that you are basically tapping into a new traffic acquisition channel, which we all know we need in travel. And the fact that you already have 300 000 bloggers on there and how you do the matching is very promising".
The brand booth and NFC business cards that created a WOW effect
This year, we set up a booth with the controversial slogan "SALES NOT VIEWS" to meet with potential partners and attract foot traffic. The brand booth increases our networking opportunities.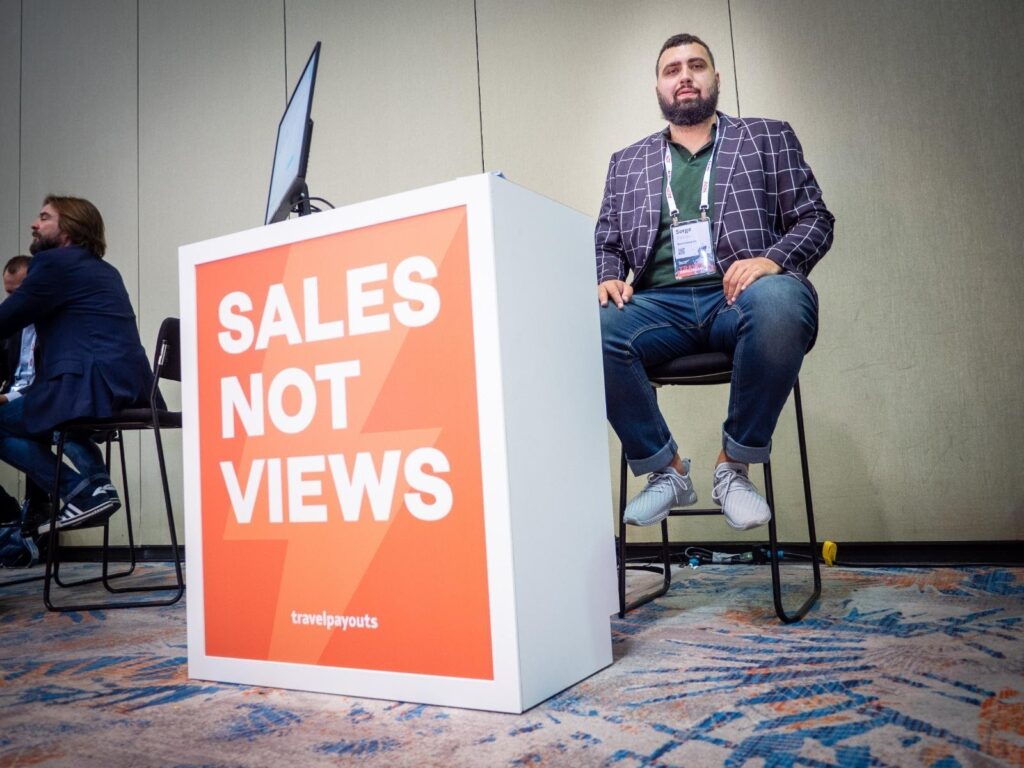 But what really surprised Phocuswright visitors were our NFC business cards. These are electronic cards that open on a smartphone upon contact with the card's chip. We touched the card to a person's phone and an option to "Add a Contacts" appeared. These NFC cards provoked excitement every time, and we got noticed thanks to this solution.
Memorable networking event — jogging on the beach
Many brands host additional events for conference participants or sponsored events. Business breakfasts, lunches, dinners, and parties are so common that they don't get people excited anymore.
Instead of doing the same, we organized a run on the beach at sunrise with the fitness star ​​Mallory Hopes. Phocuswright loved our idea, as it was unusual and in line with the event's Covid-19 safety policies. So, instead of gathering a crowd inside the venue, we offered an outdoor fitness activity. Organizers even reduced our sponsored event price, ran additional promotions, and promised to give the event as an example for future participants.
Taking a run along the sea freshened up and inspired participants of the conference, and people remembered us.
We were very inspired by the Phocuswright conference. As usual, everything was at the highest level. We got acquainted with hundreds of travel industry experts and hope that it will be the start of many fruitful long-term collaborations. In case you've missed the conference, learn more about Travelpayouts Digital Partnership Platform here!