As travel and commerce are becoming increasingly international, there is a growing need for barrier-free communication. To expand abroad and win over a global audience, businesses often rely on translation services for their various needs. Artificial intelligence makes it possible to cut down costs and translate content within a short time without breaking the bank. This post explains the benefits of using AI translation tools to integrate AI-powered translation into your travel blogging workflow.
The Power of AI-Powered Translation Tools for Travel Bloggers
High-quality translation is crucial for international communication to successfully grow your online presence. As the demand for translation services increases, more and more businesses resort to AI translation tools to bridge language and geographical gaps in order to reach global audiences.
Artificial intelligence makes it possible to automatically translate text from a source language into a target language. These software programs deploy special algorithms to analyze content, recognize patterns, and deliver an accurate translation in a matter of seconds. In contrast to the CAT tools used by most human translators, AI-powered software is dynamic and regularly updated with the help of deep-learning models.
By using AI translation services, travel bloggers can reach audiences worldwide, grow their online presence and brand recognition, and cut down on costs. Even though specific cases and references still require human interference, AI-powered translation tools are constantly being improved and the quality of their output will only improve with time. In addition, if you use the same tool for multiple tasks, that tool will remember your wordings and common terms and start to use them as well.
Advantages of AI-Powered Translation Tools in Travel Blogging
By using AI translation tools, you can improve your workflow in many ways. Here are some of the many benefits of integrating AI software into your blogging routine:
Higher Accuracy: Contrary to common belief, AI translation tools provide highly accurate output. As the human factor is excluded from the translation processes, the final content will be error-free, which is especially important when working with complex technical and legal matters.
Enhanced Efficiency: AI software programs can process large amounts of content in seconds. Thus, you can translate a much larger amount of text in less time and dedicate your remaining time to more important tasks requiring your personal attention.
Cost Savings: Travel bloggers have readers from all over the world, so they often resort to multilingual support. With AI software, you will achieve more with fewer assistants. These translation tools allow you to translate your content into dozens of languages without breaking the bank.
Strong Adaptability: AI translation tools can easily be trained and adapted to your language and dialect. For instance, if you use specific terms or language patterns, the software will remember them for the future, so you don't have to explain these nuances to a human translator every time.
Quality Control: AI software can automatically find and fix errors and misspellings. Thus, you don't need to pay additional money for proofreading.
Better Customer Service: Communication with clients is especially important for travel bloggers, especially if you provide travel-related services. If your audience has urgent questions, AI chatbots can immediately deliver the right answer and help solve the situation, while simultaneously overcoming language barriers. As 75% of the global population doesn't speak English, this can be a great step towards building an international community. In addition, 93% of consumers will make a repeat purchase if they were provided with top-level customer support.
Stronger Brand Loyalty: By increasing the retention rate of your customers, you will take important steps towards building a loyal community around your blog. As a result, loyal followers are more likely to write positive reviews and engage with your content in other ways, especially if it is written in their own language. They might even recommend your content to friends and family, helping grow your brand recognition worldwide. This will also allow you to differentiate your business and stand out from the competition. In addition, loyal customers tend to spend more time with brands that they trust, making it easier for you to recommend other products and grow your sales.
Higher Conversions: Research shows that 72% of customers prefer to buy something when information about the product or service is written in their mother tongue. Furthermore, 42% won't buy if the website is written in another language. By integrating AI translation tools into your travel blog, you can enhance the customer journey and use the increased trust you build with your audience to grow sales via upselling.
Choosing the Right AI-Powered Translation Tool for Your Travel Blog
Machine translation can bring your blog to new heights, but only if you invest into powerful software programs. Not all AI translation tools offer the same functionality and pricing, so there are a handful of combinations for every taste and budget. To choose the right software, make sure to understand your priorities and wisely choose a solution based on your business' needs. Below are the most important aspects to pay attention to when selecting an AI translation tool.
Language Support
First and foremost, the tool should feature your source and target languages. But don't stop there. Think in the long term: Which languages will you need to add in a couple of years? Where are your potential customers located? Which languages might connect you to your ideal customer? And then make sure your AI translation tool is fully equipped.
Price
The first thing that many bloggers check is the pricing of the software. With that said, despite the many wonderful functionalities translation tools can offer, it is no use if you break your budget. Naturally, most customers try to find the tool that brings the highest value at the lowest price. Try not to be tempted by the cheapest price, as it does not often guarantee the best output. However, some tools are cheaper than others, despite having the same functionality, so it makes sense to compare pricing options throughout the market. Look for user reviews and ratings to assess the value of a specific tool.
Translation Memory
If you plan to translate content regularly, it is important to choose a tool that will memorize your texts and improve future translations with every use. Check how many units of content or words the tool keeps in its memory and for how long. Many tools also offer terminology management features that allow you to input and memorize terms for future translations.
Document Translation
If you sometimes need to translate documents, it makes sense to select a software program that can do this for you. Otherwise, while copying text from a PDF document, you might simply lose words or symbols, but the document translation feature will ensure maximum accuracy.
Quality Estimation
To ensure accurate translation, it is important that the tool has built-in quality assessment features. The most sophisticated software programs will highlight areas that require additional proofreading or edits and will save you time. Make sure to check if the tool is being regularly updated according to the trends in the industry, whether human assistance is provided for localization and other specific cases, whether the tool is ethical, and so on. Ideally, a translation tool should feature human quality assurance.
Integrations
If an AI translation tool is only one of many apps you use, make sure it integrates easily with other solutions. For example, this is important when it comes to email marketing software, chatbots, knowledgebase, blogging platforms, CMS platforms, and more. In addition, some tools provide access to their API, so you can manually connect them to other platforms.
Ease of Use
As sophisticated as a tool can be, it should always remain easy to use. Many solutions offer a free plan or at least a free trial, so you can check the dashboard and understand whether it is comfortable to use in your everyday workflow. If you plan to delegate tasks or collaborate with other users, check the assignment management features. If the tool also has a training feature, it can greatly facilitate your work and help onboard other users in the shortest time possible.
Understanding Machine Translation and Neural Machine Translation
Machine translation (or MT) is the process of automatic text translation from a source language to a target language with the help of artificial intelligence. Most of the time, human assistance is excluded. Classical MT is usually implemented according to rules set by linguists in regard to vocabulary, syntax, and other aspects of the language. However, for every rule, there is an exception. As a result, classic methods are quite limited.
Neural machine translation (or NMT) uses neural network models to predict and model sentences. The main advantage of this approach is that such a system can be trained based on input and output content. Translation tools powered with AI will not only adapt to your niche and terminology with every translation, but will also follow global trends and provide you with more accurate content.
Enhancing Communication
Artificial intelligence is revolutionizing the travel niche. As a result, more and more travel brands and bloggers are choosing to equip their business with an AI solution for administrative and customer care tasks. AI-driven translation software can greatly enhance communication with your clients and followers, eliminate human error and help build a loyal community. Here is how:
Chatbots: Providing excellent customer care is a surefire way to increase your sales. Multilingual AI chatbots can allow you to answer all inquiries in real time and in the customer's own language, solving the problem on the spot, and making the user feel valued. This is especially important in case of disruption to travel communication, as the entire trip's success might depend on finding the right information at the right time. Some examples of such chatbots include HubSpot, core dna, IntelliTicks, and more.
Data Analysis: AI translation tools can also gather data about customers and help you better understand their pain points, so you can offer more relevant solutions in the future. Such software programs can automatically process and segment large amounts of data.
Voice-Based Assistance: Sometimes, getting an answer from a voice assistant can be more helpful for the client, especially if they are on the road. As a result, customers can ask questions and receive information in a language they understand without having to type every word.
Voice and Speech Translation
With the development of machine translation, speech technology has received a huge boost. Voice and speech translation software recognizes spoken language and either translates it into a text in the target language or reads it back in the source or target language.
As today businesses require huge amounts of text to be translated as quickly as possible, speech-to-text translation software programs can increase the efficiency of the translation process. Thus, users can receive a translation even when there is no opportunity to type the text (for example, on the road or when recording another speaker). This can save a lot of time and money, as human transcription and translation are lengthy and expensive processes. In addition, it can be beneficial for impaired users who struggle to type.
More and more brands are implementing voice and speech recognition into their software. For instance, Skype has launched Skype Translator to help users bridge language gaps by translating conversations in real time. YouTube uses AI speech recognition technology to provide videos with automatic subtitles.
Simplifying Multilingual Content Creation with AI Translation
AI translation tools allow you to create content in different languages for your blog and expand your presence worldwide. Having content designed for a specific audience will make it more likely for international customers to make a booking on your website. Thus, AI software offers content creation and translation in over 100 languages, so you can reach almost 95% of the global population.
With AI translation tools, you can automate content creation and deliver localized texts targeting local audiences. AI-created content is often easy to understand and SEO-friendly, so it can rank for search engines in the target language just as well as, or even better than, human-created content. The multilingual content creation feature allows travel bloggers to diversify their content marketing plan for each market based on local demand and trends.
Accuracy and Cultural Sensitivity
Content translation encounters several major challenges, which should be taken into consideration when you resort to AI translation tools for better results. Language is a complicated system, yet it is not an exact science and, as powerful as AI software is, it might still require your assistance in some cases, such as the ones noted below.
Even though the latest AI translation tools ensure maximum accuracy, in some cases, human intervention is important. This is due to terminology variability, the metaphorical nature of language, and some other reasons. To overcome these obstacles, you can make use of translation memory and build a knowledge base with previous translations. This will reduce the time you spend proofreading each translation and will help improve your productivity.
Cultural sensitivity is another challenge that bloggers may face when using AI translation tools. To establish trust with your target customers, it is important to deliver appropriate content with consideration to local sensitivities. Many AI translation tools offer localized automation, but in some cases, such as the translation of slogans, short ad campaigns, etc., where every word matters, you might want to contact a skilled human translator.
Exploring the Additional Features and Functions of AI Translation Tools
In addition to the advantages that AI translation tools offer to travel bloggers that we have already discussed, there are a few more not-so-obvious features that you might want to check out.
One such feature is document translation, which can be useful when you want to keep the original format while translating content into the target language. This approach will save you both time and costs.
Another great opportunity that AI translation tools offer is terminology management. Every industry and even each vertical has its own particular language. To make sure that you use the same terms and phrases throughout your content and its translations, you can resort to the translation memory of AI tools to build a knowledge base.
AI software also offers simultaneous translation, which may come in handy if you run a webinar with readers who speak different languages. Hiring a human interpreter costs quite a lot, while you only pay a subscription fee when deploying AI tools. For cases in which you only need to understand the general idea and not every single word, such an option can be cheap and useful.
Integrating AI Translation Tools into Your Travel Blogging Workflow
Whether you run a small or large blog, reaching out to your readers in their own language is crucial for establishing trust with your audience. Considering that translation is quite a time-consuming and complicated process, artificial intelligence can make your travel blogging workflow much more efficient.
Key advantages of machine translation are its high speed and low cost. You receive translations almost instantly and only need to check for accuracy, but with time, the tool will remember your corrections and improve the accuracy. If you still prefer to employ a human translator, this type of software can still serve as a starting point and speed up their work. In addition, subscription costs are significantly low compared to the costs of hiring human assistance.
Machine translation makes the workflow seamless for content creators. They just need to upload content, select target languages for translation, and move forward. If you integrate your AI translation tool into your blogging platform, it is also possible to schedule publishing in advance.
Best AI Translation Tools for Travel Bloggers
Here are some of the best AI translation tools for travel bloggers:
DeepL is an advanced machine translation tool tailored both to businesses and private users. DeepL is well known for its accurate and detailed translations, as well as its intuitive interface and easy integration with both iOS and Windows. Translation into more than 25 languages is possible, while the platform can recognize over 100 languages. A document translation feature is also available.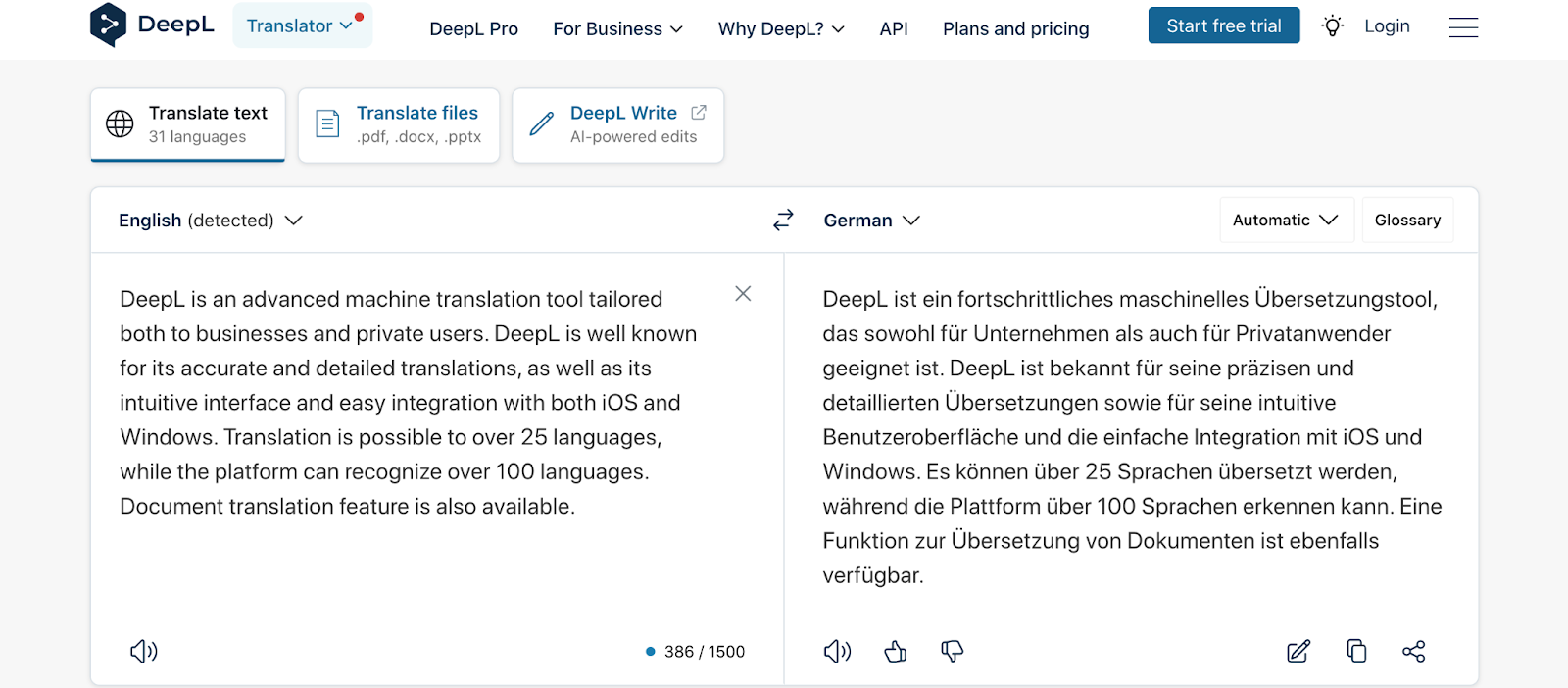 Reverso is another free machine translation tool that offers translation into 18 languages. You can either type your text or use the voice recognition feature. Long translations are done with AI technology, while short translations are provided with multiple context examples. Reverso also features document translation, saves search history, and allows users to improve their language skills with vocabulary lists, flashcards, and more.

Systran is a machine translation tool featuring over 140 language combinations. It features both free and premium versions and has over 40 years of expertise in the market. In addition, the software is trusted by some of the world's leading companies, including Google, Yahoo, etc. You can also check out localization automation features and browser extensions.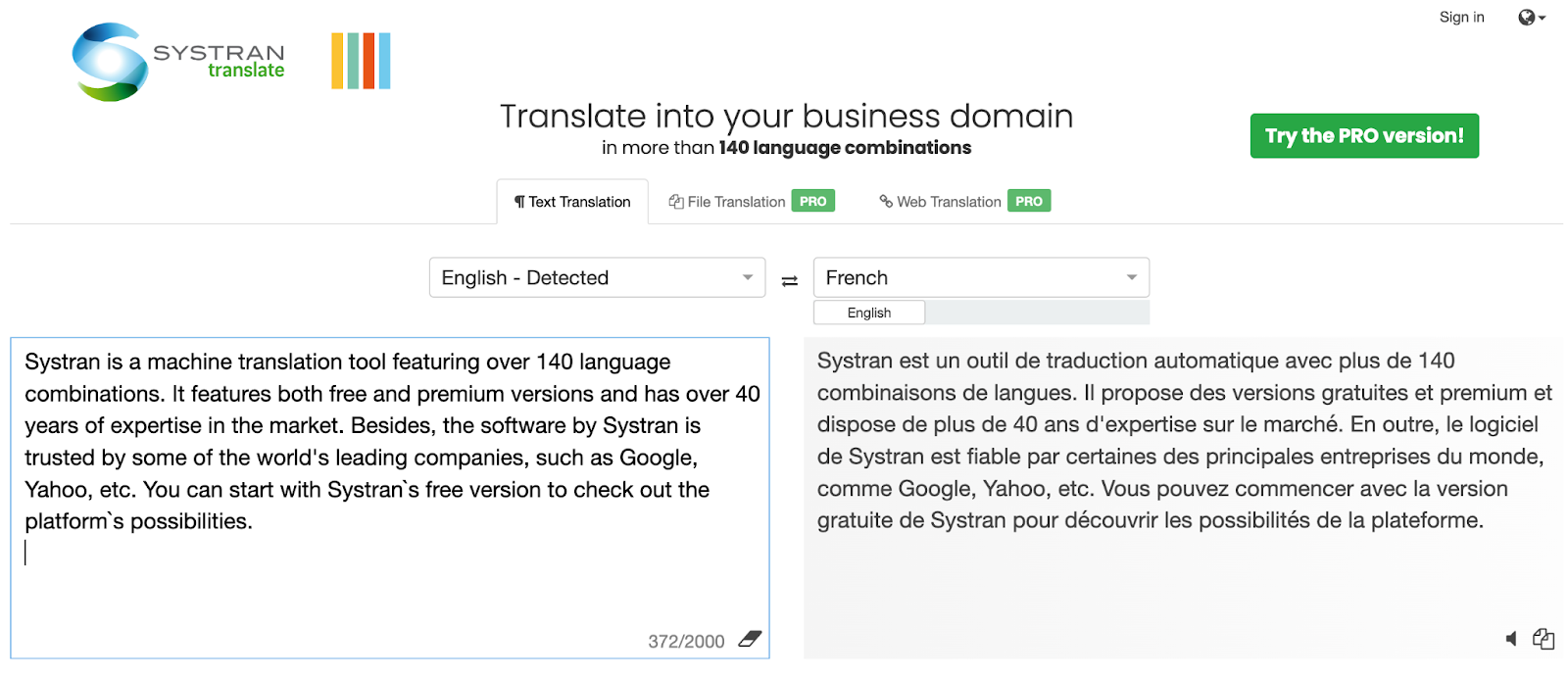 Crowdin is a translation and localization software with plenty of additional features, such as task management, payment processing, collaboration and delegation features, etc. Thanks to built-in translation memory, you can save all translations and make sure you use unified terminology. To start, simply create a free account and check out the platform's features during a 14-day free trial.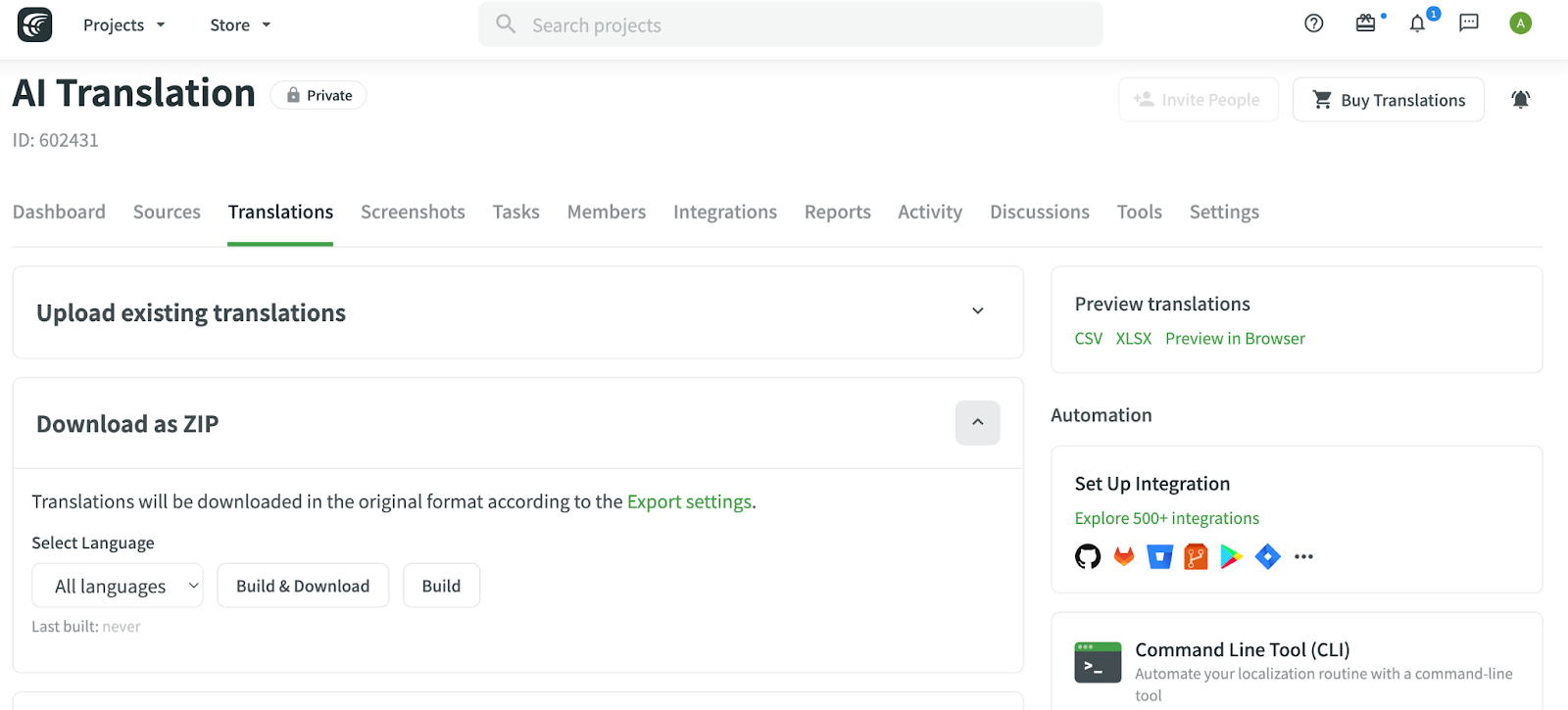 Overcoming Challenges in AI-Powered Translation
Even though advantages of integrating AI translation tools are indispensable, there are a few challenges that every blogger will have to address at some point. Here are the main ones:
Context Understanding: Not every text can be translated literally, and even though AI tools are constantly learning, there will often be cases in which they cannot understand the text from the first translation. To overcome this challenge, you can try to write texts in the source language without using metaphors or complex idioms. This will allow the tool to more easily translate the content. You can also check the translation afterwards to ensure it sounds natural.
Low Personalization: AI-driven translations are highly standardized and may often fail to transmit the author's unique style and tone of voice. To fix this, you can manually add the right translation or language into the tool's memory so it will deliver texts using your common language. In addition, many tools allow you to choose the tone of voice of your content, such as conversational, humorous, formal, etc.
Language Nuances: As previously mentioned, language is not an exact science. So, the same concept can be presented differently in different languages. If you know both languages, it makes sense to have a look at the translation before publishing to ensure its accuracy as well as to try to input only content that is easy for the tool to understand.
As artificial intelligence continues to learn and evolve, we are expecting the software to greatly advance in the near future. Before that happens, it is important to develop a workflow that will address all possible challenges.
Best Practices for Using AI Translation Tools Effectively
Discuss tips for maximizing accuracy, ensuring quality, and maintaining a consistent tone across translations.
Here are some best practices that will help you use AI translation tools most efficiently:
Choose the right content for machine translation. AI tools can efficiently process straightforward and easy-to-understand content, but won't be so efficient when working with more metaphorical texts.
As you might input sensitive data, remember to check the privacy policy of the software to make sure no information will be disclosed to third parties.
To improve the output, you can manually add an accurate translation of your industry terminology while keeping all previous translations in the tool's memory.
Make sure the software you use can easily be integrated with your CMS. This integration can save you a lot of time and help you avoid losing any data.
Start with a free trial to see if the tool is easy and enjoyable to use. With so many programs available, there is a solution for every taste and budget. It is up to you to make your workflow as intuitive as possible.
Conclusion
Artificial intelligence is transforming almost every niche, allowing for higher efficiency and wider opportunities. And travel blogging is at the forefront of this revolution. AI translation tools can help extend your presence around the world and connect to different audiences in their native languages without breaking the bank.
If you want to monetize your travel content in various languages, consider joining Travelpayouts and allow your audiences to find the best travel experiences wherever they go. You can become a Travelpayouts affiliate absolutely for free and start promoting over 100 travel brands today.