What Is Facebook Affiliate Marketing?
Facebook affiliate marketing is basically a means of leveraging the power of Facebook to drive more traffic to your Facebook page/group or your personal website, generate clicks, and increase your affiliate income. The main struggle of aspiring affiliate marketers is sending traffic to the offers they are promoting. Facebook is the right platform for this because it can actually generate tons of qualified leads, as it boasts the largest audience of any social media platform at over 2.9 billion monthly active users. As a result, there are thousands of groups and pages across various niches on the platform that can help you identify and target the right audience for your product.
However, to run efficient affiliate campaigns on Facebook, it is important to follow Facebook Advertising Rules. The platform strives to protect users from spam and provide them with a pleasant user experience. For this reason, Facebook is strict when it comes to affiliate marketing and advertising. Make sure to follow Facebook guidelines. Check if your affiliate programs accept social traffic and always include disclosures in your campaigns.
Here are some of the main advantages of Facebook affiliate marketing:
● Access to about three billion monthly active users
● Low entry barrier to create groups and pages
● No need to buy a domain name or other business expenses
● It is possible to use traffic from the pages you already have
What Are Facebook Groups and How Can You Use Them for Affiliate Marketing?
Creating a group on Facebook allows you to promote your business and connect with your target audience. Whether or not you already have a huge following on Facebook, it might make sense to create a separate page for your business instead of spamming your friends with affiliate links if the niche is not relevant to them. In addition, establishing a professional brand requires a serious approach from the start, so make sure to build a new page or group and avoid using your personal account.
Essentially, Facebook groups are pages that bring together users with the same interests. Facebook groups provide marketers with a platform and tools to build a strong community around your brand without spamming a general audience from your personal account. Groups allow businesses to communicate with customers, as well as for customers to communicate among themselves.
Here are some of the most important benefits of Facebook groups:
● Build a strong community of users with the same interests and keep them engaged
● Grow brand recognition by building your business page and promoting it on the Internet
● Obtain valuable insights into your audience's demographics and behavior with Facebook Insights, a free built-in analytics tool
● Help your followers connect to like-minded peers, share experiences, and make friends
Basically, Facebook groups have two privacy setting options: public or private. Public groups are easily discoverable on the Internet and display content to any user who finds the page. On the other hand, to join private groups, users must be sent a request. Only members can see the content of private groups. Which type of group you decide to create depends completely on you and whether you want to have full control over your following or you want to grow your online presence fast and open your group up to a general audience.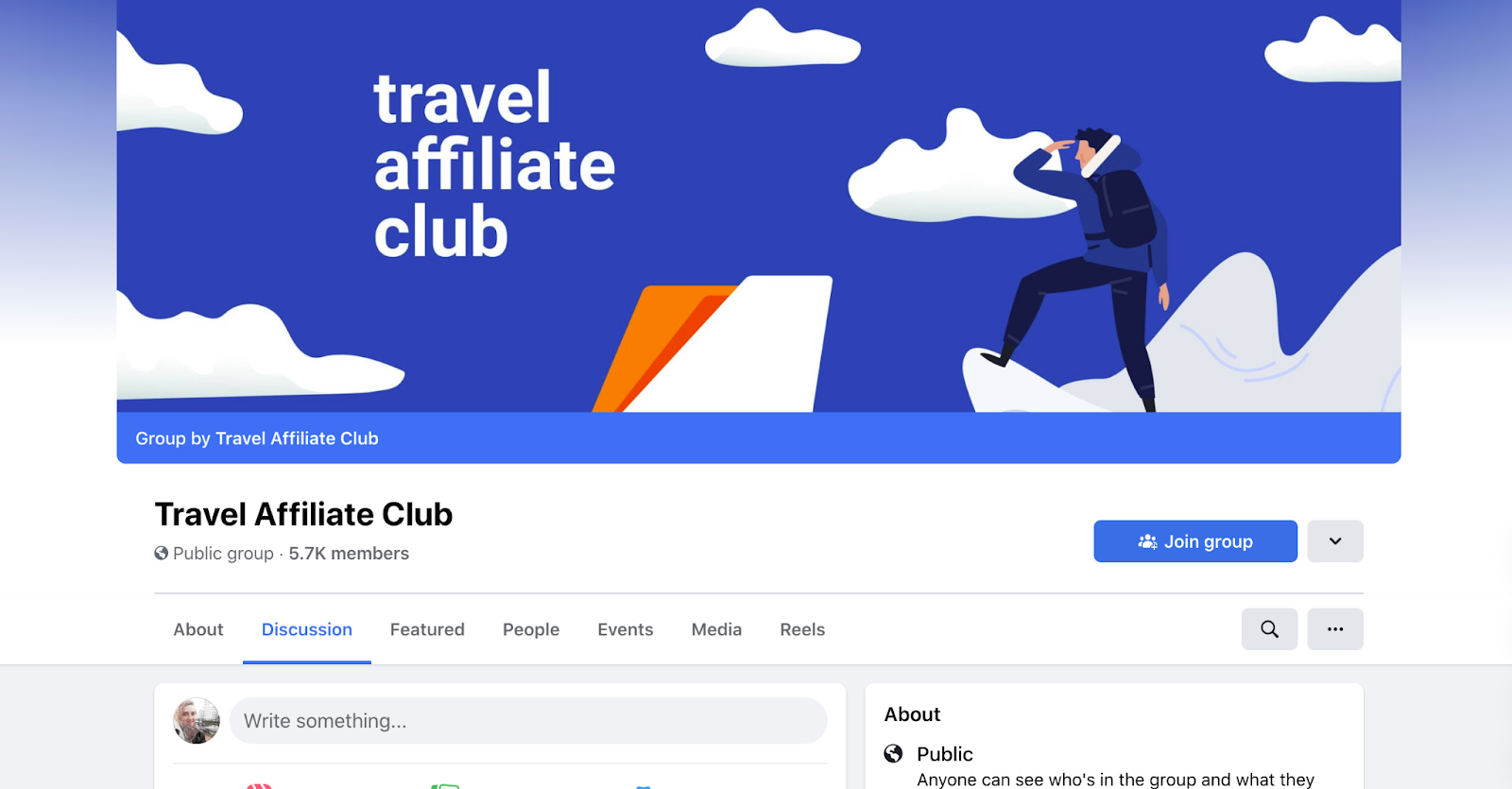 To run affiliate campaigns on your Facebook group, it is important to deliver relevant content. This means that you should focus on providing your subscribers with as much free value as possible, so they will view you as a trustworthy source of information. From there, create appropriate context and promote affiliate links that might be interesting to your audience. Below, we will share the best practices for driving traffic to affiliate offers from Facebook.
How to Create a Facebook Group Step-By-Step
Starting a Facebook group for your affiliate campaign is an amazing way to grow your brand and build a vibrant community. Here is how to create a page for your group on Facebook in a few simple steps.
Go to Facebook and tap "Menu" in the top right corner. In the "Create" section of the drop-down menu, click on "Group".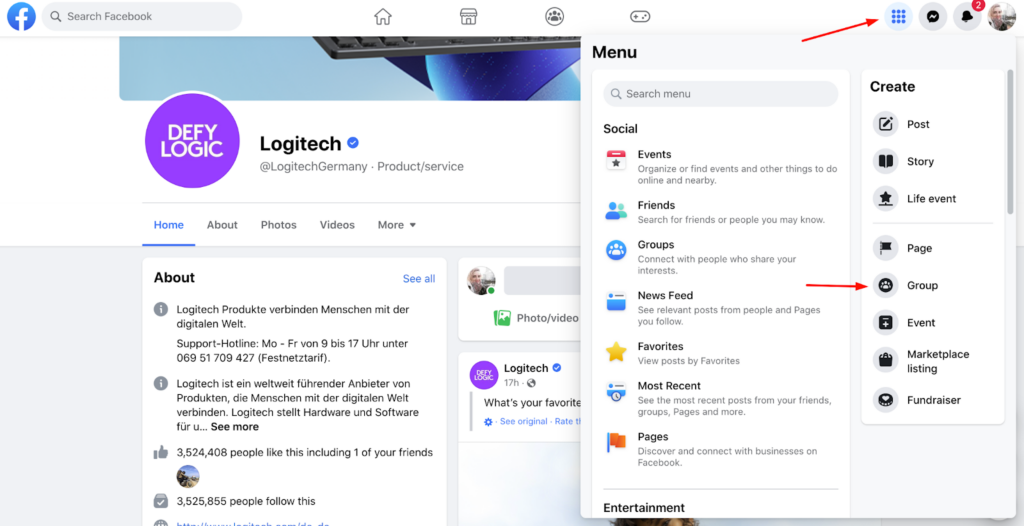 2. Write your group name and choose your ideal privacy settings. At this point, you may also start inviting your friends to join.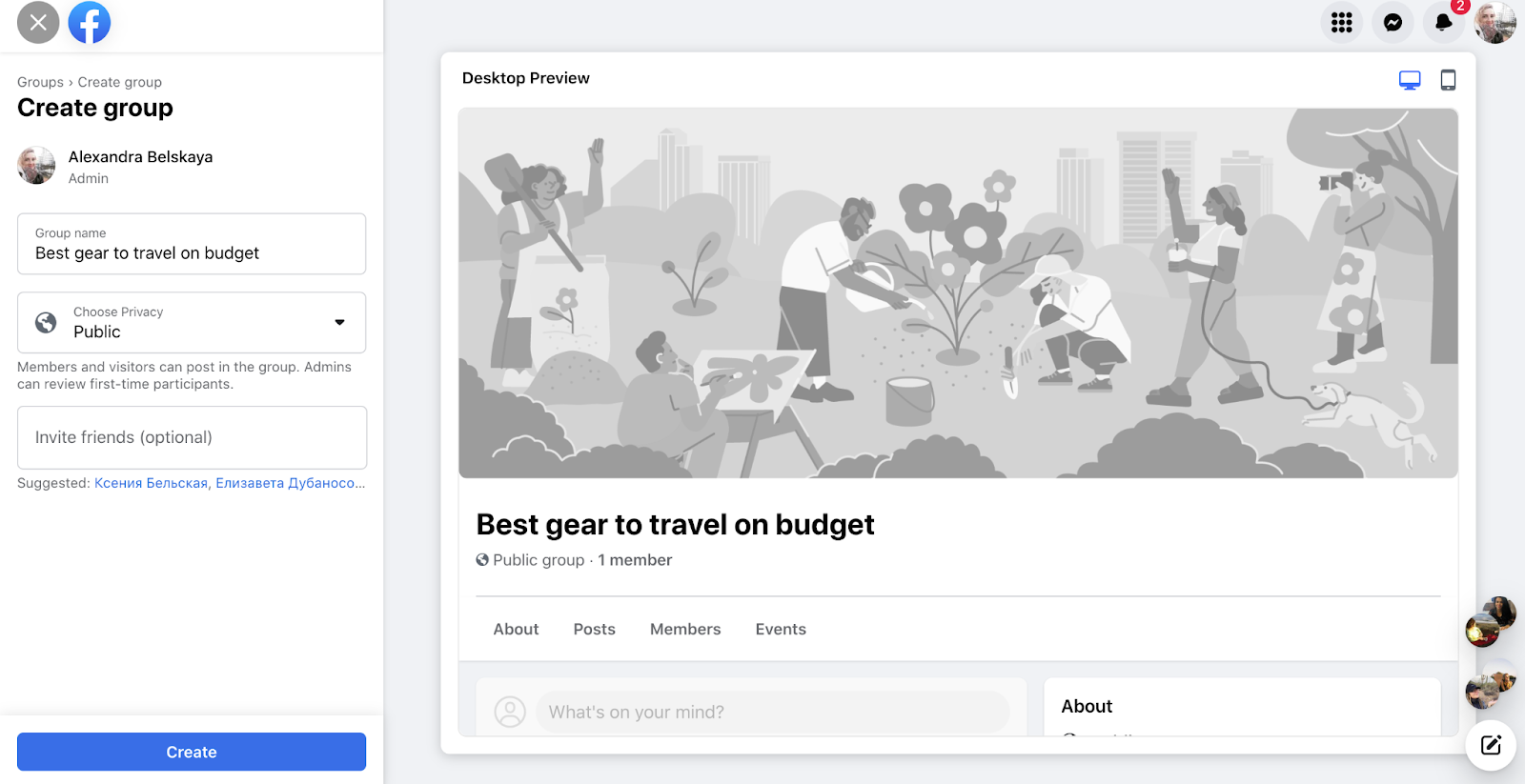 3. Set up your Facebook group. Choose a cover photo that will draw the attention of potential customers. Save your changes.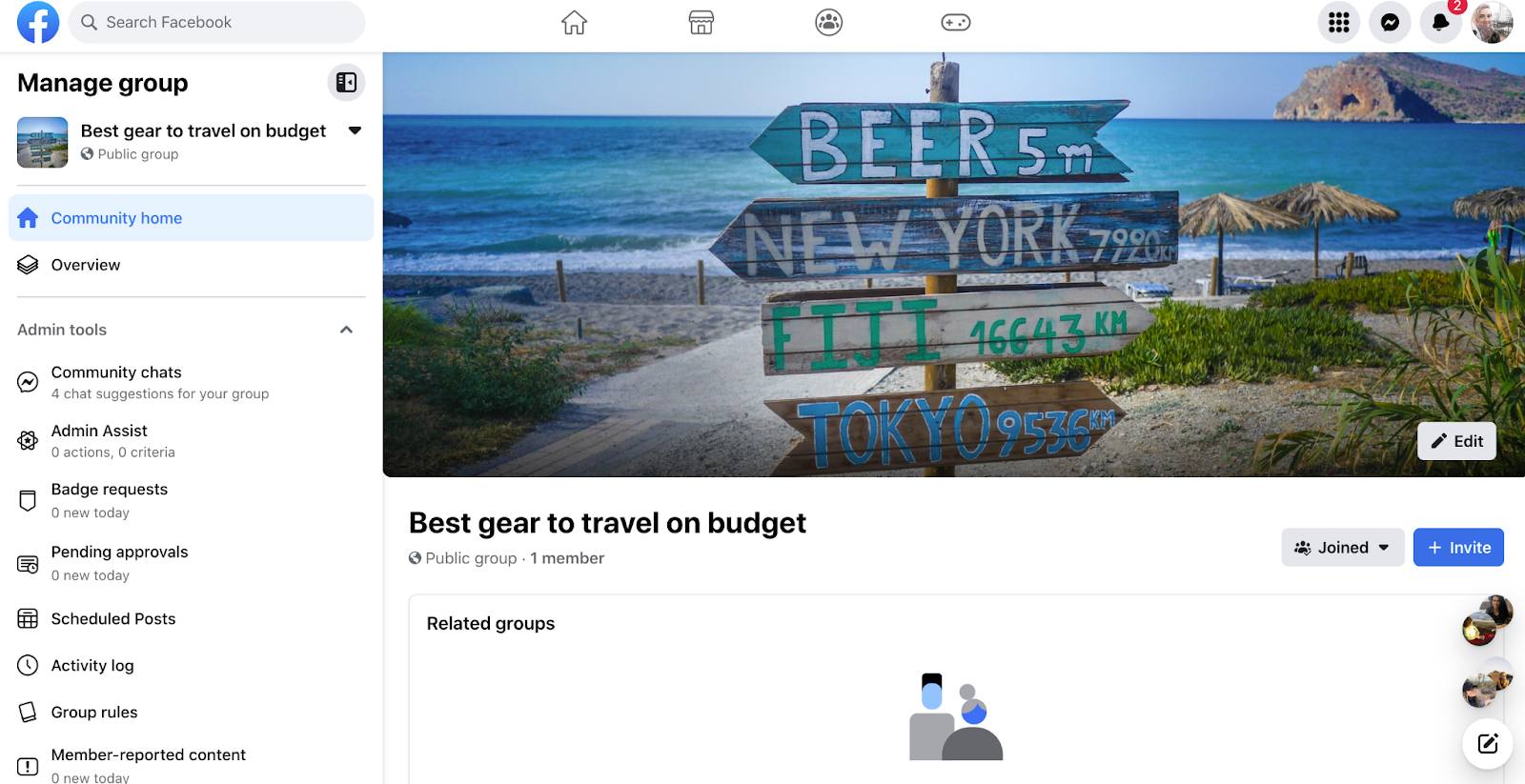 4. Add a description that will explain what your brand is about. For example, you may write more about yourself, what type of content you are going to share, and what kind of users might find your page exciting.

5. Now, it is time to create your first post. It is a good idea to provide your post with an image or video to make it more visually appealing. You may also change the background of your text, as Facebook offers tons of cool styles.
6. Start growing your following. Click on "Invite Members" in the right-hand menu below the cover photo. You may start by inviting some of your Facebook friends to join your new group. You can also filter your friends by location, friends in common, education, etc.
Growing your following on Facebook may be challenging. Start with your closest friends, who will be happy to support you, as your Facebook group will grow faster this way. Thus, it will be easier to get your message out to a wider audience.
You might be wondering how to get more people to join your group in the beginning. Here are a few tips:
● Start joining other relevant groups in the niche and network with like-minded users. Connect with those users and send an invite to your group later.
● Send an email to your contact list, announce that you have created a new Facebook group, and share a link to it.
● Make live videos. This will allow you to connect with subscribers personally, answer their questions, and so on.
● Post content regularly. If your followers know that there is always something new on your Facebook page for them, they will be more likely to check back more often. As a result, it is essential to bring value in every post. For example, you may post comparisons of products or services.
● Offer incentives. Many affiliate partners prefer to attract new subscribers with the help of coupon codes. As soon as users understand that it is in their best interest to join your group, you will see a boost in your following.
These strategies will help trigger Facebook's algorithms and show your page to a larger number of users.
7 Tips to Optimize Your Facebook Affiliate Campaigns for Success
As we've already mentioned, Facebook can be a powerful platform to promote products and earn commissions. However, you may be wondering: How can I use Facebook for affiliate marketing? In this section, we will provide you with practical tips and strategies to help you promote your affiliate links on Facebook, increase your reach, and drive more traffic to your affiliate offers.
Tip 1: Be Transparent
First and foremost, you need to disclose your affiliate partnerships. This is required by Facebook guidelines, and is simply a good practice to build trust and credibility with your audience. In some countries, it is also required by law. On the other hand, being evasive can only undermine your authority, as users will understand that you are trying to monetize your content.
Essentially, you need to write a small disclaimer stating that you may earn a small commission if users click the affiliate links you are promoting. You can add such a note to your post, group description, or bio. If you drive traffic to your blog, do not forget to write a short disclaimer there as well.
For more ideas related to writing an affiliate disclaimer, check our blog post with blogger affiliate disclosure examples.
Tip 2: Promote Products That Resonate With Your Audience
Affiliate marketing is a long-term money-making scheme, and you need to start with your audience. You will only generate clicks and commissions if you discover and recommend products that are relevant to your followers and help them solve their issues. Users want recommendations from someone they trust, so before you start earning affiliate commissions, it is important to investigate the niche and find products that will provide value to your audience.
Many aspiring marketers fall into the trap of promoting multiple offers at once. While this may work in some cases, you need to make sure that everything on your page benefits your audience.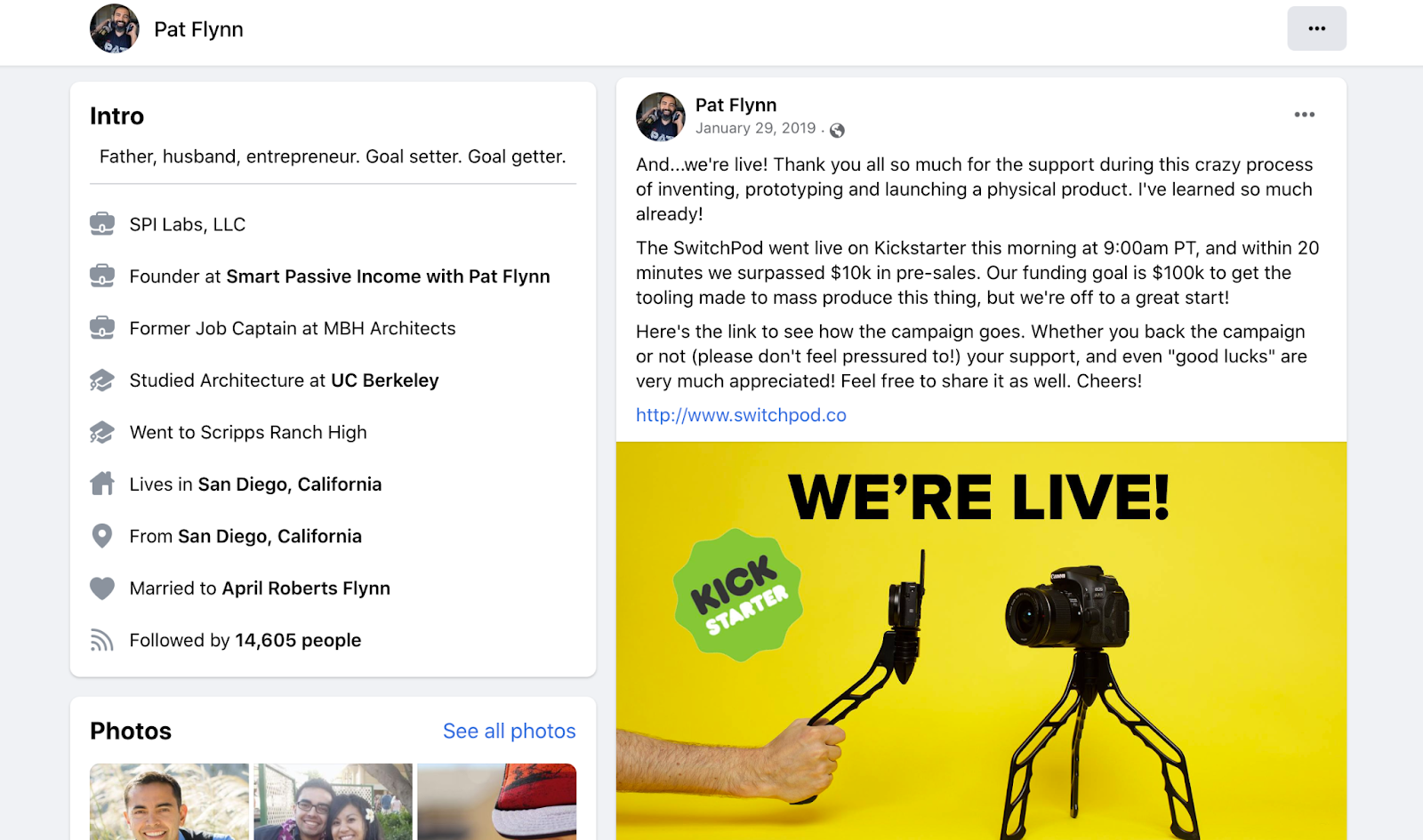 If you don't know where to start, why not experiment with a few products in your niche until you find offers that work well and generate commissions? For example, in the travel niche, you may promote flight tickets and hotel stays to help your audience organize an entire trip.
If you're looking to gain more knowledge on how to combine different travel product, make sure to watch this video by Travelpayouts Academy.
Tip 3: Run a Facebook Contest
Marketers and bloggers have long used contests to draw attention to and boost engagement on their pages. Engagement is kind of a currency on Facebook and other social networks. So, organizing a contest can increase your reach significantly. Contests usually imply user-generated content on a topic, quiz, and so on, so they require active participation from users.
A popular alternative to contests are giveaways. In most cases, users only need to complete a desired action, such as fill out a form or subscribe, to get a chance to win a prize.
To run a contest or giveaway on Facebook, you need to identify your marketing objective. Do you want to grow an email newsletter? Get more qualified leads? Grow a following on Facebook? Generate clicks on a particular offer? Depending on your goal, create clear instructions for participants and explain what they need to do to win a prize. For example, they might need to subscribe to your page, sign up on the website, tag a friend, and so on.
Think of a reward that would motivate your audience enough to participate. This can be a physical product or a digital product, such as an eBook, course, etc. Many marketers reward participants with the affiliate product they promote, further increasing brand recognition. The more valuable the reward, the more likely you are to get action on your page.
Tip 4: Include Relevant Hashtags
Hashtags help make your content more discoverable and allow you to target your ideal audience. When used strategically, hashtags also organize your posts and increase conversions. Although hashtags are mainly used on Instagram and Twitter, you can still add them to your Facebook posts to reach a wider audience.
The main rule is to make sure that your hashtags are meaningful to your content and to use them sparingly. Using trendy hashtags may cause a spike in traffic, but you need to be careful to prevent your content from appearing spammy or overly general. Try to add two or three hashtags that describe your post in the best possible way.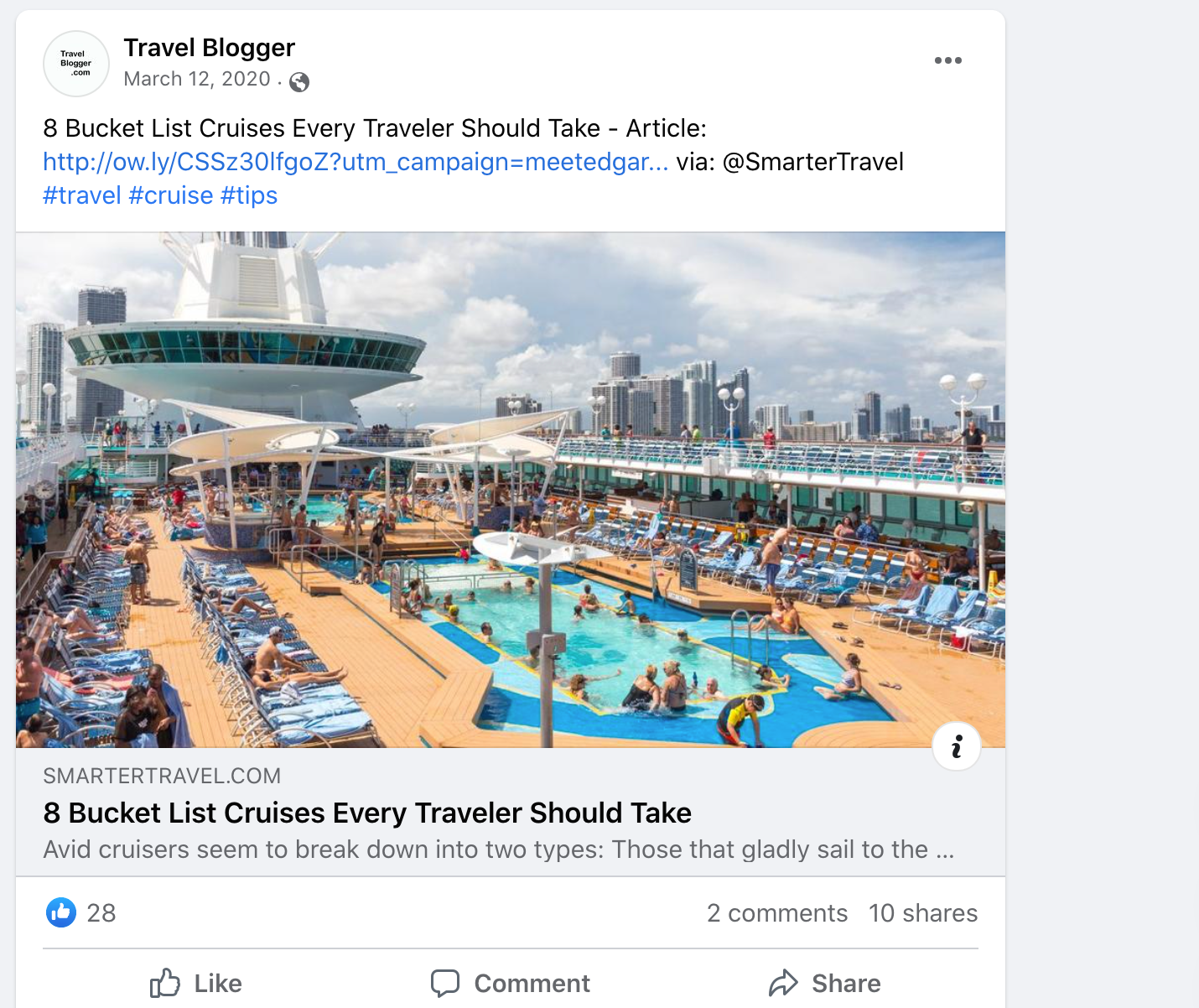 You may also create your own branded hashtags, which will allow you to grow brand recognition if you encourage followers to share your hashtags as well.
Tip 5: Don't Be Spammy
When running affiliate marketing on Facebook and other social media platforms, it is important to remember that you are trying to bring value, while maintaining the right balance between promotion and helpful content. This means that you should try not to share affiliate links in every post to prevent your content from appearing spammy.
Also, make sure to provide enough context for each link you promote. Describe features, include positive reviews from other customers, etc.
Sharing links in comments is also possible, but should always be done in a way that brings value. For example, if you have a Facebook group dedicated to travel and someone is asking about the best things to do in a destination, you may recommend a tour or activity and include a link. Make sure to explain the benefits for your reader and maybe even share your own personal experience.
Tip 6: Share Personal Experiences
To build trust with your audience and maintain authority, make sure to share your own experiences with the product or service you are promoting (if you have any). This information is not only incredibly useful, it also helps grow your credibility by allowing your subscribers to relate to your experience. Followers will see that you actually use the services you recommend so they will be more likely to try them out. In addition, you may share some first-hand tips so users can avoid common issues and have a better experience.
Tip 7: Check Your Facebook Page Insights
Creating and running an affiliate marketing campaign on Facebook requires a lot of effort. So, how do you know which content resonates with your audience the most? Make sure to check Facebook Page Insights. This Facebook built-in analytics tool will help you track your current campaign and improve it for the future.
Facebook Page Insights provides information about the performance of your page, your audience's insights, and behavior. You can learn what kind of content your followers like the most, how much time they spend on your page, how they interact with your posts, and more. Insights also provide demographic data, such as your audience's age, gender, location, and more.
Facebook Groups for Affiliate Marketers
To learn how to do affiliate marketing, make sure to network and connect with other affiliate marketers. Here are some of the best Facebook groups that every affiliate marketer should check out:
● Travel Affiliate Club is a community for travel webmasters and solo entrepreneurs from around the world. It allows you to reach out to other travel affiliates, ask questions, share experiences, and get inspired.
● Affiliate SEO Mastermind aims to help bloggers and marketers master affiliate marketing and search engine optimization.
● Affiliate Marketing Ninjas targets people who want to connect with other marketers and learn the best practices of affiliate marketing, SEO, and blogging.
● Niche Pursuits is a group created by Spencer Haws, well-known marketers, to help webmasters and bloggers grow a niche blog and monetize it through advertising, affiliate marketing, and more.
● Affiliate Niche Builders is one of the best groups for building and growing a profitable blog in any niche through affiliate links and ads. You will learn about affiliate marketing, SEO, niches, content writing, researching, outsourcing, and more.
● ClickBank Affiliate Group is another free Facebook group that connects affiliates, publishers, entrepreneurs, and more to grow their online ventures together.
Conclusion
Overall, Facebook is a great platform to grow your brand recognition and increase affiliate revenue. To create a successful venture in the long term, you need to put effort into regularly bringing value to your audience, building a strong and engaged community around your brand, and gaining the trust of this community. Investing your time and effort will benefit you for months and years to come (for example, as traffic to your blog and affiliate offers). It is important to always share relevant content and avoid being "salesy". In addition, make sure to keep Facebook's rules and regulations in mind.