How It All Began
I'm a Las Vegas native who doubles as an HR manager and travel junkie (contradicting, I know). Unfortunately, you won't find that "quit my corporate career / bought a one-way ticket" kinda blogger here! Oh no… You'll find financial security-lovin', wine drinking, three-day-weekend traveler!
I have a lovely husband, who I have been with for over 10 years, two standard poodles named Rosie and Winnie, many best friends who share the same passion for travel as me, and an overly supportive family! All my travels have been shared with the people mentioned above. So far, I have never traveled alone. I truly love sharing experiences with the people I love. Pictures never do the moment justice, so getting to share something incredible that you saw with someone else is hard to beat!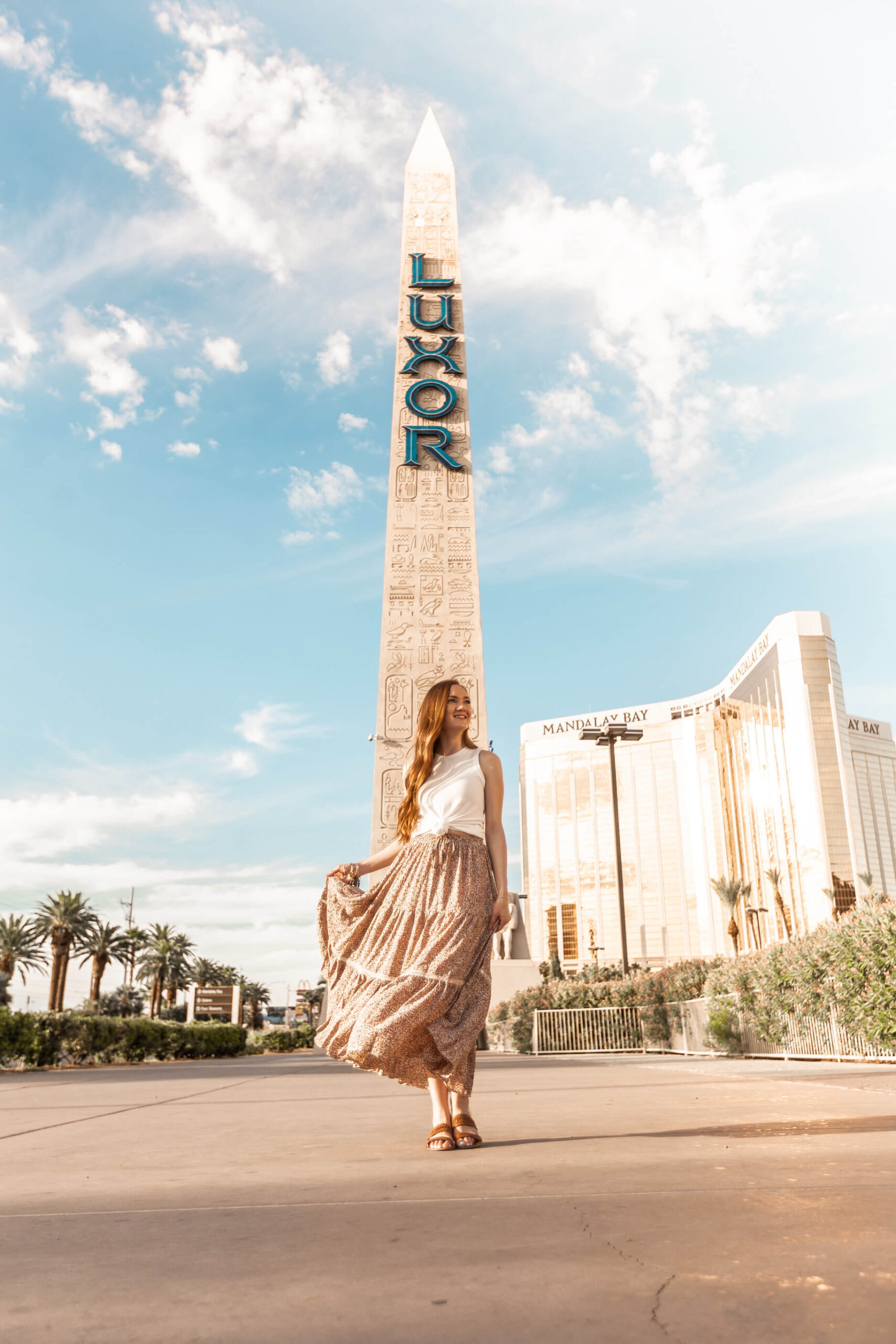 I have officially been travel blogging for over four years now, but have been traveling all my life. I took my first big, international trip to Paris with my family at just 13 years old, which I think was a huge turning point in my life and caused me to catch the "travel bug" at a very young age.
I spend so much time planning the truly perfect itinerary for each of my trips, which is why it would be such a shame to keep it all to myself. I love detailing my travel itineraries, pairing it with my own high-quality photos, which I think is becoming increasingly rare nowadays on written blogs, and helping others plan the perfect trip.
My favorite thing EVER is when my readers send me messages thanking me for writing such detailed itineraries that allowed them to plan and perfect their trip. I am truly engaging in a labor of love for my readers!
Blogging Journey
I started My Perfect Itinerary in 2018. I had just finished college and wanted to fill my spare time with something other than watching TV. It started as a fun and exhausting project of "learning something new" that has grown into what it is today.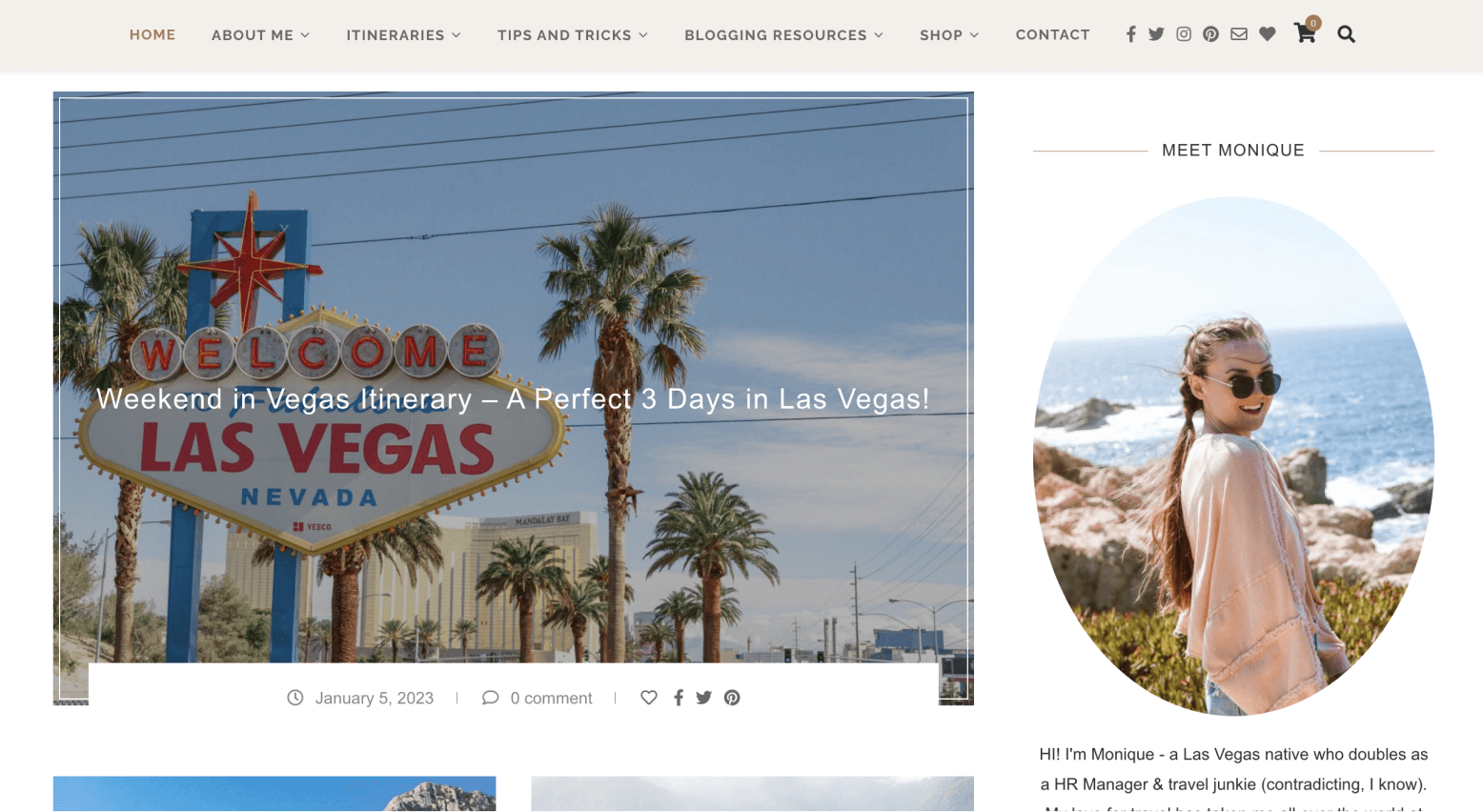 I spent the first full year of my blogging journey learning about an industry that I knew NOTHING about. I spent hours reading free online blogging guides, investing my own money on courses, and working through a ton of trial and error. It wasn't until about a year later that I started gaining any traction at all on my website.
At the beginning of 2020, I was really starting to see the results of all my hard work. I was only days away from getting into my dream ad network, when COVID-19 hit the travel industry. Man, that was a tough few months, mentally, to keep going. When all of my website views dropped to zero practically overnight, I hovered over the "delete" button on my site countless times.
But then, I thought to myself, "This is when most people are going to give up. If I push through and keep trying, I will be 10 steps ahead of everyone else." So, I decided to invest in some courses and e-books on Google SEO, update all my old blog posts, and go on more road trips to National Parks and other outdoorsy destinations. As a result, my site completely transformed into what it is today: reaching over one million page views!
I currently have two websites. My baby is My Perfect Itinerary, where I share detailed travel itineraries, packing must-have's, sell my own travel presets, and offer travel planning services for my readers.
I spend an unhealthy amount of time daydreaming about my next travel destination and making the perfect itineraries (hence, the blog name) to places I have no immediate plans to visit. Because traveling is so expensive, I hate going to the same place twice! As a result, you can count on my itineraries being jam-packed and extremely detailed, so everything can be seen in one trip.
My second and newest site is My Perfect Travel Blog, where I teach fellow bloggers how to start a travel blog, offer expert tips and tricks, provide travel photography advice, and most importantly, explain how to score FREE partnerships with hotels and tourism boards! I have already created two courses, with more to follow! Click here to check out my courses.
The main difficulty I'm facing with my travel websites is trying to keep up with the ever-changing world of blogging. Right when you feel like you've found your groove and figured it all out, the industry does a 180 on you! For example, I spent close to a full year learning about photography, editing, and creating my own travel presets. Now, Instagram has practically gotten rid of photos and everything has switched to videos!
Traffic
About 60% of my site's traffic is organic from Google SEO, while the rest is split between Pinterest, Instagram, TikTok, and direct searches for my site.
I absolutely love Google SEO because, as long as you follow the same formula and check all the boxes that you need to, you will see results. The Google search engine's algorithm is also consistent and easy to learn!
Expert Tips
At the beginning of your blogging journey, you can pitch to other bloggers in your niche to write guest posts. These guest posts will link back to your site and increase your DA number, which is crucial for Google SEO.
Use Keysearch to research the best keywords to rank for. It will become your best friend!
What I usually pay attention to:
Unique Visitors — I found that most partners (like tourism boards, hotels, and brands) care about this.
Site Speed — Which is never where I want it to be.
Google Search Console — Allows me to see where my top pages are ranking.
Unfortunately, you won't get much site traffic from Instagram. As a result, I don't rely on traffic from there. Anything that comes in from Instagram is simply a bonus. With that said, I've had the most success in terms of driving traffic to my site by doing reels that provide a short overview of my itinerary, then prompting my audience to click on my site to read more.
I believe that TikTok has a great potential to drive traffic, but it's hard to know how many people will really click off a platform with such short-form, easily digestible content to go read extremely long-form content. Time will tell.
Content
I make the content for my website by myself. I am a one-woman show over here, all while working a full-time job!
I get content from my travels. After travelling to a new destination, I research the best keywords for Google by using Keysearch and start writing.
I usually aim to write one to three itineraries / topics per destination.
Monetization of my Websites
My four main income streams are: contextual ads, paid partnerships with tourism boards, affiliate marketing, and selling my own products, such as courses, presets, travel planning services, etc. My ad revenue consistently brings in most of the income for my site.
The monthly earnings from my websites range pretty significantly, due to factors like scoring tourism board partnerships on certain months and not others, but on average, my sites bring in roughly $4,500.00 per month.
It is also important to remember the effect that seasonality has on earnings. This was scary during my first year of tracking my Google Analytics. Once winter came around, my site's views were cut almost in half, which was terrifying! However, when I saw them bounce back up after the holidays, I realized that people are just not really planning travel during the busy holiday season.
I try to counteract this by planning more winter content and gift guides on my site.
Monetization of My Instagram Account
I monetize my Instagram account by partnering with tourism boards and hotels as well as selling travel presets and courses on how to become a travel blogger. I usually try to stay away from brand partnerships, because it just feels too "influencer" for me, ha!
My Experience in Affiliate Marketing
I remember getting discouraged because I was making pennies on affiliate marketing for the first year or two. I thought I was doing something wrong and checking all my links like a mad woman. Eventually, I came to realize that, in order to succeed in affiliate marketing, you need to have a pretty large audience with lots of clicks and purchases to start seeing real results.
I use Travelpayouts for all of my tours, hotels, rental cars, etс. I absolutely love Travelpayouts! I used to use a different affiliate provider for tours and hotels until Travelpayouts reached out to me. They offer more options, a more user-friendly site, and higher commission rates. It was the best decision I made in 2022.
Join the Travelpayouts Partnership Platform
Access exclusive tools and the best travel affiliate programs, including flights, hotels, car rental, insurance, tours and activities, all in one place.
Join Today
395,000 partners already trust us
120 travel brands
$53M+ total paid since 2011
For packing items and clothing, I partner with Amazon, ShopStyle, and Awin.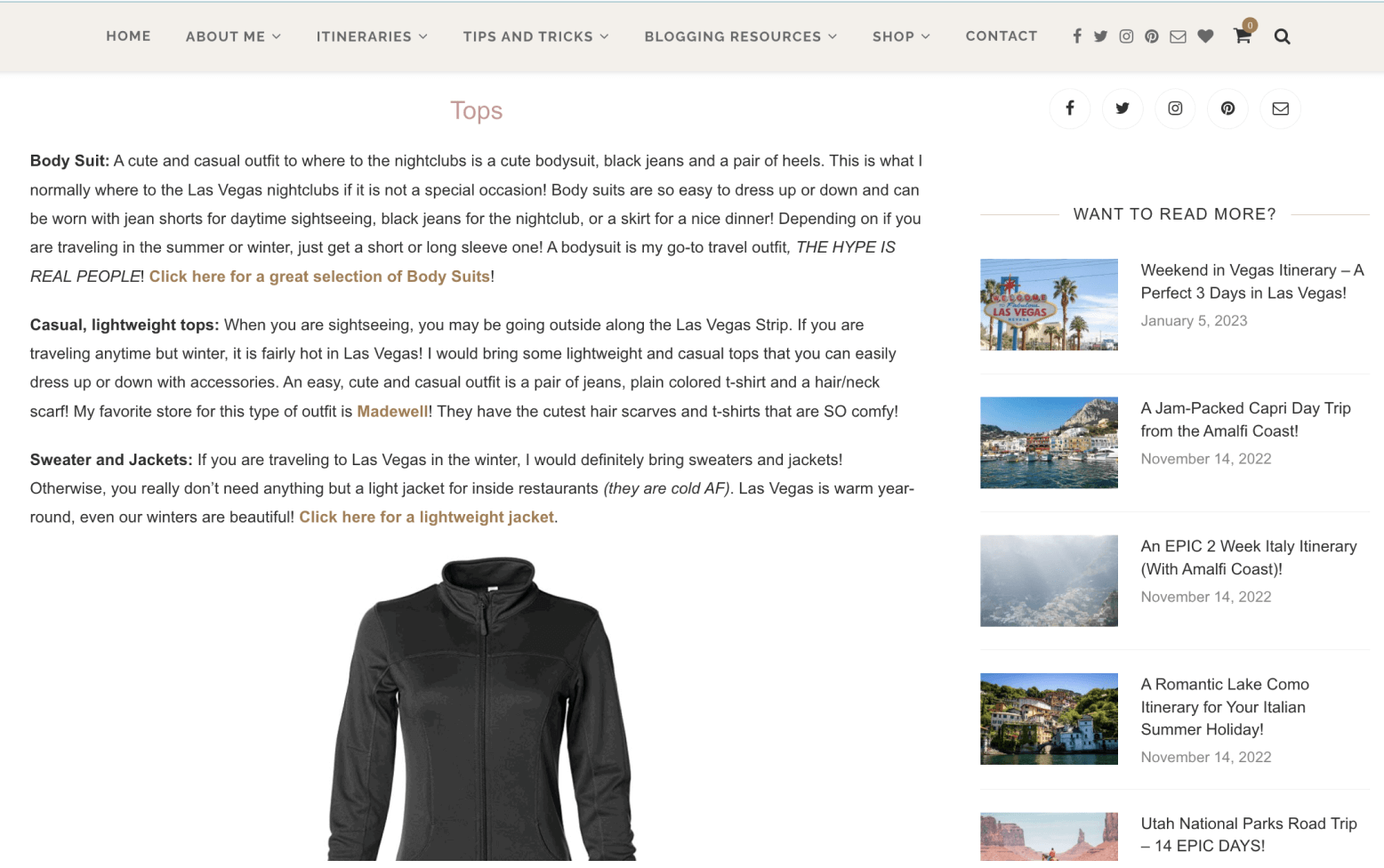 I try to keep things simple when it comes to my affiliate marketing mindset. I link to things that I would buy myself or already own and I link to tours that I think sound fun or that I have personally done myself. I link to these items anywhere in my itineraries that makes sense to do so.
Always think about who your reader is and aim to tailor your itineraries and links for that person. For example, I imagine most of my readers are mid-range to luxury travelers, who are traveling with a friend or significant other. They are in their 20-30s and like to see as much as possible.
For such readers, I would NOT link to hostels, all-inclusive resorts, extreme luxury tours, or extreme budget group tours. I WOULD link to mid-range tours with a few luxury options thrown in, mid-range to luxury hotel stays, fashionable clothing options, etc.
How I Use Affiliate Links and Widgets
I almost always just add a direct link to a hotel, rental car company, or product that I am recommending. I always aim to have eye-catching link text.
Bad Example: Click here for a hotel in Las Vegas.
Good Example: I've stayed at every hotel in Las Vegas, but this one is by far the BEST in town!
All the way at the bottom of your guide is not a great place to add an affiliate link. Also, one main shop page is less likely to have people click off the itinerary to look at a general shop.
I find that it is most effective to link to three to five products specific for the itinerary I am writing. I write these in bullet point lists with photos to make my content easy to skim!
For hotels, I recommend a specific area and explain why I would choose it, then I usually suggest three hotels for different budgets within that area. I try to keep things as user-friendly as possible!
I never use search widgets on one of my itineraries. If I were to ever use such a recommendation, it would be for a specific hotel or product they recommend.
Tours & Activities Affiliate Programs
I just love Viator and use it personally when I travel. I love how easy it is to compare prices, see reviews, and get a snapshot of all the details of the tours. I recommend Viator to my readers simply because I use it myself.
I have also tried GetYourGuide, which is almost the same thing as Viator. I will browse there every once in a while to see if they have different tours, but honestly, both platforms almost always suggest the exact same options!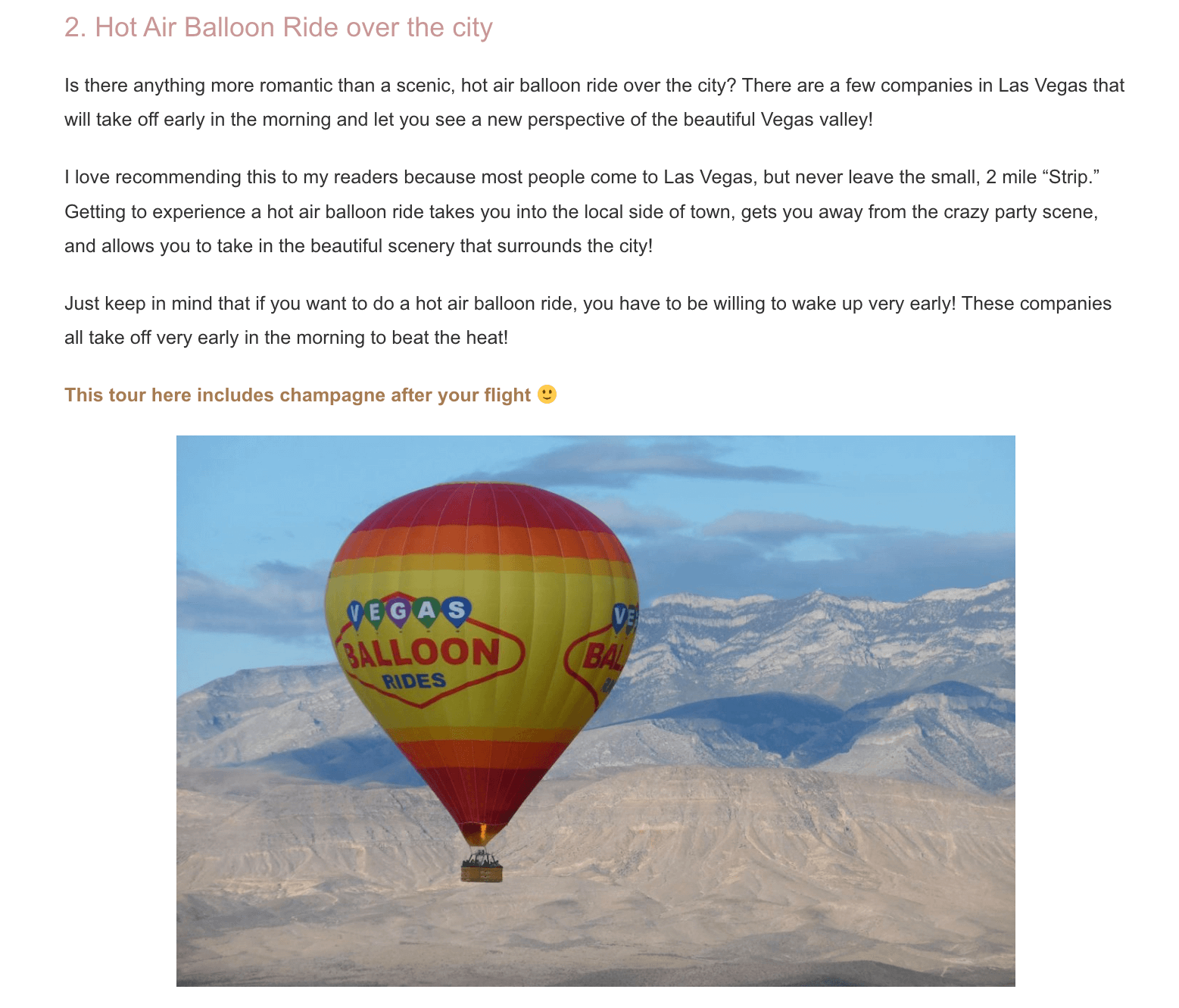 Expert Tips
Learn the basics of affiliate marketing from the get-go, so you don't have to go back and change everything later on. Even though you should learn the basics of affiliate marketing in the beginning, switch your focus to growing your audience! Travel affiliate programs are only successful when you have a lot of clicks and purchases.
Only link to products and services you use and love (or wish you brought on your trip)! People make the mistake of linking to SO many random products that they don't even use or tons of random hotels that they would never stay at.
Even though you are doing everything correctly, you likely won't see results right away. Be patient and just focus on the growth of your audience. The results will follow!
My favorite personal saying is, "It's not IF, it's WHEN!" Most people don't succeed because they compare themselves to those who are farther along on their journey, which makes them want to give up. If you are persistent, focus on getting better, and try to learn every day, you will get there!
Key Takeaways
At the beginning of a blogger's journey, you can pitch to other bloggers in your niche to write guest posts. These guest posts will link back to your site and increase your DA number, which is crucial for Google SEO.
Use Keysearch for researching the best keywords to rank for.
Use Google Search Console to see where your top pages are ranking.
Always think about who your reader is and aim to tailor your content and links to that person.
Learn the basics of affiliate marketing from the get-go, so you don't have to go back and change everything later on.
Be patient and focus on the growth of your audience. The results will follow!
Want to share your story? Travelpayouts welcomes all bloggers with any travel-related experience. Write to us at ku@travelpayouts.com with the following subject: "Story for the Travelpayouts Blog".