Writing
Freelance writing is an easy way to earn money fast while working from home or elsewhere. You can cooperate with individuals or websites and get paid on your own terms, while working in various niches and making money online by writing posts, reviews, tutorials, articles, essays, and plenty of other assignments. You can find ideas on how to create first-class content in our special guide.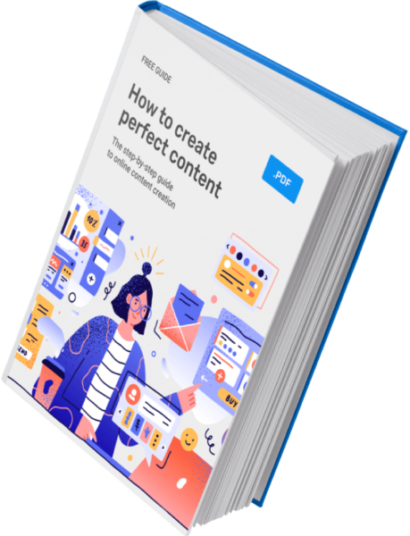 How to Create Perfect Content
Download this guide to learn how to fill your website with first-class content!
Download
Let's look at some of the most profitable money-making websites in 2023.
This online magazine focuses on lifestyle, social issues, and environmental protection. You can touch on both global and narrow topics to reveal any related issue and make money fast.
The magazine usually posts two to three texts per month and some negotiations are required to initiate your article's approval. Resonant texts are preferable, and you'll be provided with a special guide to deliver the perfect article.
Rates start at $50 per publication, and you'll have a link to your website on your personal profile.
Income potential – $$
This humor platform accepts content even from authors with little experience since the article quality is a key point. You can make money from home by creating articles, infographics, photoshops and videos.
Authors initially get $100 per article and can earn up to $200 online after the first five publications. Moreover, writers are rewarded an additional $100 if their piece was considered one of the best posts. Also, there are photoshop competitions with a prize of $100 for the winner.
Income potential – $$
This website aims to discover new easy ways of saving time and money. This is an important issue for many people, and for this reason, the platform always needs new ideas and content.
You can inquire about guest posting and payment on the website. Authors are paid $0.10 a word, which isn't much, but can still help make some money without leaving your home.
Income potential – $
If you want to make legit money by giving travel advice, sharing your personal experiences, and describing your adventures to inspire people to travel around the globe, start thinking of a travel-related plot immediately.
You can write about traveling for pleasure, but also for business, study, volunteering and work. The length of an article should be in the range of 800–2,000 words, and you can make up to $150 per publication. Find detailed information in the writer's guidelines on the TransitionsAbroad website.
Income potential – $$
The magazine offers opportunities to make money from home without investment for female authors. The publications lean towards a broad audience and cover fields such as freelancing, novelties in business and training.
You can get paid up to $150.00 for a 3,000-word written part as long as it is useful to the magazine's audience. Take into account that the editors accept only plain text inside an email, and not attached documents. Find out more on how to submit publications on the Wow Women on Writing website.
Income potential – $$
Watch Culture publishes general news, interesting opinions and other entertainment content about music, movies, TV, sports and gaming. On average, there are one hundred new publications per week.
With their flexible payouts based on a per-view basis, you can get £40 per article. This is an easy way to make good money if you can create original materials. Learn more in the writer's guidelines on the website.
Income potential – $
Michelle Pippin is looking for high-quality articles in the field of business, particularly marketing, entrepreneurship and time management. However, the magazine has a wide audience which is why the articles should be easy-to-understand if you want to make money from home. You can earn up to $150 for an 800-word post. Learn more about writer's guidelines for Michelle Pippin on this page.
Income potential – $$
ClearVoice is an online platform that aims to help creative talents and brands collaborate in various niches, such as travel, business, entertainment, and more. Create a CV portfolio and start getting suitable job offers when opportunities arise.
You can earn money online by writing different types of content, such as blog posts, articles, guides, website pages, eBooks, case studies, social media posts, etc. The amount you can earn depends on the gig, but as ClearVoice partners with many famous brands, such as Intel and WayFare, your income can be pretty high. Learn more about how to create your freelancer CV and start earning on this page.
Income potential – $$
You can earn online with Make A Living Writing by submitting guest posts to the platform. Your earnings can vary from $75 to $150 per post and there is an opportunity to get paid even more for detailed posts that are assigned to you personally. You can write guest posts on a variety of topics, such as blogging, copywriting, marketing, productivity, websites, social media, self-publishing success stories, and more.
The founders of Make A Living Writing pay for publication at the end of the month, but it may take around 10 weeks before your post is published. Payments are made online through PayPal. Don't submit pre-written posts without receiving an assignment first. The preferred length per post is 800 to 1,200 words. Learn more about accepted topics and the payment process in the writer's guidelines on this page.
Income potential – $$
DesertUSA is a platform dedicated to travel as well as the history, culture, and wildlife of the United States. This platform currently boasts over 6,000 pages online, but is still on the lookout for new material. Writers get paid $50 per post with photos. The topics that you can write about include wildlife, arts and crafts, adventure, travel, and the history of the United States. Learn more about accepted submissions on this page.
Income potential – $$
You can discover even more paid online writing opportunities on Freedom with Writing. The platform pays $30 to $150 for how-to guides, essays, and other pieces of writing with real-life examples, case studies, and so on. You can earn up to $100 for list articles. Make sure to submit a query before submitting a post.
The platform also accepts eBooks and pays $500 or more per book. Check the guidelines to learn how to earn money online with the platform.
Income potential – $$$
Find more platforms that allow you to earn by writing in our blog post.
Content Management
The main task of a content manager is to organize and consolidate texts, graphics, and multimedia clips on the platform. The niche may have an effect on how easy it is to create and manage materials, so you might need some experience for certain gigs. If you already have experience creating online content, this can be a great way to make money.
Become a Pinterest Manager/Editor
Pinterest boasts 250M users monthly. Join the editing team to manage boards and pins in order to keep them fresh, build new ones and direct traffic to your site at the same time.
The content manager's salary at Pinterest starts from $110,434 to $120,244 yearly. You can find Pinterest Manager jobs directly on the Pinterest Careers website.
Income potential – $$$
Become a Social Media Manager
The professional duty lies in supporting the client (an individual or a company) in the field of social media planning. The range of tasks usually implies engaging followers, creating and posting content, responding to a community, tracking the results and various indicators, etc.
If you are interested in earning by sharing content on social media, check out our special guides:
The average salary for a Social Media Manager is $15.52 per hour or $49,139 per year. You can look for Social Media Manager jobs on Upwork. Search for gigs by experience from beginner to expert level, duration, social media platforms, and more. Also, look for jobs on SimplyHired, Remote.co, Working Nomads, Glassdoor, and other job boards.
Income potential – $$
Become a Quora/Reddit Marketer
Quora/Reddit marketers work in the area of content creating, editing, making appointments, etc. in order to attract new subscribers. You can write reviews, articles, questions and answers, pick images, videos and manage blog content.
The average salary starts from approximately $52,804 per year. You can find Reddit Manager jobs on Glassdoor, Greenhouse.io, Indeed, LinkedIn, and other platforms. Discover Quora employment opportunities on LinkedIn, Indeed, Glassdoor, etc.
Income potential – $$
Sharing Your Opinion
Sharing your opinion can be a great way to make money from home even if you don't have any specialized skills. Just answer questions and share your point of view on various issues. Certainly, the income won't change your life completely, but it also doesn't take much time and can greatly help to make money. Besides, you can complete surveys even while doing something else, for example, watching TV.
It's a well-known site with tons of surveys. Swagbucks boasts high cash-back rates and time-bound propositions that will bring you up to 20% cashback. You can also get points for shopping online, watching videos and using their search engine, and then turn your bonuses into gifts. The site isn't available in every corner of the world, but its list of countries expands constantly and includes 11 states right now.
When accumulating 1,000 points (SBs), you can exchange them for $10. Some of the surveys pay up to 500 SBs each, which is an opportunity to get extra $20 to $30 monthly. Learn more how to make money online on Swagbucks' blog.
Income potential – $
The platform works in a simple way – just sign up, take a survey and then, redeem the points for rewards. The registration takes time, because you'll be required to answer questions from a chatbot.
All the surveys have different lengths and offer diverse earnings. The fee is between 400 and 5,000 points per survey (you'll spend from three to 30 minutes to fill in). So, the shortest survey brings you $0.50 and the longest one – $5. Consider that the payout threshold is no less than $25. You can learn more about One Opinion on the faq page.
Income potential – $
Here, you can complete market research surveys that take five to six minutes on average. Trait Surveys are available to increase TrustScores and to make from $0.03 to $0.10. A high TrustScore provides you with the maximum number of surveys per month.
The platform offers cash, Amazon and Walmart gifts in exchange for completed surveys. There is also a referral program where you can get 25% per client. The most distinctive feature is a no-point system when you get cash only. You can learn about Paid View Point on the faq page.
Income potential – $$
Getting a Job Online
If you want to make $20 a day, think of getting a full/part-time job on the internet. Working from home is a great idea for women on maternity leave, students, people with disabilities and those who prefer online communication in general. Let's look through some of the most profitable money-making ideas.
Bookkeeper
Become an accountant and create monthly income and expense reports, invoice the company's clients and keep tabs on the financial health of the business overall. Learn more about various accounting jobs on this page.
About half of all bookkeepers make $34,740 a year while a full charge will bring you up to $59,250 a year. The website offers an average hourly pay of $13. Find accounting job opportunities on Upwork.
Income potential – $$$
Online Transcription
These make-money-online websites will engage you in transcribing audio and video files. You can work from any place with a reliable internet connection, at your convenience.
One file could be a rush $1 or $2 per audio minute averagely. It is possible to make from $600 up to $3,000 monthly. However, everything depends on the site you are working for. Scribie pays $0.5 to $2.00 for a six-minute file that comes to $5–$20 per audio hour. GoTranscript delivers $0.60 per audio minute ($36 per audio hour) and they claim that the average member gets $150 per month. Find more online transcription opportunities on Indeed.
Income potential – $$
Clean Up Search Engine Mistakes
Some search engines actually pay you for using them. For example, you can earn money with Google search by fixing its mistakes. Such jobs imply testing the search engines and providing feedback for removing mistakes and suggesting improvements. As a rule, you'll have a guideline to follow when assessing the search engine.
You can get $12, $15 or even $20 per hour. The most credible compay in this field is Appen Butler Hill.
Income potential – $$
Data-Entry Clerk
This job can be rather profitable, but requires patience. Such platforms invite you to create exploded part diagram schematics by matching image hotspots to corresponding data, as well as update and add specifications to products. You can be offered to sort batches of credit card payments to be keyed for the credit card system per client.
You can get $11–$20 per hour and over $35,000 a year. Find even more data-entry clerk jobs on Indeed.
Income potential – $$
Teach English Online
It's a good way to make a full-time or a side income no matter where you are. Almost all of the employers require English as a native language, a university degree and a TEFL or any other certificate.
The average fee is $10 to $23 per hour, but some companies pay per minute. As a rule, platforms teaching English don't practice bonuses or referral programs.
VIPKID provides Chinese children and students with teachers from North America and pays $22 per hour. Cambly features learning conversational skills in English. If you are a native speaker, try English First, which is a global company with presence in over 50 countries.
Income potential – $$
Become a Virtual Assistant
The job allows for online earnings, but demands perfect written and verbal communication skills. Sometimes, it is necessary to review contracts, agreements and sales documents.
Virtual assistants receive around $15.65 per hour. Experienced assistants get tips, bonuses and overtime pay, as well as total compensation of $31,000–$42,000 yearly. Find virtual assistant job opportunities on Upwork.
Income potential – $$
Web Design
As more and more brands are moving online, website development has become increasingly in-demand and can be a way to make a living. If you are skilled at web design, you can work as a freelancer or join a development team. In the latter case, companies might want to check your proficiency in certain programs. Be sure to create a portfolio that showcases your best works.
Hourly earnings vary from $30 to $50, so you can make money quickly with web design. You can look for jobs on Upwork, Fiverr, Indeed, etc.
Income potential – $$$
Virtual Recruiter
If you have worked in an HR department, you might be able to easily start earning money online as a virtual recruiter. Your responsibilities will include posting job offerings, finding potential employees, screening applicants, conducting interviews, and so on.
Earnings vary from $20 to $30 per hour. You can check job openings on SimplyHired, CareerBuilder, Remote.co, etc.
Income potential – $$$
Proofreader
Do you have an eye for grammar and punctuation? If so, proofreading can be your way to earn some money. You'll need to proof different types of content, such as blog posts, emails, landing pages, etc., and help to create professional and elegant materials.
You can earn from $12 to $50 per hour on average. Check Upwork, Freelancer, and Fiverr for job postings.
Income potential – $$
Monetize Your Blog
You can also monetize your blog. Monetization strategies include making money from your website through ads, affiliate marketing, etc.
Ads
When showing ads on your website, you can get paid for every click on your ad (Cost Per Click) or for every 1,000 ad impressions shown (Cost Per Impression).
Google AdSense is one of the best ad networks for bloggers. Your income will depend on a variety of factors, (traffic, niche, CPM rate in a certain country, etc.) that's why it's difficult to forecast the revenue. Learn how to make money with Google AdSense on your website in this guide.
Income potential – $$
Sell Sponsored Blog Posts
You can place other companies' posts on your site and let them promote their products.
According to the stats, a blogger can get paid from $75 up to $275 per a post, if the blog's Domain Authority (DA) is from 15 to 35 and it has 5,000 visitors a month. The higher DA and traffic you have, the more expensive posts you'll get.
Income potential – $$
Get Paid to Write Reviews
To earn money remotely, you can test products and introduce reviews on your website. There are plenty of sites that are ready to pay for such content.
For example, Amazon delivers free stuff in exchange for reviews. When cooperating with Software Judge, you can earn up to $50 for a good software reviews.
Income potential – $$
Get Public Speaking Gigs as an Influencer
You can take part in various online and offline events, if you boast a vast audience. Companies will invite you to create content (posts, videos, etc.) in order to promote their goods or services.
The most successful influencers can get $100,000 for posts on YouTube or Instagram. For example, 30% of British bloggers charge from £100 up to £250 per sponsored post.
Income potential – $$$
Make a Q&A Website
You can create a site where visitors can ask any questions and get detailed answers. Quora and Reddit are prime examples of such platforms. For example, Quora's estimated valuation is $1.8 billion.
Income potential – $$$
Create a Job Board With Paid Submissions
Creating a job board and placing job offers relevant to your niche will bring you commissions from the employers in exchange for a job listed for a certain period. You can even get paid for access to job seeker profiles and make money passively.
The cost of a listing is in the range of $50 – $500 per posting.
Income potential – $$
Create an Event Calendar With Paid Submissions
You can add the Events section to your blog to promote various activities that are related to your niche. Thus, the visitors will be able to select between different Event Packages. For example, Eventful displays events from 29 categories, while Goldstar focuses on entertainment and nightlife.
The fee for standard access may reach $30 per month and a premium plan can cost up to $200.
Income potential – $$$
Create Restricted Members-Only Content
Restricting access to your content can also be a way to make money from a travel blog. A paid blog section may display different content, not just events. In general, it's rather profitable to divide content into free and paid categories. Premium content should provide career-boosting, life-changing and win-win solutions. In this case, you can generate engagement on your site, enhance monetization and build revenue.
For example, Pacific Group Golf Club covers golf tournaments and other events. It costs $70 for Full Membership and $40 for Multi Members in exchange for golf course discounts and other benefits.
Income potential – $$
Create a Private Forum
You can create a forum with a paid subscription, where the visitors can consult with highly qualified specialists in a certain field. Thus, you'll restrict the membership to those interested in the subject and avoid spam and senseless comments.
The platform PlushForums helps people build their own community. You'll get a 14-day free trial, then a monthly subscription will cost you $49 in exchange for the opportunity of getting powerful forum options, in particular, real-time discussions (private or in groups).
Income potential – $$
Host a Paid Webinar
When hosting a paid webinar on your site, you'll get revenue from every participant. It can be a lucrative option, as webinars are in demand and attract many people.
The charge to register ranges from a $5 fee to $1,000 for six to eight weekly sessions.
Income potential – $$
Selling Online
Selling online allows you to run the business from anywhere and provides high margins and better cash flow.
Sell E-books
E-books are a rather straightforward digital product. No need to create a new concept and waste time looking for a publishing house. If you have blogging experience, pick some of your best old blog posts and transform them into e-book chapters.
With Kindle Direct Publishing (KDP), you can get up to 70% of every e-book price. On the other hand, collaboration with a publisher will bring you only 10-50% of the royalties.
Income potential – $$
Offer Freelance Services
Offering your services is another way to sell online. Start by creating (and develop permanently) a portfolio to display the scope of your skills. The best way to find the first clients might be through freelance platforms like Upwork or Fiverr.
The income depends on the services you can provide. Whether you're a computer programmer or an accountant, a graphic designer or a writer. Programming and software development are the highest paying freelance jobs.
Income potential – $$
Start an E-commerce Business
You can build a new website or create a separate section for an online store on the existing site.
For example, The Good as Gold Blog comes with the Good as Gold online clothing store that sells streetwear fashion.
Income potential – $$$
Create an Online Marketplace Website
You can also create a buy-and-sell platform to connect stores and customers and get revenue from the transactions. The most well-known marketplace websites are Amazon, eBay, Walmart, Jet and others. They let you make $50 a day in passive income and potentially even more.
Income potential – $$$
Make an Auction Website
You'll receive a commission for every completed deal, which is similar to creating marketplace websites. However, auctions imply bidding, and that's why you have a chance to earn more than you expected.
For example, Listia is created for special-item-hunters. It doesn't use cash, but credits that you can earn on the website when listing your own item.
Income potential – $$$
Affiliate Marketing
With the right advertiser, this method allows an additional income without significant investments. Below, there are some of the most reputable affiliate networks that you can join.
Travelpayouts offers all kinds of travel products, like flight tickets, hotels, car rentals, insurance, transfers, etc. The network partners with such reputable brands as GetYourGuide, Booking.com, Trip.com, KAYAK, Aviasales.com, Hotellook.com.
With Travelpayouts, you can earn up to 70% revenue share. The company focuses on the international market and that's why all the materials are available in English and 59 other languages. Responsive support is another distinctive feature.
Join the Travelpayouts Partnership Platform
Access exclusive tools and the best travel affiliate programs, including flights, hotels, car rental, insurance, tours and activities, all in one place.
Join Today
395,000 partners already trust us
120 travel brands
$53M+ total paid since 2011
Also, Travelpayouts invests a lot of effort into helping its partners succeed and offers free courses from Travelpayouts Academy. The courses explain all the ins and outs of working with the platform and share winning strategies tested by over 300,000 Travelpayouts partners.
On our blog, we also share the success stories of bloggers who own travel blogs and earn with partner marketing. For instance, the story of Maggie and Michael, the authors of "The World Was Here First" blog. Read this post to find out how blogging can go from a hobby to a source of regular income.
Income potential – $$
The platform is developed for small and medium-sized websites and introduces 4,500 merchants (1,000 of which are exclusive) and a broad array of products – technology, fashion, food, fitness and many more.
You can get paid for every completed purchase or chose PPC or PPL model. The payout threshold is $50. The most expensive products can bring you $100 per purchase. The commissions are in the range of three to 60%.
Income potential – $$
The platform features the cost-per-action model. PeerFly provides costless training and tools for affiliates and accepts applications from potential partners that are not very experienced. The company claims to have up to 8,000 offers to promote.
PeerFly doesn't announce its commissions or any other rewards, so you need to sign up to access this information.
Income potential – $
It's a global affiliate network offering access to over 1,000 advertisers.
Affiliates receive one to 2.5% commission for all products not covered by specific SKU Lists and 0.5 to 1% payment for video games. Other products can bring you from 3.5 up to 5.5% in revenue.
Income potential – $$
PayoLee focuses on diverse business sectors such as retail and bakeries, lawn care and gyms, etc. The company offers website owners an easy way to accept credit cards online right on their websites.
You can get a 75% first-sale reward and earn a 55% monthly commission on each referral. There are also many other attractive bonuses.
Income potential – $$
This is one of the most well-known affiliate networks. CJ Affiliate hits the market with solutions for businesses in order to improve their scaling and promotion. The network provides affiliate personalization to discover the full potential of their partners. The commission depends on the advertiser.
Income potential – $$
This almost legendary affiliate program offers fixed fee rates for specific product categories that are in the range of $1 to $10 per completed purchase. The main advantages are the high level of credibility and unlimited niches available.
The income may seem low, but note that people often buy several items while roaming the platform, meaning that you get commissions for all purchases made on the platform. And it's easy to start off, as you can be approved even if you have small traffic.
Income potential – $$
The network focuses on digital products and boasts a vast audience.
The commission can reach 75% of the product cost. New affiliates should refer five various purchases to get their first payment.
Income potential – $$
It's a global international network offering cooperation in various fields such as health and beauty, dating, mobile, weight loss, etc. As a member of CPAMATE club, you can get additional points for successful referrals and exchange them for prizes.
Income potential – $$
How to Earn Online in 2023
Now that you have looked through dozens of ways to earn money on the internet, it's time to choose a few of them and get to work. Calculate your desired income and pick the method that corresponds to your blog topics. Also, think of ways to apply your skills and opportunities to save time and make $100 a day in passive income.
If you decide to try out affiliate marketing, one of the most lucrative options is airline and other travel affiliate programs. With flights being an important part of many international trips, there is always a high chance of scoring a pay-out. Plus, commissions in the vertical are pretty high. However, if you want your promotions to be as efficient as possible, it's important to learn a few tricks and best practices in the niche. Our special free guide may come in very handy.
In this guide, you'll learn:
How much money you can make with flights partner programs, such brands as WayAway, Kiwi.com, CheapOair, and others
The best flight affiliate programs to join
The types of content you need to create to promote flights
How to integrate airline offers into your content
This guide will be useful for travel bloggers and vloggers, as well as social media influencers and other travel content creators who are eager to turn their project into a lucrative business.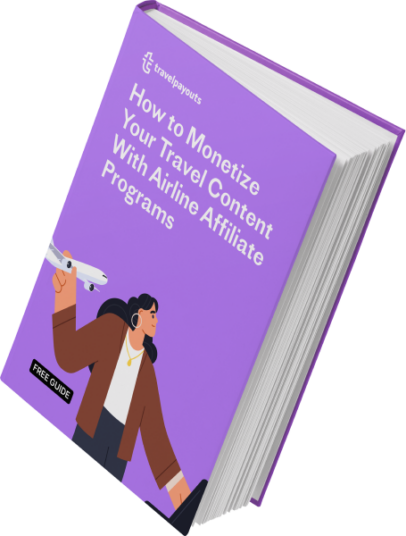 Start earning on flights
Use our free guide to add flights to your affiliate marketing strategy.
Start earning on flights