1. Wirecutter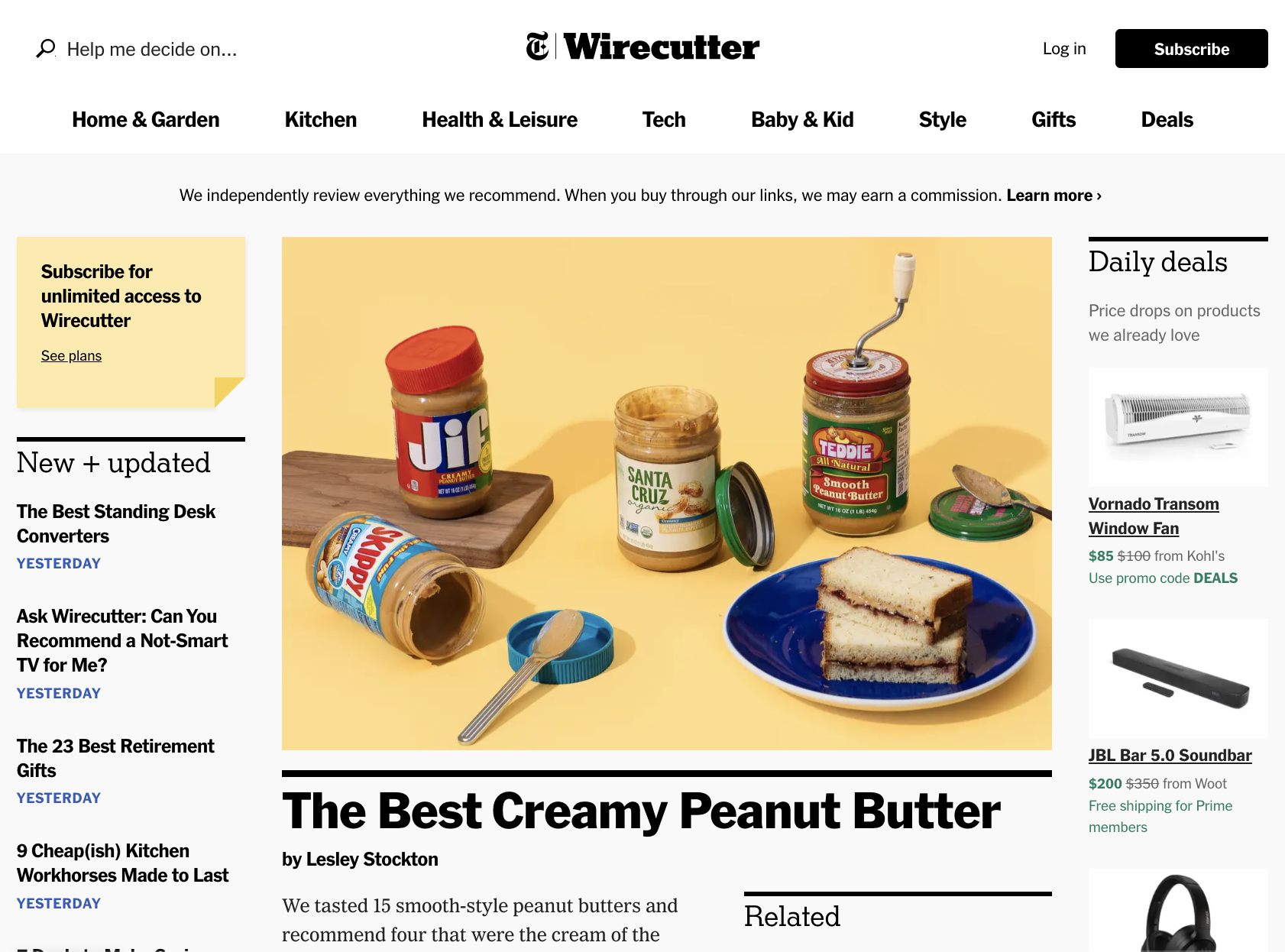 Wirecutter is a popular online product review website that offers in-depth, expert-recommended buying guides for various consumer products. Founded in 2011 by Brian Lam, a former editorial director at Gizmodo, Wirecutter was later acquired by The New York Times Company in 2016. The website has since become a trusted source for millions of consumers looking to make informed purchasing decisions.
The Wirecutter team rigorously tests and evaluates various products, from electronics and appliances to home goods and outdoor gear, presenting their findings in comprehensive, easy-to-understand articles. Wirecutter has built a strong reputation for trustworthiness and reliability by providing unbiased, well-researched recommendations.
Why We Love It
Wirecutter excels at providing readers with thorough, unbiased product reviews that simplify the decision-making process for consumers. Their expert team meticulously tests and compares products in various categories, enabling them to offer well-informed recommendations based on real-world experience. This builds trust between the website and the readers. They even have an advice column called, Ask Wirecutter.
Furthermore, Wirecutter's clean, user-friendly layout and easy-to-navigate categories make it a pleasure to explore, enhancing the overall user experience.
Another key to the website's success is its transparency in disclosing affiliate partnerships and maintaining editorial integrity. This commitment to honesty has helped the brand build trust with its audience, resulting in a loyal following and impressive revenue figures.
In 2020, it was reported that Wirecutter generated over $30 million in affiliate revenue. And in 2021, the New York Times further monetized the website by putting it behind the Times's metered paywall. Readers can read up to 9 free Wirecutter articles monthly before being asked to pay for a subscription.
2. The Points Guy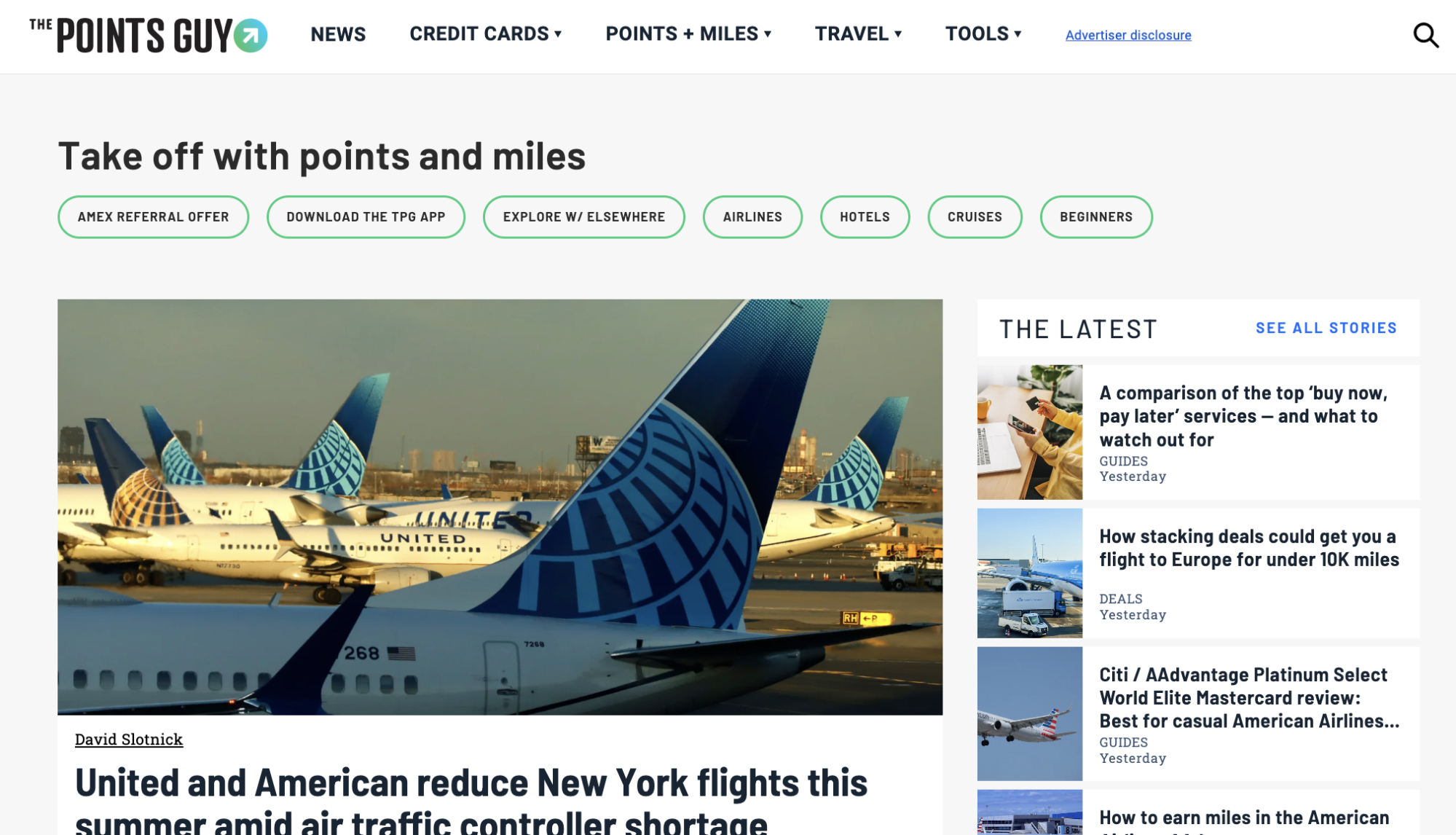 The Points Guy (TPG) is the go-to online destination for everything related to travel rewards, points, miles, and credit cards. Founded in 2010 by Brian Kelly, a former Wall Street worker turned travel guru, TPG has become a fan favorite for wanderlusters looking to make the most of their travel experiences without breaking the bank.
This informative platform offers up-to-date news, comprehensive reviews, and practical advice on travel, credit cards, and loyalty programs. With a team of knowledgeable writers and industry experts, The Points Guy provides reliable guidance on all aspects of travel, helping readers optimize their rewards and travel with confidence.
Why We Love It
Brian initially began with a modest niched approach, launching TPG as a points-and-miles blog focused on a particular niche. By concentrating on this specific area and becoming an authority on the subject, the website gradually gained traction. Over time, as its popularity grew, TPG transformed into the lifestyle media brand we know today—an intelligent approach.
TPG boasts an impressive 10 million unique visitors per month. Along with content creation, the website also focuses on use of SEO and analytics. TPG prides itself on understanding its data and tracking things like which articles drive visitors to take action rather than just looking at traffic.
💡 Success in affiliate marketing is closely tied to data analysis. Focus on determining which content pieces drive the highest conversions and always seek opportunities to optimize those conversion rates for even better results.
One of the ways that TPG generates revenue is through affiliate marketing, partnering with credit card issuers and travel providers, and earning commissions when readers apply for cards or book travel via their links. However, they have also diversified their revenue streams.
Although revenues are not published, sources have stated that in 2019, TPG earned more than $50 million in profit.
3. Travel Mexico Solo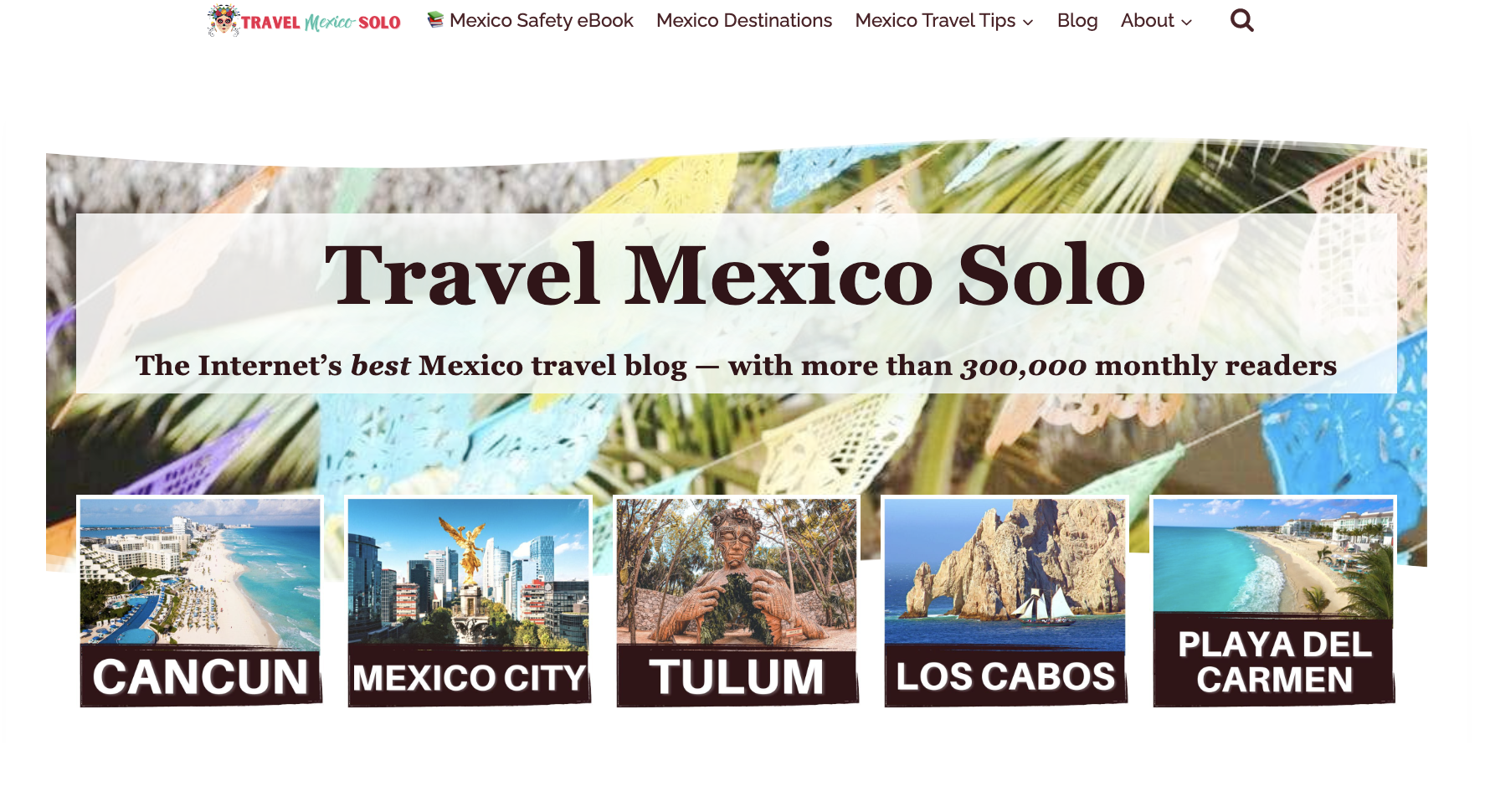 Travel Mexico Solo is a travel blog tailored explicitly for solo travelers looking to explore the beauty and diversity of Mexico. Founded by Shelley Marmor, a seasoned traveler, and Mexico expert, the website offers practical advice, safety tips, and detailed itineraries to help solo adventurers confidently navigate the country.
Shelley also runs three other Mexican-specific blogs and Travel Blogging 101, where she helps other travel bloggers learn how to make money with affiliate marketing.
Why We Love It
Travel Mexico Solo has nailed its niche, and Shelley's expertise in finding buyer intent keywords has resulted in highly targeted content that resonates with her audience and converts.
Shelley is also open and transparent about her earnings and consistently shares her income reports, revealing her earnings from affiliate marketing, her primary revenue source. She candidly speaks about her experiences as a travel blogger. In her third year of blogging, she managed to earn $272,569, and she's set an ambitious income goal of $1 million for this year.
Shelley champions the idea that anyone can achieve similar success. She has created an affiliate marketing Facebook group, developed a course, and offers coaching services to help other travel bloggers who want to level up their affiliate marketing game.
4. Travel Fashion Girl

Travel Fashion Girl is a stylish and informative travel blog founded by Alex Jimenez in 2012. The website is dedicated to helping women travel smart, pack light, and look fabulous.
With a focus on travel fashion, packing tips, and destination guides, Travel Fashion Girl has become a go-to resource for female travelers seeking practical advice on traveling comfortably and confidently. Alex's passion for travel and fashion shines through her engaging content, inspiring thousands of readers to explore the world in style.
Why We Love It
Travel Fashion Girl's success stems from Alex's passion, personal experience, and ability to identify a need in the market. By niching down and focusing on helping women travel light, she created a unique and valuable resource for her audience. Her content tilt – mastering the art of traveling with just a carry-on bag, regardless of trip length – set her apart in the crowded travel blog space when she first launched her blog.
Furthermore, Alex's access to data has allowed her to analyze her audience's preferences and tailor her content accordingly, resulting in a strong connection with her readers and high conversions. These factors have all contributed to the blog's impressive growth, ultimately earning Alex the title of a seven-figure blogger. 
5. Travels With Elle 
Travels With Elle is an enchanting travel blog founded by Elle, a travel enthusiast with a knack for sharing relatable and practical advice, to help busy people plan affordable yet memorable adventures. Elle's adventurous spirit shines through her content, as she provides detailed itineraries, travel hacks, and tips for anyone who wants to travel but needs a little help
Why We Love It
What sets Travels With Elle apart is its focus on making travel more easy and accessible for busy people who want to make their own memories (while still staying on budget), a niche that is relatable and unique at the same time. Elle's first-hand experiences and practical advice help readers balance their wanderlust with the reality of living a regular life.
Her blog thrives on affiliate marketing, with careful recommendations for travel gear, booking sites, and other travel-related products. Each suggestion is based on her personal experiences, which lends authenticity to her endorsements and drives her audience to click through and make purchases, thereby generating affiliate income. This approach of building trust and connection with the audience is an effective affiliate marketing strategy that other bloggers can take inspiration from.
6. Taverna Travels
Taverna Travels is an engaging travel blog run by Taylor Taverna, the daughter of a flight attendant who swears that she was born with travel in her blood. Taylor's blog is filled with inspiring stories, helpful tips, and informative guides encouraging readers to explore the world.
Why We Love It
Taverna Travels stands out as it touches on three different niches that complement each other perfectly. Readers can explore stories by travel style, which includes budget, outdoor, and solo female travel. This approach is great for affiliate marketing, as various partnerships can be shared in these three niches.
Taylor's personal experiences and expert tips make her content relatable and highly valuable to her readers. Her successful fusion of a strong niche focus, authentic storytelling, and strategic affiliate marketing is a great model for those looking to monetize their passions effectively.
7. Nick Kembel 
Nick's story has evolved over time. He started his blog, Spiritual Travels, in 2010, focusing on travel to Taiwan and neighboring countries. However, his blog started taking on another shape due to a move back to Canada and the COVID crisis.
He didn't want to create a Taiwan-specific niche website and instead started to write stories about his journey back to Canada and his life experiences. Today his blog focuses on topics like food, traveling with kids, hiking, pilgrimages, and, of course, country-specific content about Canada and Taiwan.
Why We Love It
Although not Taiwan-specific anymore, Nick's expertise in Taiwanese travel and culture sets his blog apart in the travel blogging world, carving a unique niche for his content. His personal experiences and in-depth knowledge provide a level of detail and authenticity that resonates with readers.
Regarding affiliate marketing, Nick promotes travel resources, local tours, and accommodations, each recommendation backed by his personal experience. Using affiliate links within these honest reviews and recommendations enables Nick to generate income while maintaining the trust of his readers.
8. Entrepreneurs on Fire 
Entrepreneurs on Fire (EOFire) is a renowned podcast and online platform created by John Lee Dumas in 2012. As a hub for entrepreneurship inspiration and resources, EOFire features interviews with successful entrepreneurs, offering valuable insights and advice for aspiring business owners.
Why We Love It
EOFire emphasizes the value of finding an unexplored niche and sticking to it in the long run. It all started with a podcast. John noticed that there were no daily podcasts that featured interviews with successful entrepreneurs. So he created one.
The journey began slowly, with no revenue generated during the first nine months. Despite the challenges, John persevered, achieving success by consistently providing valuable and free content (at least at first). This was done to build trust, establish himself as a though-leader, and build a loyal community.
💡 Remember that earning money with affiliate marketing is a marathon and not a sprint. You first need to build a loyal audience that trusts you before you can earn money. So make sure you are passionate about what you do, as there will be many zero-dollar months before you hit the jackpot.
And it worked. In 2022, EOFire earned a gross income of $2,422,841, with 8% coming from affiliate marketing. The platform shares yearly and monthly income reports and generates revenue through courses, sponsorships, affiliate partnerships, and published books.
EOFire is an excellent lesson on understanding your niche, following a passion, staying committed, and gradually expanding your income streams as your audience grows.
9. Making Sense of Cents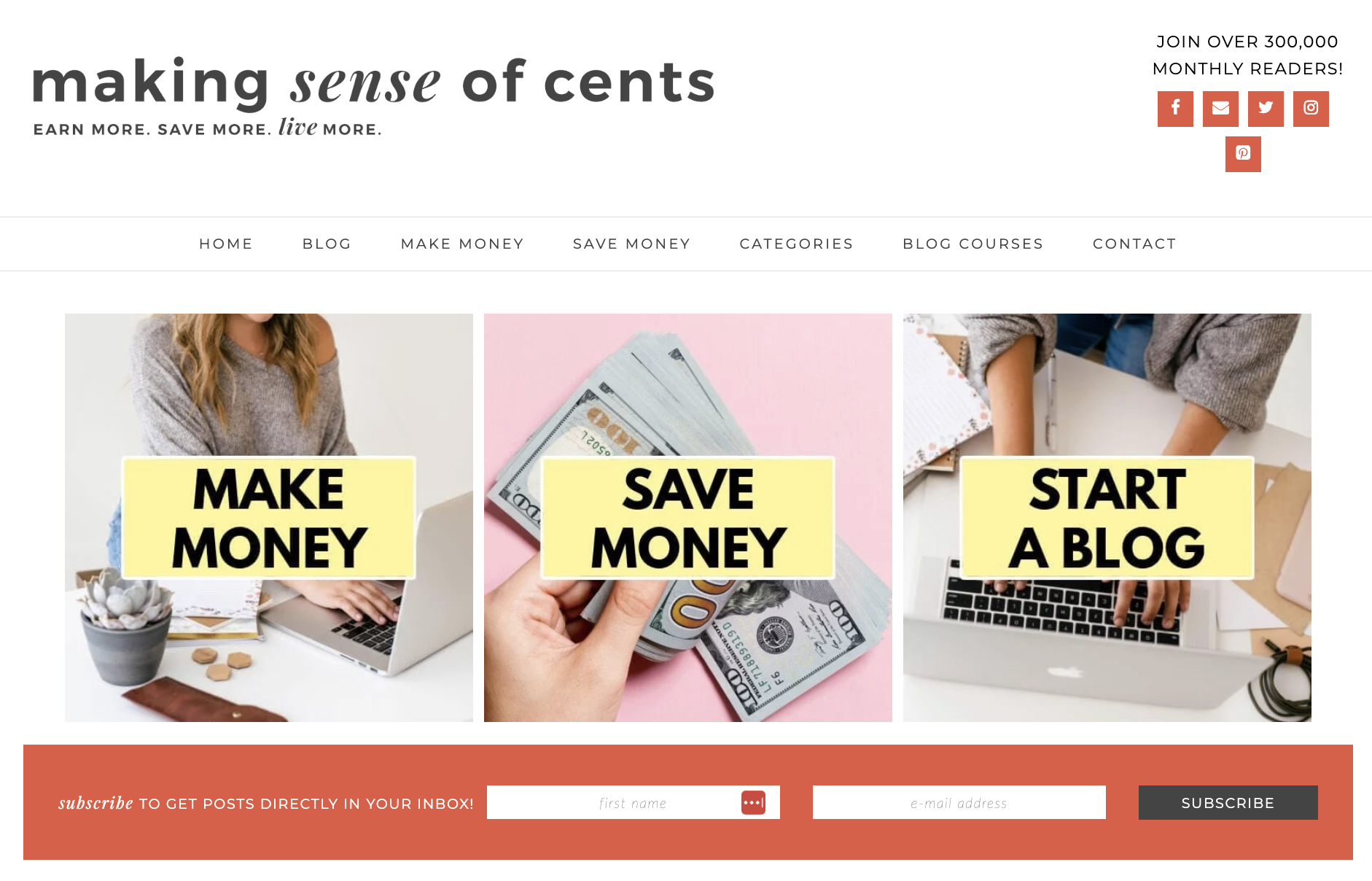 Making Sense of Cents is a personal finance blog founded by Michelle Schroeder-Gardner in 2011. The blog aims to help readers achieve financial freedom by sharing practical advice on saving money, making money, and managing finances effectively.
With a wealth of experience and knowledge, Michelle offers her audience a wide range of informative articles, including budgeting, student loans, and side hustles.
Why We Love It
Making Sense of Cents stands out due to the personalization of Michelle's approach. She frequently shares real-life examples from her own journey, which is an excellent form of social proof. Her earnings and lifestyle have been mentioned in over twenty different publications that she links to (and mentions) throughout her website.
Publications in Business Insider, Forbes, CNBC, and titles like "This Blogger Makes $2,000/Day While Sailing Her Family Around the World. How She Became Financially Independent at 30" can be quite powerful in the world of affiliate marketing.
💡 Social proof builds trust and credibility. Real-life examples, verifiable numbers, and media coverage showcase the marketer's expertise, encouraging potential customers to trust their recommendations and make purchases.
With a monthly revenue of around $50,000 from affiliate marketing alone, Michelle writes blog posts and even offers an affiliate marketing course for anyone looking to learn more about the tools and strategies she used to achieve her financial goals.
Along with providing a wealth of information, the website has an organized, clean, and user-friendly design. She also is building an email list by offering a free ebook.
10. Money Saving Expert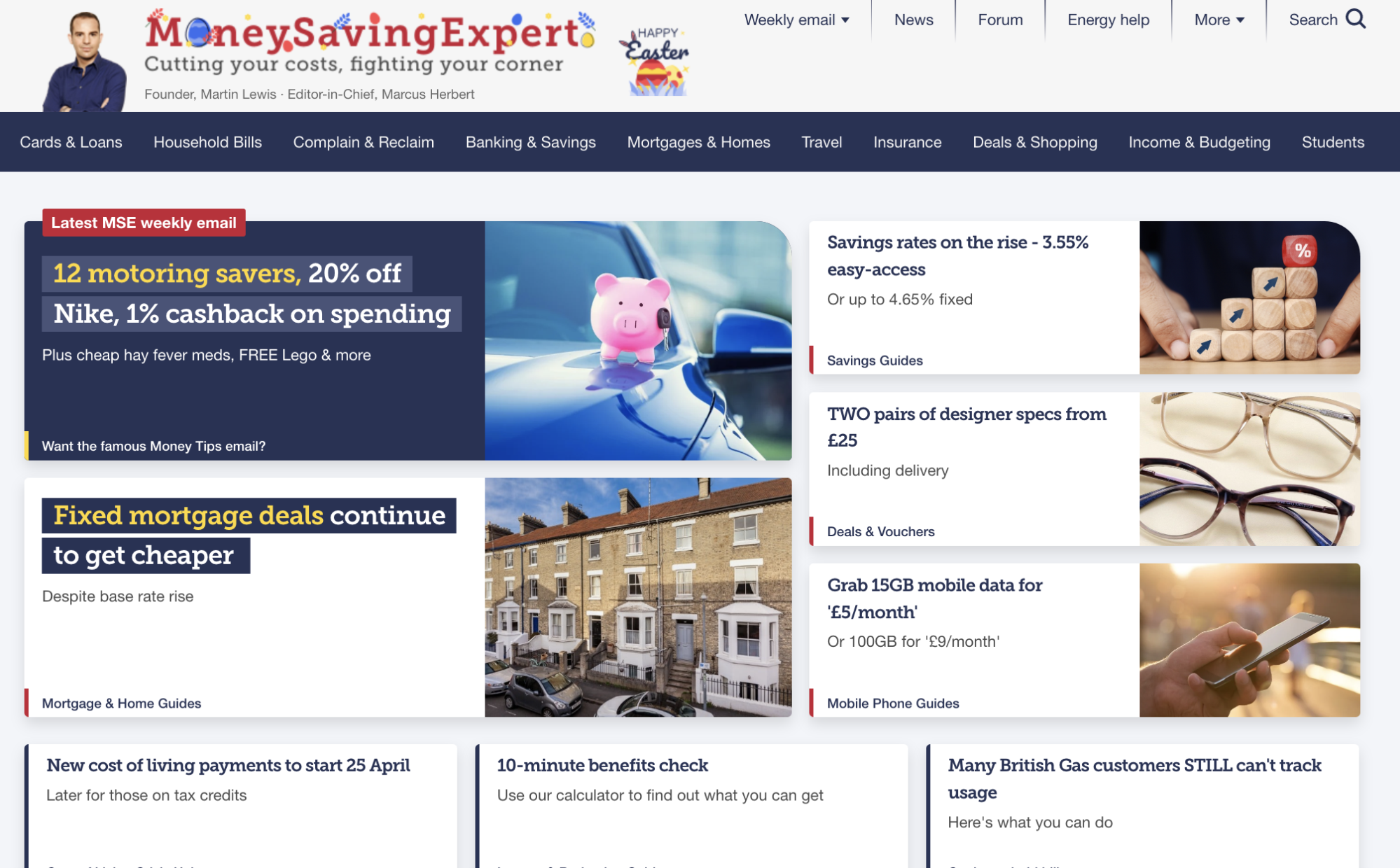 Money Saving Expert (MSE) is a comprehensive personal finance website founded in 2003 by Martin Lewis and was later sold in 2012 for £87m to MoneySupermarket.com.
The UK-based platform aims to empower consumers by providing them with expert advice, tips, and tools to save money and make informed financial decisions. Covering a wide range of topics, including credit cards, loans, mortgages, insurance, and shopping deals, MSE has become a trusted source of financial information in the UK.
Why We Love It
Money Saving Expert stands out for its unwavering dedication to consumer advocacy and financial education. Their team of experts works tirelessly to provide up-to-date, accurate, and actionable advice that helps users navigate the often complex world of personal finance. By putting its audience's needs first and maintaining a strong commitment to transparency and honesty, MSE has built a loyal following and a stellar reputation in the industry.
💡 Along with more than 16 million monthly website users, MSE also has an email subscription list of around 8.7 million individuals. Don't forget to take advantage of email subscribers. And no, email marketing is not dead.
Their strategic use of affiliate marketing demonstrates how it can be integrated seamlessly into a content-driven platform without compromising the integrity or trustworthiness of the information provided.
This unwavering commitment to transparency includes their How this Site is Financed page, updated every six months. The page outlines how they generate revenue, how to spot affiliate links, and even outlines the costs to run the website. This is transparency at another level.
Their approach works, as MSE's annual revenue in 2021 was around $30m. 
11. Gear Patrol
Founded in 2007, Gear Patrol is an award-winning online publication that provides its audience with the latest news, reviews, and recommendations in the world of gear, gadgets, and lifestyle products. They also have a bi-annual print magazine as well as a content studio arm, Gear Patrol Studios.
Covering a wide range of topics, from technology and automotive to outdoor adventures and home essentials, Gear Patrol has become a go-to source for enthusiasts, specifically men, seeking expert advice and information on the best products available.
Why We Love It
What sets Gear Patrol apart and makes it truly stand out is its commitment to delivering high-quality, in-depth content that is both informative and engaging. Affiliate marketing is an afterthought. Their mission is that everyone deserves the right product.
By consistently providing valuable insights and maintaining an objective perspective, Gear Patrol has built a strong reputation as a trusted source for consumers. Their readership has grown to 5.5 million monthly online readers.
A key aspect of Gear Patrol's success in affiliate marketing is their deep understanding of their audience. They've skillfully adopted a tone and voice that resonate with their readers, allowing them to curate content that speaks directly to their audience's needs and interests. They have reviews, buying guides, and a daily round-up called "Today in Gear."
They're selling products in a way that seems seamless and natural. Trust and community building have led Gear Patrol to an estimated annual revenue of around $12.1M annually.
12. SafeWise 
SafeWise is a leading online resource that provides in-depth home security and safety information for homeowners and renters alike. The website offers comprehensive guides, product reviews, and expert advice on various security solutions, from security systems to smart home devices.
With a mission to empower individuals and families to make informed decisions about their safety, SafeWise has become a trusted authority in the home security and safety industry, helping thousands of people protect their homes and loved ones.
Why We Love It
SafeWise demonstrates the power of focusing on a specific niche, catering to the home security and safety community. The beautifully designed website is well-organized with clear categories, making it easy to find relevant information.
SafeWise also maintains a YouTube channel and TikTok account, expanding its reach and providing additional platforms for sharing its expertise. The weekly newsletter helps build a sense of community among their audience, further solidifying SafeWise's position as a trusted authority in the home security and safety industry.
13. Globo Surf
Globo Surf is a popular website that provides comprehensive guides, product reviews, and advice for outdoor and water sports enthusiasts. Founded by passionate surfers, Globo Surf covers many topics, including surfing, paddle boarding, kayaking, snorkeling, and other water-related activities.
The website is a valuable resource for beginners and experienced adventurers. It offers in-depth information to help readers make informed decisions when purchasing gear and equipment and tips and tricks for enjoying their favorite water sports safely and responsibly.
Why We Love It
Globo Surf stands out for its focused approach to a specific niche: outdoor and water sports. By providing high-quality, comprehensive guides and reviews, they've become a trusted resource for enthusiasts. Their dedication to this niche allows them to deliver expert advice and recommendations that truly cater to their audience's needs.
Additionally, Globo Surf expands its reach by offering YouTube buying guides, further enhancing the user experience and making it easier for people to find the best products for their outdoor adventures.
14. Everyday Carry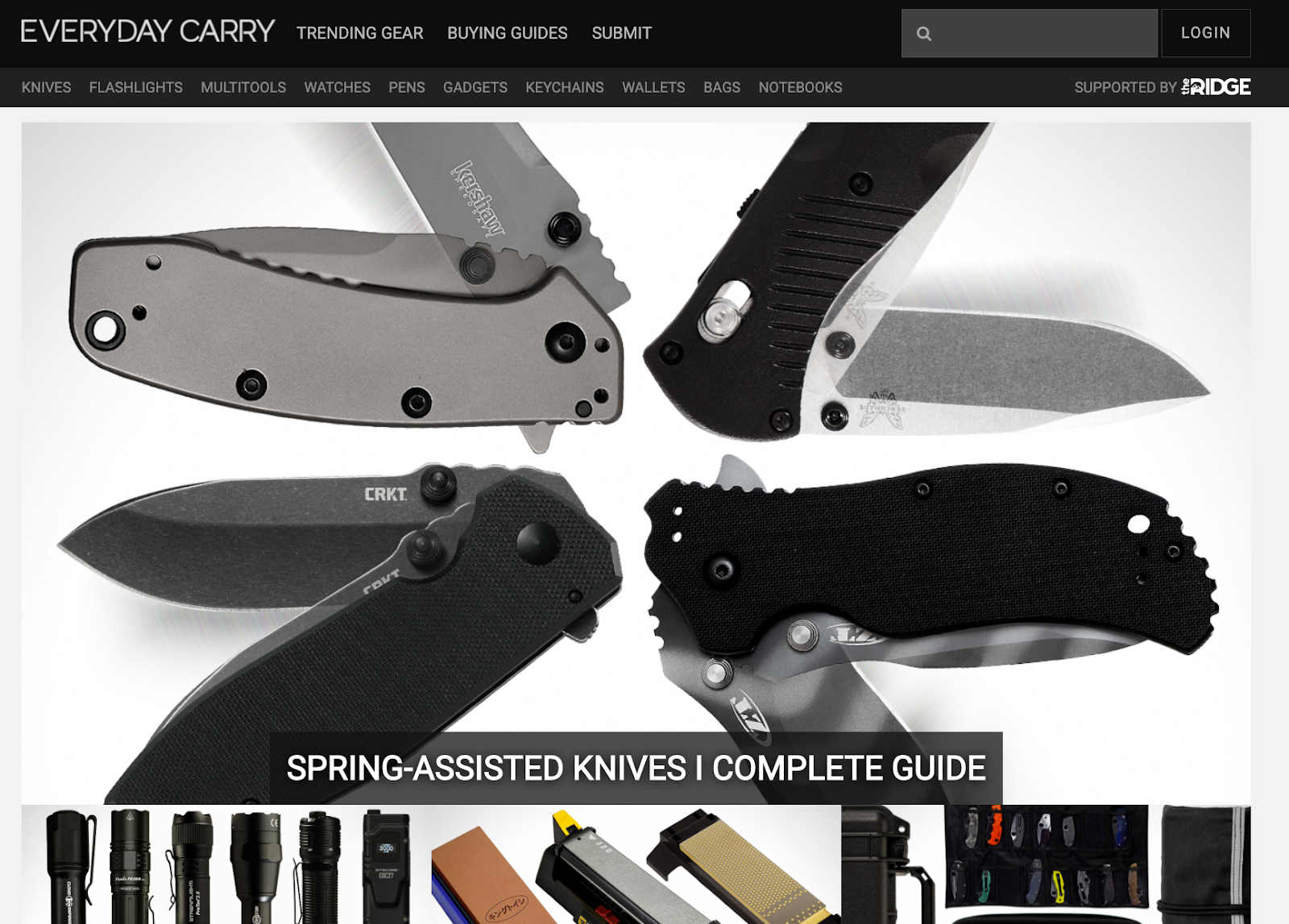 Everyday Carry (EDC) is a popular online platform dedicated to showcasing the essential items that people carry with them daily for practicality, utility, and convenience. The website features a vast collection of user-submitted photos and descriptions of the items they consider indispensable, ranging from pocket knives and multi-tools to wallets, pens, and smartphones.
Why We Love It
Everyday Carry truly shines in its ability to foster a strong sense of community among its users. By encouraging individuals to submit their own EDC collections, the platform empowers people to share their personal preferences and practical solutions with others. This user-generated content inspires others to improve their daily essentials and creates an environment where people can learn from each other's experiences.
The website also uses product ratings sourced from trusted platforms like Amazon. By incorporating these ratings, Everyday Carry gives users a reliable reference point to gauge various products' quality, functionality, and usefulness.
💡 Leveraging reviews in affiliate marketing enhances user experience and increases conversion rates. Why? Because it is honest feedback from real users, which builds trust and credibility and influences purchasing decisions.
Overall this Everyday Carry is a great example of the power of leveraging your community and having them help you with your affiliate marketing strategies.
Final Thoughts: Inspiring Affiliate Marketing Examples
Hopefully, these inspiring affiliate marketing examples showcase the power of focusing on a niche, understanding your audience, and delivering high-quality content tailored to their needs. These successful affiliate marketers have built thriving businesses by consistently providing valuable information, engaging with their communities, and leveraging various platforms.
Whether you're just starting your affiliate marketing journey or looking to improve your existing strategy, learning from these examples can help you refine your approach, build trust with your audience, and ultimately achieve greater success in affiliate marketing.
If you're interested in becoming an affiliate partner and want to partner with a trusted platform in the travel industry, consider joining Travelpayouts. With Travelpayouts, you can earn commissions by promoting flights, hotels, car rentals, and other travel-related services.
Join the Travelpayouts Partnership Platform
Access exclusive tools and the best travel affiliate programs, including flights, hotels, car rental, insurance, tours and activities, all in one place.
Join Today
395,000 partners already trust us
120 travel brands
$53M+ total paid since 2011