What Is Affiliate Marketing?
Affiliate marketing is an advertising model that helps brands reach wider audiences with the help of affiliate partners. Essentially, a brand hires a content creator to run a campaign and promote its product or service. The content creator receives a commission for each sale or customer they bring to the brand's website or store. Brands track sales and subscriptions through affiliate links and other tools provided with a unique affiliate ID. Thus, every click and sale is carefully monitored. In addition, both the brand and affiliate partner can check the campaign results at any time. You can learn more about how affiliate marketing works on our blog.
So, what are the advantages of affiliate marketing? For brands, affiliate campaigns bring a wider reach while helping you generate more sales and build brand awareness. For content creators, affiliate marketing is a unique opportunity to earn money online by promoting a product or service that they find relevant to their audience. Find more reasons to try affiliate marketing and earn income on our blog.
The Dos and Don'ts of Affiliate Marketing
Affiliate marketing sounds promising, doesn't it? However, to achieve tangible results, it is important to follow the best practices of your niche and learn from the experience of other affiliate partners, thus avoiding common mistakes that often discourage beginner marketers. Below, you will find the dos and don'ts of affiliate marketing to take your campaign to the next level.
Dos
In this section, we will explore some best practices and effective strategies for succeeding in affiliate marketing, including how to choose the right program, build trust with your audience, and optimize your affiliate links for maximum conversion.
1. Do Choose a Relevant Affiliate Program
Affiliate marketing will only bring tangible results when you keep your audience in mind. If your followers can get useful recommendations from you, your credibility as a blogger will grow. For this reason, it is important to choose affiliate programs that are relevant to your audience. On the other hand, selecting overly general or unrelated programs might result in zero earnings and a significant loss of time.
It is important to understand your audience and their pain points in order to suggest products accordingly. Think about their age, gender, geolocation, time of the year, and so on. Ask yourself if you would actually use this product and if your followers could benefit from it. To earn money with affiliate marketing, you should first focus on the value you bring and only then on how much you will earn.
For example, if you write about traveling on a budget, you can recommend how to find a cheap hotel in the destination your audience is interested in. If you target more well-off readers, you could promote cruises, high-end hotels, and so on. Check out some of the best travel affiliate programs on our blog.
It is no less important to check the reputation of the brand you want to promote. Pick affiliate programs that have been around for quite a while and have gathered positive feedback from affiliates. Then check the program commission and conversion rates.
To learn more about how to choose an affiliate program that will generate a lot of revenue, watch this video from Travelpayouts Academy.
Note that affiliate marketing is not just about advertising, so make sure to do research and provide your readers with accurate information and genuine recommendations. Even better, try to share your own personal experiences with the brand, which will help your audience relate.
2. Be Transparent
Honesty and transparency are the pillars of an efficient affiliate marketing strategy. Make sure to disclose your affiliate partnerships on your blog, social media page, videos, and everywhere else you promote affiliate links. Doing so will not decrease the number of clicks, but will create clarity and help build trust with your audience. If you want to be taken seriously, make sure to include a disclosure about your partnerships and highlight that you will always provide an honest opinion about the services.
An affiliate disclosure can be a short message that clearly states that you earn a percentage on sales through the links you promote. For example, you can write something like: "I may earn small commissions from the brands mentioned in the post. Clicking the link will cost you nothing, yet you will be supporting my blog." Different advertisers may require different wordings, but the idea remains the same. You can find more blogger disclosure examples on our blog.
Ideally, you should place this disclaimer as close as possible to the affiliate links. Many bloggers write it at the beginning or end of a post, especially if they promote multiple links. You can also create a separate "Resources" page and present all your affiliate links and tools there.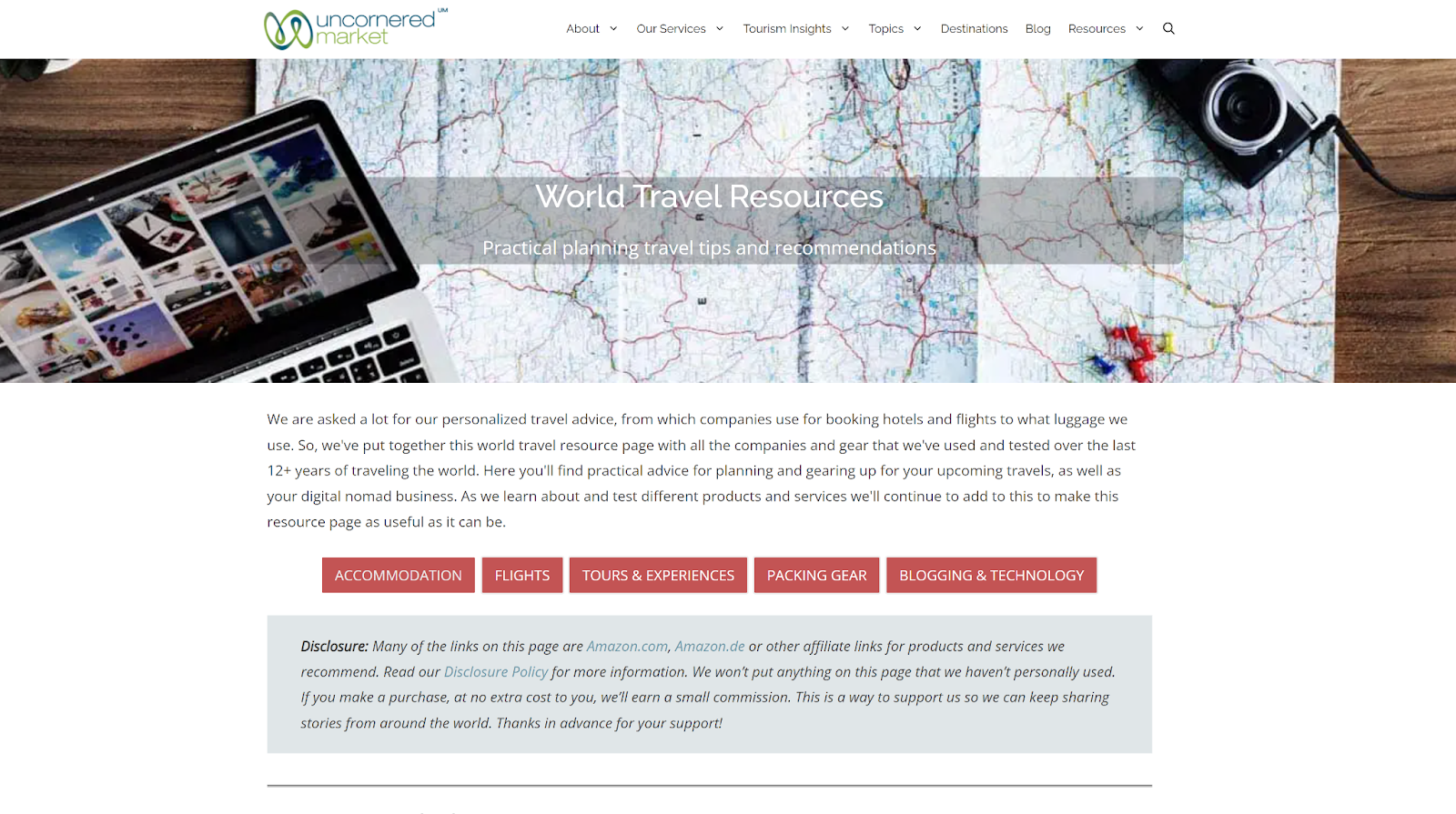 3. Do Join Multiple Affiliate Programs
To find an affiliate program that resonates with your audience and brings you commissions, you might need to experiment with several brands. That is why signing up for multiple affiliate programs can be a great idea. In this way, you will also diversify your income sources and find out which programs and advertisers convert better on your blog.
Later on, you may also join more programs to provide your audience with a wider choice of products while earning more commissions. Try to balance out all the products you promote, so your content does not look spammy.
For example, in the travel niche, some of the most popular products are flight tickets and hotel stays. Thus, it makes sense to promote several offers to help your audience organize a full trip.
With Travelpayouts, you can join several affiliate programs and manage them hassle-free from a single dashboard.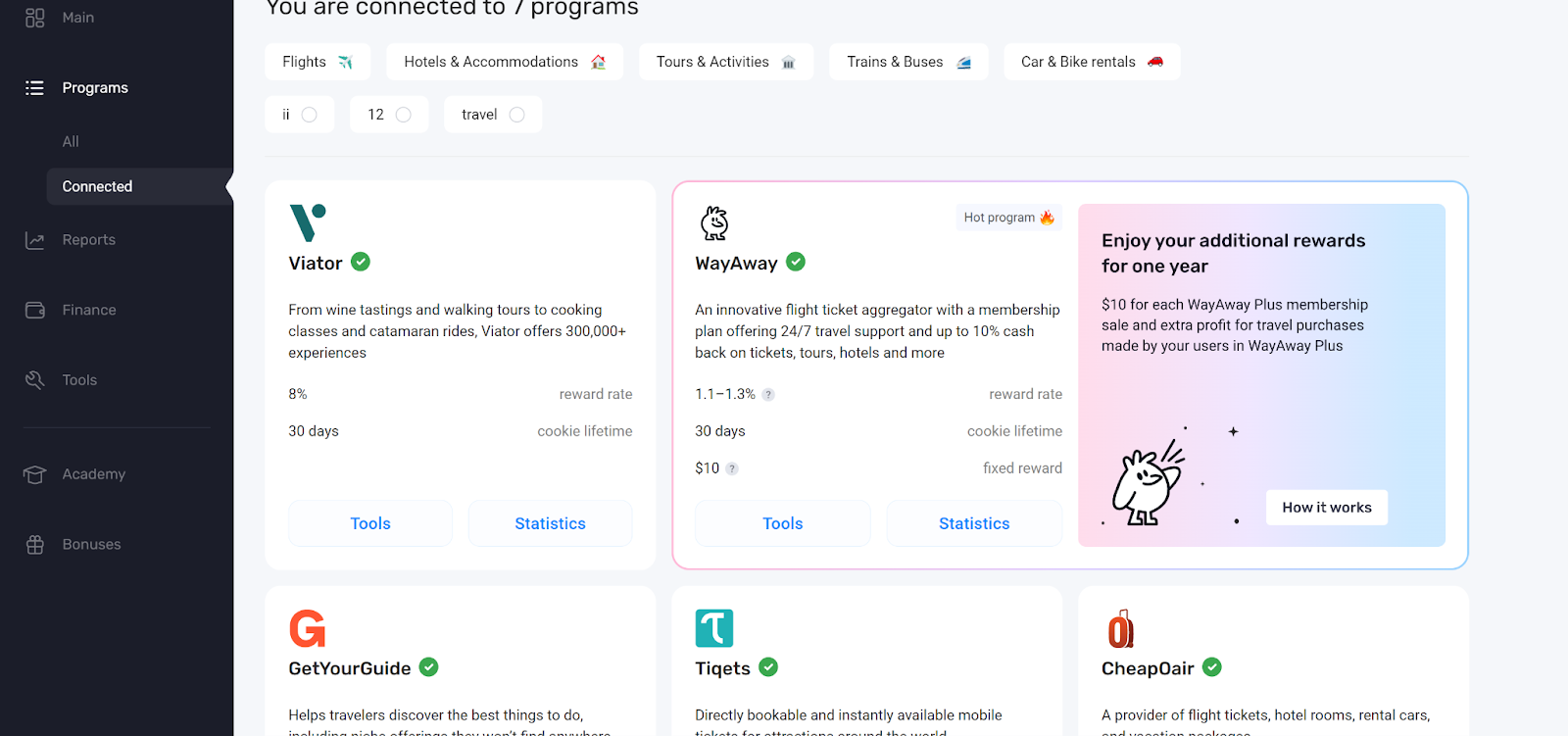 4. Do Provide Value
To spark readers' interest in your affiliate offers, it is important to deliver those offers in a helpful and informative context. Content is king when it comes to affiliate marketing and blogging, as it provides value to the audience, generates traffic from search engines, helps grow your online presence, and builds your authority.
For example, if you promote travel insurance, you could write a post that compares different insurance products in order to help your audience find the most suitable product for their trip. Add your affiliate links and, if your post can truly help your audience, sales won't take long to start rolling in. Even if your post does not directly lead to a sale, it will surely help generate traffic and grow your community. Make sure to develop a content marketing strategy so your blog becomes a full-fledged source of information as well as a knowledge base for your audience.
5. Do Test, Track, and Optimize
To find a program that resonates with your audience and generates commissions, you might need to experiment with various affiliate offers and marketing strategies. Affiliate marketing success does not happen overnight, but testing and optimizing will help you quickly discover the best-converting offers without wasting valuable time and effort.
Consider creating different types of content to promote your offers. For instance, you may write a blog post, review a product, post product comparisons, make a video, run a giveaway on social media, and so on. You should also explore various free traffic sources for affiliate marketing, or maybe even leverage paid traffic.
To learn more about how you can leverage A/B testing in affiliate marketing, watch this video from Travelpayouts Academy.
To track your campaigns, it is important to connect analytics software to track your conversions, clicks, and views. Google Analytics is one of the best tools to track affiliate links, and it's free. If you want to go deep into detail, you may want to use UTM parameters that provide traffic insights, help calculate ROI, and discover the best-converting content.
Don'ts
Like any other marketing strategy, affiliate marketing has certain "don'ts" that you should be aware of to avoid damaging your reputation and losing potential income. In this section, we will explore some common mistakes to avoid when engaging in affiliate marketing so that you can optimize your earning potential.
1. Don't Mislead Your Audience
Affiliate marketing is based on trust. So, to earn an income, you should focus on building credibility in the eyes of your followers and brands. For this reason, make sure to avoid any false claims or misleading information about the brand and its product.
Affiliate campaigns are different from advertising in that they aim to recommend a great product to an audience to help them solve a problem. The brand will also not be happy with an overly salesy campaign, as they also want to create an appealing image in the eyes of potential customers.
To create a great post, you may even want to include a couple of cons when describing a product or service to balance out all the pros. This will help build trust with your readers and make them study your review more carefully.
2. Don't Overpromote
Being salesy does not mesh well with affiliate marketing. Exaggerating the benefits of a product or service can be off-putting, especially if your readers understand that you only want to make money. To avoid that, make sure to provide each affiliate link with enough context and explain why your target audience may benefit from using the product you are promoting.
Affiliate marketers earn money because they provide useful recommendations, but as soon as the marketing becomes too aggressive, you might lose the trust of your audience and, subsequently, your earnings. Hardly anyone likes being sold to, so you need to focus on providing value and avoid pushing your audience too much.
3. Don't Violate Affiliate Program Rules
To establish long-lasting partnerships, make sure to carefully read the terms and conditions of each affiliate offer you promote. The partnership between you and the brand is important to growing your online presence and earnings.
Each advertiser has different regulations when it comes to accepted traffic sources, marketing techniques, and so on. Do not risk losing your account and commissions. Be sure to study the program features before you join it.
Some of the rules to consider may include: not cloaking URLs, including disclosures, avoiding paid traffic, and so on. For example, many travel brands forbid bidding on brand keywords. If you want to drive paid traffic, you need to make sure you do not compete with the advertiser for its main branded keyword.
4. Don't Spam With Links
It is more than enough to share an affiliate link one or two times per post. Otherwise, your content will look spammy. Make sure that your page provides value and helpful information, and that all affiliate links are relevant and have enough context.
Another mistake is to promote too many brands at once. This can distract and mislead your audience, as the reader will not be sure which product to check out. As a result, they might just skip looking into any products at all. So, try to resist the temptation to fill your page with as many links as possible. Focus on the reader experience instead.
Where should you place affiliate links? Many bloggers prefer to spread them throughout their post so that affiliate offers are not clustered together. As your blog grows, you will get more opportunities to promote affiliate links and drive conversions.
To get more tips on how to place affiliate tools in your content, download our free guide.
5. Don't Give Up
Affiliate marketing success does not happen overnight. It is most often the result of long work and continuous effort being put into your blog. The more content, affiliate links, and followers you have, the more likely your blog is to generate affiliate sales. But, naturally, it takes time and dedication, so if you are currently struggling because your new blog does not have traction, you should give it time. Blogging can sometimes be a lonely job, as you do not receive enough feedback from the audience, especially at first. Check our special post to learn how long it takes to make money blogging and understand your timeline.
Conclusion
Affiliate marketing can be an amazing way to earn money online. By understanding the dos and don'ts of affiliate marketing, you can create and implement a successful affiliate strategy and start earning fast. Make sure to conduct some research, understand your audience's pain points and interests, deliver helpful content, and build a strong, engaged community around your blog. While waiting for your first affiliate earnings to come in, remember to remain patient and keep working with dedication. With time, your business can even turn into a full-time career, as it all depends on how much effort you are ready to put in.