There are dozens of travel insurance programs uniquely designed to cater to all travelers—from digital nomads to family vacationers. In this post, we'll break down the top travel insurance programs available on Travelpayouts and other affiliate platforms for travel bloggers and content creators and list the commission rates, cookie lifetimes, and tools you can use when you join each program.
Join the Travelpayouts Partnership Platform
Access exclusive tools and the best travel affiliate programs, including flights, hotels, car rental, insurance, tours and activities, all in one place.
Join Today
395,000 partners already trust us
120 travel brands
$53M+ total paid since 2011
Can You Earn With Travel Insurance Affiliate Programs?
It's no secret that travel insurance is in high demand. Because of the lasting effects of the COVID-19 pandemic on the travel industry, travelers are more willing than ever to invest in travel insurance to protect against medical emergencies, lost luggage, or trip cancellations. Travel insurance allows travelers to have peace of mind and worry less, so they can focus on having a memorable, relaxing vacation.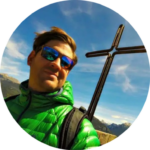 Harry Lesner, founder of thebudgetsavvytravelers.com, estimates that approximately 25% of his total affiliate marketing income is derived from insurance partner programs. "I particularly enjoy working with Insubuy's affiliate program, as they have a user-friendly website, competitive prices, a wide selection of plans, and the ability to adjust the premium and deductible to meet the budget of the traveler. The Patriot International and Patriot International Lite plans from Insubuy account for around 60% of my sales."
The Top 12 Travel Insurance Affiliate Programs
However, finding the "right" travel insurance plan can feel daunting, and most travelers need extra guidance to determine the perfect one for them. That's where you come in! As a content creator, you can recommend a reliable travel insurance company to your audience that serves their unique needs. Then, you can generate affiliate income when you're a part of that company's travel insurance affiliate program. It's a win-win situation!
3 Insurance Partner Programs in Travelpayouts: VisitorsCoverage, Insubuy, EKTA
With the Travelpayouts Partnership Platform you can earn with three programs from the Insurance category.
| | | | | |
| --- | --- | --- | --- | --- |
| Partner Program | Brand's Products | Commission Rate | Cookies Lifetime | Partner Tools |
| VisitorsCoverage | Travel, visitors and medical insurance, etc. | $1–$100 per sale | 30 days | Deep Link Generator, Pre-made Links, Widgets, Banners |
| Insubuy | Travel insurance, international medical insurance, students insurance, and other type of insurance | $1.50–$150 per sale | 30 days | Deep Link Generator, Pre-made Links, Widgets, Banners |
| EKTA | Travel insurance, appliances insurance, and health insurance | 20% of the order amount | 30 days | Deep Link Generator, Pre-made Links, Banners |
1. VisitorsCoverage
VisitorsCoverage is one of the largest online travel insurance platforms offered in 175+ countries (with their primary market being the United States). This insurance company was one of the first to offer travel insurance to travelers worldwide in 2006. Now, they offer several customizable plans, from classic insurance to cover medical expenses to extended insurance to cover flight delays, missing baggage, and other emergencies.
Features of the VisitorsCoverage Insurance Affiliate Program
VisitorsCoverage offers customizable insurance packages to travelers at an affordable price. Travelers can pick and choose the best options and add-ons to create an insurance policy that fits their unique needs.
VisitorsCoverage is a great affiliate program to monetize your travel blog because you can recommend the company's customizable insurance plans knowing they are suitable for all types of travelers, including digital nomads, couples, and families, regardless of budget. Since VisitorsCoverage is offered in hundreds of countries, it also caters to travelers from around the world.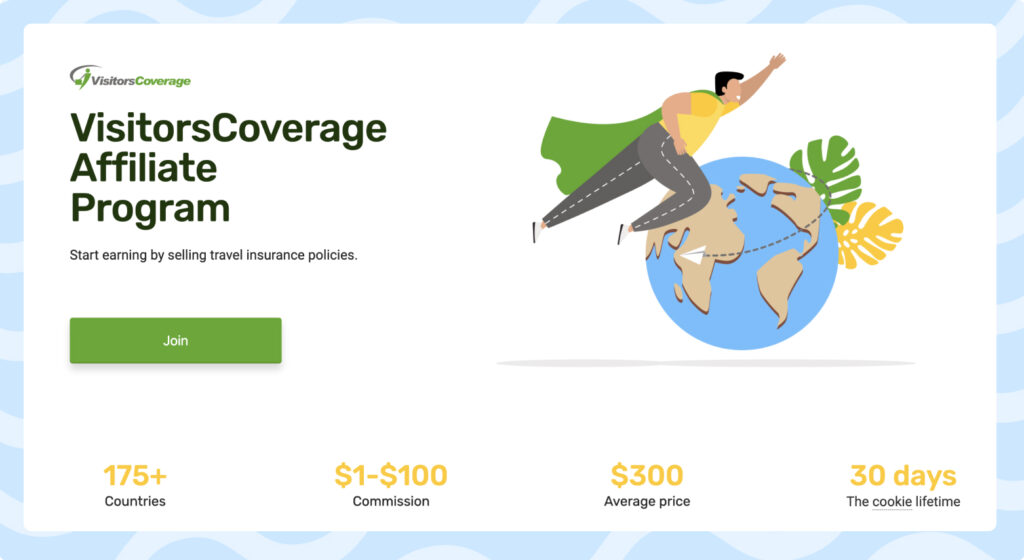 2. Insubuy
Insubuy is one of the largest online insurance providers for travelers planning a trip in the United States. Tourists from around the world can choose from a wide range of plans, from basic insurance, which will cover emergency medical care, to extended insurance, which will cover common sicknesses and rare diseases. After purchasing a plan, travelers can make changes to or cancel their insurance policy at any time leading up to their trip.
Features of the Insubuy Travel Insurance Affiliate Program
Insubuy's insurance affiliate program offers many benefits. The program is available in 11 languages, including English, Spanish, Russian, and Italian. Insubuy's insurance plans appeal to foreigners traveling to the United States due to the country's high cost of medical care. Insubuy also offers up to $150 in commission (depending on the sale amount) and a 30-day cookie lifetime, which is competitive compared to other programs.
Another important point to note is that Insubuy only pays the reward for the sale of the insurance policy after a slight delay. A slight delay is also possible during moderation, which, as a rule, takes up to two weeks since the advertiser carefully selects all partners. Rewards are incurred once the insurance policy's effective date has passed.
If you are content waiting for a payout, Insubuy may prove to be a lucrative travel insurance affiliate program if you have an audience that travels within the United States.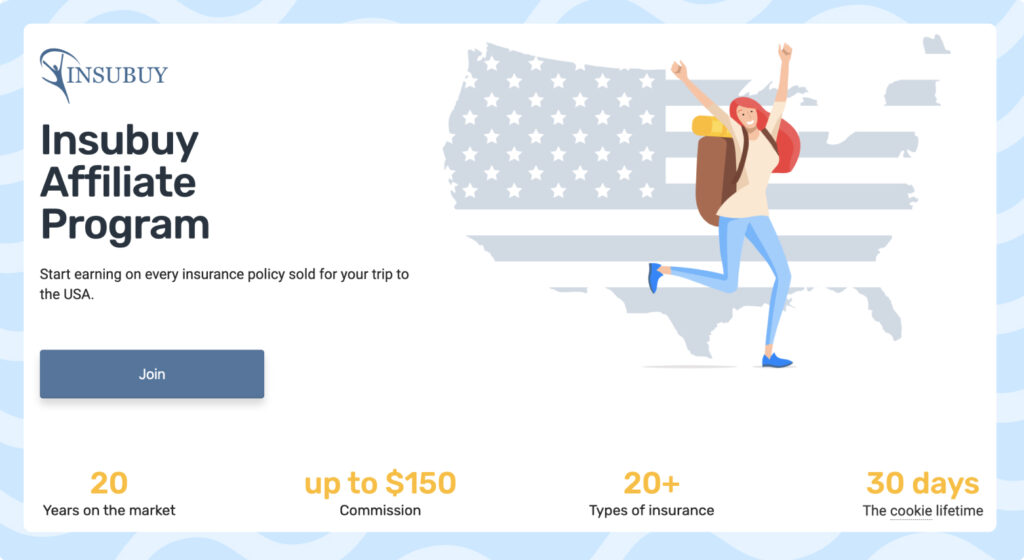 3. EKTA
EKTA is a travel insurance platform known for its affordable insurance package starting at just $0.99 per day. EKTA works worldwide, but the company's primary users are from the USA, Canada, Israel, Germany, Turkey, Singapore, UAE, Thailand, and Saudi Arabia. EKTA's most basic package includes coverage for critical situations, but they offer extended packages for travelers who would like extra coverage, including protection against COVID-19.
Features of EKTA Insurance Affiliate Program
One of the biggest draws to EKTA for travelers is the company's modern website and payment processing system. EKTA accepts payment from all bank cards directly, so international clients won't need to transition to another platform to pay. This helps clients with different bank cards feel more secure during their transactions, leading to higher conversion rates.
Additionally, when you are part of the EKTA affiliate program, each order immediately goes into the "paid" status on your Travelpayouts account. The commission payment is made as soon as the insurance policy begins, so you don't have to wait several months for your payout after the client's trip. Not to mention, the company's 20% commission is also one of the most competitive rates in the industry!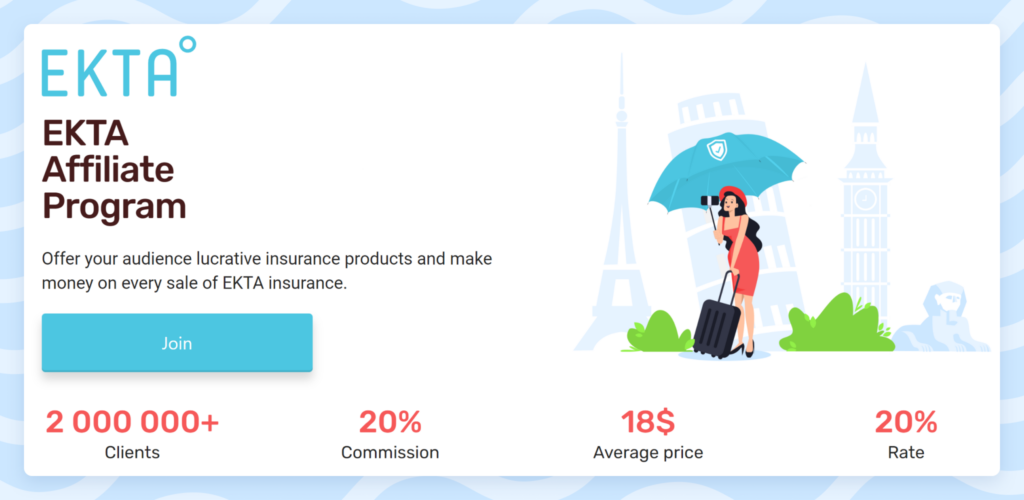 2 Reasons "Why" It's a Good Decision to Work With Insurance Affiliate Programs on the Travelpayouts
1. You can choose the program that best fits your project
All Travelpayouts brands have different working conditions with partners and are suitable for different projects. For example, VisitorsCoverage, and Insubuy can be used by content project partners (sites, pages in social media, etc.) and media buyers. In addition, EKTA is suitable for owners of content and coupon websites. You can choose the program that best suits your project.
2. It's easy to monetize your content with Travelpayouts
With Travelpayouts in addition to insurance you can offer to your audience flight tickets from WayAway, accommodations from Booking.com, excursions from GetYourGuide, and other travel services from more than 100 well-known and trusted brands from different categories. This cross-selling strategy will help you to increase your average check and earn more.
Another good thing is that you can promote these brands' services via easy and powerful tools, such as partner links, interactive widgets, and colorful banners. Advanced partners will appreciate the API, White labels, and other tools. Join Travelpayouts and start earning with travel affiliate programs, it's free.
Join the Travelpayouts Partnership Platform
Access exclusive tools and the best travel affiliate programs, including flights, hotels, car rental, insurance, tours and activities, all in one place.
Join Today
395,000 partners already trust us
120 travel brands
$53M+ total paid since 2011
4. TravelInsurance.com
TravelInsurance.com is a well-established travel insurance comparison platform. It allows travelers to compare plans from top-rated insurance companies, like Global Trip Protection, Travelex Insurance Services, and Trawick International, by providing basic information about their trip. Then, they can buy the travel insurance plan that suits them directly from the website.
Features of TravelInsurance.com Affiliate Program
TravelInsurance.com's affiliate program offers several perks for travel bloggers and content creators. Since the company provides a wide range of insurance policies from various providers, your audience will likely be able to find an insurance plan that fits their needs, regardless of their country of origin, destination, or budget. TravelInsurance.com has been featured in prominent media outlets, like NBC and Fox News, proving the company is credible.
One of the significant drawbacks to TravelInsurance.com's affiliate program is that the exact commission rate and cookie lifetime cannot be known before the registration and signing of the contract. While the company's website says it offers one of the highest conversion rates in the industry and a long (indefinite) cookie duration, it's hard to know for sure how this platform stacks up against the competition.
5. Allianz Global Assistance
Allianz Global Assistance, a company under Allianz, is a trusted leader in the travel insurance industry, offering coverage for over 55 million people annually. The company offers dozens of plans, covering everything from lost or stolen baggage, emergency medical coverage, rental car damage, trip cancellation benefits, and annual insurance plans for your entire household. It also has a 24/7 hotline and TravelSmart App.
Features of the Allianz Global Assistance Affiliate Program
Allianz Global Assistance is a trusted brand under Allianz with tons of benefits for policyholders, including reimbursement for nonrefundable trip costs, such as vacation rentals, hotels, car rentals, and flights. Travelers can also enjoy access to the Allianz TravelSmart app, which provides flight status updates, local medical facilities, and access to their insurance plan information and mobile claims filing while they are on the go.
As an affiliate, you will enjoy a competitive tiered commission structure of up to 12% per qualified sale when you're a partner of Allianz Global Assistance. You'll also enjoy cross-device tracking, a decent cookie length of 45 days, and affiliate management by Lewis Media Partners.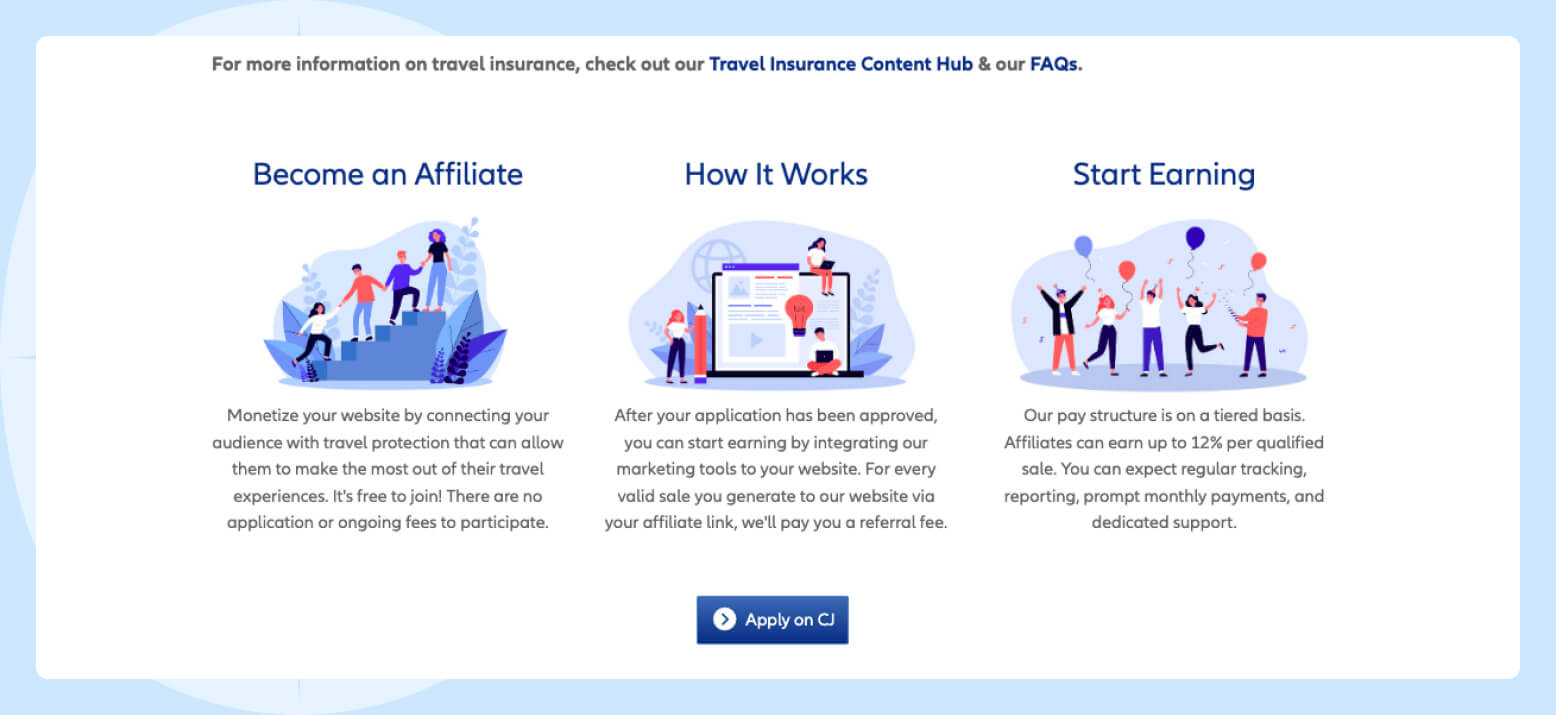 6. Travel Guard
Travel Guard is a travel insurance platform offering three major insurance plans to protect your investment—an Essential Plan, Preferred Plan, and Deluxe Plan.
The Essential Plan offers basic coverage, which is ideal for business and domestic travel, while the Deluxe Plan offers global travel assistance and 24/7 emergency assistance services. In addition, travelers can choose from several policy upgrades, including coverage for pre-existing medical conditions, lodging expense benefits, and rental vehicle damage coverage.
Features of the Travel Guard Affiliate Program
Travel Guard's affiliate program is offered through CJ Affiliate, a reliable affiliate company. It pays travel bloggers and content creators for every quote received by users recommended by the affiliate. Travel Guard offers links and banners for affiliates to use in emails, websites, etc.
Unfortunately, the commission rate and cookie lifetime for the Travel Guard affiliate program are unknown, so it's difficult to determine how this program compares to competitors until you apply and are accepted into the program.
7. RoamRight
RoamRight offers a wide range of travel insurance plans to accommodate each traveler's unique needs. They offer anywhere from $25,000 to $500,000 in coverage for everything from trip cancellation, trip interruption, accident, sickness, emergency medical evacuation, baggage coverage, and rental car accidents.
RoamRight offers free travel insurance quotes based on the client's country of residence, trip cost, coverage needs, and other factors. RoamRight also offers 24/7 assistance and mobile phone security alerts for clients.
Features of the Roam Right Travel Insurance Affiliate Program
As a RoamRight affiliate, you will enjoy a lucrative 15% commission per sale and one of the best cookie lifetimes in the industry—365 days! RoamRight's affiliate program also offers third-party tracking by ShareASale, real-time reporting, monthly commission checks, creative tools to help you sell, and other special perks.
RoamRight is highly transparent in its services (both insurance for travelers and tools for affiliates), proving this company is trustworthy. Travelers will know precisely what they're getting in their insurance policy, and you will know exactly how much money you are earning from each sale. It's a win-win scenario!
8. Holiday Extras
Holiday Extras is a global company based in the United Kingdom that offers travel insurance and other travel add-on services, such as airport and hotel parking, airport transfers, car hires, and more. On the Holiday Extras website, travelers can enter their coverage preferences, the number of travelers, trip dates, and destination to receive a custom quote for single-trip insurance or annual coverage plans.
Holiday Extras also offers medical travel insurance if you travel overseas for a medical procedure, like a root canal or plastic surgery. Insurance bookings are validated 14 days after the initial booking date.
Features of Holiday Extras Affiliate Program
Holiday Extras offers a generous 15% commission for travel insurance policy sales from an affiliate with a standard 30-day cookie lifetime.
Holiday Extras, established in 1983, is a reputable company, so you'll have no trouble establishing the company's credibility with your audience. Those who are planning to travel for a medical procedure will likely also be drawn to the company's medical travel insurance plans.
9. Travel Insurance Center
Like TravelInsurance.com, Travel Insurance Center is a travel insurance comparison website that works with more than a dozen travel insurance providers, including GeoBlue, International Medical Group, Travel Guard, and Trawick International. Travelers can choose from plans that cover emergency medical expenses, accidental death, annual traveling, general medical issues, group travel insurance, and more.
Features of Travel Insurance Center Affiliate Program
While the Travel Insurance Center affiliate program only offers a $5 commission per registered user from your website regardless of the total insurance policy amount (which is low compared to other programs), but once a customer has registered with Travel Insurance Center using your affiliate link, you will receive a commission every time they make a purchase.
So, if one traveler purchases ten insurance plans over two years, you will make $50 in total from the customer—$5 each time a new plan is purchased. Travelers may also be compelled to book travel insurance through Travel Insurance Center since they offer a wide range of insurance companies and policies, which can result in a higher payout for you.
10. Travelex Insurance Services
Travelex Insurance Services is a trusted travel insurance brand based in the United States. They offer travelers three straightforward plans—Travel Select, Travel Basic, and Travel America—to cover everything from emergency medical expenses to trip cancellation due to inclement weather, death, sickness, pregnancy, or other unforeseen circumstances. They even have a handy chart on their website that breaks down what is covered in each plan.
Travelex Insurance Services also offers optional policy upgrades, like car rental collision, adventure sports coverage, additional medical coverage, and free cancellation up to 48 hours before your trip. They were one of the first travel insurance companies to offer coverage for pre-existing medical conditions and cover children at no additional cost.
Features of the Travelex Insurance Services Affiliate Program
Travelex Insurance Services offers a commission of up to $25 per sale, cross-device tracking, and a cookie lifetime of 45 days (nearly half a month longer than other travel insurance affiliate programs). The company boasts that clients receive payments for claims up to 5x faster than other travel insurance platforms. It will be easy to entice your audience with perks like 24/7 assistance, free coverage for kids, and coverage for pre-existing medical conditions.
One of the drawbacks to the Travelex Insurance Services affiliate program is that the company is only partnering with affiliates who target an audience from the United States, so if you have an international audience, this may not be the best travel insurance affiliate platform for you.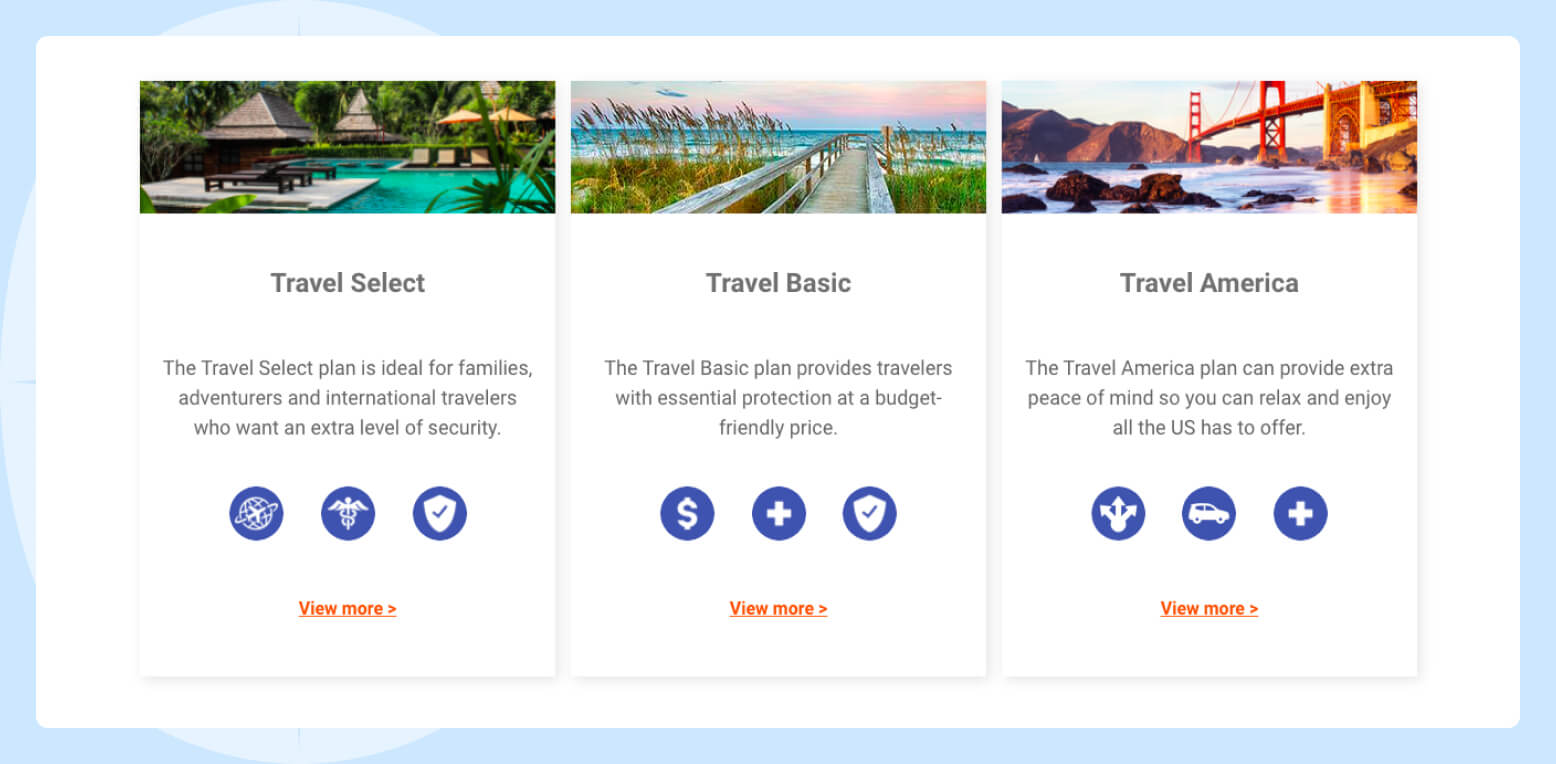 11. AXA Travel Insurance
AXA Travel Insurance offers travel insurance plans covering medical emergencies, baggage loss, trip cancellation, political and catastrophe evacuation, and more. AXA has over 50 years of experience and an international network of providers to assist travelers during and after their loss while they wait for compensation.
Features of the AXA Travel Insurance Affiliate Program
AXA offers a tiered commission structure with competitive rates and a decent 45-day cookie length. Each affiliate will make a base commission of $12 per $199 sale (roughly 6%) and can make up to 15% per sale over $700, starting at a $105 payout per sale.
AXA is also a part of the AXA Group, one of the world's largest companies. AXA Travel Insurance may be the perfect affiliate program if you'd like to recommend a reputable and well-established travel insurance company to your audience.
12. World Nomads
World Nomads is a popular travel insurance platform for digital nomads, solo travelers, and families that provides insurance plans to travel to nearly any country and is available to residents of 100+ countries. World Nomads offers two travel insurance plans—the Standard Plan and Explorer Plan—to cover emergency medical issues, evacuation, lost baggage, trip cancellation, and more.
World Nomads also covers scuba diving, surfing, mountain biking, bungee jumping, skydiving, skiing, and other activities for adventurous travelers.
Features of the World Nomads Partner Program
World Nomads is a popular name in the travel blogging industry and is trusted by well-known brands like Hostelworld and Eurail. However, World Nomads was created with adventure seekers, digital nomads, and solo travelers in mind, so traditional family travelers may find the rates to cover more "risky" travel experiences out of budget.
As an affiliate for World Nomads, you'll enjoy a $0.83 commission per lead and a 60-day cookie lifetime, which is longer than almost any other platform. Famous travel bloggers, like Nomadic Matt, use and recommend World Nomads. You'll also enjoy fast, hassle-free payments and several integration options, like deep links, cross-device tracking, and more.
The Travel Insurance Affiliate Programs Comparison
What Is the Best Travel Insurance Affiliate Program for Travel Bloggers?
When choosing a travel insurance affiliate program, there's no "right" answer or "best" program to join—it all depends on your unique goals, audience, and preferences.
Weigh all the critical factors, like commission rates, cookie lifetimes, target audience, and user-friendly features, to determine which affiliate programs will appeal to your audience (and offer the best payout for you!).
Also, note the convenience of working with the program. For example, if you are looking for the World Nomads affiliate program alternatives and don't want to manually change all partner links, look at VisitorCoverage, Insubuy, and EKTA in Travelpayouts and use the solution that will help you to automatically replace all links.
Then, experiment with different programs for a few months to discover which affiliate program provides the best conversion rate. Once you find which program resonates with your audience—stick with that one!
If you'd like to join VisitorsCoverage, Insubuy, EKTA, or the hundreds of other travel affiliate programs offered through Travelpayouts, we'd love for you to join our partnership platform!