How to Make Money With Affiliate Marketing for Beginners: Common Questions Answered
So, what is affiliate marketing? Essentially, affiliate marketing is a promotion model in which a brand pays a commission to a third-party to recommend their products or services.
There are three main parties involved:
A brand, which wants to extend their reach and sell their product to a larger audience.
An affiliate, also known as a publisher, who promotes the brand's product to their audience.
A customer, who clicks the affiliate link and completes a desired action.
The model is beneficial to all parties: The seller reaches a larger audience with the help of a trusted voice, while the affiliate earns passive income by sharing a product on their blog, and the customer buys a great product.
How Does Affiliate Marketing Work?
Here is how affiliate marketing works step-by-step:
A marketer joins an affiliate program and receives an affiliate ID that will help track affiliate sales.
The marketer places affiliate links or other partner tools with their unique ID on their blog or webpage and starts driving traffic to that page.
Every time a user makes a purchase through the link, the affiliate is rewarded with a commission. Important: if the sale happens later, the program's cookie ensures that it is still attributed to the affiliate! Cookie lifetimes vary from one session up to a year or so.
What are Common Advertising Models?
Note that not all the programs pay the same. The most common advertising models are:
PPC (pay per click): The commission is accrued for every click on the affiliate link.
PPS (pay per sale): Each referred sale generates an affiliate commission.
PPL (pay per lead): Affiliates get rewarded for generating a qualified lead.
Make sure to check the commission type for the program before you join it.
What are the Advantages of Affiliate Marketing?
Affiliate marketing is an amazing way to earn online revenue without having to develop and produce your own product. Here are some of the advantages of this approach:
A good deal of flexibility and control over your campaign.
Cost-effective solution: Most affiliate programs are free to join and provide all the necessary tools and support you need to get started.
Unlimited earning potential: The more you sell, the more you earn for the brand and, consequently, yourself. It all depends on how big and loyal your audience is, how relevant your content is, and which promotional strategies you use. A matter of technique!
Below, you will get step-by-step instructions on how to become an affiliate marketer and start earning online in no time.
Choose a Niche
The first step towards establishing a successful online business is choosing a niche. A niche is a sector of the market with its own target audience, best practices, and products to promote. It is not easy to change your niche later on and your choice will define how your business grows, so be sure to choose your niche wisely.
How to Find the Right Niche
Consider the following points when researching the market:
Which niches are you passionate about? You will spend a lot of time learning about your chosen topic, so ideally it should be really interesting for you. It is even better when you already have some expertise in your selected niche.
Who will your target audience be? Try to identify the pain points and interests of your potential customers.
Is the niche profitable? It is good to search for statistics, market analysis, etc. to see some numbers. Try to pick a niche without too much competition that still features great brands and attracts customers who are ready to buy.
Why Choose the Travel Niche
Today, there are hundreds of niche options available. If you like to travel and discover new experiences, travel blogging may be the right choice:
People will always travel, so you can easily connect with your audience and spark their interest.
You don't need any technical expertise, just a desire to learn new things and share your discoveries.
The travel niche is really diverse. From flight tickets to hotel stays to travel experiences to insurance plans, there is a product for everyone.
Some brands host their own affiliate programs, such as Booking.com, TripAdvisor, and so on. If you want to get access to a large number of programs via a single interface, withdraw your earnings from all brands in a single transaction, and receive first-class support, consider joining an affiliate network, such as Travelpayouts.
Travelpayouts is the world's largest travel digital partnership platform and provides access to over 100 travel brands. It is trusted by more than 350,000 marketers all over the world. The platform is free to join and offers comprehensive support, including a blog with informative materials and instructions, webinars, online events, and more.
Join the Travelpayouts Partnership Platform
Access exclusive tools and the best travel affiliate programs, including flights, hotels, car rental, insurance, tours and activities, all in one place.
Join Today
395,000 partners already trust us
120 travel brands
$53M+ total paid since 2011
Choose an Affiliate Marketing Program
Now, it is time to research your niche for a relevant affiliate program. Consider the following points:
The brand's reputation. Read reviews online and find a partner that is worthy of your trust. To build a loyal audience, you need to promote only high-quality products and services.
The program's commission. Check commission rates across various programs in the niche to get a general picture, so you know if the program's commission rate is above average.
Conversion rate. Even a program with a high commission rate might not turn out to be lucrative if it doesn't convert well. Conversion rates also depend on your audience and promotion strategies, which is something you will learn in practice.
Partner tools. Interactive tools, like banners, widgets, etc., are a good support for you to drive traffic and catch your audience's attention.
Travel affiliate marketers can view the travel programs available on Travelpayouts at this link.
Create Top-Quality Content
The key to creating a successful affiliate marketing business is top-quality content that will be optimized for search engines and can bring value to your audience.
Develop a Content-Marketing Plan
It is very important to develop a good content-marketing plan so your content flow and marketing efforts go hand in hand. Do some research to find blog post ideas and then create an outline of your topics. Be sure to take a look at the content on some of the best travel blogs and follow their lead!
Diversify Your Content
Make sure to diversify and prepare various types of content, such as:
Blog posts
Listicles
How-to guides
Infographics
Videos
Podcasts
White Papers
eBooks
Product reviews
Email newsletters
And more!
This will help you target a wider audience, as everyone has their personal favorite type of content.
Write Your Own Content
Even if you don't have content creation experience just yet, it is not as hard to build as you think. In our guides, you will learn how to write content to increase your traffic or how to find writers for your blog, including free article writers.
Integrate Affiliate Tools in Your Content
To help publishers generate sales, most affiliate programs provide affiliate links and interactive tools, such as banners, widgets, API, and other advanced solutions. Now, let's take a look at the most common affiliate tools.
Affiliate Links
Basically, an affiliate link is a URL to the product or service's page with the affiliate's unique ID. This ID tracks all clicks and sales and attributes referrals to a particular affiliate.
When joining Travelpayouts, you automatically receive your unique affiliate ID, which you can find in the upper righthand corner of the dashboard.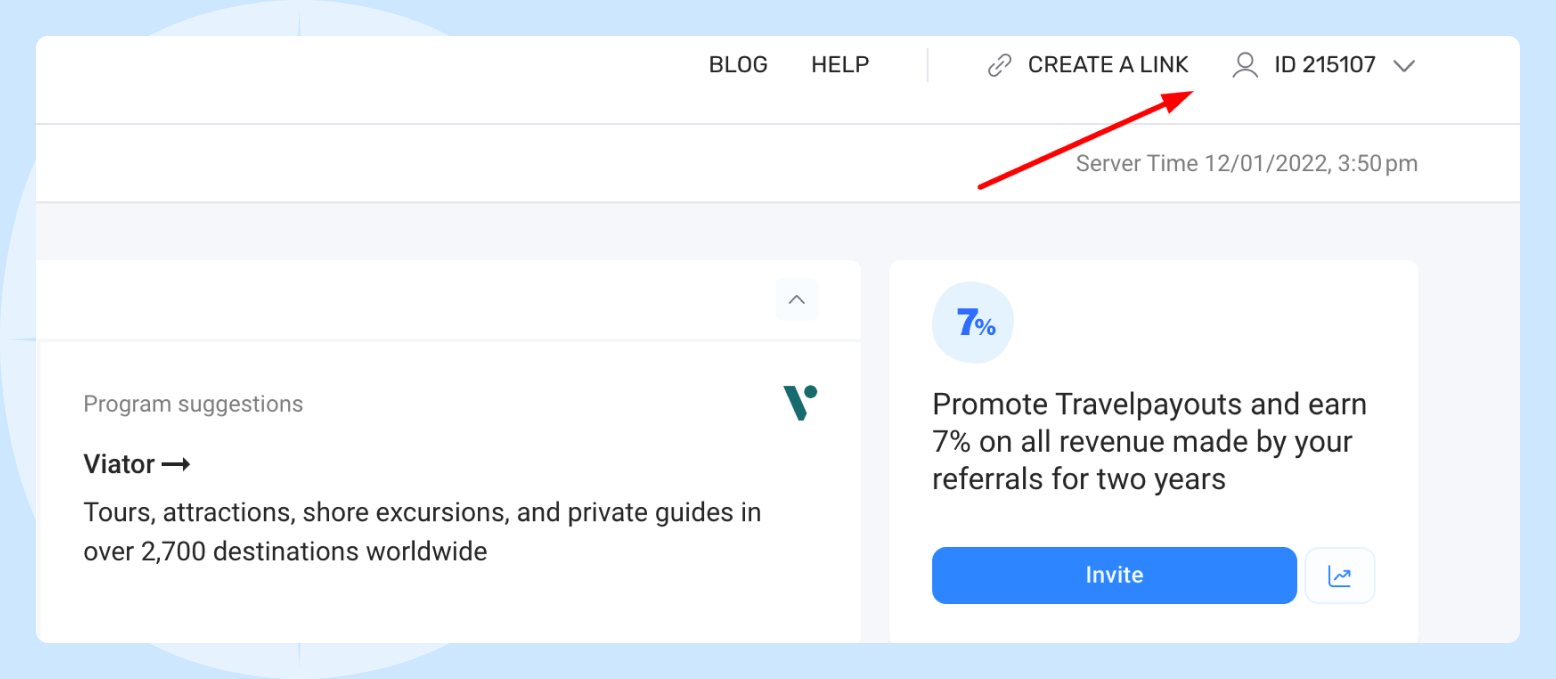 Then, you can join affiliate programs of your choice. In the "Tools" section of each program, you will find a link with an affiliate ID. All you need to do is to copy the link and paste it on your website.
Using the Deep Link Generator, you can create an affiliate link to any page of the brand's website so that you can send visitors to the exact offer.

How to place affiliate links efficiently? Here are some of the best practices:
Shorten your links. Long links often look suspicious to audiences. With Travelpayouts' built-in URL Shortener, you can create short partner links in no time!
Use anchor text. It is a common practice to tie an affiliate link to a relevant word or phrase instead of just pasting the link as it is. For example, when you link to a page with hotel search results, use an anchor like "book a hotel" or "find a hotel stay" so users understand what kind of page they will be opening.
Provide context. Make sure to create a proper context and introduce the brand or product before you share a link. Otherwise, it might look like an advertisement.
Find more best practices on how to place affiliate links on our blog.
Affiliate Widgets
To catch the audience's attention, many partners use widgets on their sites. Widgets are affiliate tools that allow users to interact with content. For example, a search form may allow users to fill in travel dates and destinations to get search results on the spot.
Quite often, widgets account for a higher conversion rate than affiliate links, but it is better to use both in your content.
The most common widget types include:
Search forms
Availability and Calendar widgets
Popular routes (to) and (from) widgets
Offer widgets
Map widgets
You can find a detailed description of each widget type as well as the best practices to optimize your content with widgets in our detailed guide.
Affiliate Banners
Banners are another popular partner tool. These clickable static images can be placed on a webpage and direct the user to the offer page when clicked. When implemented correctly, banners are a good addition to text, as they can appeal visually and attract attention better than, say, partner links.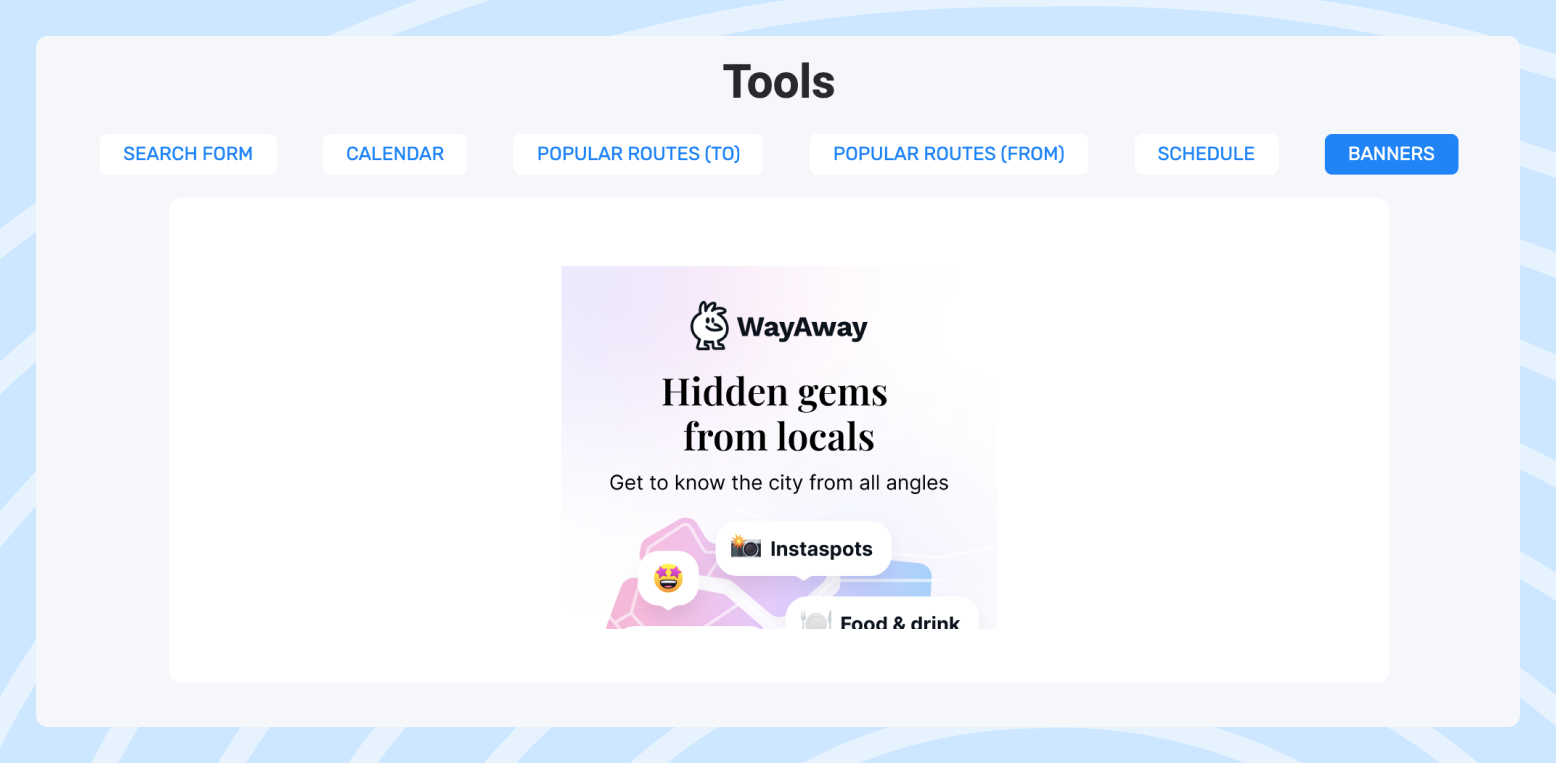 However, it is important to optimize banners for better performance:
A banner should ideally contain one picture and one primary message.
The design should match your blog's layout and colors.
While it is possible to place a banner on your homepage or in a sidebar, it is better to provide context by placing your banner in a relevant blog post.
In the Travelpayouts affiliate dashboard, you can find banners in the "Tools" section of the affiliate program page.
Promote Your Content
Your work doesn't end when you publish a post with your affiliate link. Now, it is time to promote your content and drive traffic to the page to generate conversions. Here are some of the best strategies to boost clicks.
SEO
Google is the main search engine for around 90% of Internet users, which makes it important to get your page ranked on the platform. In addition, Google is a reliable and long-term traffic source, so investing in SEO will eventually pay off. To drive more traffic, follow the best optimization practices:
Create unique content. Google, just as with other search engines, frowns upon plagiarism. No matter how well you promote your content, it will not work unless your blog posts are unique and bring value to your audience. Top-quality materials also generate backlinks from other blogs, so this should be your first step towards efficient SEO.
Make your text readable. Divide text into smaller paragraphs (ideally up to 70-80 words) and don't write sentences that are too long. Use bulleted and numbered lists to present equal items or share step-by-step instructions. Use headings and subheadings (H2, H3, etc.) to lay out the text hierarchy.
Use visuals. Images, videos, infographics, graphs, etc. can illustrate your point better than words and catch the reader's attention for longer. Make visuals clickable and redirect the user to the product page or another relevant post. Add alt text and a caption for each image to improve SEO.
Add keywords. Keywords are terms that people use to research for a specific topic on search engines. Adding relevant keywords can significantly improve your ranking on Google.
Optimize for mobile users. As more and more users surf the Internet from their smartphones, it is crucial that your website is optimized accordingly.
If you are not familiar with SEO yet or want to improve your skills, you can join our free course on how to boost travel affiliate revenue using SEO. In this course, a famous travel blogger and SEO expert, Sharon Gourlay, shares her best tips and tricks to grow your business presence on search engines and, ultimately, increase your revenue. You will learn:
How to use search intent and leverage the buying cycle.
What types of posts work best for travel affiliate marketers.
How to conduct proper keyword research.
How to help your articles convert.
Social Media
Another popular traffic source for most bloggers is social media (and for good reason). Here are some of the advantages that social media can provide to marketers:
On most platforms, you can connect to your audience directly. This will help you analyze your following, increase brand recognition, create a solid marketing strategy, and receive feedback.
Provide customer services. More and more brands prefer to answer their customers' inquiries on social media because it is easy, doesn't require any additional software, and allows them to quickly connect with users.
Build links and grow traffic. High-quality content on social media often gets shared and reposted, providing you with more backlinks and traffic.
With so many networks available, it is important to research your audience and niche and identify the best social media platform to reach potential customers. For that, you need to consider several factors, such as your audience's interests and demographics, the types of content that you share, your campaign goals, the marketing features of each platform, etc.
Email Newsletters
Email marketing allows you to build long-lasting relationships with your audience, grow your brand recognition, and conveniently reach out to users directly in their mailbox.
The secret to successful email marketing includes growing a subscriber base, bringing value through each and every newsletter, and driving traffic back to your website. Today, there are a number of cool email marketing tools to automate your campaigns and personalize emails.
If you don't feel confident enough to start a newsletter just yet, consider taking one of these email marketing courses to learn the best practices in the niche.
Ads
If you are willing to spend some money on your blog promotion, you can leverage advertising. Placing ads online will drive more traffic in a short time and increase your brand recognition. Ads also allow you to reach a much wider audience. For cost-effective promotion, it is important to regularly check your analytics and make changes accordingly, so you don't waste money with inefficient strategies.
Affiliate Marketing Best Practices for Beginners
Just like with any other niche, affiliate marketing has its own features and best practices that you should follow to achieve success. Here are a few:
Always disclose affiliate links. Contrary to a common belief, disclosing your partnerships will not decrease your conversions, but will actually help build you credibility and trust with the audience. Many bloggers add a small disclaimer at the beginning or end of each post explaining that they earn commissions from these affiliate links.
Regularly check analytics. To optimize campaigns, find the best-converting programs and develop a killer marketing strategy, it is important to track your results. For example, Google Analytics is a free tool that will show you many useful metrics, such as traffic sources, audience demographics, conversions, and more.
Network with other bloggers. Networking will help you grow your readership base, generate more traffic, and create meaningful connections with niche influencers.
Final Thoughts: How to Get Started With Affiliate Marketing
Starting an affiliate marketing venture is becoming increasingly popular due to the cost-efficiency, flexibility, and fact that no investments are required to start off. Along the way, you will learn the best practices and build authority in the niche, driving more and more traffic to your website.
If you are ready to become a travel affiliate marketer today, you can join Travelpayouts and get access to over 100 travel affiliate programs, detailed analytics, efficient partner tools, and 24/7 support in a single dashboard.