What Are Affiliate Links
Affiliate links still connect websites with each other, but in addition to that, they are able to generate income. So, what are affiliate links and how can they work as money makers?
While editorial (contextual) links mostly aim to add value to the post and connect it to another resource, the affiliate ones are designed to drive traffic to the advertiser's website and generate income for a publisher. This type of link includes the affiliate's ID to track the references coming from the affiliate marketer and calculate their commission.
How do you get affiliate links with a unique ID? When marketers sign up for an affiliate program, the advertiser provides each one of them with a link containing a unique ID. Here is an affiliate link example of the GetYourGuide affiliate program that's available within the Travelpayouts affiliate network, where id=3965 is the marketer's affiliate ID:
Upon a sale, marketers are rewarded with a commission within the cookie duration. At Travelpayouts, we have a 30-day cookie lifetime for most programs, but some brands offer a 90-day cookie duration or more. This means that, if the user's purchase falls into this window, you can still earn your affiliate reward. You can check the exact cookie duration on each program's page at Travelpayouts.
Even though most affiliate programs pay marketers only for sales, click statistics can be incredibly helpful for controlling your traffic and conversions. By keeping an eye on data in your personal account, you'll understand if the offer is potentially lucrative and how to make the most of it. For example, on the main page of the Travelpayouts affiliate dashboard, you can see metrics such as impressions, clicks, payouts, and more to always remain in the know.
Travelpayouts is the world's largest travel affiliate network with over 100 brands and 300,000 publishers. The platform accumulates offers from well-known travel brands, such as Booking.com, TripAdvisor, Kiwi.com, and many more. Joining Travelpayouts is free and can be done in just a couple of minutes. After joining, you can start making money with affiliate marketing immediately.
Join the Travelpayouts Partnership Platform
Access exclusive tools and the best travel affiliate programs, including flights, hotels, car rental, insurance, tours and activities, all in one place.
Join Today
395,000 partners already trust us
120 travel brands
$53M+ total paid since 2011
If you wish to promote any other affiliate program, you can find your affiliate link and statistics in your personal account on the program's page. For example, if you run an eCommerce website, you can share and promote Amazon affiliate links or join one of alternatives to Amazon Associates.
Best Practices for Using Affiliate Links
How do you use affiliate links correctly? The link's performance is determined by various factors, such as its placement, promotion techniques, and more. Consider the following rules and recommendations to make the best of the affiliate marketing links on your website.
Shorten Your Links
Shorter links are better in many ways. They improve your search engine rankings, help build user trust, and more. Just look at the following examples. Which link looks more trustworthy and is easier to promote?
Long links are hard to articulate and they're not phonetically memorable. So, not only does a shorter link look nicer, but it will also be easier to promote during presentations, webinars or in a video, should a need arise.
How do you create links that are short and attractive? You can take advantage of special tools like:
Pretty Links, a free WordPress plugin
Bit.ly, a tool for creating branded short links and tracking their performance
Clkim, a URL shortener providing branded links, smart redirects and retargeting on clicks
Some affiliate networks like AWIN, Webgains or ShareASale feature their own shorteners. Other vendors provide automated link shortening with the aid of third-party platforms. For instance, RewardStyle makes your links attractive via Bit.ly. Learn more about link shorteners and redirects in our special post.
If you're working with partner programs through Travelpayouts, you don't need to use third-party services to shorten links. In fact, you can get a short URL without leaving your account. Simply open the «Link Generator» tool on the page of the selected program and fill in the required fields. The generator will return a short affiliate URL.
Dofollow vs Nofollow Links
Links have either dofollow or nofollow status. Dofollow links let both search engines and users follow the correspondent webpages. They increase the webpage ranking and allow Google to clarify the number of users linking to your page.
However, since dofollow links pass on value from your website page to the page they redirect users to, it's easy to lose your page weight by placing many such links. On the other hand, nofollow links don't influence the page ranking.
Let's see how to set up affiliate links as nofollow ones. You can change the status manually in the WordPress editor, where the underlying HTML code of your post/page is visible:
Insert the rel="nofollow" between the closing double quote and angled bracket. Don't forget to add space after closing double quote:
To flag advertising-related or paid links, Google recommends using rel="sponsored," although the no-follow attribute is still acceptable. You can use more than one rel value to let the search engine better understand the nature of your link. For instance, rel="ugc sponsored" will show that the link is paid and came from user-generated content, whereas adding rel="nofollow sponsored" will help comply with platforms that don't support new attributes.
It's also possible to change the link status with the help of WordPress plugins, i.e. Ultimate Nofollow.
Use Anchor Text
Anchor text is what you tie an affiliate link to instead of just inserting it in the blog post as it is. A good anchor is always relevant to the content of the page that you're redirecting to. In such a case, users are sure that if they click on a link, they'll learn about the corresponding topic and not a random subject, and therefore, users will trust you more.
For example, if you want to send traffic to Booking.com, put such anchors as "book hotels," "find accommodation," "find where to stay" or the brand name itself.
What are the best SEO practices? Try to make your link short enough, six or eight-words max, don't use too many keywords and avoid generic words such as "click here," etc. The rule of thumb is to make your anchor descriptive and generate clicks. This is what you should work on.
The link should be inspiring. That's why it's important to add a motivational call-to-action (CTA) anchor to it. For example, you can write CTAs such as "learn more about car rentals," "generate higher income with these tips," etc.
Place Links Correctly
Correct placement is no less important for increasing affiliate link CTR than the length, status, anchor text, or density of said links. Technically, you can use links anywhere, but the proper context and timing will draw the audience's attention in the most natural way, help to build trust, and ensure the link doesn't look promotional.
Here are a few ideas on how to use affiliate links in your content:
Blog Posts
Inserting affiliate links into relevant blog posts can do wonders. Since readers are already on your page, you know they are interested in the topic. However, your content should most importantly provide value, so it's better to place links only where they make sense to avoid looking spammy. For example, it is great to place links in content such as product reviews, tutorials, or how-to guides. Just make sure that you know what you are recommending to avoid losing credibility.
Sidebar
You can also share affiliate links in a sidebar on your website. In this case, links won't have much surrounding content but will attract attention due to their separate placement. You can use this method in addition to links within your blog posts for better results.
Resources Page
Some bloggers create a dedicated Resources page, on which they share links to useful materials depending on their blog niche, which can be hotels, airlines, tours and activities, marketing services, web hosting, or anything else that readers might find useful.
Visuals
Another way to place affiliate links is to make your visuals clickable. This is especially beneficial if you write reviews about specific products or services. Thus, if the user clicks on your image or graphic, they'll be redirected to the advertiser's page.
You can also place banners and link them to advertisers' products.
Email Newsletter
If you run email marketing campaigns, sharing affiliate links can be an amazing opportunity. Make sure to prepare relevant email content, such as announcing blog posts or creating a special email to introduce a specific product. However, be aware of the spam filters that many email providers have. The best approach is to provide value with your email and only include links organically.
Video Description
If you share videos, especially on platforms like YouTube, you have another chance to place and promote affiliate links. For instance, YouTube allows you to share links in video descriptions for users who want to check out the products or services you recommend in your video. 
Social Media
Social media can also be another great opportunity to place affiliate links, especially if your content discusses features of the products or services that you promote. Platforms such as Facebook allow you to place a link directly in a post, while, on Instagram, you can share the link in your bio.
You can link to a landing page with more information about the offer or directly to the product page, for example, on Amazon or any other store.
Here are a few more tips on the best link placement within the text.
Make links visible
Help visitors notice the links by using your website template advanced features to highlight links in the text. For instance, use bold or various colors to draw attention to the keywords with links. The more visible the links are, the easier it will be for readers to click on them. Try to not overdo it and don't make the article look like a traffic light.
Don't place too many links
Choose quality over quantity. Your links should bring value to readers and complement the text. There is no golden rule for the number of links in a post, just make them useful and place them in a relevant context.
Engage the reader
Make your links look interesting for readers by shortly describing a product you promote before the link itself. Or, you can outline a problem and then come up with a solution containing your affiliate link.
Don't hide links
Remember to place links and other affiliate tools as close to the beginning of the post as possible. Not everybody will read to the end. However, don't forget about the relevancy rule.
You can find more practical tips on how to place links as well as other affiliate tools and avoid common mistakes in our free guide.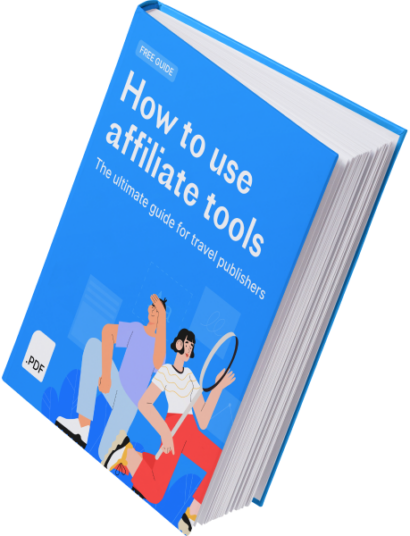 How to Use Affiliate Tools
This free guide for travel publishers will help you use links, widgets, and banners to most of the traffic you have.
Download
Promote Links Regularly
Place links on pages that regularly attract traffic. Here is how you can increase the number of visitors and generate more clicks:
Create valuable content and build authority
Network via social media, emails, commenting other bloggers, etc.
Do guest blogging
Insert relevant keywords to your posts
Add social media share buttons to let readers share your content instantly
Optimize your website
Use various content formats such as imagery, video, podcasts, etc.
Build the email list and do email marketing
Use social media platforms to place valuable information and build community.
Many bloggers create a "Resources" page and place their affiliate links and widgets so that readers can proceed to this content at any time. Study the examples of Trisha Velarmino, the blogger behind P.S. I'm on my way, Frank from The Travels of Bbqboy and Spanky or Leta, the author of The Nerdy Me blog, to get a few ideas on how to set up a "Resources" page.
Whatever promotion strategy you choose, remember to stay honest and publish objective reviews. You can also create detailed and clear tutorials for specific products and highlight their key features at the same time.
Be Transparent
To be credible in the eyes of the community, remember to disclose your affiliate partnerships. It won't decrease the number of clicks, but it will help build trust. Here are ways to disclose your content:
At the beginning or end of the post, mention that some of the links are affiliate, but you provide only truthful and objective information and you don't just advertise.
Create a separate page and place affiliate tools and links there. For example, many bloggers make the "Resources" page.
In any case, the disclosure should be placed nearest to the affiliate links and triggers you use. Maximum clarity plus highlighted independence of your own opinion will make your audience trust your reviews.
How to Set Up Affiliate Links
Placing affiliate links correctly is important for the success of your affiliate campaign. It all starts with making your link short and attractive and then placing it in a relevant context where users will be motivated to make a click.
Apart from link placement, pay close attention to driving traffic to the corresponding web page so that more people can see what you promote. Finally, stay honest about your campaign and disclose affiliate links. All in all, placing affiliate links is a no-brainer if you follow this simple algorithm.