What is an Affiliate Link?
Before we move on to exploring the ways to promote affiliate links, let's look at the basic concepts.
An affiliate link is one of the main affiliate marketing tools. To get your affiliate link, you should create an account in one of the affiliate networks that offer desired products. For example, in the travel niche, you can join the Travelpayouts partnership platform. This link contains your unique identifier (in the case of Travelpayouts, a marker), due to which, all sales made thanks to your recommendation are taken into account and associated to you.
Affiliate Link: https://tp.media/click?shmarker=11468&promo_id=5761&source_type=link&type=click&campaign_id=200&trs=37632
Unique Marker Within the Affiliate Link: 11468 (Note: This is just an example. You will have your own unique affiliate marker.)
When a person clicks on your affiliate link, the brand (in this case, WayAway) takes into account the fact that the buyer in question was attracted by the partner with marker 11468. In case of a completed sale, WayAway will send you a reward according to the rules of the affiliate program.
What is Affiliate Link Promotion?
To make money in affiliate marketing, you should work on attracting buyers. To do this, place a link or another affiliate tool (for example, a banner) and attract traffic to the brand's website. Some examples of the promotion of affiliate links include:
You post an affiliate link to GetYourGuide in your Facebook group
Your post gets 1,000 views
37 people click on the link
3 people book a tour
You earn an affiliate commission on every booking
When it comes to affiliate marketing, your task is not only to attract as much traffic as possible, but to attract high-quality traffic, since how many sales you get in the end depends on the quality of your traffic, not simply the size of your audience. Next, we will share the best ways to promote your affiliate link and generate sales.
Where to Promote Your Affiliate Links?
When promoting your affiliate links, you should consider where your potential customers can be found. There are many such places on the Internet (both free and paid), so you will definitely be able to find a location that suits your requirements.
The 16 ways to promote your affiliate links that you will find below are in a random order. Each of these methods could be called the best and are all worthy of your attention.
1. Website or Blog
Organic traffic from Google and other search engines is one of the main ways you can promote your affiliate links. For this, you need to:
Create your own website (check the free guide on this page)
Create content with SEO in mind
Add affiliate links
Attract traffic and sales
This is a simplified scheme that thousands of affiliate marketers work with. You can read the success stories of some of them in this category.
If you create your site, you will be able to place links inside articles as well as in your site's interface, such as in the menu buttons. Here is an example of an affiliate link placement: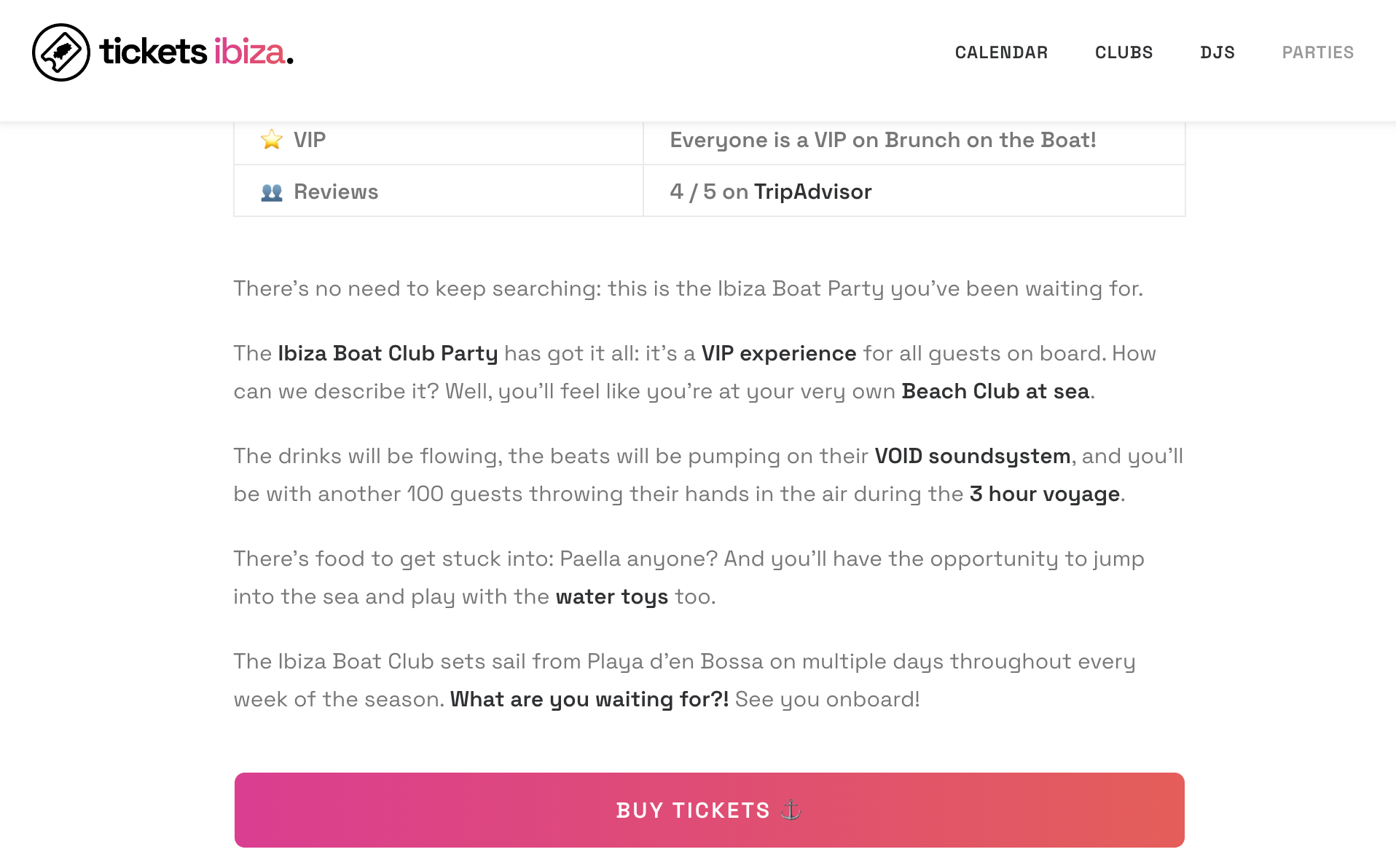 Having your own website or blog is a flexible method that can be scaled by creating new content, attracting new audiences, and offering more affiliate products.
Features
You can create a website for free on your own or with minimal expenses (~$200).
The main difficulty is the creation of content that will attract organic traffic. You can create all the necessary content or entrust it to copywriters, but you must have SEO in mind. You can arm yourself with the information in this free course by Sharon Gourlay.
This method is not the fastest way to promote affiliate links. To attract traffic to your site, you may need to wait until several months after your content was initially created.
Your own website is a way to receive passive income while traveling, since by creating an article once, you can attract traffic and sales from that article for a long time.
The total revenue depends on the quality of your traffic and the products you offer.
2. Publishing Platforms
If you are not willing to create your site, no problem. You can find a platform where you can publish content and gain traffic, such as:
You don't have to create a standalone website, pay for hosting, etc. You can publish articles as easily as sending an email. An example of such an article is: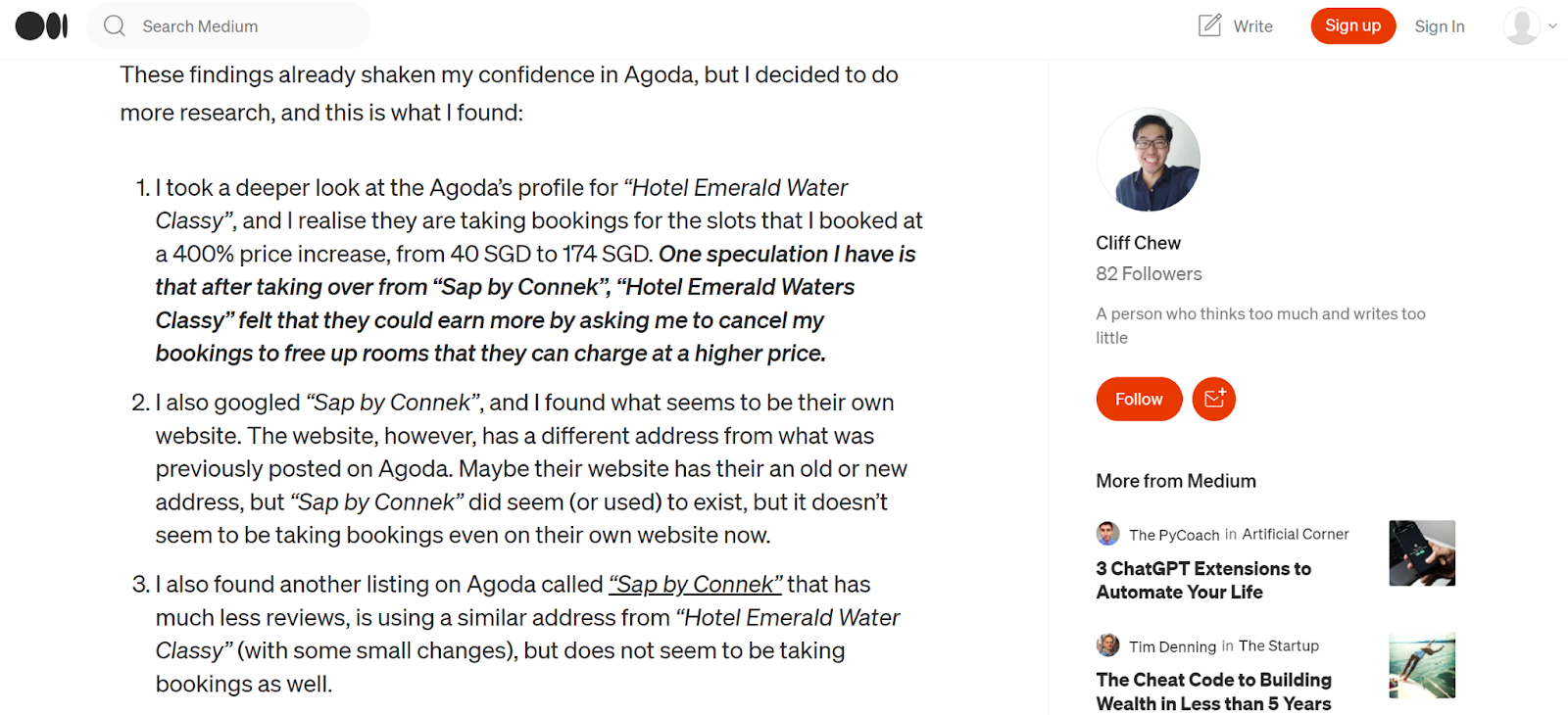 Such platforms are usually well indexed by Google and you will also be able to attract traffic for your articles and, therefore, for your affiliate links within those articles.
All of the examples above are general thematic platforms where you can post about a variety of topics, from travel to technology, politics, and more. If you have a specific topic, then you can choose a publishing platform specializing in that topic.
Features
Unlike your own website, you don't control everything on the platform. There are some limitations (for example, in terms of design), and risks that, one day, your work may be lost.
Some platforms prohibit promoting affiliate links. Be sure to read the rules of the system before publishing.
It is best to choose a platform that is already being frequented by your target audience. This way you will get traffic from the platform itself as well as from search engines, if you focus on SEO.
Platforms can be combined with your own website by running a platform-based site on your domain (for example, via WordPress).
In addition to links, you can use other tools, such as widgets, which are embedded in content via code. Not all platforms allow for the integration of code into articles, which somewhat limits your options.
3. Forums and Communities
Internet users generate tons of content every day. Some of the forums that you knew 10-15 years ago may not be as active; however, there are still plenty of active forums in almost every niche. Here are a few examples:
You can promote your affiliate links to help forum members. For example, by recommending the best Thanksgiving flight ticket or other products and earning on the WayAway Affiliate Program.
In addition to forums, communities are very popular today. The people within online communities are connected by common interests. Such communities can be found in various industries, for example, there is Travel Massive within the travel niche. There are also platforms, such as Reddit, on which communities for various niches gather at once.
Features
Forum and community owners can set their own rules for using affiliate links. Be sure to read the rules in advance.
Your recommendations, including affiliate links, should be relevant and useful. It is important not to fall into spam in pursuit of a larger reach.
Being an active member of the forum and community takes a lot of time. It is unlikely that each of your messages will help you generate income in the end. Some may not even have affiliate links.
Since you publish affiliate links on other sites, you will not be able to control and influence them. For example, the platform owner may remove the link after a few months.
Your old forum and community replies can be profitable for a long time if it's a popular topic.
4. Q&A Platforms
In addition to forums and communities, people also communicate online via platforms that are designed for questions and answers. The most popular Q&A platform is Quora.
Just like with forums, you can promote an affiliate link inside your answer to a person's question, for example:
Features
When working on Quora and other Q&A platforms, be sure to read the rules before you start posting links. Additional requirements may apply to affiliate links and, in some cases, they may be completely prohibited.
Spam is not only banned on Quora and most other major Q&A platforms. It must also be carefully monitored. You can successfully post links for several months and then get banned for making a single bad post. This risk is important to consider in your strategy.
Quora pages are well-indexed and can bring you traffic not only from the platform itself, but also from Google.
This is one of the best ways to promote affiliate links, as you can earn fast. There is already tons of traffic. You just need to find an appropriate page and organically (without spamming) help people by answering their queries.
5. Facebook
In general, you can promote your affiliate links on almost any social platform, as long as you don't spam.
Depending on the platform, the content and how exactly you integrate affiliate links will differ. Among all the various social media platforms, Facebook is one of the biggest, based on audience volume (2.74 billion users).
An Example of Affiliate Link Placements: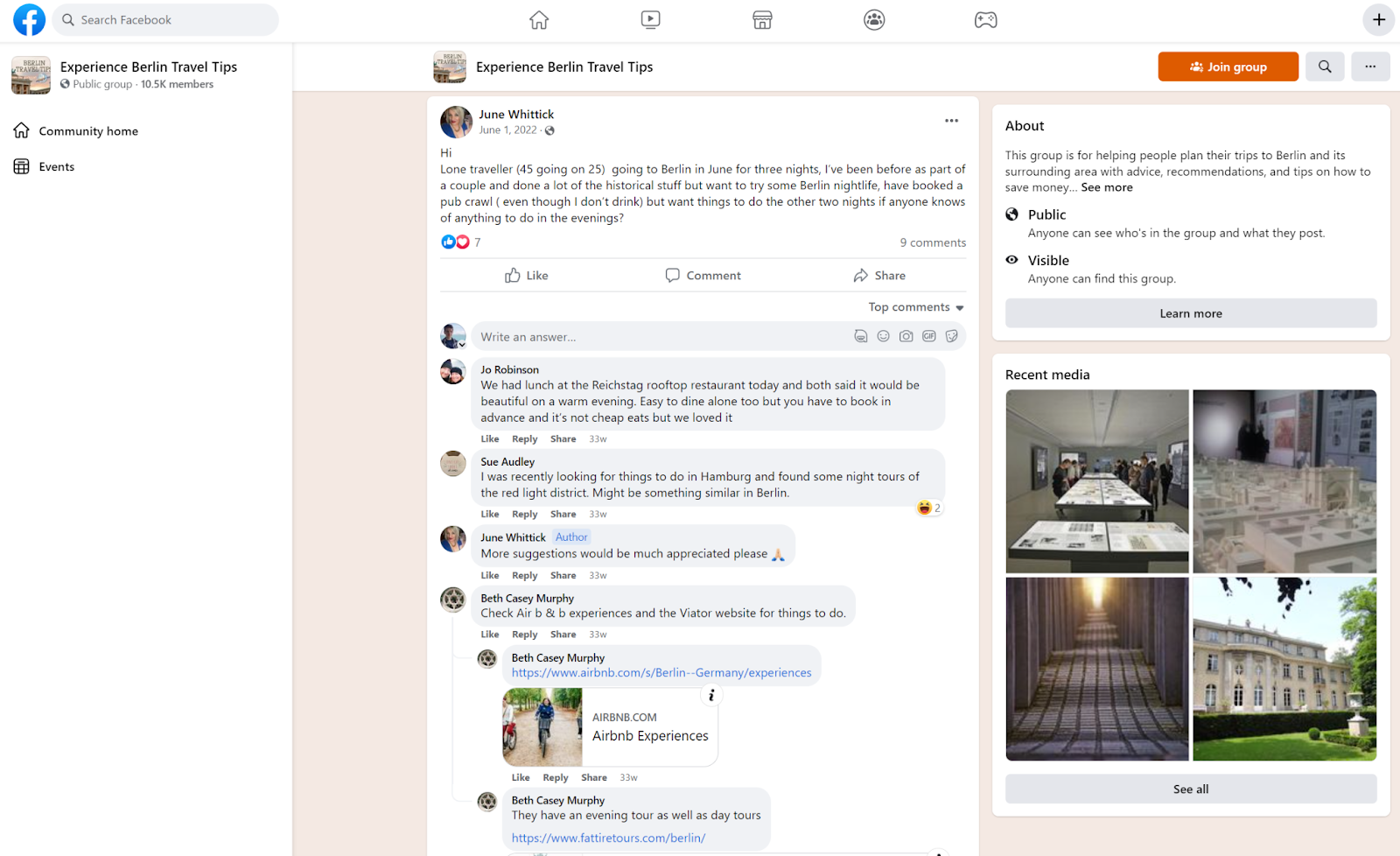 You can offer users services and products from various brands using affiliate links, for example, tours or accommodations.
To reach your audience, you can create your own group or page, or become an active member of other people's communities that do not prohibit the use of links.
Features
If you post affiliate links in other communities, make sure that you don't break the rules. It often happens that page owners do not allow such publications.
Facebook can become both a direct source of traffic for your affiliate links and an additional source of income for your site. For example, you can drive traffic first to your site and then create an affiliate link to the brands' websites.
In addition to organic post reach, you can also buy ads on Facebook. We will consider this method separately when we discuss paid ways to promote your affiliate links.
6. Instagram
Instagram is another popular social network on which you can promote affiliate links. To gain traffic on the platform, you can either regularly add photo and video content or work on your personal brand and drive people from your profile to brands' websites.
Until recently, it was not possible to post links on Instagram, but the social network has taken a significant step forward and, today, you can promote links for free.
Learn how to use social media and messengers for affiliate marketing in this free guide.
Features
You will need at least 10,000 subscribers to be able to post affiliate links within your Instagram content.
If you don't have your own website, but want to send Instagram traffic to your landing page first (such as a resource page), you can build your own landing by using free website builders like Wix or Tilda. There are also specialized platforms for Instagram bio links, such as Linktr.
If the sole purpose of your Instagram account is to post affiliate links, the social network may suppress your account or block it altogether. Content from a suppressed account is recommended less often and receives fewer clicks.
7. Pinterest
Pinterest is an amazing platform for affiliate link promotion. Posting visual content on Pinterest is a great source of traffic that you can send:
Directly to the advertiser's website.
To your site and, from there, to the advertiser's site.
Both options can generate you a solid income. So, you should conduct some tests and find the most effective approach for you. Read the story of Oke, the creator behind Okeventures.com, to learn the best approaches for using this traffic source.
Here is an example of how you can drive traffic to a third-party website from Pinterest: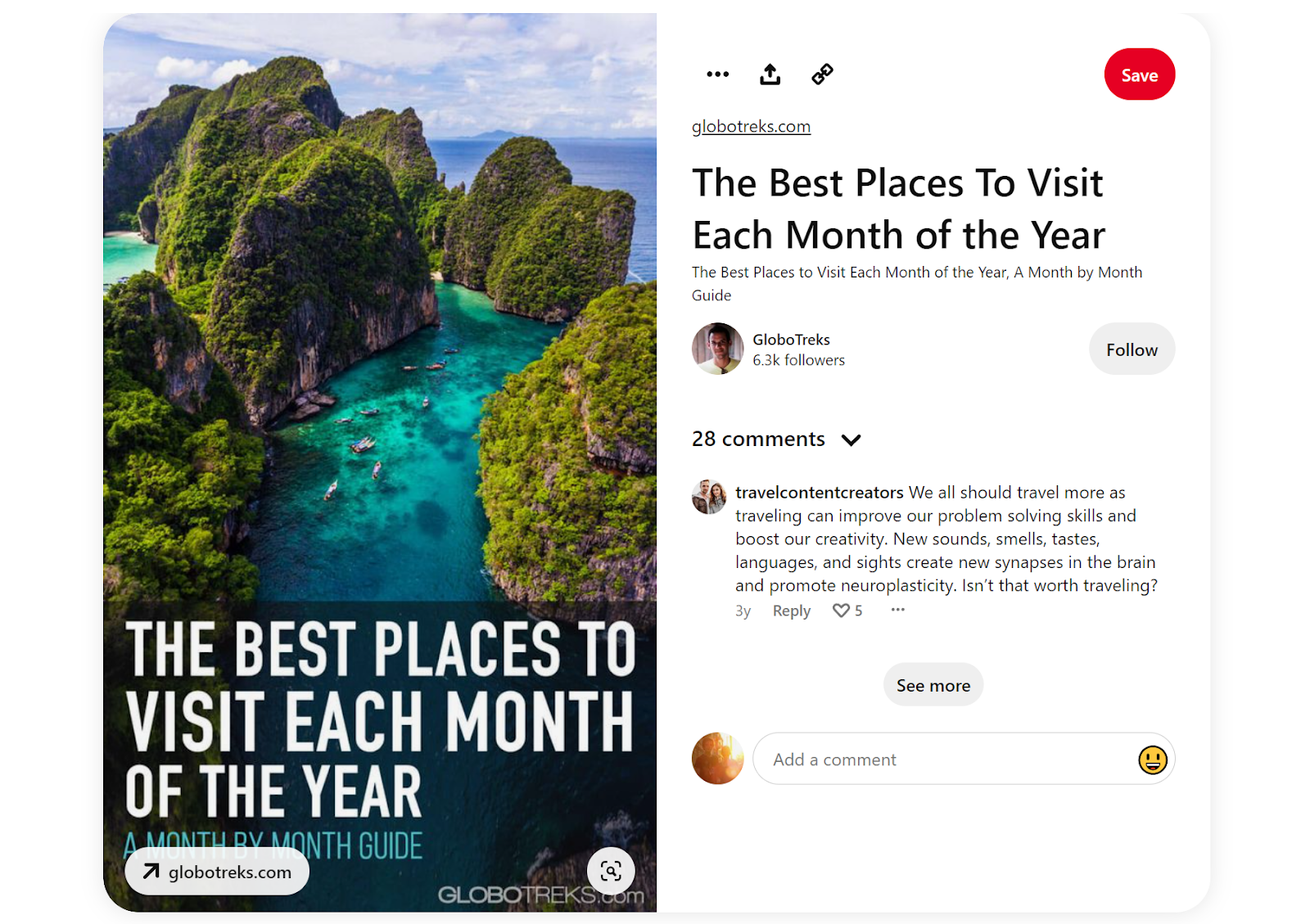 In this example, the author sends visitors first to his site and, from there, to advertisers' sites: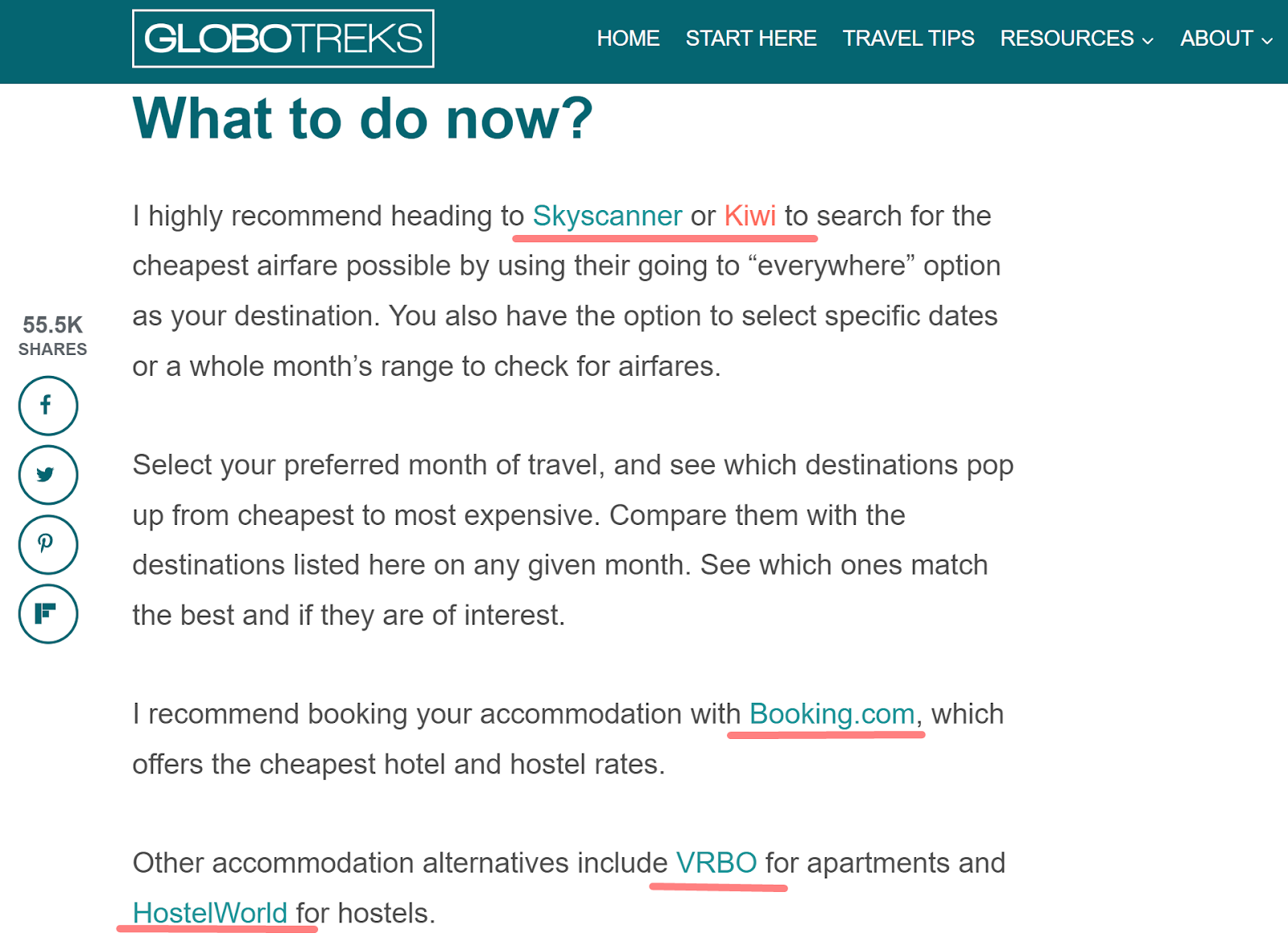 You can do the same, or send traffic directly to brands that allow this traffic source for promoting affiliate links. With such a post, you can earn with the Travelpayouts Partnership Platform, where you will find over 100 travel brands that pay up to 40% commission.
Features
On Pinterest, you can work in various niches, such as travel, children, family, science, or politics.
Pinterest has a predominantly US audience, so this platform is perfect for that geo.
Any photo or other form of graphic content can be a subject of copyright. So, while choosing pictures, keep in mind to provide credits to the author or to use pictures that you've taken/made yourself.
8. Other Social Media Platforms
Facebook is far from the only social media platform you can work with. You can choose others, such as:
LinkedIn
Twitter
Or any other
When choosing a social media platform, be guided by if it is even possible to publish affiliate links there, as well as if your potential customers are there.
For example, LinkedIn is widely used by business audiences, which is important to consider in your marketing strategy.
Features
Most social networks allow you to publish content that is not unique. In other words, you can post one piece of content on several social networks at once, while adapting it to the format of a particular social media platform.
Not a single popular social network allows spam. Thus, your links must be relevant and useful to the audience. Otherwise, you may be blocked.
Social networks can be both an independent source of traffic (so, you can drive traffic directly to advertisers' sites) or an additional source of traffic to your own site, from where you can redirect people to brands' websites.
9. Video Platforms
Another format that is very popular in 2023 is videos, including short videos (shorts or reels). This is also a great way to promote your affiliate links. The main video platforms for today are:
For example, you can record product reviews or any kind of video in which you promote goods or services. In the case of videos, it is not always possible to add a link directly to the video (for example, as a tooltip), but you can add affiliate links to the descriptions of videos as well as to the description of your channel. Here is an example of affiliate links used on YouTube: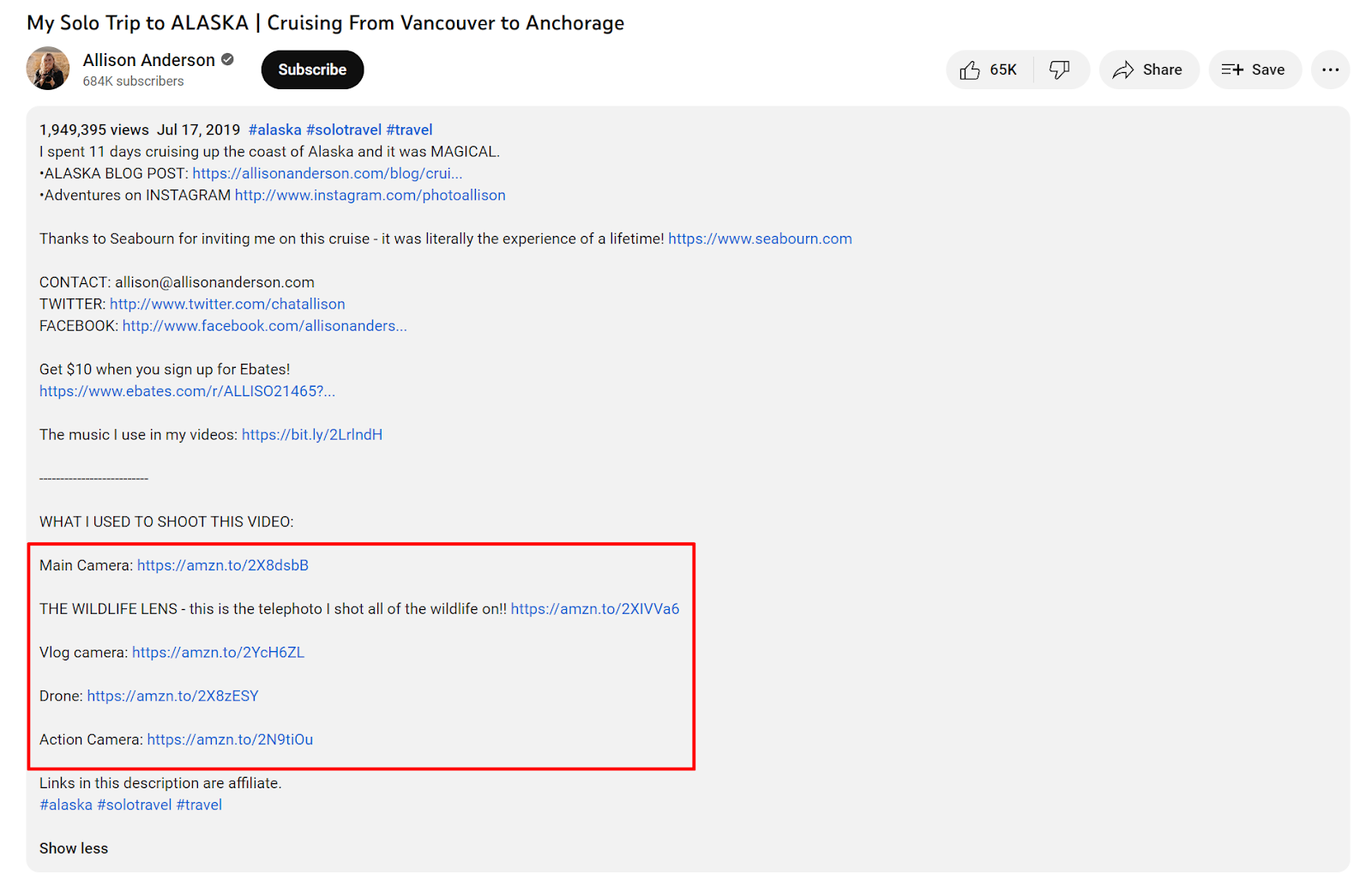 Features
The video format is only partially suitable for posting links, as visitors are consuming visual content. This differs from a blog, where you can literally embed any link in your content.
Not all brands accept traffic from YouTube and other video-hosting platforms. In this case, you can drive traffic to your site, where you will have content that includes affiliate links. From your site, the audience will then go to the brand's site.
In addition to your own videos, you can promote links in other people's videos. For example, in the comments. However, as with any other platform, spam of any kind is prohibited in the case of videos as well.
An alternative method of promoting your link on video platforms can be a promo code. Some brands provide promo codes for popular bloggers, thanks to which your audience will receive a discount and you will receive an affiliate commission, since using the promo code will allow brands to figure out exactly who attracted which customers.
10. Webinars
Webinars are live performances or recorded videos in which you can share not only your knowledge, but also promote affiliate links, with your audience.
You don't need to create your own platform to broadcast a webinar. Just use one of these popular platforms:
You can share affiliate links inside your presentation, in a chat, or while streaming over the video, as webinar platforms allow you to display buttons and links.
Features
For high-quality broadcasting, you will need a stable Internet connection. It is also desirable to have a high-quality microphone and camera.
The technical side and quality content are important, but the main difficulty with webinars is attracting an audience.
Webinars work for affiliate links not only at the time of the broadcast, but also in the recording, since the content can be viewed later. Keep this in mind when preparing your webinar, so that viewers who watch the recording will also be comfortable and useful.
11. Tutorials and Courses
You can go further and record not only a webinar, but create an entire training course or tutorial. The topic can be anything, for example, "How to Travel on a Budget". Within the course, you can recommend proven products to your students and advertise to them using affiliate links.
As with webinars, you don't need to create your own website to promote your training materials. You can host the course on one of the popular platforms:
Your course can be on any topic that you have a good command of and for which there is a demand from the audience. A nice bonus of this approach to promoting affiliate links is that you can charge for the course to earn money by selling the course itself.
Features
The quality of the course is very important. Users leave ratings for your materials and, if you receive a lot of negative reviews, your course will be difficult to sell.
Take care to focus not only on the meaning of your lessons, but also on the production quality. Even the most accurate and intelligent thoughts cannot be listened to if you have poor sound or video quality.
Courses will need to be updated regularly, even if you are exploring an evergreen topic. The audience usually wants the latest data, so be ready, as course production requires constant work.
In courses and trainings, the personality of the teacher is also important. This way, in addition to the course, you should work on a personal brand, so that your potential audience has confidence in you.
Paid courses may receive less attendance than free courses. With that said, in addition to income from affiliate marketing, you can also earn by selling courses.
12. Emails
Surely you yourself use email every day, so why not to promote affiliate links through email newsletters?
You can build an email list via your own website or social media following and then recommend services or products to that audience.
For the technical side, you can use ready-made solutions, such as Sendpulse, Mindbox, GetResponse, or any other software that allows you to send mass mailings. In addition, you will need to write letters/messages, but this can be easily learned or outsourced to a contractor.
Features
Email marketing allows you to build a loyal and active audience with whom you will have direct contact.
The value of your newsletter is important, but you should also focus on how you design your emails, including which headings you use. Your reader first needs to want to open the email. This is why you should care about open rates as well.
The most difficult thing about this approach to affiliate link promotion is that you will need to form a subscriber base. This can take a lot of time, especially if you don't already have a loyal audience, so this method is often better used as an additional approach, rather than your main technique.
Although you can find a ready-made email list for a few hundred dollars, in email marketing, it is important to build your own quality subscriber base.
13. Paid Advertising
All of the above methods require time to elapse between taking action and making your first sale. But there is a faster method: buying ads. For example, you can buy ads on Google: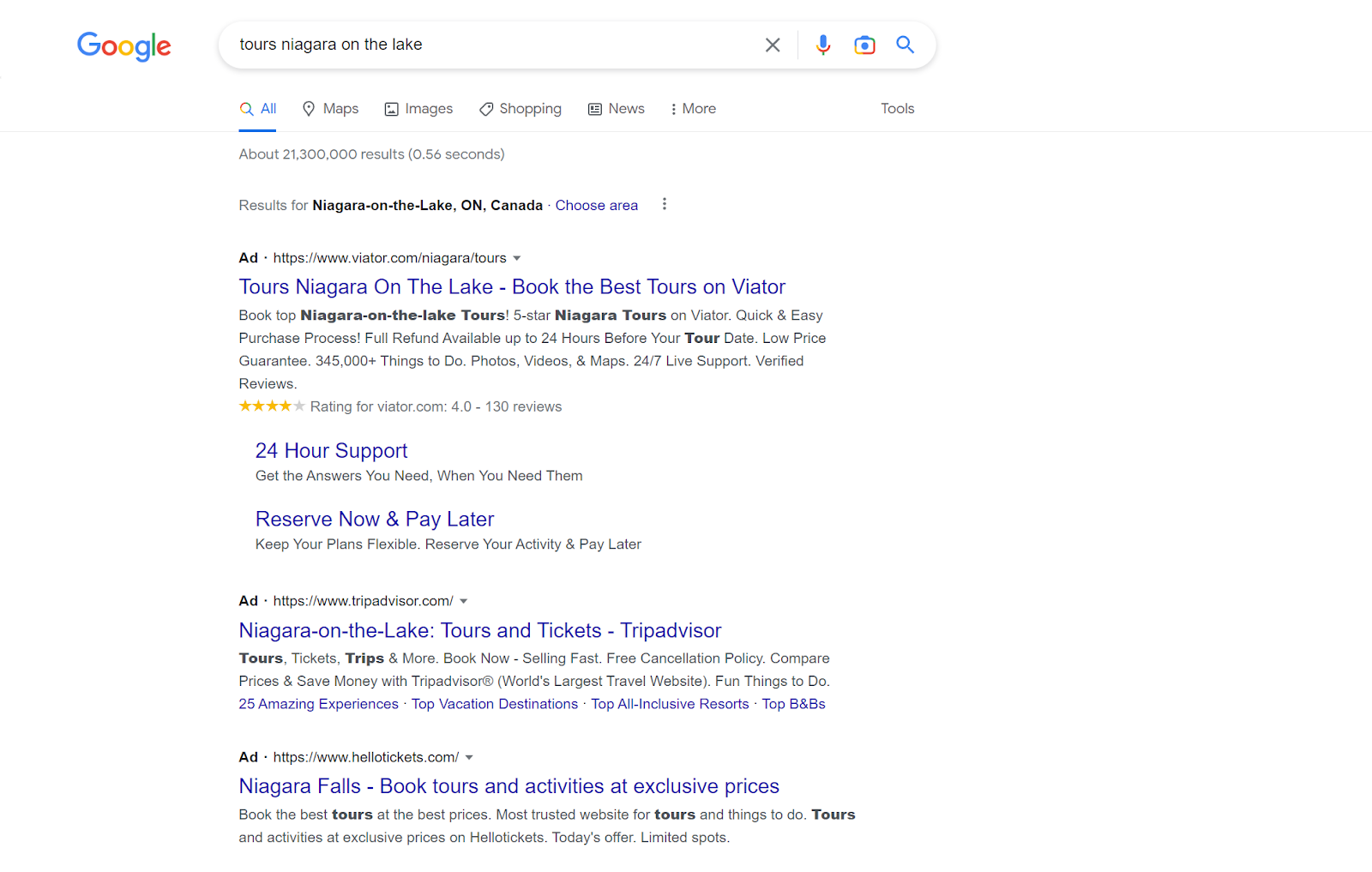 Paid advertising can be bought through contextual advertising networks, such as Google Ads. There are other networks, such as Mediavine, Ezoic, and others. There are also networks in other formats, such as Popup, Display, etc.
You can buy advertising on social networks. For example, through Facebook Ads, you can buy ads on the largest social network. So, you do not have to produce your own content and grow an audience. Instead, you can show ads on other people's Facebook pages while choosing parameters for the audience that will see your ad.
This method is fast, but needs to be approached as carefully and deliberately as possible. You can lose money, for example, by only earning $800 after spending $1,000 on advertising (which means you lost $200).
Features
Promoting affiliate links with advertising requires skills, as setting up an advertising company that will be more profitable than your expenses is difficult.
Before you spend a lot of money on advertising, you should always test different ad formats to make sure that you are bringing in more revenue than you are spending.
Not all brands accept traffic from contextual networks. So, before you run ads from your affiliate links, make sure that the affiliate program you choose allows for this type of traffic.
Check the proven paid traffic sources for affiliate marketing on this page.
14. Podcasts
Another content format is audio, which can also be a source of sales for you. You can run a podcast on various popular platforms.
Like with video, it's not possible to embed links directly into your podcast, but the platforms where you host podcasts will allow you to add links in the description. In this way, you can promote any products that your podcast audience needs.
Features
This method can be combined with YouTube videos if your format allows you to keep only the audio track. This is how you can create content more efficiently.
The peculiarity of podcasts is that they are listened to, but listeners are not always ready to take action immediately. For example, your audience may be listening when they are driving or preparing dinner. Consider this when planning your marketing strategy.
In addition to links in the description, you can add brand mentions to podcasts and share a unique promo code that will allow the brand to figure out that it was you who brought the sale. This method is available from a small number of affiliate programs.
15. Guest Posting
You can publish an article with your affiliate links on almost any site if you can arrange such a publication. This is called guest posting and is usually used for SEO purposes (such as getting more links to your site), but this method can also be used for promoting affiliate links.
To do this, you need to find a quality site that has its own audience. In addition, there must also be a chance that your article will rank well in Google (for this, look at the domain's DA), and then agree with the owner on the publication.
Inside your publication, you will place links that the audience will follow later. It is important to discuss which links will be placed with the site owner, as they may have specific requirements.
Features
As you do not control the site where you posted the article, there is always a risk that the article will be removed over time or your links will change.
Some site owners are only willing to publish articles for money. Free publications often do not provide a large number of links, so be prepared for the possibility that you will have to pay for some guest posts.
When you promote affiliate links, it doesn't matter if the link is "dofollow" or "nofollow". So, you can post "nofollow" links, which are often free or at least cheaper than "dofollow" links.
16. Digital Products
Since you're promoting links on the Internet, you can look at other digital products as well. For example, you can create:
A browser extension that displays the weather in a specific city and immediately suggests hotels in that location. In this case, you can earn by connecting to the Travelpayouts partnership platform.
Templates for wedding invitations, inside which you will also leave affiliate links for booking a flight.
These are just some examples. You can create any digital product, inside of which will be your affiliate links.
Features
You are not limited in any way when choosing digital products. Moreover, digital products do not necessarily have to be a complex web developments. You can create a product even in Microsoft Word or NotePad.
In addition to creating the product itself, you have to care about the distribution.
Your digital product can be distributed both for free or for a fee (for example, through Envato Market or Etsy), which will allow you to earn extra money from the cost of the product itself.
What is the Best Way to Promote Affiliate Links?
There is no single best way to promote affiliate links. It all depends on what background you have, what kind of product or service you offer, and what budget you have for promotion.
You can combine several methods at once and try different sources where you can place a link. But whatever traffic source you choose, get ready. There is no stable method for effortlessly promoting affiliate links and generating a lot of sales. Any of these methods can earn you a solid income, but it will require time and effort on your part.