Note: This is not investment advice. Please consult your investment advisor before making your own investment decisions.
What Is Passive Income?
Passive income is income you receive not for work that you are currently doing, but for work that you have done in the past or thanks to an investment. If you spend money by investing in stocks, buying a flat, or creating a website that generates income from advertising, you may earn income without spending much time on it.
It is quite rare to find 100% passive income, as any passive income idea requires some action to be taken:
Earn on renting an apartment – You need to interact with residents and repair your property
Earn on stocks – From time to time, you may need to rebalance your investment portfolio
Earn on websites – You will need to keep the site running, pay for the domain and hosting, etc.
However, if you invest or work first and then earn income for a long time regardless of your further work, this can be considered passive income (income that does not require active work). By exploring some of the best passive income ideas, you can create a flow of funds to generate income even when you are sleeping or even not in front of the computer.
In this article, we will not give you the obvious advice, such as buying three apartments and traveling on the money you earn from renting them out. This sort of investment requires a lot of money and is only possible for a small number of people. In this article, we have collected ideas for passive income that most people can implement.
1. Travel Blogging
If your idea of passive income is closely related to travel, make use of this! For example, you can become a travel blogger, which can earn you thousands of dollars every month after you create a website and attract traffic.
You can convert your travel experiences into income by sharing them with a wide audience by:
Creating a travel blog – You can create a WordPress website yourself or hire a developer
Filling the site with content that will attract traffic from Google and other sources
Monetizing your travel blog
You likely won't start earning money from day one, when you have just decided to create a travel site and turn it into a passive source of income. Earning an income can take six months or more. Even if you write dozens of quality articles every month, it usually takes several months for search engines to value your site and send you enough traffic to make your site profitable.
If you want to take a shortcut to passive income, you can buy an existing site that already earns money. You can find suitable sites in specialized groups on Facebook or on platforms such as Flippa.com.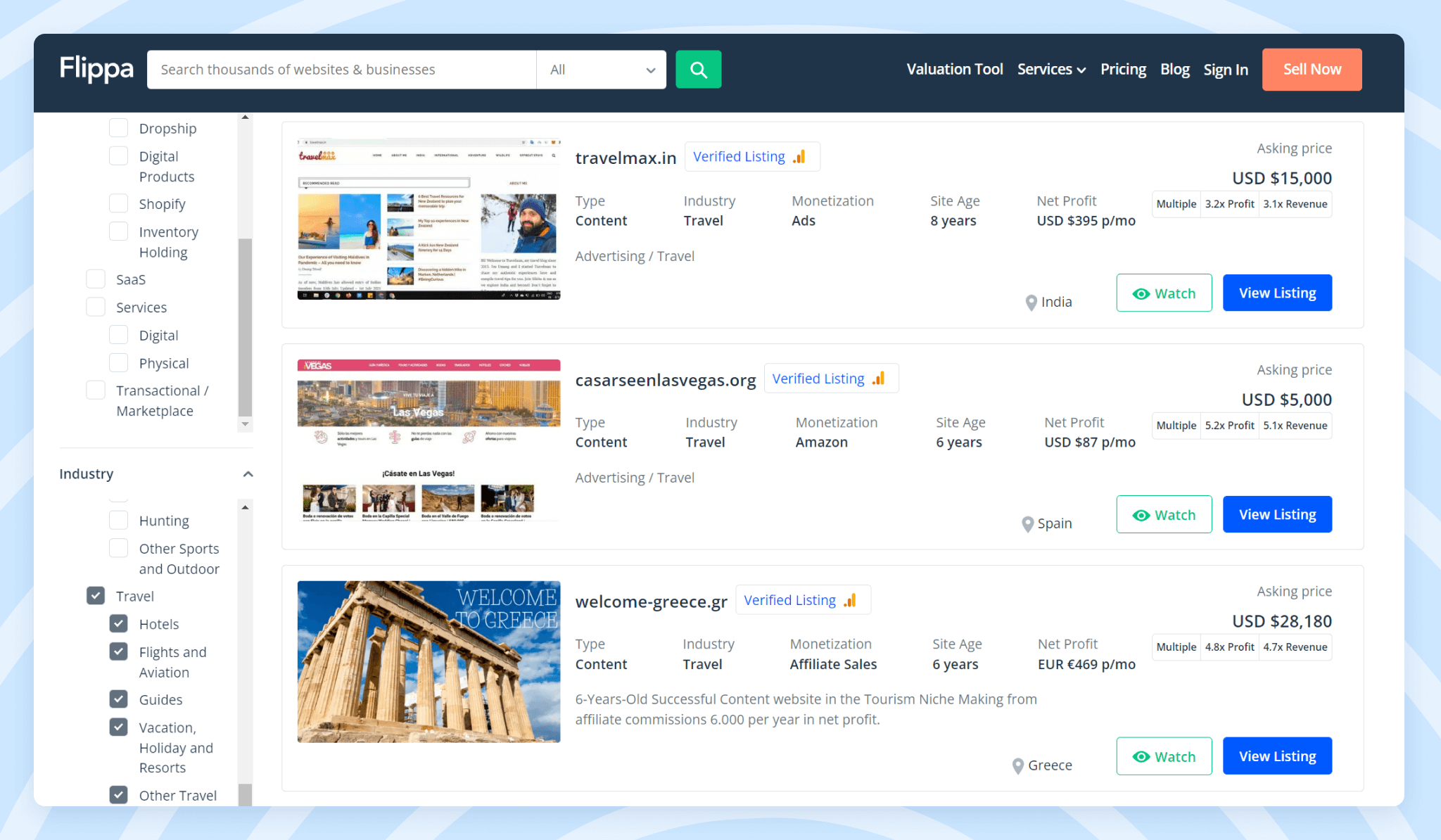 How to Passively Earn on Your Travel Blog
To make money on a travel blog, you need traffic. In other words, you need people who come to read your content. Therefore, your primary task is to create a website and fill it with content. If you grow your traffic, you will grow your income.
A truly passive income from a travel blog can be achieved in two main ways:
Contextual advertising
Affiliate marketing
In both cases, you need to place ads on your site. In the first case, this will be in the form of classic advertising: banners. While, in the second case, it will be in the form of recommendations, such as:
A specific hotel recommendation in Cancun with a link to Booking.com
A Madame Tussauds London Ticket recommendation with a link to GetYourGuide
In the case of contextual advertising, you will receive a few cents per click (in rare cases, for simply displaying a banner). In the case of affiliate marketing, when you recommend the services of specific brands, you will help your audience make their trip better and receive a commission on the sale.
The revenue per sale is often much higher than the revenue per click on regular ads. Here are just a few examples:
| | | |
| --- | --- | --- |
| Service | Price | Your Income |
| Flight ticket to Chicago | $289 | $5,2 |
| Car rental | $590 | $35,4 |
| Chicago River: 1.5-Hour Guided Architecture Cruise | $42 | $3,36 |
| Hotel in Chicago | $1120 | $44,8 |
| Total | 2041 | $88,76 |
To earn money by recommending services and products for your audience, join the Travelpayouts Partnership Platform. In your personal account, you can find tools to earn money on various travel affiliate programs from major brands, such as TripAdvisor, Booking.com, GetYourGuide, OMIO, and dozens of others.
Join the Travelpayouts Partnership Platform
Access exclusive tools and the best travel affiliate programs, including flights, hotels, car rental, insurance, tours and activities, all in one place.
Join Today
395,000 partners already trust us
120 travel brands
$53M+ total paid since 2011
Affiliate marketing can be a source of passive income if you organize everything properly. By creating content and posting recommendations, you will receive a reward every time one of your visitors buys the service. Your income is unlimited and depends entirely on the volume and quality of your traffic.
There are a number of ideas for how to monetize a website that is not very suitable for passive income. The most popular of these methods is guest posting. You can place links on your site to other sites and get paid in return. However, to do this, you need to create new content for placement and process all link inquiries. Therefore, guest posting can be a source of income. With that said, be aware that it will take time and can hardly be considered passive.
You can also earn passively without a personal website, for example, by starting a vlog on YouTube. Videos continue to gain views a few years after publication as well, which, with proper monetization, can constantly generate income, even if you do not publish anything new.
However, in the case of classic social media platforms, such as Facebook, it will be difficult to create a source of passive income. Social media algorithms most often distribute only "fresh" content, so if you stop actively running your social media pages, your income from them may dry up.
2. Selling Photos
In addition to blogging, there are other ways you can use your travels to generate passive income.
In an era when new iPhones can take photos almost at the same level as professional cameras, almost anyone can make money from photo stocks if they take enough photos of popular subjects. Since you can take a lot of photos while traveling, selling photos on stocks is a great idea for earning passive income while traveling.
To implement this idea, you will need:
To get a camera (or phone with a good camera)
To register on any photo stock
To submit your photos that meet the requirements of that stock
You can choose any photo stock, under the rules of which your photos fit, such as Shutterstock, Envato, etc.
While this passive income method may sound amazing, there are some limitations:
On popular topics (which are in demand), competition is high. Other people also take and sell many photos.
Photo stocks impose requirements on photographs. These requirements must be complied with at all times. For example, photos cannot contain brand names or logos, distinguishable faces of people, etc.
Not all of your shots will be accepted for sale. Judging by the feedback from those who make money on stocks, algorithms sometimes do not let even those shots that meet all the criteria pass.
The price that you see on photo stocks is the price for the buyer, but you, as a seller, will receive 20-50% of the selling price, while the remaining amount goes to the photo stock.
For violations of the photo stock rules, your account can be blocked (and your passive source of income will stop).
Your photo stock income can be over $1,000 a month and be truly passive, as no active work is required to promote your images. Of course, for such an income and complete passivity, you need to work a lot in advance. To make your work effective, you can take special courses:
In addition to taking pictures during your travels, you can narrow down the scope of your work. For example, focusing on images of transport, industry, etc. Often, profile shots are more in demand than shots of some landmarks, which customers can also find on free photo stocks.
3. Selling Videos
This passive income method is similar to the previous one. You create a large set of video clips and then distribute them on stocks such as:
Just like with photo stocks, in order for video revenue to become passive, you need to first build a large video base.
You will need at least minimal video editing skills, because due to the high competition among sellers, your videos must be of excellent quality.
Selling videos may be even more profitable for you than selling photos, because there is less competition. Far fewer people can work with video, and if you can, then the chances of success are higher. In addition, if you are constantly moving around the world, then you are initially in a win-win situation and can shoot much more video than the average person.
Moreover, video content is now highly trendy. In addition to YouTube, other video platforms are actively developing, such as Instagram and TikTok. Even Facebook is developing its video services. Therefore, in the future, the demand for video will only grow and, if you invest your time right now, you can set up a solid passive income stream.
4. Selling Courses
Creating a course is not only a great way to earn passive income, it's also a great opportunity to help dozens of people improve their lives. You can create a course related to travel or any other topic that you understand.
The cost of one course from an unknown author can be about $10-20. This one course can literally generate several thousand sales. Here is an example: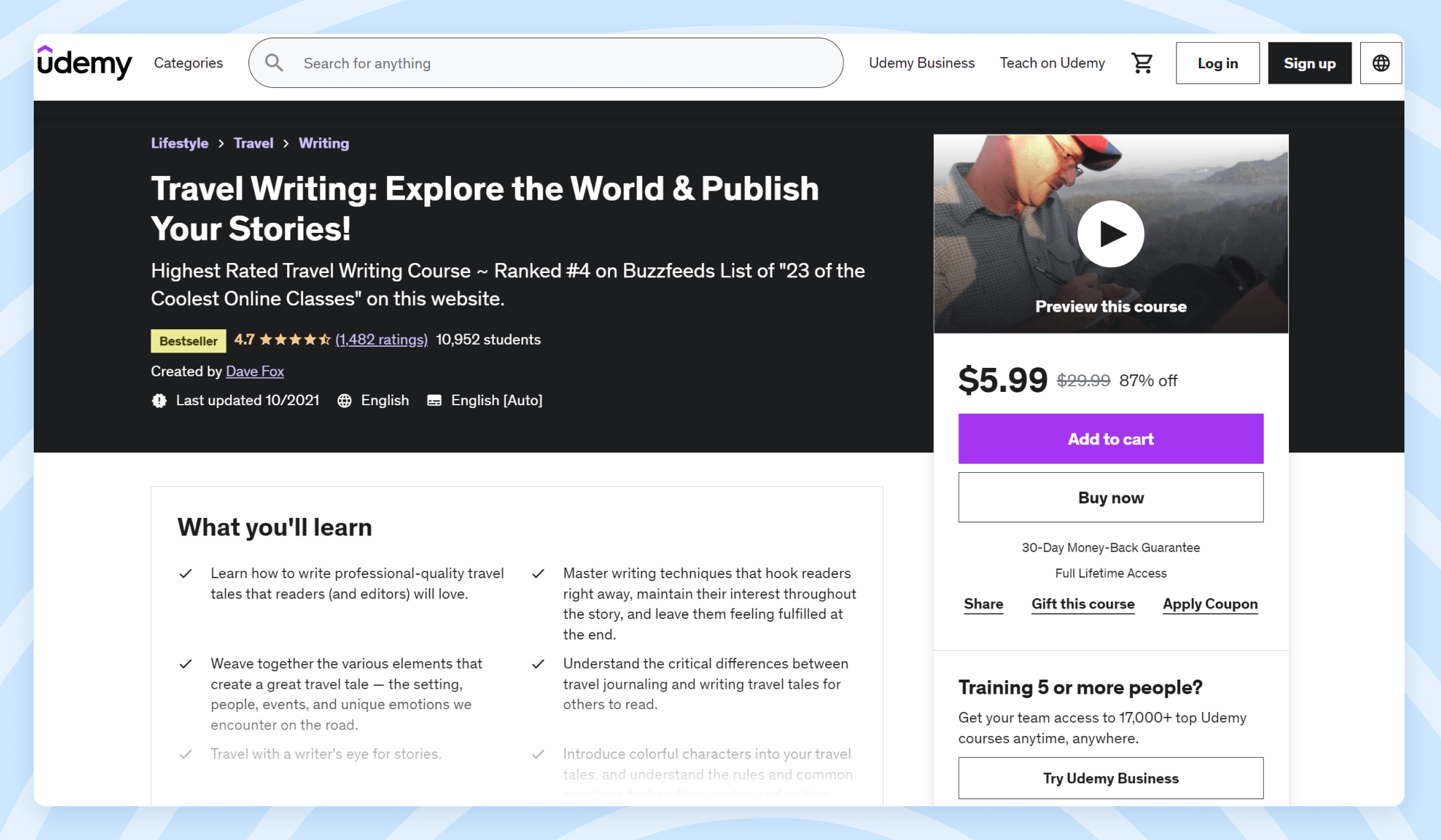 You can host your course on popular sites like Udemy or Coursera. You can also create a landing page and set up sales through it, which can ultimately earn you more income as you don't need to share 20-60% of your income with educational platforms.
Recording a course will certainly require your time and money. After all, you will need to purchase recording equipment. Your video and audio must be of good quality, so that your clients can study the materials without any problems.
Recording a course and making money on it sounds easy, but in reality, you will definitely encounter difficulties. Therefore, take the time to better understand the process, so you can earn more and faster. You can start by watching this tutorial:
If you are looking to create a source of passive income, choose topics for courses that will be relevant for a long time. For example:
How to fill out a tax form in 2023 – This is a temporary topic. You can make good money on this, but in 2024, you will have to record the course again to account for changes to tax forms.
How to choose clothes for the holidays – This is an evergreen topic. Even though fashion changes, the main principles remain the same.
Not everyone makes thousands of dollars a month from courses, as there is competition. In addition, clients are more likely to buy courses from reputable teachers or even universities whose reputations they trust. Therefore, you may need to work on mentioning your course on reputable online lists and other locations. As a result, it can take time to promote your course and build a strong passive income stream.
5. Selling Digital Products
Among digital nomads, a common method of generating passive income is creating a digital product and living on the income from the sales of that product. In fact, the photos and videos that we mentioned earlier can be considered part of this practice, which has a far wider scope.
For example, you can create an Etsy account and sell digital products, such as:
Presentation templates
Ready-made texts for public speeches
And others
You can check available items on Etsy and similar sites to see which are in demand. For example: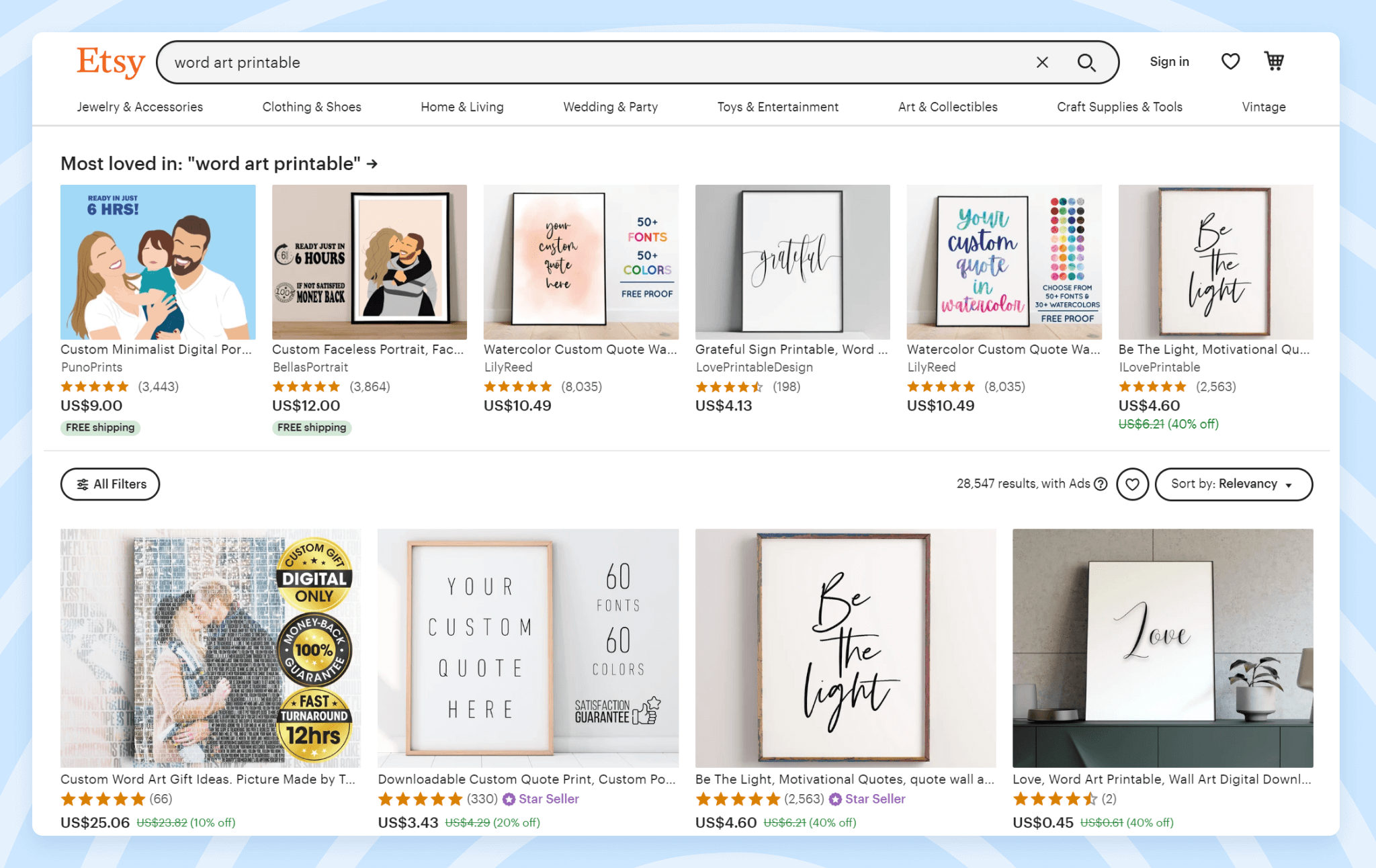 Etsy is one of many platforms, including:
With the right approach, selling digital goods of your own making can earn you several thousand dollars a month. In addition, you can resell goods to other people who are unaware that it is very easy to sell goods on the Internet.
6. Dropshipping
In addition to digital products, you can also sell physical items, such as chargers, adapters, notepads, and anything else. Sounds difficult? In fact, you do not need to open a store, nor physically ship the goods to the end user, if you work according to the dropshipping model:
You order a product for $X
Sell ​​it for $X + your profit
The store sells it (taking care of everything in exchange for a small commission)
You receive passive income
The most striking example of such a platform is Amazon. You can send goods to Amazon warehouses, for example, previously ordered from China or unique items that you bought during your travels. Amazon will accept payment itself, send the goods to the buyer, resolve disputes, and do everything else.
This is a very popular method of generating passive income not only in the USA, but all over the world. Moreover, this is a great way to sell your product in developed markets, such as the USA, which allows you to earn even more than the average American salary while living in a country with much lower prices for services.
Dropshipping became so popular in 2022/2023, as it only requires some prior organization. After the initial setup, the processes take place without your continued participation. The main difficulty is finding a product on which you can earn.
On Amazon and similar sites, there are millions of products and hundreds of thousands of sellers who, just like you, are trying to make money. Therefore, before using this method of passive income, it is best to study some courses:
Passive income on dropshipping requires skills. Do not believe those people who say that anyone can earn thousands of dollars doing nothing. However, with these skills and the right product, you can actually create a source of passive income that will allow you to travel without financial constraints.
7. Investing in Stocks
You can live anywhere in the world, travel as long as you want, and earn passive income almost forever if you become part owner of a successful business. You are not even required to manage this business. It is enough to simply buy a share and receive income.
Today, buying a share in a business is very simple. All you need to do is buy shares in a company whose future you believe in. For example, you can become the owner of various companies, such as:
IBM
Verizon
Exxon Mobil Corp
3M Company
AbbVie, Inc.
And others
You can buy shares not only in American companies, but also in European companies and others from around the world, depending on your investment strategy. As an alternative, you do not have to buy the stocks of specific companies. You can buy shares of a fund that invests in specific industries.
Companies typically pay dividends once or twice a year. In order to travel year-round and earn income every month, you can also choose companies in your portfolio so that dividends come from different companies in different months, then you will have a constant source of money.
Please note that not all companies pay dividends. Some companies, including very large ones like Netflix, do not pay dividends to shareholders and use the income for growing the business. In this case, you will be able to receive income only from the growth in the value of the share at the time of its sale.
On average, this method allows you to earn about 5% per annum in the United States. Which, at the moment, is little more than deposits in banks with a guaranteed return. Investing in stocks has an increased risk, but the chance of earning more income is also higher than when using more conservative tools.
Profitable stock selection is a science. If you're not a professional investor, it may be safer and more profitable, in the long run, to buy a share in a fund that builds a stock portfolio for you and keeps it up to date.
Is It Possible to Create a Source of Passive Income for Traveling?
If you sometimes wonder how digital nomads can live for half a year in Bali and then fly to a new country for the next half year, as if they have unlimited finances, perhaps the answer is that such travelers have already managed to organize their own sources of passive income.
As you can see, there are many ways to establish passive income streams. The only question is: can you organize your own? Any of these methods require preliminary work or investment. Otherwise, these passive income ideas will not work.
In addition, you are not limited to a single source of passive income. You can combine different options, for example:
Create a travel blog and earn money by recommending travel services through Travelpayouts
Sell photos from your travels on Shutterstock
Record a course and sell it on Udemy
Diversification of passive income sources guarantees that you will not be left without money on your next trip. In addition, more sources of income provide you with a significantly higher level of funds.
Creating sources of passive income requires patience and time. You can earn a lot more money at the moment, for example, by getting a job as an English teacher, graphic designer, etc. But even with a remote work policy, no job will provide the same level of freedom as having your own sources of passive income.