After hearing about the launch of WayAway, I was dying to put this flight aggregator to the test for not only my own travel but also leverage its affiliate program, as an early adopter. I've used Skyscanner, Google Flights, Kiwi, and Cheapoair in the past to compare and purchase flights, and used Cheapoair as the flight affiliate brand I recommended on my Girl Takes Mundo blog.
Testing WayAway as a Traveler
Before promoting WayAway on my site, I tested the service to see how it works from the perspective of a traveler, booking flights and accommodation to Guatemala, El Salvador, and Malta. I don't like to endorse anything on my site that I haven't used myself because I want to be able to speak credibly and authentically and give my readers the best recommendations.
Long story short, WayAway passed the test! After three trips across a three-month period, I couldn't stop raving about WayAway to travelers and bloggers. It has quickly become my go-to flight booking site and flight affiliate program because they are, in my opinion, the best in the travel industry today.
For me, the biggest advantages of WayAway are:
Competitive pricing – Ticket prices on WayAway are lower than on other flight aggregators.
Greater selection – You can find the perfect flight among the many flight options based on travel preferences, including stops, overnight layovers, etc. 
Cashback program – WayAway Plus is the membership that gives users the chance to receive real cash back on travel services. You can try WayAway Plus for free for 7 days!
Learn more about all the perks of the WayAway Plus membership in my full WayAway Traveler Review on my Girl Takes Mundo site. If you want to learn more about WayAway, be sure to read WayAway: Your Best Way to Earn on Flight Bookings on the Travelpayouts blog.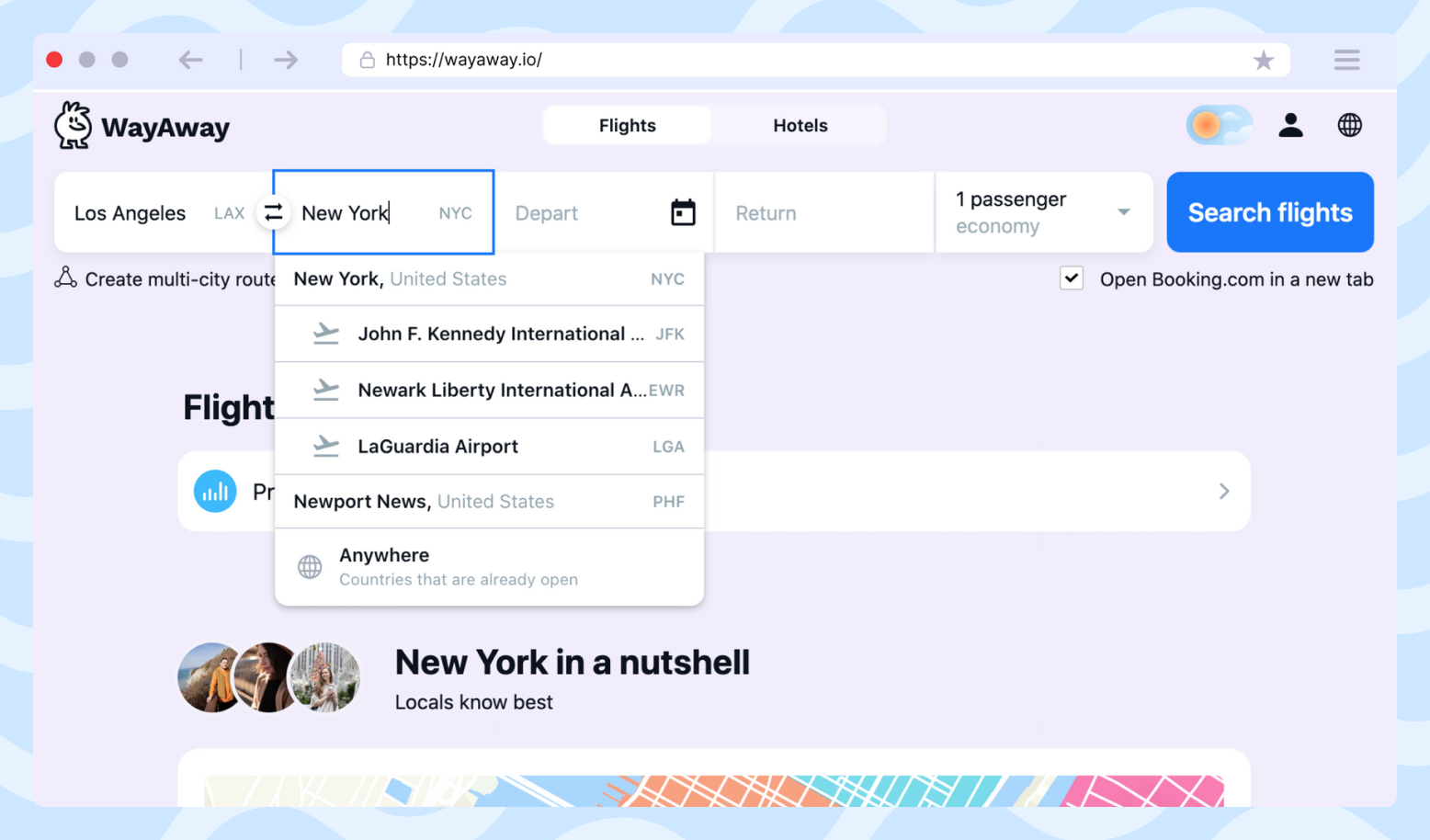 Why You Have to Try the WayAway Partner Program
For bloggers like myself, joining WayAway now means that we have the chance to be early adopters of WayAway's affiliate program.
More Than One Way to Earn
In the WayAway affiliate program, you can earn on flight ticket bookings and by promoting the membership plan. This means that you can potentially earn serious money while giving your audience an amazing service that'll help them save money themselves.
You will earn income not only from the bookings made using the WayAway website but also from all bookings made via the WayAway mobile application. If the user installs the WayAway app via an affiliate link, the app is linked to your affiliate program for 180 days, and you will be paid for all purchases made by that user during this period.
The WayAway partner program commission rates:
Flight ticket bookings – 50% of the revenue share. The cookie lifetime for the website is 30 days and for the mobile app is 180 days.
WayAway Plus sales – Fixed reward of $10 per sale of a $49.99 membership plan.
Handy Partner Tools
Of all the affiliate partner programs I work with, WayAway offers the most partner tools, including text links, widgets, banners, and individual promo codes. The unique promo code is perfect for social media, and I'll talk more about this in my section about promoting WayAway on social media.
WayAway's media kit gives you everything you need to succeed as a WayAway affiliate, such as actionable recommendations for working with the program's tools and for promoting the brand, as well as instructions on how to use the brand's assets.
$10
per sale of WayAway Plus
The WayAway Partner Program
Join Now
Support From the Travelpayouts Team
When it comes to affiliate marketing programs, the customer support team is just as important as the partner tools. In the past, it was hit or miss in terms of support teams, with some being more helpful and responsive than others.
The Travelpayouts team, however, stood out from the rest. They want you to succeed in affiliate marketing and will help you in any way they can. They have answered every question and offered solutions to every problem I've had, from tracking widgets to fixing broken links and incorporating plugins on my site. They're also fast, responding within a few hours or the next day—never longer than that. I like that they also share helpful guides and always follow up to check that your questions/issues have been solved.
When not answering individual questions, the Travelpayouts team helps partners by creating webinars, sharing the latest trends on the Travelpayouts Blog, and offering free courses in the Travelpayouts Academy.
How to Add WayAway to Your Travel Content
Promoting a service such as WayAway can seem daunting for newbies and seasoned bloggers alike. Thanks to the useful resources provided by WayAway and the recommendations of other bloggers, I was able to strategically incorporate WayAway into my Girl Takes Mundo blog.
Resources
The WayAway Partner Program Media Kit is second to none—it's one of the best media kits I've seen in the affiliate program market. In it, you can expect to find a full explanation on how WayAway and WayAway Plus work; their benefits; target audience and positioning; brand assets and partner tools; ideas for content creation; and tips on how to promote using social media.
This ebook supports partners and teaches them how seamlessly integrate WayAway into their travel content.
This webinar, How to earn on flights? Expert tips & WayAway program review, is hosted by WayAway/Travelpayouts staff and travel expert Guillaume Schaer, who is the founder of the MilesAddict blog. They give advice on how to start earning with airline tickets.
Tips on How to Add WayAway to Your Travel Content
Below I share the Top 3 tips I found most useful when integrating WayAway into my blog.
Update Existing Content
Leverage the high-traffic content on your blog where it makes sense by adding information about WayAway. High-performing content is a great place to use amazing promotional tools such as links, widgets, and banners. For example, I include my WayAway affiliate link where I talk about booking flights on my Travel Planner Checklist.
Use Widgets
Widgets are currently my favorite tool, and I am able to effortlessly incorporate them into my travel content on Girltakesmundo.com. These widgets are customizable, and you can easily embed them into your site using the HTML code. This code gets automatically generated in the WayAway partner tools dashboard on Travelpayouts.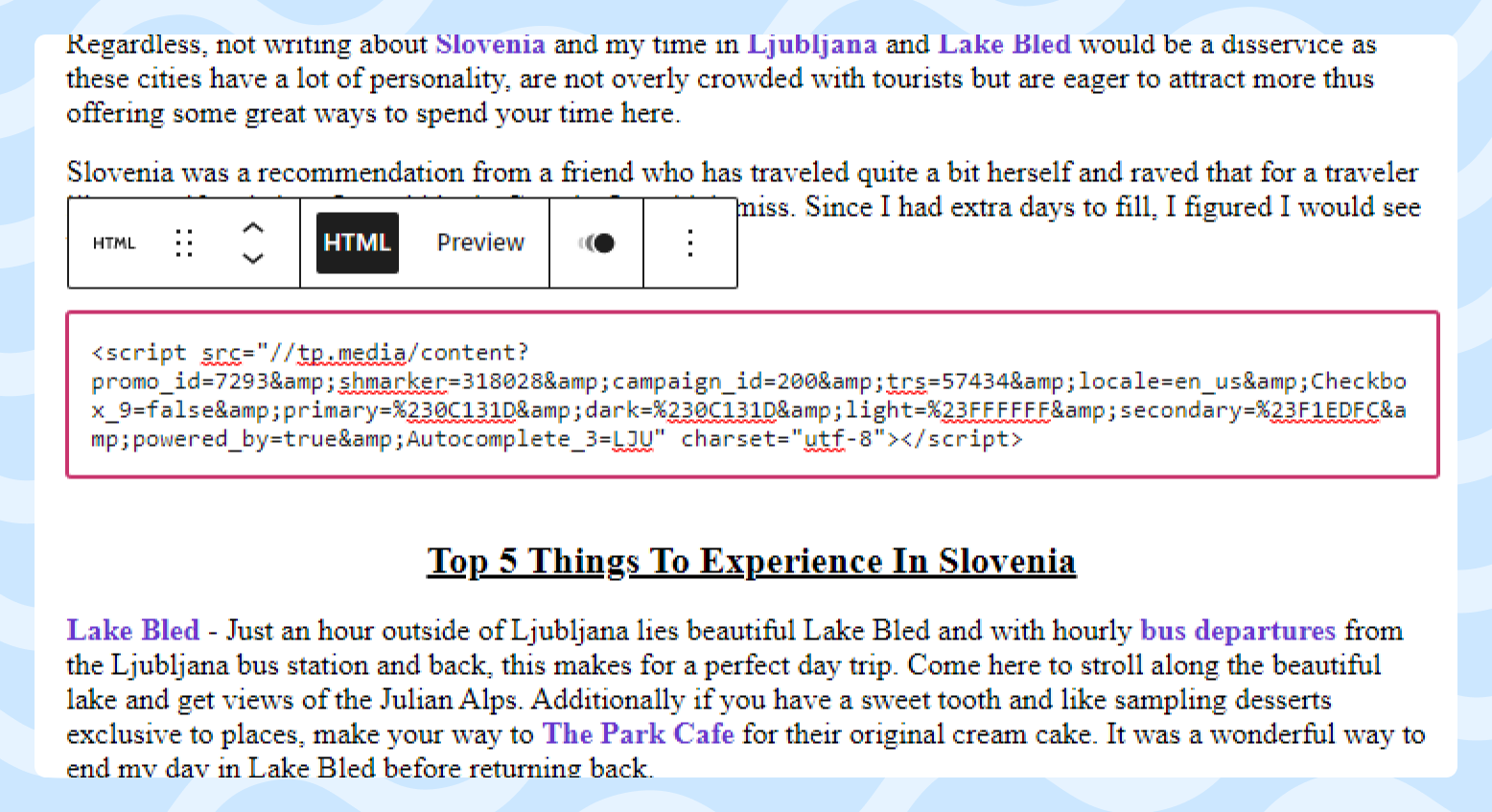 Widgets are not only aesthetically pleasing — they make my content pop — they are also a great way for readers to search flights directly from your site.
Examples of How to Embed Widgets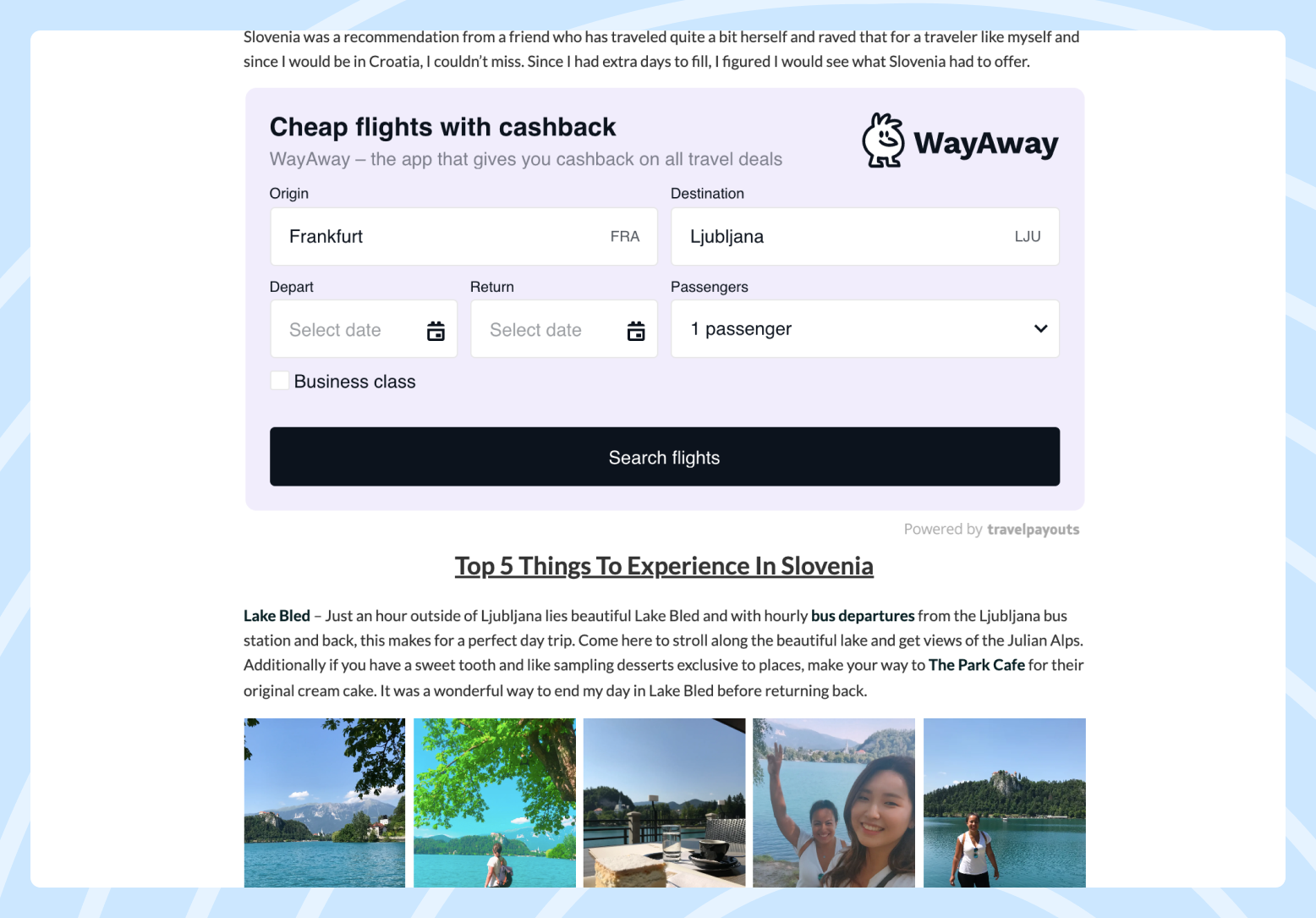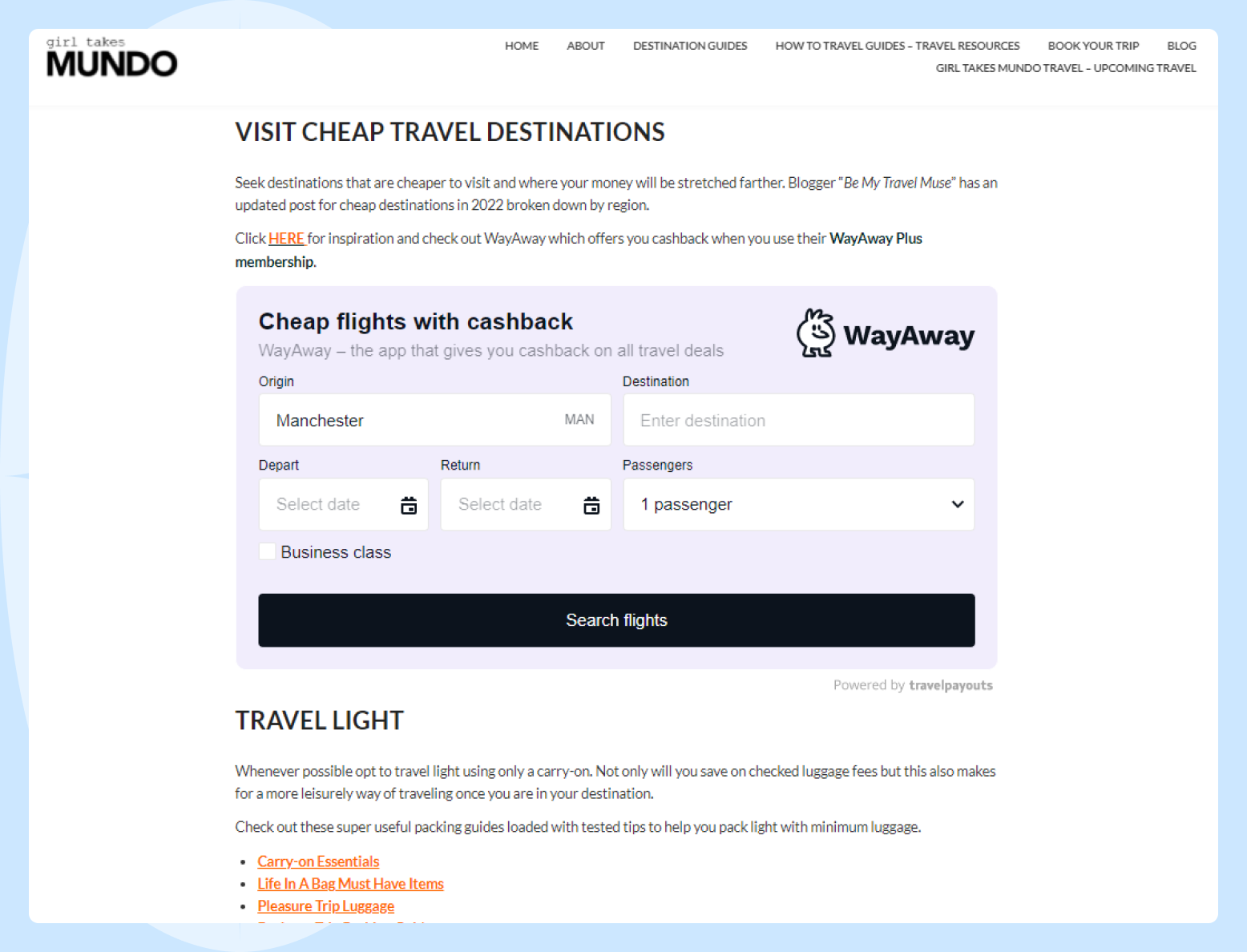 Promote WayAway on Social Media
Don't limit your earning potential by simply leveraging your blog to promote WayAway and WayAway Plus. Social media is the perfect platform to use your custom WayAway Plus promo code and talk about the membership's benefits. In addition to my blog, I have been pushing WayAway on other platforms such as Medium, Pinterest, Instagram, and TikTok.
On Instagram, I embed WayAway affiliate links directly in Stories and my profile bio. I did this when promoting WayAway's Black Friday offer.

Pinterest Pins also allow me to add a link to my pins. Here, I create pins and pin ideas that drive readers back to my site and articles. When applicable, I will mention WayAway to ensure the affiliate program is top of mind when readers see my article.

Medium is a platform I've been testing. While its features are limited to only adding affiliate links, Medium allows me to reshare blog posts, thereby getting more eyes on my work.

TikTok does not allow you to add links to videos directly and isn't a priority in my promotion efforts currently. Regardless, I want to have some presence on the platform should viewers come across my content. I tend to recycle Instagram reels or Pinterest ideas, but I make minor edits such as music choice or copy and always drive viewers back to Girltakesmundo.com, which is where users can interact with partner links.

For me, Pinterest and Instagram perform best. I believe that more travelers use these platforms when researching vacation destinations. From my initial tests, I feel Medium hasn't pushed the needle and feels like more work with no evident return. Moving forward, I plan to re-shift my focus and time to create content on my better-performing social media platforms.
Why You Have to Try WayAway
In summary, the WayAway affiliate program offers content creators like myself a great opportunity to monetize content and boost revenue. Now is the best time to join and begin promoting, since the program is currently offering the highest affiliate rates.
Don't get left behind. Join the WayAway's affiliate program like I did and start taking advantage of the newest and best flight ticket program in the market.
$10
per sale of WayAway Plus
The WayAway Partner Program
Join Now