Why Choose Travel Niches for Travel Blog Growth?
If you're unsure which niche to choose for your travel blog — you've come to the right place!
We've listed several of the most popular and profitable travel blog niches in 2023 so you can find a niche that aligns with your values, content, and unique travel style. And these ideas are not just for new travel bloggers — they can be just as useful to those who have been blogging for a long time. For example, perhaps you have a travel blog about Bali, and you've written about solo travel in Bali and the best things to do in Bali for couples, but you've never written about traveling to Bali with kids. By writing a series of posts about traveling with kids in Bali, you can open your blog to a new audience — which will result in more traffic!
1. Outdoor Adventure Travel
Outdoor adventure is a niche that encompasses a wide range of outdoor activities. For example, some of the most popular topics in the outdoor adventure niche are hiking, mountain biking, mountaineering, climbing, surfing, scuba diving, snorkeling, skiing, and snowboarding.
An outdoor adventure travel blogger based in Canada might focus on sharing the best hiking trails or camping sites during the summer months and share information about the best skiing and snowboarding destinations in the winter. Or, an island-based adventure blogger might share the best places for snorkeling and diving on the different islands in the Caribbean.
Travel bloggers in the outdoor adventure niche can join affiliate programs for adventure sports gear — like hiking boots, surfboards, and snowboards. Outdoor adventure bloggers can generate passive income by promoting these items (or sharing in-depth reviews of them).
Here are some travel blogs that fit within the outdoor adventure travel niche:
OceanWide Explorers — OceanWide Explorers is an outdoor adventure blog and Travelpayouts partner who encourages people to discover hidden adventures above and below the sea and shares content about "anything with an ocean view," including diving, snorkeling, paddling, hiking, sailing, and more.
Arizona Hiker's Guide — Arizona Hiker's Guide shares popular and hidden hikes across Phoenix, Tucson, Sedona, Flagstaff, and other destinations across Arizona.
The Snowboard Mom — The Snowboard Mom is an independent blog based out of Montreal, Quebec, started by Valerie, and she shares tips for skiing and snowboarding with kids, ski and snowboarding gear reviews, and more!
2. Culture & Heritage Travel
Culture and heritage travel bloggers dig deep into a specific country, state, province, or region to provide in-depth information about the location's culture, history, or heritage. They aim to share information about a location's historical sites, local events, architecture, museums, cuisine, drinks, nightlife, and more. These blogs are ideal to visit for someone traveling to a destination for the first time to gain information about the region!
An alternative to this approach would be a blogger who chooses to cover a topic rather than a destination. For example, instead of digging into a specific location's culture, history, and things to do, they might choose to share about local food, drinks, and cuisines in destinations across the globe.
These are some examples of travel bloggers that would fall within the culture and heritage niche:
Travel Mexico Solo — Travel Mexico Solo shares all the information you need to know about planning a trip to Mexico, including the most popular cultural events in Mexico, the best destinations and locations to visit, travel tips for visiting Mexico, and more.
Savannah First-Timers Guide — Savannah First-Timers Guide is a niche travel blog for first-time travelers to Savannah, Georgia, that shares the city's best historical sites, restaurants, museums, ghost tours, and other helpful local information.
Chef Denise — Chef Denise helps travelers explore the world through food by sharing recipes for cuisines around the globe, the best restaurants in specific destinations, the top things to eat in certain cities, and other food-related content.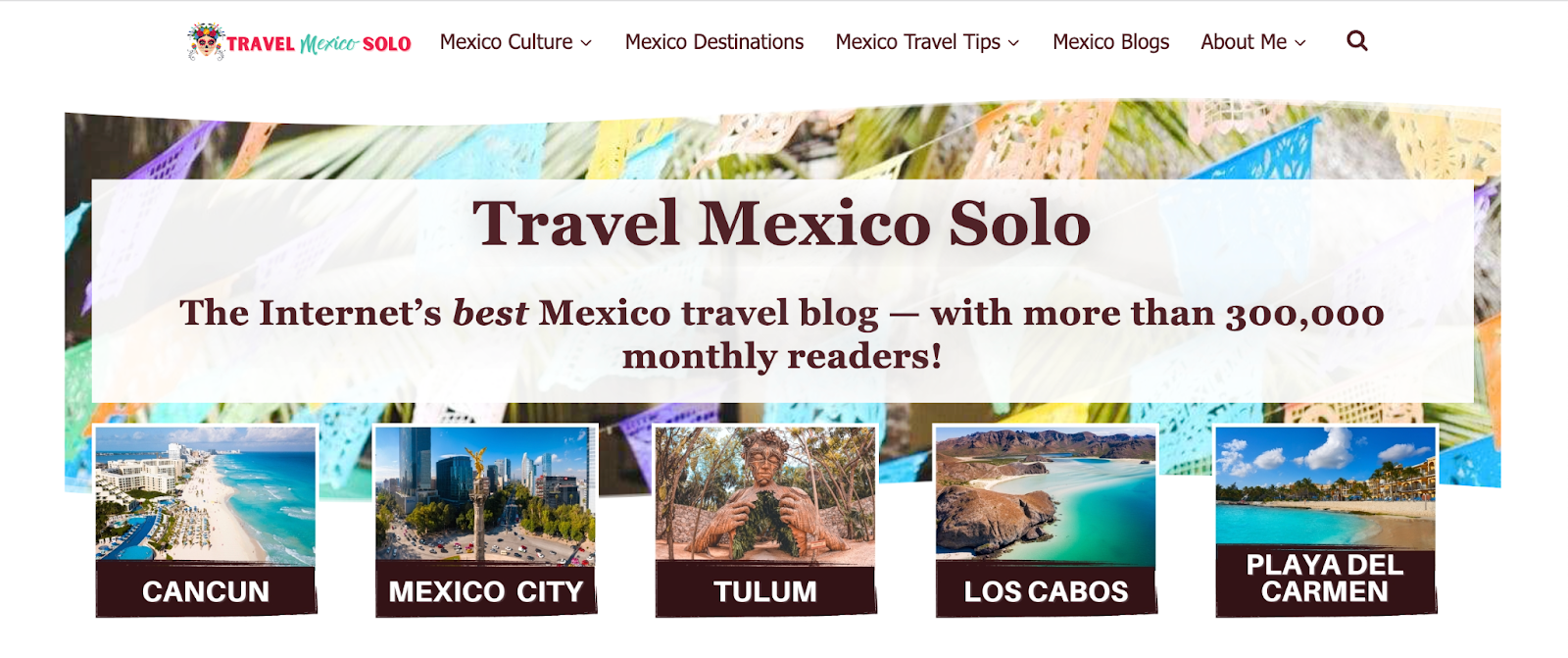 3. Luxury Travel
Luxury travel is among the most profitable travel blogging niches. Bloggers within this niche typically share high-ticket items and experiences, like high-end resorts, luxury spas, overwater bungalows, five-star dining experiences, and first-class flights. They can make significant money from affiliate sales or paid partnerships.
As a luxury travel blogger, you can choose to niche down to one topic — like sharing the best luxury hotels, resorts, and accommodations around the globe — or niche down to one destination — like sharing the best luxury hotels, spas, and dining experiences in London.
Bloggers within this niche should join affiliate programs for hotels and airlines to earn income when their readers purchase a flight or book a stay. Since luxury hotels and first-class airfare can cost thousands of dollars — luxury travel bloggers can make hundreds of dollars in affiliate income on a single purchase!
These are some examples of bloggers in the luxury travel niche:
Carmen's Luxury Travel — Carmen's Luxury Travel shares all things luxury travel, including luxury travel guides to popular destinations around the globe, as well as information about luxury cruises, hotels, ski resorts, private jets, trains, tours, and more.
The Cultureur — The Cultureur shares luxe city guides and luxury hotel reviews that blend the finer things in life with local culture. Nyssa, the founder of The Cultureur, shares that her blog is for the "modern, sophisticated, and cultured global citizen."
Cultured Voyages — Cultured Voyages is a luxury travel blog and Travelpayouts Partner that focuses on sharing travel guides for culturally curious travelers who have a taste for luxury hotels, boutique hotels, and luxury vacation rentals.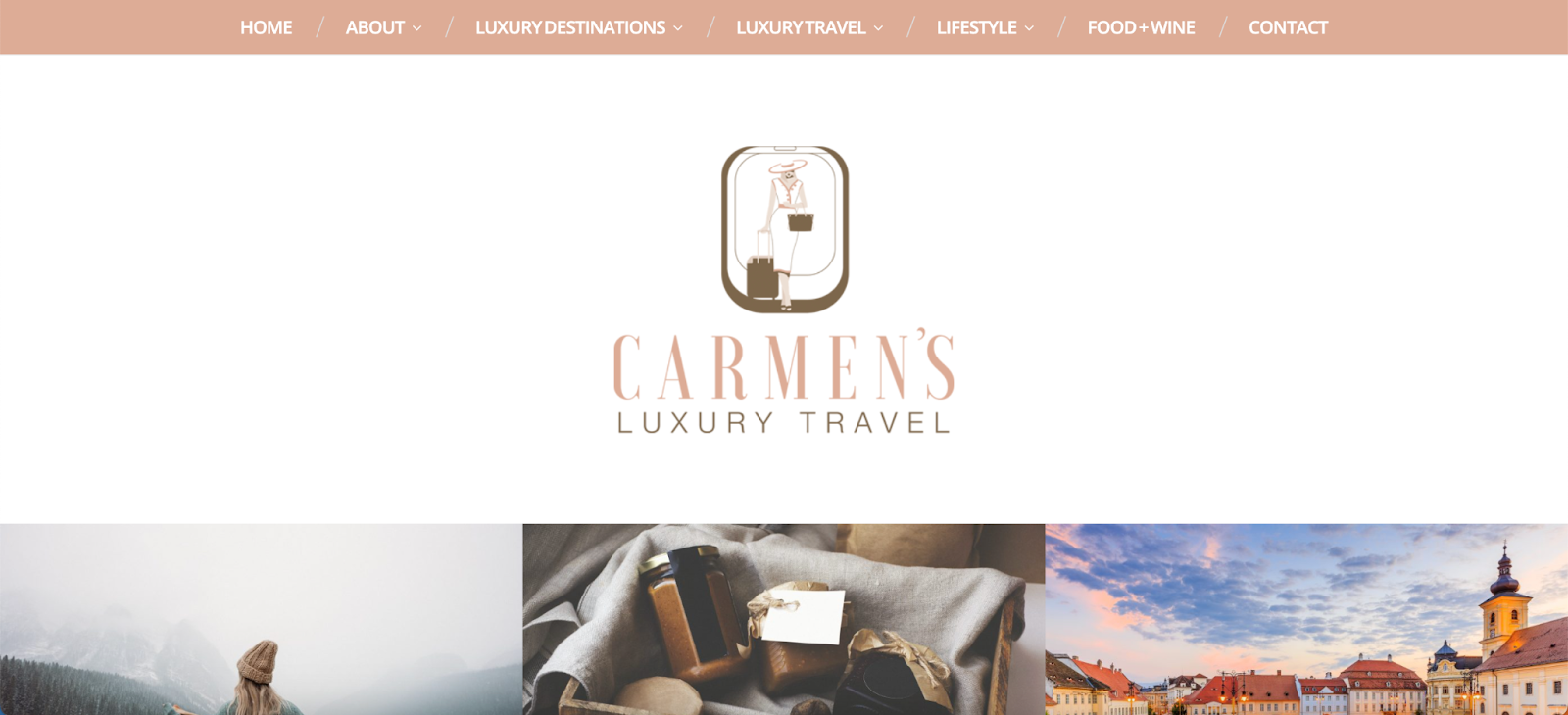 4. Budget Travel
Many people are traveling on a tight budget in 2023, meaning budget travel is a popular niche in the travel industry right now.
Bloggers in the budget travel niche focus on a wide range of topics. These topics include (but are not limited to) backpacking and staying in hostels in low-cost destinations, finding cheap accommodations and flights using points and miles, camping or RV travel, or the digital nomad lifestyle.
There are tons of affiliate programs for the budget travel industry — from hostel-focused booking platforms to camper-sharing marketplaces — that can help you make money in the budget travel niche (even if your readers aren't looking to spend a ton of money).
Here are a few examples of budget-focused travel bloggers, each with a different sub-niche within the budget travel niche:
Nomadic Matt — Nomadic Matt is one of the leading resources for budget travelers who want to save money while traveling more. Matt's budget travel advice has been featured in major publications, like The New York Times, National Geographic, and BBC.
Travel Hacking Mom — Travel Hacking Mom is a budget travel blogger and self-proclaimed "travel hacking pro" who shares how to travel the world for (almost!) free using credit card points and airline miles with free resources and paid classes.
Homeroom Travel — Homeroom Travel is a budget travel blog created by Francesca, a history teacher who loves to travel. She shares tips and budget-friendly travel guides to help other teachers visit California, the Pacific Northwest, and foreign destinations on a budget.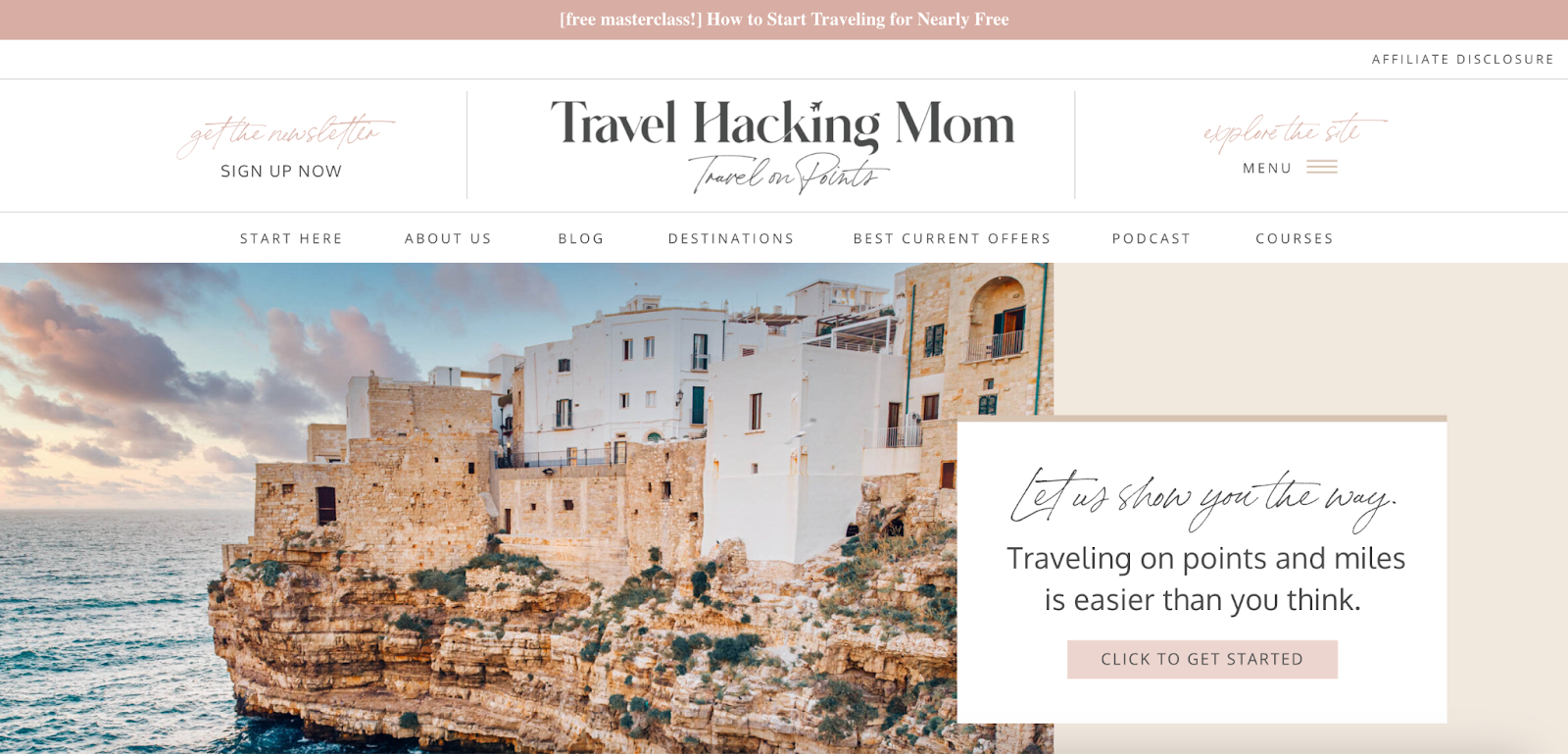 5. Family & Kid-Friendly Travel
If you have kids or love traveling with your family — the family travel niche may be a natural fit.
Bloggers in the family travel niche typically share about kid-friendly hotels and resorts, helpful tips for traveling with babies and children, theme parks (like Disney World or Universal Studios), educational travel and learning experiences, and more. Some family bloggers focus on just one topic — for example, tips for visiting Disney World with kids — while others focus on the family niche generally and cover several topics (hotels, educational travel, toddler travel tips, etc.).
Family bloggers can become an affiliate for product-based businesses and promote helpful items for traveling with kids, like strollers and baby carriers, or become an affiliate to promote family-friendly hotels, tours, and other activities.
Here are a few examples of blogs in the family travel niche:
Kids Are a Trip — Kids Are a Trip was started by Kristen, who shares three teenage sons with her husband. On the blog, she shares her passion for educating kids through travel, finding off-the-beaten-path experiences, and tips for traveling together as a family.
2 Travel Dads — 2 Travel Dads was started by Chris and Rob Taylor, who share tips and resources for all families, including LGBTQ+ families, who want to travel with their kids. Their tagline (and focus) is "giving the kids a broad worldview."
Marcie in Mommyland — Marcie in Mommyland was started by Marcie, a Seattle-area mom, who compiled all her tips for traveling with kids in one place after being told she was "brave" for traveling with her kids. She believes in traveling with kids as soon as possible and shares tips and tricks for making it happen on her blog!
6. Sustainable & Wildlife Tourism
If you are passionate about sustainable travel, protecting the environment, and teaching others how to enjoy the beauty of the world while traveling responsibly — you'll find the ecotourism travel niche to be a natural fit for your blog.
Some topics ecotourism travel bloggers might cover include sustainable travel tips, eco-friendly accommodations, wildlife conservation, national parks, and nature photography.
For example, a blog that provides information about safaris in Africa or a blog that covers the national parks in the U.S. might both be considered ecotourism blogs. Someone who shares travel guides to off-the-beaten-path destinations as an alternative to overcrowded cities would also be an example of a sustainable travel blog.
There are a few examples of blogs that fit within the ecotourism and sustainable travel niche:
The GreenPick — The GreenPick focuses on sharing travel guides that promote green, sustainable tourism. They do this by staying in hotels that care about their carbon footprint, eating at sustainable restaurants, visiting natural and cultural sites that invest in sustainable development, reducing waste, and using eco-friendly gear.
Travel For Wildlife — Travel For Wildlife was started by a zoologist and conservation biologist couple who travel the world in search of wildlife-watching destinations. They support conservation by promoting and encouraging responsible wildlife tourism.
Speck on the Globe — Speck on the Globe is a travel blog focused on sharing sustainable and ethical tourism stories. You'll find eco-friendly accommodations, wildlife conservation efforts, and other related topics on the blog.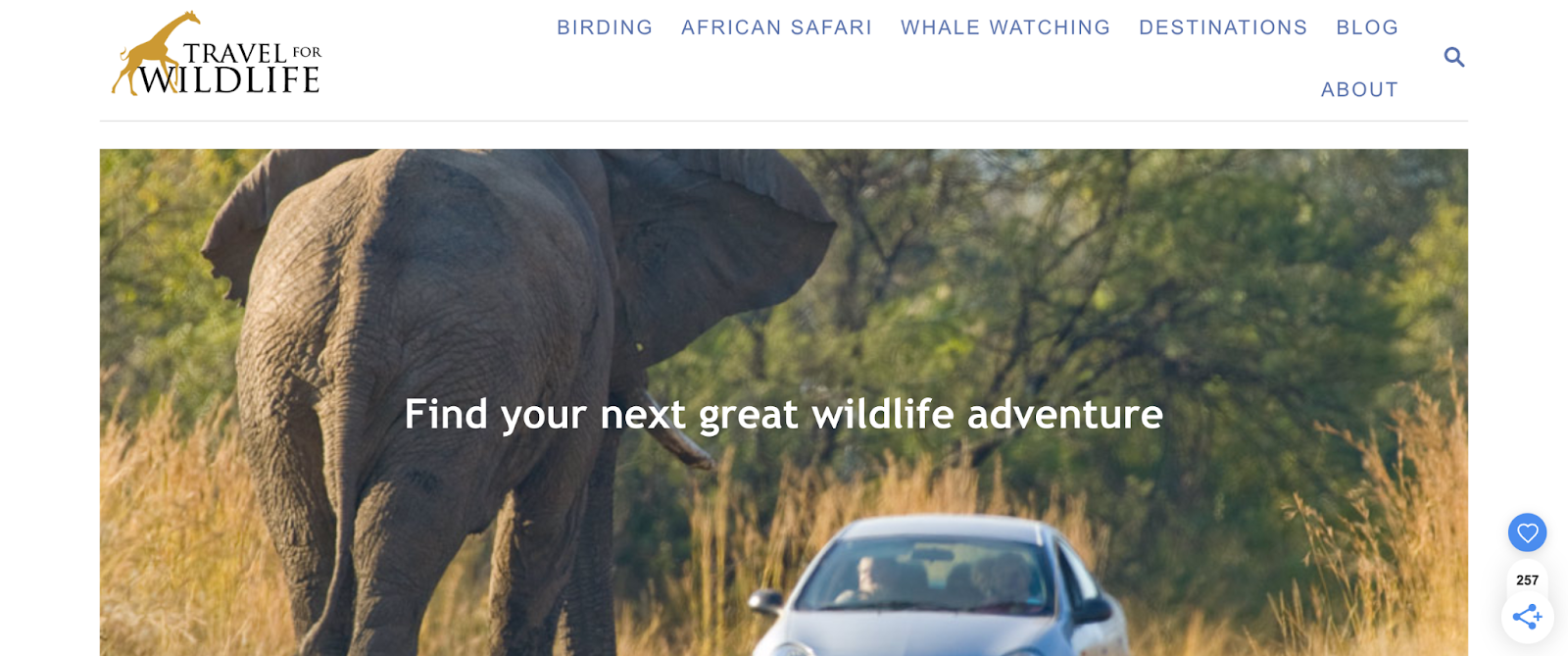 7. Romantic Getaways & Couples Travel
Couples travel — and, more specifically, romantic getaways — is a popular and profitable travel blogging niche in 2023. Some bloggers focus on sharing honeymoon destinations, upscale couples resorts, and romantic dining experiences, while others simply focus on sharing how to travel as much as possible as a couple while inspiring others to do the same!
As a travel blogger who shares about romantic getaways, it's smart to become an affiliate for hotel booking platforms, so you can recommend romantic hotels, all-inclusive resorts, and adults-only resorts that couples would book for a bucket list honeymoon, anniversary getaway, or romantic weekend trip.
Here are a few examples of bloggers who have excelled in the couples niche:
Honeymoon Always — Honeymoon Always was founded by Dan and Michelle — experts in romantic honeymoon destinations and getaways. They share information about destination weddings, overwater bungalows, all-inclusive honeymoons, and other related topics, and they also offer travel planning services for couples.
Two Drifters — Two Drifters is a travel blog started by Amy and Nathan, who met while traveling in Scotland. They have been sharing their passion for traveling together with other couples on their blog ever since. They are focused on sharing date ideas, romantic destinations, travel tips for couples, and other topics where love and travel intersect!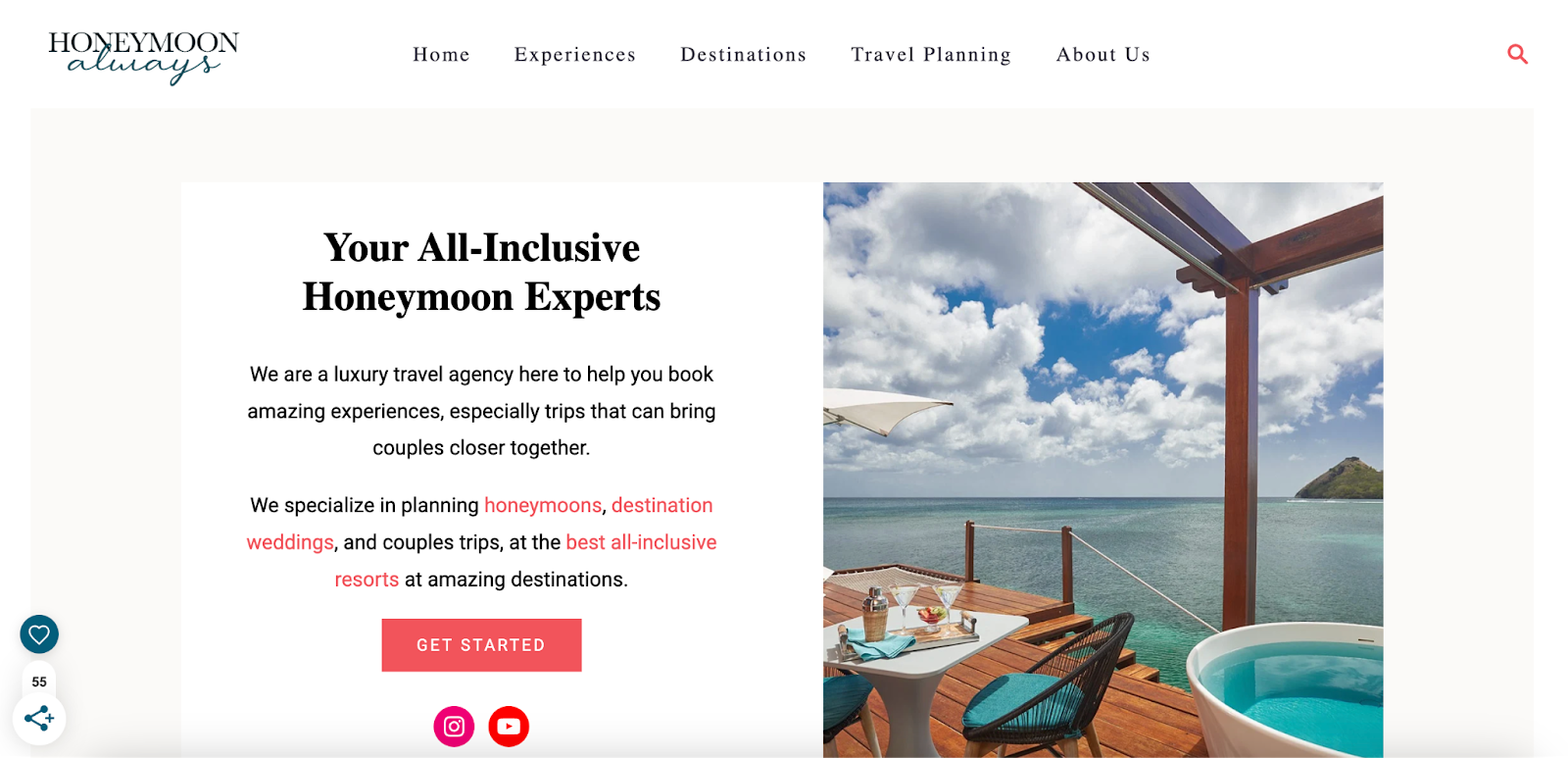 8. Cruising & Sailing
Though the cruising niche took a hit during the pandemic, it is back, going strong, and is now one of the most profitable niches in 2023. Travel bloggers in the cruising niche have various topics to choose from, including river cruises, boat rentals (like catamarans and sailboats), boat tours, luxury ocean cruises, themed cruises, and more.
While a blogger in the cruise niche can become an affiliate for popular cruise lines to earn income, they might also consider becoming a travel agent to book cruises for their readers.
These are some examples of travel blogs in the cruise niche:
Adventour Begins — Adventour Begins is a travel blog and a Travelpayouts Partner focused on sharing cruising travel tips, cruise ports, and cruise destinations. The founder, Katarina, has worked in the cruise industry for nearly ten years.
The Cruise Blogger — The Cruise Blogger shares advice for cruising, reviews of cruise lines and cruise ships, port guides, and more. Anna, the blog's founder, claims to write about all things cruise-related.
Disney Cruise Mom Blog — Disney Cruise Mom Blog shares about one type of cruise only — Disney Cruises! On the website, you'll find content about excursions, onboard activities, packing, money-saving tips, and more.
9. Road Tripping
Do you like taking the scenic route rather than jetsetting to new destinations? If so, a travel blog focused on the road-tripping niche is a great option!
Some road-tripping blogs strictly share road trip itineraries, whereas others take a broader approach. Other topics on a road trip blog might include national park guides, RV or camping tips, off-the-beaten-path destinations, or roadside attractions.
Here are a few examples of travel blogs that fit within the road trip niche:
Road Trips & Coffee — Road Trips & Coffee was started by Jason, a travel blogger who doesn't just write about road trips — he claims his entire life is a road trip! On his blog, you'll find road trip guides focused on destinations around the United States.
Inspired Routes — Inspired Routes is a blog focused on helping people discover the outdoors with hiking guides, state and national park guides, road trip guides, and other helpful resources for those who love camping, hiking, and adventure.
Back Road Ramblers — Back Road Ramblers is a travel blog sharing travel tips, destinations, outdoor adventures, and other road-trip-related content in the United States and Canada.
Affiliate Programs to Help You Monetize Your Travel Niche
Once you've chosen the perfect travel niche for your interests and travel style — consider joining a few affiliate programs as a Travelpayouts partner to monetize your website. These are a few of the best affiliate programs to choose from:
Hostelworld
Hostelworld is a hostel-focused booking platform with more than 35,000 properties in nearly 180 countries worldwide. It's an ideal affiliate program for budget travel bloggers looking to earn a commission on budget-friendly accommodations around the globe.
Best Niche: Budget Travel
Commission: 5–7%
Cookie Lifetime: 30 days
EatWith
EatWith connects guests and travelers with friendly hosts for unique and immersive dining or cooking experiences from their own homes. EatWith is an awesome program for bloggers who want to connect their readers to unique cultural experiences at home or abroad.
Best Niche: Culture & Heritage Travel
Commission: 6%
Cookie Lifetime: 30 days
Cruise Critic
Cruise Critic is the leading authority for cruise information and offers cruise reviews, tips and recommendations, and port and destination information. Cruise bloggers may benefit from directing readers to this website for more information in exchange for a few cents per click.
Best Niche: Cruising & Sailing
CPC: $0.18–0.45
Cookie Lifetime: 7 days
Priority Pass
Priority Pass provides travelers with independent airport lounge access memberships. This is an attractive affiliate program to join for luxury travel bloggers — who wouldn't want access to an airport lounge between first-class flights?
Best Niche: Luxury Travel
Commission: 10%
Cookie Lifetime: 30 days
Booking.com
Booking.com is one of the top hotel booking platforms used worldwide, with more than 6.5 million properties and hotels available. Though Booking.com is a fabulous affiliate program for almost any niche, it is incredibly profitable for niches that recommend or share hotel reviews — specifically, luxury, family, or couples travel niches.
Best Niche: Luxury, Family & Couples Travel
Commission: 4%
Cookie Lifetime: One session
Viator
Viator offers over 300,000 tours and activities in more than 200 countries, including wine tastings, walking tours, cooking classes, and more. Viator is another affiliate program that does well in most niches, but it is especially profitable when sharing cultural and historical tours and experiences in the culture and heritage niche.
Best Niche: Culture Travel
Commission: 8%
Cookie Lifetime: 30 days
GetYourGuide
GetYourGuide helps travelers find the best things to do in a destination, including skip-the-line tickets, walking tours, food tours, cooking classes, and more. GetYourGuide is also a great affiliate program for any niche, but like Viator, it does exceptionally well in the culture travel niche.
Best Niche: Culture Travel
Commission: 8%
Cookie Lifetime: 31 days
Vrbo
Vrbo offers over two million vacation rental listings — from simple apartments to luxury castles — in nearly 200 countries across the globe. Since many families with kids (or multigenerational families) need more room to spread out and usually prefer more privacy, Vrbo is a great affiliate program to join for bloggers in the family travel niche.
Best Niche: Family Travel
Commission: 1.8%
Cookie Lifetime: 7 days
VisitorsCoverage
It doesn't matter which travel niche you find yourself in — almost all travelers, from budget backpackers to luxury travelers, need travel insurance. VisitorsCoverage provides travel insurance for millions of travelers in nearly 180 countries and is the largest provider of visitor's insurance for inbound travel to the United States.
Best Niche: All Travel
Commission: $1–100
Cookie Lifetime: 30 days
Choose the Right Niche and Affiliate Programs for Your Travel Blog With Travelpayouts
It can feel daunting to choose a travel blogging niche, but once you identify your unique passions and interests — you'll find it really isn't so difficult to choose a niche, after all!
Once you've chosen a travel blogging niche, we hope you'll join a few affiliate programs to start earning with Travelpayouts. Travelpayouts offers dozens of partner programs to choose from that span every niche — from budget to luxury travel — to benefit all travel bloggers. Explore all our partner programs to find the right one for your niche!