What Is Blog SEO?
Search Engine Optimization (or SEO) is the practice of content creation and optimization that helps position your blog as a relevant source of information for your target audience and grow your rankings on search engines, such as Google.
Investing into SEO is advantageous for many reasons. It allows bloggers to make their content more visible to a larger audience, promote their product or service, connect to the perfect customer, drive more traffic, and, ultimately, earn more.
There are a variety of SEO tactics that can help improve your ranking in the search results. To create a comprehensive SEO strategy, it is important to consider your business goals, search engine updates, and best practices. One of the essential SEO tactics for any blog in any niche is keyword research.
What Are Keywords?
Keywords are essentially words or phrases that people enter into search engines, which then deliver a list of websites matching these queries. Keywords help Google and other search engines understand the topic of a site and align it with specific search queries.
In fact, organic traffic plays a major role for many bloggers. If you want to take advantage of this phenomenon and attract more readers, be sure to optimize your content for SEO by doing things like using relevant blog keywords.
How to Know Which SEO Terms to Use for Your Blog
To drive targeted traffic to your blog, it is important to research and integrate the right keywords. These insights will also help you create a comprehensive content marketing strategy and drive traffic for years to come.
How can you know which SEO keywords to use on your blog? The key is to understand your audience. With tools like Google Analytics, it is easy to analyze your current following, including their demographics, behavior on your website, etc., and discover what they are most interested in. Once you are aware of their pain points, check to see which search queries they use to research the topic and integrate those queries into your content. Better yet, create content around the keywords you discover to make sure it will bring value to your audience.
Why Is It Important to Conduct Research for SEO Keywords
Here are some more reasons why it is advantageous to research keywords for your blog:
Keyword research allows bloggers to discover topics that are engaging and relevant to their audiences in order to create content that actually brings value.
Keyword optimization improves your rankings in the search results and helps you grow domain authority, as your blog becomes a reliable and popular source of information.
The right keywords will connect you to your best customer and help increase conversions.
Keyword research will help you spot new trends and keep your content up-to-date
SEO-friendly posts allow you to get free traffic for the long term. One great example of such content is how-to articles, which can attract traffic for months.
Keyword research helps identify both evergreen and trending topics and makes your content strategy more comprehensive.
How to Research Keywords for the Blog
If you are unfamiliar with keyword research, it may seem like a complicated task at first. In reality, learning how to research keywords for an article can be easier than you think. Below, we've gathered the best practices on how to identify keywords for blogs that will drive traffic and help you grow your brand.
Use Dedicated Tools
Optimizing your content for SEO may take some time, as you need to run research and fill in posts with keywords. To make the process more effective, be sure to use special tools that allow you to check keyword relevance, track competitors, and discover trendy topics.
Check your analytics. Look through your posts and try to find keywords that attract traffic to your website. If you don't have a separate post for such keywords, you may be missing out on a great opportunity to attract even more readers.
Google Suggests is a free and simple solution that can help you identify the most popular searches. Simply type in your keyword and see what the search engine suggests. You can also use Google as a related keywords finder by checking the suggestions at the bottom of the search results page.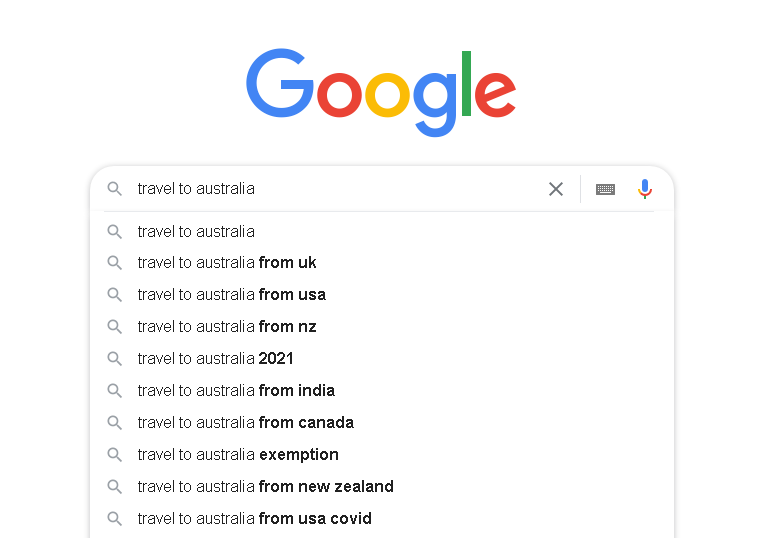 Google Trends is another efficient tool that you can use to discover timely topics. It evaluates the volume of searches over time and allows you to filter keywords by region, time period, categories, etc.
Moz Keyword Explorer helps you discover keywords in two ways: enter a word/phrase to get related keywords or type in a page to see which keywords it ranks for. You can also find keywords in the form of a question to answer your audience's queries.
KeywordTool.io allows you to enter words or phrases and find related keywords from Google, Bing, YouTube, Instagram, and other platforms.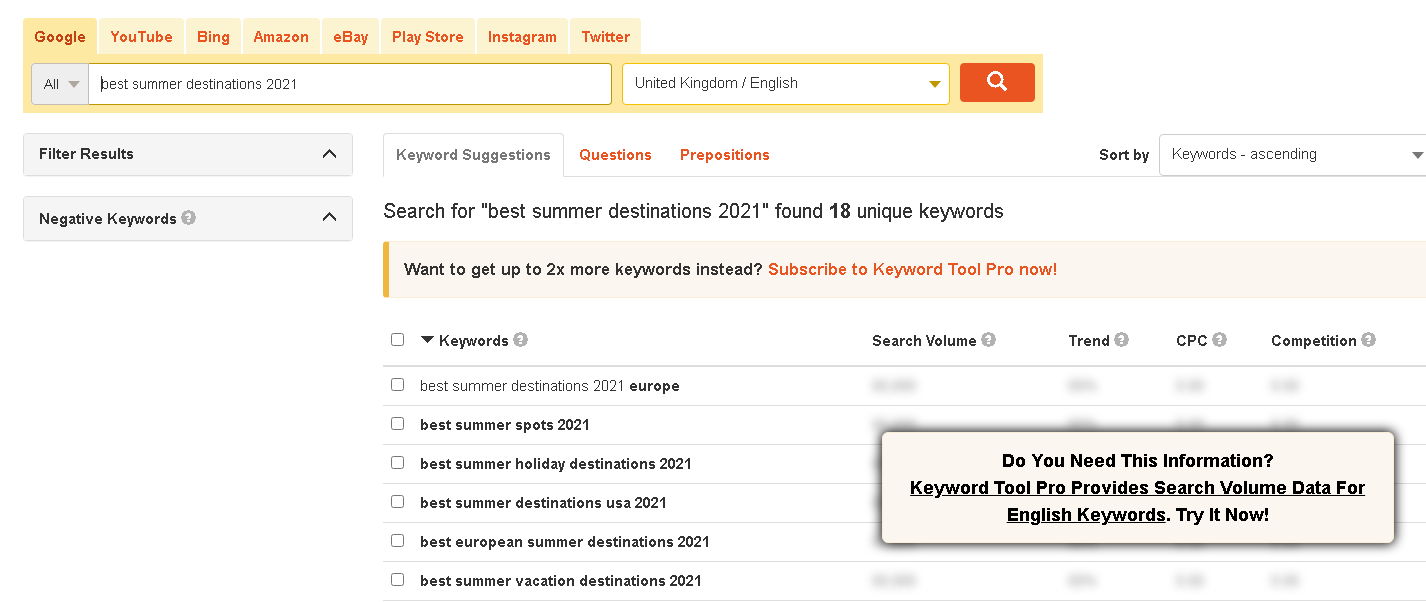 Google AdWords Keyword Planner allows you to find keywords even without paying for ads, evaluate their search volume, and get related keywords.
AnswerThePublic.com is a visual blog keyword generator that provides suggestions for the keyword that you enter. With this tool, you can run a related keyword search and enrich your content with different phrasing options.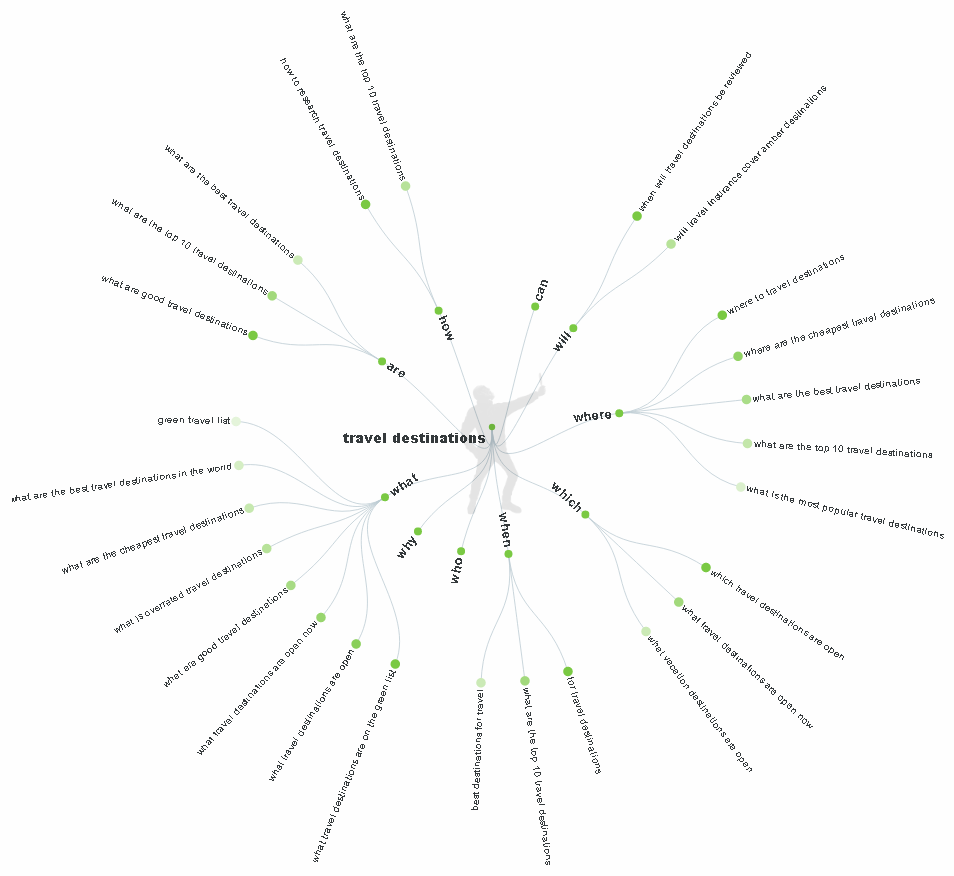 You can find more dedicated tools and tips for how to research keywords in our blog post.
Match Your Audience
As previously stated, understanding your audience is an essential part of keyword research. The deeper you analyze your readers, the easier it is to discover which keywords they have searched for. For example, you can create audience personas in which you describe in detail their demographics, interests, pains, needs, etc. This will help you understand your average reader and take this information into account when creating content.
Another way to understand your audience is to run a survey and ask questions directly. Create a short and appealing survey, and then provide an incentive to reward readers who fill it out. This incentive can be a discount, promo code, access to exclusive content, etc. Furthermore, it may be helpful to analyze users' behavior on your website. Read more about how to take advantage of Google Tag Manager in our blog post.
Evaluate Difficulty Score
Once you research keywords and align them with your audience, it's important to also evaluate each keywords difficulty score. Keyword difficulty is the number and quality of links to the top 10 pages in the SERP for a particular keyword. In other words, this score helps us understand how competitive these pages are based on their link profile.
Tools like Moz, Ahrefs, and SEMrush can assess each keyword difficulty on a scale from 1 to 100 and help you understand whether you have chances of ranking for that keyword. The higher the percentage, the more difficult it is to outwit competitors. For example, Ahrefs shows you the estimated number of backlinks you need in order to appear on the first page of the search results.
So, what score should you strive towards? Aspiring bloggers whose websites have quite low domain authority may want to start from keywords in the range of 20 to 30 or lower.
Check Search Volume
Keyword search volume is the number of searches that a particular keyword receives over a given period. This metric helps understand how many users are looking for a particular keyword every month. While it's reasonable to use keywords that are searched for by many people, you should still pay attention to their quality. When choosing between high-volume and low-volume keywords, it's better to opt for a lower-volume keyword or phrase if it's more relevant to your audience.
You can check the search volume of specific keywords with the help of dedicated programs. For example, WordTracker shows the average number of searches over the past month.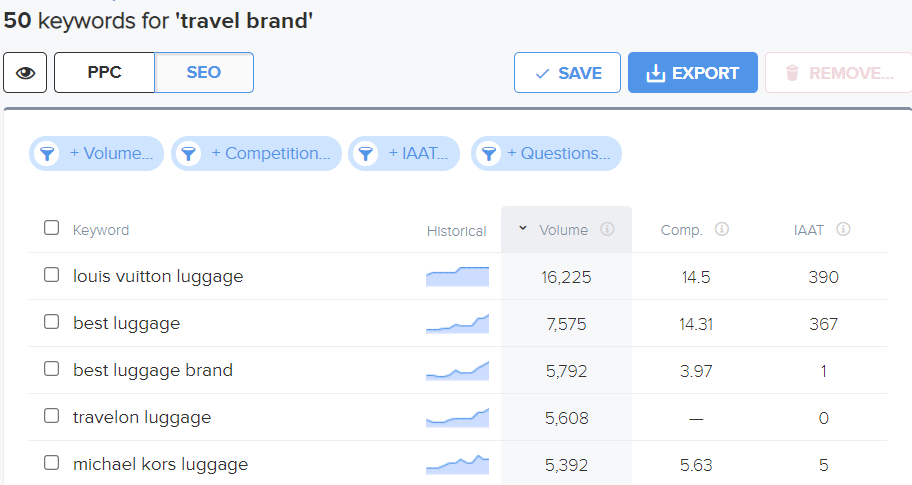 WordStream compares search volume and other metrics for the given keyword for Google and Bing search engines.

Mix Short-Tail and Long-Tail Keywords
Keywords may be divided into many different categories, such as by the word number. Thus, keywords consisting of one or two words are called short-tail keywords, while phrases of three or more words are referred to as long-tail keywords.
Short-tail keywords are usually harder to rank for, as many bloggers use them in their content. On the other hand, long-tail keywords are more specific and, while harder to put into context, they can help attract users who know exactly what they want. In addition, long-tail keywords make up half of search queries, so they can be very useful for increasing organic traffic.
To identify relevant long-tail keywords, choose a word or phrase you'd like to dedicate your post to and do some research. For instance, type that word/phrase into Google and see which suggestions come up. You can also click enter and scroll down to see related searches at the bottom of the page.

Keyword Research Tips
To find and integrate the most relevant keywords, you need to put in some time and effort. However, a well-thought-out strategy will help you optimize the process and achieve the best results. Here are a few tips on how to find the best SEO keywords for your blog:
Use keyword research tools to your advantage. Keyword research and SEO tools automate the long research process and help you find keywords that perfectly match your topics. They also display valuable metrics, such as search volume, traffic estimates, etc.
Understand keyword metrics. With keyword research tools, you can learn a lot about keywords, so make sure that you understand which metrics are the most important for your blog. For example, search volume explains how many users look for a specific keyword each month. CPC (or cost per click) is a price you are likely to pay if you run paid ads.
Focus on the right keywords. If you are just starting out as a blogger, it may be difficult (if possible at all) to rank for the most popular keywords. Instead, you can consider SEO keywords with less competition that are still relevant to your audience. Thus, it will be easier to grow your website authority and drive search traffic.
Combine short-tail and long-tail keywords. Short-tail keywords usually have a higher search volume and competition. As a result, using these keywords may make it harder for aspiring bloggers to rank at the top of the search results. Long-tail keywords are more precise and require some good research before you add them to your content, but they can connect you to your target audience faster. Combine both types of keywords for better results.
For more tips on how to research keywords for your travel blog, take a free SEO course from expert Sharon Gourlay.
Top 3 Google SEO Keywords to Use on Blogs
The top keywords to use on blogs are: questions, informational terms, conversational terms, FAQ types of queries, etc.
A good SEO strategy should include various types of keywords to reach a wide audience. Here are a few ideas on how to diversify your keyword strategy:
Questions. Many users type queries in the form of questions when they search for things online. Try to determine which questions your audience could ask and then integrate them into your content.
FAQ. Frequently Asked Questions are not only a useful way to address the main concerns of your readers about the topic, but are also a good way to grow your search rankings. This type of content is well structured and many search engines love it because it directly responds to search queries.
Conversational Keywords. Depending on the niche and topic, you may need to use more or less technical keywords. However, to optimize content for search traffic, it is important to analyze your audience's queries. Often times, users type conversational keywords, so make sure to add them to your SEO strategy to cover a larger audience.
How to Use Keywords
With the rapid development of the blogging niche, new blogs are appearing daily and it is becoming harder and harder to get ranked for a certain keyword at the top of the search results. Google is also constantly changing its algorithm to accommodate users' needs and better answer their queries. To claim your place under the sun and get traffic, you need to optimize your content and use keywords wisely. Here are a few ways to do this:
Write With Keywords in Mind
Craft your writing around specific keywords. They are the input and you need to create the output in the form of an informative blog post. Instead of thinking about how to include a particular keyword into a completed text, ask yourself how to answer this query in the best way. Ideally, begin writing with a particular keyword in mind rather than forcing it into the text later on.
To create a suitable blog post, it's essential to understand the search intent behind each keyword. This is basically the goal that the user wants to achieve by Googling a specific topic. Understanding the search intent can help you answer the query in the best way and move the user down the sales funnel. Basically, there are four types of search intents:
Informational: Users want to learn something about the topic and look for expert knowledge on the matter.
Navigational: Such search queries are usually more specific and contain a brand name, website name, location, and more.
Commercial: Users are researching a particular product, service, or brand.
Transactional: This intent is common for people who are ready to book and are looking for a seller.
So, when you identify a keyword for a blog post, consider the search intent behind it and create a text that will align with that intent and help you move users closer to booking. For instance, if a reader came to your site with the query "best summer destinations", they are only researching the market. So, promoting a particular hotel is unreasonable as doing so doesn't answer their question. On the other hand, writing a useful post about the best destinations for summer trips can draw the user's attention for a longer period of time. From here, you can link to a more specific post for each destination in which you promote your advertisers' products and if the user is interested in that location, they'll click the link to book the trip.
To learn more about search intent and why it matters, watch this video from Travelpayouts Academy.
Find the Right Placement
The trick is not to simply spread keywords around the text haphazardly, but to put them in places where they are most likely to attract attention and help the user navigate the text. Here are a few ideas:
Start by using a keyword in your post title, headings, and subheadings. These keywords will improve your readability and search ranking.
Add a keyword to your title tag. While invisible to users, title tags let search engines know about your page topic and help direct the target audience.
Use the keyword and its variations in the post text where appropriate.
Add keywords as meta tags (for example, in the meta description, file names, and alt text of your images).
Take advantage of internal linking and add keywords as anchor text.
Consider Keyword Density
Another indicator to take into account when writing blog posts is keyword density. Basically, keyword density is the number of times a specific keyword has been used in a blog post, presented as a percentage. It is used by search engines to identify whether or not content is relevant to a particular query.
How can you calculate keyword density? Take the number of times your keyword was used in a post, divide it by the total number of words in that post, and multiply by 100. For example, if you add a keyword five times to a page with a total of 100 words, the keyword density is 5%.
There are also tools that help calculate keyword density, such the Yoast SEO Plugin, SmallSEOTools, SureOak, etc. For example, SmallSEOTools allows you to see the total number of keywords, the most popular keywords in a tag cloud, as well as the top keywords, their frequency, and their placement.
What indicators to strive towards? Many SEO experts consider an ideal keyword density to be about 1 or 2%. In other words, your keyword should appear one or two times per 100 words. This is enough to let the search engines know about your page topic and avoid keyword stuffing. In addition, check the keyword density of the top ten posts in the search results for your target keyword. This can help you find a benchmark to aim for.
The best practice here is to write for readers and organically insert keywords. While it's tempting to add as many keywords as possible, their excessive use will only make the text look spammy and poor for both search engines and users. Just think of it this way: if you read a book and find the same word or phrase repeated in quick succession several times, it will make you doubt the author's proficiency and writing skills. The same concept works for blog posts. People want to read well-written text, so always consider the user first.
Use Keyword Variations
Search engines can recognize similar phrases related to a target keyword, so you can use variations to enrich the text, improve the reading experience, and help attract more traffic. In the end, you should have the right balance of word relevancy and long-tail phrasing. For example, if you target the keyword "travel solo" within the same post, you can also use keywords such as "travel alone", "independent traveling", etc.
How can you find these variations? Take advantage of related keywords tools like Kmeta, KW Finder, Ubersuggest, etc. For instance, Kmeta provides detailed analytics on related keywords for your target word.
Blog SEO Best Practices
There are plenty of SEO tactics that you can use to optimize your content for search traffic and attract more visitors to your blog. Some of these strategies are more efficient than others, so you can focus on implementing the best SEO practices to grow your blog fast.
Analyze Your Target Audience
SEO is only efficient when you keep your target audience in mind and implement every strategy to make your content more discoverable for your ideal customer. Understanding who your readers are, what problems they have, and how to help them find solutions will help you focus on the most relevant keywords, topics, and practices.
Run Keyword Research
Keywords are one of the pillars of any SEO strategy, as they make your content more discoverable for your target audience. Make sure to use some of the best keyword research tools to automate the process and discover queries that can drive traffic to your blog.
Use Visuals
Images and videos are a great way to draw the reader's attention and illustrate your point. In addition, they give you more opportunities to integrate keywords and appear in the search engine results. Make sure to add descriptive captions and alt text to each visual to help the audience and search engines understand what your content is about. It's also a good practice to tailor your content to visually impaired readers.
Provide unique content
Google is striving to help users discover unique and valuable content. For this reason, the platform is prioritizing websites that publish original posts. Make sure to publish unique blog articles and make them as useful for readers as possible.
Use headings
To make your content easy to navigate, add H2, H3, and H4 headings. These will show the hierarchy of the text and allow you to use more keywords. Headings also help search engines understand the structure of the text and drive more targeted traffic.
Write small paragraphs and sentences
Overly long syntax structures may be difficult to parse. So, if you don't want your audience to get lost, make sure to explain your ideas clearly and concisely. The best practice is to explain one point per paragraph.
Add bullet points and numbered lists
This is a great way to explain the consequences of steps or lists of relevant items. It also helps to optimize your posts for featured snippets on Google.
Add a CTA
Depending on the purpose of your blog post, you may want to use relevant calls to action (CTAs). These are words and phrases that encourage readers to complete a desired action, such as fill in a registration form, subscribe to a newsletter, make a booking, and so on.
A popular form of a CTA is a button of a contrasting color that stands out from the page content and directs the user to the offer page or other target page.
Factors That Affect Blog SEO
To optimize your blog content for search engines, it is important to consider a variety of factors, including on-page and off-page elements. Here are a few ranking factors to consider:
Page Speed. Page speed is one of the keys to your blog's success. The faster a page loads, the more likely the audience is to stay on the page and read the content. Try to reduce your page loading speed to two or three seconds, otherwise readers might not wait until the content loads and may move on to another website.
Dwell Time. Although not critical for ranking, dwell time is important when it comes to user experience. Basically, it is the time a user spends on your page from the moment they click your blog link in the search results to the moment they leave your blog. Even though still subjective, dwell time is used by search engines to estimate the relevance of your content.
Mobile Optimization. As the share of mobile traffic is constantly growing, it becomes even more important to consider mobile responsiveness. Mobile phones and tablets may change user experience, so you need to make sure your posts look just as good as possible, even on smaller screens. This may also include changing the text layout, optimizing images, and so on.
Recent Data. Search engines consider the relevance of your content for readers, so by keeping your content up-to-date, you will establish your website as a reliable source of information.
How to Optimize Blog Content for Search Engines
To achieve a higher ranking on search engines, it is important to keep up with the algorithms and optimize your content accordingly. Here are a few ideas for how to help search engines discover your blog posts faster.
Add keyword research to your content marketing strategy. If you want to drive traffic from search engines, it is important to understand which queries users type in when researching a specific topic. Using the same keywords in your content will make it more discoverable.
Regularly update your content. Search engines want to serve users with the most recent information. As a result, they prefer fresh content. Make sure that your blog content is relevant and that your dates of publication are updated.
Make sure your posts are indexed. Analytic tools as well as most website builders can tell you whether Google and any other search engines have already indexed your page. Checking indexation is important, as it can help you quickly fix any possible issues.
Write catchy titles for your blog posts. Titles explain what the post is about and help attract the attention of readers. They are also essential for SEO and provide you with one more opportunity to use keywords.
Conclusion
To create and optimize your content and drive traffic to your blog, it is important to keep in mind the value that you bring through your blog. Improving user experience and optimizing content for search engines go hand in hand, so try to make your posts useful for readers and easy to discover for search engines. If you do, reaching the first page of Google's search results will not take long.