How Do Keyword Rank Checker Tools Work?
For any webmaster aiming to optimize their website for search engines, understanding how to check keyword rankings is crucial. It's also beneficial to monitor the rankings of competitors. This process can be done manually, but it consumes a significant amount of time and effort. To streamline the task, utilizing top-notch keyword rank checker tools is recommended.
Such keyword rank checkers allow:
Tracking the progress of your target keywords' rankings worldwide.
Analyzing the search volume, difficulty, organic traffic, and other relevant metrics for each keyword.
Identifying all URLs on your website that rank for a specific keyword.
Discovering the most effective keywords to optimize your website more efficiently.
Why Check Keyword Ranking?
Keyword ranking software delivers undeniable benefits since 93% of all online activities begin with a search engine and the right keywords can significantly increase your website traffic.
Researching keywords for a specific niche allows you to identify the latest SEO trends in order to meet your target market requirements, whether you want to use them for a new website article or update some of your old materials. Keyword rank monitoring will provide you with terms that feature fast-growing popularity and low competitiveness.
If you want to manually check how high your keywords rank in the SERPs, use a VPN, private mode, and URL lang parameters to make your research more credible, as search engines personalize results according to your history of queries, location, and other factors.
By the way, if you're only focusing on Google search results, check out these ten alternatives to drive more traffic to your blog.
Have you already found an efficient way to monetize your website? Affiliate marketing can be one of the most profitable monetization strategies, as it allows you to start earning without making any upfront investments. If you work in the travel niche, Travelpayouts can be your best option for affiliate marketing. Travelpayouts is the world's largest travel affiliate network with over 100 travel affiliate programs and brands in different verticals (from flights to hotels to activities) and 300,000 publishers.
Join the Travelpayouts Partnership Platform
Access exclusive tools and the best travel affiliate programs, including flights, hotels, car rental, insurance, tours and activities, all in one place.
Join Today
395,000 partners already trust us
120 travel brands
$53M+ total paid since 2011
Best Free Tools to Check Keyword Ranking
The following compilation of SEO platforms encompasses leading software in the niche to help you check keyword rankings and paint an objective picture of your marketing performance. It's not exhaustive, but you can also try the best free Google tools and check alternatives to Google Keyword Planner for more keyword tracking opportunities.If you want to improve optimization and monetize your website, take one of many SEO courses for novices and experienced SEO experts.
This tool allows checking a site ranking in Google SERP and its main keywords. You'll receive a comprehensive SEO analysis that will help you optimize your blog URL, as you'll learn about your ranking, volume by keyword, language, CPC (cost per click) and the level of competition within Google AdWords, as in the example below:
This software is useful for evaluating the ranking of your rivals' resources as well. By checking their domain, you can easily determine which countries direct traffic to their sites and use this knowledge to improve your blog's ranking. The same platform offers a backlink checker which is also useful for blog promotion. You can start checking your ranking without fee, and then buy a subscription. The price depends on the number of websites you need to monitor.
Pros
Cons
– Comprehensive keyword analysis (ranking, volume, CPC, etc.)
– Check keyword competition with Google Ads
– Check rankings of your competitors
– Backlink checker
No free plan available
SERPs is a huge platform with an ambition to become the leader in SEO optimization of sites worldwide. It tracks information for more than two million keywords and monitors 20,000 resources on a daily basis, catering to customers in almost 100 countries.
With SERPs, one can create semantic cores, initiate comparisons with competition, monitor rankings and provide fast access to several accounts toggling between them without building numerous tab changes.
Pros
Cons
– One of leaders in SEO
– Find keywords that drive the most traffic
– Check keywords of your competitors
Free checking is limited, but you can also start with a free trial from one of premium plans
Fatrank is a user-friendly Chrome browser extension to check keyword ranking. It uses Google local search settings by default, but you can always configure the extension. After downloading Fatrank, open a website you want to analyze, click on the extension icon, enter the keyword and see the ranking in Google.
According to multiple reviews left on the extension page, it provides accurate results and performs quick searches.
Another advantage that is not typical for most ranking tools is that FatRank allows you to monitor up to 40 keywords in a row. The only drawback is that you mustn't click outside of the FatRank box while working, otherwise, the results will be lost.
Pros
Cons
– Convenient extension for your Chrome browser
– Monitor up to 40 keywords in a row
– Can only be used with Google Chrome
– Easy to lose the analysis results
Search Engine Reports include several free solutions (it also checks plagiarism). It is based on JQuery, AJAX and Amazon EC2 Web Cloud and digs out results from the search engine APIs. Keyword Rank Checker is easy to work with. Type in the domain, search engine and up to 10 keywords. You'll see keyword position, ranked URLs, top ten URLs and you'll be able to download the report.
The platform also offers multiple tools for text analysis, image editing, keyword planning and more.
Pros
Cons
– Check ranking by keyword or URL
– Additional solutions for text analysis, image editing, etc.
– Limited free checks
– Up to 10 keywords per URL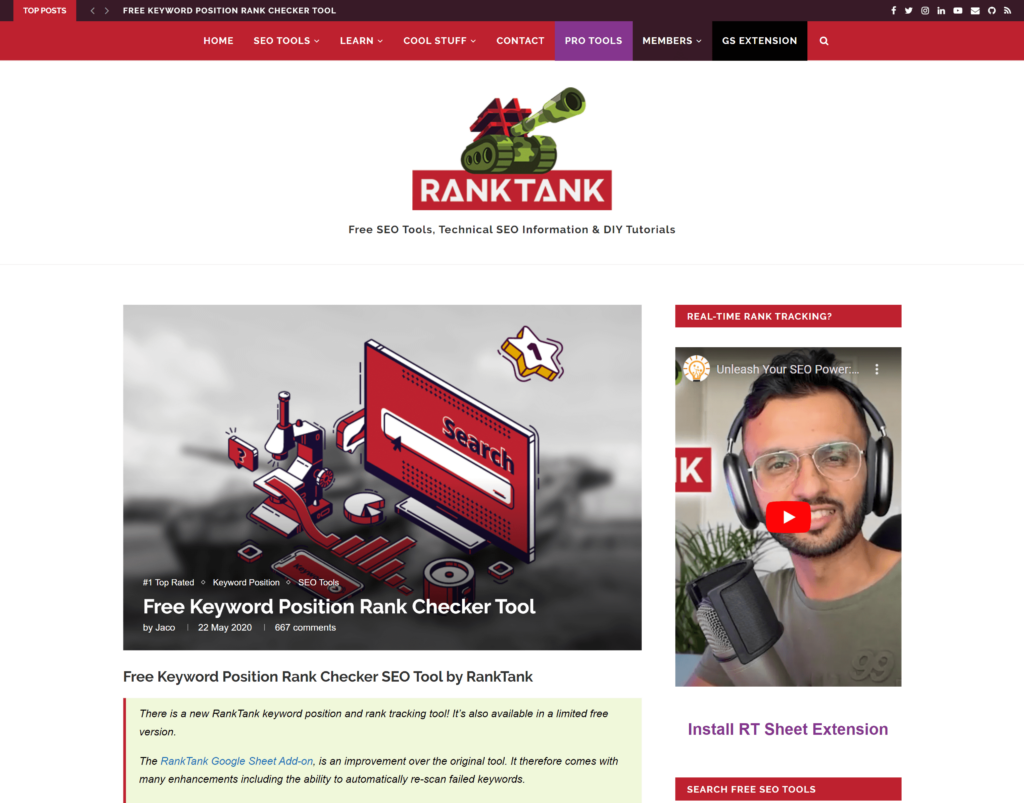 RankTank is a platform combining many SEO instruments, including a keyword ranking tool. It is costless to use, and it displays not only keyword ranks, but also the corresponding URLs. With RankTank, you can also analyze your competitors' SEO and adopt their best practices.It is really easy to start off. Just type in the domain name, keywords and proceed.
RankTank offers a free plan that allows you to track up to 10 keywords per domain and 100 keywords in total. Paid plans start at $10/month and offer more features, such as:
Unlimited keyword tracking
Competitor analysis
Site audits
Backlink analysis
SERP analysis
Pros
Cons
– A comprehensive SEO instrument
– A tool with the open and transparent code
– Check keyword ranks, URL ranking and analyze rivals
– You need to download and install the tool to start keyword rank tracking
– Some features are only available in the paid plans
– The free plan has limited features
– The interface can be a bit cluttered

Best Paid Ranking Checkers
Many tools to track keywords charge fees but, in return, they usually offer advanced features and capture all sides of SEO optimization. To cater to everyone, such platforms offer diverse plans for every taste. If you are looking for wider functionality than only keyword tracking, check our compilation with 40 best SEO tools and software.
SEMrush is considered to be the most powerful tool to track keyword ranking on search engines. To check a ranking, you'll need to sign up and choose the tool you want to use. Then, for position tracking, enter the website domain, search engine (Google/Baidu), device (desktop/mobile/tablet), and location. You can also connect your Google Analytics account. Here is what a keyword search looks like:
To start off, consider using a seven-day free trial. Then, you can switch to a Pro plan for $119.95, a Guru plan for $229.95, as well as a Business plan for $449.95 on a monthly basis.
Pros
Cons
– A great and comprehensive SEO solution
– Track search volume, traffic, cost for your keywords, and more
– Identify keyword gaps
– To get ten free requests, you need to register
– To continue using SEMRush, you will need to upgrade your plan
This tool is oriented toward improving the backlink strategy. You'll be able to check your ranking over time and compare it to competitors in the same niche across 170 countries. To start work, insert keywords, choose countries and enter URLs of resources you want to monitor. The program will proceed to tracking and you'll be receiving regular reports.
You can start with a seven-day trial for just $7 and proceed to one of the subscriptions: Lite is for $99/month, Standard is for $179/month, Advanced is for $399/month and Agency tariff version is for $999/month.
Pros
Cons
– Check your ranking over time
– Compare your ranking to rivals
– You can set up regular checking
– No free plan available, but you can start with a free trial
– The cheapest premium plan starts from €89 per month
Searchmetrics is another great resource with multiple solutions for SEO optimization and improving keyword ranking. It provides an integrated approach to enhancing your website performance and features a blog with many interesting articles that can give you a few insights. To analyze and boost rankings, you can go with mobile, global or local SEO tools. For example, the mobile product allows you to monitor search performance of mobile apps, analyze search rankings, compare your app with rivals and more. To start working, request a demo.
Pros
Cons
– Find the right keywords to attract your target audience
– Strong market demand analysis
– Improve your site experience
– You have to request a demo to start off, no free plan available
– It is a comprehensive tool, not just a keyword tracker, so it can be pretty costly
Advanced Web Ranking is a high-quality keyword tracking software. It's noticeable for the opportunity to get the necessary information for any location, device, language or search engine. The majority of users note its easy navigation, the visibility of metrics and their distribution per keyword group.
The platform offers the Pro for $99, the Agency and Enterprise packages for $199 and $499 respectively, as well as a 10% discount if paying for a whole year at once.
Pros
Cons
– Track local and mobile rankings
– Identify keyword intent and difficulty
– Analyze market share
– No free plan available, but you can start with a free trial
– Plans start from $99 per month
It's a fast and accurate tool delivering insights to SEO professionals, agencies and businesses alike. It's reliable and features plenty of configuration options. AccuRanker claims to be the world's fastest tool in the niche.
The platform offers a 14-day trial and multiple paid plans depending on the number of keywords you want to track (500 – 100k).
Pros
Cons
– One of the fastest tools in the niche
– Flexible pricing based on the keyword volume
– All popular search engines are covered
– Competitor tracking
– No free plan available, but you can start with a free trial
– Premium subscription is pretty costly and starts from €116 euro per month when paid annually
Moz is a huge SEO optimization platform with multiple SEO tools for individuals and businesses. Even though it takes up to half an hour to process the data, Moz Pro Rank Checker is advantageous in many ways. It offers comprehensive reports after analyzing rankings, engines, competition and opportunities, and you can check it all without fee with a 30-day trial. Paid plans start from $99/month and go up to $599/month.
Pros
Cons
– Another giant SEO software
– Track keyword rankings over time
– Monitor competitors` movement in the SERP
– Find keyword and content gaps
– May take some time to process data
– Premium plans start from $99 per month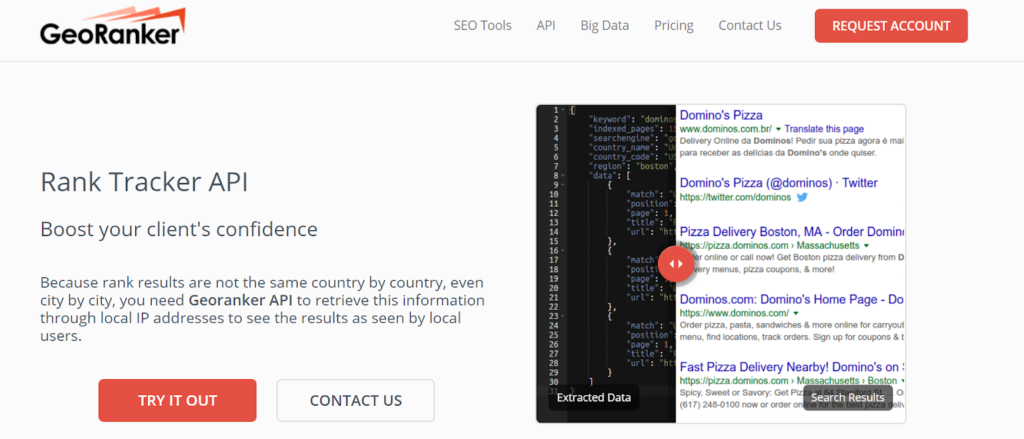 GeoRanker allows you to see ranking results as they are displayed for local customers. It provides real-time results, fast searching (under one minute) and integration, covers all search engines (Google, Bing, Yahoo, YouTube) and locations worldwide, and delivers accurate results for various pieces of content (text, images and videos). The information is exported as a White Label PDF.
There are paid plans for professionals, agencies, and enterprises.
Pros
Cons
– Keyword rank tracking in real time
– All search engines covered
– Various pieces of content can be checked, including images and videos
– Free plan is not available
– Prices start from $99.00 per month
SE Ranking is an all-in-one SEO platform that features a variety of tools to help your website rank higher on the SERP by using keyword rank tracking, backlink research, and website audits. This can be a great solution for business owners, SEO and digital marketing experts, bloggers, and so on.
With Keyword Rank Tracker, you can check keyword rankings for Google, Yahoo, Bing, and YouTube. The tool will analyze data for all locations as well as both desktop and mobile devices. It's also easy to use due to its intuitive interface and report builder.
Pros
Cons
– Extensive keyword ranking reports
– Spot rankings drops and ensure stable traffic
– Backlink research and site audits included
– Essential plan is pretty affordable and costs €31.20 per month
– No free plan available, but you can start with a free trial

Conclusion
To choose the right tool, consider the necessary ranking parameters: keyword number, search engines, countries, type of device, etc. Free tools are perfect for diving into the world of SEO, while software with paid subscriptions provides more detailed research, and almost all of them feature trials with no fee that are a great way to find the most efficient solution for your business.
Ready to elevate your travel blog's SEO strategy? Start using these top keyword rank checker tools today and watch your website climb the search engine ranks. But don't stop there! Join Travelpayouts, the world's largest travel affiliate network, to monetize your increased traffic and turn your SEO success into revenue.
Join the Travelpayouts Partnership Platform
Access exclusive tools and the best travel affiliate programs, including flights, hotels, car rental, insurance, tours and activities, all in one place.
Join Today
395,000 partners already trust us
120 travel brands
$53M+ total paid since 2011