How It All Began
Originally born in Indiana, I have been living in the Chicago area for over 40 years. I coin myself a "nerdy girl" because I studied computer science and started my career as a computer programmer. About three years after my first job, I joined a consulting company as a management consultant. I literally lived out of a suitcase while flying to and from cities to help organizations solve problems. That was when the travel bug bit me.
Picture this: a new stay-at-home mom is drowning in diapers, and watching Dora the Explorer for travel inspiration. She needed an escape, so she turned to blogging. She posted random topics and had no audience, no focus, and no growth. That stay-at-home mom was me.
The blog died. Instead of trying to revive it, my focus turned to Instagram. I promoted brands and enjoyed a side hustle as a micro-influencer and a brand ambassador for O, The Oprah Magazine. Then, I returned to blogging in 2016 and called my website The Insider Scoops. It also died.
After two failed attempts, I started my travel blog, and I was determined to make something of it. I named it Travels & Treasures and I was going to do the darn thang! It was January 2020 (perfect timing, right?)
Blogging Journey
Travels & Treasures was born from the idea of discovering things while traveling. There is a story behind the story, but you'll have to visit the site and find the Easter egg to learn more. The topics that I initially covered involved my travels abroad, but then I had to pivot and focus on local activities and must-try foods in Chicago.
After two failed blogs, I knew that I had to do something different. When I say failed, I don't mean it in a monetary sense. I simply had no passion to keep those sites alive. Since travel was suspended in 2020, I immersed myself in "How To" videos and articles in order to understand the world of blogging and figure out what I needed to improve.
I made some decisions that I came to regret, such as starting on a content management platform that was not suited for bloggers or writing content without doing keyword research. 20/20 is hindsight, but that's life—you make mistakes and learn.
Since then, I have learned the essentials of SEO, keyword research, how to create different types of posts, you name it! And the nerdy girl in me loves it!
Writing is my happy place. I am inspired to work on my travel blog for three key reasons:
It challenges me express to my creativity through reading and visualization
I enjoy sharing cultural and food experiences
I want to inspire people to not wait—do the things they've always wanted to do
Difficulties I Faced
Problem: If I had to find a single word to describe the difficulty associated with blogging, it would be "balance". There is so much to do and so many things to focus on. I downloaded so many tools, made spreadsheets, kept a journal of to-do's, and made a list of URLs to go back to and read later. It became overwhelming.
Solution: I had to pause and re-evaluate my actions because I often felt like I was trying to boil an ocean. So, I used my management skills to clearly define my objectives and what was needed to accomplish them. Then I organized, prioritized, and managed the tasks as well as my time. It has all become so much easier.
For example, instead of trying to learn the ins and outs of how to use Screaming Frog SEO Spider, I focused on the top three SEO improvements that I could make to boost my ranking. My actions needed to match my objectives.
Problem: I began creating content years ago and time management has always been a challenge for me. I am also not very skilled in terms of photography (or Photoshop). For example, I used to return home from vacation with over 1,200 photos from a four-day trip because I wanted to capture everything and have multiple options as a creator.
Solution: Now, I film everything and, when I need a photo, I use a capture feature to create it. This way, I have videos for YouTube and photos for my blog!
Traffic
My travel blog is about US destinations, popular cities in Italy, and a bit of London. The top source for visits is from Google searches, followed by direct URLs (from backlinks), Facebook, and Pinterest.
Growth has been steady and, to increase traffic, I focus on three things:
Creating More Focused Content
For example, I created several posts on the most visited places in Chicago (one for each location). People who want to visit the Art Institute of Chicago may not be interested in the World's Largest Starbucks, so I create separate posts according to specific needs. It allows readers to find information more easily rather than reading a roundup of the top 10 most visited places in Chicago.
​​​​💡Expert Hint: I always like to give "proof of life" to my readers. In other words, I strive to post information or photos that only someone who has been to a specific spot would possess. This approach assures them that my posts are being created by a real person and not some robot isn't writing generic content. It makes the subject matter trustworthy.
Building Authority
Next, I focus on building backlinks to my topic and providing related content to build topical authority. For example, after publishing a post on the "Must-See Masterpieces at the Art Institute of Chicago", I focused on creating and linking several more related posts, such as those listed below. The same can be done for other topics.
The Best Things to See at the Art Institute of Chicago With Kids
The Best Pop-Culture Art Exhibits in Chicago
Where to See Art Exhibits in Chicago for Free
​​​​💡Expert Hint: I look for backlinks in the same niche and/or sites that have a domain authority (DA) that is double my own.
Expand Reach
Aside from following SEO best practices and answering questions in the minds of my readers, I have been working to expand the reach of my blog. I've also started a YouTube channel with short videos (three minutes or less) of content to complement my blog posts. In the description of each YouTube video, I include:
A call to action (subscribe to the channel, subscribe to the blog, etc.)
A link to a specific blog post or to my homepage
An affiliate link to the experience (e.g., if the video is about a museum)
​​​​💡Expert Hint: Hashtags and feed posts in social media don't get good reach anymore. Where possible, I tag any businesses or places that are mentioned in the post.
I've tried to steer traffic from social media platforms like Instagram, but there hasn't been much recently, so I prefer not to rely on these sites. I've been told numerous times that Pinterest is a great way to attract traffic, but so far, it isn't yielding the volume of traffic that I thought I would see.
Content Creation
I am the author of my blog posts so it's just me (for now). In the first year, I hired a writer on Fiverr for three posts that have since been rewritten because they didn't have a depth of information or my unique voice.
For content topics, I use AI for ideas (editorial note: the favorite of Tanya's prompts is below). I also ask myself: "What would anyone want to know before visiting Chicago or a particular destination?" "What do I wish someone would have told me before I arrived?" "What are some pain points for travelers who visit [destination]?"
Next, I conduct keyword research to determine the angle for the topic. For example, "best places to visit in [city] with kids" or "best places things to do in [destination] for first timers". The objective is to find keywords with low competition, which means the volume may not be very high.
I check out the competition (but don't let it shake me). With some of my posts, I have been able to outrank the official tourism bureau of Chicago, Tripadvisor, and sites with a domain authority (DA) of 70. My priority when viewing the top pages is to get inspiration and formulate ideas on how to raise the bar. Ultimately, I choose topics that fit the focus of my niche and allow me to tell a better story than my competitors.
How I Monetize My Travel Blog Via Affiliate Marketing
Monetizing a blog is a great way to earn passive income. For me, it started in my first year of blogging and continued to grow by happenstance. These are the ways that I earn revenue:
Affiliate links from Travelpayouts and Amazon generate 18% of my income
Ads (Amazon, SheMedia, MSN) generate 30% of my income
Collaborations (sponsored blog posts) generate 52% of my income
Which Partner Programs I Work With
I joined several programs from the accommodation, flights, tours & activities, and train & buses categories, such as Viator, Booking.com, Tripadvisor, WayAway, Rail Europe, etc.
80% of my readers are in the US, while another 10% are in other English-speaking countries (UK, Canada, and Australia). I chose the aforementioned programs for the following reasons:
They are well-known to travelers around the world
They offer tools that make it easy to present offers to my readers
They cover a variety of travel preferences (low budget to luxe)
They span a variety of interests (e.g., from museums to cooking experiences to private tours)
Travelpayouts is always adding more programs which makes them a phenomenal one-stop shop to partner with in terms of affiliate marketing for travel.
Join the Travelpayouts Partnership Platform
Access exclusive tools and the best travel affiliate programs, including flights, hotels, car rental, insurance, tours and activities, all in one place.
Join Today
350,000 partners already trust us
100+ travel brands
$40M+ total paid since 2011
For my blog, the best-selling tours are from GetYourGuide and Big Bus Tours. Because I have taken these tours myself or know the destination quite well, I can give detailed information about what to expect from them. I also give tips, additional must-see things to do, and places to eat at specific spots.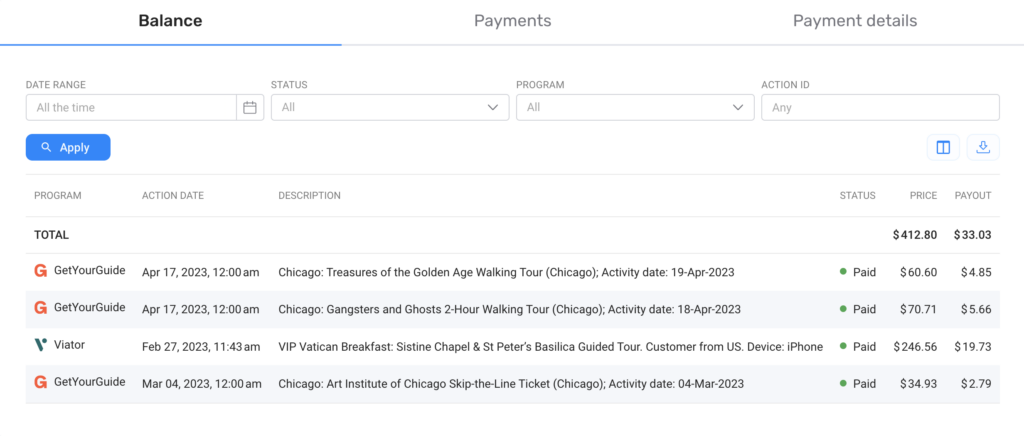 ​​​​💡Expert Hint: the best affiliate SEO tip that I have ever received is to make sure your post matches the reader's intent. If they don't match, then you'll be wondering why no one is clicking on your affiliate links. I can't tell you how many times I've written posts thinking "Oh, they're here on this page, so they might as well see this…" No. It doesn't quite work that way.
My Indisputable Rules for Using Partner Tools
I use a combination of partner tools because some visitors will read every word while others will scan the content or use anchor text links to jump to a specific section. Here is the rule of thumb that I use:
When writing specifically about a product or destination in one of my posts, I use text links (and repeat, as needed).
Include a call to action with visual prompts, like a widget or button embedded with the affiliate link. Make the button stand out by styling it.
Place banners within the post to visually break up the paragraphs.
I always open the links in a new window, so that my readers can easily return to the blog post and continue reading if needed.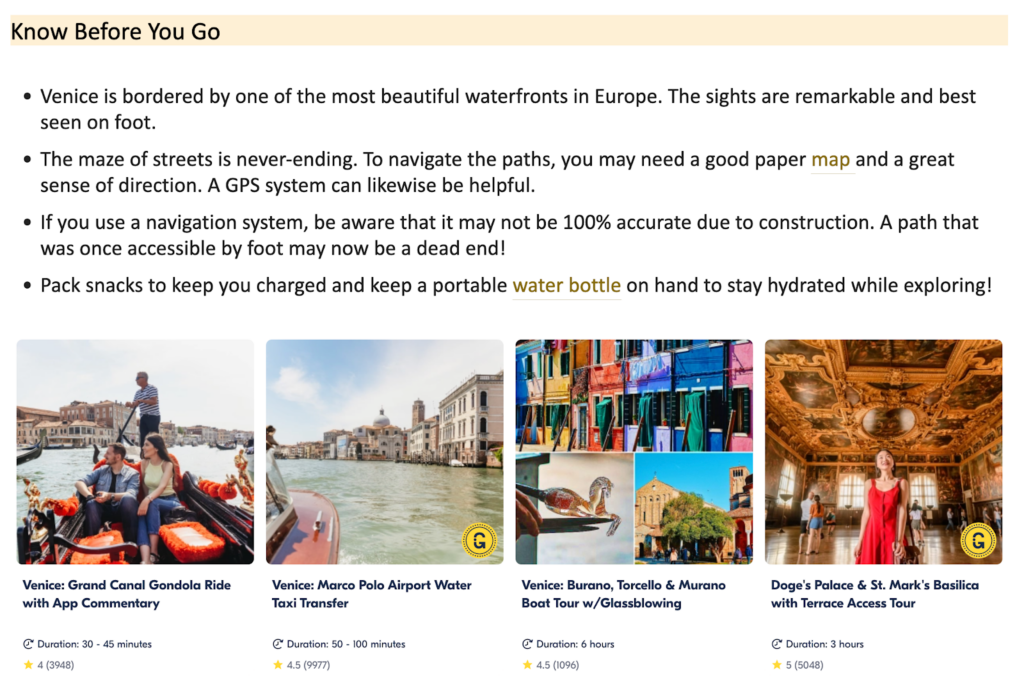 The Formula for Tracking the Effectiveness of Affiliate Marketing Campaigns
With respect to metrics, I only make use of the reports that are available in Travelpayouts to determine my Click Through Rate (CTR). I was super thrilled when they announced that bot activity would be removed because, now, I can focus on the real data.
CTR = Clicks/Impressions X 100
Let's say that, for partner program "A" in the month of March, you receive 145 impressions and 107 clicks.
CTR = 107/145 X 100 = 73%
That is phenomenal, considering the average CTR for the travel industry is less than 10%.
Now, let's evaluate partner program "B" for the month of March. This time, you receive 904 impressions and 33 clicks. This result aligns more with the industry standards:
CRT = 33/904 X 100 = 3.65%
So, now the question is: what am I doing in program "A" to get such a high CTR? Answer:
The content is more valuable and relevant
The placement and visibility are better
The effort to reach the right audience is better (e.g., using YouTube or other platforms)
How I Use AI for My Travel Blog
To Create Content
To manage my time better, I use AI tools to generate blog post ideas and outlines or to get past writer's block. ChatGPT has a Chrome extension called AIPRM with thousands of free pre-designed prompts. I filter prompts by top votes and add "blog post" to the search bar. The results display over 60 prompts and I select one that describes what I am looking for.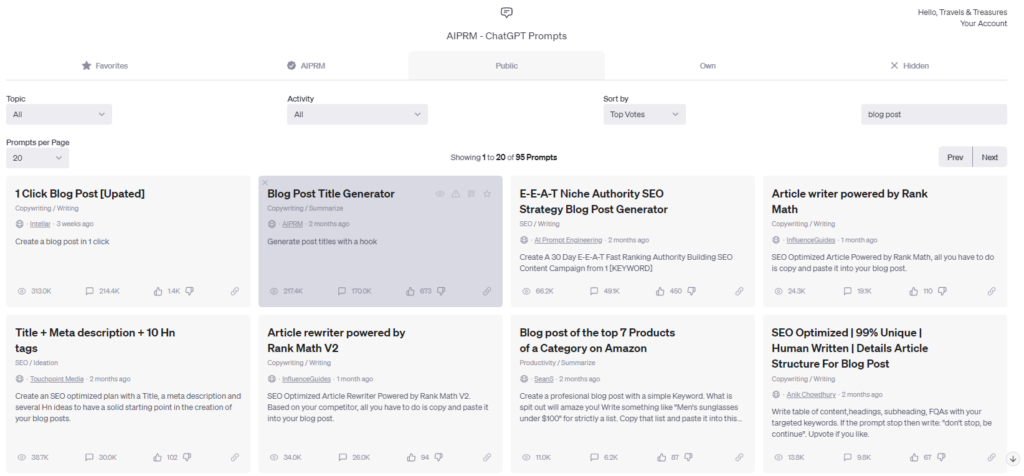 At the bottom, the prompt that I selected is displayed. From there, I enter my keywords and click "Submit".

Then, voila, 10 catchy blog post titles are suggested! Now, I have several angles for my blog post. For example, these titles could be about the lavish details of the coronation, the most spectacular moments of the ceremony, the tradition behind them, etc. If I want more, I type "suggest 10 more".
​​​​💡Expert Hint: Just remember, you still need to perform keyword research and follow SEO best practices.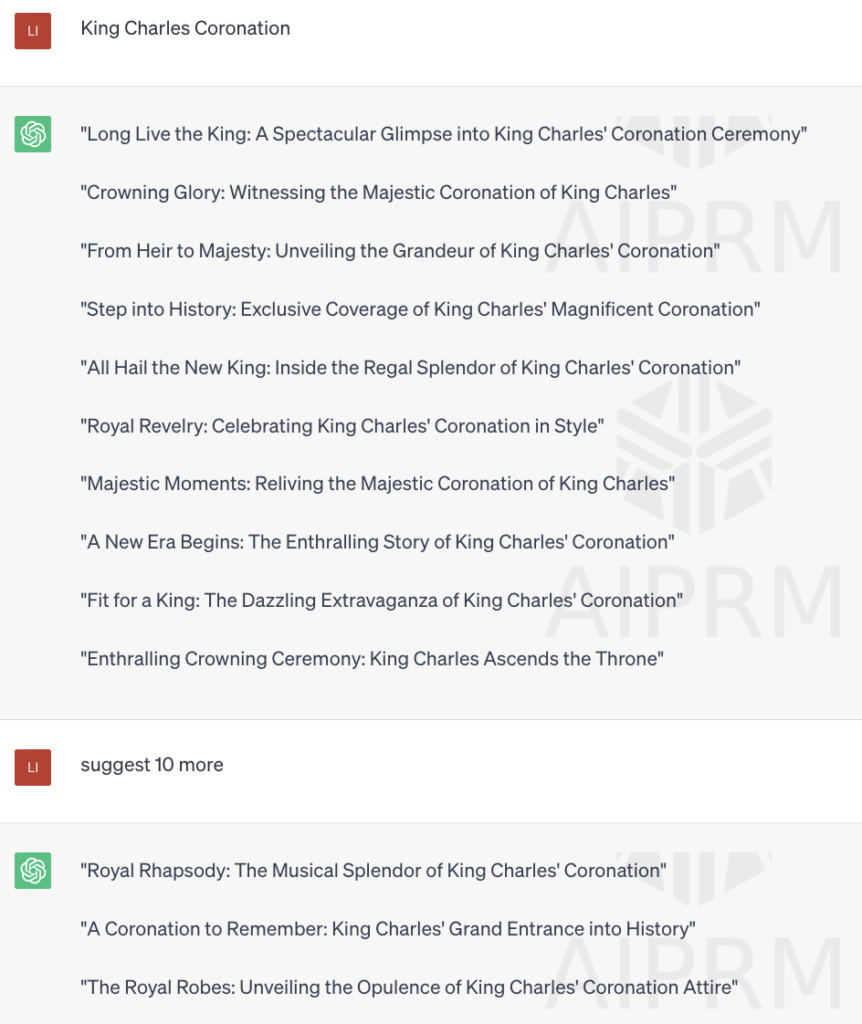 If I am having writer's block, then I use the following prompt: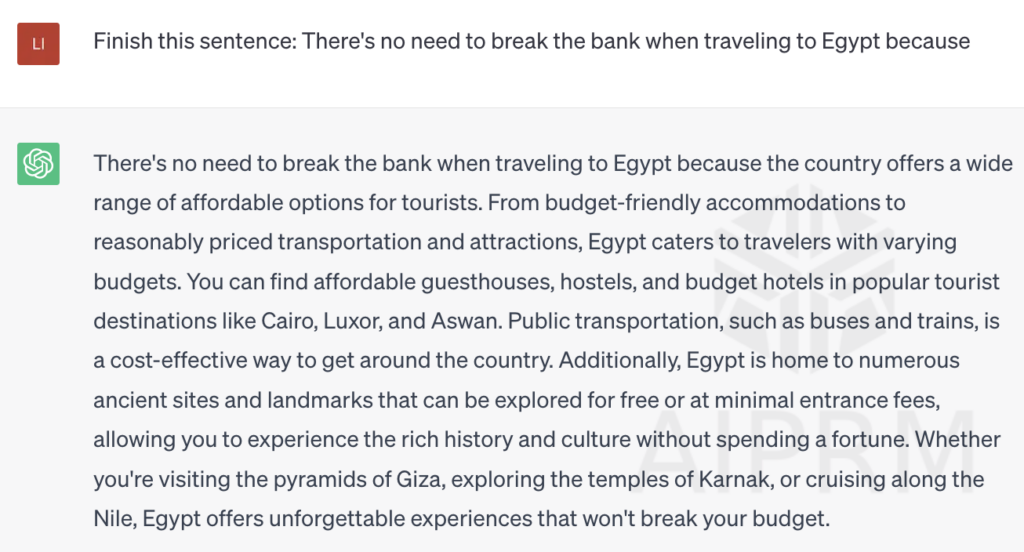 From there, I finish my sentence while steering away from obvious concepts like looking for affordable accommodations. Instead, I focus on the art of bargaining and give tips on what to say and do to get the best deal.
Some More of My Favorite Prompts
I receive daily emails from various AI companies that send prompts and useful ways to use their tools. It's nice to wake up and see new AI ideas piled in my inbox.
Copy.ai has prompts that assist in terms of generating ideas and creating copy. The tool does a great job of providing short-form copy. These are a few of my favorites that save time:
Create social media content for seven days that focus on [topic] and that will engage [target audience]. Instructions: Create social media content that is SEO-optimized and appropriate for the chosen topic and target audience. Content should be varied and include calls to action that encourage users to engage, such as by liking, sharing, and commenting.
Provide 10 blog title suggestions, meta descriptions, and FAQs for this keyword: "visit [destination]". Even better, provide long-tail keywords for this query or ask for long-tail keywords after receiving the results.
Create a keyword strategy and SEO content plan for "Visiting [Destination] with Kids". I find that the more specific or longer a keyword is, the better.
To Boost Traffic
AI is a great starting point for understanding SEO topics, including keyword research, on-page optimization, link-building, and content creation. Those services can create meta descriptions, blog post titles, title tags, alt text for images, topic clusters, keyword strategies, and more.
I've even used specific prompts like:
Can you give me 10 blog post ideas about visiting [destination] that has a DA[number] that can rank at the top of page 1 for SEO?
What are the top [destination] attractions that I can rank for with a DA[number], what keywords should I use for each attraction?
I knew that optimization would be a factor in terms of ranking, so I wrote two different posts based on the response "top attractions that I can rank for". The first post was a round-up of the top attractions in Chicago, while the second post was for a specific attraction in Chicago. The roundup post did not rank well and was lost in the void of SERPs (Search Engine Result Pages). However, the post for the specific attraction "Must See Masterpieces at the Art Institute of Chicago", ranked near the bottom of page one. After getting a few backlinks and tweaking the content, it began to move above the page fold.
​​​​💡Expert Hint: keep in mind that the information you receive is not always accurate, does not convey unique experiences, and does not substitute for fact checking, competitor research, and other important manual tasks required for writing a post. AI is a great tool for learning what is possible. However, the rules of page optimization still apply.
To Earn Via Affiliate Marketing
I have used AI to create calls to action for social posts on Facebook or Twitter. In my blog, I always write all posts myself. For me, it is easier to create a call to action that is pointed and succinct. For example, here is a list of CTAs that I use for buttons:
Click Here to Learn More
Check Rates
Book This Private Tour
Find More Things to Do
Book a Hotel Now
Save on Flights
Explore More Tours
Pros and Сons of AI Assistants
Pros
Cons
AI is a time saver. From start to finish, I used to spend 8 to 12 hours creating a single blog post with a minimum of 1,200 words (including sourcing and optimizing photos).

Now, I can finish the entire process in two hours or less, depending on the complexity of the post. My approach to blogging is more intentional because my goals are to build topical authority and increase my traffic.
When the time you are supposed to save in blogging is spent elsewhere, like trying to avoid AI detection or achieve a consistent voice, it may not be worth it.

I have heard other bloggers say that they use AI or build AI-exclusive sites and are able to bypass AI detection by using words like "me", "my", "I" (and/or avoiding other words). I have used AI detection tools and don't find this to be true for every case.
I think AI tools are best for acquiring general information, creating social posts, and learning because they don't add personal experiences to tourism-related posts.
I have also tried AI-detection tools with text that was 100% written by me, and these tools stated that the text was partially AI-generated (ha!)
Editorial Note: you can find 10 best practices on how to use these tools as indispensable travel blogging assistants in our free guide. Get it now!
Boost Your Travel Affiliate Marketing Earnings with AI
Learn how to use AI writers to create money-making travel content in a variety of formats.
Get the Free Guide
Inspiration Part: Some Tips for Aspiring Travel Bloggers
If I had to begin all over again, I wouldn't start a travel blog two months before a global pandemic (smiles). However, there are some tips I can offer for starting a blog and building passive income:
Find your passion. Choose a topic of high interest or one that you could talk about forever.
Learn SEO. Period. If your goal is to attract more traffic, avoid publishing posts that search engines won't find.
Be friendly and make friends. Surround yourself with like-minded people so that you can help one another.
Educate yourself. There are Facebook groups and enough free materials to get started without breaking the bank. Glean what you can from experienced bloggers who generously share their knowledge.
Define your own success. Whether you can write 10 posts every week or 10 posts every two months, it's OK for you to set whatever bar works for you.
Be patient and consistent. Keep writing. Keep giving to your readers, and they will give back to you in return.
Sign up with Travelpayouts. Don't waste your time with affiliate sites that are non-responsive or make it difficult to partner with them.
Join the Travelpayouts Partnership Platform
Access exclusive tools and the best travel affiliate programs, including flights, hotels, car rental, insurance, tours and activities, all in one place.
Join Today
350,000 partners already trust us
100+ travel brands
$40M+ total paid since 2011
Key Takeaways
Ensure that your affiliate post matches the reader's intent, as misaligned content can lead to fewer clicks on affiliate links.
Provide "proof of life" to readers by sharing unique information or photos that only someone who has visited the specific location can possess. This will ensure the trustworthiness of your content.
Remember that AI-generated information may not always be accurate and cannot replace manual tasks, such as fact-checking and competitor research. Use AI as a tool while adhering to page optimization rules.
AIs are good time-saving tools. With that said, it may not be worth it to use AI-generated texts without any editing or additions if you are trying to avoid AI detection or achieve a consistent voice.
Perform thorough keyword research and follow SEO best practices while optimizing your blog posts for ranking.
Seek backlinks from websites within the same niche and/or those with a domain authority (DA) that is twice as high as your own.
Instead of relying on hashtags and feed posts, tag relevant businesses or places mentioned in your content to improve your social media reach.
Utilize AI for crafting call to action statements in social media posts, such as on Facebook or Twitter.