Is Free Traffic Real?
Free unlimited traffic might sound unreal at first, but there actually are quite a few ways to gain it. They still imply some kind of work on your part, such as optimizing your site to rank higher on Google for organic traffic, networking with other bloggers and reaching their audiences as well, and so on. Most importantly, all these efforts will pay off and not only drive more traffic but also make your business more efficient in the long term.
However, getting free traffic is rather time-consuming, so consider using paid services such as Google Ads, Facebook Ads, etc. if you need a quick boost. Most ad networks use the pay-per-click model, so you'll only be paying for users who clicked out to your site. Be sure to check your advertiser's rules beforehand, as some programs don't accept paid traffic.
When is Buying Traffic Efficient?
You should allocate enough marketing budget and also be sure that this traffic will convert to sales. Otherwise, focus on free traffic sources. Naturally, it will still cost you effort and time but it could be a good solution if you're launching a new website and aren't willing to invest a bunch of money in it right away.
If you want to earn through affiliate marketing in the travel niche, register at the Travelpayouts partnership platform and partner with brands such as Booking.com, TripAdvisor, Viator, and more. Registration will only take a couple of minutes, and you'll gain access to 100+ travel affiliate programs with their basic and advanced affiliate tools to monetize your website traffic.
Join the Travelpayouts Partnership Platform
Access exclusive tools and the best travel affiliate programs, including flights, hotels, car rental, insurance, tours and activities, all in one place.
Join Today
395,000 partners already trust us
120 travel brands
$53M+ total paid since 2011
Top Free Traffic Sources
If you are wondering, "Where can I post my affiliate links for free?" be sure to check the following list. While in some cases, such as guest posting, you can drive traffic with minor effort. In many cases, optimizing your site or running email marketing is a more complicated task.
SEO
The first way to drive traffic to your website is through search engine optimization. While a full-scale campaign would require investments, basic on-page optimization is free.
Here is what you need to do to drive traffic and increase your Google ranking. First of all, focus on creating valuable content that will naturally attract users and fill it in with target keywords. Then, do some link building to increase your outreach. Note that not every linking experience is useful, so try to look for only high-quality backlinks. Naturally, it's a complicated process so why not use dedicated dedicated tools to automate your work?
These are only a few aspects of search engine optimization, and you can find further guidance in our checklist for on-page SEO.
Email Marketing
Email marketing could also help you increase blog traffic and grow your subscriber base. What you need to focus on:
Use efficient forms to generate leads with CTA buttons
Offer freebies to encourage readers to subscribe: anything from advertisers' special discounts to exclusive content on your site, etc.
Extend your reach and use different channels, such as social media, webinars, networking, etc.
Automate your marketing campaign with the best email marketing tools
For more tips for promotion with email marketing, watch this video.
Q&A Websites
Services such as Reddit and Quora allow discussions in the question-and-answer format and could also be a great promotion tool. Look for relevant topics and try to come up with meaningful comments with a backlink to your blog. Be sure to bring value with your answers and not just advertise. Ideally, a link should naturally appear within the context.
Reddit might not be the most obvious website to get traffic, yet it's powerful for promotion since many users visit the platform to find ad-free advice and recommendations from peers. To promote on Reddit, it's important to first earn karma and then start adding links. It is also a good idea to ask admins of relevant subreddits for permission to publish content. Sometimes, it's even better to add your blog's name without a hyperlink to avoid looking spammy. To get more eyes on your posts, try to analyze content that went viral and replicate its success.
In contrast to other social networks and Q&A websites, Quora features a more professional user base, which makes the platform one of the best free sources of traffic. For instance, users over 18 years old surf the website twice as long as they do LinkedIn. To use Quora for marketing, you need to start by answering relevant questions in your niche, demonstrating your expertise, and building authority. Quora will suggest similar questions to the ones you've already answered. This can be good for raising brand awareness and driving traffic. Note that Quora doesn't allow you to post affiliate links directly. Instead, you can link to one of your posts that contains an affiliate offer. Optimizing your profile will also allow you to build credibility among your audience.
Social Media
Social media is an incredible means of promotion, but to develop a strategy, you should consider each platform's peculiarities and audiences. Thus, to reach young audiences, you can leverage TikTok, Instagram and Snapchat: their largest demographics are 13-24 year olds (TikTok) and 18-29 year olds (Instagram and Snapchat).
Check out our step-by-step guide for how to use social media and messengers to make money with affiliate marketing (including Facebook, Instagram, Pinterest, Twitter, Snapchat, YouTube, Facebook Messenger, and Telegram).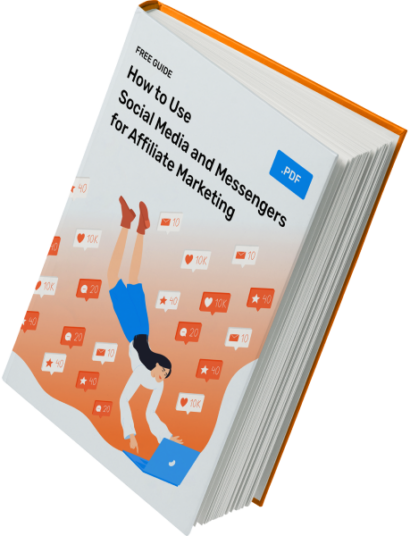 How to Use Social Media and Messengers for Affiliate Marketing
We'll guide you through all the steps of how to affiliate market through Facebook, Instagram, Pinterest, etc.
Download
Facebook
As one of the most popular social media platforms, Facebook is used by many marketers to drive free traffic to their websites. You can start by creating a dedicated page or group and posting relevant content to attract attention and build community. Then you can add links to your website or affiliate offers to drive traffic and conversions.
Don't forget about Facebook Messenger, which can be a great opportunity to reach out to clients directly, deliver personalized offers and content, provide customer service, share updates, and so much more.
You can also take advantage of vast Facebook ads opportunities and drive traffic to optimized articles. Ads can be a great investment to increase your affiliate income, website performance, email list, brand recognition, etc. Furthermore, you can also use Audience Insights to learn more about people who are interested in your business and create meaningful/successful campaigns.
Instagram
With over one billion users, Instagram is a great place to reach all kinds of audiences, share your content, and generate sales. The platform has advanced and diverse advertising functionality and can be an excellent way to drive targeted traffic to your website, especially if you get on the Explore page.
The downside is that more and more brands are currently competing for their share of the market. To cut through the noise, it's important to find and use relevant hashtags to increase the reach of your posts and Stories. Instagram Insights will allow you to learn more about your posts' performance as well as your audience's preferences in order to improve your social marketing strategy.
The Instagram algorithm is another thing to consider if you want to drive conversions. If you understand how the algorithm works, you'll get your content in front of many more people.
Pinterest
Another great marketing platform to drive website traffic is Pinterest, which boasts an affluent audience and is often used to make purchasing decisions. Most importantly, a large portion of Pinterest's audience falls into a high income demographic, so this platform can be your best chance to market affiliate offers and drive traffic to your website. Popular and potentially lucrative categories include travel, design and home decor, fitness, fashion, and health (to name a few).
Pinterest is great since you can upload an image and add a link, which means that when users click your image, they'll be redirected to a website. When creating a marketing campaign, note that most users check the platform at the beginning of the buyer's journey in search of inspiration. As a result, it's efficient to drive traffic from your boards to the website or landing pages where users can learn more about the offer. On our blog, we've gathered some efficient marketing strategies for using Pinterest to promote a travel blog. You can also check out our post sharing some of the best Pinterest monetization strategies.
Twitter
Twitter is often the first place to hear about the latest news, whether it's a worldwide event or movie premiere. As of today, the platform features almost 400 million users around the world and is one of the most active social networks on the Internet. The platform also provides diverse advertising features and top-notch analytics tools that will allow you to check tweet performance, get audience insights, and track conversions. Check our post on how to use Twitter hashtags to achieve better reach and explore the best Twitter monetization strategies.
TikTok
As one of the newest platforms, TikTok already features over one billion monthly active users. The platform is especially popular with teens, but is also frequented by users in their 20s, 30s, and 40s. Popular categories include entertainment, dance, sports, home decor, outdoor recreation, and many more. Almost any brand can use TikTok for business if they build relationships with their audience and create content that resonates with them and provides value.
To run a successful affiliate marketing campaign on TikTok, you need to know your audience. For example, TikTok is a perfect place to target younger users, but not all age categories frequent the platform. TikTok also focuses on video content, so you should be prepared to produce and upload some. Remember that you can't add links to your posts and only some accounts may share a link in their bio. However, you can write your brand's name or share its logo to raise brand awareness.
LinkedIn
LinkedIn is not only a digital resume database, it's also the favorite social network of professional communities in different industries. In addition, LinkedIn is not overcrowded, so sharing relevant content on the platform can help you stand out from your competition. You can interact with your audience through articles, images, videos, presentations, and other types of content. If you decide to run a marketing campaign on LinkedIn, be sure to create a profile for your company that is clear, interesting, and easy to find.
YouTube
We must also mention YouTube, the second-most popular search engine on the internet after Google. With over 2 billion unique users, the platform offers broad opportunities for marketers to drive free traffic. YouTube videos are also indexed by Google, so you can get visitors from both search engines.
Keywords are one of the best sure-fire ways to drive traffic on YouTube. Make sure to add them to video titles, description, tags as well as continuously improve the quality of your videos. As for affiliate links, you can place them in the description.
Guest Posting
Guest posting is another great opportunity to drive free traffic. Basically, it implies writing a post for someone else's blog in exchange for a backlink. To succeed, you need to first choose relevant and high-quality blogs to cooperate with and second, submit high-quality materials. Here is how to get started:
Make a list of blogs in your niche
Contact the editor or owner to check if they are publishing guest posts
If yes, offer them topics you may cover– it's best to prepare a few ideas in advance
Write a guest post and prepare the author's bio section with a backlink to your blog
Check our post to learn about free tools to find guest posting opportunities.
Forums
Niche forums also provide a possibility to get traffic to your website. Just like with Q&A websites, here it's important to engage in the conversation and share expertise, while naturally inserting a link to your blog.
To use forums to your advantage, be sure to abide by each platform's rules and take part in various discussions so that your profile looks more credible.
Medium
Medium is an online publishing platform where both amateur and experienced writers can post their articles. It had an average of 182 million monthly visitors for the six-month period of March to August 2021. Medium helps bloggers reach a wide and diverse audience and drive taffic to their websites.
To start off, prepare a quality article and wait for approval from the Medium's editors. Once accepted, your post will be recommended for the appropriate audience. Get more writing hints in the Medium blogging guide.
Blog Commenting
If you want to know how to drive traffic, commenting on blogs in your niche might be the next best step. To gain the most out of it, only write meaningful comments and insert a link to your blog where appropriate.
Similar to forums and Q&A sites, try to bring value in each comment and carry on a conversation. By helping increase engagement, you will kickstart your relationship with bloggers, which could turn into networking opportunities.
eBooks
eBooks can be another free traffic opportunity for affiliate marketers. If you enjoy writing and have some knowledge or experience to share, you can create an eBook and monetize it by sharing affiliate links within its pages. This is a growing niche and revenue in the eBook segment is expected to reach US $17.04bn in 2022.
Contrary to what many people think, creating and marketing an eBook is pretty easy with all the tools available in today's market. Your book can be as small as a few thousand words, but most importantly, should share valuable information. Start by choosing a topic that you know well, consider the structure, write and optimize the content, choose a design for your eBook, and decide on promotion strategies. You can find a step-by-step guide on how to create and promote an eBook on our blog.
How to Choose the Best Free Traffic Source for Affiliate Marketing
With so many traffic sources available, it might be tempting to take advantage of all of them. However, it will be more efficient if you conduct a thorough review of your audience and the market to identify sources that will yield the best results. It may also be enticing to chase the hottest trends just to take advantage of the hype. While this approach can yield results in some cases, they won't last long. Instead, it's better to develop a comprehensive approach that suits you the best. Here's how:
Research Your Niche: Try to discover which platforms your audience uses most often to find answers to their questions and determine how you can catch their attention there.
Analyze Your Audience: To stand out from the competition, you need to know your target audience. Take time to analyze your potential visitors to develop a more efficient approach.
Review Your Content: Check what sort of content you already have and can use for promotional purposes. Maybe you need to diversify with other content types.
Consider Algorithm Changes: Third-party platforms and tools, such as search engines, often change their algorithms, so you need to be prepared to regularly track updates and change your strategy accordingly.
Where to Post Affiliate Links for Free
These are only a few ideas of where to post affiliate links for free, and there are a lot more. To achieve the best results, we highly recommend you to combine different promotion platforms. Track the progress and focus on the most efficient of them. And also make sure to check that you have links in all blog materials that you promote so that it wasn't for nothing.