What You Need to Know About Reddit
To start posting or commenting on Reddit, you need just to register and enter your username and password. No additional confirmation via email or phone number is required.
Each community has certain features and Reddit is no exception. Study the Reddiquette and the dictionary of basic terms before making your first post.
The front page is the home page, which contains the highest trending posts and topics. Unregistered users see mixed information on this page. Registered users see specially selected posts based on their preferences and interests.
Subreddits are sub-communities (there are more than a million) about a variety of topics and areas. Anyone can create any number of subreddits. Each subreddit has its own moderators, rules, and designs.
AMA stands for "ask me anything". This is a so-called open type interview on Reddit, in which you can be an expert on any subject. Write briefly about yourself, add a few interesting facts, and tell the community what you do. Then, an interview opens and each user can submit questions to the expert.
Upvotes and downvotes are votes for or against your post or comment. The more upvotes you have, the more your material is noticeable to others. Posts with thousands of upvotes go to the first page of Reddit or issue-related subreddits, but no one knows the exact procedure for reaching the top.
Karma is the rating you get for posting and commenting on Reddit. Your number of upvotes may increase or decrease depending on whether your posts or comments get upvotes and vice versa. With high karma, the likelihood that your words will be trusted is higher, but with low karma, this likelihood is lower. In some subreddits, you can't post materials and comment until you reach a certain level of karma.
Shadowban is an inconspicuous ban that allows you to continue writing posts and comments, but no one sees them except for you. The moderator automatically sends them to the spam list. You may not understand for a long time why no one is responding to your posts since there are no external signs of a shadowban. You can be shadowbanned in both a specific subreddit and in the entirety of Reddit.
Shameless plugs are one of the most likely causes of a Reddit ban. The second most common reason is using connected accounts to mutually upvote each other's posts.
Reddiquette explains the expected etiquette of Reddit users. Reddit is a finely tuned mechanism, driven by its participants. If you suddenly begin to shamelessly (or bashfully) advertise your product, the participants will most likely remove you with caustic comments and downvotes.
"I hate marketers" is almost the tagline of Reddit. Study the etiquette of the site (Reddiquette) and the dictionary of basic terms before making your first post, comment, or upvote.
Best Reddit Promotion Strategies
Reddit is a great platform to build your brand visibility and loyalty, but doing so might take a while. Reddit would not be so popular if it had not protected its users from promotional content. But, with the right attitude, you still can succeed in getting your brand out there and attracting the attention of users.
You can also monetize your Reddit account through affiliate marketing (receive a commission for advertising the products or services of another person or company). For example, you can write posts about travel (even about trips to the city in which you live) and add partner links to the travel services you use. This is the exact approach taken by jadekinsjackson. In his post "Here's three ways to explore your own neighborhood", jadekinsjackson spoke about the culinary master class offered by GetYourGuide and added partner links to the text.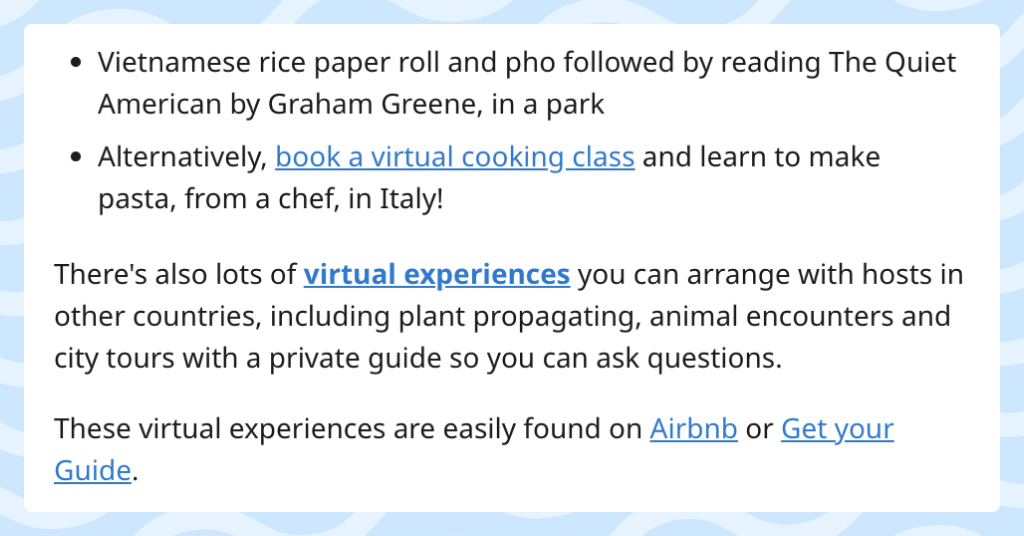 You can find the travel affiliate programs of many popular travel brands on the Travelpayouts partnership platform. There are many large, well-known brands, such as Booking.com, TripAdvisor, Kiwi.com, etc.
By promoting travel brands, you help your audience save money on travel and, as a result, travel more. In addition, you can turn your hobby into income. Signing up only takes a couple of minutes and you can start integrating brands' services in relevant posts. You'll earn every time a user follows your link and purchases a service. Monetize your project with Travelpayouts, embark on a new journey, and create inspiring content for your audience.
Join the Travelpayouts Partnership Platform
Access exclusive tools and the best travel affiliate programs, including flights, hotels, car rental, insurance, tours and activities, all in one place.
Join Today
395,000 partners already trust us
120 travel brands
$53M+ total paid since 2011
The following methods primarily concern free promotion, but you can also use paid promotion through targeted advertising. How much does it cost to advertise on Reddit? This depends on your goals and budget, but you can start with as little as $5. Read on to learn how to use Reddit to promote your blog or website!
1. Start by commenting on other posts
To attract new visitors to your site, participate in discussions relevant to your niche and link to your site when appropriate. Don't forget to use keywords to increase your chances of being found.
Important: You need to have a certain level of karma to place a link in a comment or post. In many subreddits, it's forbidden to comment using accounts with karma below a certain mark.
2. Get 30-50+ Karma
You should work on increasing your karma from the very beginning. To do so, you need to get upvotes. Share photos, funny pictures or jokes, memes, relevant news, and other pieces of information that can generate interest.
Another way is to submit a request for increasing karma in a special subreddit / r / FreeKarma, which has been created to let users beg for a little karma. However, you should not just write a request. Instead, provide a suitable photo alongside your request of a funny dog, beautiful girls, a joyful kitten, etc.
Another way to quickly gain karma is to comment on posts in the subreddit / r / AskReddit.
3. Find Subreddits in Your Niche
Choose subreddits with the most participants that are as close as possible to your promoted product or service. Usually, these subreddits have a greater potential for attracting visitors.
For example, if you are wondering how to promote your YouTube channel on Reddit, explore subreddits like YouTube and Deep into YouTube.
4. Learn the Rules of Relevant Subreddits
Apart from general rules, Reddit also features special terms for some subreddits. You can find them in the right column of each subreddit.
Carefully study the rules to build trust with the community and avoid getting banned.
5. Ask Admins for Permission
To advertise on Reddit, you need to ask the admins of the relevant subreddit for permission, as neither admins nor users will tolerate aggressive advertising. To win them over, pitch your link in the best possible way. For example, describe a problem that people are facing and explain how your product can solve it or share a case study. Your message should bring value to the audience and engage them in the discussion.
6. Ask Admins to Post Your Link
Links posted by admins are naturally more trustworthy and draw more attention. You can go one step further and contact the admin of a relevant subreddit asking them to post your link. They might reply favorably if your link truly brings value to the community or if you offer them an incentive in return, such as a discount or free product from your company.
7. Run a Giveaway
To generate interest in your brand, consider running a giveaway. This generous gesture will encourage users to interact with your brand. In addition, you'll definitely be bringing value to the community, so admins will be unlikely to punish you for Reddit advertising.
You can launch a contest and reward the winners or offer to complete a survey in exchange for a gift. Sometimes, there are even special threads for giveaways, such as award travel.
8. Ask Friends to Upvote Your Post
Collect votes in the beginning and move forward, but try to not overdo it or use the same strategy for each of your posts. Otherwise, admins might get suspicious. It's also important to get comments and shares, so try to generate all kinds of activities for your post.
9. Analyze Posts in Your Subreddit
If you want your karma to grow, write about the things that a common user cannot ignore. Try to analyze which kinds of posts are most viral and replicate their success.
For instance, if you want to know how to promote music on Reddit, join relevant subreddits like r/WeAreTheMusicMakers or r/music theory and explore the kind of posts that get the most attention from those audiences. Then, follow their strategy when creating your post.
10. Use Reddit Analytics Tools
To get insights into Reddit promotion strategies, make use of one of the following analytics tools:
11. Try the Reddit Enhancement Suite for Your Browser
This is a popular browser extension that simplifies the creation of posts and comments, expands pictures, and hides your viewed and downvoted posts. There is a bookmark bar for subreddits that allow for viewing and moderation. Other important features are:
RES settings can be saved and loaded after reinstalling the extension.
RES makes it easy to switch between accounts.
The filter for "r / all" allows you to remove NSFW ("not safe for work": usually warns of a link to 18+ content) posts, linked posts by keywords or domains, and certain subreddits, as well as filter the content by stop words.
The "endless feed" function allows you to automatically load the next page with posts if you scrolled to the end of the page.
If you are subscribed to many subreddits, the function for setting tags, which includes stop words, allows you to arrange the visible posts.
You may reset the subreddit style to standard if a specific design is annoying.
12. Create a Few Accounts
You can enhance your promotion by setting up several accounts on Reddit. For example, maintain a special subreddit for your brand from one account and start discussions from others. Just remember that Reddit closely monitors whether users team up for promotion and can ban them for doing so.
13. Comment on Top Submissions
The easiest way to get upvotes and karma is by commenting on the most popular posts, such as those featured on the front page. You can leave a separate comment or engage in current discussions, which is even more likely to earn you some karma.
Remember that the comment itself doesn't mean anything unless it's relevant and useful. Otherwise, you might receive downvotes, which is the opposite of promotion.
14. Delete Old Posts Without Comments or Upvotes
You can't please everyone and, at some point, downvotes may come your way. The best thing you can do is simply delete posts with negative feedback. Hardly anybody will notice and you will stop losing karma.
15. Don't Try to Upvote Your Post From Different Accounts
Reddit is very strict about promotional tactics. Should admins find out about your trick, both accounts may be blocked (especially if they have low karma).
Thus, focus on getting upvotes from real people and spare no time answering to their comments under your posts.
16. Check Subreddits Daily
Reddit is a platform with high user activity, thus new posts appear very quickly. Regularly look for entries that are similar to your subject and leave comments there. In this simple way, you'll quickly increase your karma and avoid losing an opportunity to appropriately promote your brand.
17. Create Mistake-Free Posts
Carefully check your posts for mistakes before publishing. Otherwise, you might get negative or caustic comments or even downvotes.
18. Don't Add Hyperlinks to Your Text
Share your blog's name without linking it to the domain. For example, write "Travelpayouts" instead of "blog.travelpayouts.com". Make it seem as though you are mentioning the brand for the convenience of other users and not just trying to promote it. Those who are interested will find your brand anyway while you won't attract the negative attention of admins.
19. Upvoted Posts Bring Dofollow Links
When posting on platforms with user-generated content, you get nofollow links by default. However, if your post gains a certain number of upvotes, the link automatically becomes a dofollow link.
How many upvotes should you get? In most cases, three to five users should like your post. But remember not to upvote your own messages to avoid getting banned by the admins.
20. Create a Support Subreddit for Your Product
In some cases, you can even create a separate subreddit to represent your brand. For example, "r / MyProduct". Here, participants will be able to communicate with you as a representative of the product, ask questions about the topic, or suggest improvements.
Naturally, don't expect people to instantly get interested in your brand and start asking questions. Create a subreddit just in case, as an additional form of promotion.
21. Cite Your Sources
To build trust with Redditors, remember to cite your sources when sharing facts and statistics. This will allow you to confirm that the information you provide is reliable and accurate, and that your words can be trusted. Furthermore, other users can even share your posts if they look trustworthy, which will automatically expand your reach.
22. The Number of Comments Doesn't Mean Anything
Comments like "ok" or "I agree" are useless. Don't comment just for the sake of increasing the quantity. For the Reddit community, the number of posts isn't important. Only posts that bring value and are appreciated by other users count towards your karma. Thus, focus on the quality of your posts and comments.
23. Only Post Quality Content
To develop top-notch content, follow these tips:
Attach a relevant picture (photo, map, screenshot, or gif). Build visual connect with users to attract their attention.
Share a personal experience. This always makes posts look trustworthy and attracts attention. For example, use personal pronouns like "I" and "we" when describing your project instead of "the company".
Format the text. Use lists, bold fonts, and divide your text into paragraphs (one paragraph = one thought). This will make your posts easier to read.
Explain complex issues in the simplest way you can so that as many users as possible can get to the bottom of the situation and share their opinion.
Write how-to guides to share practical tips. Information delivered in this manner is always easy to comprehend.
24. Use Dedicated Subreddits
Find the subreddits that are most used by your target audience. Getting attention across large sections of Reddit is difficult, especially if you are a new user, so start with smaller subsections. For example, in the sidebar of the marketing subreddit, you will find thematic links: content marketing or digital marketing. Move forwards by exploring their subsections.
If you need to increase traffic to your website (at least temporarily), ask people to rate its design on the subreddits: Design Critiques or Web Design.
25. Ask For Help
If you are a new user and want to get audience feedback, you can ask for it right on Reddit. User accounts are depersonalized here, so people are ready to openly express their opinion without fear of disapproval. You will get an honest response and learn how to advertise on Reddit at the same time.
26. Explore Reddit to Your Advantage
While on Reddit, take time to explore trends and learn new things both professionally and personally. Thus, it won't feel like a promotion because you'll be genuinely interested in the process.
As a travel affiliate, you might like the following threads: Marketing and Stuff, Travel, Solo Travel, Travel Partners, Travel Deals, Travel Advice, Travel Blogs, Affiliate Marketing, and so on.
27. Post in other languages
If you speak a few languages, don't lose this brilliant opportunity to reach a wider community. Reddit is available in 70 languages and your target audience may not only be located among the English-speaking population.
28. Reply to Every Comment on Your Posts
Give feedback to users who are interested in your content. As an active user, you will earn karma. By showing appreciation to readers' feedback, you'll build trust.
Also, remember to check if somebody commented back to your message in your profile.
29. Post Different Content in Different Subreddits
Develop activity in several different subreddits to reach as many people as possible. This will also allow you to promote your brand from different angles. For example, write about the best events at which to meet new people in the Solo Travel subreddit and promote family trips in Family Travel.
30. Do Not Capitalize Titles
Do not use capital letters in article titles, the body of your article, or the comments. Not only does the Reddiquette forbid this, but capitalized titles are also hard for comprehension.
How to Promote Your Website on Reddit
By creating high-quality and useful posts, you can easily gain credibility on Reddit and prepare a foundation for the successful promotion of your brand. Although the process might take a while, if you apply the blog promotion tips that we have listed above, it's only a matter of time before you start driving traffic to your blog.