Tips for Creating an Effective Content Calendar
Creating (and following!) a content calendar for travel blogging will not only make you more organized — it will help you be more successful. These are some tips for creating an effective content calendar.
Tip #1: Brainstorm Topics
If you're making a content calendar for travel blogging from scratch, you'll need to brainstorm topics you'd like to write about. Pull up a blank document on your computer, or grab a sheet of paper and a pen — and start brainstorming! These are some places to draw inspiration from:
Past Travels
If you've been on recent trips, draw inspiration for your content calendar from these vacations. For example, if you recently traveled to Rome, topics to include on your content calendar might consist of "Best Restaurants in Rome," "Ultimate Weekend Guide to Rome," or "Top Instagram Spots in Rome."
Future Travels
Are you planning any trips in the future? Think about topics from these destinations to incorporate into your content calendar. For instance, if you're planning a trip to Athens and want to write a blog post about the "Best Historical Landmarks in Athens," you might want to do some research before your trip. While you're there, you'll likely want to visit as many landmarks as possible to snap photos, jot down notes, and gain insider experience.
Keyword Research
Performing keyword research can help you understand topics, questions, and queries that travelers are searching for — and looking to experts (like you!) to answer. Popular keyword research tools include Semrush, Google Trends, Ahrefs, and Ubersuggest.

To learn more about keyword research for your travel content, take a free course with expert Sharon Gourlay.
Social Media
Turn to social media to learn what travelers are interested in reading about. For example, you can conduct a poll on Instagram Stories to know if your followers are more interested in reading about the "Best Credit Cards for Travel Hacking" or "How to Pack for a Two-Week Vacation in a Carry-On Bag." If there is equal interest in both topics, add them to the content calendar, but if one doesn't garner much interest, you may want to leave it off.
Additionally, social media can help you understand which destinations are "hotspots." For example, suppose you see tons of people traveling to Croatia at the start of the summer. In that case, chances are, this destination is popular — consider publishing a blog post about the "Best Summer Destinations in Croatia (2023)" or "Dubrovnik vs. Split: Which Destination to Choose?" to maximize search traffic from these popular destinations.
Other Bloggers
Let us preface by saying — it's never okay to steal content or creative ideas from another blogger. However, other travel bloggers can often offer inspiration when creating your content calendar. Find successful travel bloggers that produce high-quality content, and read through their blog posts to get the "wheels turning" for your own content.
For example, you might see a blog post another blogger wrote about the "Best Luxury Hotels in New York City," which might inspire you to include a post about the "Best Luxury Hotels in Boston" — your upcoming travel destination — on your content calendar. Or, another blogger based in Paris might have written a post about the "12 Best Art Museums in Paris," which might inspire you to write about the "20 Best History Museums in the USA" for your U.S. travel blog.
Tip #2: Consider Seasonality
Something really important to consider when creating a content calendar, especially for a travel blog, is seasonality. Depending on popular events, the weather, cost, and other factors, some destinations are more prevalent during certain seasons.
For example, you might be traveling to Seattle, WA, in October — a great time to visit — and itching to publish blog posts about this destination as soon as you return. However, November through May are generally unpopular months to visit Seattle because of the rainy or snowy weather, so it's unlikely your posts will get much traction. It's much better to include posts about Seattle on your content calendar for April, May, and June — when people are planning trips to Seattle — to help the posts get traction immediately after they're published.
Additionally, holidays and events are essential to consider when creating your content calendar. For example, if you plan to publish content about New Orleans, it's wise to include it in the content calendar before Mardi Gras — when travelers will be searching for things to do in town. Similarly, content about Munich should be scheduled to be published before Oktoberfest, and content about Amsterdam should be published before the tulip season. If you're planning to write a post about the "Most Romantic Islands in the Caribbean," be sure to publish it before Valentine's Day, and add a post about the "Best USA Road Trips for Families" to your content calendar in April or May, before school is dismissed for the summer.
As a general rule of thumb, try to publish a blog post one or two months before travel "peaks" to give it time to rank. For example, if you want to write a post about the "Best Food & Drinks to Try at the European Christmas Markets," you'll probably want to publish it in September or October. This will give the post time to rank before travelers search for this topic while they're at the Christmas Markets in November and December — publishing it in December would be too late.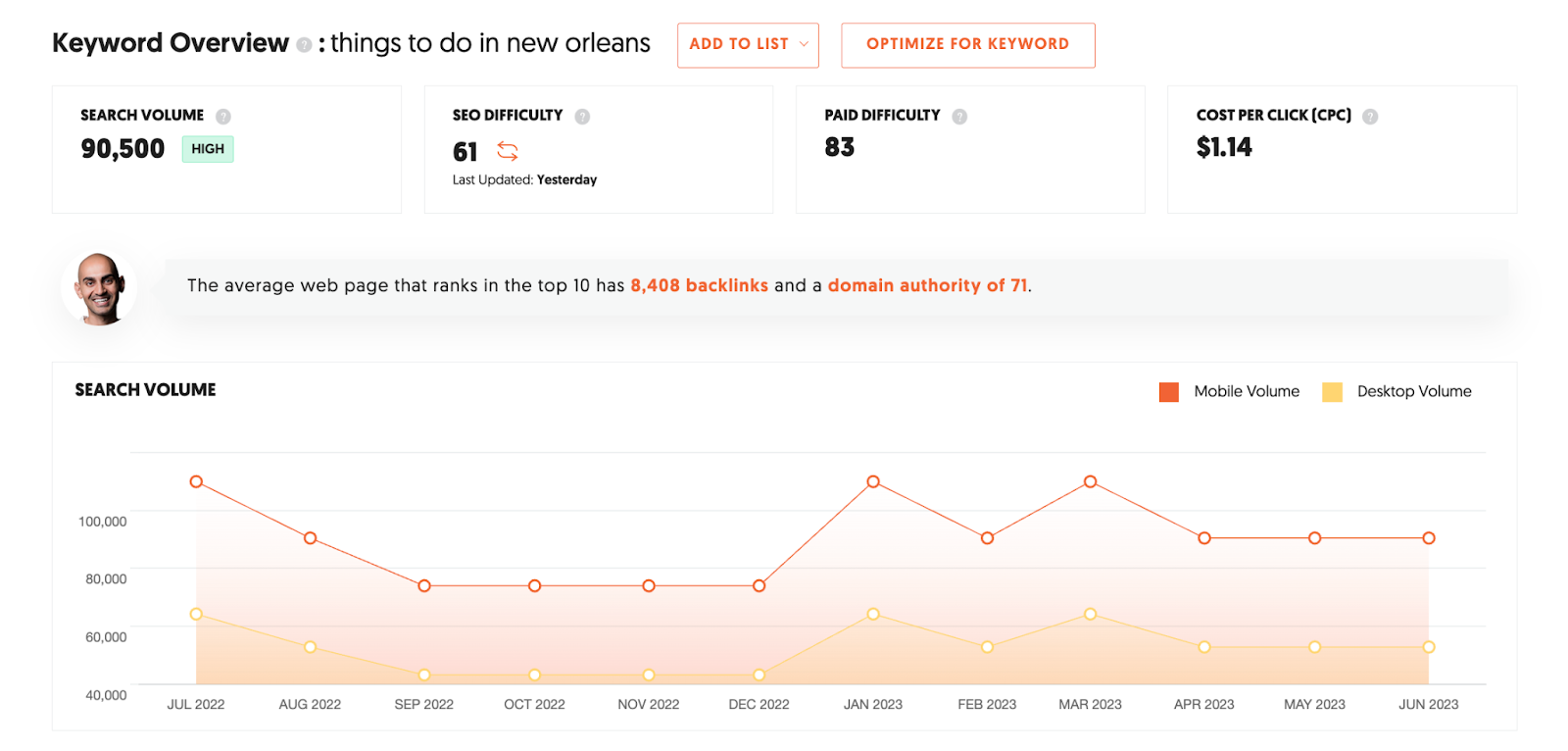 Tip #3: Include More Than Just Blog Topics
When people hear "content calendar for travel blogging," they immediately think about blog posts. However, in addition to topic ideas, you can include plenty of other information in your content calendar to help keep your business organized. Here are some ideas:
Keywords and internal links to include in each blog post
Affiliate links to include in each blog post
Photo folder for each blog post
Pinterest ideas to promote each blog post
Facebook and Instagram post ideas to promote blog posts
Notes about each topic
Your content calendar should also include estimated publishing dates and a status update (to be written, in progress, published) to help keep you on track.
Best Content Calendar Tools
There are dozens of excellent tools you can use to create your content calendar. However, if you're looking for somewhere to start, we recommend looking at the following content calendar and content planning tools:
Google Sheets
Your content calendar doesn't have to be fancy to be effective. Google Sheets is a practical (and free!) tool for creating a content calendar for travel blogging. You can create columns for the blog topics, keywords, internal links, affiliate links, notes, estimated publish date, social media promotion, etc., and fill them in with relevant information.
Google Sheets is also a helpful content calendar tool for working with other team members, like a virtual assistant or social media manager. You can share the calendar with their email address to keep everyone on the same page and provide "action items" for each person.
Hootsuite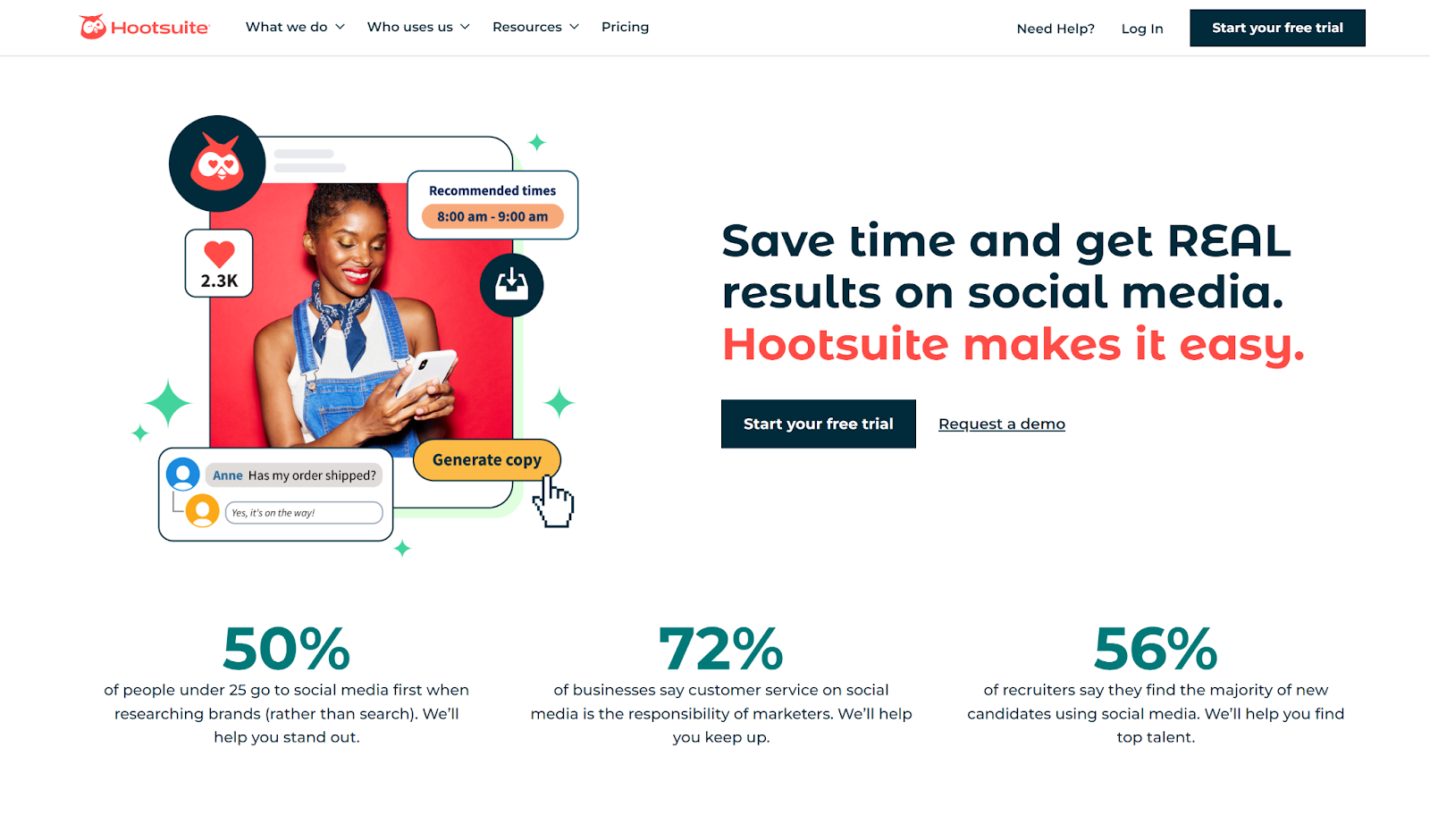 If you're a content creator focusing primarily on social media promotion, you may benefit from creating your social media content calendar on Hootsuite.
Hootsuite offers a content planning feature that allows you to view all your organic and paid social media campaigns in one place. You can also edit, reschedule, or delete posts from the planner. You can view campaigns in a weekly or monthly view.
Trello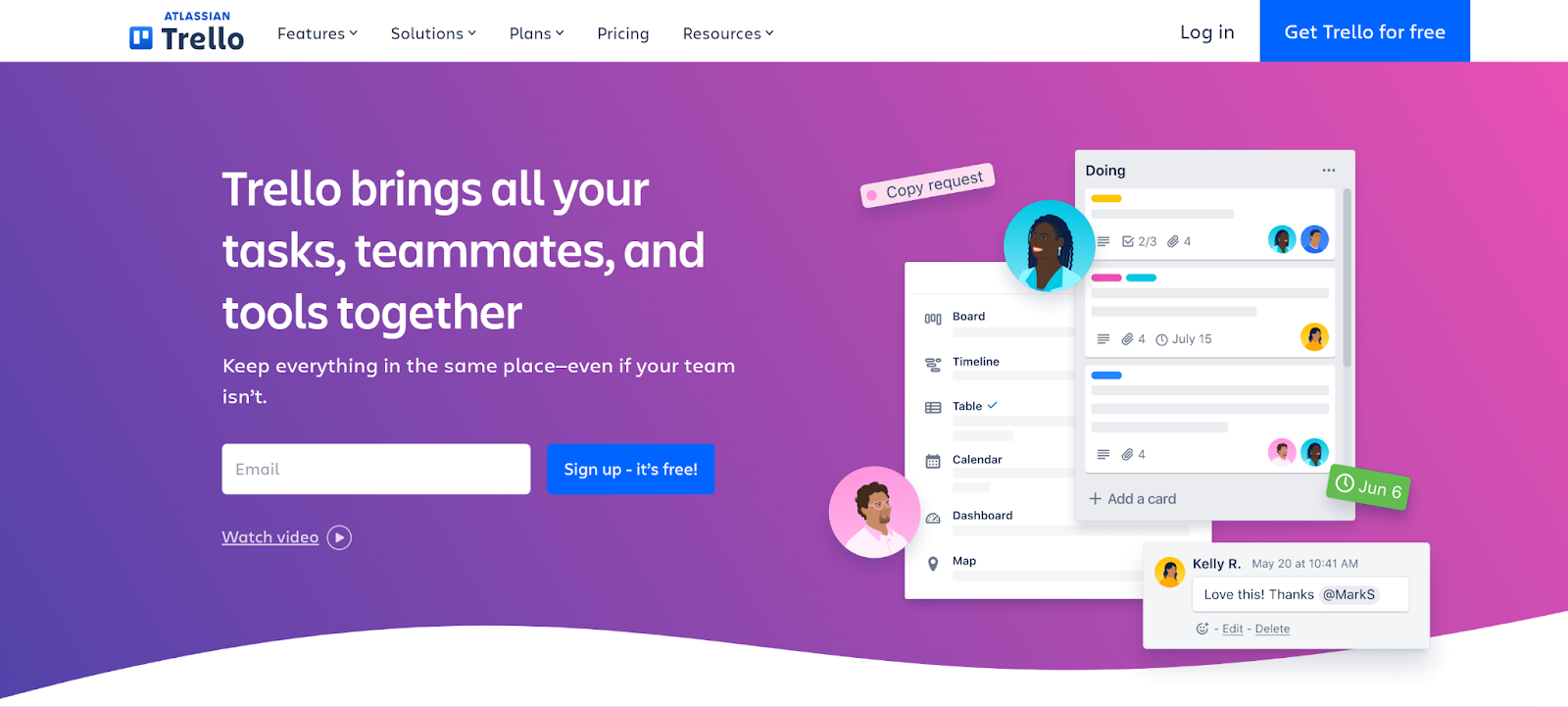 Trello is a popular collaboration tool that organizes projects into boards and lists. However, you can also create a content calendar in Trello using the following steps:
Click the "Calendar Power-Up" to switch the app from a board view to a calendar view.
Create a list for each platform you want to plan content for, like the blog, email list, Instagram, Facebook, TikTok, etc.
Add cards to each list and create a checklist inside each card. For example, for a card in your "blog" column, you may include an action item for keyword research, writing the content, sourcing images, and scheduling the post.
When looking at all the cards in a calendar view, you'll be able to see what content you need to publish, keeping you (and the team) on track.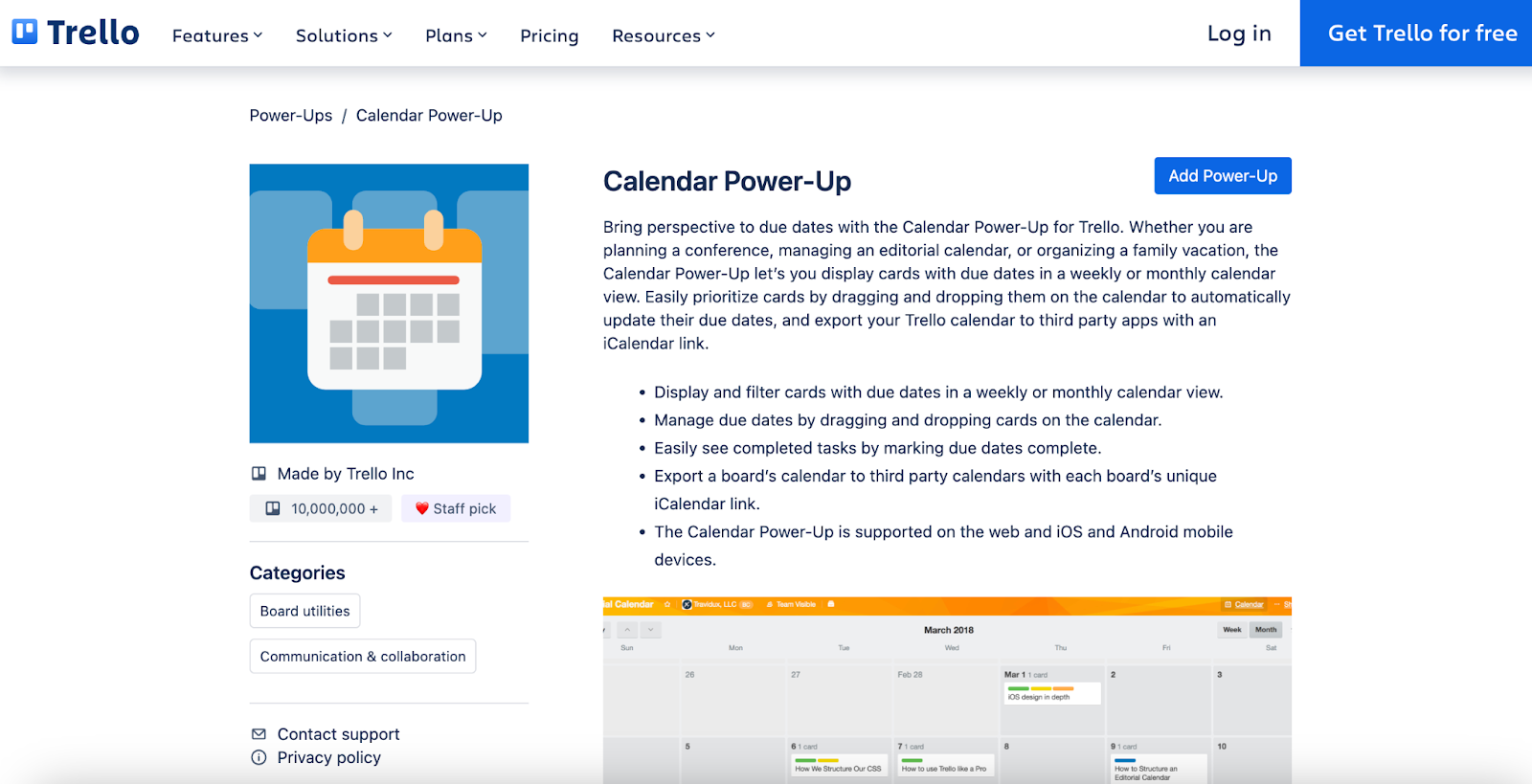 Airtable

Airtable is one of the best content calendar tools many bloggers use for content planning and management. Airtable has a template for blog editorial calendars that you can use (and customize), and you can view it as a list, grid, calendar, or table.
Another reason bloggers love Airtable is that you can view it on a desktop computer or while you're "on the go" via an app — a great feature for travel bloggers! And while the free version is usually sufficient, if you decide to upgrade, it will only cost a few bucks per month.
How a Content Calendar Can Help Increase Affiliate Income
Creating an effective content calendar can actually help increase your affiliate income earnings. Here's how:
Consistency — The key to earning affiliate income is regularly generating high-quality content (with affiliate links skillfully incorporated, of course). Creating a content calendar can help you stay accountable for regularly posting blog posts and other content.
Seasonality — If you publish a post about the "Best Snorkeling Tours in the Bahamas" and publish it during hurricane season, it probably won't get much traffic (or sales). Instead, publish this post in November or December, and watch the affiliate sales roll in during the peak seasons for the Caribbean — winter and spring!
Affiliate-Focused Posts — If generating more affiliate income is one of your business goals, consider including more "affiliate-focused" posts in your content calendar. These posts are focused on readers who want to purchase products, services, or experiences rather than learn more about a topic. An example of an affiliate-focused post would be "Best Luxury Hotels in London" (people are searching for this term because they want to book a hotel) rather than "Weekend Itinerary for London" (people are looking for things to do, not necessarily something to purchase).
To learn more about which types of posts work best with affiliate marketing, watch this video from Travelpayouts Academy. 
Create a Content Calendar for Travel Blogging to Start Earning More Affiliate Income
Creating a content calendar for travel blogging can significantly improve your productivity and content quality. By utilizing the best content calendar tools, you can effectively plan your posts and stay ahead in the travel blogging industry.
Joining Travelpayouts and leveraging the power of affiliate marketing can further enhance your monetization potential, allowing you to earn while sharing your passion for travel.
Join the Travelpayouts Partnership Platform to become an affiliate partner for dozens of top-rated travel brands, including Booking.com, Viator, and GetYourGuide, to start earning affiliate income on your helpful, creative travel content. 
Join the Travelpayouts Partnership Platform
Access exclusive tools and the best travel affiliate programs, including flights, hotels, car rental, insurance, tours and activities, all in one place.
Join Today
395,000 partners already trust us
120 travel brands
$53M+ total paid since 2011