To earn on the flights, hotels, car rentals, and other travel services, join the Travelpayouts partnership platform for free today.
To be inspired, read the success story of Maggie and Michael, who have turned their hobby, "The World Was Here First" blog, into a full-time job. One of the ways this duo monetized their blog was through partner marketing, namely partnership platforms and travel affiliate programs of travel brands, such as Booking.com, GetYourGuide, Viator, and others.
3 Essential Elements of a Successful Travel Website
In our list below, you will find platforms in different niches, such as traveling around Europe, traveling on a budget, luxury vacations, and much more. Although the content may vary, successful travel resources usually have three things in common:
Attendance – The project must have traffic. The volume may vary for each niche for a blog to be considered successful.
Recognition – The audience is very familiar with the project or brand.
Confidence – Readers rely on the authors' opinions and trust the information.
Remember that we cannot compare projects only in terms of traffic, as they compete inside their own niches.
We tried to collect the best travel blogs on the web in 2023 in various travel-related niches.
1. We Seek Travel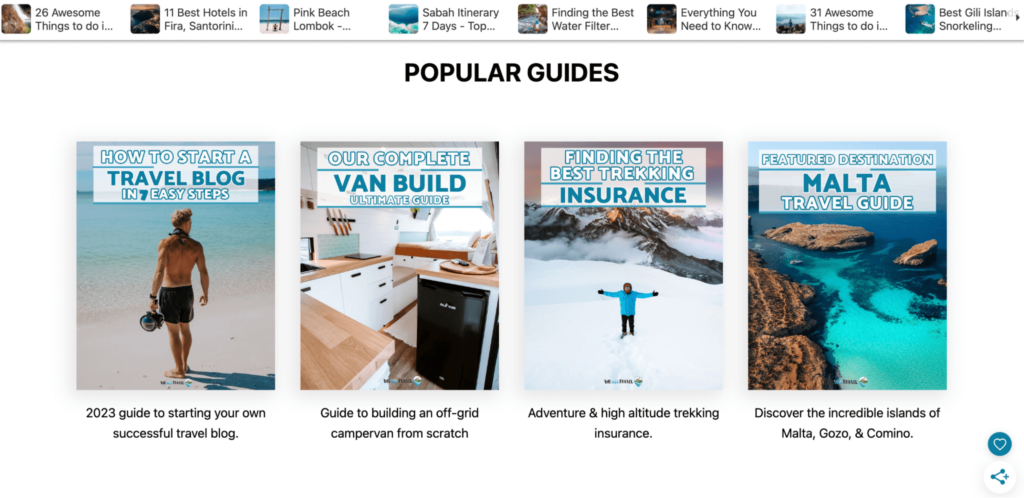 We Seek Travel is an adventurous travel blog curated by Olly. For over five years, he's been immersed in full-time travel, chronicling thrilling escapades like hiking, waterfall explorations, and discovering hidden wonders around the world.
Along with his partner Haylea, they've embarked on incredible adventures, from sailing Australia's scenic east coast and building their RV to climbing the world's highest peaks and mastering Muay Thai in Thailand. And they're just getting started.
We Seek Travel provides readers with invaluable travel guides and showcases stunning photography from the world's most iconic destinations. With his trusty full-frame mirrorless camera, high-tech underwater equipment and drone, Olly captures unparalleled visual narratives of our planet's diverse landscapes.
We Seek Travel fosters a community rooted in the spirit of adventure. Olly's vivid stories of personal exploration inspire fellow adventurers to step beyond the familiar and ignite a passion to experience the boundless beauty of our world.
2. Expert Vagabond Travel Blog
Expert Vagabond is run by a man named Mathew. The website offers some truly amazing posts and information about many locations throughout the world, including swimming with bull sharks in Fiji or hitchhiking across America. Mathew has some truly unique personal experiences and tips to share with those interested in travel adventures.
Mathew's blog content is incredibly unique, interesting, and informative. Expert Vagabond is certainly worth taking a look at if you are planning to become a travel blogger. In addition, you can find detailed tips on photography gear as well as information on the digital nomad lifestyle and remote work.
3. The Poor Traveler Travel Blog
The Poor Traveler features a number of different bloggers who create the website's content. This project is known for its in-depth guides to destinations around the world for travelers on a shoestring budget.
The website also has detailed information on how to organize a trip. You can learn how to apply for visas to different countries, check travel requirements, and find useful information on passports and other documents.
4. BreatheDreamGo Travel Blog
BreatheDreamGo is one of the best resources for female solo travelers. Mariellen, the owner of the blog, has traveled to and written about destinations around the world, including: Bhutan, Canada, Costa Rica, India, England, Ireland, Japan, Nepal, Sri Lanka, and the United States. However, the focus of the blog is on Canada and Asia, and most of the BreatheDreamGo content introduces readers specifically to India.
There is a fairly constant stream of content on BreatheDreamGo and most of the posts have quite a bit of substance to them. If you have been looking for extremely valuable and insightful information about travel, this blog may be of great help to you.
5. Oneika the Traveller Travel Blog
Oneika Raymond is a traveler, media personality, journalist, and keynote speaker. So far, Oneika has visited over 115 countries on six continents and is nowhere close to stopping.
Her award-winning blog, Oneika the Traveller, aims to inspire people of color and women to see the world and enjoy life at its best. On the blog, you can find travel hacks, lifestyle tips, and insights into what the life of a black female traveler can be.
6. Legal Nomads Travel Blog
Jodi, the voice behind Legal Nomads, is a former lawyer who quit her job to visit Siberia. On her blog, Jodi writes about travel, health, food, and photography as well as shares stories from the road. So far, she's visited over 40 destinations, including remote places like Siberia and South Africa.
Legal Nomads is unique for its gluten-free travel section. Jodi also writes a series called "Thrillable Hours", in which she shares stories of former attorneys who quit their corporate careers for a life on the road.
7. Bemused Backpacker Travel Blog
Mike Huxley has traveled to many places around the world and written about his experiences in detail. Bemused BackPacker maintains the goal of helping others explore the world on a budget.
Those who want some truly remarkable adventures around the world without spending a lot of money will definitely find Bemused BackPacker to be an incredible resource. Those who want to learn how to avoid contributing to animal cruelty when traveling will also find this blog to be quite helpful.
8. Two Monkeys Travel Group
Kach and Jonathan are well-established writers and travel bloggers. This isn't surprising when you consider that they have been traveling since 2013.
This project covers a number of locations throughout the world, offering great information for those who want to explore Africa, Asia, Australia, the Caribbean, Central America, Europe, and other regions. The blog is also noteworthy for its various sections, such as honeymoon guides as well as sailing and cruising guides.
9. Nomadic Matt Travel Blog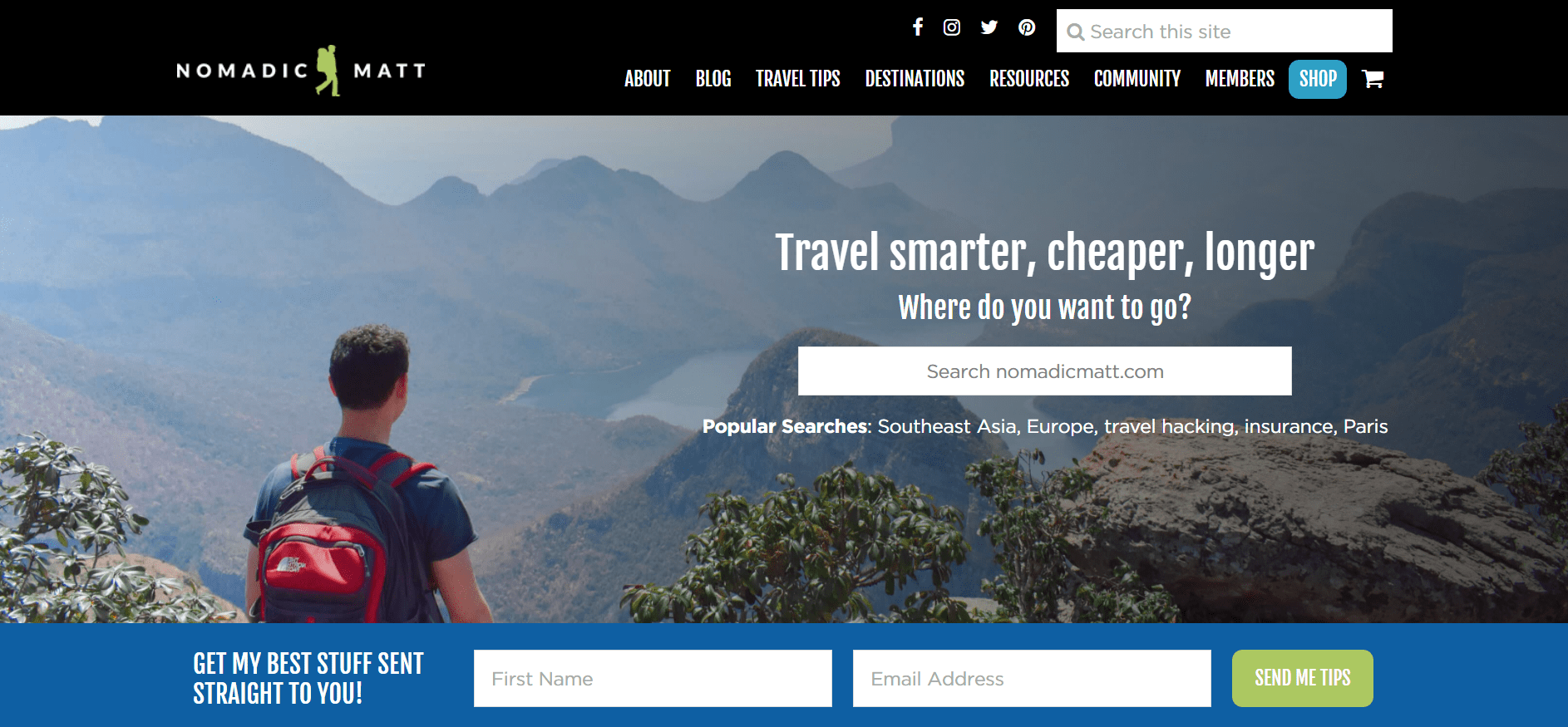 Nomadic Matt is a travel website that helps more than 1,000,000 readers plan trips with the help of experienced travelers. The blog also teaches visitors how to build a career in the travel niche.
Matt is a New York Times bestselling author who sells his books on his blog. He also earns money by selling flight tickets, hotel rooms, travel insurance, and other services that he has used while traveling. He has very interesting ideas, tips, and knowledge for both visitors and website owners.
Matt also has a strong community. You can join his book club, blog school, regular virtual events, and group tours.
10. Uncornered Market Travel Blog
Daniel Noll and Audrie Scott aim to connect travelers to meaningful experiences and promote sustainable tourism. They also help brands and organizations grow sustainable travel products and develop destinations.
In 2001, Daniel and Audrie left San Francisco with six suitcases and a one-way ticket to Prague. In 2006, they left Prague to travel the world and share the stories of the people they meet along the way. Today, they do this through their advisory, blog, and social media platforms, as well as by speaking at conferences and events.
11. Y Travel Blog
This passionate couple started their inspirational travel blogging adventure in 2010 by sharing their journeys to different destinations. They have lived in five countries and traveled to 52. Even having kids didn't stop them. They have very interesting ideas and advice for their visitors and offer valuable family travel tips on Y Travel Blog.
The couple earns money by selling flights, hotels, travel insurance, guides, and their own products in their store. They have more than 45,000 followers on Instagram and also use many other social media platforms to promote their blog.
12. Hand Luggage Only Travel Blog
Hand Luggage Only began as the result of two university students wanting to share their travels with others. The blog is a well-organized site that offers information about traveling as well as photography and food. The bloggers provide tips and information about these topics to their visitors.
The quality of the pictures from their travels is outstanding. As seen from the comments, the bloggers are very responsive to their visitors. In addition to various social media platforms, they use email subscriptions to attract more visitors to their page. Click here to learn more about effective email marketing segmentation strategies.
13. One Mile at a Time Travel Blog
The One Mile at a Time project began in 2008, when a guy nicknamed Lucky received an email with an offer for airline miles. From here, he began his journey of more than four million miles, which he documented with his travel blog stories. Lucky shares very helpful information about miles, points, and the best travel credit cards.
14. The Blonde Abroad Travel Blog
The Blonde Abroad is an award-winning travel blog, which Kiersten started after quitting her career in finance in LA. Kiersten aims to inspire solo female travelers to see the world, but you can also find advice for adventure travel, budget travel, luxury travel, couples travel, and much more.
To sponsor her trips and earn a living, Kiersten does affiliate programs, press trips, content creation, travel social media marketing consultancy, and photography travel tours.
15. Goats on the Road Travel Blog
Dariece and Nick are a Canadian couple who share their travel adventures around the world. On their blog, amusingly named Goats on the Road, Dariece and Nick provide tips for safe and well-thought-out trips around the world, including destinations in Africa, Asia, Europe, the Middle East, and the Americas.
You will find travel advice on how to prepare for trips, start a blog, teach English online, and begin housesitting.
Regional Travel Websites
Some projects are only dedicated to local destinations, but are still well-known around the world. They focus on one region and provide valuable first-hand tips on how to travel within that region.
In a way, the idea of having a narrow project is advantageous to blog owners. For example, a large platform that covers different regions of the world requires more effort and money to provide trustworthy information. However, regional resources are much easier to maintain and supply with traffic that is definitely interested in the region. Here are some examples:
Home is Where Your Bag is: A travel blog about Philippines and south Asia; it sheds light on travel information related to this region.
Backpacking Africa for Beginners: With this African travel blog, Valeria shows the good side of Africa, with many stories and photographs. She also shares many useful tips and the best plans for an African trip.
Travel Sense Asia: This is a good travel blog about Asia, with much knowledge about the region.
Top 5 Travel Vloggers
Apart from the promotion of your blog, another way to earn money online is by becoming a vlogger on YouTube. If you love creating beautiful and attractive videos as well as helping your followers, you can start your own YouTube travel channel today by examining the work of these famous travel vloggers:
If you love watching video content more than reading, these are great travel vlogs to follow on YouTube. You can also create your own channel and earn through Travelpayouts. Read our article to learn more about travel vlogging. For example, successful and popular vloggers not only have a presence on YouTube, but have other social accounts on Facebook, Snapchat, Instagram, Telegram, and other platforms.
Learn how to create a winning affiliate marketing strategy for YouTube, Instagram, and TikTok in our special free guide.
How To Become A Popular Travel Blogger
Here are some common keys to success for travel blogs and their owners:
Enthusiasm for what they do (make sure to choose a topic you feel passionate about!)
Promising niche with high earning potential
A well-thought-out content marketing strategy and goals
Different types of creative and informative content
A constant flow of new content
Regular content audits and continuous updates
An interesting and beautiful design
Blog promotion on different platforms, such as social media networks and email subscription lists
Different types of earning methods, such as affiliate marketing, selling their own products, blogging consultancy, and so on
To put it simply, you have to work, work, and work. However, we are here to make your work easier and more profitable. Join the Travelpayouts partnership platform if you haven't already done so and monetize your project. Don't have your own online platform yet? Learn how to create a blog from scratch in this step-by-step guide. If you're wondering what it is gonna be like to create your own blog, here are 17 things to know before you start travel blogging.
To learn how to do it right and receive some actionable tips on working with the platform, take free courses from Travelpayouts Academy.