To earn on the flights, hotels, car rentals, and other travel services, join the Travelpayouts partnership platform for free today.
To be inspired, read the success story of Maggie and Michael, who have turned their hobby, "The World Was Here First" blog, into a full-time job. One of the ways this duo monetized their blog was through partner marketing, namely partnership platforms and travel affiliate programs of travel brands, such as Booking.com, GetYourGuide, Viator, and others.
3 Essential Elements of a Successful Travel Website
In our list below, you will find platforms in different niches, such as traveling around Europe, traveling on a budget, luxury vacations, and much more. Although the content may vary, successful travel resources usually have three things in common:
Attendance – The project must have traffic. The volume may vary for each niche for a blog to be considered successful.
Recognition – The audience is very familiar with the project or brand.
Confidence – Readers rely on the authors' opinions and trust the information.
Remember that we cannot compare projects only in terms of traffic, as they compete inside their own niches.
We tried to collect the best travel blogs on the web in 2023 in various travel-related niches.
1. We Seek Travel
We Seek Travel is an adventurous travel blog curated by Olly. For over five years, he's been immersed in full-time travel, chronicling his thrilling escapades, including hiking, exploring waterfalls, and discovering hidden wonders around the world.
Along with his partner, Haylea, Olly has embarked on incredible adventures, from sailing Australia's scenic east coast and building an RV to climbing the world's highest peaks and mastering Muay Thai in Thailand. And this duo is just getting started.
We Seek Travel provides readers with invaluable travel guides and showcases stunning photography from the world's most iconic destinations. With his trusty full-frame mirrorless camera, high-tech underwater equipment, and drone, Olly captures unparalleled footage and crafts visual narratives of our planet's diverse landscapes.
We Seek Travel fosters a community that is rooted in the spirit of adventure. Olly's vivid stories of personal exploration inspire fellow adventurers to step beyond the familiar and ignite a passion to experience the boundless beauty of our world.
2. Adventures & Sunsets
Adventuresnsunsets.com (A&S) is an enchanting travel blog written by Kimmie, a passionate nomad and tour guide who is a perpetual seeker of experience that has traveled to 65 countries. A&S offers invaluable tips from Kimmie's experiences living, working, and traveling in order to help reader's navigate their own adventures with the wisdom of a seasoned traveler.
The goal of A&S is to inspire wanderlust in the young at heart and empower them to plan and embark on their dream trips. The blog's focus on unique and boutique travel experiences is perfect for the Instagram-savvy adventurer who enjoys exploring offbeat paths while discovering perfect photo opportunities and adorable nooks and crannies (all on a budget with the occasional indulgence).
This vibrant travel blog is a testament to the author's zest for life and serves as your guide to making the most of every trip.
3. Jessie on a Journey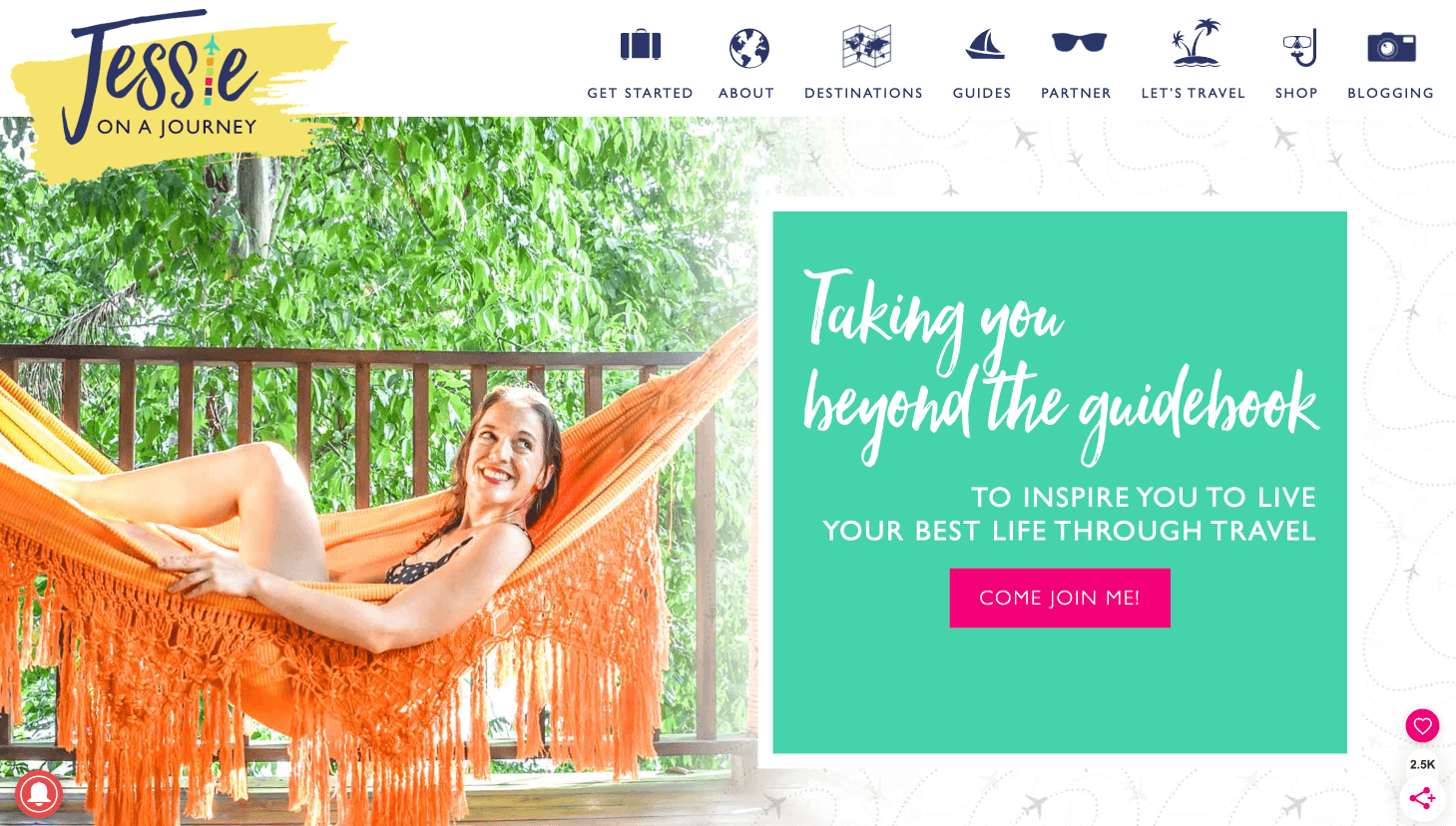 Jessie believes that life is a journey and her blog, Jessie on a Journey, reflects this. Through her posts, Jessie offers an honest look into the adventures, advice, and detours of your travel blogging best friend. She knows the reality of putting our travel dreams on hold and encourages her readers to start living the life they want now.
Whether you're a solo traveler seeking spontaneity, a wanderer in search of more than the typical sightseeing trip, or a blogger dreaming of turning your passion for travel into a profitable lifestyle, Jessie's blog has something for you.
4. Adventour Begins
Adventour Begins is a travel blog managed by Katarina, who worked as a member of the Shore Excursion Staff at the cruise industry giant, Royal Caribbean International. Her priceless experiences in this fast, ever-changing, and growing-like-crazy industry inspired her to write a blog to share her know-how with the world.
Adventour Begins is all about the destinations Katarina has visited and the things to see and do in those places. Her blog offers useful tips and information on cruise jobs and ship life. Regardless of whether you're a guest or crew member, or simply want to learn about travel destinations, Adventour Begins is the perfect resource for you!
5. Taverna Travels
Taylor Taverna is a travel enthusiast who has explored over 70 countries and countless cities around the world. As a solo female traveler, she makes traveling a reality for everyone with tips and tricks for budget-friendly adventures. On her blog, Taverna Travels, Taylor shares the best places to stay, spots to eat, and things to do around the world.
Born with travel in her blood, as the daughter of a flight attendant, Taylor started traveling at the young age of seven. She spent summers abroad in Germany at a sleepaway camp. Since then, she has taken every opportunity to see and explore more of our incredible world.
6. Travels With Elle
Travels With Elle is a travel blog managed by Elle, an off-the-beaten-path adventurer who plans and funds her trips with her own savings. Elle loves hopping on planes to go on trips (no matter the destination or season), experiencing new cultures and foods, as well as meeting new people from all over the world.
Elle's main goal is to help everyday travelers and adventurers live out their travel dreams without the need for private jets, influencer statuses, or millions of dollars. Her blog makes traveling easy and accessible by sharing her mistakes, hidden gems, trip-planning tricks, and experiences worldwide.
7. Ordinary Traveler
Ordinary Traveler is an award-winning adventure travel and lifestyle blog founded by Christy Wodrow in 2010. With a focus on providing trip ideas and travel tips for those with limited vacation time, Ordinary Traveler has become one of the top travel blogs in the industry.
Christy, a passionate photographer, chronicles her off-the-beaten-path travels and shares personal stories of healing and growth on her blog. In addition to travel content, Ordinary Traveler also offers suggestions for spiritual travel opportunities.
8. Globe Guide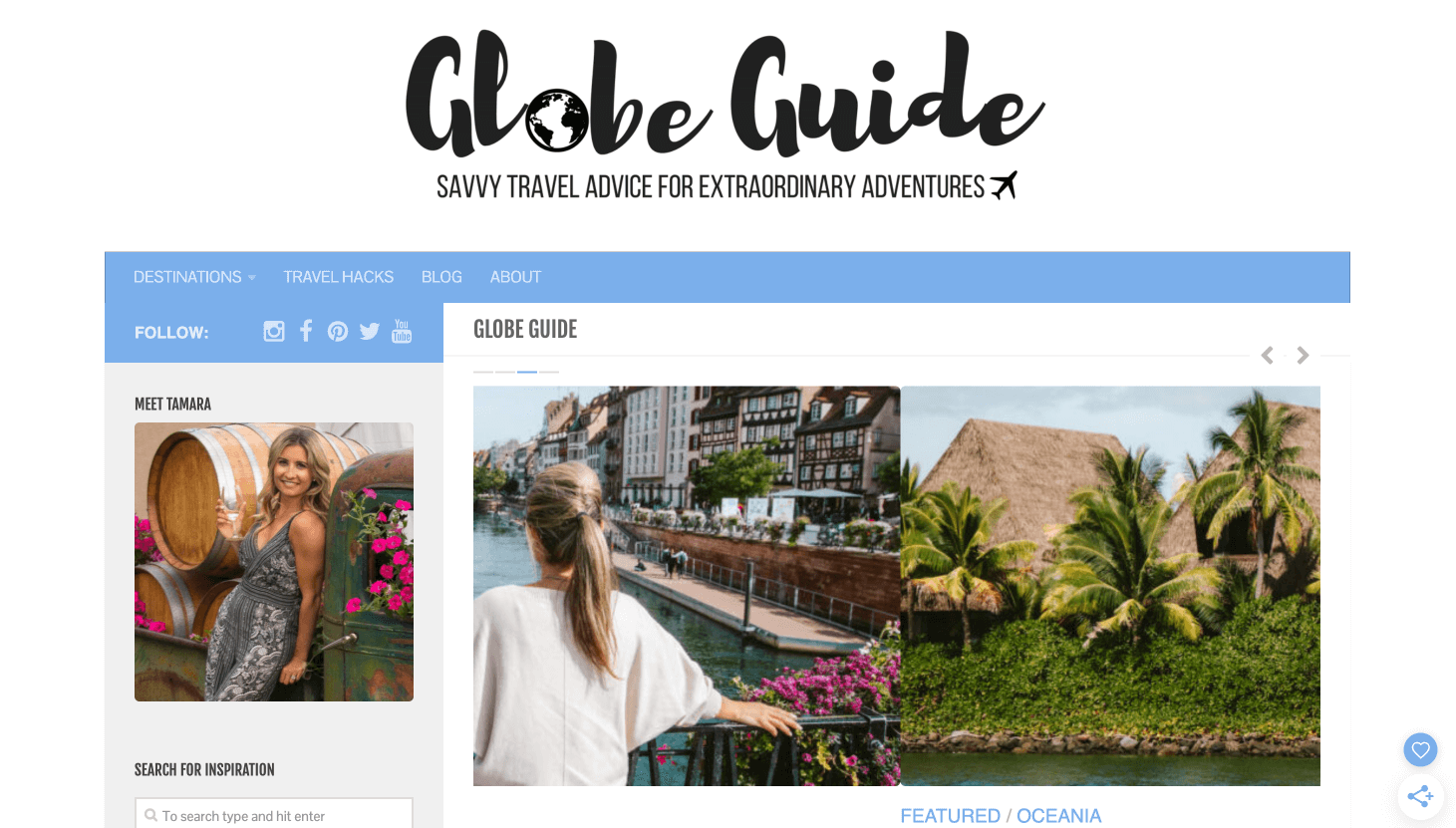 Tamara Elliott, one of Canada's top travel experts, is an award-winning travel writer and photographer. She is also the founder of Globe Guide, a platform that offers savvy tips for exploring destinations around the world while showcasing unique experiences.
Tamara has traveled to 80+ countries and specializes in adventure travel, wellness, glamping, wine tourism, and luxury accommodations. Her work has been featured in various publications, including AFAR, National Geographic (Spain), and Outside Magazine.
Tamara has been named one of Canada's most accomplished millennials by Flare Magazine and one of Canada's top travel influencers by Readers' Digest.
9. Nomadic Matt Travel Blog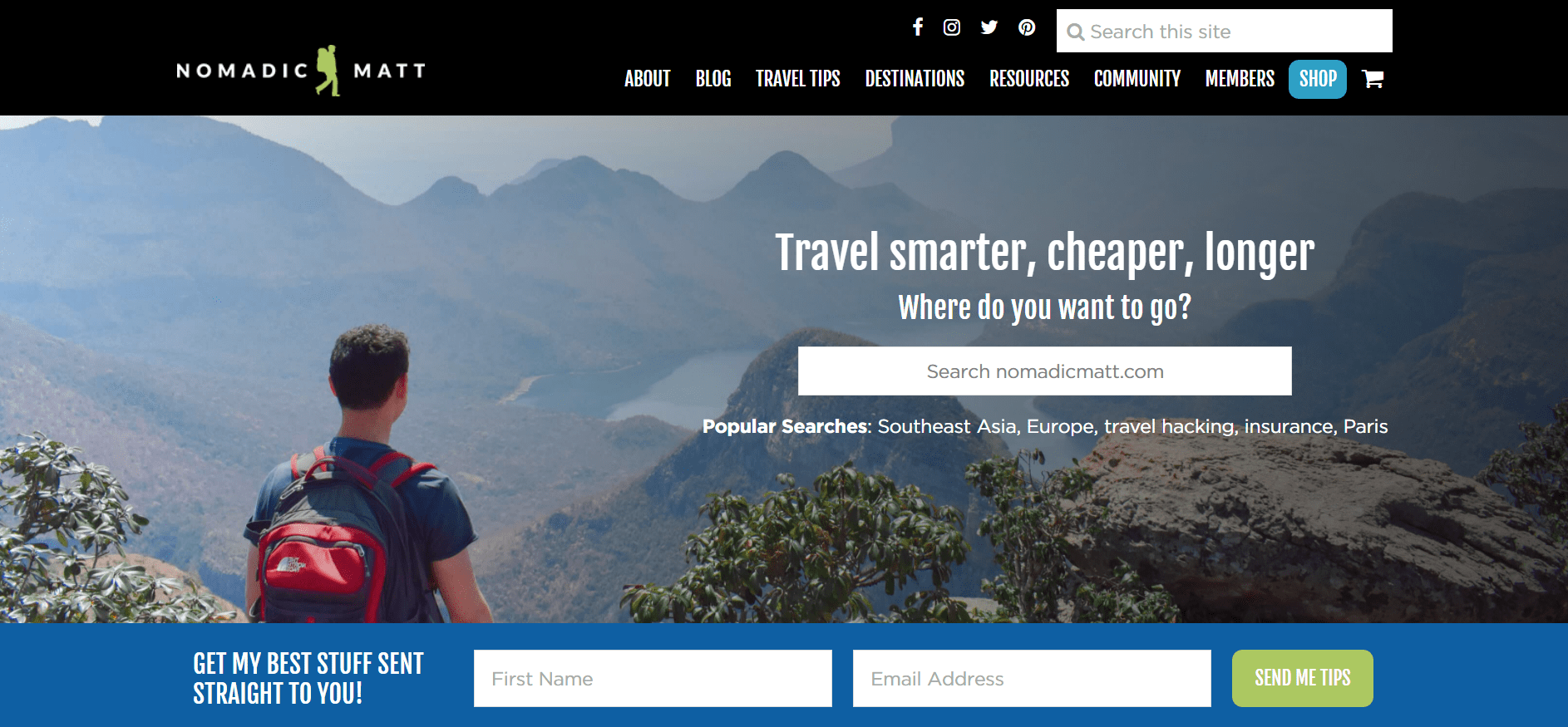 Nomadic Matt is a travel website that helps more than 1,000,000 readers plan trips with the help of experienced travelers. The blog also teaches visitors how to build a career in the travel niche.
Matt is a New York Times bestselling author who sells his books on his blog. He also earns money by selling flight tickets, hotel rooms, travel insurance, and other services that he has used while traveling. He has very interesting ideas, tips, and knowledge for both visitors and website owners.
Matt also has a strong community. You can join his book club, blog school, regular virtual events, and group tours.
10. Like Where You're Going
Aly Smalls, also known as the CFF (Chief Fun Finder) of Like Where You're Going, provides practical and authentic travel information on her site. Unlike an influencer, Aly is a real person who loves to plan and find hidden gems while avoiding "overtourism". Her destination guides, itineraries, and ultimate travel lists are geared towards everyday people who want realistic travel info.
Aly's content focuses on experiences that allow travelers to soak up the culture, history, and authenticity of the places they visit. She shares alternative destinations that are just as beautiful as the crowded tourist spots, while highlighting hidden gems, unique activities, and off-the-beaten-path sights. Aly's posts inspire wanderlust and encourage readers to live in the moment instead of seeking out Internet likes.
11. ASocialNomad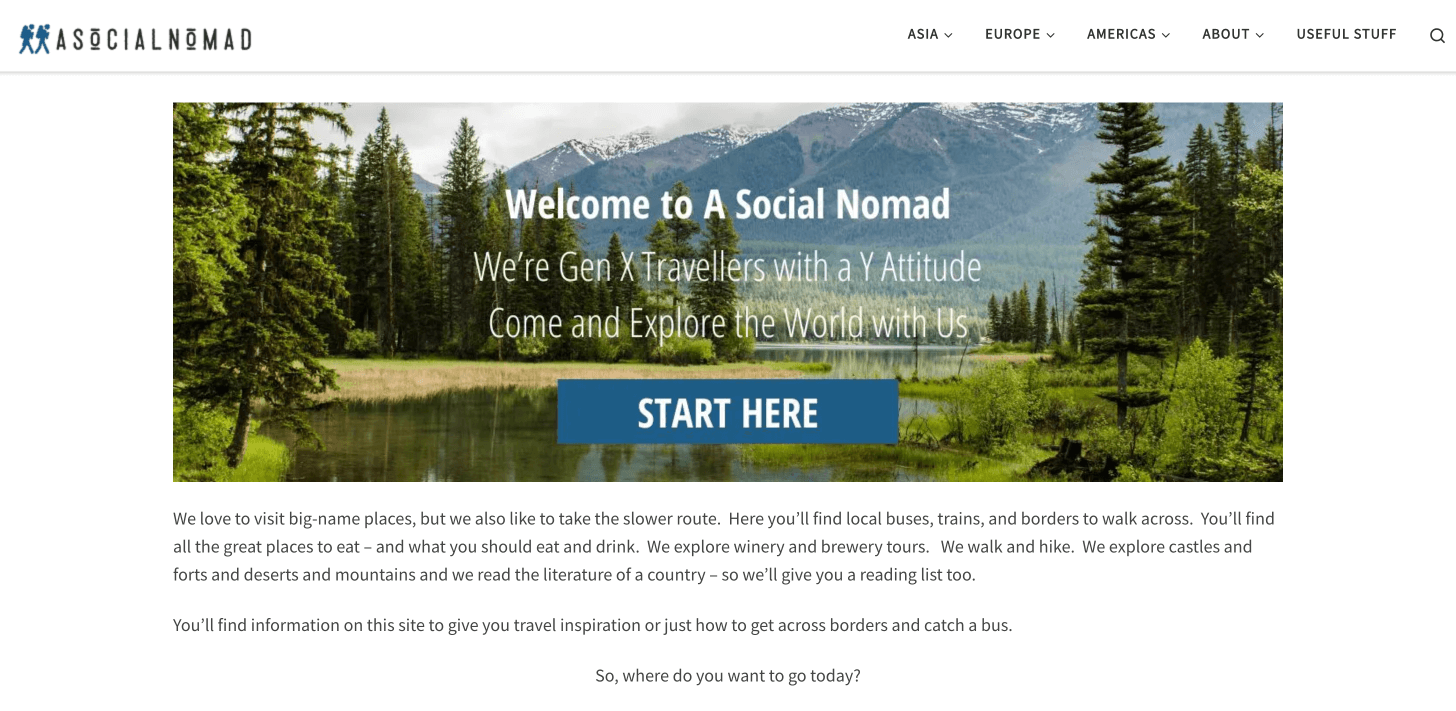 Sarah and Nigel, also known as ASocialNomad, have been backpacking since February 2014. They prefer to travel slowly on local buses and trains, carrying only a 40-liter backpack and a laptop each. They enjoy walking, hiking, and trekking, and sleep in hostels, cheap hotels, Airbnb's, tents, and even on trains and buses (when necessary). Their accommodations depend on the location they are visiting. For example, they slept in vans and in a tent on the roof of a Toyota Landcruiser in Australia and New Zealand, while opting for homestays and hostels in Central America.
Before each trip, Sarah and Nigel make a list of places they want to visit, food they want to eat, and things they want to drink in each destination. They enjoy wine tasting and eating everywhere from street food vendors to five-star restaurants (as long as they are allowed in). They describe themselves as Gen X travelers with a Gen Y attitude, and their travel style reflects their adventurous spirit. ASocialNomad inspires readers to explore the world slowly and experience the diverse beauty of our planet.
12. Brit On The Move
Brit On The Move is a website run by Nikki Webster, a working professional who travels approximately 12 times a year to various locations. Nikki provides practical advice about seeing the world without breaking the bank by using a combination of strategies from collecting points to utilizing her timeshare.
Her website is not for those who prefer luxury travel or backpacking, but rather for those interested in traveling on a modest budget and scoring decent deals. Brit On The Move offers a hefty dose of British sarcasm and provides no-holds-barred reviews of Nikki's experiences.
13. The Vienna Blog
The Vienna Blog is a luxury travel and lifestyle blog founded by Gregor Sideris in 2010. Gregor is an Austrian travel writer and photographer who makes destinations shine through his informative, inspiring writing, and stunning photography. With a background in Digital & Social Marketing in a Global IT Company, Gregor gained experience in content writing, SEO, destination marketing, and web design before launching The Vienna Blog.
His blog has since evolved into a leading source of travel knowledge, featuring stunning destinations, tips, tricks, and insights into the best places to eat, drink, and shop. Gregor lives in Vienna and spends his free time biking, visiting museums, and organizing photo walks in Vienna. The Vienna Blog offers luxury travel and lifestyle inspiration, and Gregor enjoys connecting with readers to share his passion for travel and photography.
14. Wandering Welsh Girl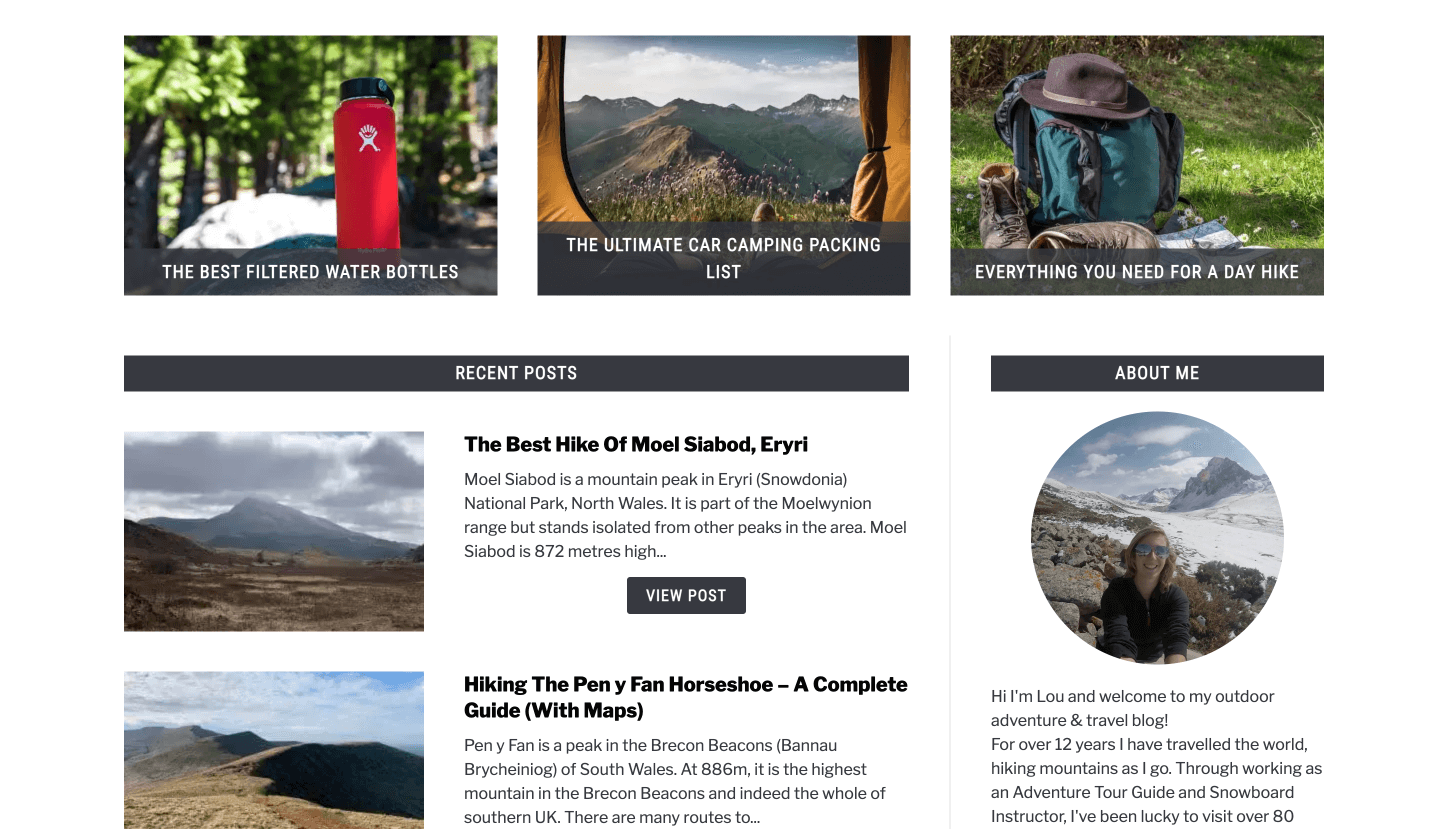 Wandering Welsh Girl is a website dedicated to providing the best information about adventure travel in off-the-beaten-path destinations. Through storytelling and photography, Louise, the founder of the website, aims to inspire her readers' next big adventure.
The website offers detailed travel itineraries, destination and hiking guides, as well as product reviews to help readers plan their trips. Louise is also a tour leader for an overland adventure company, running holidays to far-flung destinations.
Originally from Wales, she has been living a mostly nomadic lifestyle since 2009, spending her time snowboarding, hiking, and enjoying the outdoors. For the last five years, Louise has shared this lifestyle with her partner, Nick. Their campervan named Jeff is the closest thing they have to a house.
15. Virginia Travel Tips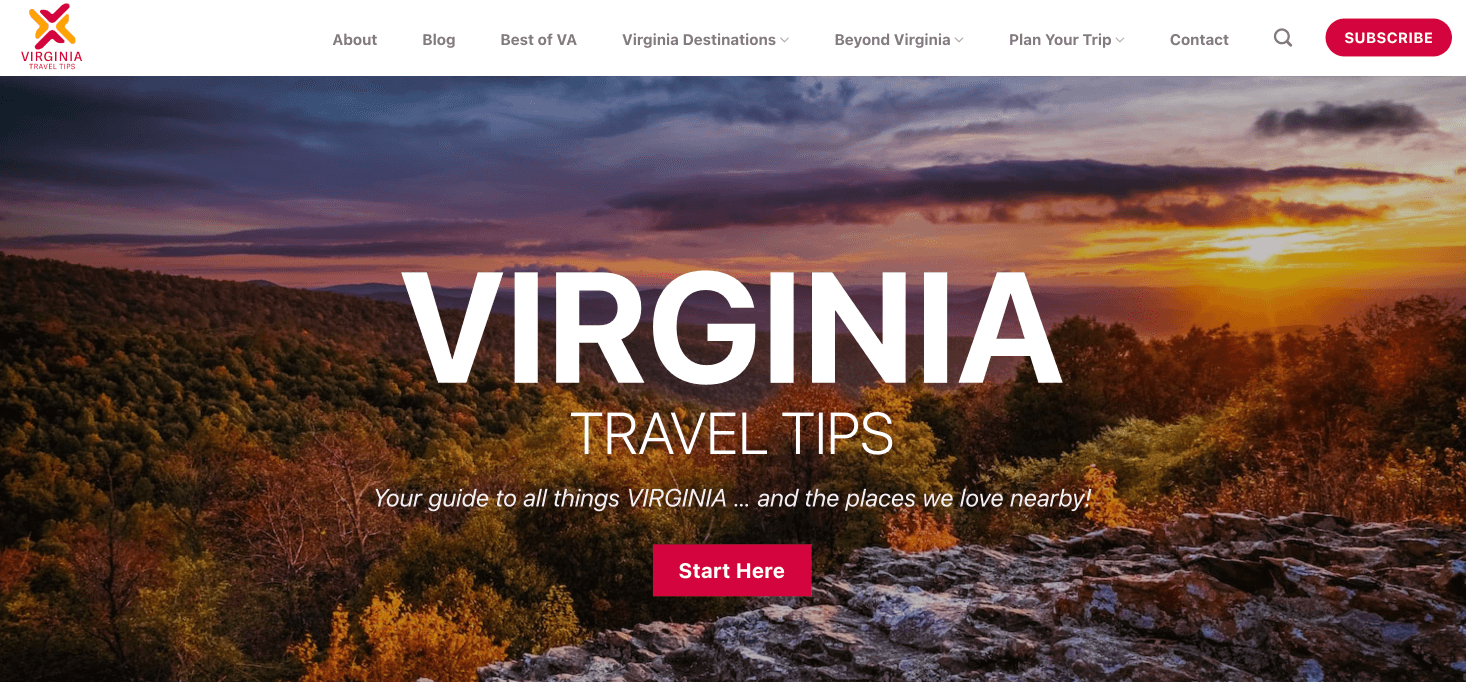 Megan Starr and Aram Vardanyan are travel bloggers from Virginia and Armenia, respectively. Together and separately, they have traveled all over the world and are passionate about promoting tourism in their home countries. They have an Armenia travel blog as well as a Virginia-based travel blog. Megan has learned a lot about her home state as an adult and loves discovering new things each time she visits.
For example, Virginia has an amazing craft beer scene, beautiful drives, and a rich history, among other things. Megan and Aram started Virginia Travel Tips in 2020. They decided to focus on promoting travel to Virginia during a time when many of their readers were unable to travel outside of the US. Their Virginia travel blog showcases the state's diversity and beauty, while providing readers with invaluable travel guides and inspiring them to explore this amazing destination.
Top 5 Travel Vloggers
Apart from the promotion of your blog, another way to earn money online is by becoming a vlogger on YouTube. If you love creating beautiful and attractive videos as well as helping your followers, you can start your own YouTube travel channel today by examining the work of these famous travel vloggers:
If you love watching video content more than reading, these are great travel vlogs to follow on YouTube. You can also create your own channel and earn through Travelpayouts. Read our article to learn more about travel vlogging. For example, successful and popular vloggers not only have a presence on YouTube, but have other social accounts on Facebook, Snapchat, Instagram, Telegram, and other platforms.
Learn how to create a winning affiliate marketing strategy for YouTube, Instagram, and TikTok in our special free guide.
How To Become A Popular Travel Blogger
Here are some common keys to success for travel blogs and their owners:
Enthusiasm for what they do (make sure to choose a topic you feel passionate about!)
Promising niche with high earning potential
A well-thought-out content marketing strategy and goals
Different types of creative and informative content
A constant flow of new content
Regular content audits and continuous updates
An interesting and beautiful design
Blog promotion on different platforms, such as social media networks and email subscription lists
Different types of earning methods, such as affiliate marketing, selling their own products, blogging consultancy, and so on
To put it simply, you have to work, work, and work. However, we are here to make your work easier and more profitable. Join the Travelpayouts partnership platform if you haven't already done so and monetize your project. Don't have your own online platform yet? Learn how to create a blog from scratch in this step-by-step guide. If you're wondering what it is gonna be like to create your own blog, here are 17 things to know before you start travel blogging.
To learn how to do it right and receive some actionable tips on working with the platform, take free courses from Travelpayouts Academy.