1. Highlight the Advantages of Booking Tours and Activities Online
While booking online has become increasingly popular every year (for example, according to this report from Skift) , many travelers still have objections with this practice. As a result, it is important for you to highlight as many of the advantages of online bookings as possible, including:
best prices
native language websites
opportunity to choose the best option
the convenience of having everything on your phone
special communication and deals
cancellations and refunds are easy to solve
real reviews of a product
saving time
personal recommendations
2. Create Content Based on Your Experience
Great value comes from authenticity. So, try out tours and activities and share your own insights and travel expertise. The way you describe the experience will drive the highest number of conversions, as you are building authority and trust for the products you present to your audience.
GetYourGuide offers partners vouchers for activities, so you can try them for free.
3. Create Content Based on Users Booking Behavior
There are tons of tours on the market, so choosing the right one can be overwhelming. Arival found which factors play the most important role in the decision-making process. Create content about tours based on this information. For example, given that convenience is a popular reason for choosing a specific tour, make content about specific tour schedules (e.g., Relax After Work: Short Evening Tours in Paris).
Compare Different Tours
Give users an opportunity to choose the right tour for them. Use top 10 lists and comparison tables.
4. Embed Partner Tools in the Right Places
Add affiliate tools to places where users are most ready to buy tours and activities. For example, users most likely click on a link or widget after a detailed description of a tour.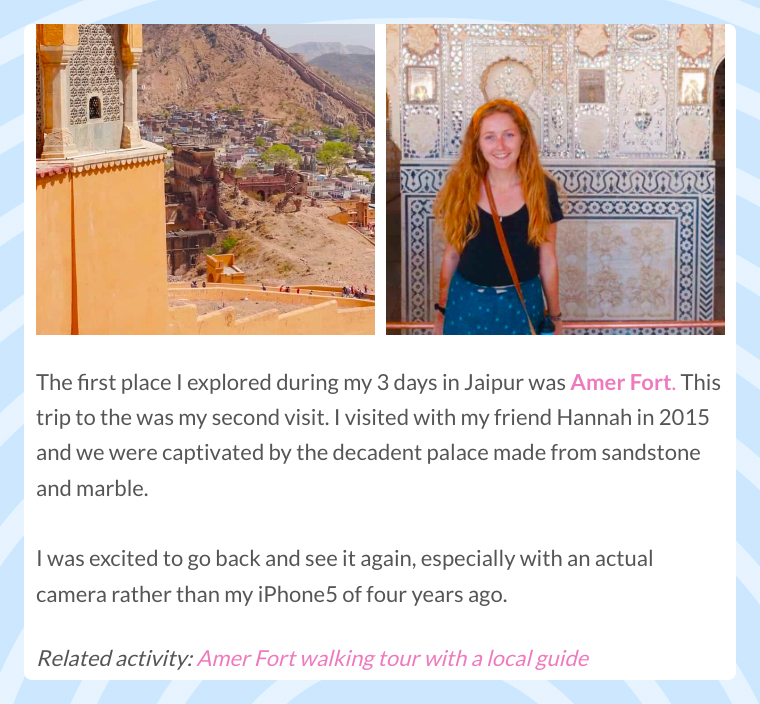 Briefly explain what users will get if they click on a link or widget: the best price, a wide selection of offerings, and so on.
5. Mix Links, Widgets, and Banners
There's no need to choose only the best available tool. Instead, the secret to success can be found in a good mix. Put links and several widgets in the text, and add a banner in the sidebar to make your page even more appealing.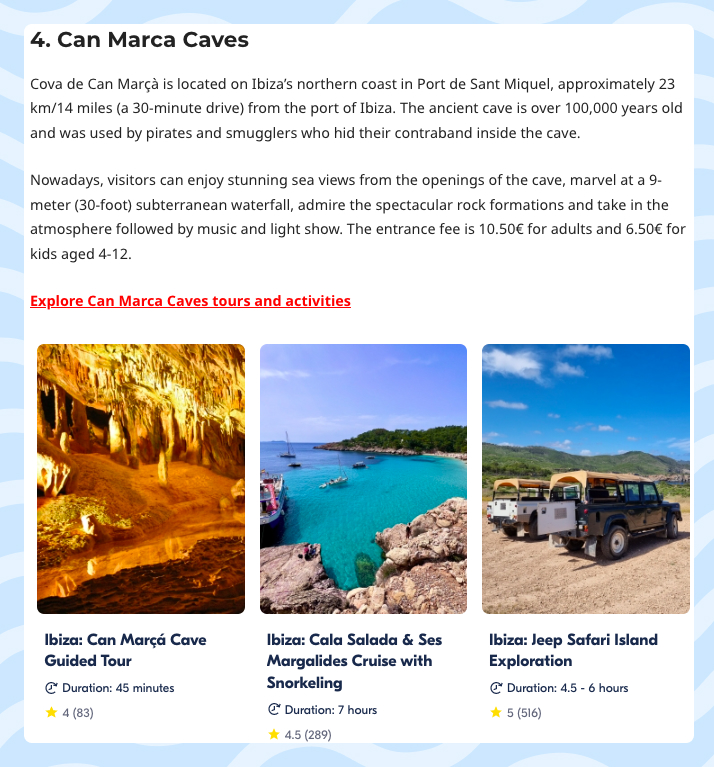 Keep in mind that not everyone knows what a widget is. Briefly explain how to use a widget if it is not obvious.
6. Select Tours With the Best Conversion Potential
Choose tours focusing on their relevance to your content. Play around with the GetYourGuide platform to explore different categories that will appeal to your audience.
Search for the destination on Getyourguide.com. GetYourGuide ranks activities based on popularity (best-selling and top-rated tours).
Prioritize new activities or tours with high ratings and a large number of reviews.
7. Use Tricks to Grab Your Readers' Attention
Try to add affiliate links as buttons. Sometimes, buttons perform better than highlighted links. Make the button's CTA clear, for example "Book Now".
Include persuasive points, such as "skip the line", "last-minute availability", "best-sellers", and "top picks".
If you integrate affiliate links into your text, highlight them in a bright color. You may think that this looks obtrusive or outdated, but users find it very helpful.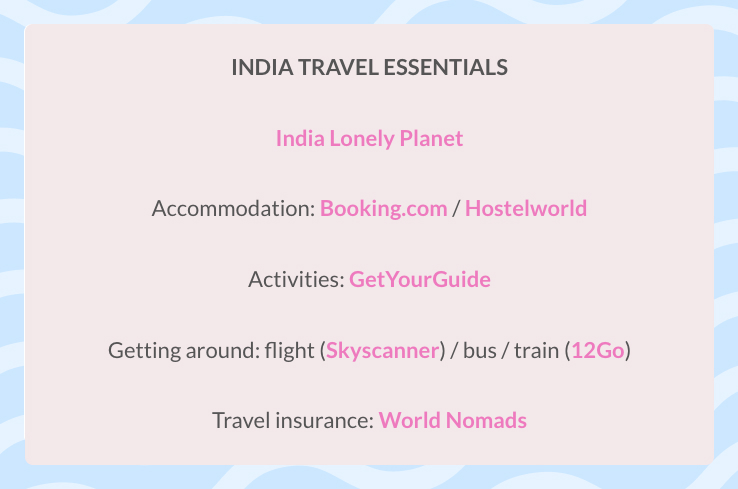 8. Create GetYourGuide Brand Awareness
Your audience may not be familiar with GetYourGuide yet. Tell your readers why they should trust GetYourGuide. A personal introduction is key for higher conversions!