How Should Travel Bloggers Approach AI Content Writing Tools?
Before we dive into the comparison between ChatGPT and Jasper AI, consider this your friendly reminder that while you can (and should) use AI tools to speed up the writing process — you should never rely on them entirely for content creation.
Since 2022, Google is no longer against automatically generated content, including AI writing. However, the company states it is still against spammy automatically-generated content created without regard for user experience. So, while you can technically utilize AI content without being penalized by Google, you will need to do more than copy the generated content from ChatGPT or Jasper into WordPress, click "publish," and call it good.
When utilizing AI content writing tools, you must research, fact-check, edit, and add your own personal "touch" and human voice to your content. Ask yourself: "Does this article demonstrate my first-hand experience, match my tone, help the reader learn all the details about the topic, and allow them to leave feeling like they have had a satisfying experience?" Chances are, if it comes directly from an AI writing tool — it won't. That said, you will need to do some additional editing to each AI-generated article to stay on the "good side" of Google — and your readers!
In this post, Brittany from Travel by Brit will share her first-hand experience using ChatGPT and Jasper AI to write a blog post and related content about "Savannah vs. Charleston: Which Southern City Is Better for Your Vacation?" Below, you will find screenshots of each platform to help determine the quality, value, and benefits of each AI tool for your travel blog or business.
What Is ChatGPT?
ChatGPT is an AI chat tool that OpenAI launched in November 2022. It takes a conversation and breaks down each sentence to analyze it for context. Then, it generates a response (up to 500 words) based on its understanding of the topic. It has been used to create content outlines, essays, song lyrics, computer code, recipes, and other types of content.
Because of its "chatbox" format, ChatGPT can have a conversation. It can answer follow-up questions, admit mistakes, and reference earlier comments in the discussion.
ChatGPT writes in a natural, conversational tone with full sentences and complete thoughts, but it is not factually reliable. This AI tool browses its own database for information instead of broader sources, like the internet, so to receive accurate information from ChatGPT, you will need to input your preliminary research on the front end or edit the content for accuracy after the content has been generated.
How Can Travel Bloggers Use ChatGPT?
There are plenty of ways you can utilize ChatGPT to generate content for your travel blog — the limit is only your imagination. However, to get the ideas flowing, here are a few specific ways you can utilize ChatGPT for your website, social media, and other content platforms:
Blog Outlines
ChatGPT can be used to design article outlines for your travel blog. For example, you can see an outline below that ChatGPT created for my blog post: Savannah vs. Charleston: Which Is Better to Visit," with limited information.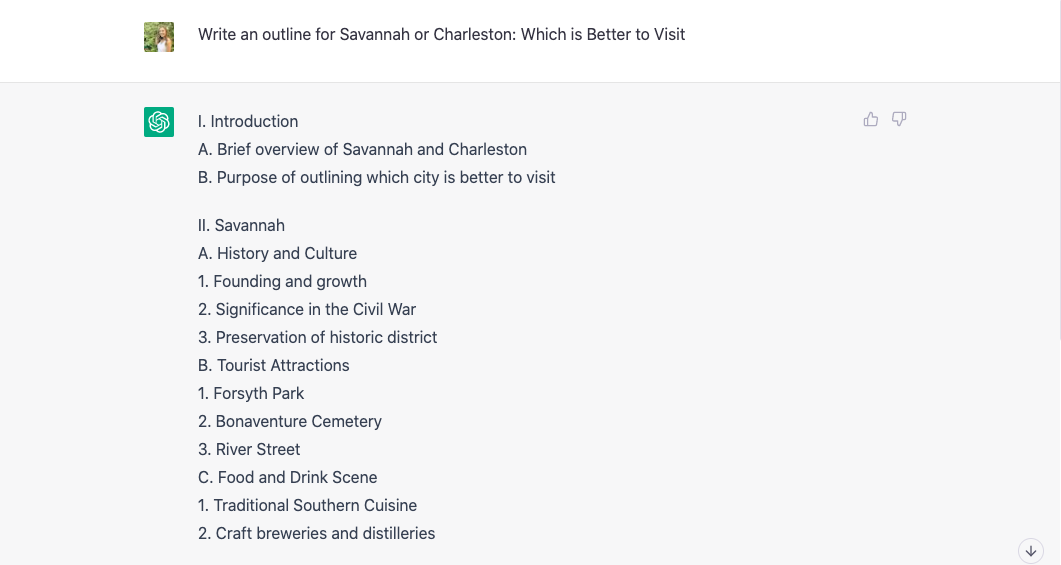 While I liked that ChatGPT included some subpoints below each major heading for me to include (i.e., Charleston Battery, Rainbow Row, and Fort Sumter National Monument), I thought the outline itself was short and missed some key points, like transportation options, hotels, weather, shopping, cost comparisons, etc. In my final post, you'll see that I deviated from this outline significantly.
Blog Writing
Once you've created an outline, you can use ChatGPT to write your blog post. For example, look at this paragraph created by ChatGPT about the food and restaurant scene in Savannah when prompted with a few restaurant recommendations.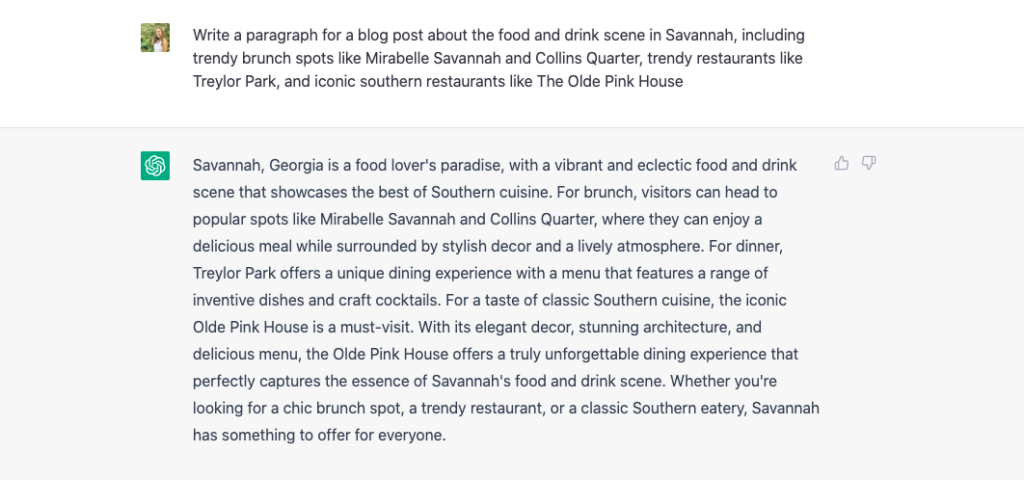 Overall, this paragraph was pretty well-written, and I felt I would only need to make a few changes before adding it to my post. I also would add more specific information, like if you need to make a reservation, what the most popular (or best) dishes are, helpful tips for visiting, etc.
Check out the free guide from Travelpayouts' experts to find 10 of the best practices for making the most of AI technology in your travel blogging business.
Boost Your Travel Affiliate Marketing Earnings with AI
Learn how to use AI writers to create money-making travel content in a variety of formats.
Get the Free Guide
Social Media Captions
If you're looking for some help with your captions on Instagram, Facebook, or TikTok, you can turn to ChatGPT for inspiration. For example, here's a caption this platform generated about the best brunch spots in Charleston.
Overall, I liked that ChatGPT included fun, relevant emojis in the caption, and I felt the caption was reasonably accurate. I was not thrilled about the random hashtag placement — this is something I would probably change — and I would modify the formatting and incorporate my personal experience into the caption, such as a must-try item at each restaurant.
Comment Response
If you're anything like most travel bloggers — me included — you allow blog comments to pile up for weeks (or months) without responding to them. However, ChatGPT makes responding to blog comments (or comments or DMs on social media) much easier — just look at this relevant comment response for my blog generated by ChatGPT.
I took this response, modified it slightly, and copied and pasted it as a response to this comment on my blog. ChatGPT makes keeping up with comments, DMs, etc., much more manageable.
What Is Jasper AI?
Jasper AI is an automated content generator that creates content using templates, including blog content, social media content, emails, and more. Jasper AI claims to work five times faster than the average human copywriter and creates 100% original (0% plagiarism detection) and SEO-friendly content.
Jasper AI is ideal for social media managers, copywriters, content publishers, marketers, and professionals in other related fields who want to speed up the writing process. It was founded in January 2020, so the platform has been perfected over the past few years for optimal performance and efficiency.
Watch a masterclass from Nina Clapperton on how to incorporate Jasper into your travel blogging process.
How Can Travel Bloggers Use Jasper AI?
Jasper AI includes 50+ templates — from Instagram Captions and Pinterest Descriptions to Documents and Blog Post Topic Ideas — making creating curated content for different platforms more accessible. In Boss Mode, each template is listed in alphabetical order, so finding the correct template is a quick process.
With so many templates to choose from, there is no shortage of ways to use Jasper AI to generate content. However, the following feature and functions are especially useful for travel bloggers and content creators.
Blog Outlines
Jasper is excellent at creating outlines for blog posts, especially if you aren't sure where to start. For example, look at the screenshot below for a glimpse at the outline Jasper AI created for my blog post: "Savannah vs. Charleston: Which Is Best to Visit?"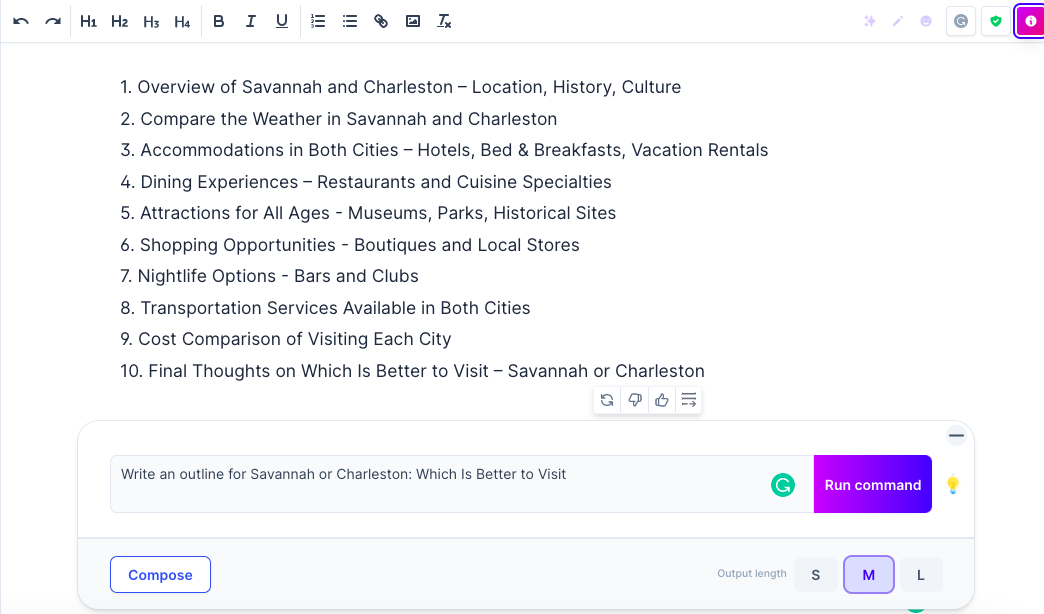 The outline was comprehensive, especially compared to keyword competitors. Overall, it was more detailed than the previous outline created by ChatGPT. In my final post, you'll see that I used most of this outline from Jasper AI with only slight modifications.
Blog Writing
Jasper AI makes it easy to write blog content — simply place your cursor in the document (or outline) where you would like the text to appear, type a command between 1–50 words (Jasper AI has a word limit of 50 words per command), choose whether you want a short, medium, or long output, and then click the "Run Command" button to generate an output.
After Jasper AI has generated the content, you can review the text and make edits for clarity, consistency, and grammar. Once the copy is edited, you can copy and paste the output into your content management system and add photos, widgets, and affiliate links for hotels, tours, and activities to your blog post before publishing it.
Instagram Captions
Jasper AI, like ChatGPT, can be used to create social media captions. However, unlike ChatGPT, Jasper AI has a "Photo Post Captions" template to generate captions with Instagram in mind. It also can generate multiple captions for you to choose from.
In the photo below, you will see three captions Jasper AI created with the prompt, "Write an Instagram caption about how Miller's All Day, Poogan's Porch, and The Obstinate Daughter are the best places for brunch in Charleston."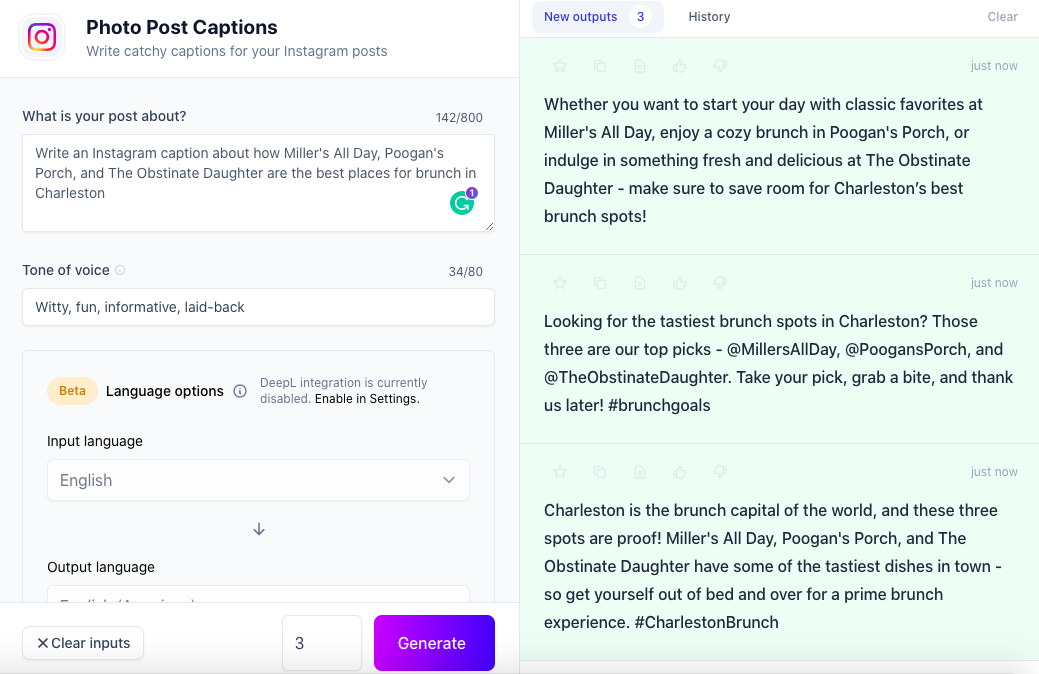 It's nice that Jasper AI comes up with multiple captions instead of just one, allowing you to choose the best one or mix and match the outputs to create a custom caption. I also appreciate how the hashtags are at the end and not randomly inserted into the caption. However, Jasper AI doesn't include emojis in the captions like ChatGPT — but you could always add emojis on your own.
Pinterest Headers & Captions
When you use ChatGPT, you have to specify the exact type of content you want the tool to generate (a paragraph for a blog post, social media caption, etc.), which can complicate the creation of more intricate types of content that aren't "paragraph" driven, like headings.
However, with Jasper AI, you can use a template to create headers and captions for Pinterest — which is every travel blogger's dream! Simply add information about the pin, keywords, company name, tone of voice, and the number of headings and captions you would like to be generated. Jasper AI will then provide you with captions and titles to use on Pinterest.
To promote my blog post about Savannah vs. Charleston, I used one of the outputs given to me by Jasper AI (with slight modifications) to create a Pinterest Pin.
Email Subject Lines
Need some help thinking of catchy subject lines for your email newsletter? If so, you can use Jasper AI to generate subject lines for your emails. These are some of the subject lines Jasper AI created for me to promote my blog post, "Charleston or Savannah: Which Is Better?"
The Great Charleston vs. Savannah Showdown
It's the Great Debate: Savannah vs. Charleston
If you can't decide between Savannah or Charleston…
A Tale of Two Cities: Savannah vs. Charleston
Charleston vs. Savannah – Which Is Better for Vacation?
Overall, these subject lines were pretty good, and I plan to use one as the headline for my email newsletter to promote this blog post.
FAQ Generator
Most bloggers include an "FAQ" at the end of their blog posts in an attempt to rank for a featured snippet. However, if you want to eliminate this task from your to-do list, you can generate FAQ questions to answer with Jasper AI.
Some of the FAQ questions Jasper AI generated for my post included:
What is the difference between Savannah and Charleston?
What are the best things to do in Savannah?
What are some of the best things to do in Charleston?
So, which city is better for vacation – Savannah or Charleston?
Overall, I wasn't super impressed with these FAQ questions, and I didn't end up using any of them in my blog post. However, this FAQ feature is still in beta, so the quality of the FAQs may improve with time.
Top Differences Between ChatGPT and Jasper AI
Now that you have a better understanding of how ChatGPT and Jasper AI work and what you can use them for, let's dive into the significant differences between each platform, so you can decide whether ChatGPT or Jasper AI is better for your content creation needs.
Cost
Since ChatGPT is free, you may ask: "How much does Jasper AI cost?" and, more importantly, "Is Jasper AI worth it?" Well, let's break it down.
Jasper has two pricing plans: Boss Mode and Business.
Boss Mode is designed to help individuals and small teams create full-length content, starting at $49 per month for 50,000 words annually and $59 per month for 50,000 words when billed monthly. For 100,000 words per month, Jasper costs between $82–$99 per month, $232–$272 per month for 300,000 words, and $500–$600 per month for 700,000 words.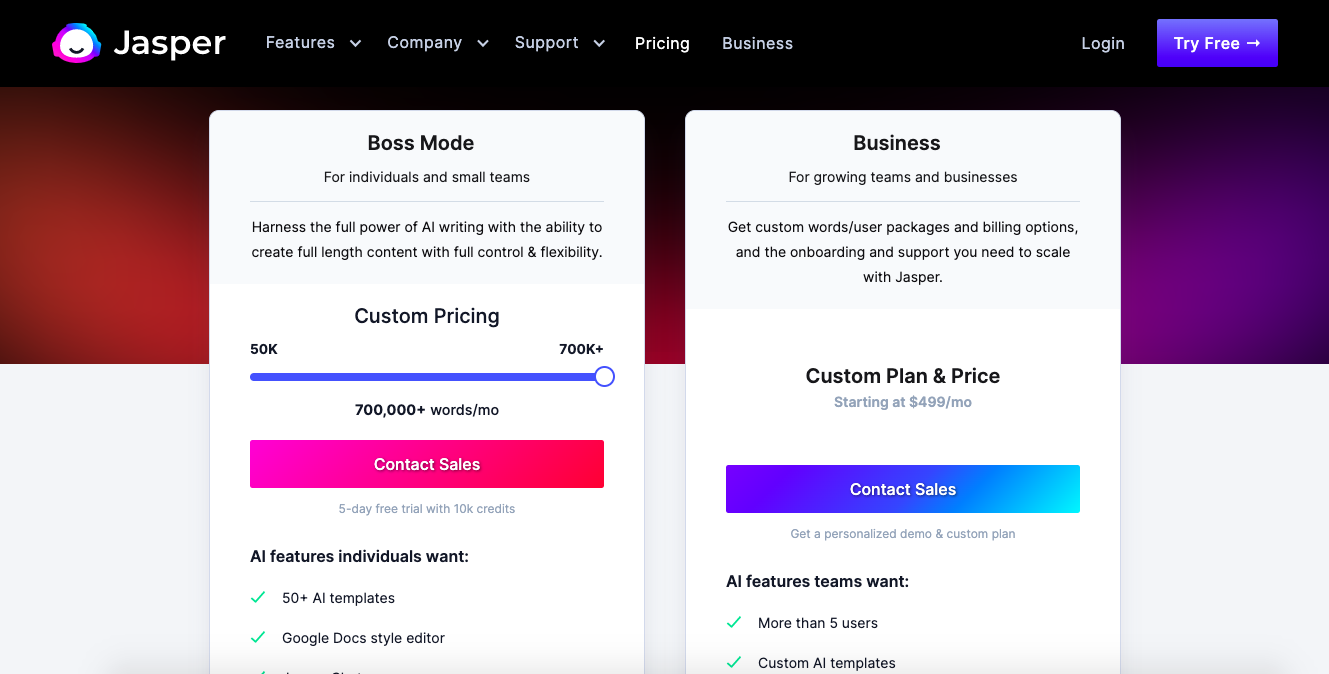 Jasper AI offers several features in its Boss Mode, including:
50+ Templates
29+ Languages
Chrome Extension
Commands
Jasper Chat
SEO Mode
Plagiarism Checker
… & More!
Business is designed for growing teams and businesses (with more than five users), and the cost varies for each custom plan depending on your unique needs. If you're interested — contact the sales team for more information.
It is worth noting that while ChatGPT is free to use, the company recently released a "ChatGPT Plus" plan for $20 a month that is available even when demand is high, offers a faster response speed, and gives users access to brand-new features.
Reliability
ChatGPT may be free, but it's not always reliable. In terms of reliability, Jasper AI is a much better option.
ChatGPT is often glitchy — and that's just when you can even access the platform. Since this AI tool is brand-new and in high demand, the platform is often "at capacity," so even if you have an account with ChatGPT, you may not be able to use it to create the content you need when you need it. We can assume ChatGPT will become more reliable as time passes, but as of now, you can't always count on this tool to be around when you need it.
On the other hand, you may pay at least $50 per month for Jasper's Boss Mode, but you'll know it's always there for you when you need it. That, in itself, is worth the extra expense!
Features
ChatGPT and Jasper AI both offer unique features and tools. Chances are, you will prefer one platform over the other depending on the type of content you want to create. ChatGPT can be used for the following purposes:
Question & answers
Grammar correction
Commenting
Language translation
Classification
Programming language translation
Turning a product description into ad copy
Product name generation
Essay outline creation
… & more
In short, ChatGPT is ideal for creating brief portions of copy (below 500 words) that serve broad, general purposes, like outlines or captions. It can also answer questions or translate phrases into another language. However, writing content intended explicitly for specific platforms, like Pinterest or YouTube, is more challenging for ChatGPT.
Jasper AI, unlike ChatGPT, has 50+ templates you can choose from to create content specifically for different platforms and mediums, such as:
Instagram captions
Pinterest pin titles and descriptions
YouTube video description titles, descriptions, and outlines
TikTok video captions
Email subject lines
Blog outlines, topic ideas, and long-form content
SEO-optimized homepages, service pages, and product pages
… & more
Because of this, Jasper AI's content is more targeted and specific than ChatGPT. However, it does require some extra time to find a suitable template, enter the information requested, such as the keywords, and filter through the multiple responses to find the right one.
Results History
Both ChatGPT and Jasper AI save their history of outputs. However, one of the main advantages of ChatGPT is that while Jasper AI only saves the result of the conversation, ChatGPT saves the entire discussion (inputs and outputs). ChatGPT also references prior statements and questions during the conversation, just like a person would.
However, Jasper AI recently launched a "Chat Mode," which works similarly (if not identically) to ChatGPT. It is currently in beta testing, but as it's perfected, it will likely rival one of ChatGPT's most significant advantages. It saves the history of your conversation, just like ChatGPT, but it can also be used side-by-side when creating a document, like a blog post.
After using Jasper AI to create an outline for my blog post, I asked "Chat Mode" questions about the outline to collect more information on the topic, such as "what are the best historical landmarks in Charleston?" For an example, look at the photo below:
After using "Chat Mode," I entered some of the information it generated that was relevant to my own experience in Charleston, like the USS Yorktown at Patiot's Point and Fort Sumter National Monument, as a command under an appropriate heading to create the following paragraph: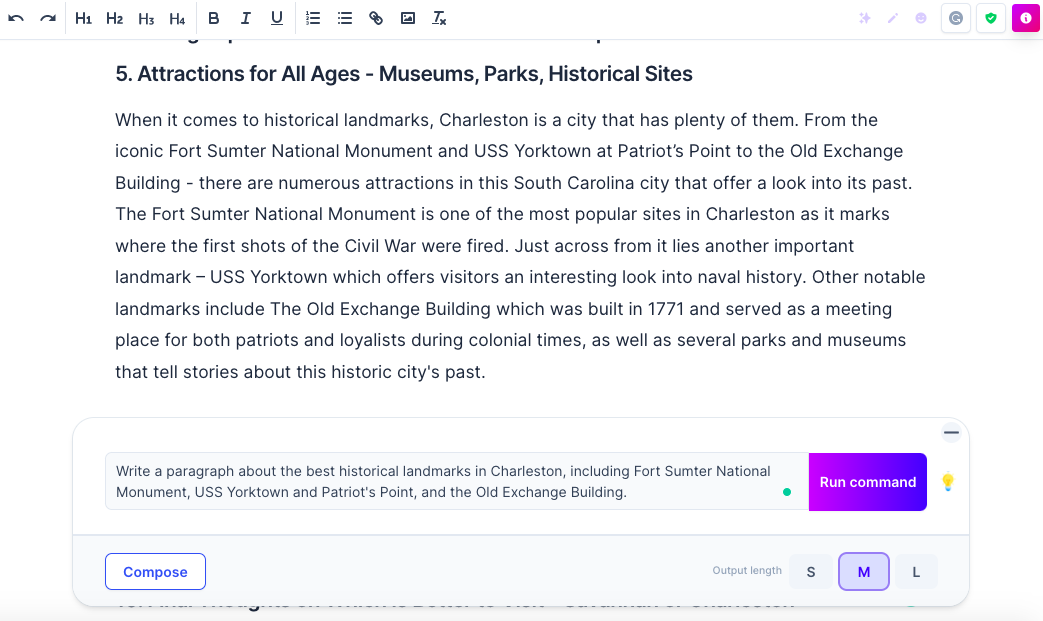 Now, while this paragraph could use some work, it serves as a great "skeleton" for me to enhance with my personal research and experience.
User Experience
When it comes to ranking the user experience between ChatGPT and Jasper AI — overall, Jasper wins. However, ChatGPT may offer a better user experience for someone brand-new to AI. It only provides one chatbox (no screens, buttons, or template to filter through), so it's pretty straightforward. You type in the prompt, press the button, and generate a response.
That said, to get a targeted response from ChatGPT, you have to be specific about what you are asking it to write (for example, saying, "write an Instagram caption about …" or "write a paragraph for a blog post about …"). With Jasper's templates, you never have to specify what platform you need something written for (a blog, caption, etc.) — just what you need it to say.
Plus, ChatGPT can be glitchy. Sometimes, you'll finish a prompt and get ready to press the "send" button, and the program will boot you out and require you to refresh the page and re-type the prompt, which can be frustrating. In my experience, Jasper AI has never been glitchy. It has always been fast and easy to use.

However, a benefit to ChatGPT over Jasper AI is that there is no limit to the length of the commands. Jasper AI limits commands to 50 words, so you have to find a brief, precise way to command Jasper to write the requested content.
Integration
Jasper AI is further ahead of the game regarding integrations. While ChatGPT doesn't offer any integrations, Jasper AI integrates with Surfer SEO — a powerful SEO tool that helps your content rank for relevant keywords.
This feature ensures Jasper AI produces SEO-optimized content, so you don't have to do the optimization later. However, for this capability, you have a paid account with Surfer SEO (pricing ranges from $49–$199 per month).
Jasper AI is also integrated with Grammarly to help improve your grammar, spelling, formatting, and sentence structure. At this time, the integration with Grammarly is free for all users of Jasper AI, and it comes as an included feature when you purchase your account.
Quality of Responses
ChatGPT and Jasper AI both provide high-quality responses. However, in my experience, Jasper AI offers better responses — and here is why:
When using ChatGPT, it's important to be specific about what you're looking for in a response. ChatGPT tends to provide either vague or overly long answers with lots of "filler" content. From my experience, ChatGPT goes off-topic more often, whereas Jasper AI tends to provide short and to-the-point responses. However, if you would rather have the extra "fluff" to work through, ChatGPT may be a better option.
Conclusion
If you are still torn about whether you use ChatGPT or Jasper AI to help with outline creation, blog writing, social media captions, and other helpful tasks for your blog, we encourage you to try out both platforms for yourself to see which one works best for you.
However, one thing is for sure — embracing AI software as a tool to help your blog grow will only help to make you a better writer, so if it's something you've been putting off or afraid of trying — consider this your gentle reminder to give one of these platforms a try. Who knows? It may change your perspective on artificial intelligence!
If you want to generate income on your articles for your travel blog generated by AI, consider adding affiliate links for flights, hotels, tours, activities, and other travel-related costs into your content. If you'd like to join our Travelpayouts Partnership Platform for access to 100+ affiliate programs across the travel industry, we'd love to have you join us.