Top 5 AI Content Generators
If you ever tried content generators in the past and were disappointed with the result, then you'll definitely be impressed with what they have to offer now. These tools have come a long way and today create high-quality content that is both unique and engaging.
Here are the most popular AI content generators:
| | |
| --- | --- |
| AI Content Generator | Price |
| Jasper | Starting at $49/month for 50,000 words in Boss Mode |
| Copy.AI | Free for 2,000 words or $49/month for unlimited words |
| Writesonic | Starting at $12.67 for either 19,000 Premium words, 47,500 Good quality words, 95,000 Average quality words, or 190,000 Economy quality words. |
| Kafkai | Starting at $29/month for 100 articles. |
| Article Forge | Starting at $13/month for 25,000 words |
There is no single leader in this niche since each tool has its own features and is developed in its own way, so we'll dive deep into each.
Jasper (Jarvis)
Jasper is one of the most talked about AI content generators in the blogging communities.
With 52 article templates, you can create high-quality texts on a variety of topics. You "communicate" with the tool as you would with a person, so if you request Jasper to "write about Chicago boat tours", you will get this text:
To fully use the tool, you'll need both paid access and access to Boss Mode. Once you're in, you will be able to create an extensive amount of well-developed, structured content.
Jasper can create not only blog posts but also texts for social media and other platforms. Moreover, you can work with Jasper on any site if you install the Chrome extension.
With the browser extension, you can partially create content directly on your travel blog, which saves even more time.
---
I love Jasper.ai. It is paid, but it has so much additional functionality. I love being able to adjust tone, use templates for different forms of content (like social media), and using the Boss Mode for the most coherent writing I've found.
I've tried basically every tool on the market at this point, and Jasper.ai is the best one I've found for producing quality content that I can adjust. This also makes it epic for travel content, since the ability to give specific commands and feed it info, means you can use it for affiliate content and for lesser-known locations.
Watch a masterclass from Nina Clapperton on how to incorporate Jasper into your travel blogging process.
---
CopyAI
CopyAI is currently one of the most popular content generation tools with over 4 million users. The tool allows you to create various types of content in its "dialogue" mode, including content suitable for blogs.
For example, by requesting content on the topic of "Chicago boat tours", you can get something like this: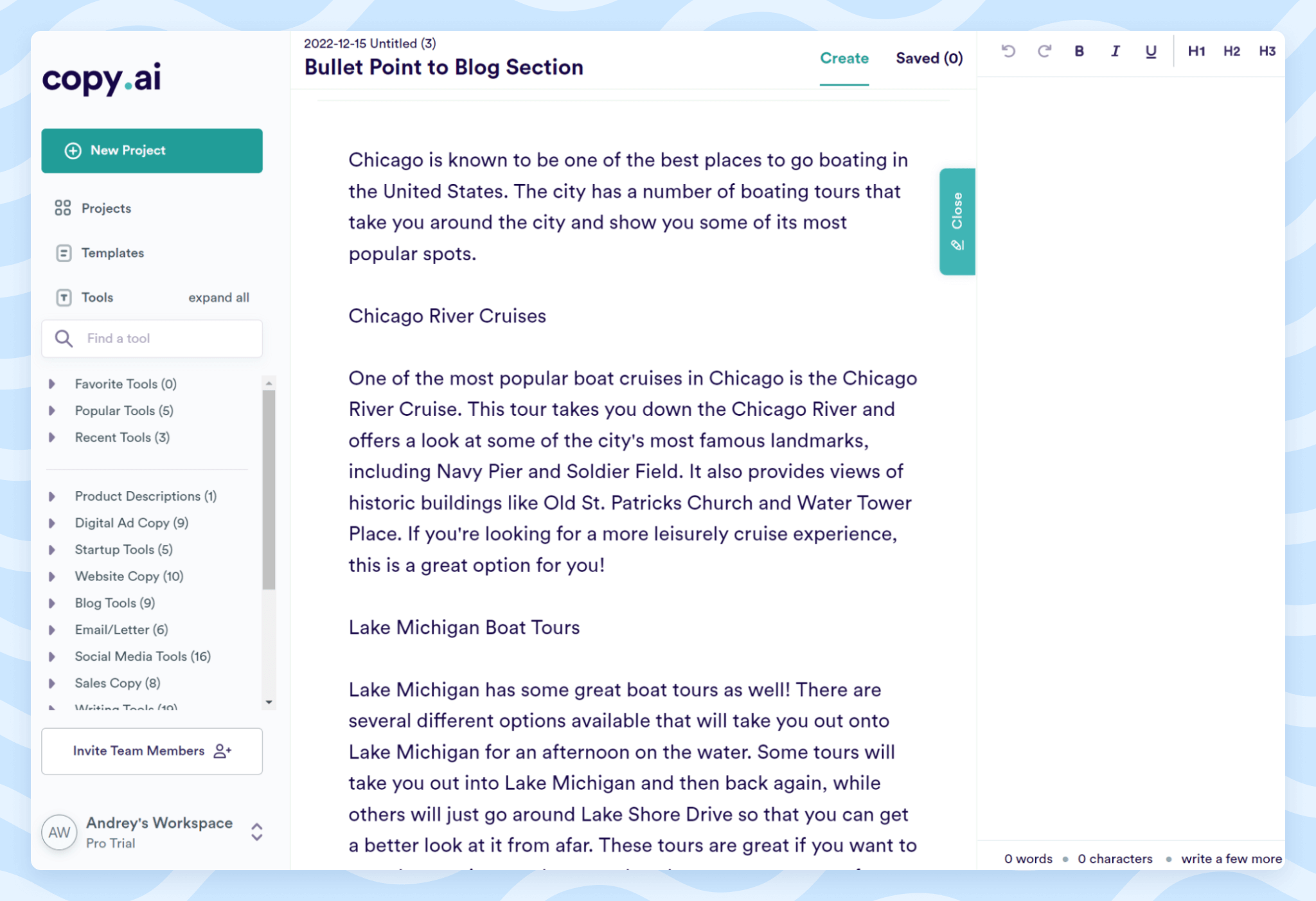 Just like Jasper, there are dozens of templates available that will allow you to create a better post on a given topic: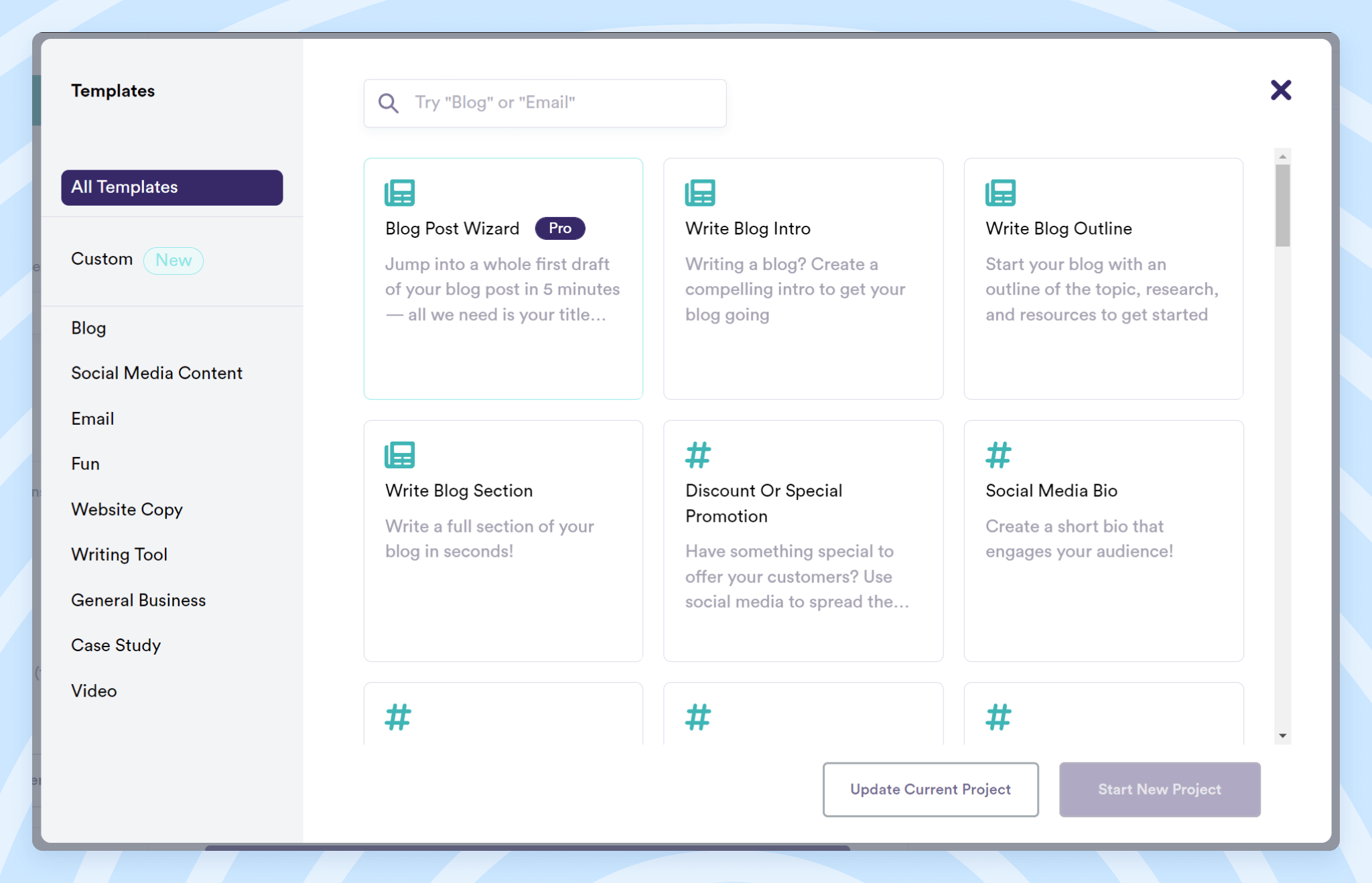 ---
Copy.ai is cheap, and it has tons of templates for short-form copy. If you do any copy or content writing and want to dip your toes into the AI market without breaking the bank, Copy.ai is one of the best options.
However, AI writing tools are not yet as advanced as we'd like them to be. Tools like Jasper or Copy AI can replace a writer. But Copy AI can still be useful for bloggers, for example, if you want to overcome writer's block.
---
Writesonic
Writesonic is a product that constantly evolving. Its AI Article Writer 3.0 can help you create high-quality articles in four steps: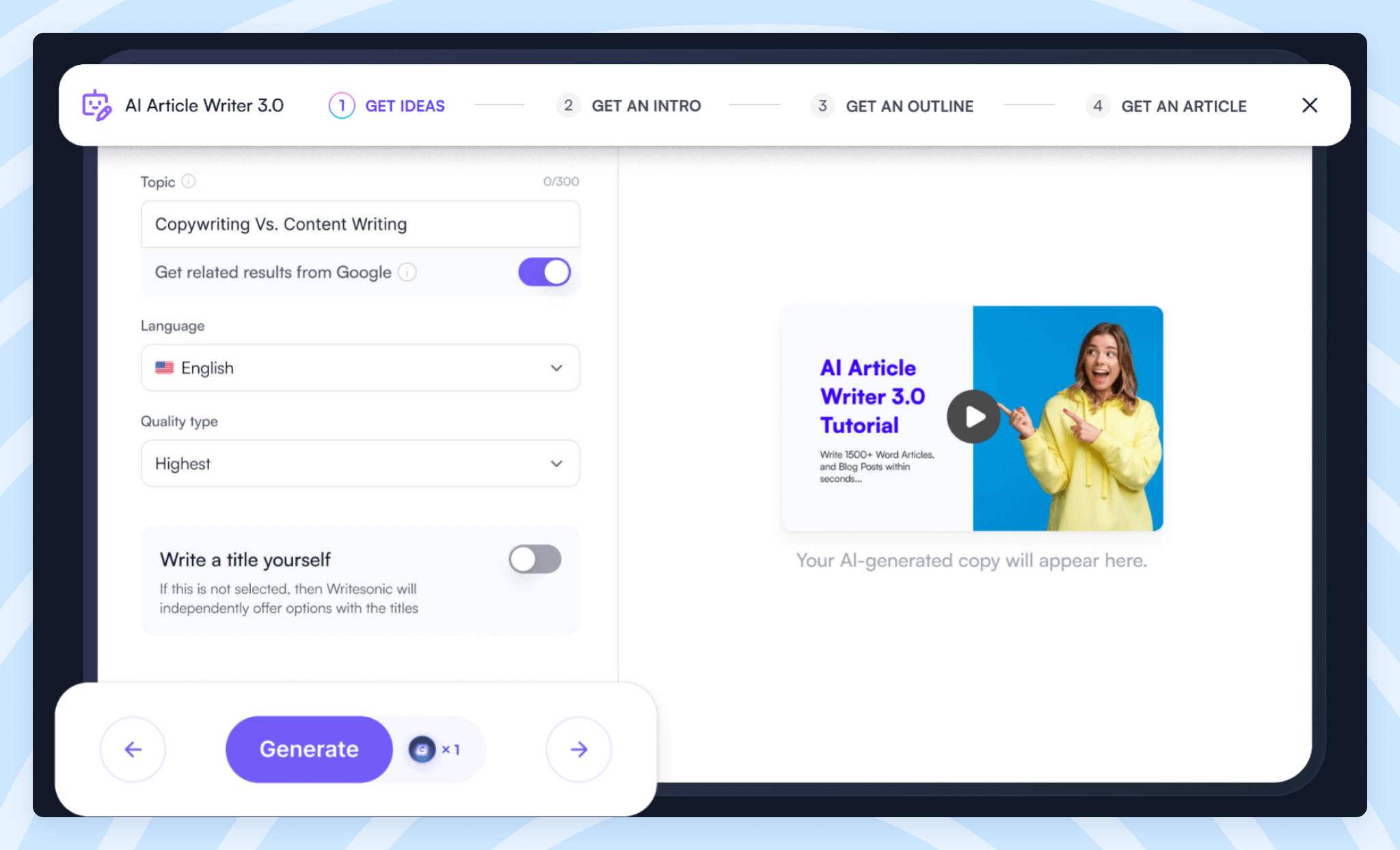 In addition to writing articles, the tool can help you come up with ideas for posts and create content for social media and other platforms. The tool supports 23 languages in addition to English.
Blogs are not the only thing users recommend Writesonic for — they also find it helpful when creating social media content. Writesonic can generate anything from a single paragraph to a full article.
However, the product hasn't earned a full 5-star rating, since users still need to manually edit and proofread the generated text. For example, Writesonic user Coins states that they can rely on the tool to complete 80% of their work.
---
Kafkai
Kafkai is an AI content-generation tool that has been around for a while. Today, it can create text for 38 different markets, including travel. In addition to English, the tool supports German, French, and other languages.
If your travel blog is powered by WordPress, then you will definitely benefit from the Kafkai plugin. With it, you can create part of your AI content directly in the admin panel of your site.
All Kafkai needs to generate a text is for you to choose a topic and write an introductory paragraph (up to 250 characters). Here's an example: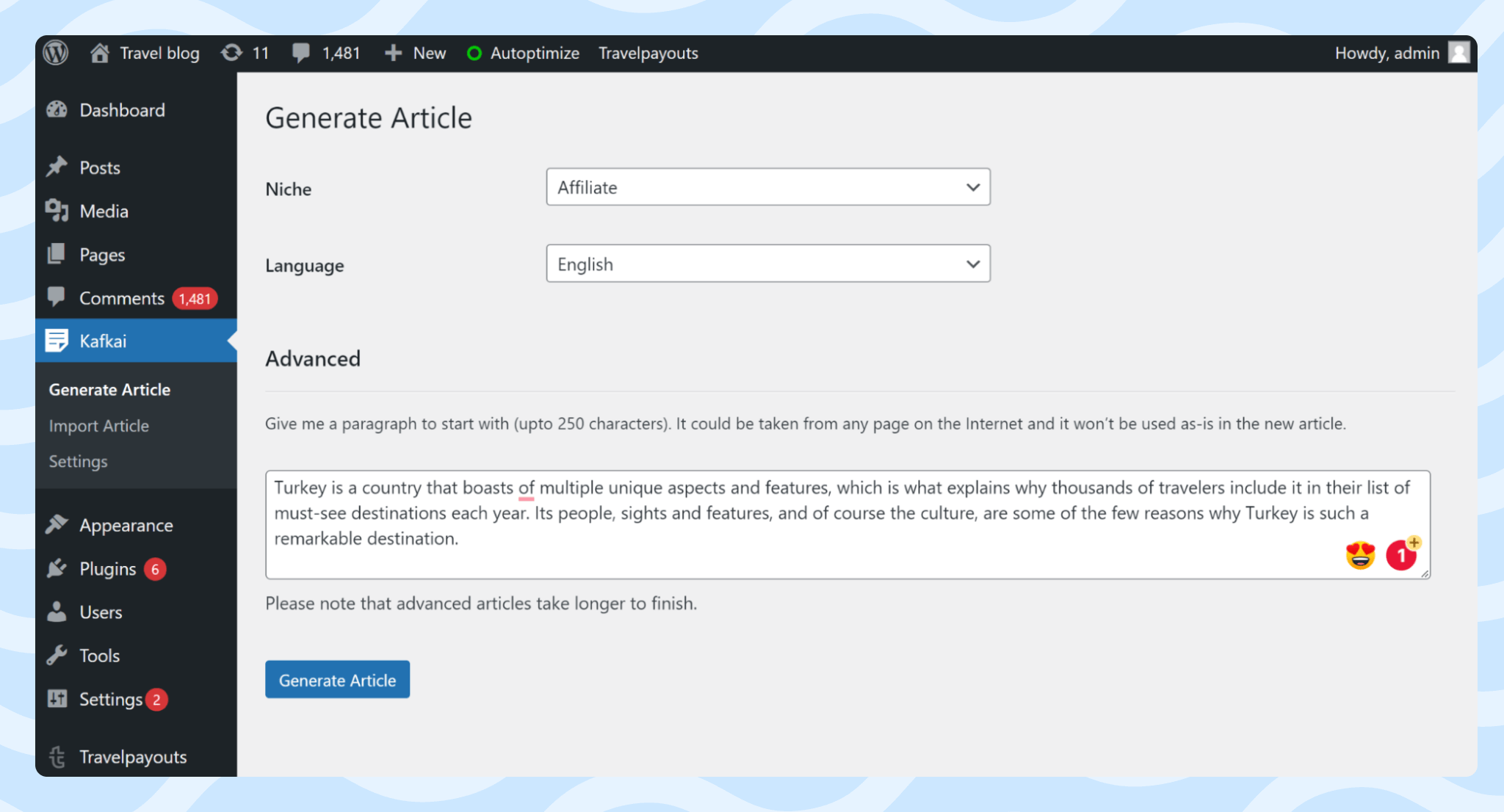 If you have a non-WordPress blog or just need some text, you can generate it in an online dashboard. Here's what that can look like: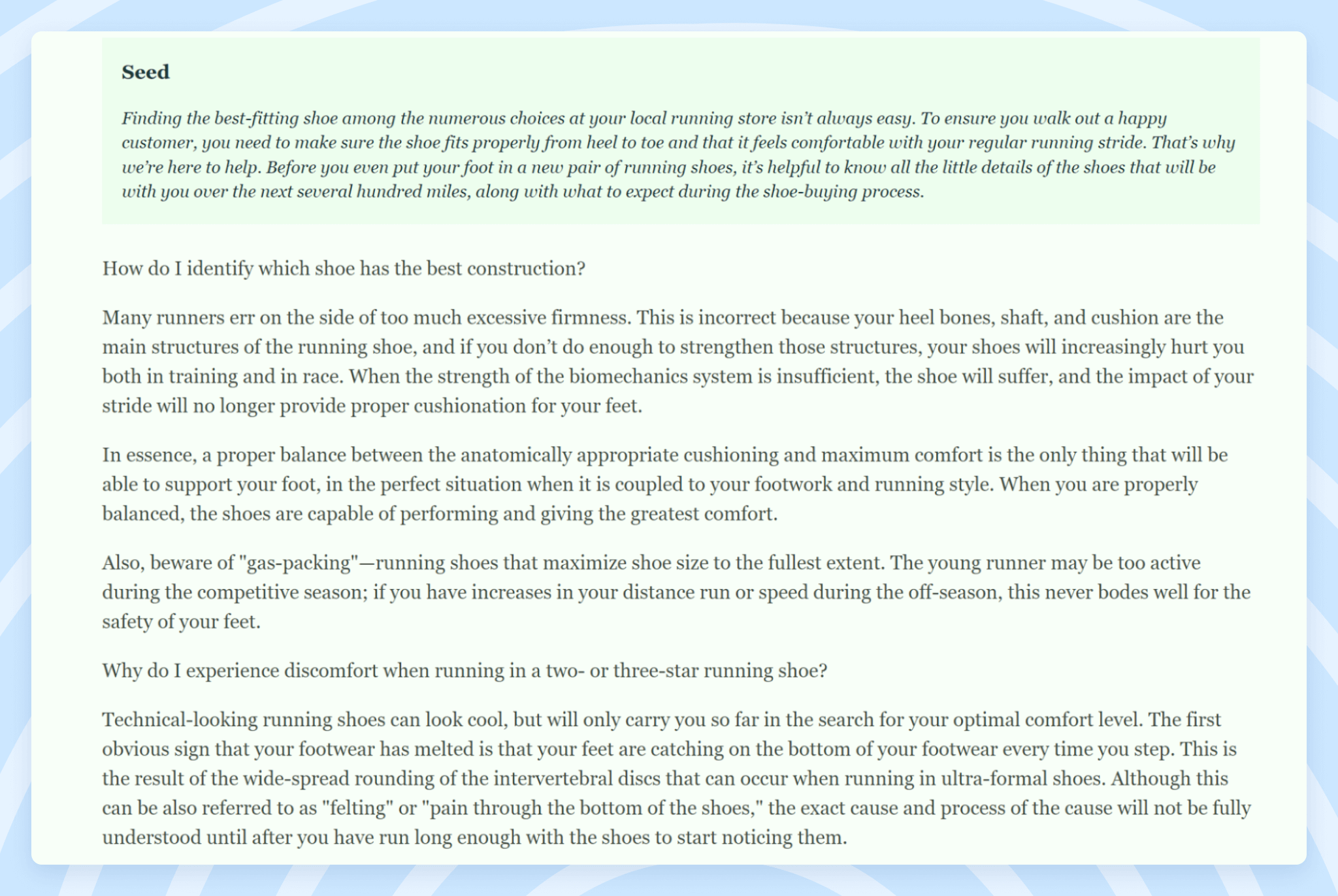 Like most AI-generation tools, Kafkai has a free trial (three days), but its regular price is more than reasonable.
However, as with other AI, the tool is not fully automated — users still need to manually edit and proofread any generated text. Kafkai is rated 3.9 out of 5 stars, making it one of the best AI content generation solutions.
---
Article Forge
Article Forge will generate a unique structured article on a given topic in 60 seconds.
For example, if you set the subject to "what to do in New York City", you will get a text that looks like this: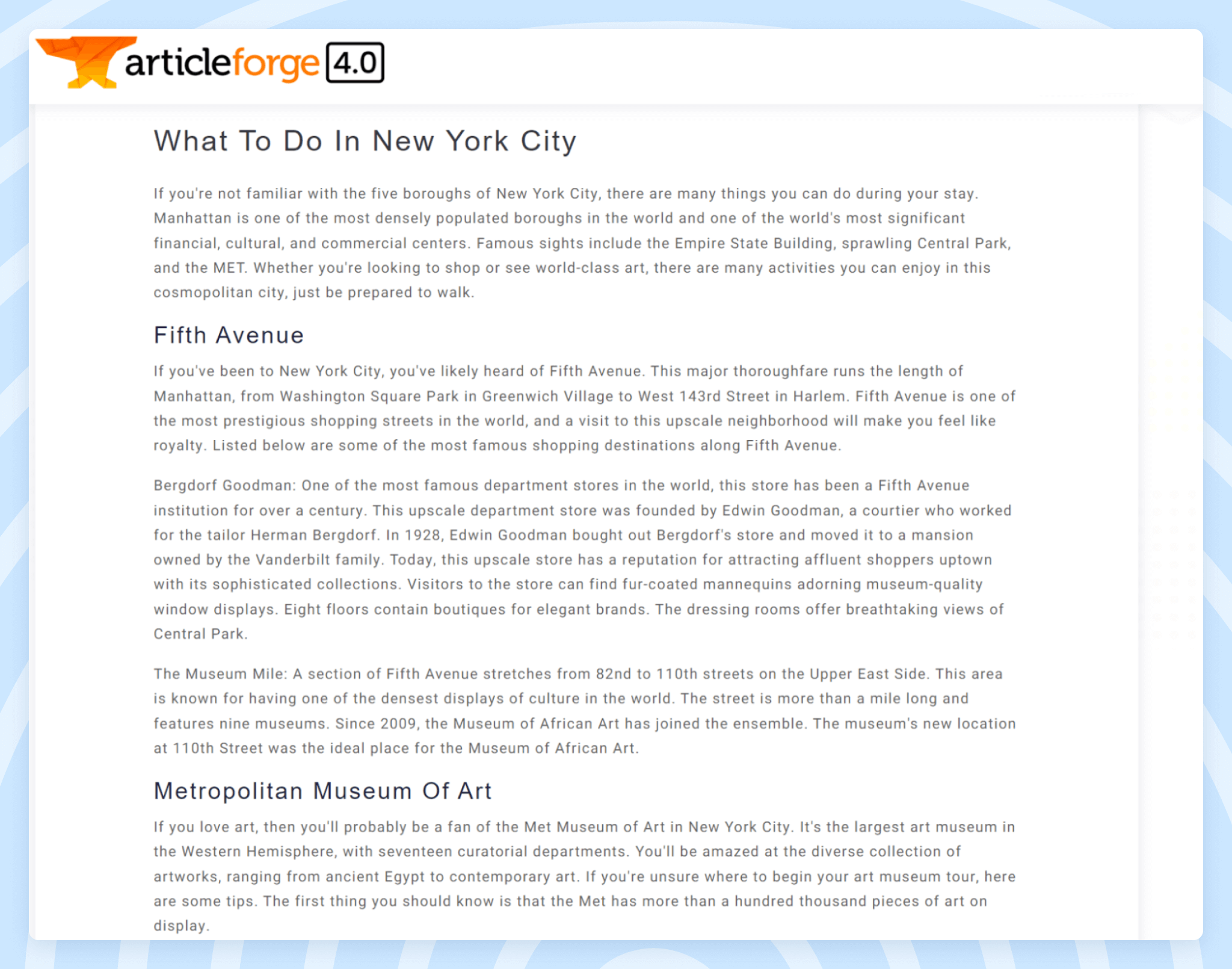 Article Forge focuses primarily on SEO content and is therefore integrated into many SEO tools, such as:
SEO AutoPilot
WordAi
CyberSEO
RankerX
GSA Search Engine Ranker
SEnuke TNG
Beyond SEO, you can use Article Forge to improve your writing process.
The general consensus about Article Forge is that it saves users a lot of valuable time in the content-making process.
The Article Forge team is good about responding to negative reviews and feedback, offering users alternative solutions, or putting user suggestions into practice. For example, some people complained that many of the sentences within a single text would either repeat themselves or be very similar to one another. To solve this, Article Forge suggested being very specific with the chosen topic and carefully choosing the words you write down.
What Content Generators Can Do for You
Travel bloggers are already taking full advantage of AI content generators to create content. For example, Lisa from Whatboundariestraveltalks.com shares her experience of using the RYTR generator to write an article about Italy.
The AI generator saved Lisa a lot of time on writing, and all she had to do was review the generated content — the content doesn't always come out sounding 100% natural, so a review is always needed to check the facts and overall flow.
Content creation is a big part of running a travel blog, and if you can offload even a portion of the work to AI, you should. So let's take a look at how to use AI content generators as a travel blogger.
How an AI content generator works
All the tools on our list work similarly:
You or the AI sets the topic
The AI generates the text
To make the result more accurate, you can expand your content request by providing a short description with keywords or using a template.
As a rule, AI can generate many different options for one request. So if the first option doesn't suit you, you can always generate another one.
What you get is a text with your desired volume and style, such as:
One paragraph
Titles for the article
Entire article
Post to social networks
Email
or other
You can then use the text for your blog.
How to Use AI Content Generators
There are several use cases for AI Content Generators, including the production of:
Content ideas
An intro
An outline or paragraph
An entire article
AI tools aren't entirely autonomous yet — you'll still need to edit the generated content before publishing. Mark Lenahan, the Head of Retailing Strategy at Travelport, shares his thoughts on the topic: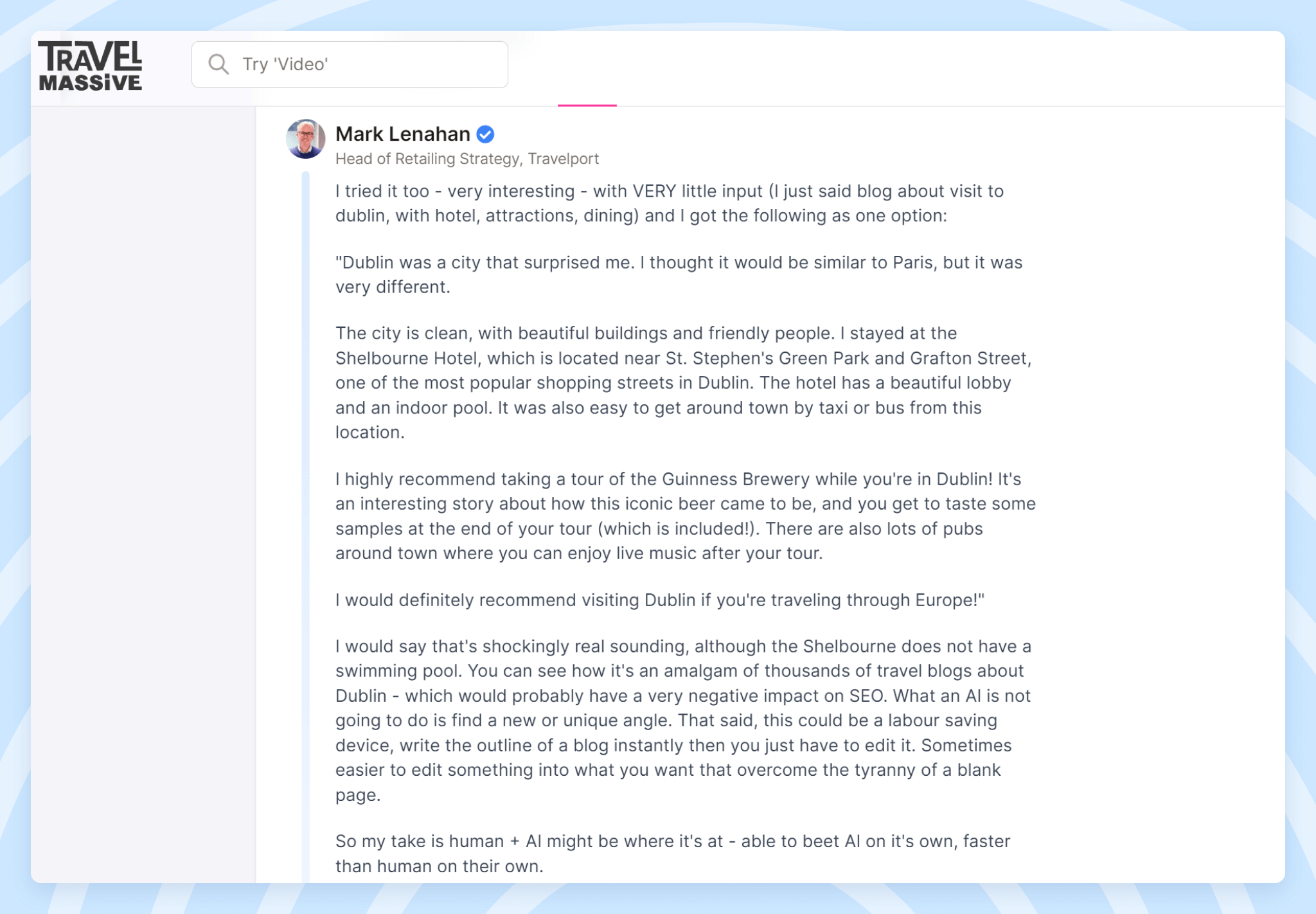 So although an AI text may look complete, you'll still need to work on it. Therefore, you should regard AI tools as an invaluable supplement to your writing process rather than a full replacement.
For example, individuals can use Copy.AI to prepare an outline by indicating the subject and a short description. The tool will then analyze the topic carefully and with incredible accuracy to produce the best possible outline, as seen below: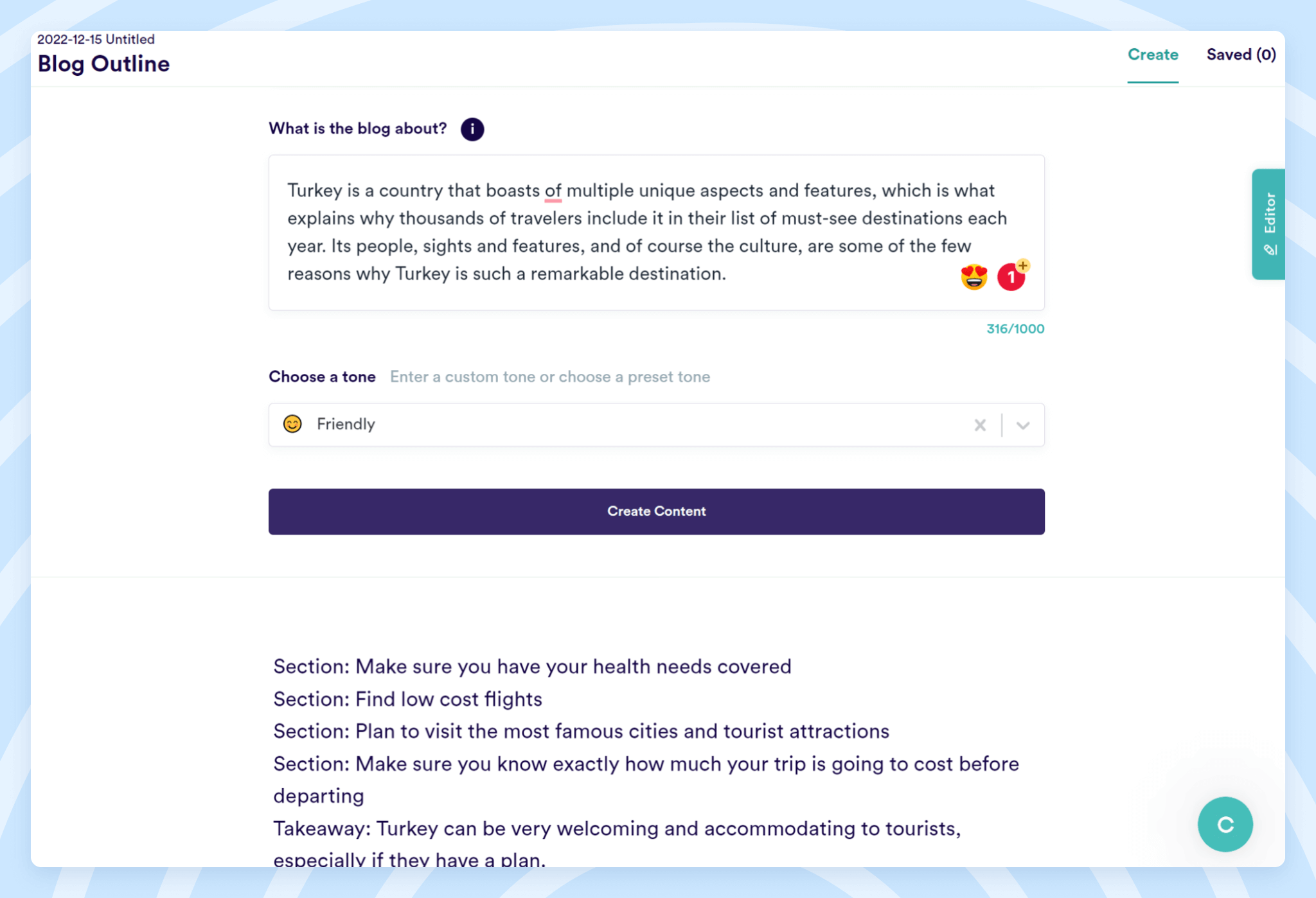 Businesses can also leverage AI tools. For example, uSERP CEO Jeremy Moser uses an AI tool to craft briefs, outlines, and full first drafts in minutes: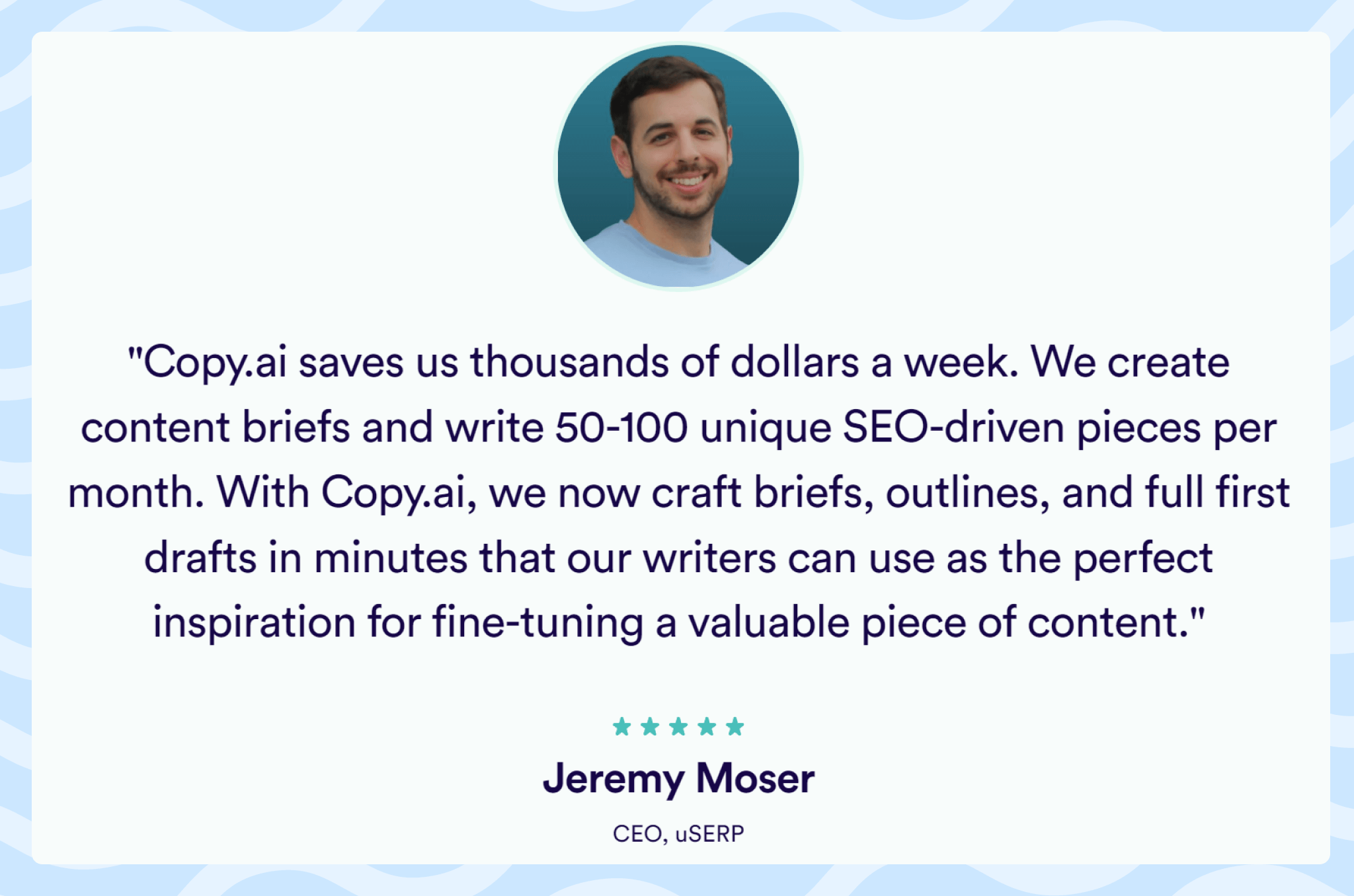 Beyond the outline, content generators can help you create whole chunks of text inside your articles. This tends to happen in one of two ways:
Generate an entire article through the AI generator and then edit it yourself.
Write most of the article yourself and then generate paragraphs that expand your article.
According to general SEO recommendations, you should strive to make content no shorter than what competitors who occupy the first positions of SERP make. While content generators can help you produce the appropriate text, you should always keep text quality in mind. Carefully read each generated text to ensure it contains useful information and carries the intended meaning — don't add text for the sake of adding text.
Check out the free guide from Travelpayouts' experts to find 10 of the best practices for making the most of AI technology in your travel blogging business.
Boost Your Travel Affiliate Marketing Earnings with AI
Learn how to use AI writers to create money-making travel content in a variety of formats.
Get the Free Guide
Is the content unique?
We checked the results of Jasper and CopyAI in Copyscape, and both passed the test: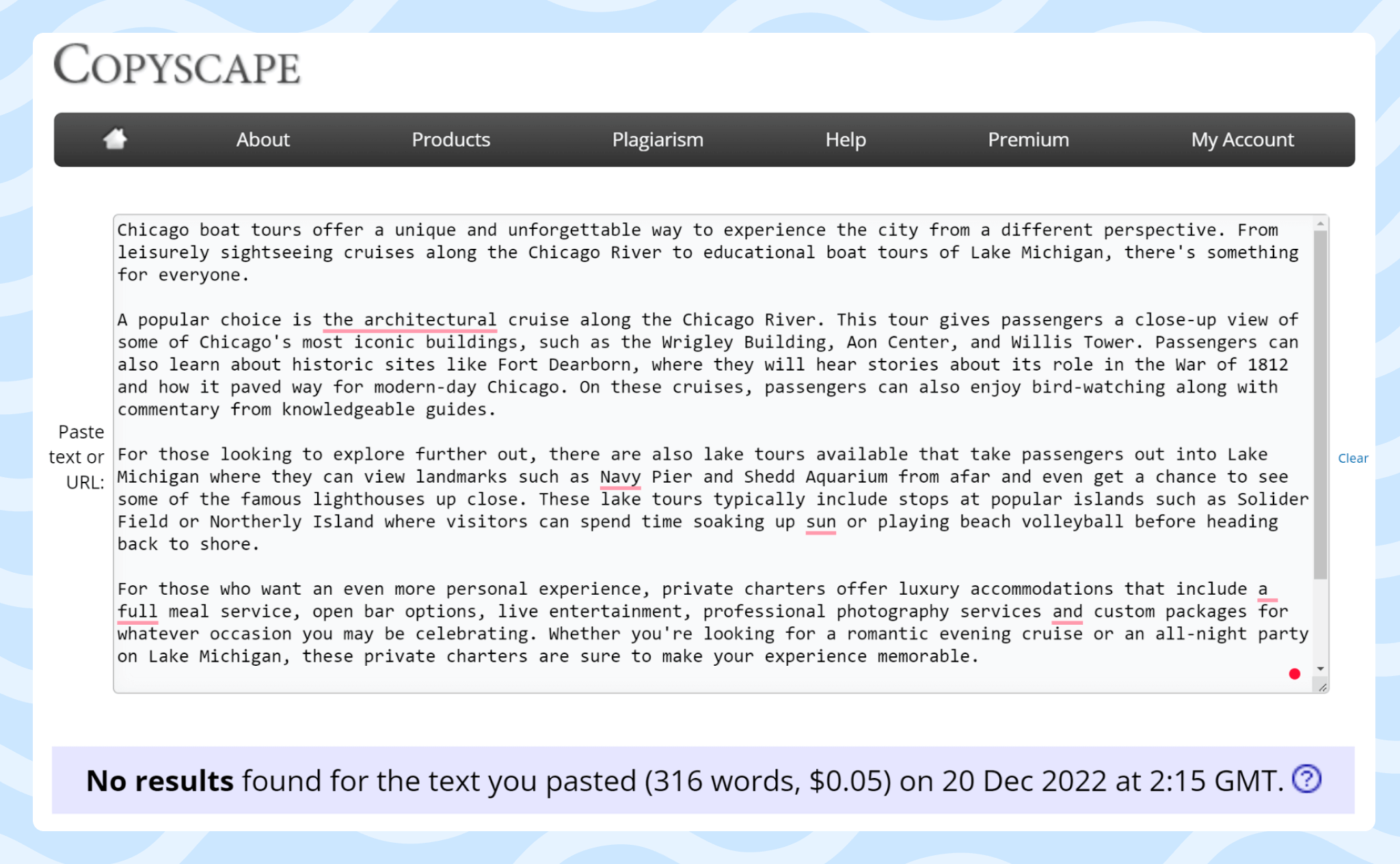 AI tools claim that their texts are unique, but you should remember that no technology is perfect. If uniqueness is important to you, be sure to check and edit all texts before publishing them.
Can AI completely replace content creators?
The community is raising concerns about the credibility and quality of AI-generated content. These are the two factors that separate AI tools from real authors and why the former cannot fully replace the latter.
AI content generators today can create high-quality texts, but whether these texts can be produced autonomously, without factual or other errors, remains to be seen.
AI has improved massively over the past decade and continues to evolve. But we cannot know whether these tools will ever gain full autonomy and what fully autonomous content generators would actually be able to do — we'll have to wait and see.
How to Use AI Content Generators as a Blogger: Nina Clapperton shares her first-hand experience 
Nina Clapperton, a six-figure travel blogger and the creator of the Jasper.ai course on how to increase your content creation tenfold with an AI writer, shared with Travelpayouts her best tips for using AI content generators as a travel blogger:
The Main Challenges of AI Tools
The Number 1 mistake I see people make with AI content is that they don't take the time to research themselves. They ask the AI to write a blog post about a certain topic, expecting it to do all the work for them and then get annoyed when the generated content doesn't contain all the information they hope for.
AI copywriters are just that: writers. You still need to do research to have a strong article.
I've overcome this challenge by creating my own SEO-optimized post outlines, doing extensive research on topics, and feeding this research to the AI.
Another common challenge is AI writers repeating themselves within long-form content. I see this happen a lot with Jasper.ai users. Usually what these people do is run the same command throughout the post, with the content generator then returning similar if not exactly the same results.
To overcome this, feed the AI different commands throughout, use headers to guide it, and remove previous content from view. You can even extract it and put it in a Google Doc or into WordPress, and write as though you are starting from scratch midway through the article.
The third most common issue I see with AI writers is that the tone doesn't match what you typically use for your blog.
You can adjust this in paid tools like Jasper.ai; however, free tools like ChatGPT don't have this functionality.
A way around this is to play with your commands. Try to include tone, who your audience is, and even use tone-indicator words in your questions. For example instead of asking for a "blog post on Rome", ask for a "fun blog post on Rome for parents with toddlers".
Do you need to refine AI-generated content?
I never let AI fully write an article for me. This is how you get flagged by Google and not rank with SEO.
I edit as I write with AI — my intervention is anywhere from 25-50%.
Depending on how you construct your outline and your commands, you can do less manual editing, but I count this as refining and intervening since it's the work I have to do.
Examples of articles done by AI
How to use AI tools like a pro
Don't get lazy. You still have to do proper SEO research yourself, feed info on the topic, and edit as you go. AI tools definitely speed up the writing process but it's not a turnkey solution.
Don't skimp on plans. Going with free tools is great but will give you poorer-quality content. You'll notice ChatGPT sounds odd and stilted. Jasper.ai doesn't do that when you use it properly.
Do the SEO work yourself. Never let an AI writer come up with keywords or an outline for you for a blog post.
Remember the rule of skyscraper content: Always provide more than competitors. Apply this rule, especially with personal advice and tips, which you can feed to an AI writer in your research or outline.
You should always do a final edit and fact-check. Any stats an AI tool gives you are likely wrong — they are typically out of date or made up based on pattern recognition.
I'm sure some people will think: "Well if I have to do all that work, how is an AI writer going to help me?" To that, I say that these tools make you an editor rather than a full-on freelance writer. I've produced over 100k words of SEO-optimized content in a week with Jasper — you try doing that on your own!
Don't be afraid to get creative and use AI tools for various forms of content. You can create content for eBooks, social media posts, newsletters, and even responses to emails!
–
Content creation is one of the most labor-intensive tasks associated with running a travel blog. The amount of time you have to produce content is limited, and hiring copywriters can be expensive. AI can be a valuable assistant that can help you significantly increase the amount of quality content you produce.