Creating Content
If you are wondering how to make money with AI for travel bloggers, automated content creation can be one of the best strategies to grow your blog and income. Ranking on search engines and driving traffic may take a lot of time, but with the best AI writing tools, you can generate tons of content in less time. These software tools will help you:
Produce top-quality content 10 times faster
Brainstorm ideas
Edit and proofread your blog posts
Optimize existing content
Grow your writing skills
Generate perfect visuals for your blog
Most AI content generators provide various templates, so you can create blog posts, how-to guides, newsletters, eBooks, itineraries, packing lists, destination guides, etc. For instance, Copy.ai offers tons of content templates from blog outlines to social media bios to sales landing pages and more.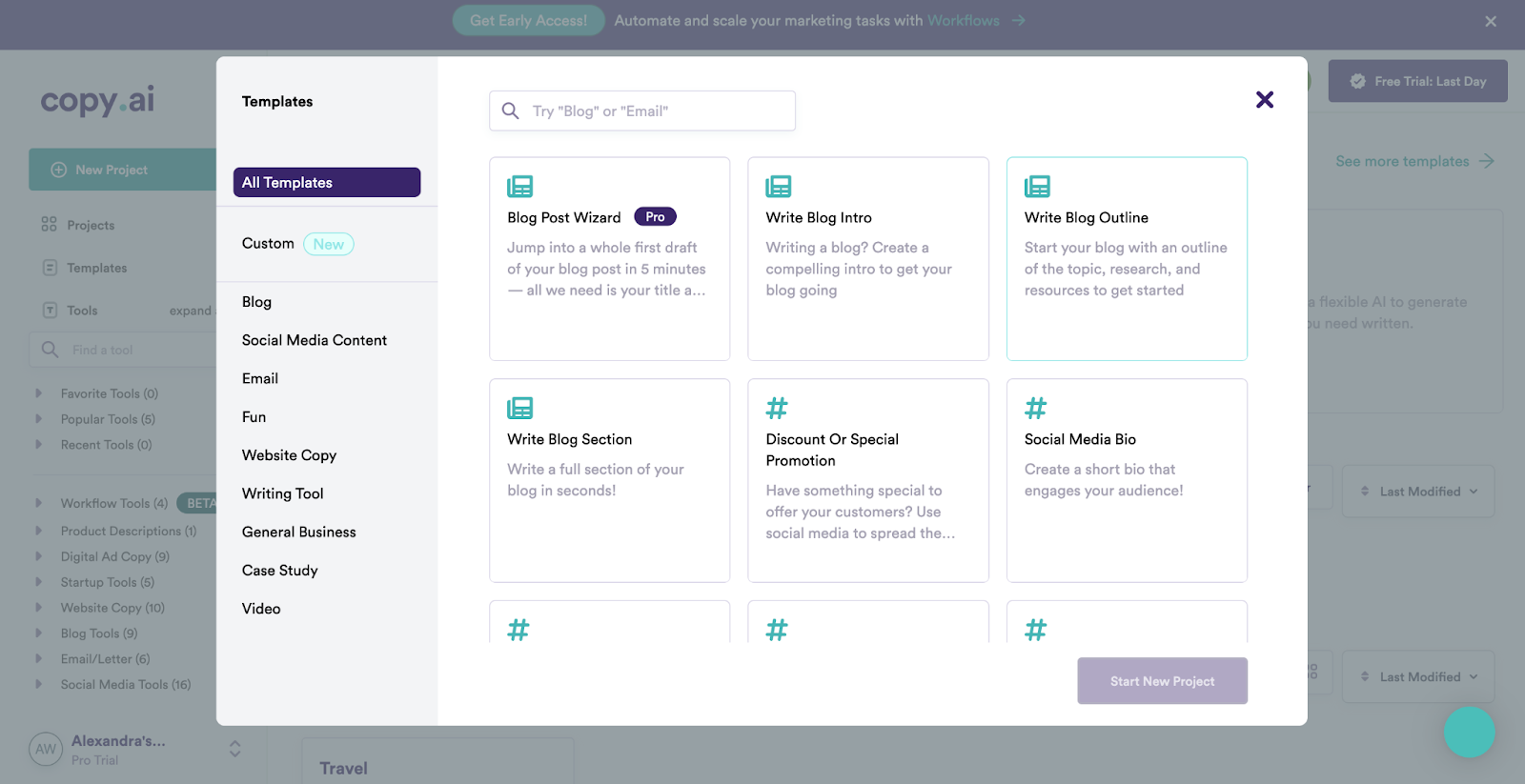 Once you master AI content generation software, you can scale up and create an article writing agency. Using AI tools will help you generate posts much faster, so you can deliver content not only for your website, but for other travel bloggers and clients alike.
This is not limited to blog posts and can also include other in-demand content, such as video scripts for YouTube vloggers and other content creators. Scripts take a lot of time to write, and many video creators prefer to outsource them, so it is a good opportunity to make money with AI. For example, you can simply input the main points to receive a complete video script in a couple of minutes with Copy.ai.
In addition, some AI tools can optimize existing content for search engines and enrich it with keywords.
Other tools, such as Grammarly, help correct grammar and sentence structures, while making content more readable.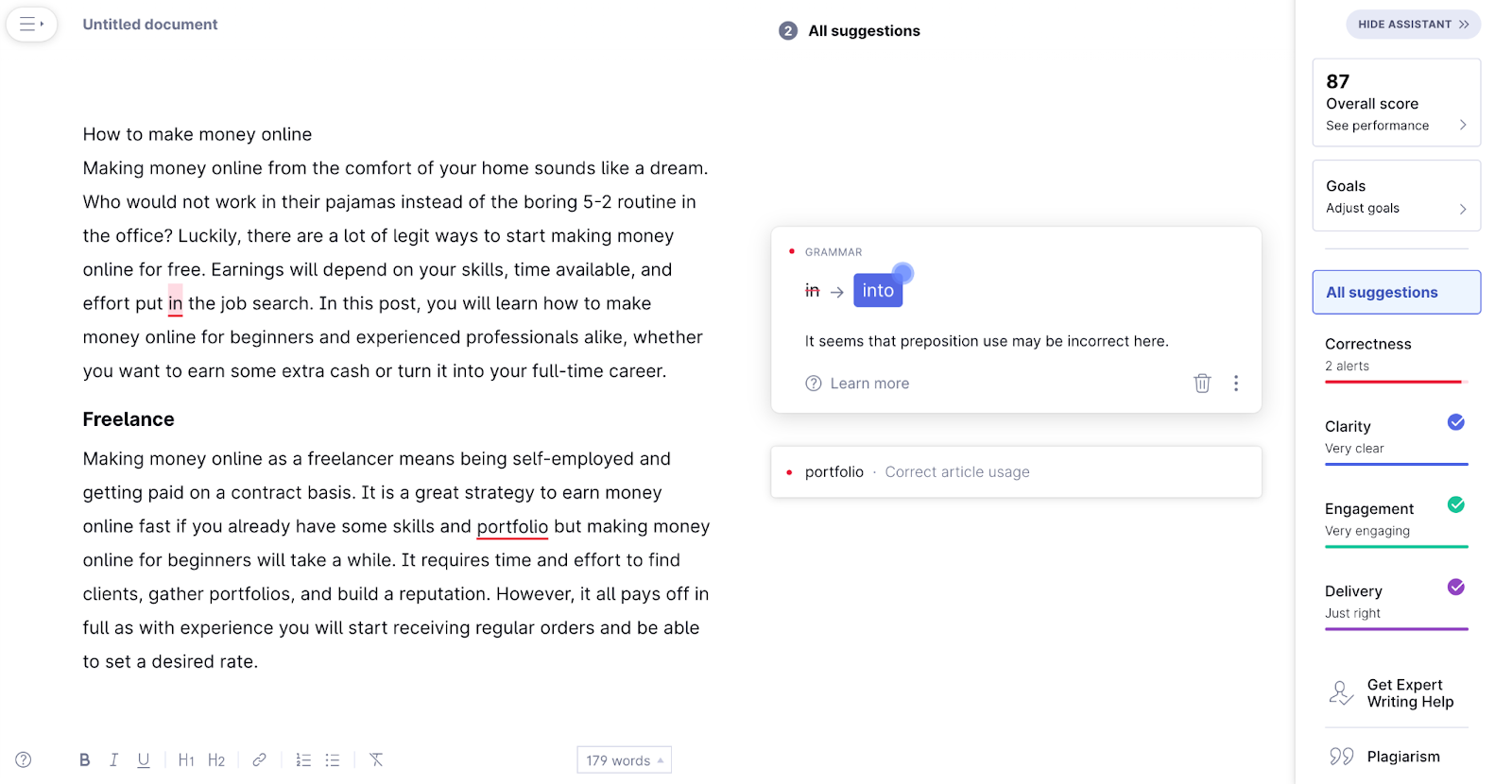 Check out the free guide from Travelpayouts' experts to find 10 of the best practices for making the most of AI technology in your travel blogging business.
Boost Your Travel Affiliate Marketing Earnings with AI
Learn how to use AI writers to create money-making travel content in a variety of formats.
Get the Free Guide
Affiliate Marketing
Affiliate marketing is one of the most popular ways to monetize a blog. For example, if you run a travel blog, you can partner with relevant travel brands and promote their products to your audience, while earning commissions on all the sales you generated.
AI offers endless opportunities for travel bloggers and webmasters to boost their affiliate marketing campaigns. Some of the best AI tools can assist with a variety of tasks, such as generating content ideas, inserting affiliate links, writing product reviews, interacting with customers, and more. Here are some of the advantages that affiliate marketers can reap by using AI:
Save time. Affiliate marketing is often a time-consuming process. Investing into AI software can help delegate routine tasks, such as data analysis or content generation, as well as reduce the amount of human errors.
Automate decisions. Data analysis allows you to better understand customer responses and make informed decisions.
Attract and nurture leads. AI tools can help you generate engaging content and increase your chances of acquiring qualified leads.
Now, let's see what types of tasks you can automate with the help of AI tools to boost your affiliate marketing campaigns.
Keyword research. To rank at the top of the search engine results and drive more traffic to your website, it is important to optimize your content. Keyword research is one of the SEO pillars that allows you to do just that. AI tools, such as SEMrush, Surfer SEO, and Outranking, can help you find the exact keywords that will drive qualified leads to your page.
Content creation. AI content writing tools can generate consistent, high-quality, and on-point content within minutes, while helping you to capture your customers' attention and grow your blog's authority. Such content can create appropriate context to insert affiliate links and drive conversions.
Better UX. AI-powered chatbots help personalize the user experience, gather and analyze data, provide 24/7 support to visitors, and more. Chatbots can deliver relevant insights to customers to help them save time and analyze data for smart marketing campaigns.
Affiliate marketing can be a challenging business. However, if you figure out how to capture the attention of your target audience and encourage them to click your affiliate links, affiliate marketing can become a lucrative source of passive income. To monetize your content with affiliate marketing and partner with over 100 travel brands, join Travelpayouts, the world's largest travel digital marketing platform. You will receive 24/7 customer service, tons of captivating creatives, and support from a community of over 370,000 content creators. You can also take advantage of free courses and educational content with Travelpayouts Academy.
Join the Travelpayouts Partnership Platform
Access exclusive tools and the best travel affiliate programs, including flights, hotels, car rental, insurance, tours and activities, all in one place.
Join Today
395,000 partners already trust us
120 travel brands
$53M+ total paid since 2011
Social Media Management
More and more continent creators are leveraging social media to grow their online presence and reach to earn money. AI tools such as Jasper, ChatGPT, Copy.ai, etc. can help travel bloggers generate post ideas, create top-quality content, analyze social media data, understand user behavior, optimize posts for better engagement, grow their following, and have more opportunities for sponsored content and affiliate marketing earnings.

AI can also help show ads that convert better based on customer behavior. You might have noticed that many platforms already tailor ads depending on what you've clicked previously.
Using AI tools to analyze the behavior of your followers and provide them with relevant content and product recommendations can help nurture leads and drive additional conversions.
SEO Optimization
There are many AI SEO tools on the market to help users rank higher in the search results and grow their online presence faster. Some examples include SEMrush, Surfer SEO, Frase.io, Outranking, and others. Ultimately, more content and traffic may result in better monetization opportunities and increased income (for example, via affiliate marketing and advertising).
How exactly can machine learning help you create better content? First, this tool analyzes and gathers the most relevant keywords for your topic, which allows you to drive targeted traffic and increase conversions. Second, by using this tool, you can discover content ideas and build a content strategy that allows you to deliver the most relevant content to your audiences.
To learn more about how to use AI tools to write engaging, SEO-friendly articles, watch a webinar with Nina Clapperton, a six-figure-earning travel blogger and the founder of She Knows SEO.
Email Marketing
Growing an email list of targeted customers is a great monetization method. You can attract subscribers by offering a free newsletter and add affiliate links or product recommendations to your newsletter to drive conversions.
Newsletters are one of the AI-friendliest form of content. With the best AI writing tools, you can craft subject lines, ideas to write about, different formats, etc.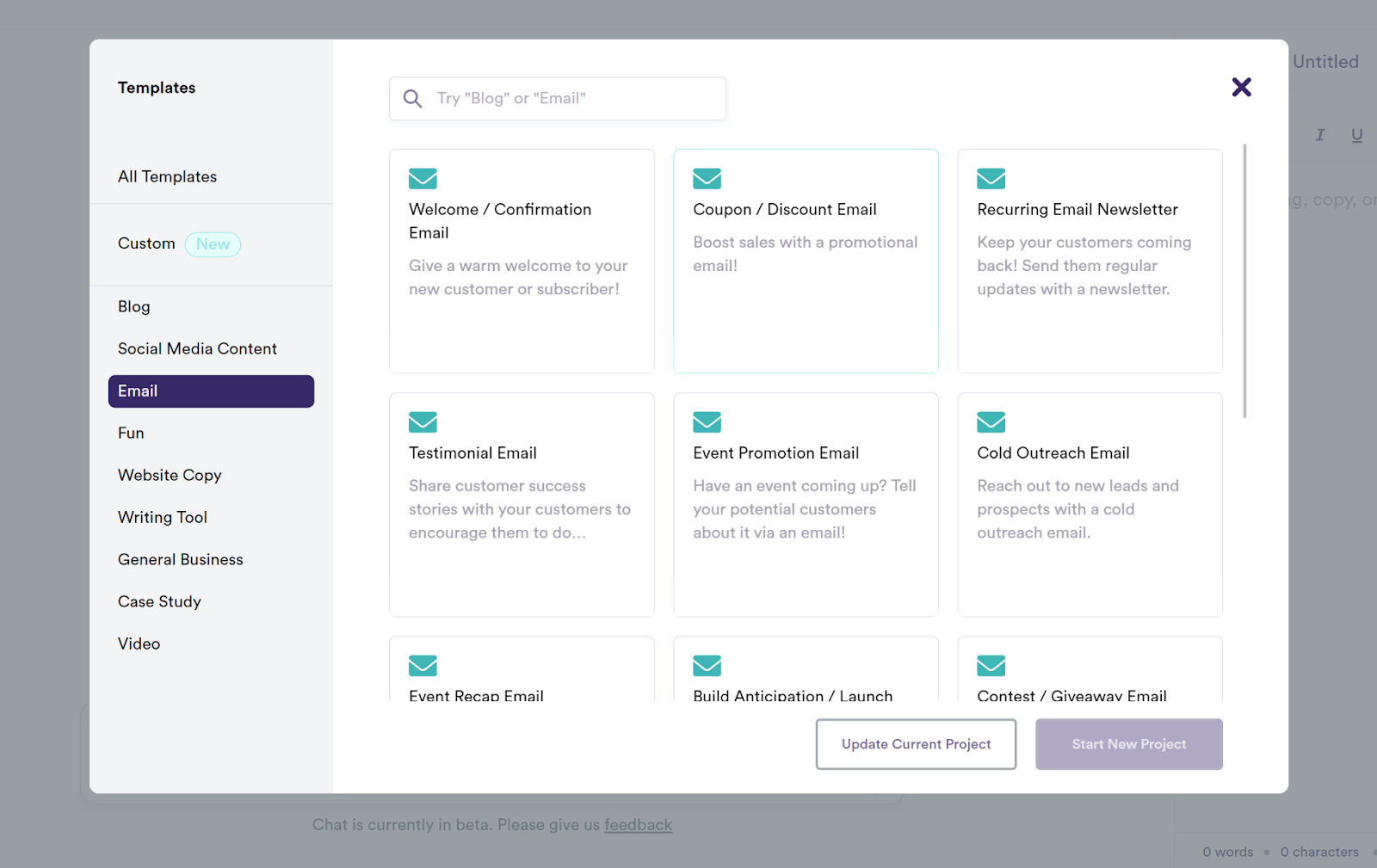 On top, you can write newsletters not only for your blog but for other bloggers as well. There are many webmasters who are looking to outsource their email marketing. You can leverage AI to analyze their audience's behavior and create compelling content to increase conversions.
Selling Digital Products
One of the best ways to monetize your expertise is by creating and selling digital products to your audience. There are many types of products that you can market, such as eBooks, online courses, printables, guides, PDFs, templates, webinars, and more. Travel bloggers can share itineraries and travel guides to some of the best destinations.
You can sell digital products on your website as well as on specialized marketplaces. For example, Coursera and Udemy are perfect for marketing online courses and tutorials. Amazon Kindle is one of the most popular platforms on which to promote eBooks. You can learn more about how to make money with eBooks and courses in our blog post.
Leveraging AI will allow you to take the weight off your shoulders and deliver top-quality content in less time, so you can focus on what's important. Later on, you may even create and sell tutorials on how to use AI to create content by sharing personal experience and hands-on tips.

Sponsored Posts
Sponsored content is a straightforward way to make money online. Usually, these opportunities open up once you have established some authority in your niche and have gathered a following. Partnering with brands is often one of the favorite monetization approaches for travel bloggers.
You can leverage the power of AI to create sponsored content and scale up your partnerships. Many such tools offer special templates to write blog posts according to the best practices in your niche.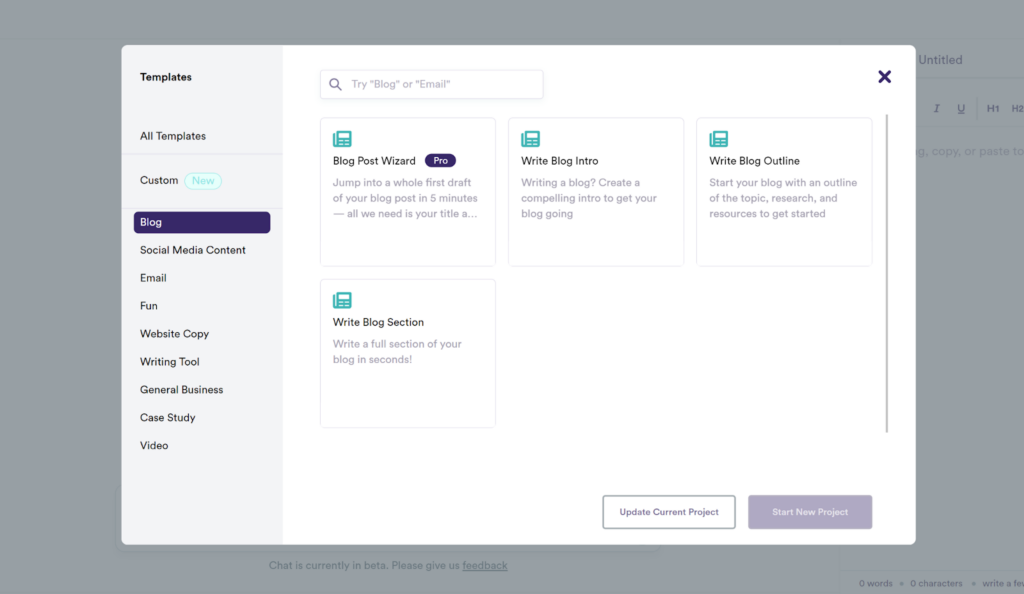 Brands will also appreciate proper SEO optimization that helps rank their sponsored post at the top of the search results and drive more traffic to their website.
Conclusion
Mastering AI is something that can help you write content much faster and get it in front of more eyes. More content means better monetization opportunities, from affiliate marketing to selling your own products. To take advantage of AI for online money making, make sure to focus on delivering only high-quality output and choosing the best software with the most relevant content templates and SEO features for your niche.