How AI Is Revolutionizing Affiliate Marketing
Affiliate marketing is a process where content creators, bloggers, or publishers can earn a commission by promoting another retailer's product or service using an affiliate link. As an affiliate partner, you are rewarded with a commission for sending business to another retailer.
As an affiliate marketer, you can become an affiliate for a specific company or join a partnership program or advertising network — like Travelpayouts or CJ Affiliate — that grants publishers access to hundreds of programs. For example, travel bloggers could join an affiliate program directly through Booking.com or join the Booking.com program through Travelpayouts while also having access to several other programs, like Viator, GetYourGuide, and Insubuy.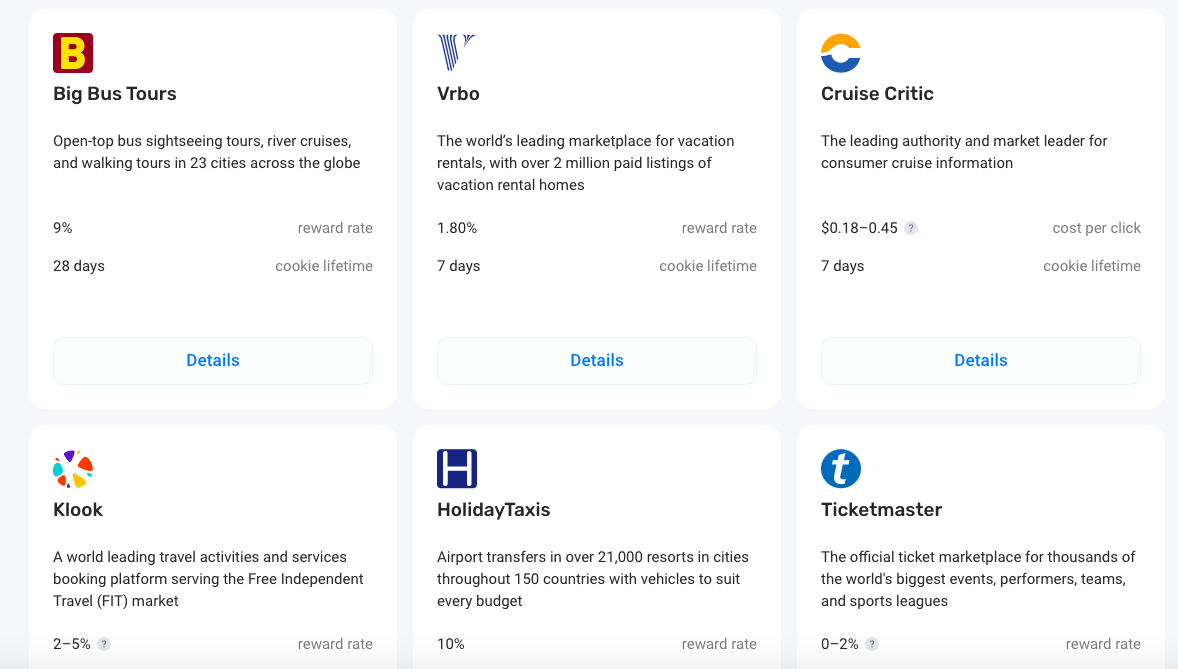 Affiliate marketing is a lucrative way to make money as a travel blogger or content creator. However, creating affiliate marketing campaigns, blog posts, emails, and social media posts can be time-consuming. That is why many creators are tapping into the power of artificial intelligence to maximize the ROI of their affiliate marketing campaigns. Let's see how they are doing it!
Can AI Optimize Affiliate Marketing Campaigns?
AI can optimize various aspects of affiliate marketing campaigns, enabling creators to generate more revenue from their efforts. For example, you can use AI to help with ad placement, targeting, and content optimization — just to name a few ideas!
Below, we will outline some of the most lucrative ways to utilize AI tools for affiliate marketing to improve your ROI as an affiliate marketing professional.
Ad Placement
AI tools make it much simpler to automate buying and placing ads. AI algorithms can analyze a significant amount of user data — including browsing history and demographics — and will target the right people with ads who will be interested in the affiliate product or service you are promoting. This AI functionality helps to maximize the ROI from your advertising spend.
Paid ads can quickly lose effectiveness due to new advertising platforms, competitor ads, and seasonal interest in your products or services. However, staying on top of all these changes at once is difficult. That is where artificial intelligence can help. AI tools can help advertisers maximize their budget by checking an ad campaign's effectiveness. If the ad is underperforming, the AI tool will alert you, allowing you to remove the underperforming ad and replace it with an effective one.
For example, imagine you were creating an ad to promote an affiliate post you wrote about the best hotels in Boston, Massachusetts. AI tools could help you determine the best platforms to place the ad (Google, Instagram, Facebook, etc.), the right audience to deliver the ad to, and how long to run the ad to get the most "bang for your buck."
Content Optimization
Many creators know that AI tools can help them create content — including blog articles, social media posts, emails, and more. However, many creators do not realize that AI tools can also optimize their content for search engines — helping get more eyes on their affiliate campaigns.
Some AI content writing tools — like Jasper AI — automatically create SEO-optimized outlines based on Google's top results for specific keywords. Other tools — like Frase and Surfer SEO — can recommend topics, links, keywords, SERPs, and other elements for you to include in your content to improve SEO.
When you can write an affiliate post that ranks well on Google, you will generate more frequent commissions. For example, if your blog about the "Best Food Tours in Rome" ranks in the top three spots on Google, you will get more traffic to this blog post every month than if it were ranked on Google's second page. Likely, the people searching for this keyword are in the market to purchase a food tour, so when they click on one of your affiliate links in the post — there is a good chance they will make a purchase, resulting in a commission for you!
In this Travelpayouts webinar with Nina from She Knows SEO, you can learn how to use AI tools to write engaging, SEO-friendly affiliate articles that offer a great return on investment. You will learn the elements to include in a money-making affiliate post and how to use an AI tool, such as Jasper AI or ChatGPT, to write the content for you in a matter of minutes.
Check out the free guide from Travelpayouts' experts to find 10 of the best practices for making the most of this cutting-edge technology in your travel blogging business. In addition, compare the top AI services and learn some general tips on how to use these tools as indispensable blogging assistants!
Boost Your Travel Affiliate Marketing Earnings with AI
Learn how to use AI writers to create money-making travel content in a variety of formats.
Get the Free Guide
More Precise Audience Targeting
The key to success as an affiliate marketer is understanding your target audience — their demographics, interests, and shopping habits. When you utilize AI to understand your audience, you can reach them with highly targeted affiliate marketing campaigns that are more likely to convert and lead to affiliate commissions.
AdRoll is a fabulous example of an AI tool that analyzes audience behavior and preferences using a marketing pixel on your website. The pixel collects audience insights and displays them on a dashboard. Then, the AI tool offers recommendations on how to reach the right audiences with a more meaningful and personalized approach using these insights.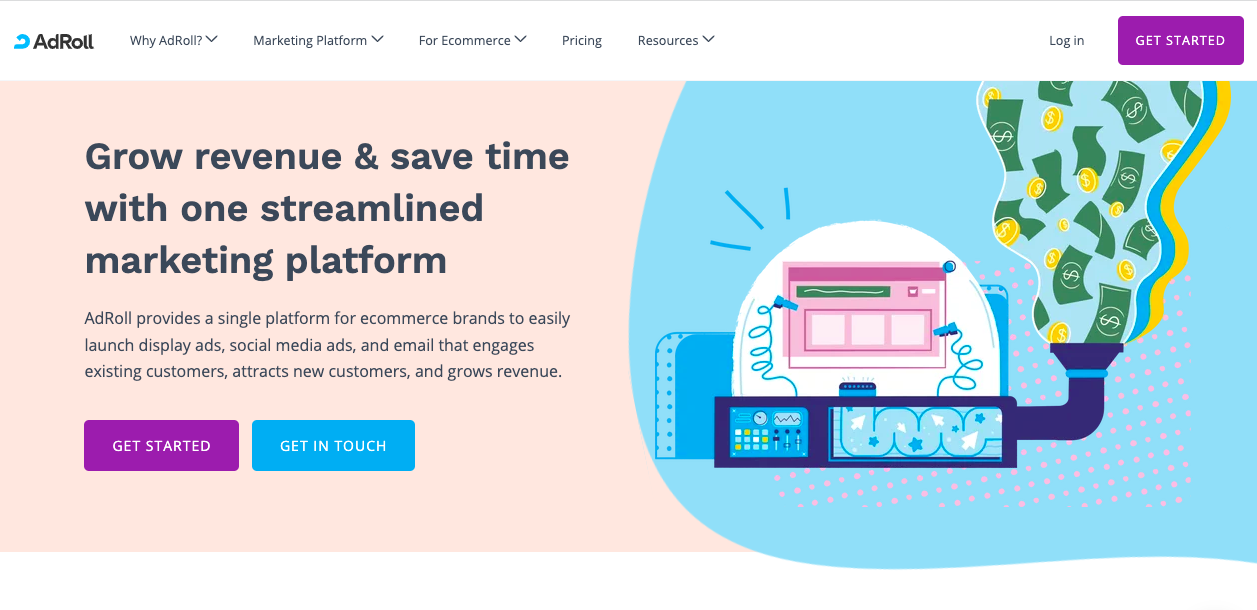 AdRoll allows you to see how your campaigns perform with statistics like click-through rate, cost per acquisition, and video completion rates. With its AI functionality, AdRoll does A/B testing and automatically optimizes and promotes ads that are performing well.
So, let's imagine you run a travel blog that focuses on promoting tours in North America and Europe. However, perhaps after using AI tools to track user behavior, you realize that your European tours convert better and result in more affiliate commissions than your North American tours. With this information, you may decide to focus only on promoting tours in your top-performing countries — Italy, Spain, and Portugal — or use the data to optimize the tours in the countries that aren't performing as well.
Overall, using AI tools for audience targeting helps you maximize your time and ensure you are working on affiliate marketing campaigns that interest your audience.
AI & Personalization in Affiliate Marketing
You may be under the false assumption that all AI content is "generic" and does not offer any level of customization or personalization. However, this is not true. One of the best ways to increase your marketing ROI is to tap into the ability of AI-powered personalization.
Personalization comes from data — so if you have a tool to collect data about your audience, you are off to a great start. AI can then help by mining, reading, and analyzing this data, which allows your brand to tailor your message to your audience.
AI-powered personalization can create targeted marketing campaigns to maximize your marketing spend, make personalized recommendations to encourage a customer to spend more, and even can help with customer service. Overall, utilizing personalization from AI tools helps create a tailored user experience that can lead to higher engagement, more conversions, and successful affiliate marketing campaigns.
AI Tools — The Secret of How to Increase Marketing ROI
If you want to increase content marketing ROI, utilizing AI tools is an excellent place to start. With so many popular AI tools on the market that can help you with various marketing tasks — from content writing to audience targeting — you will be making affiliate commissions from your AI affiliate marketing campaigns in no time at all.
Are you still looking for an affiliate partnership platform to join? We can help! Travelpayouts Partnership Platform is perfect for travel bloggers and content creators — you can earn a commission from hotels, tours, rental cars, flights, and other travel-related purchases your audience makes when they use your affiliate links.
Join the Travelpayouts Partnership Platform
Access exclusive tools and the best travel affiliate programs, including flights, hotels, car rental, insurance, tours and activities, all in one place.
Join Today
395,000 partners already trust us
120 travel brands
$53M+ total paid since 2011