Nina Clapperton From She Knows SEO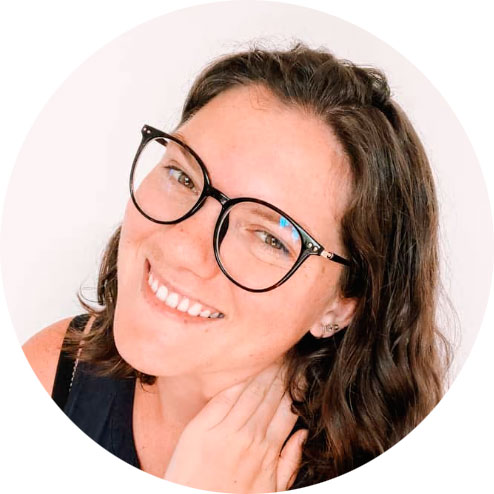 Nina Clapperton is a six-figure-earning travel blogger and the founder of She Knows SEO, a full-service SEO and content creation agency for travel bloggers.
Learning SEO helped Nina quit her nine-to-five job and gain the financial freedom to work from anywhere in the world. In just six months, she was able to grow her blog to 50,000 sessions and achieve her first $10,000 in monthly passive income mostly via AI-generated content. In January 2023, Nina earned over $31,000 USD. That month, her blog-related income came from the following sources:
63% affiliate marketing
28% sponsored emails and digital products
9% ads
To be able to earn this level of income with affiliate marketing, it is important to find a way to drive traffic to your posts to get clicks. And that's where SEO and AI content come in.
You can watch a video of the masterclass with Nina.
What is AI Content?
Artificial intelligence, or AI, is a technology that allows content to be delivered to users much faster than if that same content was produced by human writers. Today, there are many tools, such as GPT or Jasper, that provide top-class content in just a few minutes to help bloggers drive traffic faster, grow their blogs, and ultimately earn more.
There are many myths regarding AI content. One stereotype is that using AI writers is similar to cheating. In reality, these programs are just helpful tools that can only generate output once you provide input. To create great AI content, you still need to do some research and provide the tool with information. In contrast to hiring human writers, AI software costs much less. For example, a "Boss Mode" plan with Jasper starts from $59/month, which could easily be a price of a single article authored by a human writer.
Another reason why bloggers are sometimes afraid to use AI software is possible plagiarism. The most sophisticated tools deliver plagiarism-free content. You just have to run a check of your AI-generated posts through plagiarism detectors a couple of times and see for yourself. For example, below, you can see plagiarism check comparisons of content created on ChatGPT and Jasper. There is also an AI detection score.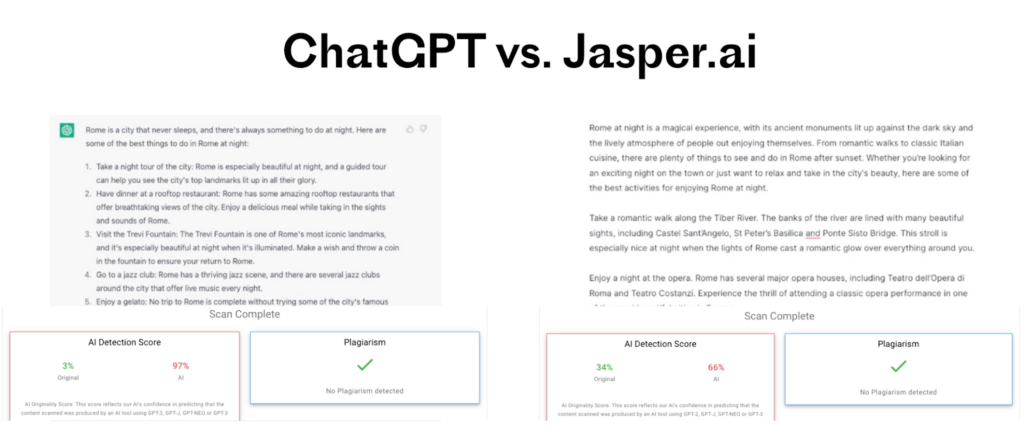 Does Google Rank AI Content?
Google often treats AI-generated content as repurposed. Thus, the platform does not see this content as providing value because, most of the time, it is paraphrased and contains no new helpful information. In April 2022, John Mueller explained that automatically generated content goes against Google's terms and conditions and Webmaster Guidelines.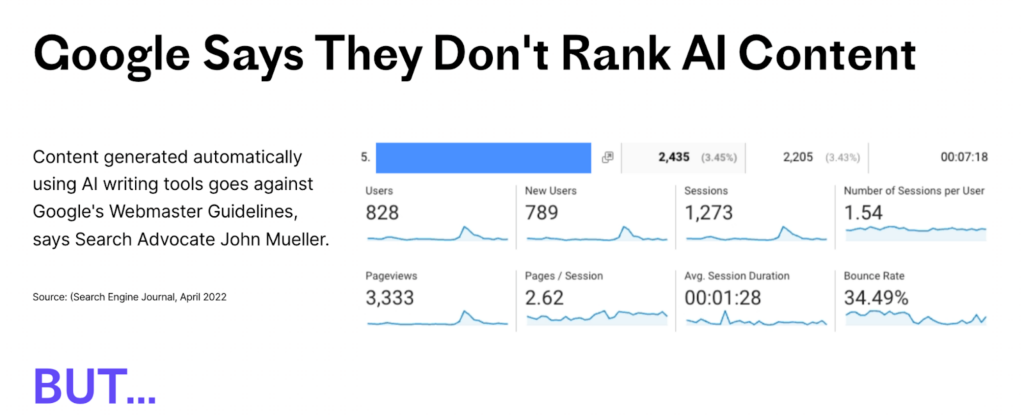 However, a short time ago, Mueller also said that this rule only concerns content that is not helpful to users. So, as long as you provide value with your articles, it does not really matter if they were written by AI or human authors. You can still rank highly on Google. For example, one of Nina's posts with over 2,000 monthly pageviews was written entirely by AI.
Why Use AI?
Writing content takes a lot of time, but with AI software, you can generate it much faster. For example, to start driving good traffic, you need about 140 posts. Writing these posts on your own may take about three years, but AI tools can produce them in a matter of hours. For example, you can generate over 100,000 words every week or write an eBook in an afternoon. This may result in earning passive income much faster, so you can leave your job and work at your own convenience. Consequently, you could spend more time with your family and loved ones. In addition, AI can help you earn money.
Elements of a Money-Making Affiliate Post
There are plenty of ways to use AI to make money, such as generating ad revenue, selling digital products, and performing affiliate marketing. In fact, affiliate marketing can be the most lucrative way to use AI content. So, we will dive into the elements of a money-making affiliate post below.
Keyword Research
Use the keyword research tool to find the right keyword. One great tool is Keysearch. It is super cheap. You can check if a specific keyword is easy to rank for, determine its search volume, etc. Affiliate posts with high search volume can help you get into ad networks that have traffic requirements.
Next, you can look up your selected keyword on Google to see posts that are ranking with that term. You could do this in an incognito tab so that your search history does not influence your current search results. If ads are ranking on top, that's a good sign, as it means that companies pay to promote the keyword and you can make money from it too.
Also, make sure to understand user intent so you know who you are writing for. AI tools are just writers, not researchers, so you need to provide them with some information and stats. For example, if you are writing about private hotel transfers and instead talking about buses, such a post will not really be useful. So, you need to write about the exact things that the user is looking for.
Make sure to understand how many items or tours top-ranking posts promote on average. Then, try to go one step further and provide more information than your competitor.
Outline
Creating a post outline will help you write a comprehensive post that is exactly on point. You want to create content that displays your experience, expertise, authority, and trustworthiness, so your audience will listen to you and want to learn from you.
Pros and Cons
Make sure to include the pros and cons of each item you describe. This does not have to be a literal pros and cons section, but it makes sense to clarify the advantages and disadvantages of the offers you write about. For example, if you create a post about wine tours include the pros and cons of both private and group tour. Namely, a private tour can, for instance, provide amazing personal experiences, although it is more expensive, while group tours are really cheap, yet there are usually a lot of people.
The features you highlight depend on your target audience. For example, if you write for family travelers with eight kids, it makes sense to promote cheaper tours, while travelers on a honeymoon are likely to book something more luxurious. Otherwise, your post may look too general and your readers will not feel like you are relating to them. So, make sure to know your audience and address both their pain points and needs.
Affiliate Links
Once the post is written, you need to convert any links to affiliate links. Add a tracker or sub ID, also known as a UTM. This will also help you keep track of posts that make money. For example, if you have several posts promoting wine tours, you can check which one is converting better with the help of your affiliate sub ID or tracker.
Choosing one affiliate program to promote can be tricky, as you want to find a brand with the best terms. On the other hand, joining an affiliate network with multiple programs can be the best solution if you want to help your audience organize a trip from start to finish. To gain access to over 100 travel brands, join Travelpayouts, the world's largest digital travel partnership platform. You will receive 24/7 support, beautiful affiliate tools to boost conversions (from banners and widgets to API and White Label), and join a community of over 350,000 webmasters who are already earning by promoting travel services to their audiences worldwide.
Join the Travelpayouts Partnership Platform
Access exclusive tools and the best travel affiliate programs, including flights, hotels, car rental, insurance, tours and activities, all in one place.
Join Today
395,000 partners already trust us
120 travel brands
$53M+ total paid since 2011
How to Write AI Content Using Jasper Step-By-Step
When you start with Jasper or any other AI writing tool, you can either follow their workflows or work on your own depending on how you want to move forward.
1. Add a Title and Brief
Watch the video of the masterclass with Nina at 21:54 →
First, you need to add some input, such as a title and content description. This is like the background information for the AI writer. You may also include some instructions, for example, who your target audience is or what tone of voice you prefer. Jasper can actually analyze your existing content to understand your tone of voice and create new content accordingly.
For instance, Nina prefers to write content that is engaging, casual, and informative. Reading her content is like talking with a close friend. You want to get the best output you can, so it is important to make the most of your limited number of words per post. You can give a few commands, for example, to write several introductions, and then choose the best one. Later, you can add H2 headers to establish the post structure.
Make sure to conduct some research and provide Jasper with information to write about. For example, you can use information from the tour description, customer reviews, and more. It is more like notes you leave for your writer below a header. For example, if you write about tours, you can include the number of their reviews, star rating, price, duration, languages, and so on.
2. Add Keywords
Watch the video of the masterclass with Nina at 29:10 →
Second, you need to add your keywords. You may add up to three keywords, but with Jasper, it is better to focus on your primary keyword to avoid keyword stuffing. Later, you can build secondary keywords into your headers and text anyway.
3. Write a Post
Watch the video of the masterclass with Nina at 29:34 →
Third, give Jasper a moment to write your post. There are actually a few different commands that you can use depending on how long you want your paragraphs to be, etc., so you may want to try several of them. Your commands may be short, long, general, or very specific. For example, when you put three asterisks in a row, Jasper will not see what is written above them.
You can also take advantage of the pattern recognition feature that allows Jasper to copy the structure of your competitors' text while avoiding plagiarism. This is especially useful if you are just starting out.
Once the text has been generated, it makes sense to scroll through the post and add your personal touch. Nina recommends starting a post immediately by satisfying user intent. For example, if you write about wine tasting, you can start off by appealing to your target audience and introducing your main keyword in the first sentence. Thus, even if the user is just skimming through the post, they will still see the keyword.
4. Add Your Personal Experience
Watch the video of the masterclass with Nina at 48:04 →
You may also want to share some personal experience. For example, tell your audience if you have been on the tour, have any wine tasting experience, etc. This will help your content connect to the audience, as personalization builds trust.
Another great feature of Jasper is that it allows you to upvote or downvote the content depending on whether you are satisfied. If you click thumbs down, you will receive 10% of your monthly count back.
5. Write an Engaging Conclusion
Watch the video of the masterclass with Nina at 53:35 →
You can write various types of conclusions with AI tools like Jasper. For example, you may can the best tour that you recommend or reference another post on tours that might be interesting for your audience, and so on.
Key Takeaways
AI writing tools can be enormously helpful when it comes to creating SEO-friendly content and driving traffic to your affiliate links. To write a top-class affiliate post, you need to conduct some research and provide the tool with relevant information. Write the outline and put in keywords you want to rank for. In addition, make sure to study and take advantage of different commands that can be used with AI content generators. Sharing your experience will add a personal touch to the post and help your audience relate to your content. Once your text is ready, be sure to edit it and fix any common issues.
Check out the free guide from Travelpayouts' experts to find 10 of the best practices for making the most of AI technology in your travel blogging business.
Boost Your Travel Affiliate Marketing Earnings with AI
Learn how to use AI writers to create money-making travel content in a variety of formats.
Get the Free Guide