At the forefront is Jasper AI, an innovative language model helping you take your travel blogging to the next level. The AI-driven technology is making it easier than ever to produce high-quality travel content that captures the essence of your destination and inspires your readers to explore the world!
In this Jasper AI review, we'll explore how this AI-powered tool can help you generate fresh ideas, craft compelling social media captions, and create customized content that resonates with your audience. I'll provide insights, pricing options, alternatives, and honest opinions about Jasper AI, so you can decide how to proceed in this revolutionary time for artificial intelligence and content creation!
What Is Jasper.ai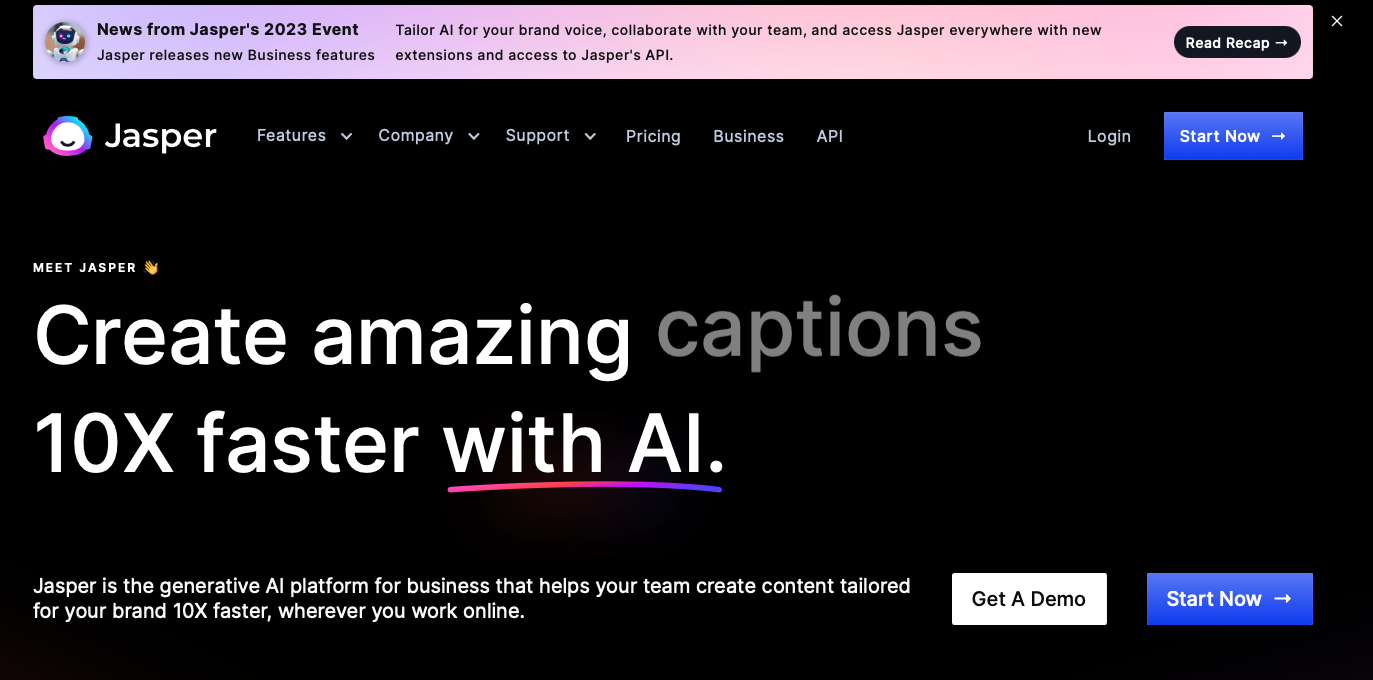 Jasper AI is an innovative language model that uses artificial intelligence to assist travel bloggers in creating engaging and personalized travel content. It's an AI-powered tool to help generate ideas, and craft outlines, titles, descriptions, and captions for customized content.
Like other AI-driven tools, ChatGPT and Copy.AI, Jasper AI utilizes powerful technologies to produce quality outputs:
Natural Language Processing (NLP) allows Jasper to understand and analyze human language, helping it generate coherent and relevant content.
Machine Learning (ML) enables Jasper to learn and improve from data, allowing it to create more personalized content.
Deep Learning involves neural networks modeled after the human brain, allowing Jasper to process vast amounts of data and create creative and engaging content.
Computer Vision enables Jasper to analyze and understand visual data, such as travel photos and videos, and generate descriptive and engaging captions.
Sentiment Analysis helps Jasper to understand the emotional tone of language, allowing them to adjust content style accordingly.
How Does Jasper.ai Define Itself?
But don't just take my word for it. Jasper.ai can more than describe itself for an even better understanding of the technology. When I prompted Jasper AI to define itself and how it's useful for travel bloggers, here's its output:

Honestly, not bad for a computer. And even though some outputs require editing and revisions, Jasper AI can be a valuable asset in your content creation process. Solo bloggers or small teams can quickly and efficiently produce high-quality travel content that resonates and inspires to explore the world.
But most importantly, Jasper AI and many other AI tools can help streamline the content creation process – saving you valuable time and money.
How Much Is Jasper?
Jasper AI has two primary pricing options for travel bloggers and small teams. Each option has a five-day free trial before payments kick in.
Starter. Gain access to most features with a limit of 35,000 words per month.
Boss. The ideal solution for serious travel bloggers. Choose between 50,000 or 100,000 words per month, beginning at $59.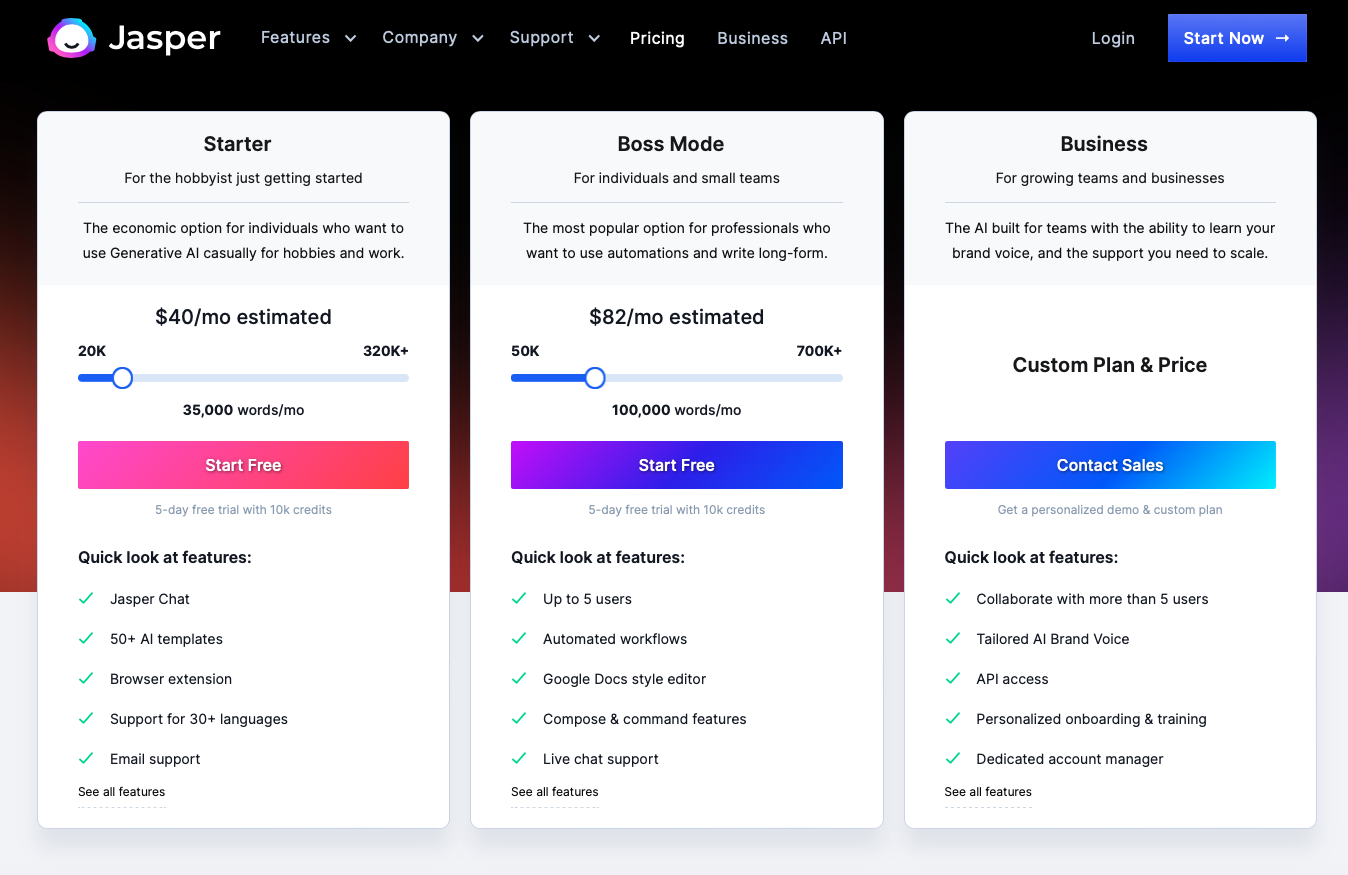 Who Is Jasper For?
At this point, adopting AI technology like Jasper AI is a foregone necessity if you want to keep up with current trends in content creation. So who is Jasper AI for? Well, anyone creating content, of course!
Travel Bloggers create high-quality content more efficiently, generate ideas for new posts, conduct content research, and suggest personalized itineraries.
Copywriters can create more effective and engaging content by analyzing data and optimizing headlines, taglines, and other marketing copy for maximum impact.
Social Media Managers optimize personalized content for each platform by analyzing social media data and creating engaging captions and hashtags.
Marketing Specialists can create targeted and effective marketing campaigns by analyzing data and creating personalized messages.
Photographers develop compelling and engaging visual content by analyzing and tagging photos with relevant metadata.
Videographers create compelling content by analyzing and tagging videos with relevant metadata, titles, and descriptions.
Translators improve the accuracy and speed of their translation services, making them more efficient and cost-effective.
As a travel blogger, you understand the importance of staying ahead of the game, producing high-quality content, and constantly improving your online presence. Jasper AI can assist you in achieving these goals by automating tedious tasks, generating new content ideas, and improving your social media strategy.
Does Google Penalize AI-Generated Content
Many content creators are concerned that using artificial intelligence to generate content will result in Google penalizing their websites. However, this is a common misconception and not necessarily true.
Google's primary concern is with the quality and relevance of the content, not how it was generated. Therefore, if you're using relevant AI-generated texts that provide value to your audience, there's no reason to worry about Google penalizing your website. 
For more information on the myths surrounding AI-generated content, check out this informative post from Travelpayouts.
Jasper.ai Features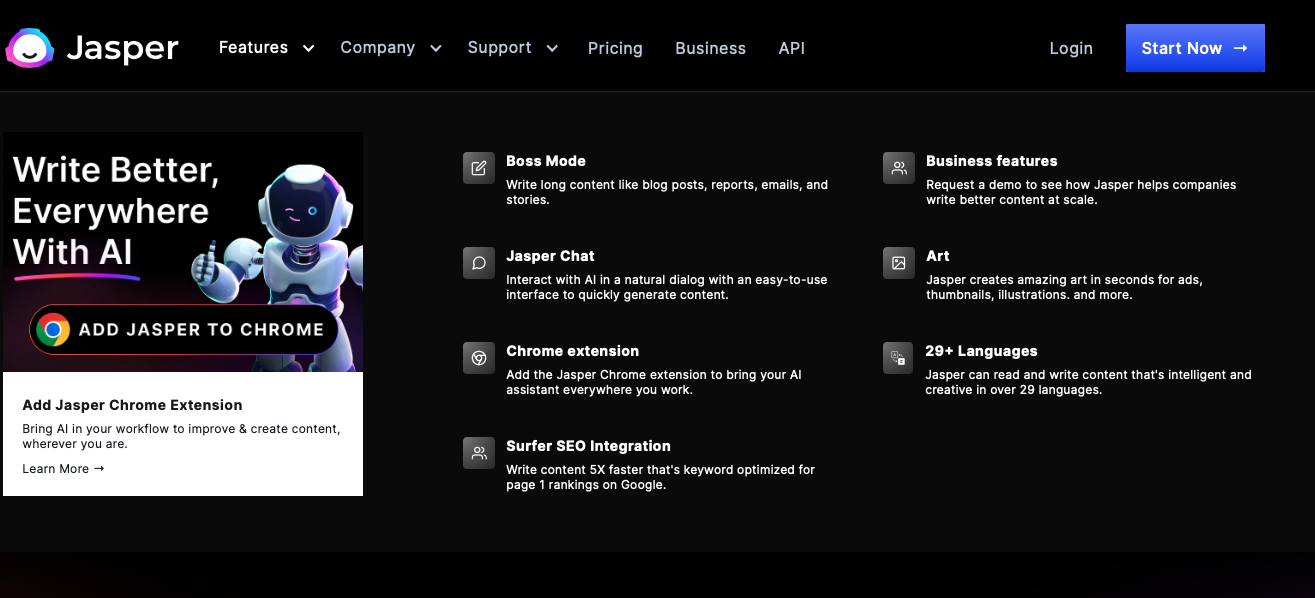 One of Jasper's strongest selling points is its wide range of features and templates designed to simplify and optimize content creation. By leveraging these features, you can significantly boost your travel blogging endeavors' speed, quantity, and quality.
Content Templates
Compared to other content writing tools, I found Jasper AI has the most extensive list of relevant templates for travel bloggers. This range of pre-built templates includes recipes for entire blog posts, product descriptions, video captions, social media posts, email subject lines, and newsletters.
Jasper Chat
Jasper AI's built-in chat function allows users to get real-time support and guidance on their content creation process, with the ability to ask questions and receive helpful tips and feedback. As of this writing, Jasper's chat feature is in Beta testing as it strives to compete with AI-chat heavyweight, ChatGPT-4.
Grammarly Integration
Jasper AI's integration with Grammarly allows users to check their content for grammar and spelling errors, ensuring it is error-free and professional-looking. The feature automatically integrates Grammarly's free version on Jasper's editing screen.
Chrome Extension
Jasper AI's Chrome extension allows users to access AI-powered content creation tools from their browsers, making creating and optimizing content easy while utilizing programs like Google Docs or Microsoft Word.
Surfer SEO Integration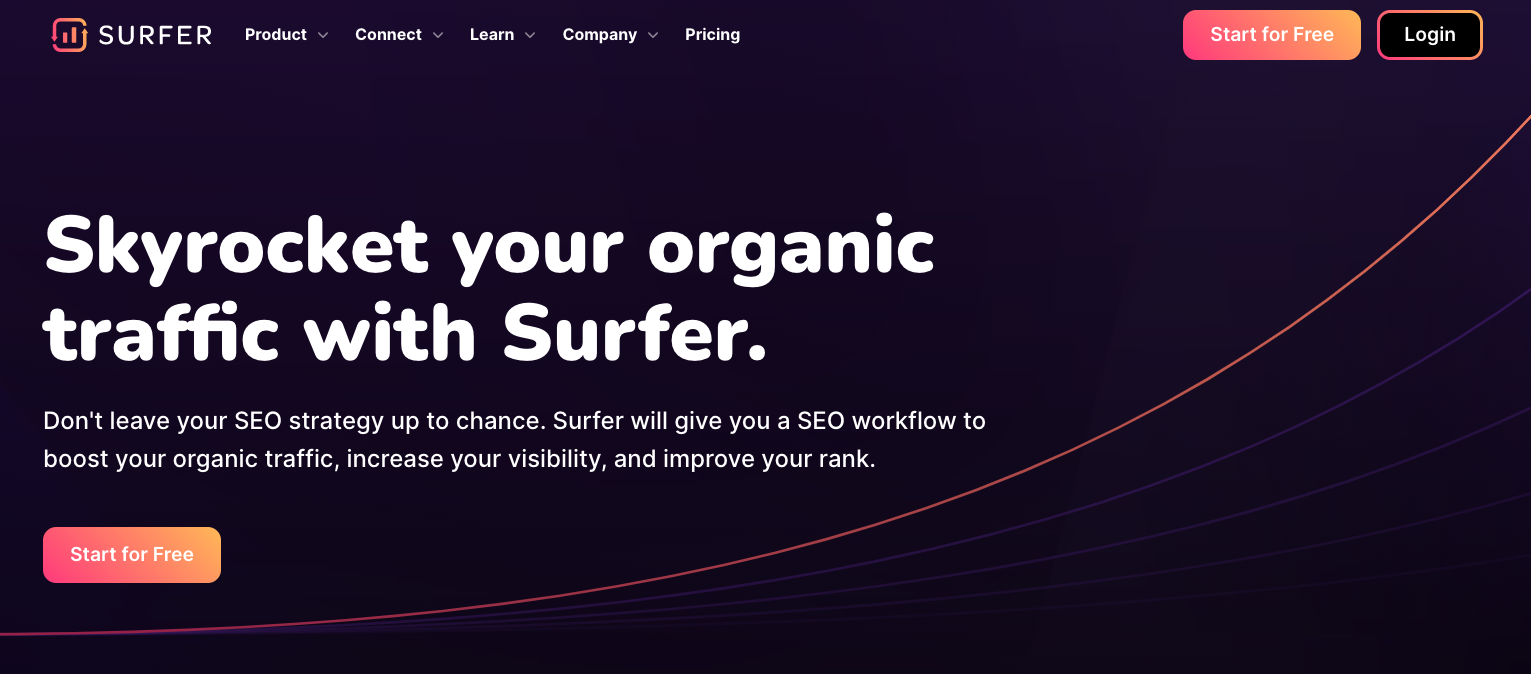 Jasper AI's integration with Surfer SEO allows users to optimize their content for search engines with advanced features such as keyword analysis and competitor research. Although you'll need a separate subscription to Surfer SEO plus Jasper's Boss Mode, you can easily access its features from Jasper's editing document.
I personally use Surfer SEO for my travel blog, OceanWide Explorers. It's an invaluable tool to consistently rank on Google's search results and one of the best ways to boost traffic using AI.
To learn more about how to use Jasper to write SEO-optimized articles, watch this webinar with Nina Clapperton, a six-figure-earning travel blogger and the founder of She Knows SEO.
Check out the free guide from Travelpayouts' experts to find 10 of the best practices for making the most of AI technology in your travel blogging business.
Boost Your Travel Affiliate Marketing Earnings with AI
Learn how to use AI writers to create money-making travel content in a variety of formats.
Get the Free Guide
30+ Languages
Jasper AI supports over 30 languages, making it a powerful tool for creating content for a global audience. Translate and optimize content for different regions and cultures – possibly the most valuable feature for travel bloggers.
Jasper Art
Jasper AI can generate unique and visually appealing images to accompany your content, with the ability to customize colors, fonts, and other design elements to fit the brand or style of your travel blog. Although fascinating and helpful in some cases, this technology is still a work in progress.
Jasper AI's features and templates are designed to save users time, streamline processes, and improve overall performance. By leveraging their power, users can unlock new levels of efficiency and productivity in their travel blogging operations.
Copyscape Integration
Another integration tool on Jasper's editing screen is Copyscape's online plagiarism checker. Although this is an additional cost, Copyscape can quickly scan Jasper's output to detect any possible plagiarism by the AI-writing tool.
How to Use Jasper.ai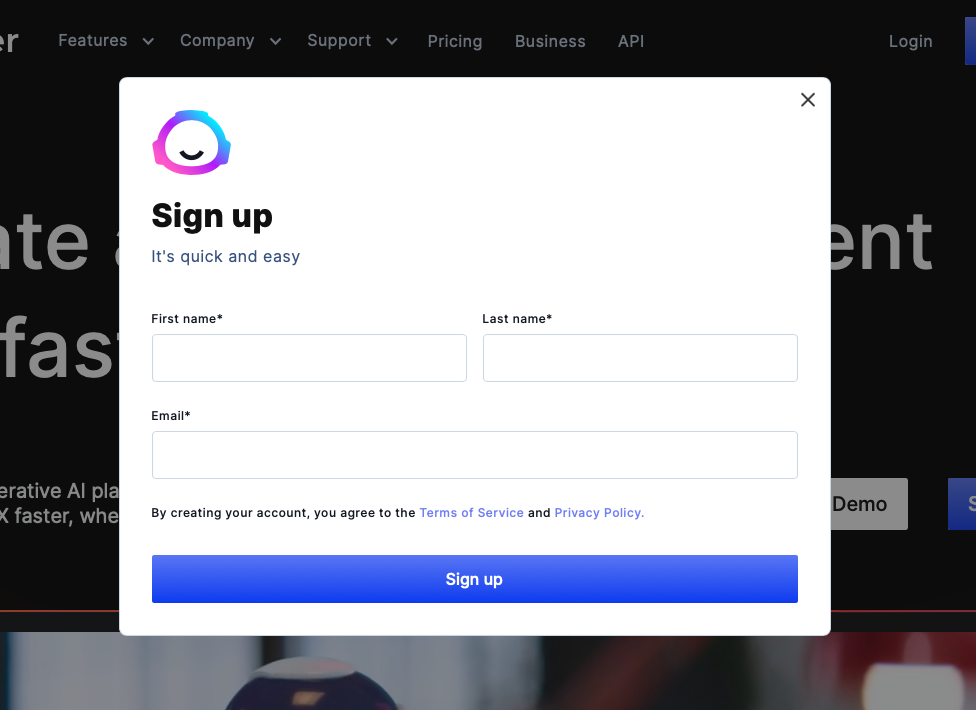 Overall, using Jasper AI for content creation is a straightforward process that can save you time and effort in creating high-quality content for your travel website or social media channels. And for all the available features, Jasper is surprisingly easy to navigate from start to finish.
Sign Up for Jasper
The first step in using Jasper AI is to sign up for an account on the Jasper AI website. Once you've signed up, you can access the AI-powered content creation tools.
Jasper has two main pricing options (plus a customized third for large corporations), each with a 5-day free trial option.
Select the Appropriate Template or Recipe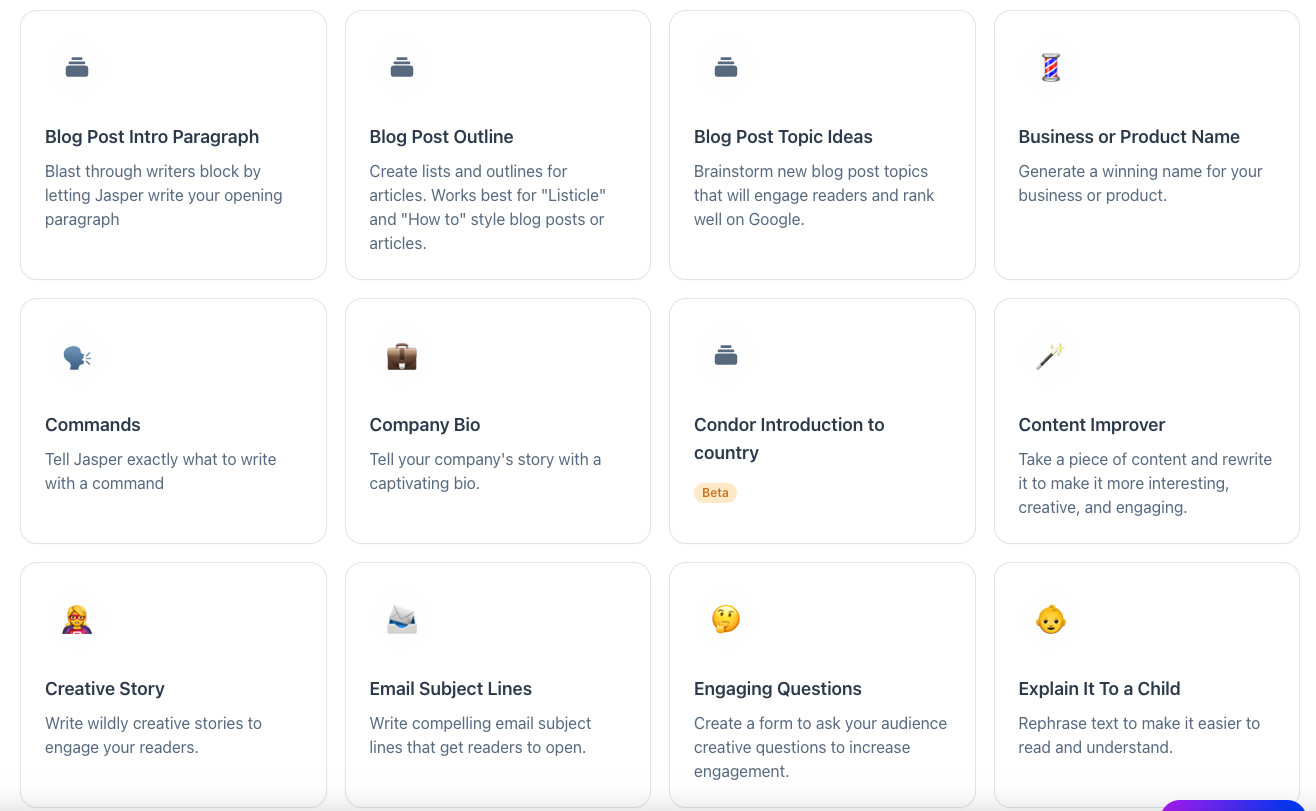 Once you've logged into Jasper AI, you must select the appropriate template for the type of content you want to create. Jasper AI offers a range of templates for different types of content:
Youtube titles, descriptions, scripts, and topic ideas.
Press Releases
Photo Captions
Instagram captions and hashtags
Facebook ads and posts
Pinterest Pin titles and descriptions
Email subject lines, newsletters, and marketing strategies.
Blog post introductions, outlines, titles, and paragraphs.
Another exciting feature of Jasper is its recipe option for content creation. These pre-formatted documents list helpful commands for creating specific content like an entire blog post, Facebook ad, or product review.
I found the product review recipe especially helpful when creating listicles of travel gear for affiliate marketing purposes. In fact, here's an example of an article I wrote about travel Scuba equipment using Jasper's product review recipe.
Input Relevant Information to Jasper
As with all artificial intelligence to this point, the generated output is only as good as the inputs and data it draws upon. Jasper AI is no different.
After you've selected the appropriate template, you'll need to input relevant information and content description to Jasper. This includes things like the topic of your content, the target audience, the tone of voice, and any specific keywords or phrases you want to include.
Content Generation and Editing
Once you've submitted the relevant information, Jasper AI will generate content based on your input. From there, you can edit the content as needed, adding or removing text or tweaking the wording to fit your needs. You can also use Jasper AI's built-in editing tools and integrations with Surfer SEO or Grammarly to streamline your editing process.
I've found that much of Jasper's output is word-heavy and not very concise. So plan on spending a little bit of time shortening lengthy phrases and reducing repetitive ideas. Yet, overall, the writing tool is still incredibly beneficial to save you time and effort during your content generation processes.
My Experience With Jasper.ai
For full disclosure, I am a monthly subscriber to Jasper.ai's Boss Mode – I haven't quite taken the full leap into the annual subscription yet. And there's a reason for that.
Although I've found Jasper's tools helpful, especially its templates and recipes, I've yet to gauge whether or not the value it is giving me justifies its monthly cost, especially with the release of OpenAI's free version of ChatGPT-4. At the same time, ChatGPT has little to no features found on Jasper's interface. Deciding between AI-writing tools like Jasper and ChatGPT is a delicate balance of pros and cons.
With that said, Jasper AI is still a powerful tool that can help you achieve your content creation goals. By leveraging its technology, you can save time, increase your reach on social media, and produce more high-quality content quickly. Let's weigh its pros and cons below.
What I Liked About Jasper
There's much to love about Jasper.ai, including many features that set it apart from other AI-content writing tools.
Specialized Templates. Jasper's long list of templates gives the program a nod of approval over other AI-writing tools like ChatGPT.
Plagiarism Free. This might be Jasper's top-selling point – almost all content produced by Jasper is plagiarism free!
Efficiency. Without question, using Jasper's tools, even with the potential for a heavy editing process, saves you time and money to help you produce quality content efficiently.
Quality of Content. Although robotic and repetitive at times, I've been impressed with the quality of content generated by Jasper AI. It's always a great starting point for most content despite spending minimal time editing its original output.
Easy to Use. Jasper AI's user-friendly interface and intuitive templates make it easy to navigate and create high-quality content without prior experience.
Product Review Recipe. I'm particularly fond of Jasper's product review recipe and its high-quality outputs for gear reviews and listicles. It takes a bit of training to learn the commands, but once you know them, you'll produce highly profitable content quickly.
Helpful Integrations. Google Chrome, Surfer SEO, Grammarly, and Copyscape were four programs I was already using for content creation. Having Jasper easily integrate all of them in one place is just the cherry on top.
Personalization. I've appreciated how Jasper AI can generate personalized content, and marketing messages based on my inputs, preferences, and editing behaviors.
Organization. Jasper's featured folders for projects and documents is the best mode of organization among AI-content writing tools I've used.
Overall, Jasper AI is a versatile and effective tool that can help you improve content creation, social media optimization, and data analysis processes. The features and templates Jasper AI provides are user-friendly and produce high-quality results, making it a valuable asset for travel bloggers looking to streamline their operations and enhance their online presence.
Jasper.ai Limitations
While Jasper AI is a powerful tool with many benefits, there are some limitations to remember:
Lack of Creativity. Jasper AI's content generation capabilities are limited to the data it has been trained on. As a result, some users may find that the content generated by Jasper AI needs more creativity and originality.
Distinctively Not Human. While Jasper AI can generate high-quality content, it does not replace human writers. You may still prefer to write your content or to use Jasper AI's generated content as a starting point for further editing and refinement.
Robotic and Repetitive. I mentioned this a few times throughout this article – many of Jasper's outputs sound robotic and begin to become repetitive during long-form content. I'm sure this limitation will improve, but prepare to heavily edit Jasper's creations today.
Limited Customization. While Jasper AI can generate personalized content based on user preferences and behaviors, customization is limited. Users may need to invest time in customizing the content generated by Jasper AI to align it with their brand and target audience.
Price. Jasper AI is a paid service, and the cost may be prohibitive for some users, particularly those with limited budgets or just starting out.
Excessive Back Door Fees. On top of the monthly or annual price tag, Jasper's integrations, specifically Copyscape and Surfer SEO, require an additional cost.
Training Involved. Although relatively easy to use, some features of Jasper require additional training, unlike alternatives like ChatGPT.
Despite these limitations, Jasper AI remains a valuable tool for travel bloggers and content creators looking to streamline their operations and enhance their online presence.
Jasper.ai Alternatives
There are several alternatives to Jasper.ai that travel bloggers and content creators can explore to find the tool that best fits their needs. Here are some examples:
For more information about these tools and others, check out this post about the best AI content-writing tools on the Travelpayouts blog!
Final Thoughts on Using Jasper.ai
Overall, I found Jasper easy to use, with various templates and customization options that helped me quickly and efficiently create high-quality travel content. While there were some limitations and areas where Jasper.ai could be improved, overall, it's a valuable tool for travel bloggers looking to save time and streamline their content creation process.
If you're a travel blogger interested in trying Jasper.ai, I highly recommend giving it a shot. The tool offers a range of features and templates that can help you create high-quality content quickly and easily, and it's a great way to save time and increase your productivity.
And after using Jasper, I encourage you to join Travelpayouts to monetize the content you produce. Travelpayouts offers a range of tools and resources to help travel bloggers earn money from their content, including flight and hotel search widgets, affiliate programs, and more. By combining the power of Jasper.ai with the monetization opportunities available through Travelpayouts, you can take your content creation to the next level!