What Is Copy.ai?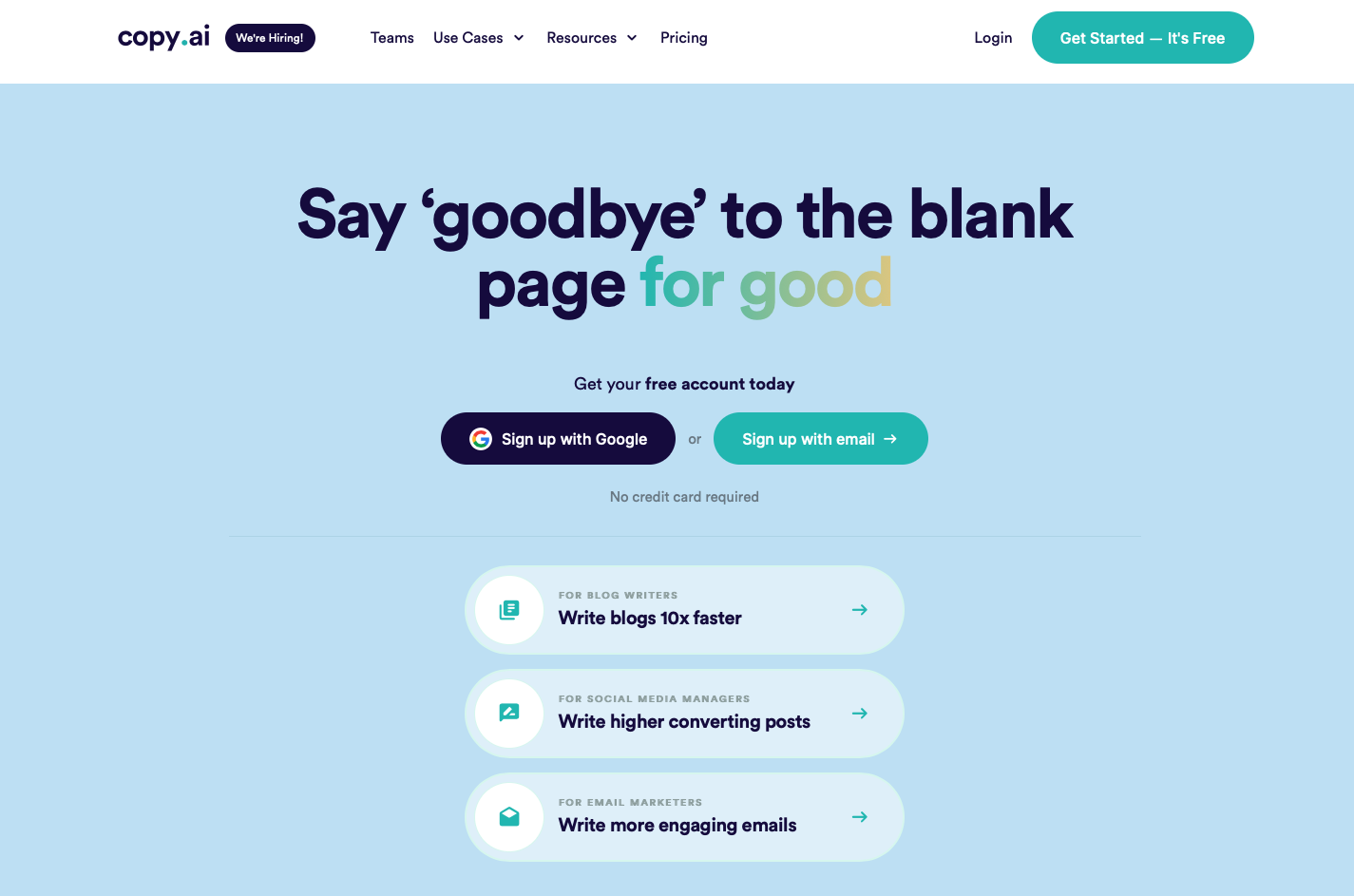 Copy.ai is an AI-powered writing tool that helps travel bloggers create content faster and easier. The technology generates copy that matches your content's tone, style, and subject matter while allowing you to customize the document as you see fit. As a travel blogger, you only need to give Copy.ai a few inputs to produce quick and high-quality content.
But that's how I would describe Copy.ai. Below, let's see how Copy.ai would represent itself to demonstrate the ease and practicality of this writing tool.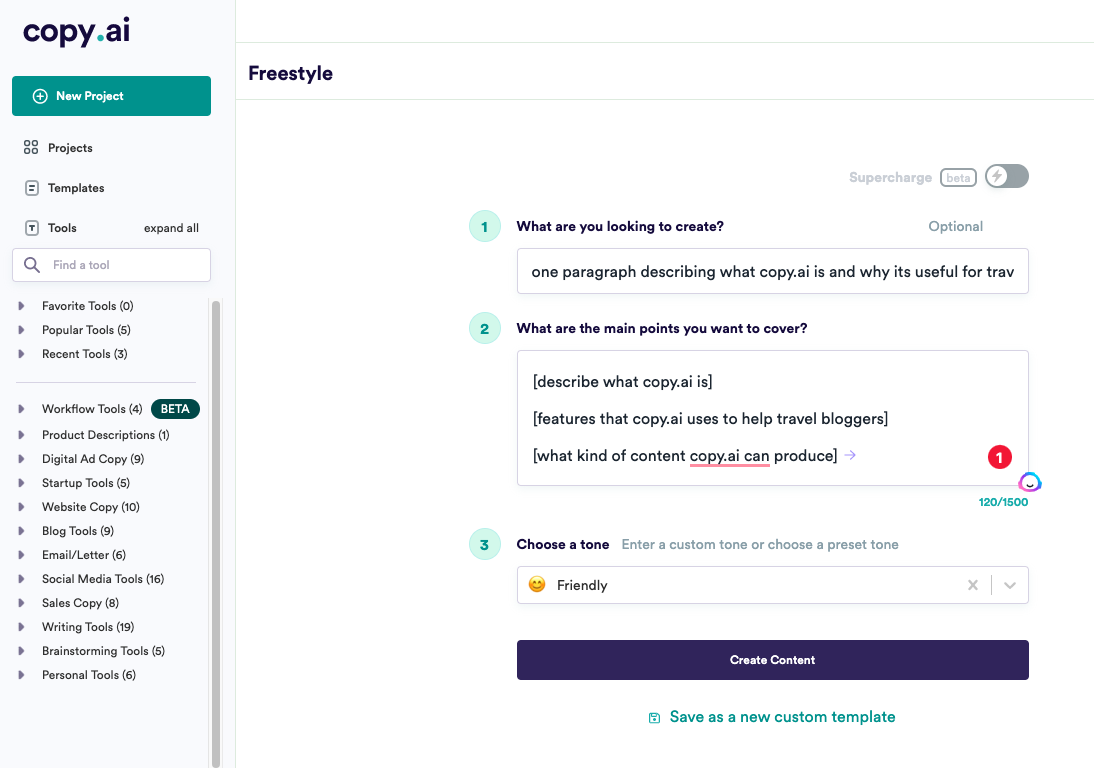 With nothing more than the simple inputs in the image above, Copy.ai produced a short piece of content describing itself as,
"Copy.ai is a tool that can help you create unique, engaging, and shareable content for your travel blog.
It uses natural language processing technology to analyze the content of other blogs in your niche and create a summary of it with a link to the original source. It also allows you to search for images and videos on YouTube and Instagram based on keywords.
You can then use these summaries and images/videos as inspiration for your own blog posts, or as part of an editorial calendar."
As you might have guessed, the main benefit of using a tool like Copy.ai is to save time and resources. And judging by the technology's output above, I'd say it's not too bad for a few button clicks.
How Does Copy.ai Work?
Producing content with such ease doesn't happen without extensive underlying technology. Copy.ai utilizes a variety of AI-driven processes to optimize its writing output.
Algorithms – An algorithm is a set of step-by-step instructions for solving a problem or completing a task. Copy.ai uses algorithms to produce high-quality content.
Deep Learning – Copy.ai detects patterns in data to make predictions without training.
Natural Language Processing (NLP) – NLP helps Copy.ai understand patterns in conversational human language.
Data Mining – Copy.ai quickly scans large sets of available data to make word predictions by identifying trends.
Machine Learning – enables Copy.ai to learn from data and improve its ability to perform specific tasks without explicitly being programmed.
Copy.ai receives your input and produces relevant, engaging, and SEO-friendly content using these underlying methods.
Pricing Options for Copy.ai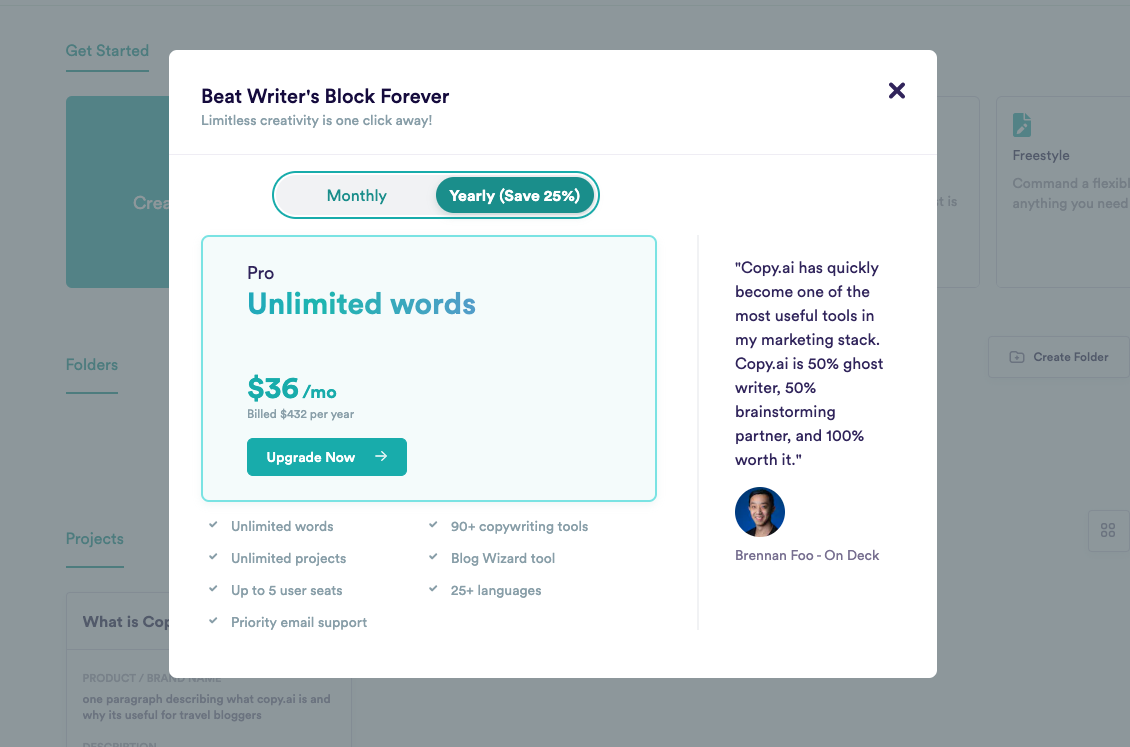 What's nice about Copy.ai is the relative affordability of the technology compared to some of the other best AI content-writing tools. The program has two plans:
Free Plan – one of the few AI-driven content generators with a free option. This subscription level requires no credit card and includes 2,000 words per month, offering users most of the available templates, including blog outlines and paragraphs, YouTube titles and descriptions, and social media captions. It's a great starting place for small blogs and businesses learning how to use AI technology and its best integration practices.
Pro Plan – a simple upgrade starting at $36/month if paid annually. The Pro Plan at Copy.ai grants users unlimited words and projects, plus premium features like the Blog Wizard – a helpful tool used to create an entire blog post from start to finish.
What Features Does Copy.ai Offer?
Copy.ai ranks among the best AI content-writing tools because of its long list of features and widespread application.
25+ Languages – curate content in Chinese, Spanish, French, English, Dutch, and others.
Plagiarism Checker – Copy.ai has a built-in plagiarism checker, as opposed to other content writing tools that outsource to third parties for an extra fee.
Chrome Extension – travel bloggers often engage multiple tabs when researching and developing content. Copy.ai's Chrome extension offers a simple solution to utilize the writing tool on every webpage you open.
High-Quality Content – content produced by Copy.ai is relatively error-free and grammatically correct. You'll have to make tweaks here and there, but generally speaking, the initial outputs are a great starting point in content development.
90+ Copywriting Templates – develop personal letters, create blog posts, or generate social media captions.
Types of Copywriting Produced by Copy.ai

You can quickly generate all sorts of copywriting applications using Copy.ai's 90+ templates:
Product Descriptions – Copy.ai can generate accurate and exciting product descriptions for your business.
Digital Ad Copy – you can generate copy for ads distributed on Facebook, Google, and LinkedIn.
Startup Tools – identify your audience, discover your brand's mission, voice, and motto, and generate value propositions for your product.
Website Copy – create effective CTAs, event descriptions, landing pages, listicles, FAQs, meta descriptions, and other types of copy.
Blog Tools – develop specific aspects of a blog post like outlines, titles, and intros, or generate an entire article from start to finish.
Emails and Letters – Email subject lines, thank you notes, and confirmations are helpful tools for email marketing campaigns.
Social Media – Copy.ai generates engaging copy for all your social media endeavors, including aspects of Facebook, and Instagram captions, YouTube descriptions, and TikTok topic ideas.
Sales Copy – quickly create tried and true methods of sales copy like AIDAs and feature the benefits, along with many others.
Writing Tools – outline essays and develop heroes and villains with many writing tools available on Copy.ai
Brainstorming – use tools on Copy.ai to brainstorm growth ideas, business names, products, and startups.
Personal Tools – birthday cards, cover letters, love letters, and resume bullet points.
Who Is Copy.ai For?
Copy.ai is for anyone seeking help to optimize their content-creating process. The technology is the perfect tool for content creators who value speed, efficiency, time, and money while maintaining high-quality writing outputs.
Social Media Managers – swiftly write captions, posts, and descriptions for most social media brands.
Freelance Writers – produce excellent work that ranks well more efficiently.
Marketing Specialists – quickly generate ads, product descriptions, and email campaigns.
Bloggers – speedily develop every aspect of a blog entry with a few short inputs.
Travel Bloggers – curate facts and resources about your destination for website development and blog posts. Write accurate and SEO-friendly copy for your next travel content.
Since its rollout, the main worry from bloggers about integrating AI technology in the content-creating process is how Google's search results view the AI's writing product. Initially, Google took a hard stance against AI-produced content but has since changed its course.
However, Google emphasizes that the content produced must be explicitly helpful to humans. Sure, robots might have written the content, but that content needs to speak to, relate to, and communicate valuable information to humans.
For example, you can't input information to an AI content writing tool, receive the output, copy, paste, and repeatedly publish for SEO purposes. Google will down rank this type of behavior. Your content still needs to be high-quality with a people-first mindset.
How Do I Use Copy.ai for Travel Blogging?
Copy.ai includes 90+ templates — from a blog post wizard and essay builder to Instagram captions and YouTube descriptions — easing the process of producing high-quality, curated content across various platforms. Aside from a few, most of these templates are accessible with the Free or Pro Plan. Remember, your limiting factor with the Free Plan is the monthly allotted 2,000 words, while the Pro Plan is unlimited.
Equipped with Copy.ai's Pro Plan, the possibilities of content generation for your travel blog are seemingly endless. Knowing how to use Copy.ai, you might focus on the following templates, features, and functions to maximize your efforts and boost your content-creating endeavors.
Create Post Outlines
Copy.ai is an excellent tool to generate blog outlines – especially to overcome the initial writer's block. Below is an example of a quick overview I generated for a potential blog post on my website, OceanWideExplorers.com.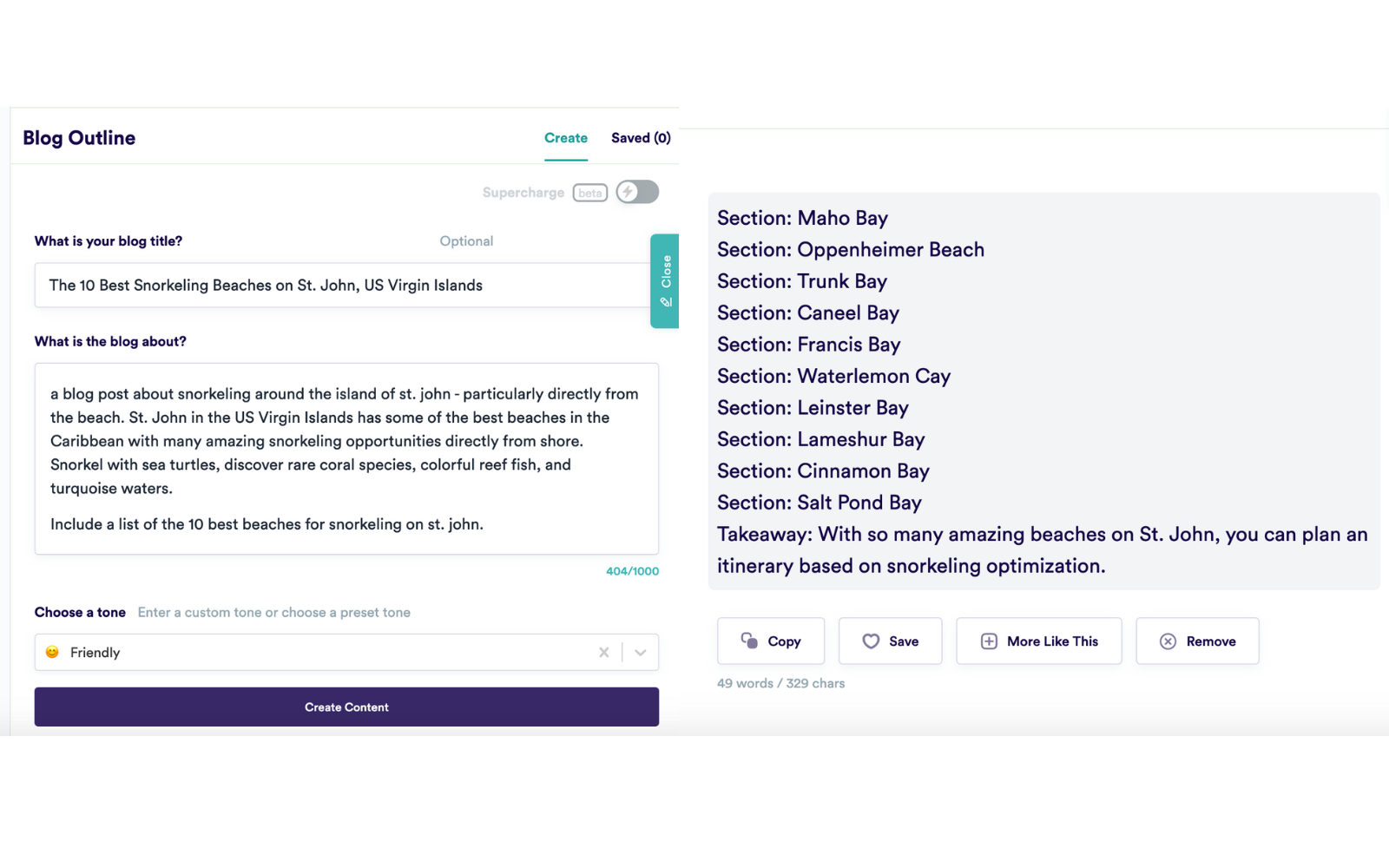 Overall, the outline generated by Copy.ai was comprehensive and relatively accurate. However, I'll slightly tweak a few of these in my final product to add personal expertise and lesser-known sites – knowledge unbeknownst to AI technology.
Blog Content
Once you've outlined a blog post, Copy.ai offers features to expand upon those ideas. Using tools like the Blog Post Wizard, Freestyle mode, or bullet point to section, you can input your existing outline to develop first drafts, introductions, paragraphs, and conclusions.
Copy.ai offers valuable content curation while describing common travel activities like snorkeling. The screenshot above shows my input on the left and the AI's output on the right. The copy is a great start, but my final product would likely infuse a more personal touch and expertise into the topic.
Social Media Content
Copy.ai, like other AI-writing tools, including ChatGPT and Jasper, can be used to create social media posts. Available templates include Instagram Captions, Facebook ads, TikTok topics, YouTube descriptions, and titles.
What's useful about Copy.ai's social media tools are the multiple outputs you can choose from. With one short input, the AI technology listed five very different Instagram captions, encapsulating various tones and styles. However, Copy.ai does not include essential aspects of Instagram captions like hashtags.
Email Content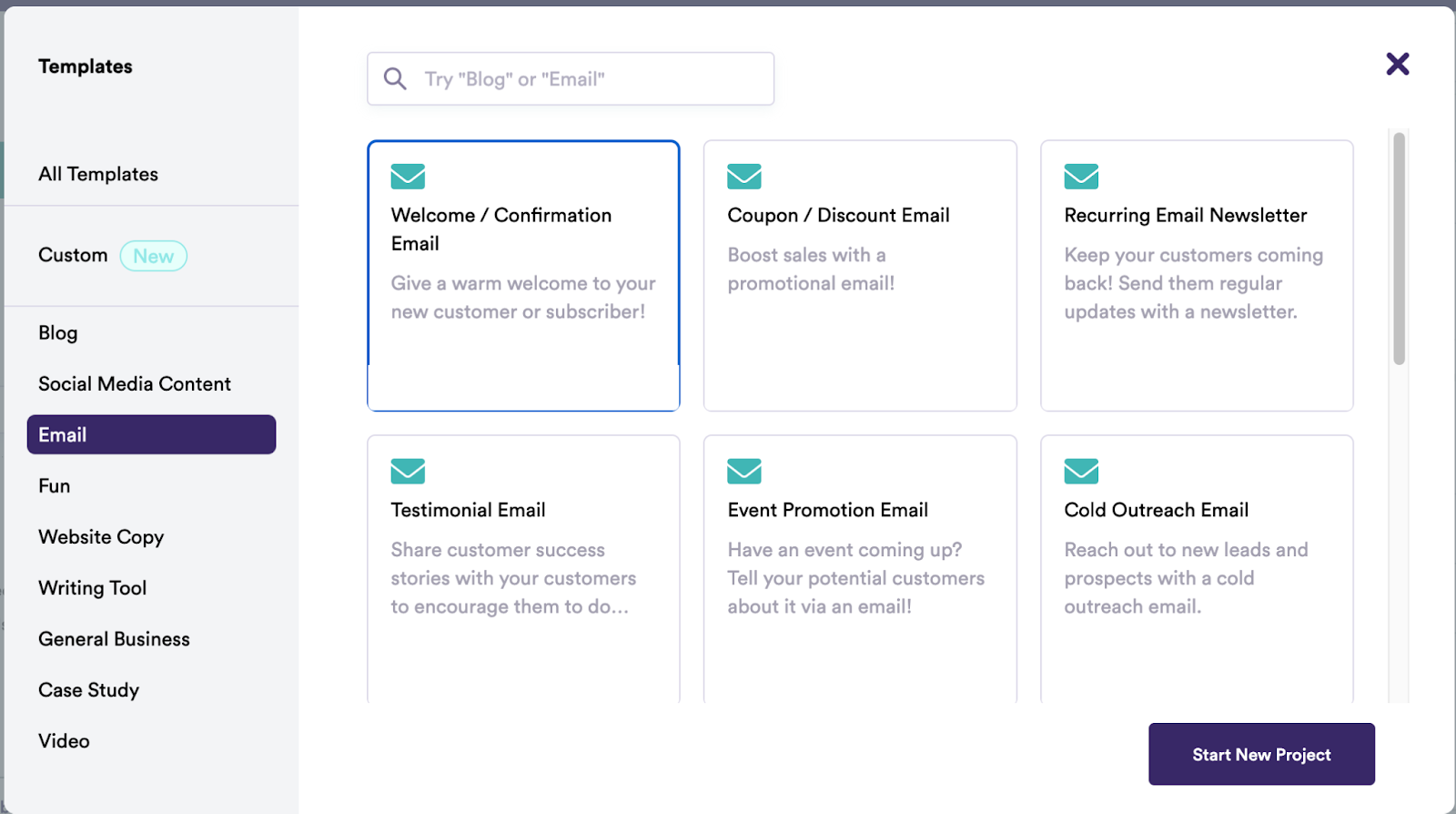 Copy.ai is a fantastic tool for travel bloggers sending consistent emails. The program has over ten templates to generate comprehensive, fast, engaging emails and allows you to develop welcome, and confirmation emails, coupon and discount code marketing campaigns, newsletters, event promotions, cold outreach, and contest/giveaway emails.
Copy.ai can create any email marketing campaign for your travel blog. For example, when writing a subject line for a promotional email about the blog post, "10 Best Snorkeling Beaches on St. John", Copy.ai came up with these responses:
Looking for the best snorkeling beaches on St. John?
Where to Snorkel and What to See on St. John
If you're heading to St. John this summer, these are the spots to snorkel.
You won't believe these amazing beaches on St. John.
These are good results; I would use one to pique my audience's interest.
Video Content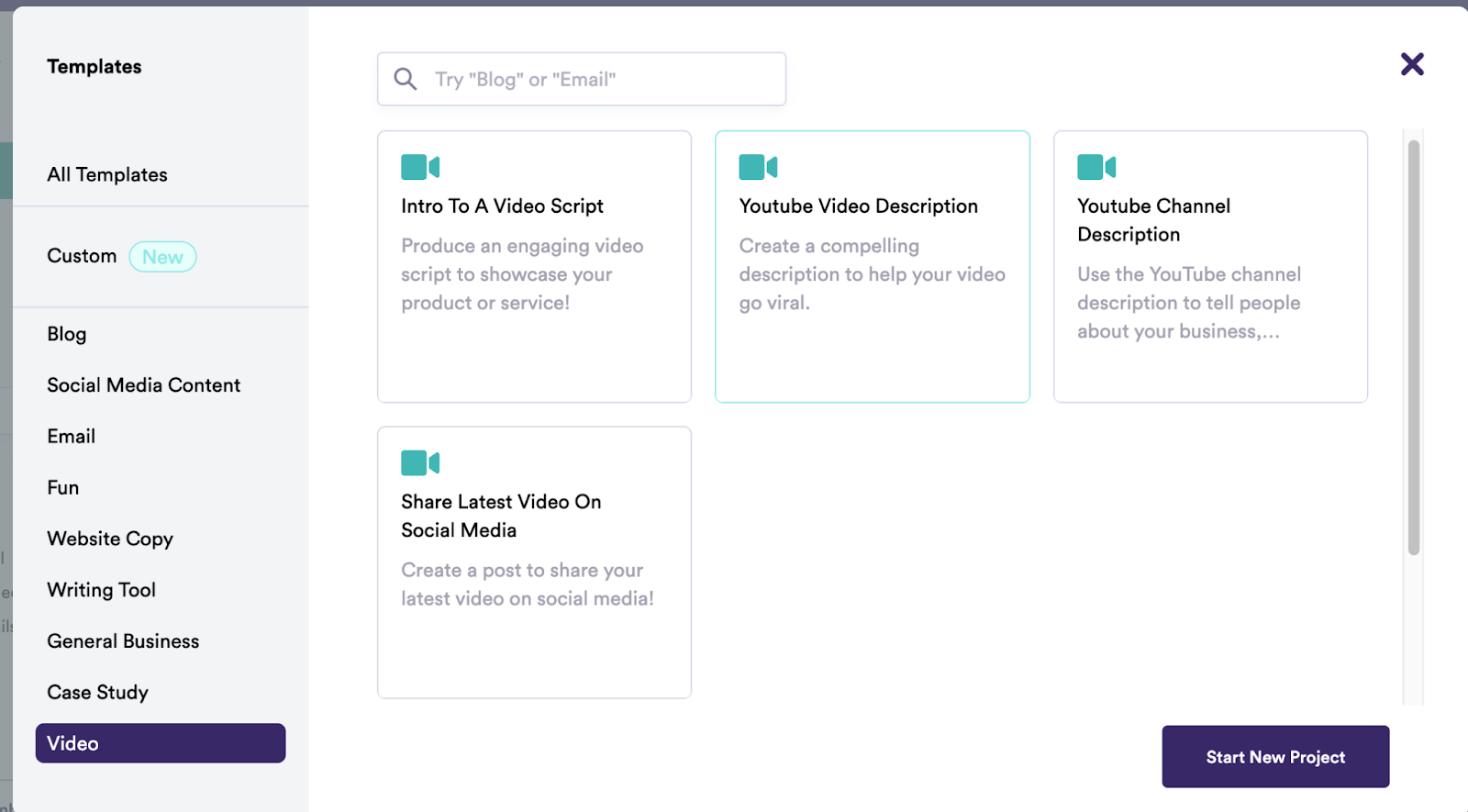 For travel bloggers engaging in video creation, Copy.ai features a multitude of tools to generate tedious copy associated with video content quickly. With a few keyboard strokes, you can speedily develop intros to video scripts, brainstorm YouTube video titles, or write YouTube video and channel descriptions.
What I Liked About Copy.ai
After creating content and playing with Copy.ai's features, it's clear that Copy.ai is one of the best AI-powered writing tools available for travel bloggers.
Price Point – Copy.ai is one of the more affordable AI writing tools on the market, with their Pro Plan beginning at only $36 per month. Although the Free Plan is limited to 2,000 words per month, this option is still helpful for content creators developing social media posts.
Unlimited Words – very few of the top AI-driven writing tools feature unlimited usage – usually capping their word count for their premium subscribers.
Quality Short-Form Content – I found the utility of Copy.ai primarily in its short-form content creation. The tool produced relevant results for outlines, short descriptions, and social media content.
Accurate Content – Copy.ai's tools produced accurate and semi-factual content when prompted on a topic. As with any AI-driven technology (for now), finer details were less than stellar. But overall, the technology produced accurate information on overarching topics and themes.
Beneficial Features – between 25+ languages, 90+ templates, the plagiarism checker, and Chrome Extension, Copy.ai's features put it a step above other content-creating AI.
Skeleton Framework – I generated the base of this article using AI-driven technology like Copy.ai. And although I heavily edited and scrapped much of it, the output still served as a solid base, or "skeleton," to expand on my ideas.
What Could Be Improved?
After reviewing all of Copy.ai's features, here are a few thoughts on what could be improved:
Long Form Content – Although Copy.ai offers a Blog Post Wizard to premium subscribers, the template felt clunky and confusing compared to other AI writing tools like Jasper.
Repetitive Templates – the company advertises its 90+ templates, which is a great feature. However, some of these templates felt repetitive. Sometimes, I couldn't tell the difference between one template and the other and would receive similar outputs no matter which template I used.
Human Voice and Tone – to no surprise, Copy.ai sometimes sounded extremely robotic and generic. I initially generated much of this blog post using AI tools but scrapped most of it to infuse my voice and tone into the writing. This problem seems like it'll work itself out in a few years, but prepare yourself to edit any AI-generated content for the foreseeable future.
Final Thoughts on Using Copy.ai
Copy.ai is one of the most cost-effective and valuable tools for travel bloggers wanting to use AI-driven content creation. If you're still weary, simply sign up for the free plan and play around with your 2,000 words to see for yourself. They don't require a credit card, so you won't be surprised by hidden fees or sleight of hand.
The most significant benefit of using an AI tool like Copy.ai (or a Copy.ai alternative) is the time you'll save doing mundane tasks. As a travel blogger, you want to spend your days exploring the world, pursuing creative endeavors, and monetizing your passion with digital partnership platforms like Travelpayouts. By implementing AI technology into your content strategy, you'll begin producing meaningful travel content at unprecedented rates, so you can focus on what matters most to you.
Check out the free guide from Travelpayouts' experts to find 10 of the best practices for making the most of AI technology in your travel blogging business.
Boost Your Travel Affiliate Marketing Earnings with AI
Learn how to use AI writers to create money-making travel content in a variety of formats.
Get the Free Guide