1 Month
Monique started her blog, Blog With Mo, in May of 2018 and managed to earn $142.91 in just one month. Here is the income report breakdown:
AdSense ads: $108.54
Amazon affiliate income $5.37
eBook sale $29
During this month, Monique published 40 posts, acquired 340 email subscribers, and got close to 13,000 page views. As you can see on her traffic income report below, after publishing, traffic almost immediately started coming in, and the blog received several thousand page views in the first few days, as well as some ad income. In the second month of blogging, her income reached the $380 mark.
This blogger success story was comprised of several different monetization strategies. First of all, publishing 40 blog posts in the first month was accompanied by a robust Pinterest strategy that greatly helped to drive traffic. Monique also started capturing emails immediately to grow her email list and enhanced her monetization via affiliate links. Finally, she started selling her own product (namely, an eBook), although the number of sales was not very high.
If you have a travel blog, you can start monetizing it immediately. The scale of your project doesn't matter. You don't have to wait for promotions, try to understand AdSense, or create your own products.
You can earn on hotels, flights, and other travel services by promoting travel brands. This is all possible with the Travelpayouts partnership platform, on which you can find over 100 travel brands, including well-known names, such as Booking.com, TripAdvisor, Kiwi.com, and more.
It's simple and free. Just sign up for Travelpayouts, join the programs that best fit your project, and place the partner tools (links or widgets) on the relevant blog pages. For each sale made via your partner tool, you'll receive a reward.
Join the Travelpayouts Partnership Platform
Access exclusive tools and the best travel affiliate programs, including flights, hotels, car rental, insurance, tours and activities, all in one place.
Join today
350,000 partners already trust us
100+ travel brands
$40M+ total paid since 2011
3 Months
Sara from Gathering Dreams went from $0 to $3,878 after three months of part-time blogging. Her income breakdown for this time period is as follows:
Ads income (Mediavine): $2,572.73
Affiliate income: $1,263.96
Here is an overview of the traffic. Sara managed to get over 3,000 page views in her first month of blogging.
So, what was the plan for this blog success story? Sara wanted to start earning $1,000 a month from blogging in one year. As a result, she developed a comprehensive approach. First, she learned the importance of using a good hosting provider, as free services weren't able to maintain good website performance. Second, she focused on sharing valuable content that solved her audience's issues to ensure a stable inflow of visitors. Third, she discovered that Pinterest is great at driving free traffic.
4 Months
Spencer of Niche Pursuits managed to see his first earnings come in within four months. He published his first article on September 10, 2018 and had 20 articles online by the end of the month. Within three months, he had made about 40 posts. In early December 2018, the first sale of $3.97 came in from Amazon.
Spencer aimed to attract traffic mainly from Google with posts. He'd also create and promote pins on Pinterest. Although his initial revenue wasn't high, in seven months, Spencer was already earning $128.41 per month. In ten months, his revenue reached the $1,000 mark. In just two years, Spencer was earning over $3,700 per month.
5 Months
Sarah-Charlotte of The Frugal Millionaire blog is now one of the top-earning bloggers, although her first cheque took about five months to earn. Sarah started her blog at the end of September 2014 and made her first $100, five months later, at the end of February 2015. These were five months of consistent posting, commenting, and monetizing her blog.
Mainly, that first income came from Google AdSense, but Sarah later joined Media.net and Sovrn. She started to post ads right from the start, but was only able to withdraw her money after reaching the $100 mark. Now, Sarah also uses The Blogger Network to monetize her blog with ads.
1 Year
Debbie Gartner of The Flooring Girl shared in this interview how she managed to become a successful blogger within one year. It all started when Debbie decided to monetize the blog she already had through SEO and Pinterest.
By the end of the first year, Debbie was already making about $3,000 per month with her blog. In a couple more months, her earnings reached $6,000. By the end of the following year, Debbie was already making $10,000 per month.
Another great example is the Practical Wanderlust travel blog. Lia Garcia, the voice behind the blog, managed to earn $22,000 during her first year of blogging, which made her decide to pursue travel blogging full time. Here is her income breakdown:
Advertising: $6,720.14
Affiliate Income (excluding Amazon): $1,658.91
Amazon Affiliate Income: $2,764.49
Paid Press/FAM Trips: $6,135.00
Sponsored Posts: $2,725.00
Social Media Consulting & Courses: $2,450.75
Grand Total: $22,454.49
One can monetize a travel blog in a variety of ways, and, as you can see from the example above, affiliate marketing often accounts for a big part of blogging income. Lia monetizes her blog with affiliate links to hotels, flights, and other travel services.
Flight affiliate programs can be a great way to monetize your blog or social media page, as they feature great affiliate commissions. To maximise your revenue, check out our free special guide that reveals the best practices for earning in the flight market. You will learn:
The best airline affiliate programs
How much you can make with flight offers
Which sort of content works best for promotions
How to integrate offers into your content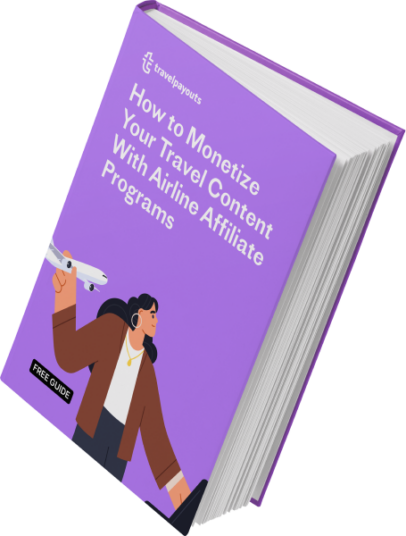 Start earning on flights
Use our free guide to add flights to your affiliate marketing strategy.
Start earning on flights
How Long Does It Take To Make Money Blogging?
Depending on the strategy you employ, it generally takes from several months to over a year to start earning money from a blog. It greatly helps to write valuable content that rewards visitors for the time they spend on your website. In addition, using Pinterest can be a great idea, as it allows you to drive traffic much faster than search engines.
Finally, ad networks and affiliate marketing present amazing opportunities to monetize your content almost immediately. You can earn on hotels, flights, and other travel services. You can find over 100 additional travel brands of different categories in the Travelpayouts partnership platform. Just go to the brands directory and choose the program that best fits your project.