The New Landscape of Travel Affiliate Marketing
When the COVID-19 pandemic swept around the world in March 2020, the travel and tourism industry needed to pivot quickly to remain successful in an evolving market.
Different countries had different responses to COVID-19 — some countries, like Sweden and the United States, took a more relaxed approach to the pandemic. In contrast, other countries, like New Zealand and Malaysia, enforced strict policies to manage the spread of the virus. Instead of viewing travel as a global affair, affiliate marketers were encouraged to promote domestic or local experiences — or stay on top of researching each country's travel requirements as they rapidly changed. For example, a blogger with an audience primarily from the United States would not have benefitted from promoting tours or experiences in a country where U.S. citizens could not travel during the pandemic.
However, because many travelers were forced to halt or modify their travel plans during 2020 and 2021, post-pandemic travel affiliate marketing is filled with ample opportunity. In 2022 and 2023, travelers are looking to "make up for lost time" by re-booking vacations they had to cancel or planning travel to countries they can enter safely in the wake of lifted pandemic restrictions.
The Pandemic's Impact on Travel
To understand just how drastically the pandemic impacted the travel industry, here are some shocking statistics:
Global international tourist arrivals fell by 72.4% in 2020 — the number of international tourists dropped from nearly 1.5 billion in 2019 to 409 million in 2020. (Statista).
The hotel occupancy rate in Europe in May 2020 was 13.3% — a drastic drop from 82.3% in May 2019 (Statista).
62% of survey respondents preferred using a hotel app for check-in and check-out as opposed to using a website during the pandemic (Statista).
The potential loss of hotel business sales in the United States was $925 billion in 2020 (Statista).
Following the pandemic, searches for "glamping holidays UK" and "UK staycation" multiplied by four times the normal search volume (Statista).
As of December 2020, 76% of travelers worldwide expected companies to offer special prices and discounts after the pandemic (Statista).
International travel plummeted during the pandemic, but that didn't stop travelers from seeking out alternative travel experiences that were safe and low-risk, like domestic trips, staycations, and camping. During the pandemic, travelers valued alternative accommodations, such as vacation rentals, where they could have less contact (and swap fewer germs) with other travelers, as opposed to busier hotels or resorts. Travelers preferred contactless options for check-in, check-out, dining, and other services if they did opt to stay at a hotel or resort.
Additionally, since the pandemic, travelers are more likely to search for deals when booking travel and will be more conscious of flexible cancellation plans. Travel insurance is seen as a "need" and not a "want" for travelers in a post-pandemic world.
How the Travel Industry Has Bounced Back Since the Pandemic
Despite the dramatic impact the pandemic had on the travel industry, the industry has started to "bounce back" in 2022 and 2023. Spending in the travel and tourism industry has been on the rise, and the industry is expected to make a complete recovery.
Here are some recent statistics from the World Tourism Organization (UNWTO) about the travel industry's swift recovery in 2023:
International arrivals reached 80% of pre-pandemic levels in the first quarter of 2023.
235 million tourists traveled in the first quarter of 2023, which was more than double the amount who traveled at this time last year in 2022.
960 million tourists traveled internationally in 2022, meaning that two-thirds of pre-pandemic numbers are recovered.
Europe reached 90% of pre-pandemic levels during the first quarter of 2023, while Africa reached 88% and the Americas reached 85% of 2019 levels.
Travelers' Evolving Needs
Since COVID-19, the reasons and preferences people have for traveling have changed. Prior to the pandemic, most people only traveled for vacations, holidays, or business trips — but now, a whole new era of travel has emerged.
Most jobs moved to a remote work setup during the pandemic, and several employers have allowed their employees to continue working remotely or on a hybrid schedule. Many remote workers are seeking opportunities for "workcations," or opportunities to work from different locations around the world, now that they are no longer required to be in an office.
With so many opportunities to work online from your phone or laptop, many people strive for digital nomadism — a lifestyle that allows people to travel while making money working remotely. Digital nomads may be more likely to seek accommodations in hostels, co-living spaces, and vacation rentals as opposed to hotels and resorts.
After spending more time in nature during the pandemic and seeing the positive impact that less transportation (cars, planes, etc.) had on the planet, many travelers are focused on traveling more sustainably by using efficient modes of transportation, purchasing items and meals from local businesses, and getting off the beaten path.
Navigating the "New Normal" of Travel Affiliate Marketing
Post-pandemic travel affiliate marketing might require some adjustments you were not used as a travel blogger or content creator before the pandemic. However, understanding changing consumer behavior and market conditions can help you create an affiliate marketing strategy that will resonate with your audience as they navigate a post-pandemic world.
First, last-minute bookings for hotels, flights, and tours are rising. Travelers are putting off booking vacations until they are confident travel plans won't be canceled due to health restrictions. You may want to remember this when creating content for your affiliate marketing strategy. For example, travelers will not be booking vacations in July over spring break as they would have previously. Instead, they will be booking in May or June. If you promote content for summer destinations too early, you may miss out on last-minute bookings.
Additionally, vacation rentals are on the rise as a popular option for accommodations, as opposed to hotels and resorts. Travelers enjoy the privacy and extra amenities they receive with a vacation rental — like a full-sized kitchen and washing machine — and may feel safer having their own space rather than sharing walls with others in a hotel. And after spending months or years isolated from family members, multigenerational travel is on the rise, so large families who might be looking for a place to stay with the grandparents, aunts, uncles, cousins, and kids may prefer a cost-effective rental over separate rooms at a hotel or resort. As an affiliate partner, it is crucial to incorporate vacation rentals, like VRBO, into your content strategy.
Finally, travelers value security and flexibility when booking post-pandemic travel experiences. After having vacations canceled in 2020 and 2021, the last thing travelers want is the same thing to happen again — which is why they will prioritize travel insurance and hotels, flights, rental cars, etc., with flexible cancellation. If you haven't joined a travel insurance affiliate program, read through this list to find the best program for your unique needs.
Promoting Domestic Travel and Local Experiences
While overseas and international travel has seemingly bounced back to pre-pandemic levels in 2023, the demand for domestic and local travel is still extraordinarily high — especially depending on your country of origin. Bloggers who have successfully pivoted their affiliate marketing strategy from international to domestic travel have likely seen an increase in revenue.
For example, if your audience is based in the United States and you blogged primarily about Europe prior to the pandemic, shifting your content strategy to more domestic locations — or even writing a blog post about the "Best U.S. Cities That Feel Like Popular European Destinations" — would be a smart choice. You could include affiliate links to hotels, vacation rentals, tours, activities, and other things to do in these cities.
Outdoor experiences also saw a massive spike in interest during the pandemic, with hiking, biking, camping, and other outdoor adventures rising in popularity.
Seizing Opportunities in Alternative Accommodations
Travelers love opportunities to stay in accommodations that aren't traditional hotels or resorts — vacation rentals, tiny homes, glamping, camping, and home sharing are just a few examples of alternative accommodations that travelers are opting for post-pandemic.
Finding vacation rental affiliate programs, like VRBO, is an excellent way to incorporate this consumer preference into your affiliate marketing strategy. VRBO offers tons of unique properties — from simple apartments to luxury castles — so you will have plenty of properties to choose from to find the perfect stays (and affiliate links) for each piece of content.
Embracing Contactless Travel
Contactless technology transformed the travel industry during the pandemic — and we think many of these technological advancements are here to stay.
Hotels have moved away from traditional check-in to digital smartphone check-in. Hotel keys can now be accessed through an app, flights can be checked into online, tickets can be kept in a mobile wallet, and restaurant orders can be placed by using a QR code — to name a few advancements. Finding technology solutions and digital tools that cater to these trends to promote will help you keep up with the future of travel affiliate marketing.
Sustainable Travel
Sustainable travel describes finding a way to maintain tourism long-term without harming natural and cultural environments. As a travel blogger or creator, you can produce content that encourages sustainable travel and resonates with travelers who feel strongly about this topic.
For example, traveling by train emits the lowest levels of greenhouse gases and other pollutants that can harm the environment (as compared to a vehicle or plane), so including affiliate links to train tickets through Omio or Trainline is an excellent way to reach sustainable travelers.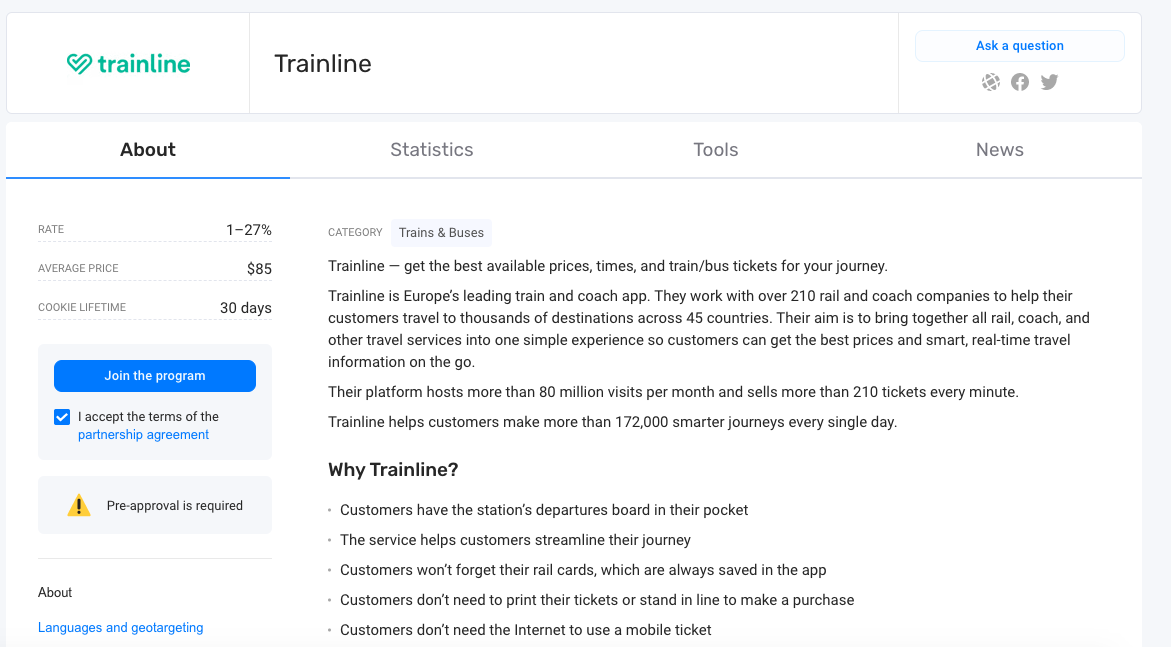 Additionally, promoting local restaurants, tours, and activities in your content is an excellent way to promote sustainable travel and boost the local economy. EatWith is a great company (and affiliate program) that connects guests with immersive cooking, baking, and culinary experiences from the comfort of their own home or vacation rental. These classes support local hosts and are a great way to support the local economy.
Viator and GetYourGuide also offer thousands of experiences worldwide by local tour providers — you can browse the platforms to find the perfect activities to promote in your content.
Thriving in a Post-Pandemic World of Travel Affiliate Marketing
Travel is coming back stronger than ever — so it is a great time to get started with post-pandemic travel affiliate marketing if you haven't already! Our Travelpayouts Partnership Program offers access to hundreds of affiliate programs, like Viator and VRBO that can help you lean into popular post-pandemic travel trends, such as sustainable travel, alternative accommodations, and domestic experiences.
Join today to get started earning. The future of travel affiliate marketing is bright, and if you follow these consumer trends, you are bound to succeed as a travel affiliate marketer.
Join the Travelpayouts Partnership Platform
Access exclusive tools and the best travel affiliate programs, including flights, hotels, car rental, insurance, tours and activities, all in one place.
Join Today
395,000 partners already trust us
120 travel brands
$53M+ total paid since 2011