The Power of Storytelling in Travel Affiliate Marketing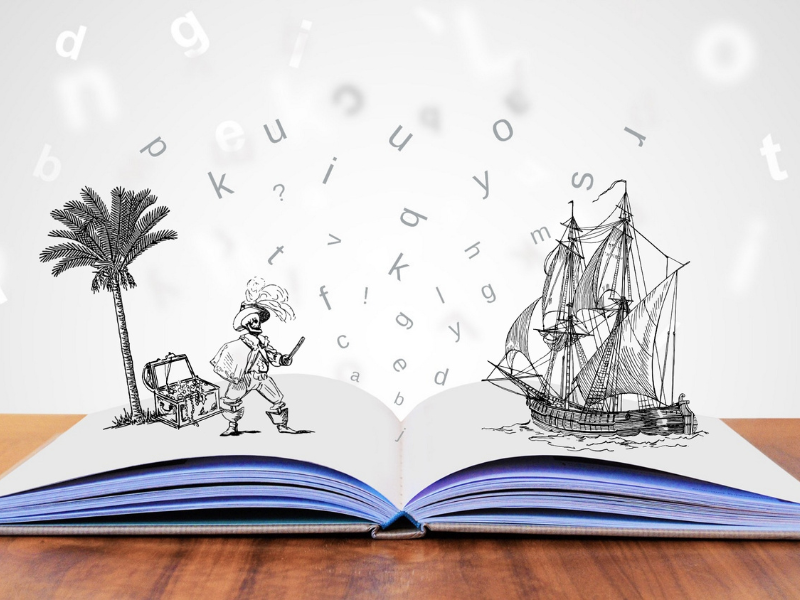 Storytelling is a powerful tool for a travel blogger's toolbox. By sharing your experiences and insights, you can transport your readers to different destinations and create an emotional connection that's difficult to achieve with other forms of content.
Most importantly, storytelling is one of the most effective affiliate marketing strategies. You can promote travel products and services more engagingly and authentically through storytelling. Rather than simply listing features and benefits, you can demonstrate how these products and services have enhanced your travel experiences – building trust, driving sales, and earning commissions.
How to Create a Story That Resonates With Your Readers
Understanding your audience is crucial for compelling storytelling in travel affiliate marketing. You can increase engagement and build a stronger connection with your readers by tailoring your storytelling approach to their interests and preferences.
First, you must clearly understand your target audience, including their demographics, interests, and travel preferences. Once you have this information, you can craft stories that resonate with them.
For example, if your audience is interested in luxury travel, you can share stories about your experiences at high-end hotels and resorts and highlight the features and amenities that make them stand out. Conversely, if your audience is more budget-conscious, you can share tips and tricks for finding affordable travel options and making the most of their money.
It's also important to consider the format and tone of your stories. Some audiences prefer longer, more detailed tales, while others prefer shorter, more concise pieces. Similarly, some may respond better to a humorous or lighthearted tone, while others prefer a more formal or informative approach.
Types of Travel Stories That Work Best for Affiliate Marketing
Storytelling is a powerful affiliate marketing strategy and a great tool for engaging audiences and promoting products and services. But what types of travel stories are most effective for driving sales and commissions?
Below, we'll explore some of the most popular types of travel stories that work best for affiliate marketing and provide examples of using them effectively to connect with your audience and drive conversions.
Personal Travel Stories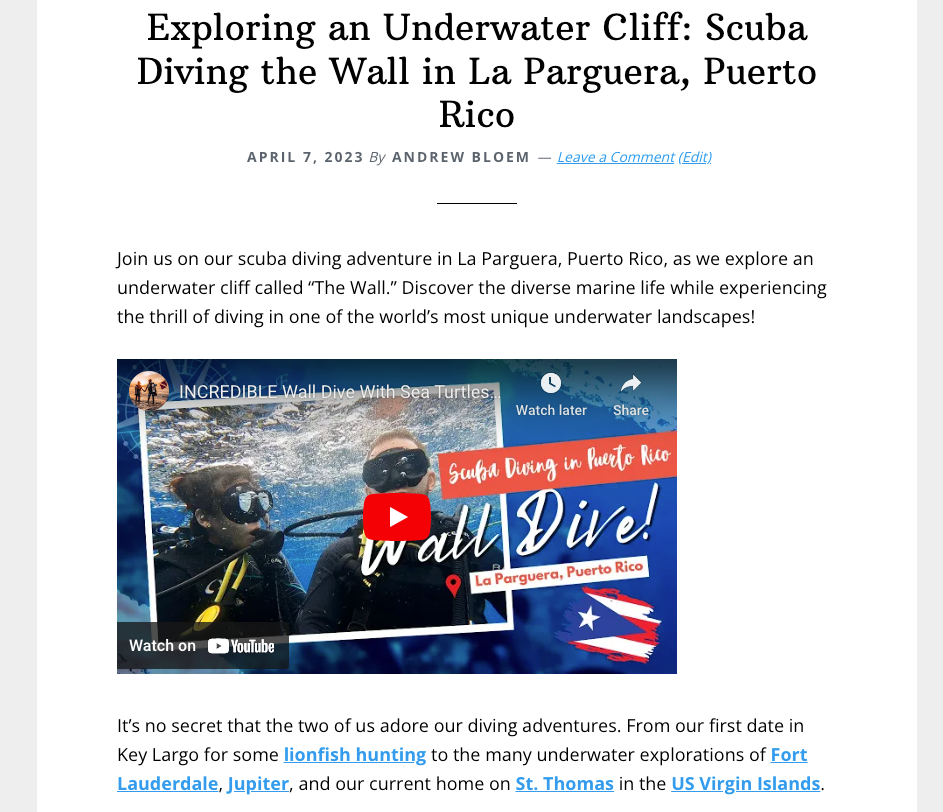 Personal travel stories recount your experiences or adventures in a particular destination and often highlight unique aspects of the location while providing insights into the local culture. This storytelling method is an excellent opportunity to promote the products and services you used during the experience.
For example, here's a personal story about my experience scuba diving in Puerto Rico. You'll notice I promote the tour company that led the boat trip, where I stayed while visiting the town, and the essential travel and scuba diving gear I used – some of which were affiliate links.
Personal travel stories help affiliate marketers leverage trust and engagement to make a more authentic and compelling case for their recommendations. By sharing your experiences and insights, you can demonstrate the value of the products and services you're promoting and ultimately drive more sales and commissions.
Destination Guides
Destination guides are comprehensive resources that provide detailed information about a particular location, including the best time to visit, top attractions, and recommended activities during a trip. These guides are a great way to showcase your expertise and provide value to your audience while promoting products and services that align with the guide's content.
For instance, if you're writing a guide to New York City, you could promote accommodation options like hotels and vacation rentals and tours and activities like walking tours, museum visits, and food tours. You could also include information about transportation services like car rentals, airport shuttles, and public transportation.
Ensure your destination guides integrate a personal touch and first-hand experience while maintaining the necessary and comprehensive information for a helpful resource. Doing so will build a stronger connection with your audience and increase the likelihood of repeat visits and referrals.
Food and Drink Stories
Food and drink stories highlight local cuisine and beverages, often providing recommendations and insights into the best places to eat and drink in a particular destination. You can use these tales to promote food-related experiences like food tours, cooking classes, and winery visits through programs like Viator and GetYourGuide.
To see this type of storytelling in action, check out travel food bloggers Daryl and Mindi Hirsch at 2foodtrippers. They exemplify beautifully crafted stories to provide insights into local cuisine worldwide while highlighting the people and cultural significance surrounding the dish.
Budget Travel
Budget travel stories offer tips and advice for travelers looking to save money. These stories often highlight budget-friendly accommodation options, flight search engines, transportation services, and affordable tours and activities that can help travelers stretch their budgets further.
The best example of using compelling storytelling to share budget travel advice is from travel blogger Nomadic Matt. He's been sharing budget travel tips for 15 years, with countless examples of how to tell a story while providing his readers with valuable money-saving insights.
Travel Planning
Travel planning stories offer advice and guidance on planning a trip, with tales covering everything from packing tips to itinerary planning and other valuable resources for travelers looking to make the most of their journey.
A great example of using travel planning stories to boost engagement and conversions comes from renowned travel bloggers, Two Wandering Soles. Their comprehensive trip planning guide infuses a healthy amount of firsthand perspective, personal touch, and a compelling storyline.
Overall, travel planning stories offer a practical and helpful way to promote affiliate products and services while providing valuable information and advice to your audience. You can help your audience have a smoother and more enjoyable travel experience by highlighting the best ways to plan and prepare for a trip.
Adventure Travel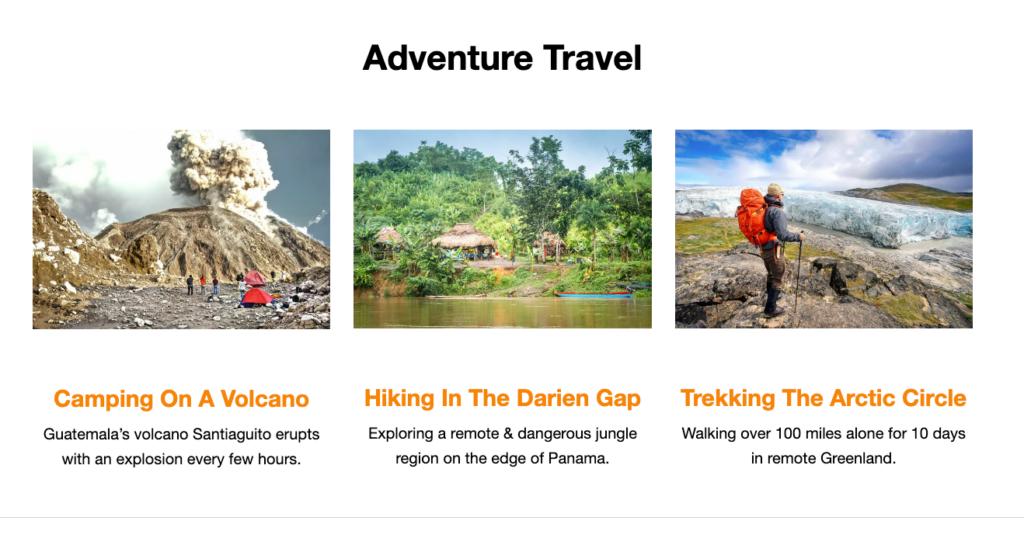 Adventure travel stories focus on outdoor adventures such as hiking, camping, scuba diving, skiing, and other destination-relevant activities. These stories often highlight the thrill and excitement of exploring nature and can be a great source of inspiration for travelers looking for unique and adventurous experiences.
My favorite adventure travel blogger that I've attempted to emulate is Expert Vagabond. The site's owner, Matt, has meticulously crafted compelling narratives in adventure travel for over a decade and does it better than anyone else in the niche. By attempting these storytelling strategies, you can provide valuable information and advice to your audience while driving sales and commissions for your affiliate partners.
Elements of a Successful Travel Story for Affiliate Marketing
Now that you know what types of travel stories you can tell, here are some affiliate marketing strategies on how to craft your compelling travel narrative that captures readers' attention:
Start with a hook: Your first sentence should grab readers' attention and encourage them to keep reading. Consider starting with a surprising fact, a funny anecdote, or a vivid description of your destination.
Use humor: Try injecting humor into your writing to engage readers and make your story more relatable, but be careful not to overdo it.
Provide a unique perspective: Travel stories are more compelling when they offer a fresh angle or approach that has yet to be covered.
Include relevant recommendations: Offer practical advice or suggestions based on your niche and type of travel story.
Pay attention to structure: A well-structured travel story should have a clear beginning, middle, and end. Consider using chronological order or a thematic approach, depending on the type of story you're telling.
Set the right tone: Consider whether a more formal or lighthearted tone is appropriate for your travel story.
Pace your story: Engage your audience from start to finish. Try to balance descriptive passages with action and dialogue, and vary the length of your sentences and paragraphs to create a sense of rhythm.
Using Visuals to Enhance Your Story
Incorporating visuals such as images and videos into your travel story can significantly enhance the reader's experience and make your story more engaging.
Choose high-quality visuals: Include appealing and high-resolution photos or videos that capture the destination's beauty or unique aspects.
Use visuals to complement your story: Visuals should complement your tale, not replace it. Use visuals to illustrate your points, showcase the destination's beauty, or emphasize key moments from your trip.
Include a variety of visuals: Including photos, videos, and infographics can add aesthetic interest and help break up longer blocks of text.
Consider video content: Video content can effectively tell your travel story and provide a more immersive experience for your readers. Consider creating a short video that showcases your trip highlights or a specific aspect of your destination.
Promoting Your Story
Once you have crafted your compelling travel story, it's time to promote it and reach a wider audience. Here are some best practices for promoting your travel story:
Measuring the Success of Your Storytelling
Measuring the success of your storytelling efforts is essential to determine the effectiveness of your marketing strategies. Here are some metrics to measure the success of your storytelling efforts:
Website traffic: Use website analytics tools like Google Analytics to track the number of visitors to your website and how they found it.
Engagement rates: Tracking engagement through likes, shares, comments, and time spent on the page measures how much your audience interacts with your content.
Conversion rates: Measure how many visitors take a desired action, such as signing up for a newsletter, purchasing through an affiliate link, or clicking an ad.
Social media metrics: Social media platforms offer a range of metrics, such as reach, impressions, and engagement, that can help you track the success of your storytelling.
Referral traffic: Referral traffic measures the number of visitors who come to your website from other sources, such as social media, forums, or other websites.
How to Tackle Writer's Block and Other Hurdles
Developing a compelling travel story that engages your audience can be challenging. Here are some practical tips to help you overcome common storytelling challenges:
Writer's block: If you're struggling with ideas, take a break and try doing something else, like walking or reading a book. Sometimes, taking a step back can help you gain fresh perspectives and inspire new ideas.
Finding inspiration: Inspiration can come from anywhere, so open your eyes and ears for exciting stories and experiences. Attend travel events, explore new destinations, and follow other travelers on social media for inspiration.
Lack of structure: Start by outlining the key points you want to cover and organizing them logically to help you stay on track and ensure your story has a cohesive flow. Recent developments in Artificial Intelligence are a great resource to generate SEO-friendly scaffolding for your travel story.
Maintaining the reader's interest: To keep your readers engaged, incorporate elements of humor, personal anecdotes, and unique perspectives into your story. Use sensory details to bring the destination to life, highlighting the most exciting and relevant recommendations.
Balancing promotion with storytelling: Remember that storytelling is not just about promoting products or services. Instead, focus on creating a meaningful and memorable travel experience for your audience, and incorporate relevant recommendations and promotions naturally and subtly.
The Importance of Storytelling in Travel Affiliate Marketing and How to Get Started
Storytelling is one of the most powerful affiliate marketing strategies for engaging your audience and promoting travel products and services. Most successful travel bloggers utilize storytelling methods in some capacity – personal experiences, destination guides, food and drink stories, budget, adventure, and travel planning tales.
Whichever you choose, remember to tailor your approach to your audience's interests and preferences while providing genuinely helpful information. Use humor, unique perspectives, relevant recommendations, and striking visuals while leveraging social media and analytical data to promote and critique your methods.
After crafting your narrative, integrate affiliate products and services strategically (yet organically) with a partnership platform like Travelpayouts! The travel partnership platform features top travel brands that easily slide into travel stories organically to provide valuable resources to your audience!
Join the Travelpayouts Partnership Platform
Access exclusive tools and the best travel affiliate programs, including flights, hotels, car rental, insurance, tours and activities, all in one place.
Join Today
395,000 partners already trust us
120 travel brands
$53M+ total paid since 2011