How Do Hotel Affiliate Programs Work?
You might be asking yourself "how do hotel affiliate programs work?" You may also be wondering how you can go about choosing the best option to efficiently monetize your blog. Essentially, hotel affiliate programs partner with affiliates directly or through affiliate networks and pay commissions on each booking or lead that is made or comes through the affiliate link. Affiliate partners, also known as publishers, aim to generate as many bookings as possible by promoting a link to their audiences, creating engaging content, and highlighting the benefits of the offer.
Here is how each step of the process looks:
1. You join a hotel affiliate program and place an affiliate link on your website
2. Your readers click the link and reserve a hotel stay
3. Most often, upon the completion of the visitor's stay, the hotel pays you a commission
Hotel affiliate programs can be a lucrative way to monetize a travel blog, as their rates are often over $100 USD per night. Even through the cancellation rate is pretty high, you can still generate good earnings if you help your audience find the perfect hotel and enjoy their stay.
Travelpayouts
Travelpayouts is a CPA (Cost Per Action) partnership platform which gain access to travel affiliate programs of more than 100 travel brands, including well-known names, such as Booking.com, TripAdvisor, Agoda, Trivago, and many more. Once registered, you'll gain access to various programs and tools to start earning with hotel affiliate programs right away.
One of the main values of Travelpayouts is honesty. So, partners and brands using the platform can expect a high level of transparency. Easy-to-read reports are available to partners to help them experiment with the promotion of different hotel programs, choose the most profitable approach, and adjust their earnings strategy.
Join the Travelpayouts Partnership Platform
Access exclusive tools and the best travel affiliate programs, including flights, hotels, car rental, insurance, tours and activities, all in one place.
Join Today
395,000 partners already trust us
120 travel brands
$53M+ total paid since 2011
How much money can be made with "Travelpayouts"?
Travelpayouts includes over 100 travel brands and each has its own commission conditions, all is specified in the personal dashboard or in brands directory.
Who are the most successful participants?
Everyone who is willing to begin making money can become an associate of this platform. However, spam is strictly prohibited.
You won't waste time on the registration process because you won't have to wait for verification and approval. Once you get onto the platform, you can start making profits.
Nevertheless, it is essential to outline some of the most successful participants:
Website owners (Widgets, banners and search forms posted on their websites will help them earn money every time a successful booking takes place);
Travel bloggers who write posts describing the advantages of booking this way will get their corresponding reward;
Social media advertisers who post information about Travelpayouts on travel-related groups will also be paid for their efforts, etc.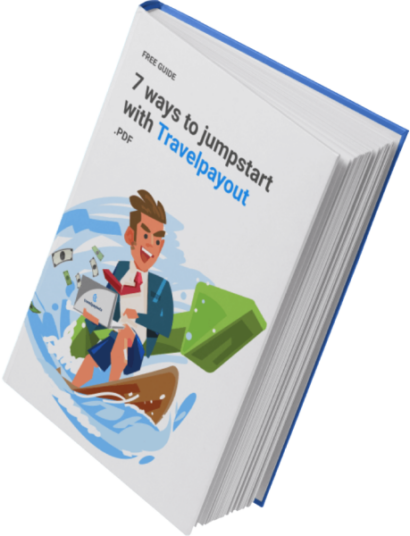 7 Ways to Jumpstart With Travelpayouts
So, you've registered on Travelpayouts, but have no idea where to start? Download this ultimate guide to boost your travel profit!
Download
Tools offered
The first tool is the search form, which allows clients to search for accommodations by destination. It basically redirects from a partner's web page to the brand's website, where it displays the available variants.
The list includes several other tools:
White Label
Hotels Map
Text Links
Hotel Widget
WordPress Plugin
Hotel Selections Widget
Landings
API
Mobile Application
White Label helps integrate all the necessary data into your website's domain, making it unnecessary to redirect users. Partners have full access to data by API. For mobile application developers, Travel SDK is available.
How do partners get paid?
Payment method
The minimum threshold to get paid
Commission
Bank transactions to foreign currencies (USD, EUR)
$400

€400

Travelpayouts cover the cost of the transfer from our bank. The beneficiary's bank fee and the cost of the incoming payment are paid by the partner.
PayPal
$50
PayPal fees are compensated by Travelpayouts.
WebMoney
$10
WebMoney fees are compensated by Travelpayouts.
All relevant payments are made between the 11th and 20th of each month. In exceptional cases, early payment on an individual request is possible.
To get more info about how you can keep tabs on your Travelpayouts earnings, and what you need to do to receive your money hassle-free, watch this video.
Languages and countries
In the travel market, the number of languages you offer and the number of countries you serve are important. This doesn't mean you must use all 50+ languages at the same time, but when choosing a hotel affiliate program to join, you should consider the number of languages you can serve with that partnership platform. At a minimum, there should be one language that is appropriate for your project.
Travelpayouts gives you an opportunity to work in 59 languages, covering more than 100 countries through worldwide partner programs. The number and diversity of languages, along with a high revenue share, full set of toolsб and White label, make Travelpayouts one of the best partnership platform.
Pros and cons
| | |
| --- | --- |
| Pros | Cons |
| Up to 20% of each sale | Different cookies' lifetime from one session to 30 days |
| White Label is available | Some partner programs require pre-moderation |
| 9 different tools for ads | |
| 3 different payment methods | |
| Easily reachable minimum payout | |
| 59 languages | |
| Easy and free registration | |
Easy and fast registration with the partner allows you to start earning more money as quickly as possible. There are no requirements to join the partnership platform; everyone is welcome. All hotel programs you can find in brands directory. Choose that best fit your project and join Travelpayouts for free today.
Booking.com affiliate program
Booking.com is a leader in hotel bookings and one of the best hotel affiliate programs. We are proud that Booking.com is available on the Travelpayouts partnership platform. You can choose how to work with it – via the Travelpayouts or directly with Booking.com.
Booking.com in Travelpayouts
Booking.com affiliate program is available for the Travelpayouts partners on the following conditions:
Reward: 4% commission on completed hotel stay
One-session cookie lifetime
That means you will get 4% for every booking done via your affiliate link or widget made within one day after transferring to the Booking.com official website.
Benefits:
Commission: 4% that is not dependent on sales volume.
Tools: Only in Travelpayouts will you get a unique hotel search

widget. We created it ourselves and it is only available in the Booking.com p

rogram in Travelpayouts.
Work directly with Booking.com
Booking.com allows people to compare room reservation options in their destination city for the date of their choice. The price range is set by the client. In addition, direct cooperation with hotels implies that commissions are charged. In general, the Booking.com affiliate program is a formidable shareholder on the market, one which rivals must take into account. Following is a Booking.com affiliate program review; you can also share your opinion in the comments.
Earning money
Commissions are calculated according to a commission split model which is individualized to each partner. All your earnings are proportionately linked to the amount of successful bookings made via your website. Moreover, it is also dependent on whether the hosts of the rooms or properties confirm the guest's stays. The more bookings made, the higher your commission.
Every partner must reach a certain amount before starting to earn commissions. That boundary is 50 successful check-outs. Then, you can receive 25% of the total sum. More information is provided in the table below:
| | |
| --- | --- |
| Checkouts per month | Commissions obtained from the total amount earned by Booking.com |
| 0-50 | 25% |
| 51-150 | 30% |
| 151-500 | 35% |
| 501 or more | 40% |
Does Booking.com welcome anyone who wants to become associated with it?
Due to the prestige of this online platform, several rules and restrictions exist. These are disclosed only to those people who have decided to accept the offer.
Still, any person who is interested in offering the best selection of accommodations is welcome and can be a participant, e.g., a website owner with qualified content, an app developer, etc.
What are the offered tools?
Tool number one is the Search Box, which allows customers to check out hotel offers and makes it possible to draw parallels between prices.
The Co-Brand tool enables Booking.com associates to place logos below the standard blue header. Thus, every user who makes a purchase will see that you are a "bedmate" of a trusted international brand. Furthermore, the partner's logo will guide customers to the end, ensuring that they do not leave the particular affiliate's area.
Another tool developed and offered by the company is the Deals Finder. Basically, it streams deals in any destination covered at Booking.com.
The Inspiring Search Box is a very smart business move aimed at increasing the number of orders placed on the site. It inspires the next choice of destination by displaying three images advertising the best places to visit.
The last two tools we cannot omit are the Links tool, which consists of hyperlinks to Booking.com's pages and connects the latter to users' Internet platforms, and Banners that grab customers' attention.
How do affiliates get their money?
Payments are made via either bank transfers or PayPal. The time frame for the reception of profits is estimated to be between 30 and 60 days after the property owners confirm that the guests have completed their stay. The minimum amount for the transfer to be completed is €100. If you have earned less than that, your earnings will accumulate for the next month's payment.
Languages and countries
Though Booking.com has a very competitive structure and strict rules, it enables you to work in 43 languages throughout the world. This is less than Travelpayouts but is still a competitive amount.
Pros and cons
| | |
| --- | --- |
| Pros | Cons |
| Worldwide-known brand | 50 checkouts are necessary for payment |
| 6 different tools | High amount for minimum payout |
| 43 languages | Must wait for approval of registration |
| | Complicated structure |
| | Not the best service for the end-user |
Review of Booking.com affiliate network
Booking.com is one of the best-known brands in the world, with a huge database of hotels in 43 languages.
Your earnings are calculated according to a commission split model that is particular to each partner. Moreover, each partner must make 50 successful bookings before they can start to earn. Revenue share proportions are 25% for the first 50 checkouts, 30% for 51-150, 35% for 151-500 and 40% for 501 and more. This means the more reservations you generate, the more revenue share you get. The earnings are competitively structured.
In terms of payment, you must earn at least $100 before you can get paid. You can choose bank transfer or PayPal. However, the duration for payment is between 30 and 60 days. Therefore, you may need to wait two months to get your earnings.
Tools such as a search box, banners and deal finder are available in the affiliate network. Unfortunately, it does not have White Label for those who want to develop their own brand. Only one option is available to add your brand: Put your logo next to the official one as a partner's.
There are many strict rules and limitations you must obey, but any person is welcome to join the partner program.
Hotels.com
Hotels.com is another successful company worth mentioning. It is part of the Expedia affiliate network, which includes several other well-known brands. Every partner can make money from traffic once a booking is made by one of their customers.
Partners can't work directly; they are always connected through intermediaries. This complicates communication. If you are from Canada or the U.S., you must go to cj.com before being allowed to resolve your issues.
How can a decent amount of money be earned?
Earnings are fully dependant on the terms of your partner agreement. Generally, Expedia network members are ready to pay up to 50% of their profits to their associates. The amount tends to be around 4.92% from one booking. However, discount coupons let users obtain benefits by lowering your commissions. Therefore, the final percentage can't be predicted and depends on the network. For example, with Viglink, affiliates can earn a 5.5% commission plus performance incentives for each completed stay.
Hotels.com sorts its collaborators into corresponding departments based on geographical location. This results in slightly different percentages for different regions.
If you have the Payoneer card (and here we are referring to the U.S. market), this service can be a relatively comfortable way of earning money. If you don't, your commissions will be transferred to your bank account or you will receive cheques, which is not very convenient.
Moreover, even if the client carries on without booking anything, he will see personal advertisements via AdSense on the online resources he visits. The outcome is that while you may bring in a client, you won't get paid for it.
Last but not least is the fact that associates also lose clients after installing the application offered by Expedia. They offer a 2% discount to make people get their app. However, any client who books via this app will not be counted as part of your commission, since you do not get paid for the app.
Participation
No explicit restrictions are outlined on the website. Therefore, the general assumption is that everyone is free to participate in the promotion and advertisement of products.
What tools are at collaborators' disposal?
Five tools are available to the associates, starting with the so-called "Rich APIs".
All the co-partners can choose from among nine APIs. Moreover, users can enjoy three potential advantages:
Every single API can be personalised in accordance with your needs and wants. It is available in 35 languages and more than 30 currencies. Furthermore, partners can use 12 proficiencies that show only those properties that best suit your clients.
Technical advancements are another very important benefit. Having accumulated extensive experience, EAN keeps improving the technological side of the APIs. For instance, partners can use Cloud Infrastructure, thereby accessing the best international data centres.
There are more than 6.5 million property images in more than 380,000 geographical locations.
The second tool is the so-called "Template Solution". B2C has collaborated with EAN to develop this particular instrument, making it easy to integrate and reliable in terms of suitable property images that are displayed at the right time. This tool can be applied in two ways: either select the "fully white-labeled template solution", meaning that your customers will see only your logo, or choose the "co-branded template solution", which will display both.
Moving forward, it is also necessary to point out that Hotels.com possesses several tools that help organize the work of agencies involved in the hotel booking affiliate program.
The last solution, powered directly by Hotels.com, is called "Click & Earn". Companions make money in the form of commissions paid for each successful booking made via their Internet resources, using the link posted on the partners' webpages.
One more important note is about the very essence of Expedia's powered programs. These programs are not joined together in one common network even though they belong to the EAN.
Trivago is also a member of the EAN family. But now you can not join their Affiliate Suite, as they shut down their own affiliate program on 31 March 2018. Learn more about it on this page. To maximize your earnings with Trivago, check out our review of the Trivago affiliate program.
How do partners get paid?
Affiliates receive their commissions for successful bookings carried out by customers. The common percentage is 4.92%. The exact percent and payment method depend on the country where are you working and the agreement.
Languages and countries
The services are offered in more than 35 languages in many countries. Hotels.com is a well-known brand around the world, which allows partners to work in many countries.
The drawback is that it is always necessary to find a local middleman. For example, you can work in the United States through CJ.com. Ultimately, you could have multiple accounts simply because you could not use one middleman for all locales.
Review of Hotels.com affiliate program
Hotels.com is a product of the Expedia Partner Program. It is a good company for hotel bookings in 35 languages. However, there is no direct partnership; you must work via a middleman – for example, cj.com in the USA.
The program shares 50% of the revenue, which is, on average, 4.9% of the booking price. One of the disadvantages is that different percentages are set for different countries, which makes your commission unclear. Moreover, if your customer uses a coupon for discounts, your earnings will decrease. A Payoneer card can be used for transactions but if you don't have it, you can get your commission through bank transfer or cheques.
The program offers five tools for promotions but no White Label. Anyone is welcomed as a partner, but the unclear system of middlemen doesn't make for convenient work. Learn how to earn on hotel bookings around the world with Hotels.com in our special review.
Pros and cons
| | |
| --- | --- |
| Pros | Cons |
| Well-known brand | Working through a middleman |
| A huge database of hotels | Small number of tools |
| | Low revenue share and different percentages for different countries |
Hotelscombined.com
The Hotelscombined.com affiliate program is now paused, but you can check out its alternatives.
Hotelscombined.com gets paid for clicks, called "leads". Therefore, associates get paid regardless of the reservations. The name of the method is pay per lead, defined as "a click off to one of the hotel booking supplier websites" compared on HotelsCombined.
These measures significantly improve the prospects of monetizing traffic. What's more, the co-partners' gains are guaranteed by the provider of the program, which compares a multitude of prices. Additionally, the developers have ensured that everyone can access the application, as it is available in more than 40 languages.
Co-partners can either monetize mobile traffic or create a mobile app that will help make profits.
How is money made?
As stated previously, affiliates get paid for leads their customers make when they visit their online platforms. Basically, you get paid for sending interested users to hotelscombined.com, where they can compare prices for the destinations they would like to visit. The amount of commission you receive depends on the quality of the traffic as well as the rate at which the leads turn into bookings. These two factors determine the commission per lead you receive.
The general commission rate is estimated to fluctuate between 50 cents and two dollars. Obviously, the commission will decrease in cases in which the partner is unable to generate enough sales.
The life of a cookie is 365 days, which means that those clients who used your website once to click on the HotelsCombined advertisement will be included in your commission as long as the cookie exists.
In addition, the "Monetisation Guarantee" is a service worth mentioning. Potential collaborators can include it in their agreement to ensure future gains. This is done on an individual basis. This guarantee allows you to get your money in case it does not reach the agreed-upon minimum amount. It is available only to those webmasters who have spent some time earning commissions with competitors of HotelsCombined.
Participation
Anyone is free to join the hotelscombined.com affiliate program and start making money. However, an issue arises when it comes to whether or not one runs a website. In the first case, everyone has the opportunity to join, even if the Internet resource's content is not voyage-related.
Tools
The main tools are Text Links, Deep Links, Banners, and Search Boxes. If you ask for Data Feeds, they will also be provided.
These can all be reinforced with two more tools. The first one is Co-Branding, which implies the use of two brand names: yours and the HotelsCombined one. The second is Private Branding or white-labelling, meaning that only your brand will be displayed.
Getting paid
Only two payment methods are available and are shown in the following table:
| | |
| --- | --- |
| Payment method | Minimum amount required |
| Bank account | $500 |
| PayPal | $100 |
The disadvantage is that you must earn the minimum amount to get paid. Moreover, transactions and money transfers are carried out only in dollars (no other currencies), which can be undesirable when it comes to exchange rate fluctuations and overall monetary market instability. Thus, you can lose money if you need to convert it to another currency whenever a change occurs.
Also, your account will be reviewed as you reach the minimum payout, and there is a chance that it could be locked if Hotelscombined defines your traffic as low quality, in which case you'll never get your commission.
Languages and countries
The Hotelscombined affiliate program is available in more than 40 languages in many countries around the world. It offers 365-day cookies, though partners must reach a very high amount for minimum payouts.
Pros and cons
| | |
| --- | --- |
| Pros | Cons |
| 365-day cookies | High amount of minimum payout |
| Well-developed tools | Payouts only in dollars |
| | After a while, the rate for click could decrease significantly |
Review of Hotelscombined.com affiliate program
Hotelscombined.com is an affiliate program that works on a pay-per-click model. It provides services in more than 40 languages across the world. In 2018, the network started providing a CPA model to some webmasters, but CPC is still the more common model.
The amount you can earn depends on how much traffic you attract, and its quality. The commission for each click ranges between 50 cents and two dollars depending on your conversion rate and traffic. Usually, at the very beginning, your earnings could be higher than they would be with other networks, but after a while the rates could drop quite a bit.
The cookies have a long lifetime of 365 days, which means you won't miss out on earnings for that year. This is one of the longest-lived cookies on the market.
Tools like simple links or deep links, banners and search boxes are available in your personal account. There are not many options in terms of customization.
There are only two options to be paid: via bank transfer or PayPal. One of the other drawbacks is that, regardless of where you live, you are paid in dollars, so you will lose money on the exchange rates.
Also, the minimum required payouts are very high: $500 for bank transfers and $100 for PayPal. For small projects, the amount may be unreachable for several months.
Agoda.com
Agoda possesses an immense property owners' database which includes more than 925,000 hotels and private individuals. Partners can attract customers using a wide choice and good prices. Many Agoda affiliate program reviews say that comprehensive support is lent to Agoda's partners, which is reflected in the opportunities for personalization. The website is available in 38 languages.
You can join the Agoda affiliate program in two different ways:
Travelpayouts offers clear conditions and a set of available tools. You will get 6% of the total booking value (without taxes) when the client checks out. You can use banners, links and widgets on your travel blog or another project.
Travelpayouts offers you lower payout limits – just $50 and different ways of payout methods, all of them are detailed in our knowledge base.
Earning commissions on the official Agoda website
The commission you earn on the official Agoda website depends on the number of stays your customers complete. You will not get paid for no-show guests. Furthermore, as stated by Agoda's officials, the model is progressive and allows you to increase your commission up to 7%.
The following table sheds more light on this issue, revealing how the progression works:
| | |
| --- | --- |
| Number of completed stays | Affiliate Commission Percentage (ACP) |
| 1 – 49 | 4% |
| 50 – 99 | 4.5% |
| 100 – 199 | 5% |
| 200 – 999 | 6% |
| 1000 + | 7% |
Who can participate?
A compulsory condition for participation with Agoda is to be the owner of an online resource. Agoda admits both small websites and big ones that belong to large businesses. Nevertheless, there is a chance to become an affiliate even if you do not own a website. In this case, you must be a travel agent, and additional documentation will be requested.
In any case, redirecting to the URL is absolutely forbidden.
Tools that can be used
Agoda provides several tools, including Hotel Power Ads, text links, and other useful services for partners. Customizable search boxes and multi-lingual data feeds are also available to affiliates. Furthermore, if you obtain permission from Agoda to modify any of its tools, you can do so to optimize your money-making abilities.
How do partners get paid on the official Agoda website?
Regarding the payment method, there is only one — direct bank transfer. Affiliates get paid one month after guests have completed their stays. For example, if a guest stayed until 5 April, you will be paid in May. In addition, the minimum amount that can be paid is $200, while $10 will be charged to cover the bank transaction expenditures.
Languages and countries
Agoda.com has a huge database of hotels in many countries and is available in 38 languages. Affiliates can use the worldwide database, but the tools are limited.
Pros and cons
| | |
| --- | --- |
| Pros | Cons |
| The more you generate sales, the higher your commission. | A small number of tools |
| | High minimum payout |
| | Only one payment method |
| | Unclear and complicated commission structure |
You may choose how to join Agoda – at the home affiliate program on the official Agoda webpage or through Travelpayouts. We are official partners offering you the reliable solution to earn on hotels bookings.
Review of Agoda.com affiliate program
Agoda.com has an immense database of 925,000 of hotels and private properties in 38 languages. You can offer your visitors a variety of choices and prices.
Commissions are given only for checkouts. Therefore, if your visitor books but doesn't end up staying at the property, you will not be paid for that booking. However, you can increase your commissions up to 7% over time.
As an illustration, 4% for 1-49 successful checkouts, 4.5% for 50-99 checkouts, 5% for 100-199 checkouts, 6% for 200-999 checkouts and 7% for 1000 and more checkouts.
One of the disadvantages is that payment is made only via bank. The minimum amount is $200. Payments are made one month following checkout.
Agoda.com provides a small number of promotional tools, like hotel power ads, text links and search boxes. Also, it allows you to personalise promo tools for your website, but it doesn't have extensive personalization options. Moreover, you must have a website or travel agency to join. You can't use a link just to share with your friends.
Find out how to earn on hotel, hostel and home reservations with Agoda in our special review.
Tripadvisor
A subscription to this partnership program enables you to become part of the largest travel community in the globe, enhancing the performance of your trip-related platforms. Moreover, the database comprises more than 500,000 cities and hotels.
However, the drawback of Tripadvisor's program is that it is possible to become a companion only through affiliate networks like CJ (Commission Junction) or Awin, meaning that there is no direct connection with the provider of the program. However, you can also join the Tripadvisor affiliate program through Travelpayouts.
Profiting with Tripadvisor
Commissions constitute 50% of Tripadvisor partners' income. Commissions are paid when a traveler clicks on a partner tool, not when they make their booking. With this click-out model, you can receive an 8% reward for clicks for tours and attractions in the "Things To Do" section (with the exception of Virtual/Online Experiences).
Who can participate?
Everyone is free to participate. However, you can be rejected. If this happens, you can try to find out why by emailing your account manager in the affiliate network. The general requirements have not been made public so far. If you want to join Tripadvisor affiliate program via Travelpayouts, pre-approval is also required.
What tools are offered?
Affiliates use three available tools:
Text links
Banners
Content widgets
In terms of functionality and performance, there are no major differences from similar offers by other companies.
How do I get paid?
The average percentage that is likely to be paid is about 4% of the room price. The average gains from a click-out are stated to be between 15 cents and 75 cents. Tripadvisor states that many of its partners have a conversion rate of 75%, which is one of the best on the market.
All payments are carried out via the co-partners, such as CJ Affiliate or Awin. All commissions are added together and if the minimum amount is exceeded, CJ will send a paycheque in the currency of your choice. It is very easy for Payoneer card owners. In other cases, either a direct transaction to a bank account is performed or a cheque is sent. The latter is possible in only a limited number of countries.
At Travelpayouts, you can use one of four getaways, such as bank transfers or PayPal.
Languages and countries
Tripadvisor is one of the largest platforms for hotels, with an enormous database in more than 500,000 cities. More than 40 languages are available, such as English, German, French, and so on.
Pros and cons
| | |
| --- | --- |
| Pros | Cons |
| Extensive database | Working through a middleman |
| A well-known brand | Low revenue share |
| | Only a few tools for ads |
| | One-day cookie duration |
Review of Tripadvisor affiliate network
One of the largest travel-related websites, Tripadvisor has a huge database in more than 40 languages. However, the Tripadvisor affiliate network is not very developed. To join, you must work through a middleman.
As for the commission, up to 50% of the revenue is given for a confirmed stay. This means that the highest commission you will get is 4% of the room price. However, payments are made through the intermediary. The payouts can be sent as a paycheque or a direct transfer to your bank account in the currency of your choice.
As we mentioned before, promotional tools have a significant impact on your earnings. Unfortunately, even though it is a well-known brand, Tripadvisor offers only three tools for its partners: text links, banners and content widgets. For those who want to build their own brand, we have bad news – White Label is not available in the network.
Find a detailed review of the Tripadvisor affiliate program in this post.
NH Hotel Group affiliate program
This affiliate program is an appropriate one for travel agencies and agents who have booking sites to suggest mid-range urban accommodations for business trips and resort accommodations for seaside vacations. The portal also promotes boutique and hotels where pets are allowed, hotels with spas and pools, new openings, and airport hotels in the USA, the EU, and Africa.
Payouts
The company pays a 10% commission for post-click sales and offers monthly payouts without additional charges for managing bookings. To start, you should register for free.
Available tools
Affiliates have access to true clients' feedback to place them on their site to increase conversion.
Closed keywords policy according to the latest Google requirements for PPC (brand bidding is strictly prohibited).
All the affiliates can use the Instant Booking Tool for event arrangements.
There are plenty of digital marketing tools, such as banners, emailing copy, mini search engines, descriptive hotel data feeds, and text links.
Languages and countries
The NH Hotel Group has 350 hotels in 28 countries:
Europe
Austria
Belgium
Czech Republic
France
Germany
Hungary
Italy
Luxembourg
Poland
Portugal
Romania
Slovakia
Spain
Switzerland
The Netherlands
United Kingdom
Americas
Argentina
Brazil
Chile
Colombia
Cuba
Dominican Republic
Ecuador
Haiti
Mexico
United States of America
Uruguay
Africa
South Africa
The program is available in 7 languages:
English
Spanish
French
German
Italian
Dutch
Portuguese
Pros and cons
| | |
| --- | --- |
| PROS | CONS |
| Partners get full tutorial support via a personalized service. | Lack of luxury hotels. |
| There are plenty of regular promotions for your engagement. | Your formal identification as a travel agent is required. |
Accor Hotels affiliate program
This program is international and multi-brand; it gives travel agents access to more than 4,200 hotels in 95 countries. Just set up hyperlinks to redirect your site's visitors. The program is accessible to any person who has their own travel website.
To start, register for free on their site and confirm your intentions in the email you will get. You'll receive the instructions, affiliate link, and login details in this email as well.
Payouts
The system of rewards is progressive. They offer various monthly remunerations for different hotel classes. In addition, the percentage depends on your status – whether you are a "general" or "premium". The range of commission is from 1.5% up to 10%. Also, the company rewards you with various scheduled bonuses. In addition, the level of rewards depends on the number of nights the customer books.
Available tools
Text links.
Banners with images with deals, discounts, and other promotions.
White Label.
API access.
Widgets.
Regarding keywords, the range for purchasing is limited according to the company's terms and conditions.
Languages and countries
The list below displays the countries where the program is available. If you are not in the "club," you should contact the company to make a deal on an individual basis.
France
Great Britain
Germany
The Netherlands
Italy
Bulgaria
Switzerland
Poland
The list also includes all countries that are current members of the EU.
Pros and cons
| | |
| --- | --- |
| PROS | CONS |
| There is a mobile version. | The diversity of hotel classes – from economy to luxury. |
| Very detailed information on the company's site covering every issue. | The payout system is too complicated. |
Marriot affiliate program
The company covers more than 7,000 multi-brand hotels in 131 states. This program has its own terms that require your site to comply with its standards. Then you have the right to start a partnership only on the approved site. The creative section of the PHG console will help you get payouts and see all transactions, as well as find all the rules and restrictions for your ad's campaigns, SEO optimization, and other tools you are going to use. After you've signed up, you'll get an email to confirm and can start without any fees.
Payouts
You earn if the visitor who has been redirected to the Marriot site makes a booking. The commissions are different and depend on the type of booking. You get 3% if the customer buys their vacation package and from 4% to 6% for a stay.
Available tools
You can promote campaigns with the aid of various marketing practices – loyalty programs, password-protected sites, email and social media marketing, discounts, deep linking, SEO, and PPC. The last one should conform to the company's policy.
The company provides you with highly experienced support, fresh offers, product catalogs with deep links to any city or hotel, and an affiliate newsletter. The set of helpful tools also includes:
Text links.
Plenty of banners on various themes and of different sizes.
Search widgets.
Content links.
Deals and specials.
Marriott's Look No Further, Best Rate Guarantee.
Languages and countries
The promotion is available in the following regions:
USA
Canada
Great Britain
Ireland
Austria
Switzerland
Germany
If your intention is to grab other regions, you should discuss the details with the company. The information on the website is available in several languages:
English
German
Spanish
French
Italian
Portuguese
Pros and cons
| | |
| --- | --- |
| PROS | CONS |
| User-friendly interface to track clicks, sales, and commissions. | Complicated registration with many fields to fill in with personal information. |
| A diversity of tools. | Too many restrictions. |
Choice Hotels affiliate program
The program offers 7,000 hotels for promotion in 35 countries. The affiliate program is available to marketers all over the world. You can join the program free, as usual, and have a deal with mid-level and premium hotels of various brands. The program allows for the promotion of hot tour destinations and quiet hotels in small towns.
Payouts
The commission ranges from 2% to 6% for every paid stay. You earn a commission after the visitor from your website has been redirected to the company's resource and has booked and stayed at their location. The service provides a week commission window for those who come through your website to research hotels and then return directly to the Choice Hotels platform for booking.
You get the payouts every month if you earn at least $25.
Available tools
One tool, in particular, is attractive to clients. If the potential client finds the same hotel for a lower price on the Internet, the company will gift them a 50-dollar card. In addition, you have access to banners, links, and hotel listings that are updated three times a year. While practicing SEO, brand keywords are restricted.
Placing the link provided by Choice Hotels on your website is required. In addition, you can use several sites to participate in the affiliate program.
Organic Search Engine Optimization, PPC Search Engine, blogging, and forum postings are among the permitted promotion techniques.
Languages and countries
The site has five languages – you can get information in English, French, German, Italian and Spanish.
Pros and cons
| | |
| --- | --- |
| PROS | CONS |
| Loyalty program "Choice Privileges". | No product catalog. |
| Accepts partners from any country. | |
Highest-paying hotel affiliate programs
Everyone wants to find the highest-paying hotel affiliate program. The idea is to compare the general conditions and find the best one. This may be difficult at first, as your profits may depend on many factors.
How to find the most profitable option
It is impossible to look at the rates and say, "This or that offer is the most profitable." For example, Hotellook, which is available in Travelpayouts, offers a lower rate than some affiliate networks. However, Hotellook can win in the conversion. In the end, it is important to focus on what creates more profit in reality compared to what seems "more profitable" in appearance only.
Conversion rate (CR) is an indicator that displays the percentage of clicks converted to bookings. For example, if 27 bookings are made out of 1000 clicks, CR = 2.7%. In different networks, CR can be higher or lower. To find the highest-paying hotel affiliate network, consider not only how much you will get from the booking, but also how successfully those bookings are made. Getting 4.7% from 100 bookings is better than getting 5.5% from 70 bookings.
On the other hand, you can simply look at how much you earn per 1000 clicks, which is known as CPM. With this method, you can even compare different commission models – paying by clicks in SERP and paying for bookings (CPA).
In a real sense, you can find the best solution through practice. Nobody can tell you in advance which network will be most profitable in your case. Here is a model describing the process of choosing an affiliate network:
Conduct A/B tests to find the best solution;
Try to provide a service you would use yourself;
Evaluate the number of available tools and provided languages, and imagine how you can use them.
Sometimes it's not a question of money but of available technologies. For example, if you need a hotel affiliate White Label for your website, you can immediately eliminate some offers because not all hotel affiliate networks provide API or WL.
Better service or product is one that is easier to sell. For example, the Hotels.com and Agoda.com affiliate programs are related to services that allow people to simply book a hotel. Hotellook is a platform for finding the best hotel offers among a huge number of sources. This is definitely what your visitors want – to find the best hotel at the best price. Use Travelpayouts to give your audience the best service and to achieve the most profitable option.
Join the Travelpayouts Partnership Platform
Access exclusive tools and the best travel affiliate programs, including flights, hotels, car rental, insurance, tours and activities, all in one place.
Join Today
395,000 partners already trust us
120 travel brands
$53M+ total paid since 2011
Cooperate directly with hotels
This option suits those webmasters who dedicate themselves to a specific area of interest. In terms of customization, such scenarios tend to be much less flexible than the previously mentioned affiliate programs. It can also be argued that their revenue indicators are dubious, as there is no possibility of determining an average income.
Direct cooperation can be regarded as a special case because it does not offer any opportunities to select a partner website.
Conclusion
The hotel affiliate program market maintains a wide range of offers. Partners of Travelpayouts have access to a large selection of tools and to a detailed knowledge base, enabling them to earn high commissions and receive fast support. Working with a network is beneficial because of the high conversion. This is achieved through a quality product for finding hotels, as well as a variety of flexible and configurable forms. To identify the best solution, you must try different options. You can start right now with Travelpayouts. Just go to the brands directory and choose the hotel affiliate program that best fits your project.