How Much Do Affiliate Marketers Make?
The first question that naturally comes to mind if you consider joining affiliate marketing is how much you can potentially make. The sky's the limit and many partners are earning a six-figure income promoting affiliate offers. But this is always a result of a good understanding of the market, hard work, and time investments.
In general, you should prepare for several months to two years of work before you can see tangible results. Beginner affiliates can expect to earn up to $1,000 per month.
Here are some statistics on affiliate earnings from around the world in 2021. As you can see, affiliate earnings ranged from less than $10,000 to more than $150,000.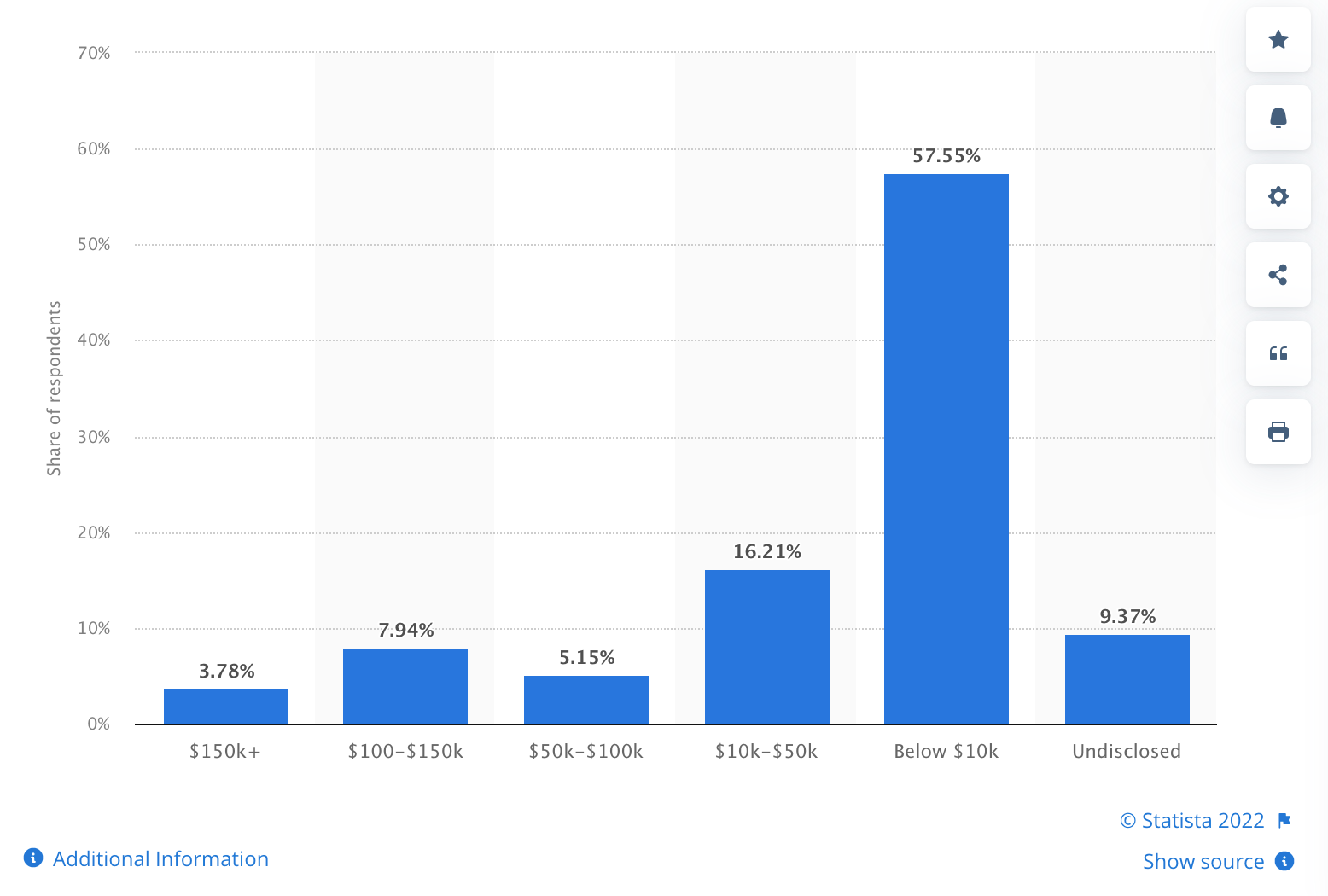 Unfortunately, some marketers start their affiliate journey full of enthusiasm, but quickly lose interest if they fail to receive earnings early on. In reality, the key to success is an ability to research the market, see where demand lies, and persistently meet the demands of the audience.
Affiliate Commissions in Different Niches
Let's see the average income from an affiliate program in some of the most profitable niches.
Travelpayouts allows its partners to earn on different travel services, such as flights, hotels, tours and activities, car rentals, and many others. How much you earn depends on you, because the more users make purchases with your partner tools, the more you will earn. Travelpayouts brands' share with partners up to 20% of the value of each sale. For example, if you work with GetYourGuide, a partner program that pays its partners 8% of the cost of booked tours and activities, you'll earn about $80 for 10 sales (if the cost of the tour is equal to the average brand price: $100).
With Travelpayouts, you can make partner marketing a major source of income. As did Megan Starr and Aram Vardanyan, the authors of the VirginiaTravelTips.com blog. Now, they earn $60,000 per month on their projects. You can also choose a niche and earn well. For example, Clive Muir, the author of caminodelrey.es, earns $20,000 on his website through partner programs (specifically the Booking.com and GetYourGuide affiliate programs) and AdSense.
Join Travelpayouts and start monetizing your content. Perhaps you'll soon become one of the success stories on our blog.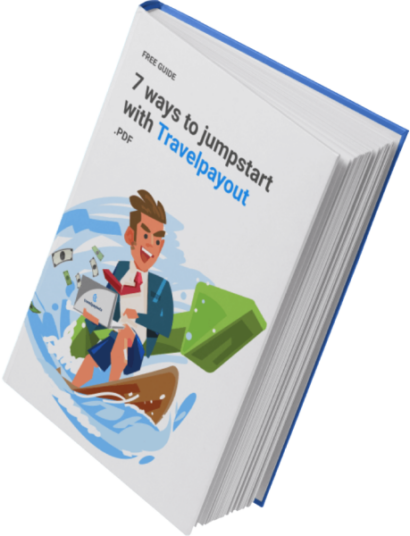 7 Ways to Jumpstart With Travelpayouts
So, you've registered on Travelpayouts, but have no idea where to start? Download this ultimate guide to boost your travel profit!
Download
Amazon offers up to 10% in associate commissions on sales. Therefore, you should sell as many goods as possible to have a decent income. With a bigger audience and better content, you can earn $1,000 a year with near 20-40 hours of monthly work, for example.
Cupid Media is one of the world's biggest online dating programs that allows you to promote over 30 dating websites, most of which are focused on different countries. Affiliates can make up to 75% commissions depending on the subscription plan.
Leadpages practices recurring payments. It means you get paid every time (monthly or yearly) someone makes a payment with a 10-50% commission on each payment. For example, a purchase of a yearly subscription worth $577 through your link will bring you the $173.10 commission the first year and the next year as well if the buyer prolongs a subscription.
How to Get Started With Affiliate Marketing
It's easy to get started with affiliate marketing. You need to choose a niche that you will work in, find brands that you can recommend to your audience, and build a webpage, blog, or other online project on which you can promote affiliate links. Below, you can learn where to start with affiliate marketing and how to run your first campaign.
Where Do You Sign Up to Be an Affiliate
How can you get affiliate links? First, you need to choose a highly specialized market and to find one, you can make use of dozens of services on the Web. For example, Quantcast has a list of the top 100 sites, so that you can find a trendy resource corresponding to your website. Take advantage of the niches that experienced an uptick during the pandemic and are now presenting great earning opportunities.
After choosing the niche, you'll need to pick up an affiliate program. To get an affiliate link from the profitable program, you can recourse to numerous affiliate retailers as ClickBank, for instance. There, you have a good opportunity to check the niche industry and get a list of products you could sell. Besides, some metrics are developed to display statistics on the sales of the affiliate product.
Then, it is crucial to check the cost per click of your keywords to reveal the competition. For this purpose, you can use Google AdWords' Keyword Planner. Also, you can sometimes see the level of credibility of a particular affiliate program. Here are some tips on how to find an partner:
Focus on "evergreen niches" with all-year-round sales, rather than industries with season goods or products that might go out of style.
Check the product's page (design, quality, usability, etc.).
Learn about the seller and their reputation.
Look through comments, reviews and feedbacks on the product.
See the product's page on social networks.
Also, you need to take into account the affiliate policy of the company you are interested in because it will have a huge influence on the success of your affiliate campaign.
Ways to promotion (maybe the company forbids the method you'd like to use).
Storing partner tags.
Price of the product.
Commissions.
Payout frequency.
List of the Best Affiliate Programs
Here is the list of the top 10 affiliate programs that are considered to be trustworthy businesses within their niche.
You can also check our take on the best affiliate programs to join in 2022.
How Much Do Affiliate Links Pay
How much do affiliate links pay on average? Within the travel niche, the TripAdvisor Affiliate Program payout policy might be an interesting example. One can source content from their website and link visitors back to the original content through the tracking link. The program offers text links, and banners. You get a 50% commission for every confirmed booking.
Reasons to Use Affiliate Links for Bloggers
Since 2015, income from affiliate marketing programs has increased by 10% annually.
Affiliate links for bloggers are one of the greatest sources of supplementary passive income for content creators. It allows them to generate up to $5,000+ monthly from promoting helpful products.
Substantial income is possible if you are able to reach out to a large audience that will listen to your voice. It is even more profitable for bloggers that have "evergreen" content providing permanent conversions.
You can get a decent income with any program. For example, ShareASale offers both PPC, PPL, and pay-per-sale programs with a starting payout of $50. If your blog has content for travelers and you prefer a pay-per-sale model, consider choosing Agoda to get a 7% commission (the average commission in similar programs is 5%).
How to Make Money With Affiliate Links
After you've joined the affiliate program, you get access to a dashboard with a set of different affiliate marketing links – text links, banners, widgets, and search forms, as a rule.
To add a banner to your website, you'll get the HTML code provided by the affiliate program. Text links are added via HTML code with a set of words from a brand. Besides, you can use URL only (this method is good for social platforms) and add the affiliate link to any other link. HTML codes should be implemented with the aid of the HTML editor of your blogging platform.
However, when you get an affiliate link on your website, make sure it fits the content and design and also has a good placement to attract the attention of readers. Besides, A/B tests are required to reveal the most effective types of links. Here, you'll find more on how to effectively insert a link.
How to Choose Affiliate Links and Add Them to Your Site
When choosing an affiliate linking program, make sure your website's content is appropriate and carefully examine the terms and conditions of the program, the commission policy, and, of course, its credibility. Let's look through some nuances further. You can find more tips in our special guide on how to place affiliate tools, such as links, and banners, and widgets.
Links Should Be Relevant to Your Content
Certainly, your website is consecrated to a particular topic, but it's highly likely that it is still diversified. Normally, content creators publish different kinds of content such as articles, reviews, descriptions, and much more.
There is no sense to implement the same offer in the various types of content. For example, if you post news, search or subscription form will be more pertinent than the text link. On the other hand, if you write a review using a comparison chart, the text link will do its job.
Only Use Trustworthy Affiliate Programs
A content creator should only invoke trustworthy and high-quality products to justify audience confidence. Otherwise, you could lose followers and readers quickly. Nobody wants to feel pushed to buy a particular product solely for the blogger's profit.
On the other hand, people appreciate real help (tips, hints, tutorials, etc.), and one example of a helpful resource is the Nomadic Matt website whose owner Matt Kepnes earns up to $50,000 by telling people how to save money on traveling.
Integrate Links Into as Many Posts as Possible
When thinking of how to use affiliate links, don't overcrowd them with content. All your updates should have an implication or significance.
Track the popularity of your posts and insert links only in the articles in demand. Use Google Analytics to see the traffic for every post and choose the most frequently visited publications to add links there. This method gives you the opportunity to add links to the old posts without creating new content too often.
To learn more about how to add affiliate links to your content, watch this video.
Links Appearance
When creating an anchor of the link, pay attention to its spelling, punctuation, and readability. Avoid using the same words in the link that search engines can perceive as spam. Links that contain mistakes are broken: they mislead the visitors and reduce traffic.
Consider adding some accompanying data to make a more informative and engaging content. Attract attention to the link and get readers clicking on it. Also, it might be a good idea to color links to make them more noticeable.
Earn Affiliate Income on Product Reviews
People will click on the link if the review seems promising to them. Write about your first impressions and the first touch with the product. It is always good to read about someone's personal experience. To make the advertisement less obvious, share the negative side of the product as well. In the end, it is crucial to explicitly say how this product is able to help to resolve a problem your readers might be looking for a solution to.
Try to engage the audience in discussion according to its pain points. Don't forget to provide alternatives. Be honest and avoid hyping the product.
Use Social Media to Promote Your Links
How can you make money from affiliate links without using a personal website? It is possible to recourse to social media, but you'll need to create an attractive redirect link on your page. Focus on the content and use photos and images to make links more enticing. Direct your followers and readers right to the offer, but not to your website's page.
To place links on your Facebook page, ask for feedback, or write a question to increase the number of comments and shares.
To promote the product on Instagram, by publishing a story and inserting an affiliate link in the "swipe up" feature (available for bloggers with over 10,000 followers). You can also post product demos, reviews, behind-the-scenes photos, and other types of content. If you use Pinterest, place the affiliate link in the image description or create several boards according to the product categories.
Use Email Newsletters
Add the affiliate links to your newsletters, and it will help you make an email more valuable for the addressee. Otherwise, the audience might lose interest in the content that is of no use. There are some other nuances in creating the newsletter for affiliate marketing, and this page might help you learn all the subtleties of building an email list.
How Can You Track Affiliate Link Traffic
Use Google Analytics to measure the affiliate link's CTR and conversions, but note that its code only tracks the visitors' interaction with your website's pages. You should add the event tracking code to the webpage and every link you'd like to track.
You can also install different plugins on your website to track external campaigns in emails and on social media. Here are some useful tips on how to track affiliate links.
Are You Ready to Start Making Money With Affiliate Marketing?
As you can see, affiliate marketing can bring you quite a substantial income. However, it won't come unless you have the necessary resources. Let's sum up the most important ingredients of success.
Choosing a profitable niche.
Choosing a trustworthy affiliate program with favorable terms offering high commissions.
Creating content that will correspond to your readers' needs and help them find the solution.
Placing the affiliate links correctly to make them active and click-effective.
If you wonder how to get affiliate links on your blog, focus on the programs that correspond to your personal experience, preferences, and skills to not only promote the product but also to grow as an influencer and build a trustworthy resource.