Does affiliate marketing really work? The short answer is: yes, affiliate marketing works. In the US alone, the affiliate marketing market is worth over $8 billion.
There are dozens of examples of people who earn anywhere from a few dollars per month to hundreds of thousands of dollars per year. Of course, only a few people make over $100,000 a year (a little less than 25% according to a study conducted by Authority Hacker); however, the majority of people who are serious about blogging reach an income of over $20,000.
An experienced reader will definitely notice where the income is. There are expenses as well. For example, earning $10,000 a year typically requires several years and a similar amount in spending, thus it cannot be called a $10,000 profit.
Affiliate marketing is not about easy and fast money. It's about putting in work and having a competent approach, which we will talk about on the page below. However, average affiliate marketing costs can be significantly lower than one's income. A good example is the story of Oke, who runs her blog at almost no cost by doing most things on her own. She also earns a decent income.
Instead of asking if affiliate marketing really works, try asking how affiliate marketing works. Understanding this will help you sort things out and make sure your affiliate marketing approaches work for you. In this article, we will provide an overview of the processes in as much detail as possible.
What is Affiliate Marketing?
You have likely already read that affiliate marketing is one of many different revenue models. But this is just a theory and will not help you. So, to ensure that you have a complete understanding of affiliate marketing, let's look at an example:
You recommend the services or products of a particular brand to your audience.
A person, following your recommendation, goes to the brand's website and buys a product or service (for example, flights on WayAway).
You receive 50% of WayAway's income for referring a client.
This is a simplified way of exploring how affiliate marketing works.
To earn on affiliate marketing, you will need a website or other source of traffic. You will not earn from clicks or ad impressions. Instead, you will earn a commission from each sale made thanks to you. In other words, if a visitor simply clicked on your website, but did not buy anything, the advertiser does not pay you anything. However, the moment a person buys, instead of simply receiving a few cents (as you would from the basic advertising revenue model), you will receive a much more significant income.
Brands are willing to share their revenue either as a portion of their own revenue or in the form of a fixed reward, such as $10 for installing an app or $100 for selling a product. Most often, the reward is calculated from the cost of a sale or as a share of the brand's income.
From a brand perspective, affiliate marketing is the way to get sales. In fact, nothing changes for customers. They could also get to the brand's website from the Google search results or simply through advertising, but thanks to your recommendation, your audience received a good product and you made money from it.
Sometimes, affiliate marketing gets confused with multi-level marketing (MLM), in which earnings are based on attracting new members to the network. However, this is different from affiliate marketing. Unlike in MLM structures, in affiliate marketing, you work with brands and earn on real recommendations of goods and services.
Another common affiliate marketing approach is purchasing traffic in advertising networks in order to earn money by redirecting this traffic to advertisers' websites. In fact, such buying/selling of traffic is essential to affiliate marketing, as you earn by attracting customers to brands. However, this is just one general type of affiliate marketing.
To understand if affiliate marketing really works and, more importantly, how it works, let's take a closer look at all stages of earning.
How Does Affiliate Marketing Really Work?
Promote products or services and earn a commission on sales. Is affiliate marketing that easy? Yes, affiliate marketing is about earning a commission on sales. You don't need to have a warehouse, worry about making deliveries, or actually provide a service. All of this will be done by the business to which you have attracted a client.
The sale itself is the final result that generates your income. However, this requires a good amount of work.
Niche Selection
In affiliate marketing, everything depends on the niche in which you will work. There are several popular niches:
Retail
Travel
Education
Health
Finance
There are many more niches in affiliate marketing. You can go into any of them, but remember that choosing a specific niche is the foundation of your future income. To choose the perfect niche, evaluate:
Total traffic
Competition
Tools for earning
Niche stability
Your personal expertise and understanding of your chosen niche
In niches like finance or legal services, competition is very high. You can calculate the level of competition by checking the cost per click on Google Keyword Planner. Although affiliate marketing is not directly related to contextual advertising, a high average cost per click is an indicator of high competition.
In certain niches, competition is high for a reason. In such niches, since there is a lot of money and customers, which is also good for you, you can focus on balance. Therefore, you can consider the travel niche. At the moment, only 14% of all affiliate marketers work in this niche, which is significantly lower than, for example, the retail niche.
Why Choose the Travel Niche?
Most people travel at least once a year, and some more often. Furthermore, most of those people require a hotel, plane, car rental, or other travel services. So, you can earn money on every sale by offering online booking services to your audience. This is another advantage of the travel niche, since you can sell many types of services through Travelpayouts (such as hotels, flights, etc.) or even goods online (for example, through Amazon).
When choosing a niche, also focus on what you personally enjoy and understand. For the travel niche, you do not need to be a lawyer or doctor. If you know how to plan trips for your family and understand how best to book travel services online, you can help your audience.
Inside a niche, whether it's travel or another, you can narrow things down even more. For example, instead of trying to cover all types of trips, choose a specific type. For example, you can talk about traveling on a budget and making money with Hostelworld. Narrowing down a niche is often a profitable strategy, as evidenced by the experience of Paulina, the author of the site Paulinaontheroad.com, which she shared on this page.
Website Creation
To make money in affiliate marketing, you need a platform from which you will drive traffic to brand's websites.
In 2023, you can do this without a website (for example, by starting a page on Instagram, Facebook, or another social network), but websites are still a popular solution, as billions of people search daily for answers to their questions via Google.
Creating a website can be free, but even if you do everything yourself, you will still have some costs:
Domain – $10-20
Hosting – $50-100
Website Management System – Free (like WordPress)
All of these are regular expenses, since you cannot buy a domain and hosting forever (you will rent it). However, these costs are a pittance compared to how much you can earn later on through affiliate marketing.
In pursuit of savings, you should avoid free domains or hosting without payment. By spending up to $100 per year, you will receive a reliable and professional solution that will earn you income.
We have considered in detail the process of creating a site on this page, so we will not dwell on it in more detail now, but let's consider the main things:
Website creation is step number one, but doing affiliate marketing does not stop there. Furthermore, you will have plenty of work to do, such as creating content, attracting traffic, and so on.
You don't need to be a programmer or designer to create a website. With WordPress and free courses (like this one), you can do it all yourself.
If you have any difficulties, then for a few hundred bucks, you can order a ready-made solution on Fiverr or Upwork.
As an alternative, consider working in affiliate marketing without a website, such as by leading a group on social media or creating an application for a mobile phone. For instance, you can generate an affiliate income from social media posts or YouTube channels through affiliate programs. However, the most common approach is still to set up your own website.
Gaining Traffic
In affiliate marketing, it is possible to work without a website, social media presence, etc. by buying ads.
For example, you can buy ads on Google Ads and drive traffic to the brand's website. It works like this:
You create an ad and pay for each click.
Send traffic from the ad to the brand's website.
Your audience makes purchases on the brand's website.
You receive income from every sale.
Buying traffic is a risky strategy because you pay for each click, but only receive income from sales. You can spend $1,000 and earn $980. If you don't count expenses, then a $980 income sounds good, but in fact, you will have lost $20.
Large brands often buy advertising on their own, and because of the auction system, when a click with the number of participants becomes more expensive, without proper experience and luck, it will be difficult for you to set up a truly profitable advertising campaign. For example, here are some adds for car rental brands: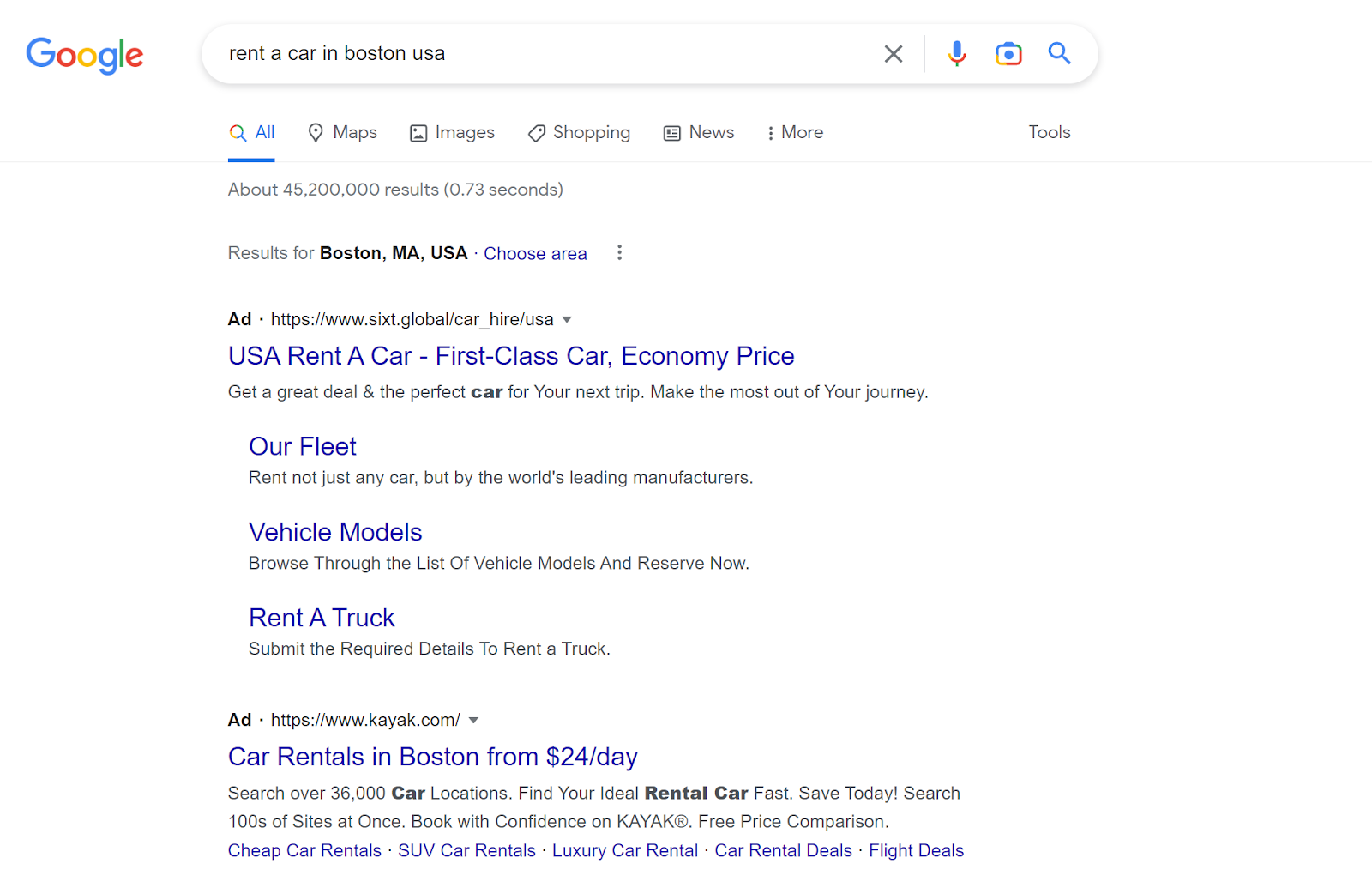 In this case, you would be competing with SIXT and KAYAK, which have a broad marketing budget. Therefore, it will be difficult to win such an auction. Alternatively, you can again narrow your niche and try to generate traffic from less competitive search queries.
Therefore, the idea that you can make money by buying ads in affiliate marketing is not a myth, it really is possible, but it is a riskier and more complex strategy. A better strategy is to attract organic traffic from search engines. For example, for Twooutliers.com, which earns on affiliate marketing, this is the main source of traffic: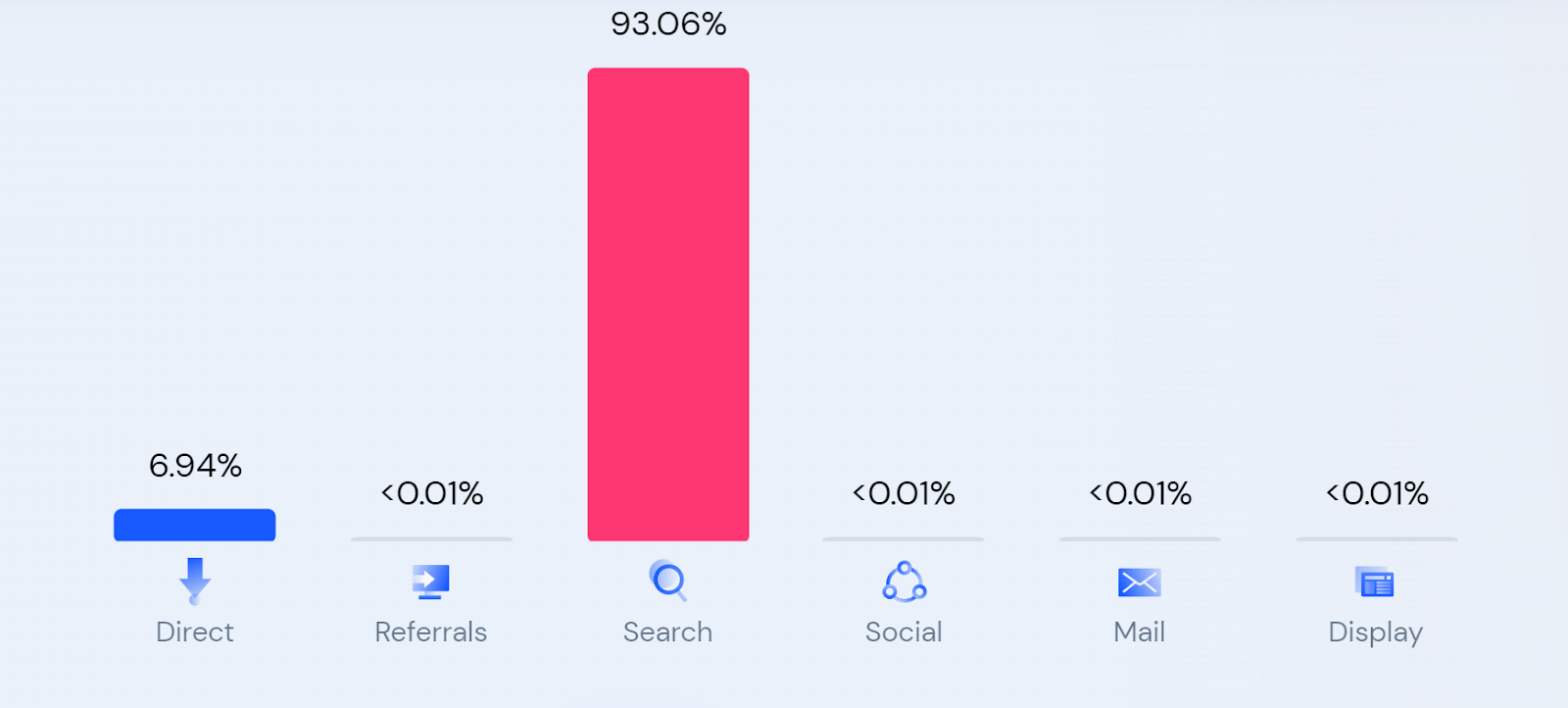 Organic traffic is shareware. You don't pay for the traffic itself, but you have to work on getting it, which costs money and takes time.
To get organic traffic, you have to prepare content that users are searching for on Google. You can write about what you are personally interested in and what you understand, but be sure to check if other people are looking for that type of content. To select a topic for which there is demand, you can use tools, such as:
SEMRush
Keysearch.co
Ahrefs
All of these are paid tools, but they have a trial period that allows you to use them for free. In addition, you can use the free Google Trends tool. Paid solutions are convenient in that they will also show you your competition, so that you can understand which topic you should write about first (where there is traffic and the least amount of competition). Here is an example: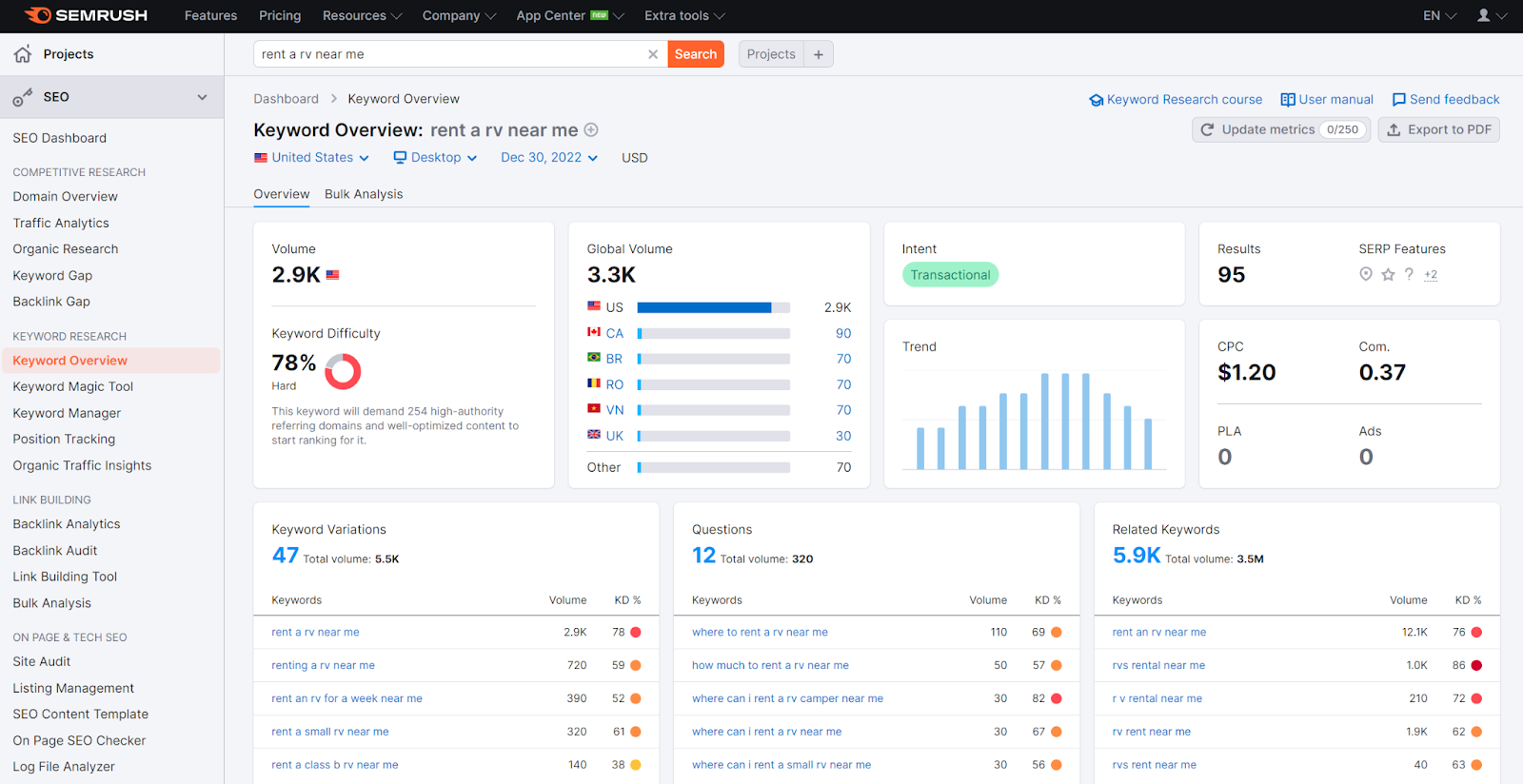 You have to prepare articles on given topics. These articles will generate traffic, which you will later monetize with affiliate marketing or other methods. In order for articles to attract traffic, they must be at least as good as those of your competitors. So, be sure to study your competitors' work before writing your own articles.
To learn more about how to attract traffic to your site, take our free course.
Ways to Earn Money
Affiliate marketing is one way to earn money from a website or other source of traffic, but there are other approaches as well, including:
Contextual advertising
Direct advertising
Selling your goods or services
Selling links from or guest posting
There are other approaches, but affiliate marketing will allow you to both earn from your traffic and benefit your audience.
Regular ads are often blocked, as 42.7% of people use specific extensions to block ads. At the same time, affiliate marketing is not only not blocked, but is also perceived by the audience as better than traditional advertising, as it looks like a recommendation. For example, this is a native mention of a travel service that can generate income for a website owner, while at the same time, providing beneficial information to the audience: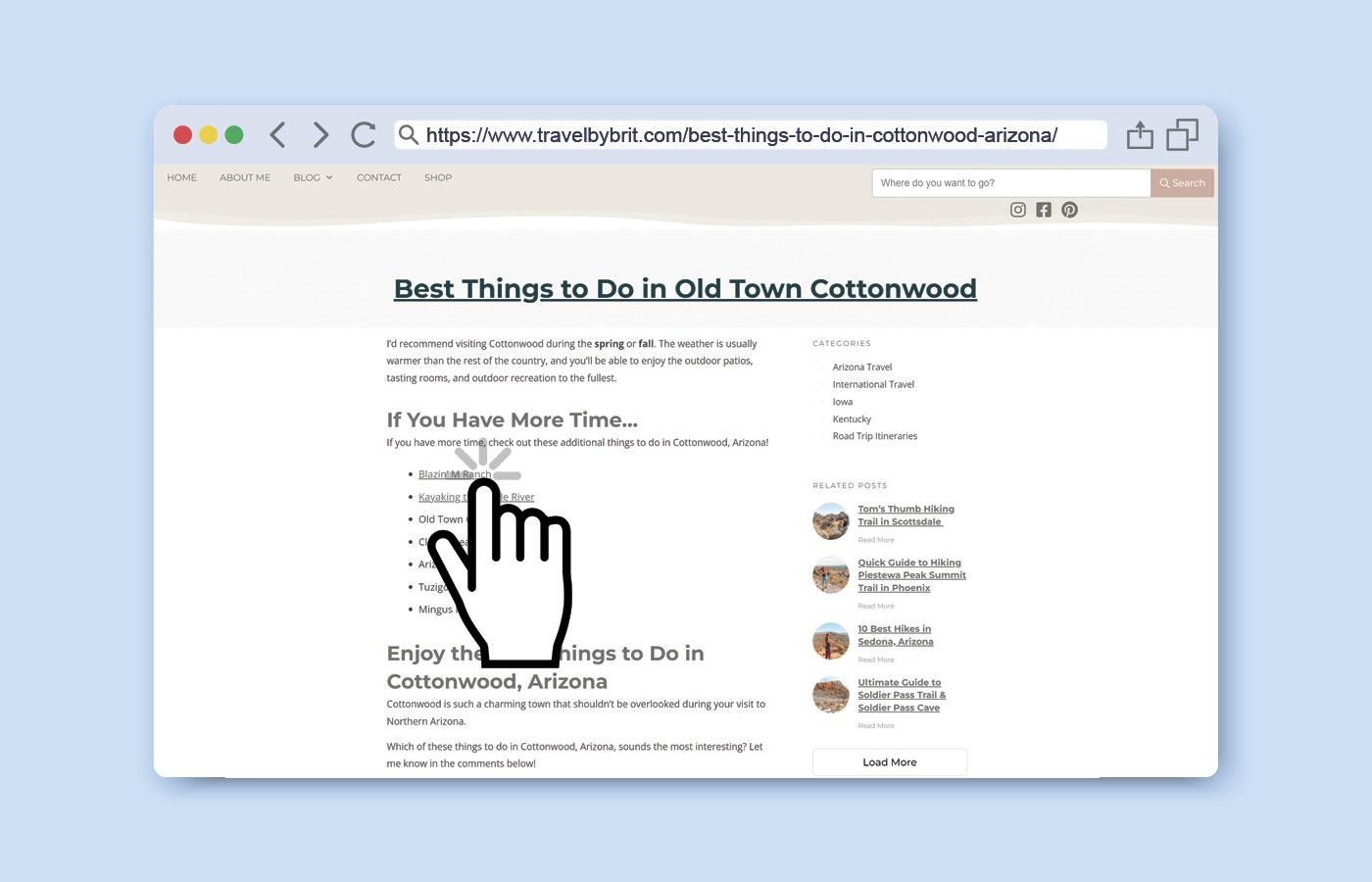 Affiliate marketing can be combined with other approaches to earning money, such as advertising. But, if you have high-quality traffic, that is, people who are close to making a purchase, affiliate marketing should be considered above other approaches. This is because, with a single purchase (CPA), you can earn tens of dollars, instead of tens of cents for a single click (CPC).
Choosing an Affiliate Program
In affiliate marketing, what matters is the product or service you recommend. You should not choose an affiliate program only based on the commission rates, although this is also important. When choosing an affiliate program, it is important to focus on the:
Product: Whether this product or service is right for your audience. You will not be able to sell a plane ticket to a person who came to your site asking for "what kind of hat to buy".
Brand: Whether your audience is familiar with this brand. It is ideal to work with well-known brands that your audience is already used to. However, you can also work with small local brands with a good reputation that offer users something more.
Affiliate Program Conditions: This is the last item on our list, but is also important. Study what percentage of income the advertiser promises, the terms of payment, etc.
The ideal affiliate program pays the maximum income in a niche while offering your audience the right product or service. It is also important that the affiliate program has the tools you need (links, banners, etc.)
If you choose the travel niche, then on the Travelpayouts partnership platform, you can access over 100 travel affiliate programs of such brands as WayAway, GetYourGuide, TripAdvisor, Booking.com, Agoda, and more.
Join the Travelpayouts Partnership Platform
Access exclusive tools and the best travel affiliate programs, including flights, hotels, car rental, insurance, tours and activities, all in one place.
Join Today
395,000 partners already trust us
120 travel brands
$53M+ total paid since 2011
In addition, when working with affiliate marketing, it is important to consider which types of traffic are permitted. Brands are only willing to pay for sales from certain traffic sources. For example, if you want to send traffic from social networks and the brand is willing to pay only for traffic from the site and personal blogs, it will not work. Instead, you should choose brands that accept your traffic sources.
Pro Tip: You can experiment and try new affiliate programs. Even if you have already found a great way to monetize your traffic, you can try a new approach to see if you can earn more from it.
Earning Income
In most cases, no matter how many clicks your audience makes, your affiliate marketing income comes from conversions, so you will receive income as commissions on successful sales. The more you sell, the higher your income will be.
Income is accrued in the personal account of the affiliate program and paid within a certain period. In the case of the Travelpayouts platform, once a month after reaching $50.
In your personal account, you can see your total income as well as detailed information about the sales made: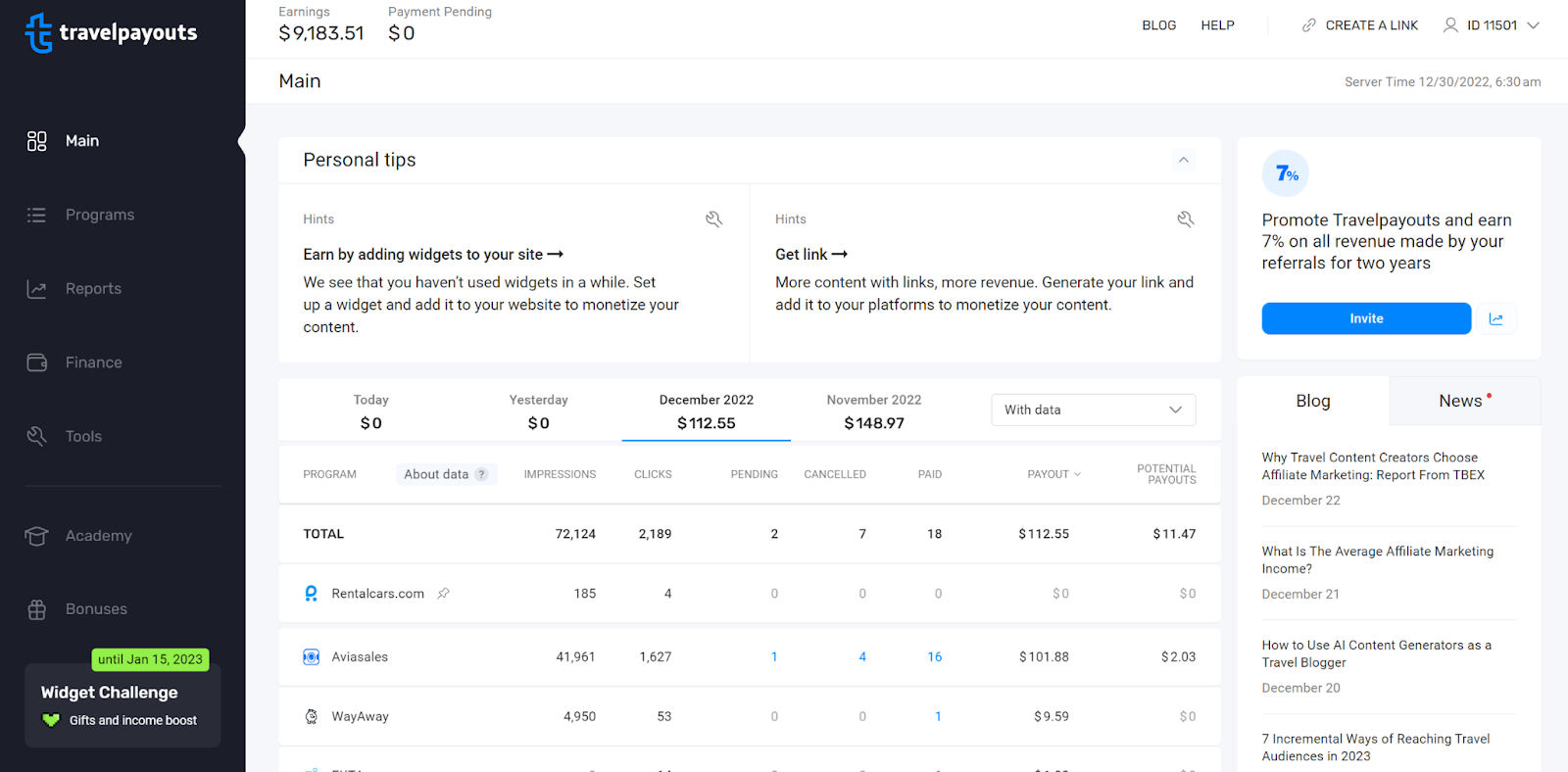 All this information can be used to improve your monetization strategy and help you earn even more from affiliate marketing. Successful affiliates often study how exactly a particular affiliate link worked out in order to repeat only the most successful practices in their future endeavors.
Affiliate Marketing by the Numbers
We talked about average income and provided some real examples of how much you can earn in affiliate marketing earlier on the page, but let's take a look at affiliate marketing numbers in general:
Affiliate marketing is one of the most popular revenue models among various niches that truly benefits everyone involved. For you, this model can be a perfect revenue stream. Moreover, if you have your own website, it can even become a source of passive income for you.
FAQ
We hope that our detailed overview of how affiliate marketing works has given you a better understanding of the basics. We understand that you still may have questions, so we have collected answers to the most frequently asked ones.
How Do Brands Know That It Was Me Who Attracted the Customer?
You send traffic to brand's websites using special tools, such as affiliate links. Your personal identifier is sewn into these affiliate links (for example, "11468"):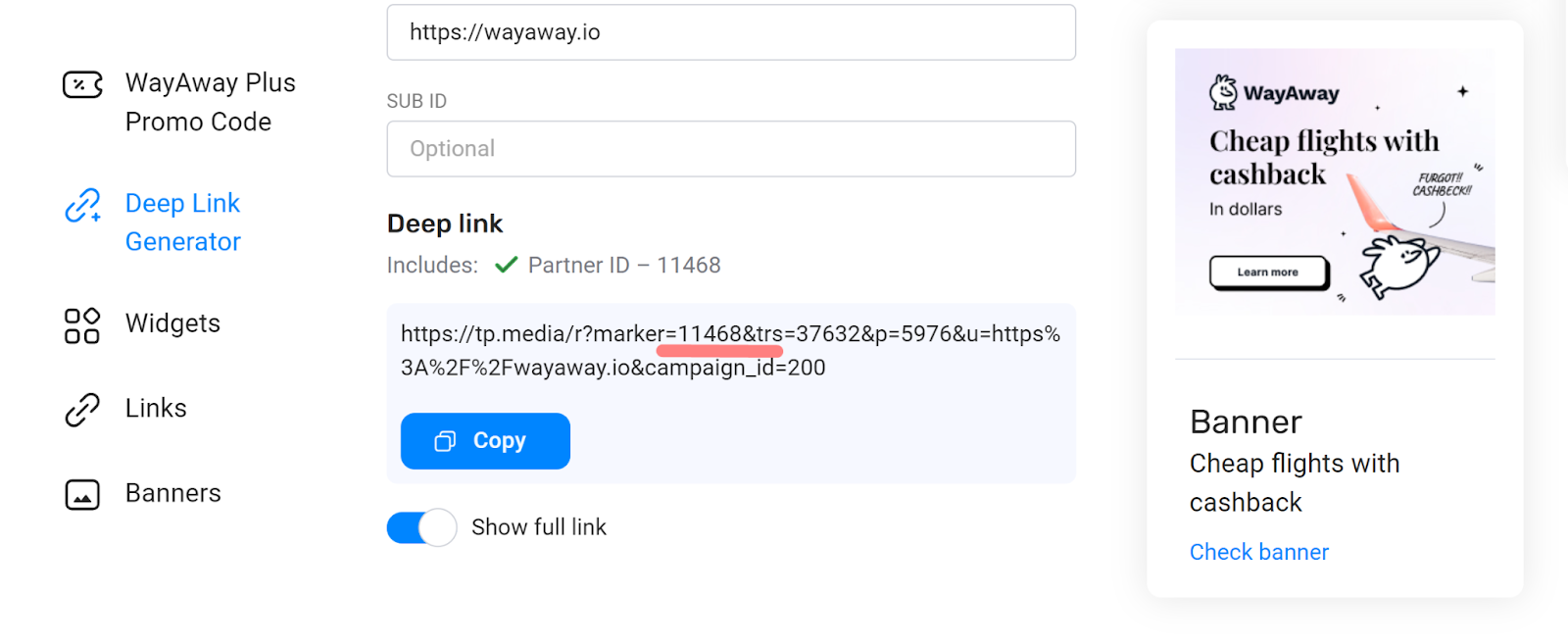 When your audience follows an affiliate link to the brand's website, your identifier is recorded in the database and the client is assigned to you. Different affiliate networks and programs work differently. Sometimes, you won't see your unique marker in the links, nevertheless, the technology is based on the fact that brands record the customers you have attracted.
On some sites, the client is "yours" only for the duration of this visit, but in other cases, it is fixed (for example, for 30 days). This is powered by cookie technology, which you can read more about on this page.
Is Affiliate Marketing a Scam?
There are a surprising amount of claims online that affiliate marketing is a scam. In fact, affiliate marketing is a perfectly viable means of making money on the Internet, and hundreds of thousands of sites earn money using this approach.
There is nothing wrong about recommending brands. This is an absolutely legal form of earning an income. In some countries, it is necessary to warn the audience that the link is an affiliate link, but in practice, this does not worsen the offer for the reader. You can read more about affiliate links disclosure here.
Trustworthy affiliate programs do not increase the price of goods or services for clients who came through an affiliate link, so affiliate marketing does not scam you, the client, or the business.
How Much Can I Earn?
There is no universal formula that will allow you to calculate how much you can earn from affiliate marketing. It all depends on the amount and quality of your traffic. The closer your audience is to buying a product or service, the higher your conversion rate will be and, subsequently, the higher your income will be.
Successful affiliate marketers earn varying amounts from blogs. It all depends on their niche, the country from which they generate the bulk of their traffic, and other factors. For example, Katarina from Adventour Begins earns around $1,000 from around 30,000 visitors per month (you can read her full story on this page). You can expect roughly the same level of income, but your final actual income from affiliate marketing will depend on many factors.
We hope that you now have an understanding of how affiliate marketing really works. If you have any other questions about how affiliate marketing works, how better to promote products, etc., be sure to ask them in the comments and we will be happy to answer them.