Best Free Website Builders
With such a great selection of programs, it is easy to find the right one to suit your needs. There are so many options for any taste. Some website builders are convenient for e-commerce sites, while others offer the necessary tools for editing the content.
All the platforms in this article have a free plan or trial version so you can try out the website platform and see if it is useful for you. However, not all the free options are limitless, and in some cases, it is better to buy additional features like adding a fast and secure payment method or extending the website bandwidth.
Before creating a site, you should think about how you will monetize it. Most website builders from this article allow you to add code blocks. That means you can embed Google Ads contextual banners on the site. So you'll earn every time users click on the ads.
There is an even simpler and more profitable option. You can join the affiliate platform and use the affiliate tools. For example, widgets and banners.
Many other tools are available on the Travelpayouts partnership platform. Join Travelpayouts to gain access to the travel affiliate programs of over 100 travel brands, such as Booking.com, TripAdvisor, Kiwi.com, and effective tools like affiliate links, widgets, banners, API, and more. You'll receive a reward when users move from your site to the site of the brand and purchase its travel service.
Join the Travelpayouts Partnership Platform
Access exclusive tools and the best travel affiliate programs, including flights, hotels, car rental, insurance, tours and activities, all in one place.
Join Today
395,000 partners already trust us
120 travel brands
$53M+ total paid since 2011
WordPress is a good option for experienced users. It is one of the most popular website builders today due to its best hosting services and an enormous selection of features for creating a great site for personal use or for business.
Advantages
WordPress is one of the world's most popular website builders, as it hosts almost half of today's biggest sites. It is good both for e-commerce and content management. WooCommerce makes an option of e-commerce free, unlike other platforms that charge extra for selling products.
There is an enormous collection of WordPress themes, and its Editor isn't half bad, so your content will be in good hands. WordPress hosting is very reliable and works perfectly. It is a preferred website builder of many companies for this reason.
The free plan offers 3GB of storage space and SEO tools to increase the search engine ranking of your website.
Disadvantages
WordPress can be complex and confusing in the beginning. You'll spend time learning how the platform works. With a free subscription, you cannot integrate PayPal into your website. A domain is not included either.
Mobirise is different from other website builders in that it is an offline software available for Windows and Mac. It suits creating small and medium-scale business platforms, online portfolios and more.
Advantages
Mobirise is the best website builder for beginners who don't code and need a simple and intuitive interface. The program is tailored for building mobile-friendly websites. It features trendy blocks that make the design process easier and more convenient.
The program offers over 1,800 templates and themes, as well as numerous additional features such as galleries, maps, footers, sliders and many more. You can benefit from contact forms that are easy to integrate.
As an offline software, Mobirise works perfectly without an internet connection, so you can continue your work in any situation. The installation process is fast and simple, so within a few seconds, you'll be able to work on your new site.
Disadvantages
The biggest disadvantage of Mobirise is that you'll need to resort to a web hosting service because the platform doesn't provide any solution. Also, there are only ten extensions available which might not be a big choice.
Site123 is a perfect platform for launching a content-driven website: it has a great editor and provides reliable hosting services, while e-commerce features don't come with a free plan.
Advantages
Site123 offers both a free and paid subscription, and with the first one, you'll be able to access many features of the platform. You'll get a subdomain name, 500MB storage space and 1GB of bandwidth.
The platform offers a wide choice of beautiful templates and themes, some of them being industry-specific. The editing process is smooth – you can move the elements around easily. It is the best for building a site where content will play a key role. Site123 is a reliable website builder, and it's servers have only 0.03% of downtime.
Disadvantages
The free plan doesn't provide features for business, so it is good only for creating simple content-focused platforms. Also, your website will have a floating Site123 tag all the time. Also, technical and design limitations can stop you from building the perfect page with all the necessary functions, and premium plans are more expensive than those of the competitors.
In conclusion, opt for Site123 to build a content-oriented page that will perfectly work due to the reliability of this hosting service and website builder.
Wix is one of the best website platforms available today for free. It provides customers with the freedom of creating the site you want, so there is a great deal of room for creativity. To be honest, Wix is known more for being a paid platform with a great selection of tools, but the free plan is good to get a general understanding of how the platform works and maybe build a site or two for personal use.
Wix offers two options: you can use its Artificial Intelligence Website Design (ADI) to get a ready-made platform within a few minutes or resort to the Wix Editor and build a website from scratch manually.
Advantages
Even though the free plan is limited in options, it is unlimited in time, so you can try it out for as long as you want. Wix is mostly known for the freedom it offers for website building. This is mostly due to its Blank Canvas Editor, which allows you to locate elements of design anywhere on a page.
You can easily drag an image, text or any other part which is different from the majority of other websites with their preset grid. The editor has over 500 templates and endless possibilities for design.
In general, Wix is a multilingual website builder, so you can translate your platform to the language of your target audience, however, this option requires duplication of pages which might complicate future updates. There are a lot of SEO tools available on Wix. You can add tags, customize the titles, connect to Google Webmaster tools and more. Moreover, the uploaded images will be high resolution.
Wix is the best platform for building a website for business because you can add particular features to cater to your customers' needs. For owners of restaurants, there is an option of adding menu elements, online delivery features and a booking app for customers to reserve tables directly on your site.
Music enthusiasts will find an enormous selection of audio players and customized audio analytics tools. Wix is also good for launching an event-focused platform as you'll be able to integrate payment systems, sell tickets and more.
There are many tools for launching a forum. You can participate in discussions, leave comments or join the community.
Finally, Wix caters to art lovers as it is possible to generate digital licenses, purchase and sell objects of art, connect to brands and more.
Disadvantages
With a free plan, you'll face some of Wix downsides. First, there are numerous ads that slow down the platform and distract from work.
Second, your website URL will be quite complex. Yourwebsite.wixsite.com/yourwebsite is not something you can easily memorize and type in next time.
Third, there is a 500 MB limit of the bandwidth which is used up pretty fast if you have good traffic. Finally, it is not possible to switch between themes, so once you've chosen one, you'll have to stick to it afterward.
Thus being said, Wix might be your first choice if you want to customize your website design as much as possible and also don't mind purchasing the paid subscription, otherwise, you'll get tired of intrusive advertisements and other limitations pretty soon. It is one of the best website builders today.
Weebly is another top-notch website builder. It is recommended for beginners due to its intuitive and easy-to-use interface.
Advantages
In contrast to Wix, this platform doesn't limit the bandwidth, so you can get as much traffic as possible without worrying about your project shutting down.
There are many basic ecommerce features available for the free plan which are way better than other website building platforms. Thus, it is possible to create accounts for clients, work on abandoned shopping carts, offer gift cards and add several shipping options.
More features can be added through an App Center which significantly increases the functionality of your platform. Thus, the editor is not burdened with multiple options and contains only the most important things, while less common elements may be added as apps. In this way, Weebly can compare with Wix and Shopify functionality.
Another advantage of this platform is that it allows you to choose a nice-sounding domain name. Thus, with a free plan, you'll have the following domain: website.weebly.com which is quite easy to memorize.
There are over 70 themes, and some of them are considered to be better designed than the themes from Wix.
Finally, Weebly features the functionality of its interface. When you switch between different tools, they slide in and out so that the interface is tidy. Also, Weebly spotlights the chosen tool or option while the rest of the interface is dimmed. Therefore, you'll be focusing attention only on relevant features and getting the work done faster.
Disadvantages
Like other free platforms, Weebly shows multiple ads.
Furthermore, theme customization is quite limited. One example is the color choice. Once you've chosen the color, it will be applied to various elements.
Also, to translate your site to a different language, you'll have to buy a Multilingual app for $3 per month. Other beneficial features like adding a commercial subscription option are also paid.
All in all, Weebly is a good option for those who are building a website for the first time, because its interface is simple to use and their choice of features is great.
This platform is the best for building an online store. It is not completely free, but you can enjoy its 14-day trial version and unlimited functionality.
Advantages
First of all, Shopify offers well-designed and thought-out themes, even though there are only 10 of them in a free plan. Themes have different features, like wide layouts for example which is not present in every one of them. All these themes are provided with customer support, and on top of that, you get one hour of support service for design.
The 14-day trial version offers full functionality and is not as tricky as other platforms. The monthly fee won't be charged automatically unless you purchase the subscription yourself. Thus, you get to try out the platform and not worry about canceling subscription later.
Like Wix and Weebly, Shopify has an App Store which might be its biggest advantage. So, you can diversify the website layout and functionality with many additional features from the app store, although the Shopify editor itself has a great selection of elements.
In the case of building an online store, such a variety of functions might determine your business success because you want to ensure maximum customer comfort so that they make a purchase. Therefore, additional apps are always handy.
Moreover, as an owner of an online shop, you'll benefit from the Shopify Payments system with its multi-currency option letting clients pay with their local currency. Naturally, there are many payment options that you can integrate, and Shopify Payments is only one of them.
Also, you'll be able to add other marketplaces like Instagram or even Amazon to enhance the sales, and all within the interface of your website.
Disadvantages
The main weak point of this option is that after a 14-day trial version there is no option to use the platform for free. But you have enough time to explore the Shopify functionality. Also, theme customization is quite limited.
Shopify is not a good option for filling your website with informative content, because its editor has only a few features, but it provides all the necessary features for launching an online store.
Ucraft is a perfect option for building a website for small businesses, due to a great selection of e-commerce solutions.
Advantages
One of the best things about Ucraft is that it allows you to connect your customized domain name with the free subscription. In contrast to Wix and Weebly, where your domain will include the business name, Ucraft allows you to add the URL you prefer for website.com.
Also, there is an opportunity to use a subdomain name, website.ucraft.net, which is still not hard to memorize.
Ucraft has a free plan with unlimited timing which includes basic website building options such as UCraft Branding, SSL security, basic elements, SEO tools, customization of content including an option of changing colors, unlimited pages, and more. Also, Ucraft websites are mobile-friendly, which is very convenient because people tend to use mobile devices more often than computers today.
As a website builder aimed at e-commerce platforms, Ucraft has integrations with numerous apps useful for sales and customer support. There are SEO tools, Google Analytics, Intercom and many more.
Or, you can opt for any of the Pro versions and take advantage of its 14-day trial version. In this case, you'll have a great choice of fully customizable templates, over 70 shipment and payment methods to integrate, one domain name registration, and other advantages. The difference between Pro plans lies in the number of products that you can sell. From 50 with the Pro Website subscription to the unlimited BigCommerce plan.
Disadvantages
Small ads are unavoidable, and recently they've become more frequent and intrusive.
Some customers find the app choice insufficient for building a large-scale online store. Also, the number of products for sale is limited in two of the paid subscriptions, let alone the free plan, which doesn't allow you to sell at all.
This is another website builder, which is good for creating ecommerce platforms. It is well-known for stunningly beautiful themes, mobile optimization and absence of ads.
Advantages
To begin with, XPRS doesn't show any ads on your website, which is very unusual for a free website builder. One of the biggest advantages of the platform lies in its wide selection of amazing themes, which not only look nice in a web browser but on a mobile device as well due to a well thought out structure.
Also, XPRS is available on iOS and Android so that you are able to edit your project on your mobile device basically from anywhere.
Disadvantages
XPRS provides you with long and clumsy subdomain which is hard to memorize. Let's see: im-creator.com/free/yourusername/yourwebsitename.
The interface of the editor is not easy to use. It is cluttered with icons, overwhelming and confusing because there is no description or explanation for each icon, so you have to learn that in practice. Unlike Wix with its freedom of design, XPRS doesn't have canvas editor, so you can place elements only in specific sections. The blog section lacks multiple features like adding comments on posts or drafting them, and on top of that, you can't indicate post dates.
The shopping cart integrated on the platform is complicated and rather confusing for the creation and further upgrading. There are no other languages except English.
All in all, XPRS is a good choice if you want to launch an online shop and be able to edit your content from a mobile device. It is the best website builder without ads today.
Google Sites is a website builder with a modest set of tools that would be good for launching a platform with a simple interface and without worrying about its hosting and ugly domain names.
Advantages
First and foremost, Google Sites is a website builder with a custom domain that you can add without any additional fee (except for the annual domain fee, but that has nothing to do with Google Sites). Naturally, it requires a few technical skills, but unlike other builders, it doesn't charge you for this feature. Otherwise, if you use a given domain name, you'll enjoy a lifetime free-of-charge hosting.
Second, almost all the tools integrated on the platform come from Google: Google Calendars, Google Docs, Google Maps and more. So, if you enjoy using Google apps, this website builder is just right for you.
Disadvantages
Google sites have only one template with six different styles, so visuals won't be the strong suit of your new project. However, some people find minimalistic design credible and easy-to-navigate in, so it might work in some cases. Another downside is that at the bottom of your page, there will always be an advertisement, and no payment can remove it.
Briefly, Google sites provide a website builder and hosting for launching a site with a simple interface.
Strikingly is one of the best website builders with free domains and great interfaces for creating one-page websites.
Advantages
First of all, Strikingly offers a great and simply to use interface which allows for quickly switching between different sections on your page. The program claims to have the easiest website editor possible because you don't need any design or code skills.
The domain name is easy to memorize and it looks nice: website.strikingly.com. So, you can stick to this option or add the domain that you already have or plan on buying. Another advantage lies in the bandwidth that Strikingly provides. You will have 5GB, which is more than generous.
Strikingly is suitable for the best business sites. This builder also caters to e-commerce. You can sell one product with a free plan and up to 500 products with a VIP subscription. Just connect PayPal or other payment methods and start selling immediately! On top of that, Strikingly never charges a fee for transactions.
Among multiple tools that Strikingly provides, there are analytics built-in instruments so that you can know statistics on visitors as well as contact and sign-up forms.
Disadvantages
There are only a few downsides to using Strikingly. It is not a good option for creating huge platforms. Also, the program inserts ads if you have a free subscription. When visitors scroll down your page, an ad appears alongside the website.
Jimdo is tailored for creating a website in three minutes thanks to its AI services. It offers beautiful themes and provides automatization for every possible thing like improving your website ranking, and more.
Advantages
Jimdo is advantageous in many ways, and one of them is the Artificial Intelligence which allows building a site within three minutes. First, you answer a few questions, then the program accumulates information about your enterprise, you choose a design and photos from the Jimdo gallery or upload yours from social networks.
Automatization is everything with Jimdo. You can take advantage of its SEO tools that will offer tips on how to improve your website search engine ranking. You can also integrate Google Search Console for faster indexing.
Jimdo shows small advertisements at the bottom of your page, which is not too intrusive. Jimdo also features content blocks that are flexible and allow for a painless design process. Finally, mobile optimization makes your website look good on any device.
Disadvantages
With Jimdo, your site will have the following domain name: website.jimdofree.com. It's not too bad, but the word free included in the URL doesn't make the site more credible. Also, for a larger selection of tools and templates, it is recommended to purchase the paid plans.
Therefore, the Jimdo free plan is good for building a mobile-friendly website and promote it later due to a great choice of SEO tools.
Webstarts claims to be the best website builder because of the multiple tools available on the platform and the freedom of design – just like Wix.
Advantages
Webstarts is good both for editing content and selling products. To begin with, it allows you to add ten products (including digital ones) on your business website with a free plan as well as integrate online payment systems like WePay and more.
As for the design part, Webstarts lets you freely move the elements around so that you can create exactly what you want. Also, Webstarts offers 1GB of cloud storage and 1GB of bandwidth per month. There will be an ad on your website, but visitors will be able to close it. The URL is quite nice: website.webstarts.com.
Disadvantages
The number of sales is reduced to 20 a day and Webstarts doesn't provide mobile optimization with the free subscription. So this plan can work for launching a small business, and the increased volume of sales will require upgrading your plan in the future.
All in all, Webstarts is the best platform for creating an online store with up to 10 products for sale, so it suits small businesses.


Building a Website Online
Even though using a website builder for free might seem unrealistic, there are many great platforms providing tools for launching a site for personal use or for business. In most cases, website builders provide a basic set of tools with a free plan or offer a trial version so that you can see the potential of the program yourself.
But even with basic tools, there is a great chance that you'll be able to create a beautiful page and jump-start your business. And on top of that, today you don't need to have coding or programming skills to build a page, because today's website builders make the process easy, smooth and visual.
However, in some cases, it is better to splurge and purchase a paid plan to provide your site with a more attractive theme, useful business tools or a catchy domain name. All in all, a free plan is always a good start when building a page because you can check out the website builder and see whether it would be a good investment in the future.
Check out our guide and learn how to start a website on a small budget, choose a domain name and hosting, find content and design ideas, and promote your website.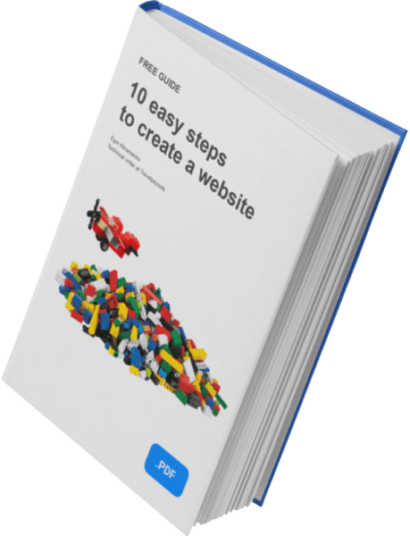 10 Easy Steps to Create a Website
Take this crash course on how to build a website from scratch to generate profit online.
Download