This post explains how to create a legit campaign and drive paid traffic to your affiliate links without breaking any rules. You will also learn about the pros and cons of using Google Ads for affiliate marketing.
Can You Use Google Ads for Affiliate Marketing?
Contrary to a common belief, the strict policies of Google Ads do not actually forbid you from using ads to drive traffic to affiliate marketing campaigns. However, you still need to follow the terms of your advertiser and affiliate network, which sometimes prohibit paid traffic, especially bidding on brand names, websites, and keywords. Moreover, you should try using Google Ads at least once and see if this approach yields tangible results, as it already does for many marketers.
So, the key to successful marketing with Google Ads is finding the right approach. You cannot create direct ads to your advertiser`s website. However, there are many other things you can do to drive traffic and still generate clicks. For example, promote your website with affiliate links instead of promoting your brand directly.
How to Use Google Ads to Promote Affiliate Links?
To start using Google Ads to promote affiliate links, you need to set up your Google Ads account. Now, let's explore different ways to take advantage of paid traffic for your affiliate marketing business.
3 Ways to Promote Affiliate Links with Google Ads
Insert links directly in Google Ads
The most obvious (though yet not the best) option is linking directly to the offer. However, Google frowns upon this approach, as do most advertisers. So, if you don't want your account to get banned, explore other strategies.

Drive paid traffic to a landing page or opt-in form
To save time, some webmasters create a separate page and drive paid traffic to collect leads and then send them to the offer. However, this is another way to get banned on Google Ads, as your page should still bring some value to the user and not just collect their data.

Promote your blog post with affiliate links
In this case, you can create an ad and send traffic to your website or blog with the link to the affiliate offer. Creating a website with high-quality content is a legit way to run paid traffic for your affiliate marketing campaign without breaking any rules.
However, not every page or website guarantees success. You need to make sure you have enough content and that your posts provide real value to users. Google's algorithms are designed to promote informative and top-quality content to help users solve their problems, so non-unique pages will never rank high enough.
So, before you create a Google Ads campaign, make sure to build a website with authority that will naturally attract visitors. Take time to prepare unique content, which will provide you with enough context to insert affiliate links later on. It is also good to share your contact information and share more about your company to build trust with users.
To top it all off, an established website will help you drive organic traffic as well as improve your quality score and reduce your cost per click.
Best Practices to Promote Affiliate Links with Google Ads
To run profitable affiliate marketing campaigns with Google Ads, make sure to explore and follow the best practices in the niche that have already proved efficient for other marketers.
Choose the Right Affiliate Program
Trust is key to growing a successful affiliate venture. So, you want to establish good relationships with your audience and recommend only high-quality products. The brand you work with can be a global brand or a local service provider, as long as it is relevant for users. To do this, it is important to analyze your audience while also choosing reliable brands to promote.
Travelpayouts offers over 100 partner programs from reliable travel partners, so you don't need to manually check each offer before joining. Some brands accept contextual advertising, while others do not. You can check the allowed traffic types in the "About" tab on each program page.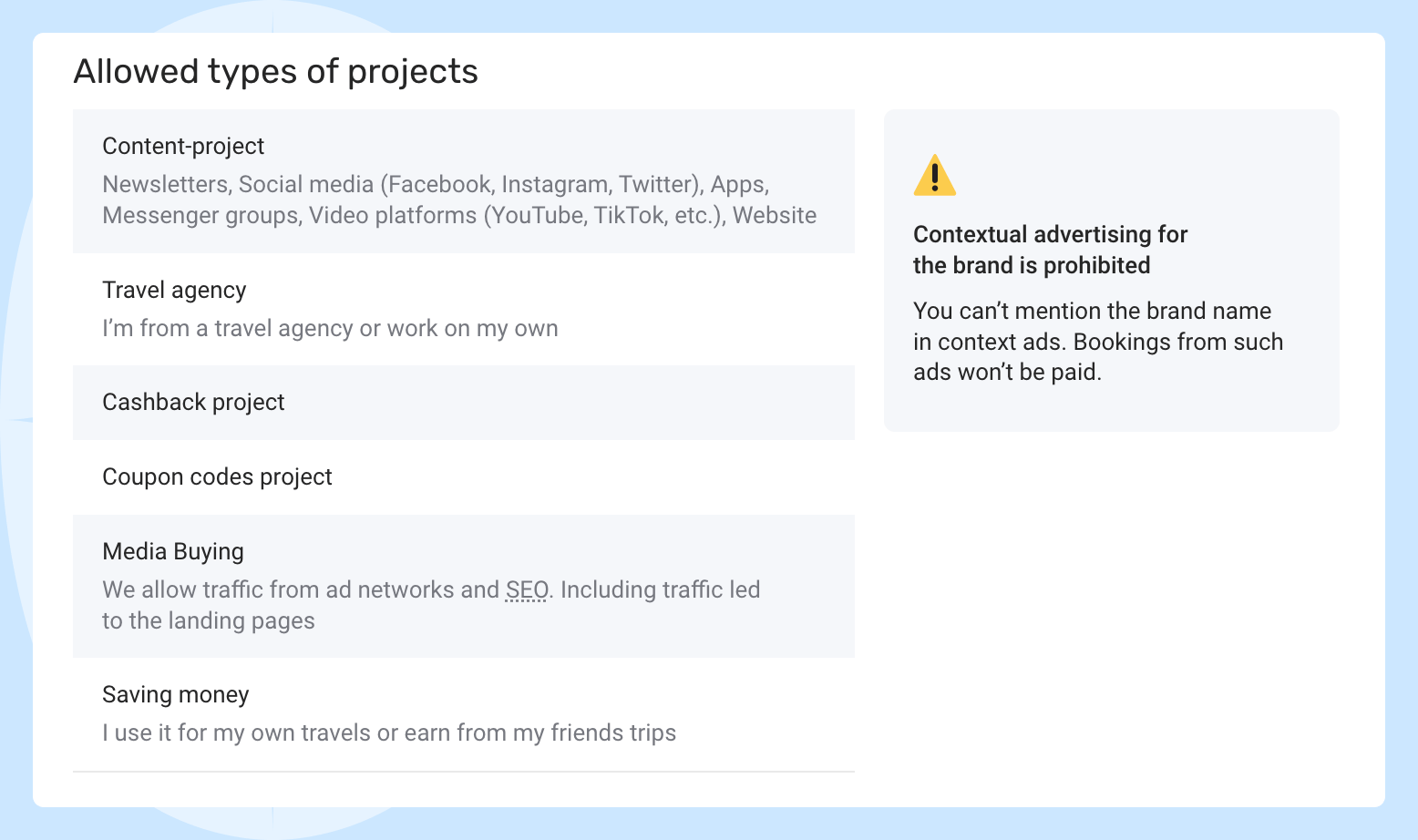 Follow the Google Ads Policies
In addition to checking the rules of your affiliate program, make sure to read the Google Ads policies. Quite often, it all comes down to the smallest details, so it is always better to check those details in advance to avoid getting your account suspended.
For example, Google requires you to disclose your partnerships, since you don't produce the products and services yourself.
Google also explicitly tells webmasters to follow the rules of their affiliate program when running ads on the platform.
Failure to comply with this policy will not get your account immediately suspended, but you will receive a warning.
Don't Bid on Brand Keywords
One of the most important rules that most advertisers establish in their affiliate program is to not bid on brand names and keywords.
For instance, if you want to promote Trip.com with Google Ads, you shouldn't use the name "Trip.com" anywhere in your ad, including in the title, description, or even URL.
Failure to comply with this rule might not only get you banned on Google Ads, but also by your advertiser, resulting in voided commissions. It is really not worth the risk!
Avoid Any Misguided Claims
When creating content to promote your links, it is natural to describe the advantages of the offer. However, you need to be realistic and avoid any unreasonable superlatives both on your website or in your ads. Basically, you should avoid lying to customers, which can result in account suspension, loss of audience trust, and canceled commissions. No brand appreciates a high refund rate, so be sure not to mislead users.
Track Analytics
Tracking the number of clicks and other statistics is beneficial for any affiliate marketing campaign, especially when you are paying for traffic.
First and foremost, do not use links with redirects or cloaked links to avoid account suspension on Google Ads. However, you can track your campaigns with Google`s UTM tags in addition to internal scripts from the affiliate program.
Now, let's see which metrics you can track to measure the success of your campaign:
Clicks. The more clicks, the more exposure your ad will generate. However, without an increase in sales, your audience will not be interested in the product you promote or your landing page will not correlate to the advertisement.
Return on ad spend. This metric will help you assess the campaign if you are on a budget. You can calculate return on ad spend by dividing the affiliate revenue by the total amount spent.
Carefully Develop the Content Strategy
To generate conversions, you need to direct traffic to valuable content that will naturally encourage users to click your affiliate links. Make sure to prepare a detailed description of the offer, gather positive reviews from customers, or prepare any other type of content that will resonate with your audience.
Invest in Website Design
A clear design will facilitate your website navigation and reduce any friction within the conversion funnel. In general, your website layout should have ample white space, be easy to navigate, and be filled with optimized content, including visuals. You can learn more about SEO best practices on our blog.
Use Relevant Keywords
Make sure your ad properly displays the affiliate offer that you are promoting. Otherwise, your visitors will quickly realize that your webpage does not correspond to the advertisement, resulting in a high bounce rate.
What If Google Ads Are Not Allowed?
Some brands prohibit even contextual advertising. But there are still a few ways to use paid traffic to increase the number of clicks on your affiliate link. Here are some options:
Native advertising. This type of ad aims to match the content of the page, so it rarely looks promotional. Native ads are often used on social networks and as recommendations.
Targeted ads on social media. Based on your audience's demographics and behavior, social networks can create personalized ads and efficiently target your customers.
Display advertising. This may include text, image, or video ads that direct users to your webpage to increase your brand recognition and audience loyalty.
Email marketing. This is an old-fashioned, yet still very efficient way to drive traffic. Make sure to create eye-catching forms to capture leads, grow your subscriber base, and share relevant content. With this approach, your advertising links will not look spammy.
Examples of Google Ads Done Right
To help you create a successful affiliate campaign with Google Ads, we have gathered some examples of the right advertising approach. This way, you can better understand how to prepare content and ads to attract legit paid traffic without breaking any policies.
Now, let's scroll through some examples to reveal that it is really possible to run an affiliate marketing campaign with Google Ads.
For the "best hotels in London" search query, we have analyzed the ads in the SERP and found affiliate websites.
For example, on the Best Hotel Guides website, you can find a huge knowledge base for hotels around the world. Each hotel is provided with a detailed description of the availability, architecture, facilities, etc. along with some visuals. This content brings real value to the user, so driving traffic with ads can result in real earnings.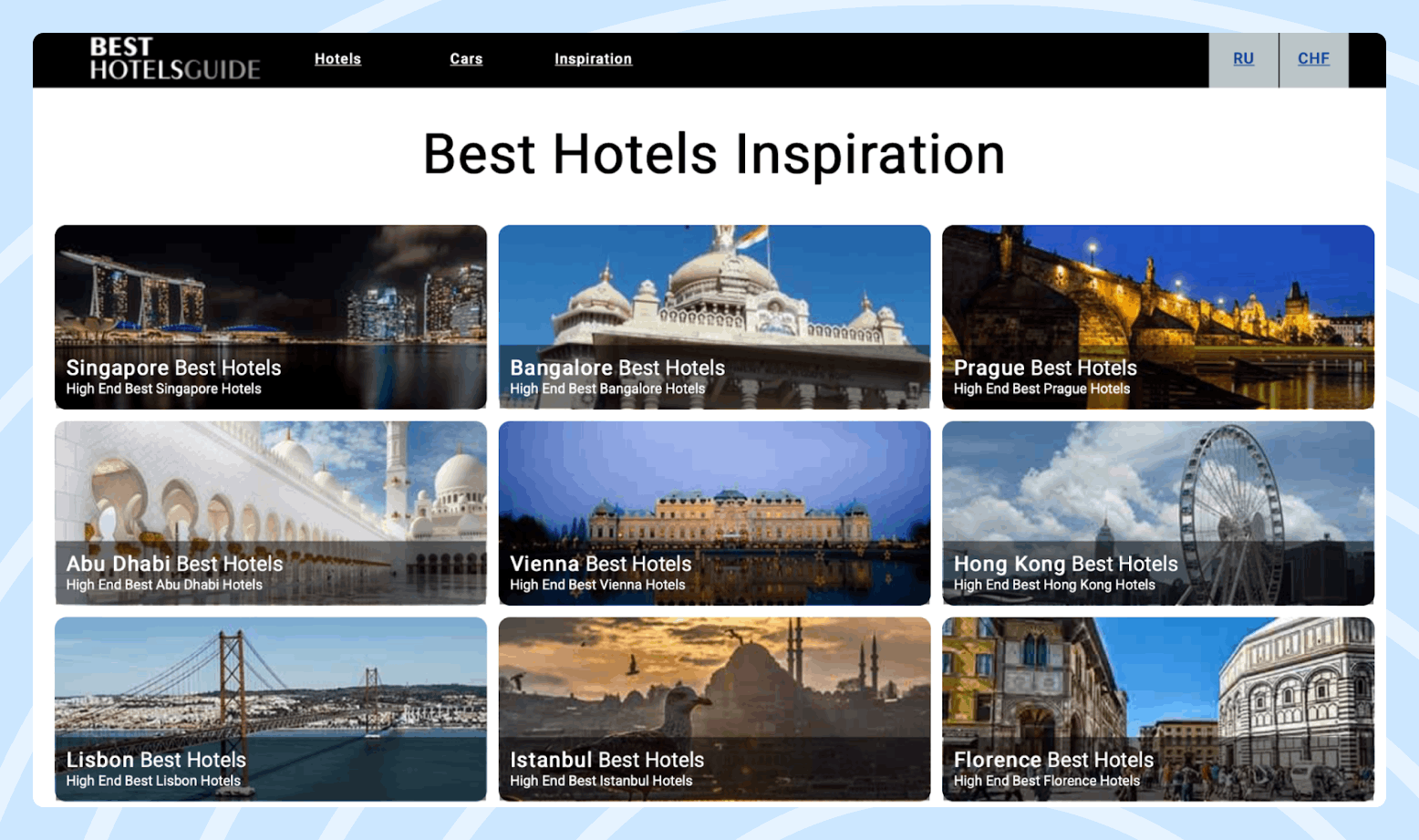 Another example is for the "best travel gear" query. You can see that the only ad shown for the search query is an affiliate website.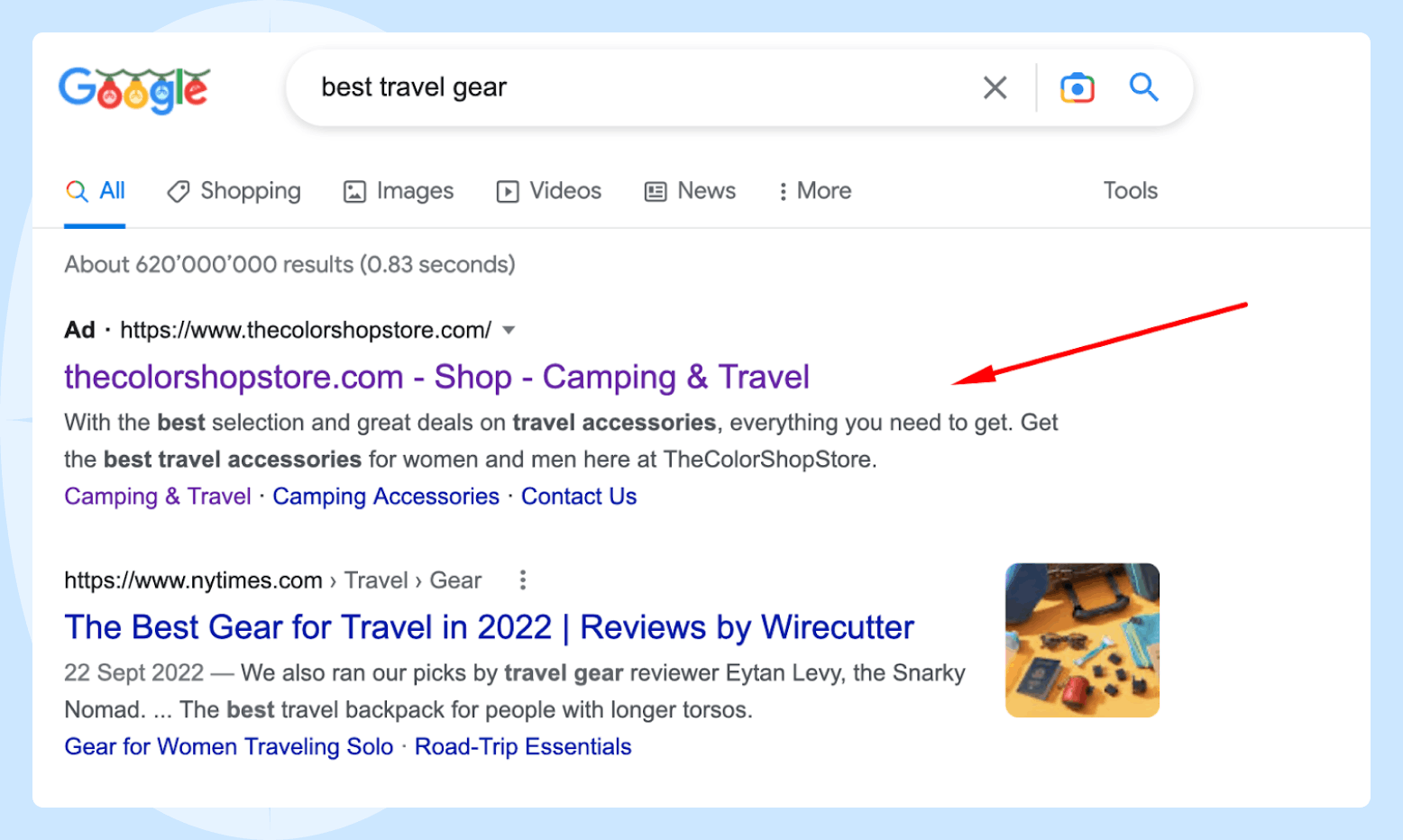 Even though the website doesn't have as much information as the site from the previous example, The Colors Shop Store features high-quality graphics, detailed product descriptions, easy navigation, and more.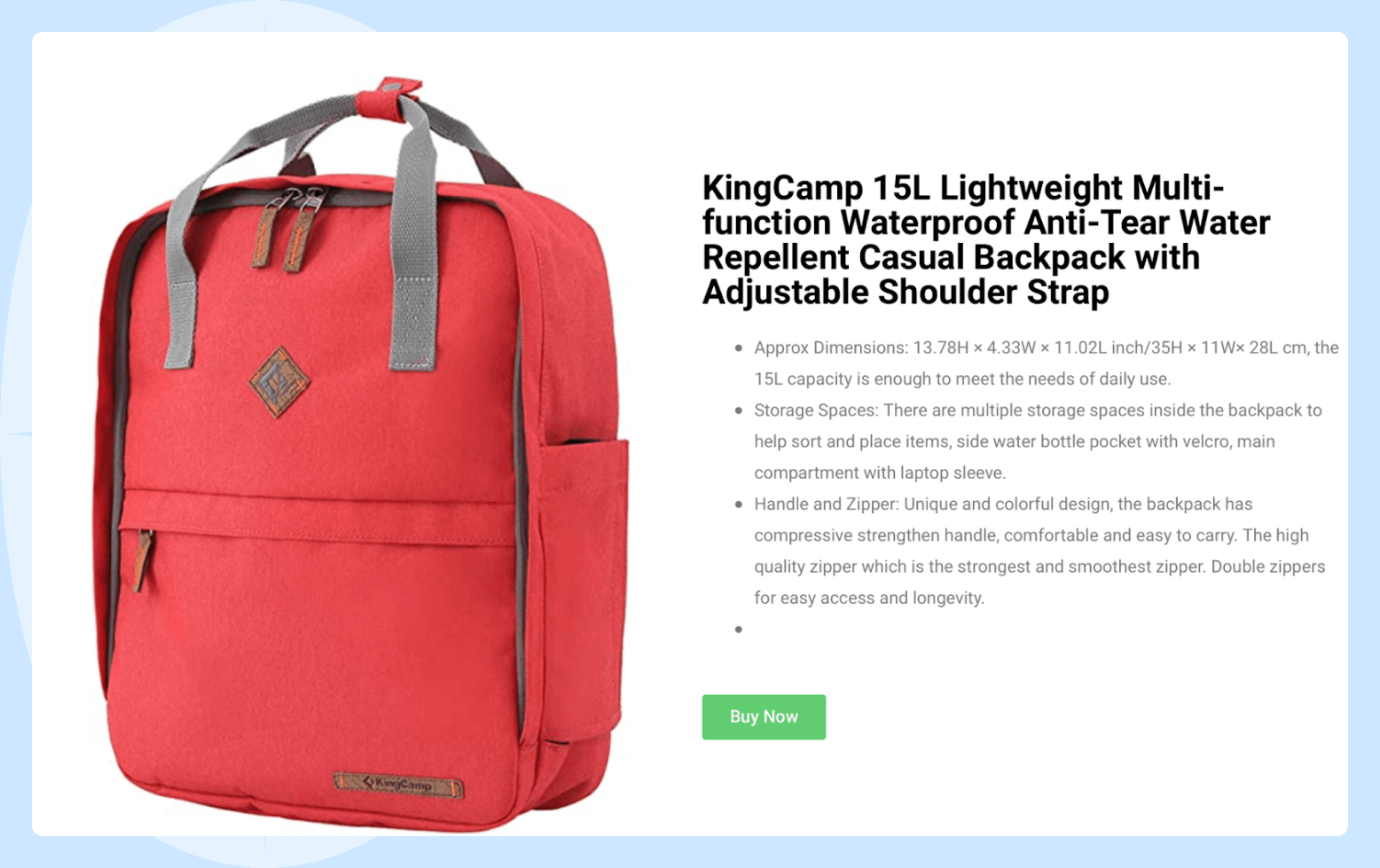 What unites all these examples is that they have a very good content strategy and provide value to the user. If you scroll down any of these pages, you will see detailed descriptions along with some great visuals and proper SEO.
The Pros and Cons of Using Google Ads for Affiliate Marketing
Running ads on Google to drive traffic to your affiliate business may require good investment, so you need to carefully analyze the pros and cons before spending money. Here are the advantages and disadvantages of doing affiliate marketing on Google Ads.
Pros
The biggest search engine. Google accounts for around 90% of search traffic, so it is often the first platform people go to when looking for a product or service.
Top-quality traffic. Google Ads allows you to target your top customers. You can set up the desired demographics, income, interests, geolocation, etc. In contrast to social media, where users mostly look for new ideas, ads will most likely send you visitors with purchase intent. In addition, advertising on Google can send you significant traffic volume and dramatically increase your reach.
Fast results. Google Ads can start driving traffic to your offer in a matter of hours or even minutes, while growing search traffic will require months of continuous work to reach the top of the search results page.
Easy-to-create ads. As huge as Google is, the platform is straightforward to navigate. Setting up an ad campaign on Google is faster than, say, on Facebook or other social networks. In our guide, you will find step-by-step instructions on how to sign up on the platform and create a campaign.
Easy-to-scale campaigns. As the leading search engine, Google can send you tons of traffic and grow your business quickly. Remember that you can also run ads on YouTube, Gmail, Android Apps, and more.
Customizable budget. With Google Ads, you can set up your daily and monthly advertising budget, as well as overall bid price and campaign budget. No minimum deposit is required, so you can start your advertising campaign without making any major investments.
Retargeting potential audiences. The remarketing feature allows you to reach users who have already visited your site but have not converted. It is also good for growing brand recognition.
Various types of ads are available. You can create ads with text, images, and videos to most efficiently target your potential customers.
Cons
Ads can be expensive. Cost per click varies a lot for each niche, advertising network, geolocation, and other factors. In the Google Ads planner, you can check prices for different keywords to get an understanding of the necessary budget.
Strict policies. Google Ads has many rules and detailed guidelines. Failure to comply with these can easily get your account suspended. To avoid this, you need to read and follow the policies carefully.
Learning requires time. Successful affiliates spend a lot of time tracking and optimizing their campaigns for better results. It will take some time until you figure out how to set up ads and grow conversions most efficiently.
You need some solid content. In addition to your ads, your website should also be top-quality, from the design to the content to the navigation. You may get a flow of visitors from Google Ads, but no conversions if your website doesn't provide any value.
Clicks and conversions are not the same. Notice that, with Google Ads, you will be paying for clicks, but this does not automatically yield conversions. This is why it is important to create a good website and not lose your investment in ads.
Wrapping Up: Is It Possible to Use Google Ads for Affiliate Marketing?
If you are looking to boost your traffic and get clicks on affiliate links, running a Google Ads campaign can be a great solution. It is one of the most popular promotion platforms with strong targeting features and huge traffic volumes. It is absolutely possible to get a positive ROI when promoting your affiliate offer with Google Ads if you carefully follow the platform's policies as well as the rules of your affiliate program. Create an ad that will capture your potential customers and be sure to insert a link to avoid being suspended from the network.