Free article resources
It's highly recommended to use as much content as possible to give your readers a lot of useful information and different points of view on the subject. You can find free writers for your blog that are true professionals within their niche. In return, those writers receive awareness and recognition, as well as backlinks to their own websites. Before taking free content, it's crucial to know everything about the terms of service. Below, you'll see a list of resources where you can get free content.
Amazines
Amazines is a free article database of free content to help scale your business faster. The service contains articles about marketing and health, relationships and home business, fashion, cosmetics and dozens of other topics. For this purpose, you should register as a publisher first. Let's see the list of their benefits:
Thousands of articles are at your disposal.
You can find posts in different languages.
Friendly interface with the topics listed in the left sidebar.
Straightforward rules – just use the platform's script to copy and paste to your site.
In addition to tons of existing categories, you can suggest your own category which is super helpful if your niche is specific. It is one more reason to try Amazines to get content for your blog and drive web traffic to your site.
ArticleCity
ArticleCity is a platform that you can use to drive more traffic and increase sales via valuable content. Try ArticleCity to find new blog writers for your website. There are 23,000 authors on the platform.
You'll need to sign up on the website to access the whole range of features and start choosing the content.
EzineArticles
EzineArticles is another resource where you can find blog writers. On the home page, you can see portfolios of the best writers. And, a publisher can find out certain narrow topics when using the search box.
The platform gives publishers the opportunity to open clean text and HTML copy that's ready for copy/paste. Bear in mind that this service cannot ensure the content uniqueness, because they allow other publishers to copy the same article.
Getting free content is an amazing opportunity, but to ensure optimal quality, you may want to follow the best practices of the niche. We've compiled a guide on how to fill your website with first-class content, which will be useful whether you write posts yourself or edit the materials of other authors. Be sure to download our guide below to learn how to create a blog content strategy, properly research keywords, monetize your content, and more.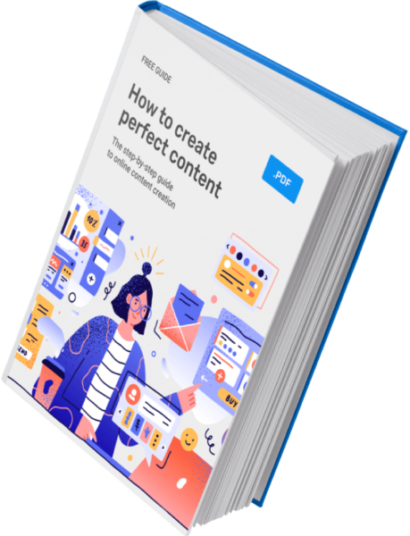 How to Create Perfect Content
Download this guide to learn how to fill your website with first-class content!
Download
By the way, about monetization, you can monetize your content with affiliate programs and special tools called partner tools (such as links, banners, widgets, etc.). Every time your readers click on tools, visit brand sites, and buy travel services, you'll earn. You can start with the Travelpayouts partnership network, which contains more than 100 trusted and well-known travel brands, such as Booking.com, GetYourGuide, TripAdvisor, and others.
Free image resources
If you're going to find content for your blog, don't forget about visual data like infographics, images and photos. Some free resources offer top-quality materials to make your website customized and more attractive to readers.
The article 50 Tools for the Travel Blogger can help you dive deeper into the question at hand. Here, you'll find a list of platforms where you can take free images for your blog.
Pexels
Pexels contains free stock photos and images from professional creators. The images are arranged conveniently by themes and are remarkable for their top quality. Besides, one can download UI mockups for designers. It's also interesting that some of the photos belong to NASA and can be used only in specific contexts.
Numerous photos are available with various search options. For example, you can filter by "black and white" or "the most popular photos on the web," as well as by color.
Pixabay
In addition to various images, vector graphics and illustrations, Pixabay is able to provide your website with videos to ensure faster promotion. The platform is impressively loyal since it permits the publishers to use and edit the images for personal and commercial purposes.
The other surprising feature is that all pictures are of top quality which is not common for free platforms like this one. Certainly, you'll find out plenty of images with the Shutterstock's logo there, but it's not a big deal since you're not forced to buy them.
Freerange
Freerange offers a diversity of both free and paid stock images for web design and marketing. It's a good service for web creation and marketing campaigns. Any user can sign up and download free images for private and commercial use under a royalty-free license.
Be aware of the website rules that seem rather tricky. Be sure to learn about what you can or cannot do so that you don't violate any agreements when using the images. As for the quality of pictures, note that the site doesn't accept files in excess of 2 MB, which means that photographers have to reduce the quality of photos to provide the file size needed.
Flickr
Flickr is a platform that allows filtering photos to download by theme or even a short description which you can type in the search field. The service contains many good pictures from different places and locations of the world. The image quality is great and there's an option to choose different usage rights from. You can filter images by name, theme or location and get a wide selection of pictures. Flickr is an ideal platform for those blogs that have mostly picture content.
StockSnap.io
StockSnap.io gives free access to images for online publications. All the photos are CC0 licensed which means the possibility to use them in both personal and commercial projects. The service features a tag-based category system to let you find the appropriate photo hassle-free.
You don't have to provide attribution to the photographers, but it will be highly appreciated. You can also create an account and save all your favorites in one place without downloading them every single time.
Free video resources
Videos can drive a lot of traffic to your website, but normally it takes a long time to shoot them, so people prefer just buying one. When people are looking for writers for a blog, they also search for other types of content, and videos can drive a lot of traffic to your website. Below, you'll find a list of relevant resources to save a budget and get a video or two for free for your blog.
Pexels Video
Pexels Video contains numerous free videos which are popular and trendy. The service features high-quality videos covered with the platform's own license. All of them have correspondent tags, so you can easily find them on the website.
You can resell photos if you modify them significantly. The website has apps for iOS and Android as well as a wide range of plugins, including WordPress and Photoshop ones.
Pixabay
As it has already been mentioned above, Pixabay offers both free images and videos. All clips are under the license of the platform and can be used for commercial purposes. There's no need to sign up on Pixabay to download assets which makes it very convenient for use.
All the videos are completely free because the platform makes money through advertising. The website also offers a donation option. Note that other publishers can use a video you've chosen because you don't get exclusive rights on it, which is common for all free content platforms
Clipstill
Clipstill offers videos (Cinemagraphs) for advertising, marketing and other types of websites. The platform is famous for its striking, unusual videos and small file sizes. Most of the content is for purchase only but some of the videos are still free. The platforms boasts a top-notch quality and updates monthly. That's why it would be good to bookmark the website to follow the updates.
You can use the videos for a commercial purpose if the video's content is not the subject of promotion. In other words, you can use a picture to advertise your product but you can't promote this picture. The service is extremely popular among web-designers.
Videezy
Videezy introduces a wide array of clips, landscapes and background videos as well as aerial footage. Keep in mind that their videos support both HD resolution and advanced 4K format.
One can use their content for commerce but you'll be asked to credit 'Videezy.com' in their projects. In addition to free content, the platform offers premium clips that you can buy with paid-for credits.
Free music resources
Audio tracks are always helpful, but they're especially important if you work in the field of animation, games or video creation. The following platforms provide stock audio and deliver soundtracks, loops, instrumental music and other types of audio for free.
YouTube audio library
YouTube Audio Library offers a straightforward way of getting high-quality audio that will correspond to your website. Use filters (instrument, attribution, mood, duration and genre) to pick the most appropriate tracks. The platform captures the majority of modern genres – rock, hip-hop, R&B, folk and some others. Besides, you can find tracks from movies.
The service stores almost 1,400 tracks and some of them can be used both for personal and commercial purposes.
Free Stock Music
Free Stock Music offers royalty-free music for your projects, such as blogs, vlogs, social networks and podcasts, as well as YouTube videos. To avoid any copyright issues, make sure to add the attribution in the credits. You can browse tracks by category, license, length, mood, tempo, and keywords.
TeknoAxe
TeknoAxe cab boasts 1,522 music tracks and weekly updates. There are 27 musical genres on the platform. You can use any composition for both videos and film projects. Moreover, you're allowed to use music in order to monetize videos on YouTube.
All the musical content on the platform is covered by the Creative Commons license (CC BY 4.0), and you should give credit to share and change their audio tracks.
Machinimasound
Machinimasound is a free website that lets you search tracks by mood or genres. It's tiny storage of original royalty-free audio content primarily composed and produced by brothers Jens Kiilstofte & Per Kiilstofte.
Stingers (small bites of music that usually last up to 20 seconds) are also available to enhance your motion graphics, YouTube channel intros and more. You can find out tracks for movies and gaming apps there.
Note that when downloading a free track, you can use it only for listening.
Amazon
Amazon offers royalty-free vocal compositions and instrumental tracks for personal YouTube videos and any other projects like short marketing clips. You can see top albums to choose from and get the opportunity to listen to the track before downloading. The platform offers a tremendous amount of content and they're really not repetitive.
The platform has a paid Amazon Music Unlimited subscription that costs $7.99 per month but currently, it's free for the first three months of use.
Five more ideas for free content generation
If you prefer not to find contributors of a website, but get free content in other ways, the following tips will help you to promote your website via guest posts and some other cost-effective and straightforward techniques.
Guest posting
You can find guest bloggers and advertisers that will write articles for your resource and provide you with other types of content in exchange for promoting their goods and services on your website via a free dofollow/nofollow link or exposure.
To launch this process correctly, you should create a relevant section to inform advertisers and other bloggers about your rules and requirements, the range of topics you accept and other nuances of cooperation.
Certainly, to find the most profitable blog contributors, you should own a reputable and credible website that features a good amount of traffic and can boast a high Domain Authority. For example, you can find advertisers for guest posting on such platforms as RapidApi. You can also register on My Blog Guest to get guest bloggers.
Article spinners
If you have plenty of high quality but out-of-date articles on your website, you can avoid looking for guest bloggers and do something yourself. So, you can do one or a few of the following things:
Pick the best articles in your niche and use their ideas but reveal different aspects.
Shorten long-reads.
Divide long articles into two or more passages that aren't semantically related.
Turn small posts into large interesting texts.
Use old texts to collect them together in order to create an ebook.
Turn the key points of the article into theses and make infographics.
Rewrite old texts to achieve a high level of uniqueness.
Translate articles into other languages.
Think of using a specially developed platform to facilitate article spinning. For example, WordAI provides 80% of the text's uniqueness that is a decent result for spinner software. However, it's not free and costs $49.95 per month. If you are looking for free tools, pay attention to Cleverspinner that's remarkable for delivering texts that don't seem like they come from software. You can rewrite sentences, but more unique results are ensured with just words and phrases rewriting.
Blog ideas generators
Blog post generators suggest relevant topics on the basis of keywords. For example, a HubSpot generator is very straightforward. You should just enter a noun in the field on the home page to get started. You're allowed to enter up to five nouns to let the service narrow the search. Free tools are also helpful to discover unique topics.
Note that not all topics they offer will suit your needs because, as a rule, free generators deliver plenty of irrelevant ideas. However, Portent's Content Idea Generator, for example, lets you press the reload button to update the list of topics repeatedly until you're satisfied.
Conduct a survey
Surveys are an important part of modern content marketing since they deliver valid information to use as a foundation for blog posts, reviews and other articles. They'll help get media attention and grab organic traffic to your website.
Surveys strengthen your articles with relevant stats and make them well-researched. For example, Netflix twice outreached headlines around the country by surveying Americans about their positive and negative preferences.
Before conducting a survey, you should select the proper topic, create a clear thesis and target a valuable objective. Keep in mind that surveys don't reflect the situation 100% properly, but they serve to track perceptions.
Getting free content for your website
Whether you find guest post opportunities or use free article services, you should take advantage of a whole range of opportunities to provide your website with tons of unique and useful pieces of content. You may announce that a guest blogger is wanted for your website or act independently, but it's also crucial to make your material as diverse and engaging as possible by publishing texts with pictures, audio files and videos. Such an approach is a win-win solution to attract more traffic to your website.