According to Arival, many travelers learn about attractions and activities from Google Search, travel websites, guidebooks, social media, and online advertising.
Why Do Tours & Activities Matter?
Admittedly, I wasn't convinced about the tours and activities niche in the beginning, but the statistics I mentioned above make it clear that this segment is shockingly in-demand. As an avid traveler and travel blogger, I know better than anyone that travel doesn't end once your flight has been booked. Tours and activities can offer travelers with once-in-a-lifetime opportunities.
Do you think the tours and activities segment can be profitable for travel bloggers?
Based on the stats above, it's safe to say that input from bloggers is really important to audiences who are booking travel. This is great news! Why? Because it means that travelers are listening to us. It means that our time and effort to craft content on our sites is well spent. More importantly, we are being sought out and seen as experts. So, why not monetize our work?
Since travelers want to make the most of their trip and come to bloggers for advice, if you aren't already working with tours and activities affiliate partners or trying to maximize your efforts in this segment, you could be missing out on money. With a majority of travelers booking some sort of tour or activity during their vacation, it's essential to work with affiliate programs that specialize in this niche and start recommending tours and activities to earn affiliate income through your content.
In the rest of this article, I will show you how to quickly incorporate tours and activities affiliate programs into your site.
1. Work Smarter
Don't overthink how to start integrating tours and activities affiliate programs into your work. If you already have a site, there is no need to update all of your existing articles. Depending on the amount of content on your site, this can certainly be time consuming and may not give you the return you expect. This is especially true if you consider the amount of effort it may take to update all of your content.
The easiest way to maximize your revenue, when working with tours and activity affiliate programs, is to lean on Google Analytics and your site's statistics to identify the articles getting the most views.
Once you have identified the content on your site that is already successful, focus on updating each of those articles using the below checklist.
Look for references to attractions, sights, "what to see", etc. Then place tours and activities affiliate tools on these references.
Update your content with the latest and most up-to-date information.
Ensure there are no broken links.
For example, I identified my high-traffic content using Google Analytics and WordPress, as this is the web hosting provider that I use for Girltakesmundo.com.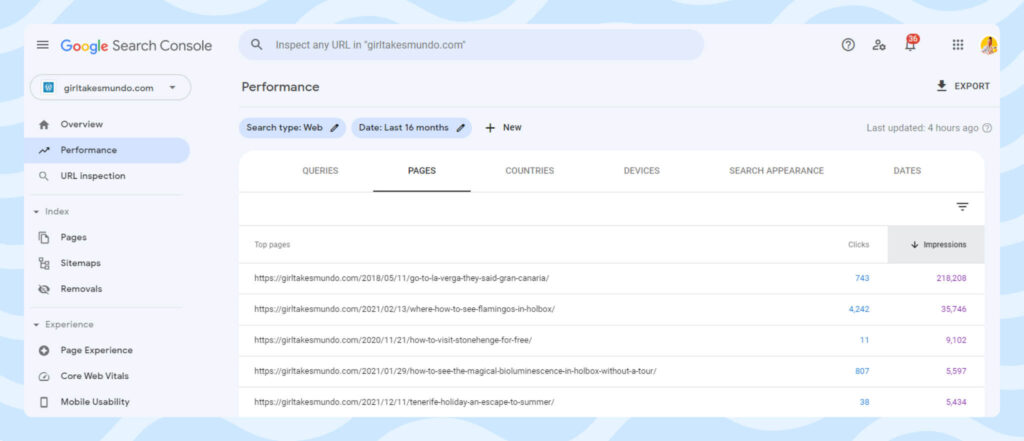 I learned that my "How To Organize a Eurotrip – Information + Example Itineraries" article drove a lot of readers to my site.
For this article, I subtly added GetYourGuide links to the cities I highlighted and integrated a flight widget to optimize conversions.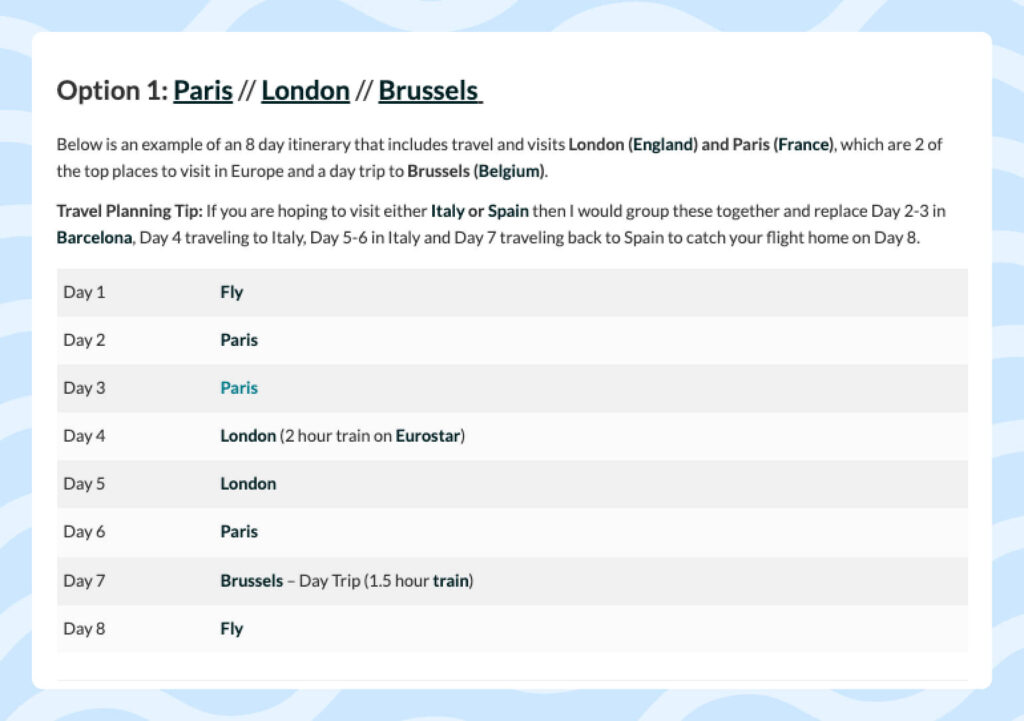 2. Think Quality, Not Quantity
Similar to the "Work Smarter" point above, integrating tour and activities affiliate programs or any other affiliate program into all of your content (or in the wrong context) will not generate more revenue.
On the contrary, making this mistake will harm your site and turn off readers, as they will not find what they want. To see real conversion from your affiliate integrations, focus on adding tours and activities tools where it makes the most sense, both in your old content, but also in the new content you create.
For new content, consider the best way to incorporate tours and activities affiliate programs into the type of content you create and craft new content with this in mind.
For example, in my latest destination guides, I included a section that highlights the tours and activities I took during my trip. I also leveraged widgets to show readers other tours and activities that are available in said destination. Have a look at how I've done this in my "What to See in Malta – Destination Guide".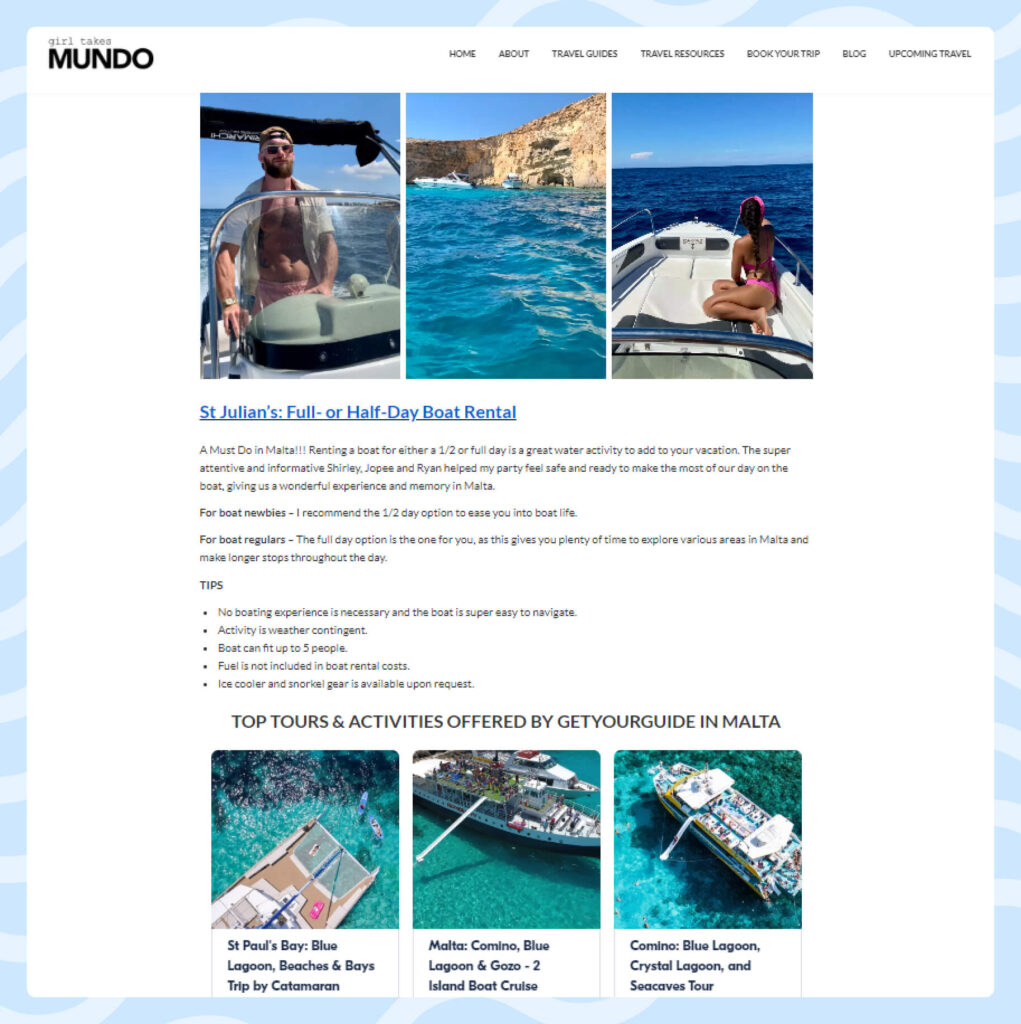 3. Mix It Up
Combine tours and activities affiliate links, banners, and widgets into your posts. Doing so will make your posts more visually appealing, while also giving you the chance to drive viewers to specific tours and activities from various touchpoints in your blog post.
A Word Of Caution Here: Do not overload any one post, especially simple articles, with too many affiliate tools. The rule of thumb is to only include five to seven affiliate integrations per article. Overloading a post can really turn off readers and make your content lose its authenticity. See how I incorporated GetYourGuides' affiliate links and the widget tool into my "Tenerife Holiday – An Escape to Summer" destination guide without making this article look too cluttered or feel like an ad.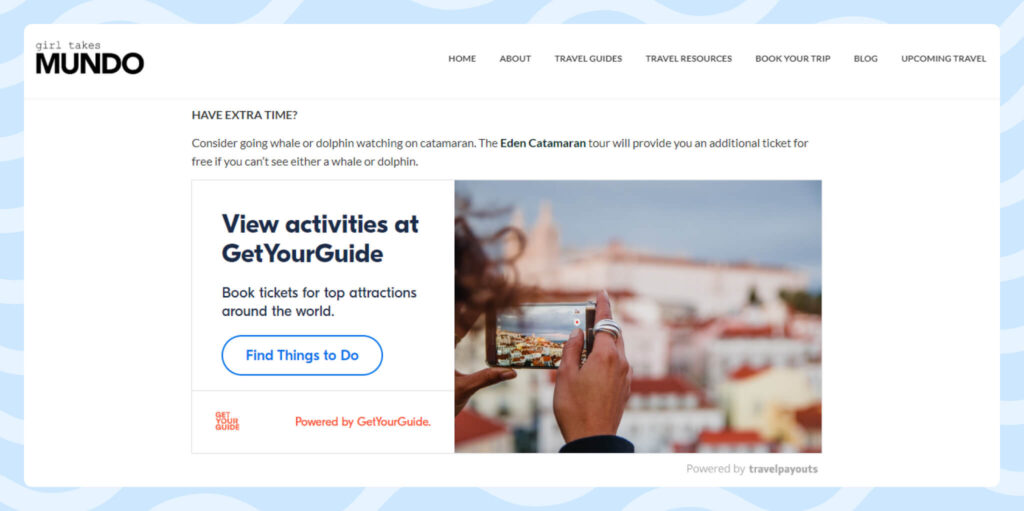 4. Be Bold
It's proven that affiliate links drive high conversions. By making subtle changes to your affiliate links, you can help your readers differentiate these links from regular links, which will drive them to the affiliate travel program of your choosing, such as those specializing in tours and activities. When you use tours and activities affiliate links or other affiliate program links, be sure to make these links stand out from the rest of your copy by doing one or more of the below:
Make links bold
Change their color
Use different fonts
Underline links
My "Where & How to See Flamingos in Holbox" article relies heavily on affiliate links as the article is quite simple compared to my usual destination guides. Since I opted against using too many affiliate tools, I made sure that my affiliate links "popped". For example, I made the links bold, underlined them, and changed the color to teal, which is part of my brand's color palette. This simple change allowed me to push my affiliate travel programs without overloading my post as mentioned above.
5. Use Social Media
Don't limit yourself to just your website. In fact, there are other ways to promote tours and activities with or without one. To drive more readers to your content and push affiliate tools, promote your blog posts or specific tours and activities affiliate links on social media or other channels you use.
I have shared tours and activities links via my social media accounts, like Instagram and Pinterest, and have even sent specific tours and activities affiliate links directly to friends, family, and followers who have reached out asking for specific advice on planning their upcoming vacation.
Check out this travel one-pager I created for a family member who needed help brainstorming destinations to visit. As you will notice, this one-pager includes GetYourGuide affiliate links for possible tours and activities that could be taken in each destination.
Top Tip: If you do have a website, I recommend you drive your followers back to your site whenever possible. This ensures that readers will continue to return to your site for all their travel needs.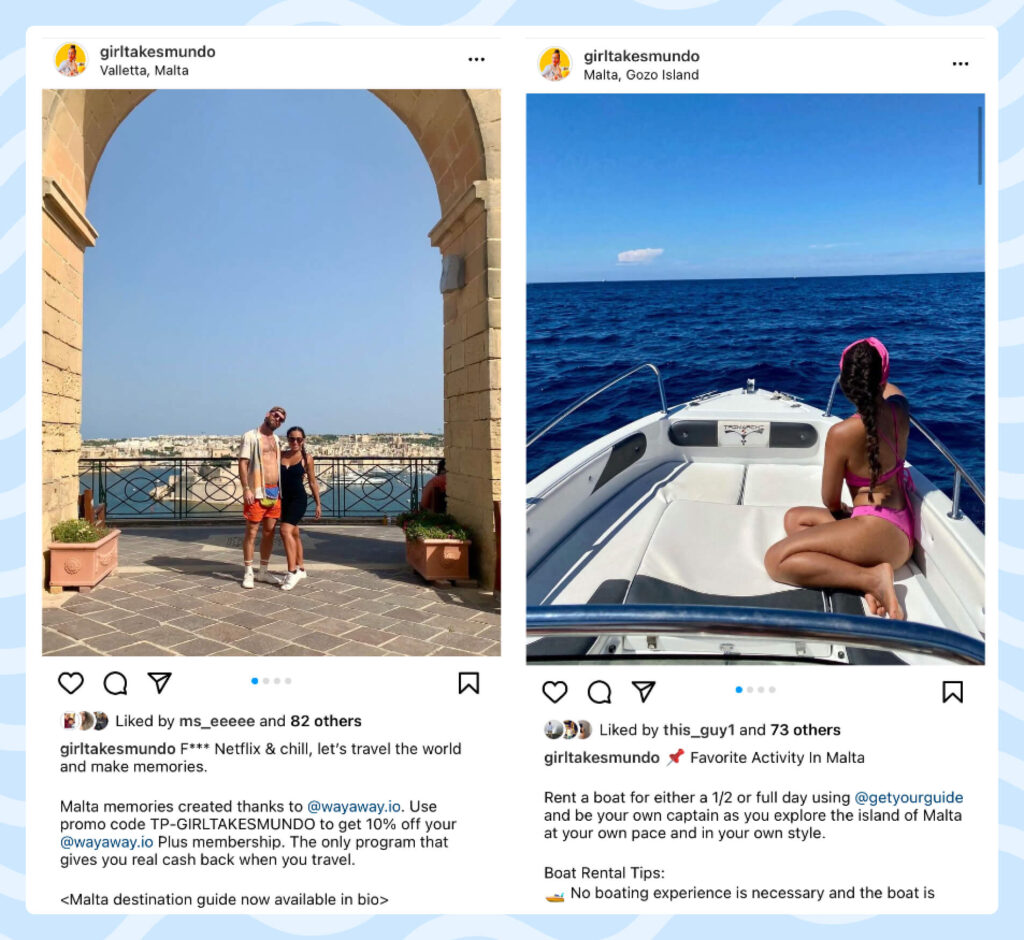 What to Keep In Mind When Writing Content Around Tours & Activities?
I can't stress enough that quality over quantity is extremely important when writing content for tours and activities. The reality is that simply adding tours and activities affiliate tools to all of your content won't do the trick.
See some of the tips shared during Travelpayouts "Earn on Tours and Activities" webinar by Megan Star from Virginia Travel Tips and Clive Muir from Caminodelrey, which I found useful and began to apply to my own content writing:
Add affiliate links to the top of the fold as some readers may not read the full article.
Create evergreen articles by focusing on things that don't change, such as attractions and monuments, as opposed to restaurants and bars.
Drive the message that tours and activities offer once-in-a-lifetime experiences and are all planned for you, so there is no need to worry about transportation, language, etc.
Are There Other Useful Tours & Activities Resources?
The following resources allowed me to understand the tours and activities segment and gave me the tricks to incorporate tours and activities affiliate programs into Girltakesmundo.com when I started. They have continued to be great resources as I continue working with this segment. Explore for yourself and start seeing results by promoting tours and activities.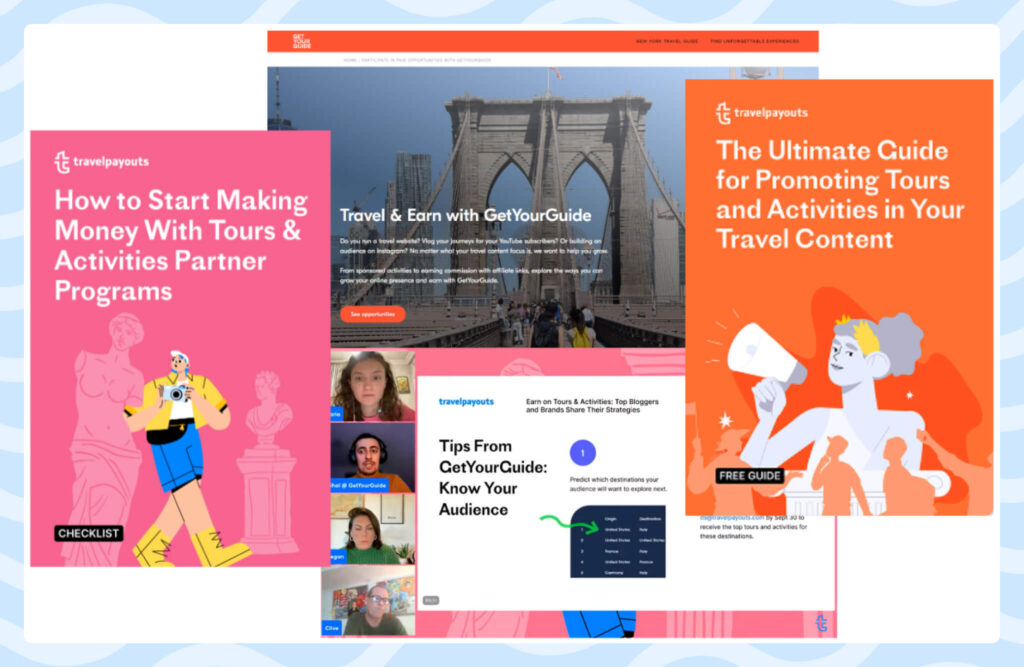 Good Reads
This white paper is loaded with everything you will need to better understand this affiliate program niche and shows you how to earn income using tours and activities on your site.
This checklist provides expert advice and easy-to-follow tasks to help you start working with tour and activities partner programs.
Good Webinar
Watch the recording of the "Earn on Tours & Activities: Top Travel Bloggers and Brands Share Strategies" webinar, which I mentioned earlier.
Good Opportunity
GetYourGuide offers bloggers of all levels to travel and earn with them. Partners can easily join GetYourGuide through Travelpayouts.
Key Takeaways
The amount of travelers who include a tour and/or activity in their travel plans is high, which makes having tours and activities affiliate links in your travel content your golden ticket to earning money.
There are simple steps for bloggers to take if they want to incorporate tour and activities affiliate links into their content. The secret weapon is to check which articles drive the most traffic to your blog and add affiliate links where it makes sense.
Not all content will be the right fit for tours and activities affiliate programs and that's ok. No need to force it.
Widgets, deep links, banners, promo codes, etc. There is an array of tools available to promote tours and activities affiliate programs. Take your pick and start earning revenue.
The goal is to have readers click on your tours and activities affiliate links, book their experience, and earn income for you. Make these links stand out from the rest of your content by changing the color, font, style, etc.

Don't stop with your travel content. Get creative and use your social media channels to promote tours and activities affiliate programs as well.
I'll let you in on a secret. There is a secret formula to writing content for tours and activities. Include affiliate links above the fold, create evergreen content that will stand the test of time, and remind viewers why tours and activities make planning less stressful.
Want even more tips? Partner affiliate programs like Travelpayouts and GetYourGuide offer an array of educational resources to help you succeed in the tours and activities niche.
—
Want to share your story? Travelpayouts welcomes all bloggers with any travel-related experience. Write to us at an@travelpayouts.com with the following subject: "Story for the Travelpayouts Blog".