What Is the Role of AI in Affiliate Marketing?
Before we dive into the pros and costs of AI in marketing, you may ask yourself: "What is affiliate marketing — and how can it help my travel blogging business?"
Aside from advertising revenue, affiliate marketing is one of the most lucrative ways to monetize your business as a travel blogger or creator. Affiliate marketing is a business arrangement by which an online retailer — like a tour provider, travel insurance company, or online travel agency — pays a commission to an external website (that is you!) for sales generated by referrals.
Seems easy enough, right? Well, while the concept of affiliate marketing is simple to grasp, the execution is more challenging. As an affiliate marketer, you have to take the time to create content where you can place your affiliate links, whether that be blog posts, emails, or social media posts. And, as you already know — content creation takes a long time!
Fortunately, that is where AI writing tools can help. These tools can generate high-quality content about hotels, tours, activities, travel insurance, and rental cars quickly. All you have to do is edit the post, add links, publish your content, and watch the sales roll in.
Advantages of AI in Affiliate Marketing
As you can imagine, there are several pros of AI in affiliate marketing. After all, there is a reason why so many travel creators are tapping into the power of AI to generate more revenue for their businesses. These are some of the most notable advantages of using AI for affiliate marketing.
Writing Content More Efficiently
If you are a blogger, you already know that writing a high-quality article takes time, which is one of the most significant advantages of using AI for affiliate marketing — AI tools can generate content faster than a human writer.
Popular AI writer, Jasper AI, claims it can write content 10x faster than the average human. Think about that. If it currently takes you three hours to write a 5,000-word blog, Jasper AI could write the same piece of content in just 18 minutes. Imagine how many affiliate blog posts you could crank out in a single day — you would be a content-creation machine!
However, blog writing isn't the only way AI tools can speed up content creation for affiliate campaigns. These tools can also help to brainstorm topics, create blog outlines, write social media posts and emails, and more. If there is something you need to write for your travel blog or business — you can count on AI writing tools to help.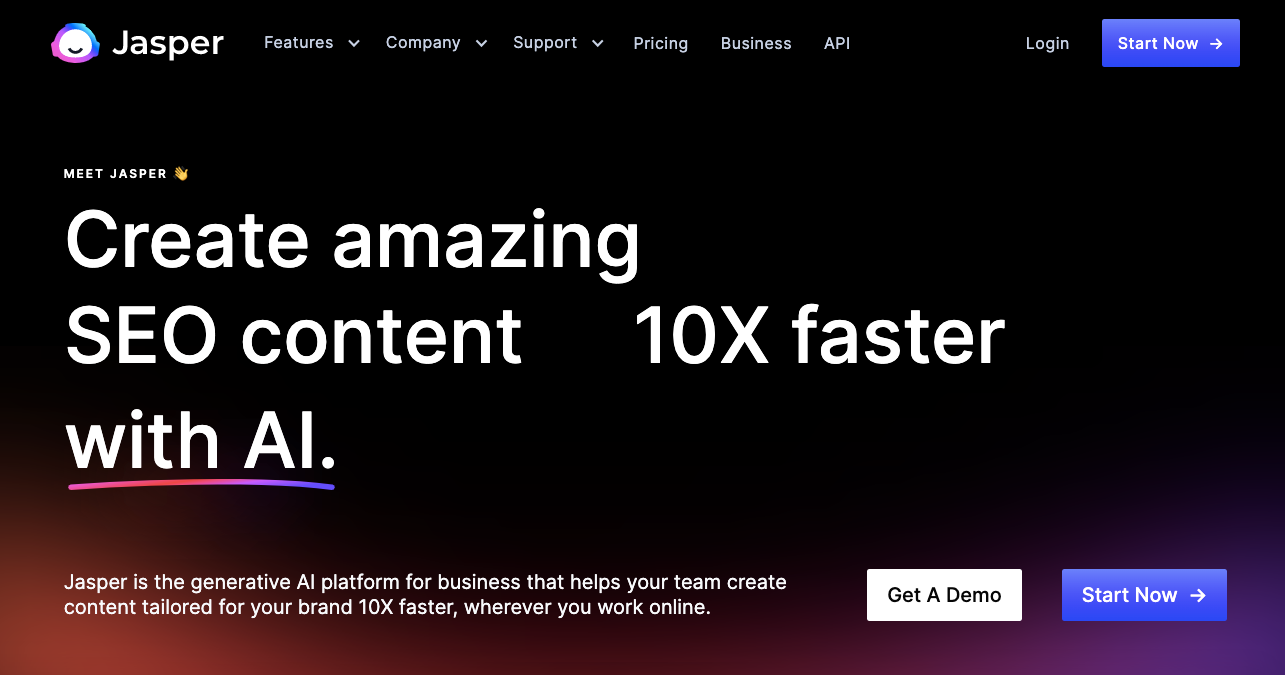 Check out the free guide from Travelpayouts' experts to find 10 of the best practices for making the most of AI technology in your travel blogging business.
Boost Your Travel Affiliate Marketing Earnings with AI
Learn how to use AI writers to create money-making travel content in a variety of formats.
Get the Free Guide
SEO Optimization
Before you understand how AI writing tools can be used for search engine optimization (SEO) in affiliate marketing, it's important to understand exactly how AI tools work.
AI tools scan thousands of resources online when creating content about a particular topic. This helps the tool learn more about the topic — similar to the process you would use for research. However, when AI tools scan the content, they can collect keywords or common phrases in the top-ranking blog posts to input into the content, optimizing it to rank on search engines.
So, if you were to command Jasper AI or ChatGPT to write a post about the "best walking tours in London," it would scan through the top ten (or more) blog posts on Google for information. Since these blogs are ranking well, any keywords the AI tool pulls to incorporate into your content would likely help it to appear higher in search engine rankings.
Some AI tools even go a step further. For example, when writing blog posts on Jasper AI, you can input keywords from your research into the writing tool. Plus, if you upgrade to Jasper Boss Mode, you can integrate Jasper AI with Surfer SEO — a tool that optimizes your content for SERPs — to create SEO-optimized content in minutes!
Reducing Costs and Saving Time
You know that creating engaging, well-written, high-quality content for your travel blog is not cheap or easy (at all). Running a successful travel blog takes a significant investment of time, money, and effort.
In 2023, the average content writer charges between $0.03 – $0.30 per word. If you are paying a freelance writer to generate content for your affiliate marketing campaigns, you are likely paying them between $30 – $300 per 1,000-word blog post and even more for longer content. Depending on how many posts you are hiring them to write each month — the total spent on freelance writing can quickly add up to a couple of thousand dollars per month.
Even if you are writing content for your business on your own, it probably takes you several hours a week — and time is precious! And there are several related costs you don't even think about. You probably use tools for SEO research, SEO optimization, grammar correction, and more that cost hundreds of dollars per month in total.
AI-generated content can help you cut down on costs — and save time. While you still need to add the "human touch" of a professional writer to all your pieces, AI tools can generate the bulk of your content for less money. Plus, several AI tools, like Jasper AI, offer integrations with Surfer SEO and Grammarly for as little as $49 a month, allowing you to cut costs on these tools.
AI tools are handy for writing more general pieces for affiliate marketing campaigns, like "Best Hotels in Paris" or "Best Scuba Diving Tours in Hawaii," since they require less personal experience and more factual information. You may still find it helpful to hire freelance writers for specific pieces (like itineraries) — but AI tools are certainly worth using as well!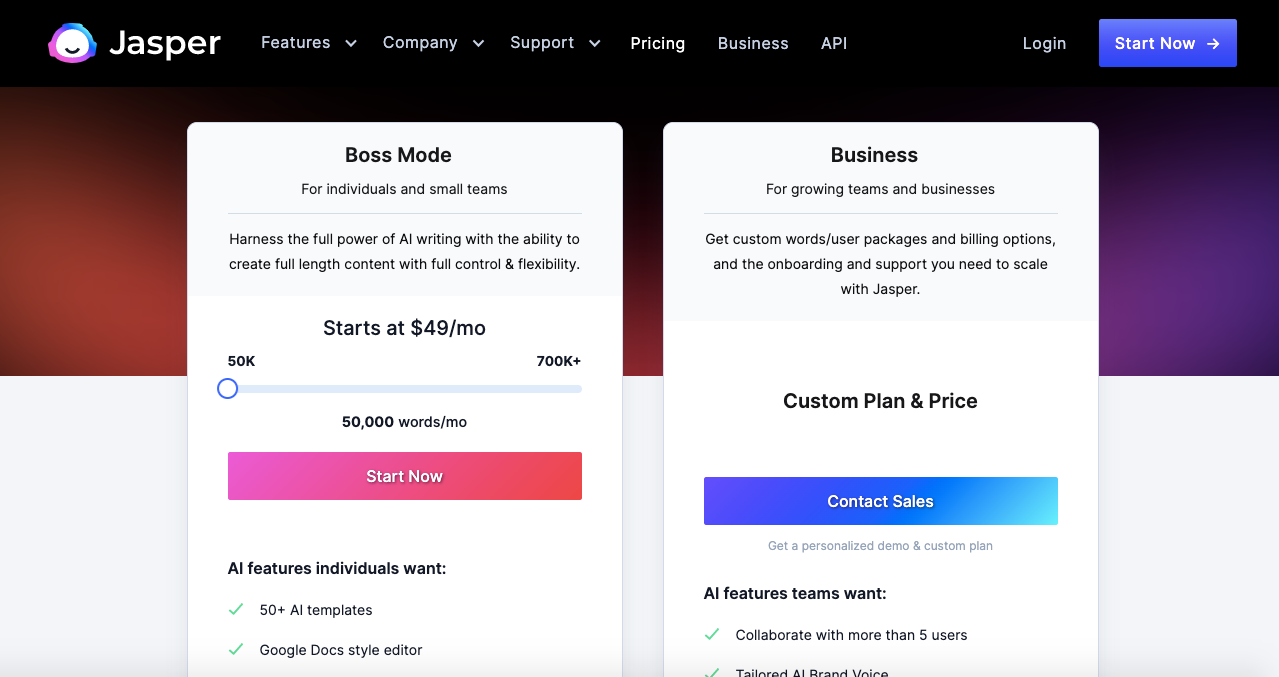 Overcome Writer's Block
If you are a travel blogger, chances are, you struggle with writer's block occasionally — even if writing is your passion. Don't worry — it happens to the best of us. Instead of staring at a blank screen for hours, turn to an AI writing tool for inspiration.
These tools can create outlines, write content, and even generate ideas if you aren't sure where to start. Plus, if you're writing a repetitive affiliate post — you can always use an AI tool to come up with a creative way to repeat similar information.
Disadvantages of AI in Affiliate Marketing
As you can see, there are several advantages to utilizing AI tools for affiliate marketing. However, that doesn't mean there aren't any cons of AI for affiliate marketing. Before jumping into the wonderful world of AI for affiliate marketing, keep the following thoughts in mind.
Inaccurate Information
AI writing tools can help shave time off the content creation process. However, it is important to remember that AI writing tools are just that — writing tools. You cannot rely on them to provide accurate information, research, or facts.
This means that all AI-generated content will need to be fact-checked by you (or a human writer) to ensure the information is correct and up-to-date and should be run through a plagiarism checker to verify that it is original.
For example, here is a paragraph that ChatGPT generated about the most historical landmarks in Charleston, SC, for this blog post about Savannah vs. Charleston for Travel by Brit. There are several facts here that need to be corrected.
First, the Charleston City Market dates back to 1788 (not 1804), when the land was ceded as a public market. The buildings were constructed between 1804 and the 1830s. This is an important distinction to make. Another incorrect fact is that the Dock Street Theater is the oldest in the United States. The Play Booth Theater in Williamsburg (1716) and New Booth Theater in Philadelphia (1724) were both open before the Dock Street Theater (1736). The Walnut Theater (1809) in Philadelphia is the oldest theater still standing.
These may seem like small details, but sharing incorrect information can hurt your credibility and reputation with your readers and Google. Imagine writing an affiliate post about the "Best Food Tours in Paris" and telling people to meet at the wrong location or quoting an incorrect price. That would be a terrible user experience!
To ensure your AI-generated content is factually sound, read through each paragraph and research the facts before publishing a piece of content.
Lack of E-E-A-T
E-E-A-T is an acronym that stands for Experience, Expertise, Authoritativeness, and Trustworthiness. These metrics are outlined in Google's Search Quality Rater Guidelines and are used to evaluate the quality of a web page and, therefore, how it will rank in search results. Here is what you should know about E-E-A-T:
Experience — Google prioritizes first-hand or personal experience with a product, service, or topic over those who do not have a connection.
Expertise — Google values content created by a subject matter expert, so your blogs and website should demonstrate more expertise than pieces of similar content.
Authoritativeness — You should be a go-to source of information about the topic that is relative and specific to your area of expertise.
Trustworthiness — If your website is secure and your content is legitimate, accurate, and transparent, Google will be more likely to rank your content.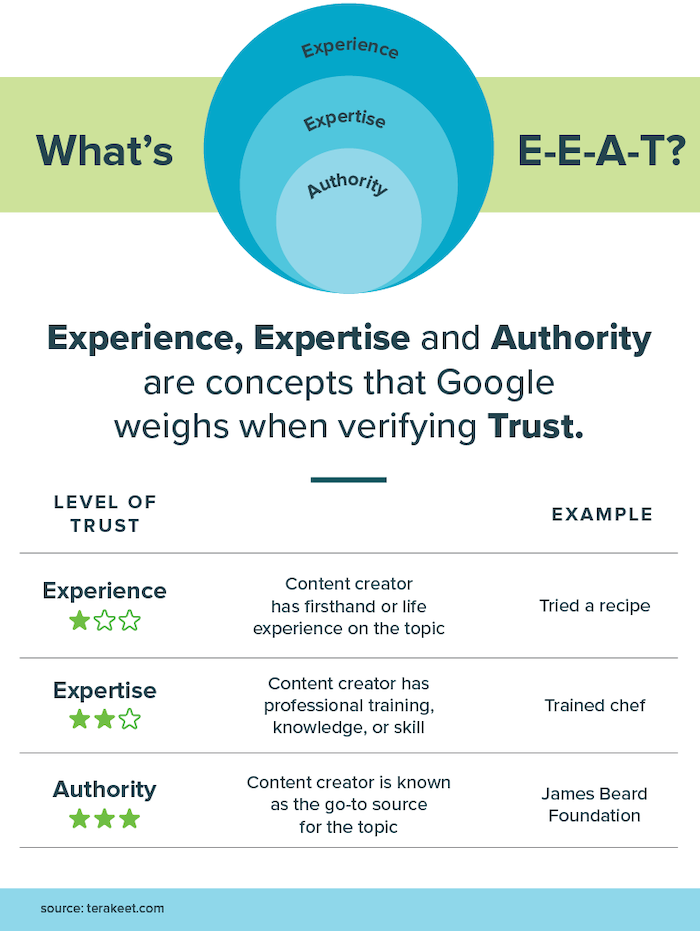 AI tools are helpful for generating content, but they cannot infuse your blog posts with E-E-A-T. In fact, if you publish a blog post you "copied and pasted" from ChatGPT or Jasper AI, you probably will never see it on the first page of Google.
However, if you take the time to incorporate experience, establish expertise, and build authority — your AI-generated content will rank. Remember, Google values content created for people, not search engines. Make your content helpful to your readers, and Google will reward you.
Missing Creativity
Creative content with a human touch is (and always will be) more engaging than content created by AI writing tools. This is because AI tools lack the emotional intelligence to turn a blog post into a compelling story — not just a factual outline.
Yes, chances are, you would read a blog post about the "Best Luxury Hotels in Rome" because you were looking for helpful information about somewhere to stay. However, would you rather read a blog post with straight facts or a personal touch? Maybe the writer's sarcastic sense of humor resonates with you, or the writer's personal story about how the concierge upgraded their room for their honeymoon really motivated you to book that specific hotel.
Your creativity makes your brand unique and sets your blog apart from the hundreds of other travel blogs online. If you turn to AI writing tools to solely write all your affiliate marketing campaigns, you will lose that "personal touch" that makes your writing unique and the reason why readers come back to your website for helpful information time after time.
At the end of the day — readers can find the information on your blog anywhere. It is how you share the information in a creative, personalized, compelling way that sets your brand apart and helps your business to grow.
Examples of AI in Affiliate Marketing in the Travel Industry
Hundreds of travel content creators are unleashing the power of AI-generated content to create affiliate posts for their travel blogs. Here are a few examples:
Kristin from Souvenir Finder
Kristin from Souvenir Finder recently conducted an experiment using ChatGPT to create a blog post about the Top Souvenirs for All 50 U.S. States.
Kristin found that ChatGPT was great for research and offered some decent souvenir suggestions in each state. However, she felt this AI writing tool lacked the personal story and emotion — the "why" behind what made each souvenir best — which is why she believes travel bloggers are safe from AI replacing their travel blog (and we agree).
However, this blog post is currently ranking on Google's first page for the keyword "best souvenirs from each state," — so it is sure to generate blog traffic and affiliate link clicks.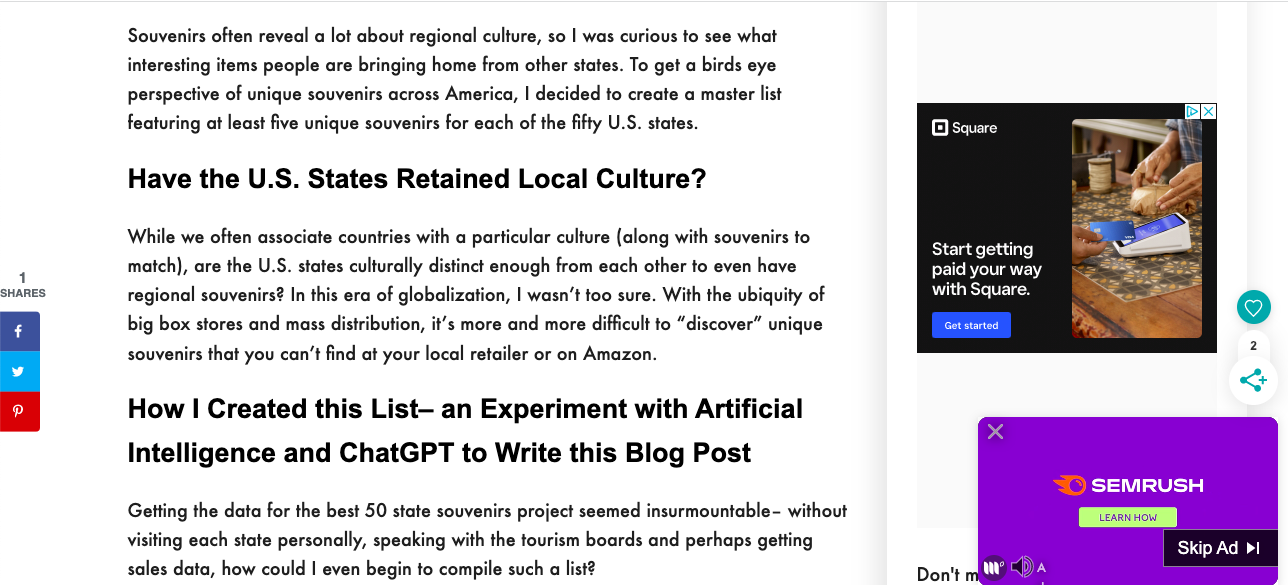 Brittany from Travel by Brit
Brittany from Travel by Brit is a copywriter, content writer, and travel blogger. She would be the first to tell you she was skeptical about AI writing tools (to say the least).
Brittany has used ChatGPT and Jasper AI to write affiliate posts for her travel blog, Travel by Brit. She still completes research, crafts detailed commands, edits, fact-checks, and adds her experience, authority, and personality to every paragraph. However, she thinks using AI tools to overcome writer's block and tackle the repetitive writing in affiliate posts can speed up the process.
For example, this blog post on Travel by Brit about the 10 Best Wine Tasting Tours in Temecula was written with the help of Jasper AI and ChatGPT. As of March 2023, it currently ranks on Google's second page and was published in February 2023.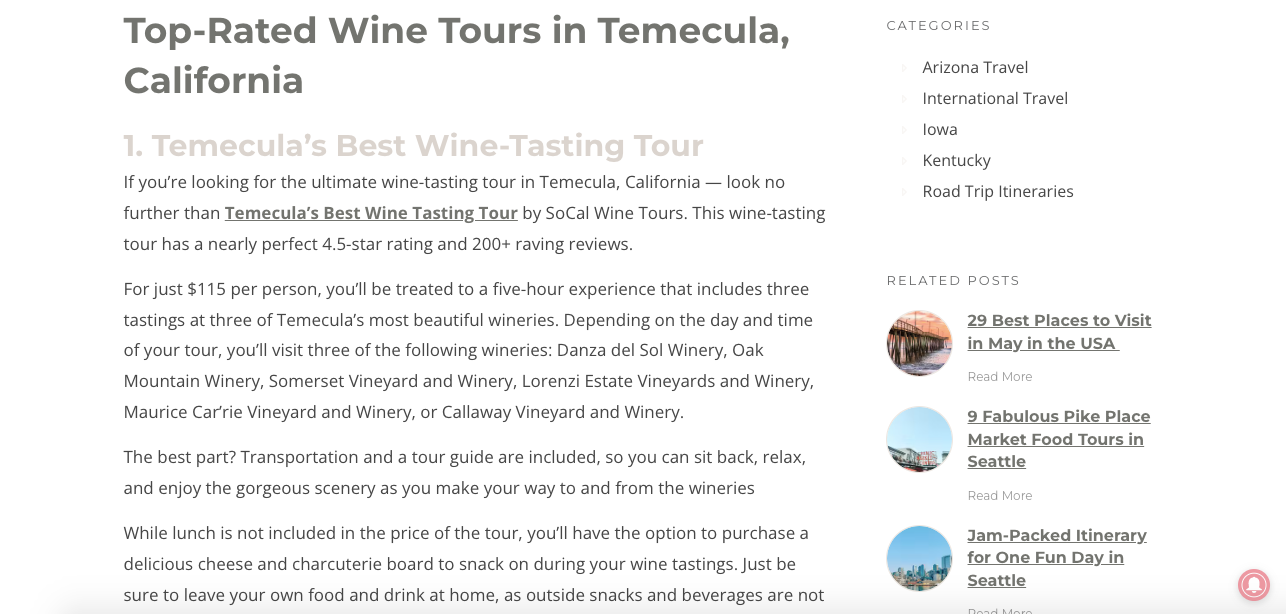 Nina from Nina Out and About
Nina from She Knows SEO is one of the leading experts in using AI writing tools to create affiliate posts in the travel industry. She has written multiple affiliate posts using Jasper AI on her travel blog, Nina Out and About, and has seen tremendous success.
Nina shared her helpful strategies for using Jasper AI to write affiliate posts in a webinar with Travelpayouts. If you watch the webinar reply, Nina will teach you about creative ways bloggers can use AI, debunk some common myths about AI, and lead you through a tutorial on creating an affiliate post using Jasper AI.
Best Practices for Using AI in Affiliate Marketing
In summary, here are some ways you can integrate AI tools into your marketing campaigns while still dodging the potential "pitfalls" of relying too heavily on AI tools:
Use AI writing software as a tool to help you write better content more quickly — not as an outsourcing solution.
Read AI-generated content to ensure it is helpful and answers the readers' questions, and add information to satisfy Google's E-E-A-T Search Quality Rater Guidelines.
Infuse your personal brand voice and creativity into your AI-generated content.
If you aren't using an SEO tool, like Surfer SEO with Jasper AI, return to your blog post to ensure it is optimized for your target keywords before it is published.
Proofread, edit, and fact-check all your content to ensure it is grammatically and factually correct before publishing.
Supplement outlines created by AI tools with additional research and give clear commands and instructions to generate accurate outputs.
If you have team members, create guidelines around how and when to use AI to ensure everyone is on the same page.
Don't forget to add the affiliate links to your blog post to begin generating passive income!
Conclusion
Now that you know the pros and cons of AI in marketing (and can see that it is easy to avoid the cons), it is time to get started earning affiliate income from AI-generated posts.
If you haven't already, we would love to have you join the Travelpayouts Partnership Platform. Travelpayouts offers access to affiliate programs for 100+ travel brands, making it easy for you to earn on hotels, rental cars, tours, and activities all in one place!
So, what are you waiting for? Joining affiliate programs is free and easy, and you can begin using AI tools, like ChatGPT, for free today. Let's monetize your travel blog in a fraction of the time it would normally take by utilizing the power of AI writing tools!