Why Join Affiliate Marketing
Before studying programs, let's reveal the benefits you can get as an affiliate. Is it real to drive sales and generate significant online revenue just by entering the world of affiliate marketing? To answer this question, let's look at the numbers. For example, affiliate marketing payouts are expected to reach the $4.7 billion mark by 2020 in the United States. The reason behind the growing popularity of this niche is simple. As an affiliate, all you need to do is share the link to the advertiser's resource and get a commission every time your readers make a purchase on the sponsored website. The amount of your reward and payout terms depends on the agreement, but we'll discuss the terms of each resort affiliate program later.
Now, let's see what advantages affiliate marketing can offer you today:
No need to invest in product design and production or its storage and shipment.
No need to work for anybody but yourself as you spend time on promoting the content of your website alongside the website of the advertiser.
You create a scalable business and grow up to your own White label.
Freedom of choice: you get to pick the products and programs that you want to join.
Affiliate marketing can complement your products, thus you'll be providing customers with a full package.
Whether you have a personal website or just a page on social media, joining affiliate marketing doesn't require much, just a dedicated audience who might be interested in the advertised products or services.
Best resort affiliate programs
If you're keen on traveling and have relevant topics for this blog, the best resort affiliate programs are at your disposal. There is plenty of them on the internet and that's why the list below is intended to give some benchmarks that help make the right choice. But how are resorts different from hotels? Basically, resorts are the same hotels but with their own territories for extra amenities, various activities and entertainment. Now, let's check some of the most profitable resorts affiliate programs.
Original Resorts
Original Resorts focuses on the hotel sector, cruise industry, vacation clubs and real estate in Mexico's top beach locations. This resort affiliate offer is designed for different lifestyles and social status.
The company's affiliate program offers up to 11.5% commission on stays and products with the high order value. The affiliate program is available on the Affilired platform.
You'll be provided with text links, HTML, optimized and customized banners, promo codes, a personal manager and technical support. They also deliver relevant content for your email marketing campaigns. The company gives you access to Data Feeds in different languages that contain relevant information to let you create your ads.
Palace Resorts
Palace Resorts offers a series of luxury hotels on the ocean coast in Mexico and Jamaica. They introduce both family and romantic stays, but they're not marketed to business travels. The company gives an opportunity to earn resort credits for spa and entertainment (the longer a guest stays, the more they earn).
Palace Resort affiliate program offers a high average order value and a 4% commission on each completed online reservation. That is not the lowest fee among other similar programs.
Anantara Hotels & Resorts
Anantara Hotels & Resorts introduces various hotels in Asia for business and leisure tourists. It is part of the Minor Hotel Group – the leading company in the hotel management market – that ensures high average order value. They demand no minimum to start as their affiliate. To track real-time transactions, you'll get access to a dedicated web-based platform.
Anantara Hotels & Resorts affiliate program is based on a pay-per-performance model when you get a 5% commission on every booking, except for cases of cancellation. As an affiliate, you'll get ready-to-use offers, top-notch banner ads, text links and voucher codes.
Sirenis Hotels & Resorts
Sirenis Hotels & Resorts focuses on family traveling and offer accommodation options within a wide range of prices. Sirenis features 8 hotels in some of the most popular destinations in Spain, Cuba, the Dominican Republic and Mexico.
As an affiliate, you get 6% of each booking, the average order value is $896. The affiliate program is presented on the ShareASale platform and offers various promotional tools such as real-time tracking, dedicated tags to send newsletters, upload coupons, bonuses, affiliate API and links. And, they provide you with tutorial materials based on frequently asked questions. In addition, you can view educational and training webinars every month.
MGM Resorts International
MGM Resorts International is a company with an international influence that offers not only accommodation but also casinos and shows worldwide. Their "M life Rewards" program gives access to special room rates and offers. In addition, the company provides tons of discounts and promotions.
You can generate income for the bookings made through your referral link and provide instant access to the finest resorts in Las Vegas. In the first case, you get a 3% commission for each qualifying booking and a $3 reward on show bookings in the second case (for example, if a visitor buys a ticket to the show through your link, you get $3 regardless of ticket price). You'll be provided with access to online reports, banners, text links and content for effective promotion. Note that MGM Resorts International affiliate program will accept you if you can boast a well-designed website and content in English only.
Preferred Hotels & Resorts
Preferred Hotels & Resorts features residences and hotels in the USA, Spain, the Caribbean, Dubai, Hong Kong, Africa and other regions (70 countries total). Their client can book both apartments and residences, and make their choice according to their family status, health, preferences and other indicators.
Preferred Hotels & Resorts affiliate program offers a 3% commission for every paid booking, provided that the average booking value is $600. CJ Publisher powers this affiliate program. You'll be provided with special offers and rates, search box banners and three types of links: text, banner and flash.
One&Only
One&Only is a series of premium resorts that reflect the culture of their location and are able to capture the excitement of a certain place. The company offers a chain of hotels in the terrific places all over the globe: Dubai, South Africa, Australia, Maldives and more. The list of offers is constantly being updated with new extraordinary propositions. That's a great advantage for affiliates since they can present new content on their websites to attract more visitors.
One&Only affiliate program pays a 4% commission on every booking, plus special promotions and rewards for the most successful affiliates. To join the program, you need to sign up on the CJ Affiliate network and fill in the application form to become a CJ publisher. Then, you'll be able to access the One&Only affiliate campaign and its promotional tools, such as links, banners, tracking tools.
Sandals and Beaches Resorts
Sandals and Beaches Resorts is one of the sea resort affiliate programs, it presents five-star luxury beach resorts in Saint Lucia, Jamaica, Antigua, The Bahamas, Grenada and Barbados for singles, groups, couples and families with kids of all ages.
The set of tools for affiliates includes monthly newsletter templates with offers and promotions, a dedicated personal manager, hundreds of colorful banners that can be redeveloped for each resort and real-time reporting. You can join the program through the CJ Affiliate network and get their brand tools for promotion as well.
The Sandals and Beaches Resorts affiliate program provides a 4% commission on all the travel products for a completed stay. Besides, each partner has a chance to win free trips and other bonuses.
Marriott
Marriott is a chain of over 7,000 hotels in 130 countries around the world. You can choose a stay according to your taste and budget. To become a Marriott partner, you need to apply for approval.
Once it has been received, you'll be able to get support from a team of online marketers.
When joining the Marriott affiliate program, you get a commission for either a hotel-qualified completed stay or paid vacation package. The commission depends on different factors and can be calculated in the personal account of the affiliate.
Luxury Link
Luxury Link features destinations all over the world and offers hotels for all categories of tourists. It's even possible to get a room in eco-friendly hotels that have their own research centers and programs for environmental protection. Luxury Link offers themed tours: food and wine, pet-friendly, beach and plenty of other experiences.
If choosing the Luxury Link affiliate program, you can earn 5% per each confirmed booking and get the check through CJ Affiliate, FlexOffers or another affiliate network, which will provide you with all the necessary marketing tools. The company delivers links on your websites to their hotels, offers and promotions.
Best Hotel Affiliate Programs
If you want to find out some of the best ski resort affiliate programs or any other narrow-profiled offers, consider hotel affiliate programs as well. They can provide enough profit and help monetize your website with their APIs, search boxes and other tools.
Join Travelpayouts to gain access to the travel affiliate programs of over 100 travel brands, such as Booking.com, TripAdvisor, Kiwi.com, and effective tools like affiliate links, widgets, banners, API, and more.
Join the Travelpayouts Partnership Platform
Access exclusive tools and the best travel affiliate programs, including flights, hotels, car rental, insurance, tours and activities, all in one place.
Join Today
395,000 partners already trust us
120 travel brands
$53M+ total paid since 2011
Hotels.com
Hotels.com is a veteran among other aggregator travel websites. It offers all the most popular destinations and is translated into dozens of languages. The program features one of the widest selections of accommodations on the internet. They capture not only the premium segment of the audience, but also introduce specific hotel categories with low-cost options and, at the same time, without the requirement to share a room with other travelers.
Hotels.com affiliate program allows you to earn a 6.4% commission on bookings in general or 3.2% commission on bookings if users are registered in the Welcome Rewards™ program. The average order is around $250. The support includes links generators, links, and banners. The program is available in Russian, English, French, Italian, German, Spanish. To join the campaign, you need to apply for pre-approval.
Booking.com
Booking.com is a travel-related website that allows you to promote its services, even if your website deals with luggage or flights. The aggregator offers not only accommodation but also flights and land transportation (car rentals, airport taxis, etc.).
If you decide to join the Booking.com affiliate program, note that the pre-approval is required. Affiliates receive a 4% commission on a completed hotel stay and are provided with promotional tools such as links generators, widgets, links and banners. Currently, Booking.com doesn't use cookie tracking. The platform is available in 40 different languages and provides currency conversion.
Agoda
Agoda offers hotels, resorts, hostels and other types of accommodation worldwide. Users have a chance to grab the lowest price for the most highly-rated hotels. Besides, it's possible to sign up for email notification if the price changes. However, since the program introduces offers from different aggregates, it's more suitable for booking a hotel, but not for complete travel planning.
Its affiliate program offers 6% of the total booking value (without taxes) which is sent to your account after your client checks out, one-day cookie lifetime and high conversion rates. Agoda provides links generators, links and banners. It is available in 40 different languages and targets the whole world.
Hotellook
Hotellook unites 50 of the largest hotel reservation agencies and hotels as well. It allows you to compare pricing that is accumulated from other aggregators in order to select the most lucrative offer.
The Hotellook affiliate program offers 50 to 70% revenue share on confirmed bookings. As the average booking is about $400, affiliates receive approximately $15 for a reservation. The platform offers multiple promotional tools such as links generators, search forms, widgets, Whitelabels, API, landings, and banners.
How to Choose an Affiliate Program
The choice is dependent on your objectives – whether you look for vacation affiliate programs or versatile platforms that offer flights and transportation separately from the hotel booking.
In the first case, it would be better to pick a resort affiliate platform and in the latter, a hotel affiliate program. Another thing is to relate to your audience.
As you've seen, the majority of resort affiliate programs are based on luxury offers since hotel affiliate programs include both elite and budget stays. You should also consider geographic particularities and make an objective assessment of your audience's requirements since some websites only offer one or a few destinations.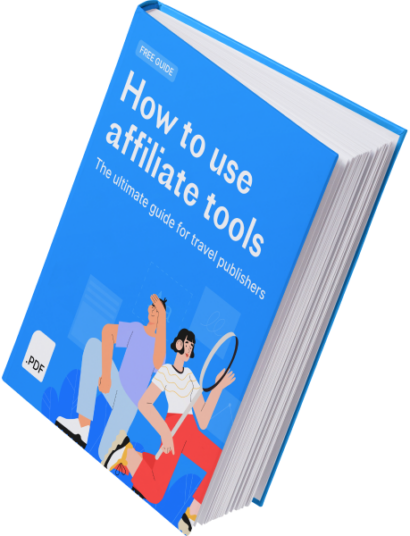 How to Use Affiliate Tools
This free guide for travel publishers will help you use links, widgets, and banners to most of the traffic you have.
Download