How It All Began
I grew up near Houston, Texas and moved to New York, when I was 18, to attend college and pursue a career in the fashion industry. Although I now live in Seattle, I still work full-time in the fashion industry and blog part-time. I've been to 13 countries and have recently overcome my fear of traveling alone. Now that I'm in my early 30s, I actually enjoy solo travel.
I started blogging as a way to escape from my analytical 9-to-5 job. I needed a creative outlet and travel is what I'm most passionate about, so it was an easy fit. I launched my blog four years ago, in April 2019, and initially had no idea what I was doing!
Blogging Journey
In the beginning, my TravelingTessie.com blog was just a collection of travel memoirs, but as I learned more about blogging and what my audience responds to, I've become more focused on different types of content.
Today, my blog focuses on unique activities in top destinations around the world, as well as off-the-beaten-path destinations and hotels. I really love to share information about the different experiences you can have in a destination versus the traditional museums and attractions that most people know about. To me, that's what helps you learn more about a specific destination and its culture.
I began monetizing my website about a year and a half ago and my goal is to become a full-time travel blogger in the next two years. Later this year, I also plan to launch a separate web design company to supplement my income.
Difficulties I Faced
Problem: In the initial stages, my main difficulties were based around how to turn a blog into a business. I didn't know where to start when it came to building an audience or niching down. In addition, I knew nothing about SEO and didn't realize how important it is.
Solution: At the beginning of the pandemic, I was furloughed from my full-time job, which left me with a lot of time on my hands. So, I dove into learning about SEO and blogging. During this time, I discovered a couple of courses, which really helped me organize my website and get a basic understanding of how blogging works. Of course, algorithms are always changing, so there are always new things to learn. This is why I try to absorb as much information as I can in my free time to stay on top of things.
Problem: Right now, my main difficulty is time management and productivity since it can be a little overwhelming to keep up with my blog while working a full-time job.
Solution: Over the last six months, I've been testing out different tips and tricks that other bloggers have shared. I recently learned that batching is super helpful for me. I focus on one task for a set amount of time and knock out as much as I can. For example, I'll dedicate 30 minutes to creating Pins for my recent blog posts. That starts with doing some keyword research within Pinterest, creating the Pins themselves in Canva, and scheduling them on Pinterest. AI has also really been a game changer for me with batching blog post outlines and first drafts.
Problem: I won't lie, some days, it's really hard to come home from my corporate job and sit down to work on my travel blog at night.
Solution: What really keeps me going is my audience and knowing that I'm inspiring them to go out and see the world. It makes me so happy to receive emails from complete strangers writing to tell me that they're "so happy they stumbled upon my website" and ask for advice about a destination I wrote about.
Main Traffic Sources: SEO, Guest Posts, and Social Media
The main source of traffic for my travel blog is Google. I make sure that my blog posts are optimized for SEO, which I've only been focusing on for the last 8-12 months. I use (and love) KeySearch which is where I begin my process for each post:
Once I know what I'm going to write about, I do some keyword research within KeySearch and find a few keywords that I can easily rank for. Next, I look at the articles that are currently ranking highly and make sure I have enough content that goes above and beyond what they wrote.
After that, I use KeySearch's Content Assistant tab, which shows supporting keywords and phrases that should be included in your content.
Once my article is all set, I build out my post on my website. This includes adding the appropriate meta descriptions and image descriptions which also help with ranking.
​​​​💡Expert Tip: in SEO, selecting the right keywords is essential. If no one is searching for that keyword, you have no chance of ranking and people may never find your article. As a result, you'll have a hard time generating affiliate sales. For example, one of my SEO-optimized blog posts has 3.8k views, while an older post (that's not optimized yet) has 63 views.
Aside from writing my own articles, this year, I've begun to write one or two collab or guest posts for other travel blogs which typically gets me backlinks for my website.
Also, social traffic probably has the greatest potential. I'm trying to grow my followers by posting more consistently. In terms of social media platforms: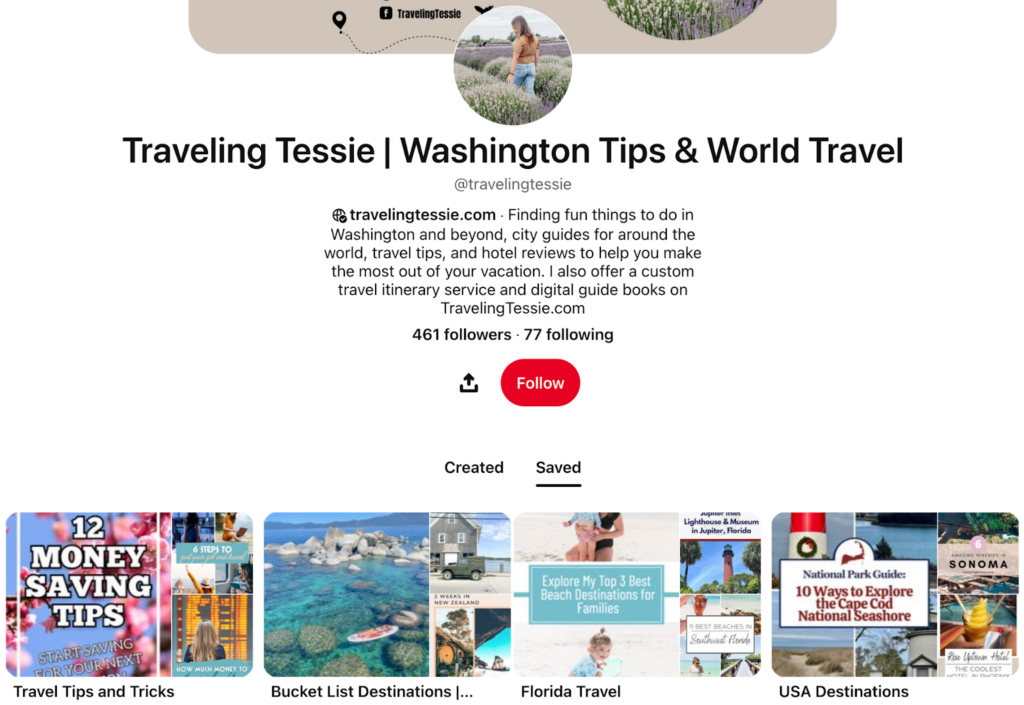 How I Monetize My Travel Blog Via Affiliate Marketing
The main streams of my blog's income are:
affiliate marketing (generates 70% of the income)
trip planning service (generates 5% of the income)
brand collaborations (generates 25% of the income)
Which Partner Programs I Work With
I mostly join travel-related programs (tours, flights, hotels, insurance, etc.), but I also join brands geared towards the outdoors, such as companies that sell paddleboards, kayaks, hiking gear, and swimsuits to supplement my outdoor activities while traveling.
I usually combine affiliate programs in most of my blog posts. If I'm writing about a hotel, I include a link for Booking.com, while also suggesting nearby attractions/tours. In such cases, I will provide a link to GetYourGuide or Viator. Booking.com and GetYourGuide are my top-performing programs. They are also the ones that I include the most in my content, since I personally use their services the most.
​​​​💡Expert Tip: try out different forms of affiliate marketing and types of content (guides, listicles, reviews, etc.) to see what works best for you.
How I Use Partner Tools
As a partner, the tools I prefer the most are links and widgets. Links naturally fit into my blog posts, while widgets serve as a great visual aid to my audience. I don't tend to use banners because I personally don't like the way they look on my website.
When I work with affiliate links, I try to be as detailed as possible and give the reader a reason to want to add the specified activity or tour to their itinerary. When working with affiliate widgets, I try to make booking hotels or flights as easy as possible for the readers and preload the destination into my widgets.
💡Expert Tip: Don't be too intimidated to apply for affiliate programs or to incorporate affiliate tools throughout your blog and in your email campaigns! There are quite a few affiliate programs out there that require a minimum amount of traffic, but if you do some research you can find other platforms that give you access to those same brands.
Editorial Note: you can start working with well-known travel brands, such as Booking.com, GetYourGuide, Tripadvisor, Discover Cars, etc., at any time through the Travelpayouts partnership platform. You don't have to have a certain amount of traffic or followers. Join Travelpayouts to test your affiliate marketing skills now and start monetizing your travel blog.
Join the Travelpayouts Partnership Platform
Access exclusive tools and the best travel affiliate programs, including flights, hotels, car rental, insurance, tours and activities, all in one place.
Join Today
395,000 partners already trust us
120 travel brands
$53M+ total paid since 2011
How I Track the Effectiveness of My Affiliate Marketing Campaigns
I mainly focus on views and click-through rate (CTR). If there are a lot of views, but a low CTR, then that's an indicator that the reader didn't find what they were looking for. This tells me that I need to make sure that the tour in question is still available or change the offering if it's not relative to the content in the post.
GetYourGuide has really great analytical tools to help you see which activities are working, which are not, and what can be added to your site based on your content. I also use the reporting tools within Travelpayouts to dig into exactly what was booked. This helps me understand which articles are driving readers to convert.
Content Creation and How I Use AI Assistants for It
How I Find Ideas for Blog Posts
I only write about places I've actually been to and activities I've done myself. I know that some bloggers write articles solely based on research, but I only want to share my honest recommendations based on my personal experiences.
During some of my blogging research and courses, I learned a great process for generating content ideas and that's what I currently use. It's a spoke-and-wheel concept. For example, if I go to Madrid, that is my wheel. Then I think of all the different spokes that connect to it, which would be the things that I did during my time there. So, I could write articles about where to eat in Madrid, walking tours in Madrid, tapas bars, where to stay, different tours I took, etc. This is also the same method I use for coming up with social media content.
​​​​💡Expert Tip: expand your content by including more detailed articles about specific experiences/activities. Then, you can rank for more keywords, get more traffic, and ultimately increase your chances of monetizing your affiliate links. In addition, expand your affiliate network. If you write about travel, don't only focus on tours, hotels, and flights partner programs, but look into luggage brands, rental car companies, travel insurance, etc.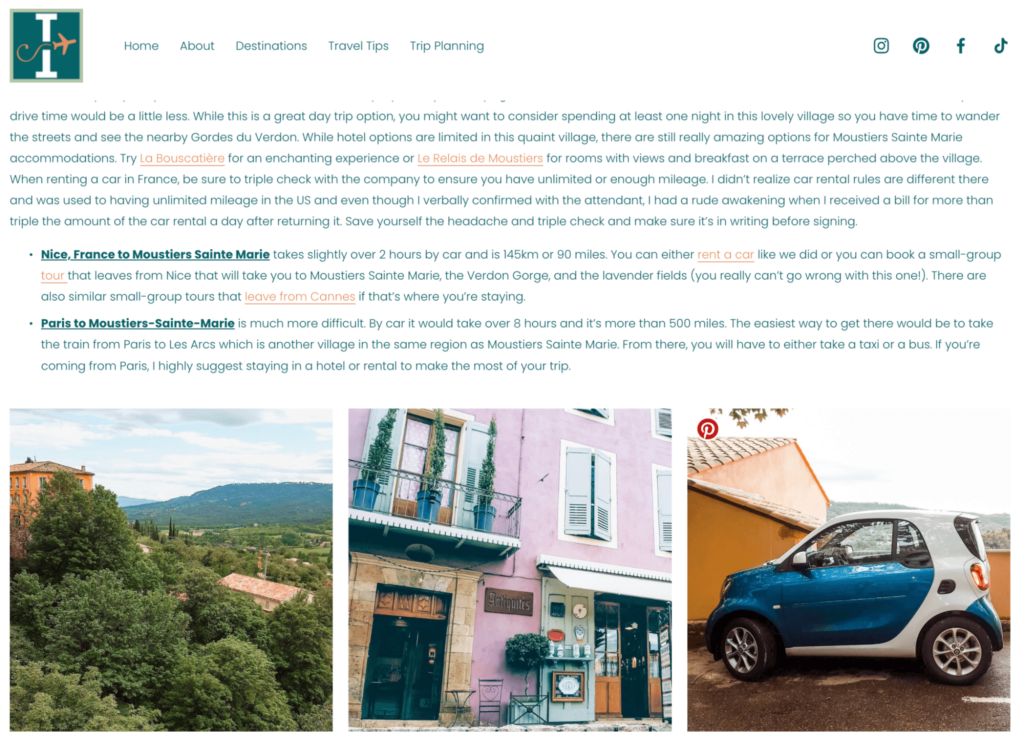 How I Use AI for Content Creation
I create all the content myself, but I use AI to help me create outlines and first drafts for my blog posts, as well as social media captions. In my opinion, AI is great for helping get the creative juices flowing. However, I still have to do a lot of fact-checking to ensure that everything is accurate. Then, I add some of my own experiences and personality into the final piece.
What's worked really well for me is batching first drafts:
I have a list of article ideas and I start with 5-10 ideas.
Do my keyword-research process.
Then, I use Copy.ai to help write a first draft and save all of those off.
Once I'm ready to write, I can easily knock out a few articles and schedule them on my blog.
You can compare the quality of one of my posts written with the help of AI during the rough draft process and an old post written prior to the help of AI.
There's still a lot of work involved, but it's still very helpful to get my creative juices flowing instead of staring at a blank screen for hours. In terms of social media posts, in my opinion, AI is very helpful because this type of content requires very little editing.
​💡Expert Tip: AI is fantastic as a starting point for blogging, but I would highly recommend not to allow the tool to write everything for you and just copy and paste it onto your website. Part of blogging that I love is that everyone has a unique voice or viewpoint and it's important to make sure that shines through your content! So even if you're using AI, make sure to take the time to personalize it by using your own unique voice.
The Best AI Assistant
Copy.ai was recommended by someone in the blogging community. I researched a few other options before committing to them and have been so impressed with the user interface as well as the ease of using Copy.ai. They:
Recently launched a Chat that's still in beta, but I'm really loving it so far.
Send daily email tips with a new chat prompt to try out and learn how you can benefit from using it. That's how I've been creating a lot of social media captions lately and then tweaking what their AI spits out.
Editorial Note: you can find a comparison of the top AI services and 10 best practices on how to use these tools as indispensable travel blogging assistants in our free guide. Get it now!
Boost Your Travel Affiliate Marketing Earnings with AI
Learn how to use AI writers to create money-making travel content in a variety of formats.
Get the Free Guide
Results of Using AI for Content Creation
I've only been using AI to help with my first drafts for about three months now, but have already seen some of those articles receive higher traffic faster versus articles that I created without the help of AI. I believe this could be due to incorporating my keywords via AI.
My recent blog post about tulips in Washington State was written using my AI process and has received 178 views in the last 30 days. Older posts that weren't written with AI assistance are at the same amount of pageviews year-to-date.
I think the time and effort spent learning to work with AI tools is worth it based on the results. It's really not as hard to learn as you think. The AI tools learn more about what your expectations the more you use them. For me, it's definitely worth the money because it's a huge time saver while I juggle my full-time job and my blog.
Key Takeaways
Selecting the right keywords is the most important thing for your blog when it comes to attracting readers and generating affiliate sales. However, even if you use AI assistants, expand your keyword research via KeySearch service or other similar tools.
AI assistants are huge time savers, especially if you are juggling both a full-time job and a blog. But don't just copy and paste AI-generated text onto your website. Take the time to fact check and personalize the content to your own unique voice.
Test different forms of affiliate marketing and types of content to boost your partner income (Editorial note: AI content creators can also help you with it.)
Expand your content by including more detailed articles about the offers of specific brands to rank for more keywords, attract more traffic, and boost your partner income.
Don't focus on a limited list of affiliate program niches. Expand your range with programs from other categories.
It will be helpful to monitor the click-through rate (CTR). This will help you understand which articles are driving readers to convert, and notice the brand's offer availability and non-matching context in a timely manner.