Tours and Activities Market
Basically, tours and activities are a new segment of the travel market that allow people to buy tours and book travels according to the type of activities they want to experience. According to the National Council of Attractions and Experiences, 85% of travelers include some type of ticketed attraction in their itinerary and 47% book tours. Travelers are very interested in tours and activities. They want to make the most out of their trips and are willing to spend more than usual to make that happen. Therefore, tours and activities partner programs might be a very beneficial segment to focus on!
For expert tips on how to earn with tour and activity partner programs, check out the webinar Earn on Tours & Activities: Top bloggers and brands share strategies.
Tours and Activities Affiliate Programs
Below, we prepared a table with the most important information for each program so that you can compare advantages of tours and activities affiliate programs.
Program name
Countries
Languages
Affiliate reward
Join the program
GetYourGuide

Globally

19 languages
8% to 10%
Join
Tiqets

Over 50 countries

English, German, Spanish, French,
Italian, Dutch, Portuguese, Chinese
8%
Join
Go City
The United States of America,
Great Britain,
Australia,
the United Arab Emirates,
Hawaii, China and Mexico
English, French, German, Spanish,
Arabic, Chinese
3.4% to 6% from October 18, 2022 (instead of 2.5% and 0.86% usual rate

)

Join
TicketNetwork

Globally

English

6% to 12.5%

Join
Viator

Globally

Danish, German, English, Spanish,
French, Italian, Dutch, Norwegian,
Portuguese, Swedish, Japanese
10%
Join
Tripadvisor

Globally

29 languages
8% per click
Join
Rakuten Travel Experiences

Asia,




200 cities

English, French and 5 Asian languages

4%

Join
GetYourGuide Affiliate Program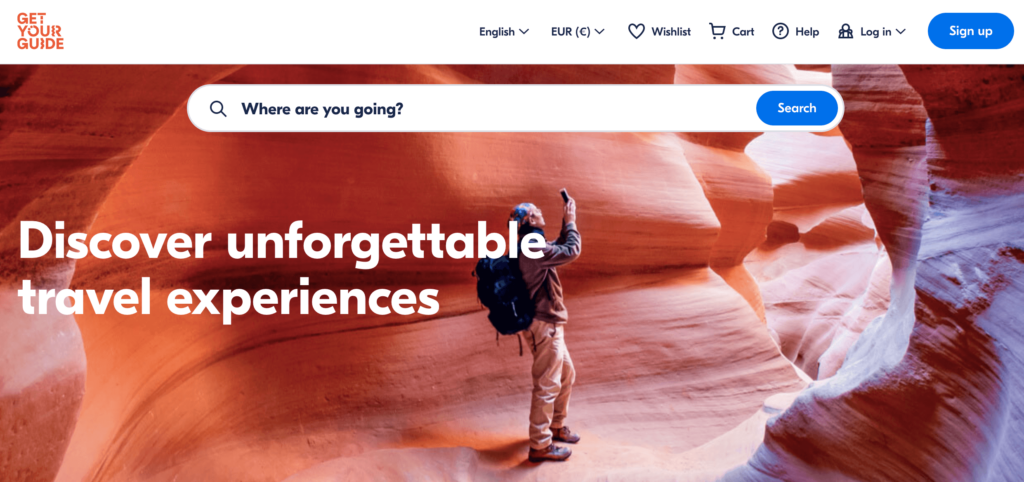 GetYourGuide is the booking platform for incredible travel experiences. With GetYourGuide, travelers can visit the world's most iconic attractions, as well as attend walking tours led by top local experts, immersive food and beverage tours, and cooking/craft classes. All these activities are carefully selected by a team of over 500 travel experts.
In addition, travelers can take advantage of GetYourGuide Originals, which is a small excursion group (up to 20 people) led by a professional local guide. With these excursions, travelers can explore attractions while bypassing crowded lines.
With the GetYourGuide affiliate program, owners of content projects (sites, social media pages, vlogs on YouTube or TikTok) can earn. As a partner, you can use the program's links, banners, and widgets. It's important that you have good traffic and that your content project is regularly updated with quality travel content.
The partner reward is 7% from each sale and up to 10% on GetYourGuide Originals sales. Partners receive rewards for sales made by travelers on the mobile or desktop versions of the site (but not for those made via the mobile app).
GetYourGuide is available in 19 languages. Go to the partner program page to see the full list.
Tiqets Affiliate Program
Tiqets is one of the largest platforms selling tickets worldwide. With Tiqets, you and your clients will have access to over 4,500 activities in over 250 cities. Tiqets helps people enrich their leisure by offering best-price tickets to cultural and sporting events as well as many other activities. No need to stand in the queue at the entrance. After the online purchase, you'll instantly get your ticket and be able to access the event with the electronic ticket and skip the line.
The Tiqets affiliate program is designed for experts in the travel niche: bloggers, website owners, agencies and more. You'll be provided with a wide selection of tools and promotional materials to catch your reader's attention and convert them into clients. You'll be rewarded with a 8% commission on each booking and have cookies with a 30-day lifetime.
As an affiliate, you'll receive promotional tools like links and banners of different sizes.
Tiqets is available in eight languages: English, German, Spanish, French, Italian, Dutch, Portuguese, Chinese.
Go City Affiliate Program
Go City is another ticket booking platform offering access to many travel activities and it has an affiliate program. Notably, it helps tourists save almost half of the initial ticket price and is easy to use in general. Buy a ticket online and it will be instantly delivered to your email. If you plan on visiting multiple destinations a few days in a row, you can purchase a one-to-seven day pass. Thus, this platform offers many options to meet the needs of all clients.
With Go City, you'll be able to access various attractions and events in the United States, Great Britain, Australia, Mexico, the United Arab Emirates, Hawaii, China and Mexico.
To make money, you'll be provided with links and banners. Affiliates will benefit from high conversion rates. From October 18, 2022 Go City affiliate program is offering a special 6% commission rate for all partners and 3.4% for coupon/voucher partners instead of 2.5% and 0.86% usual rate. 
Go City is available in six languages: English, French, German, Spanish, Arabic, Chinese.
TicketNetwork Affiliate Program
TicketNetwork offers a wide selection of tickets to sporting events, concerts and the theater. The affiliate program offers generous commission rates of up to 12.5% of the ticket price.
TicketNetwork is a marketplace for tickets to all kinds of events worldwide. You'll be able to book an entrance for over 100,000 concerts (Ed Sheeran, Katy Perry, Beyonce and more), plays, shows (Lion King, Cirque du Soleil and more) and sporting events (MLB, NBA, NFL and more). There is a 100% money-back guarantee, and all the transactions on the website are secure. Also, TicketNetwork offers customer support service seven days a week from 7 a.m. to 1 a.m.
With the TicketNetwork affiliate program affiliates receive up to 12.5% commission on the ticket price or 6% reward for ticket-level comparison platforms. The average price of one booking is about $350, so you might receive $44 or $22 respectively. The cookie lifetime is 45 days, which is longer than with other platforms.
You'll get affiliate tools like a banner, link, event listing plugin or a search widget which you should place on your website to direct traffic to TicketNetwork. Every booking will bring you a commission.
TicketNetwork is available only in English.
Viator Affiliate Program
Viator is a pioneer online booking platform offering over 200,000 activities in the most popular tourist destinations around the world. Whether you want to book a traditional tour or an exclusive activity, Viator offers many interesting experiences that last from a few hours to a couple of days! Also, Viator partners only with reliable providers and offers the best rates for activities. Thus, with Viator, your clients will have:
A wide selection of traditional and unique activities
Opportunity to pay with their currency (USD, EURO, AUD, CAD, GBP)
2,700 destinations worldwide
Full refund if canceled 24 hours in advance
The lowest price guarantee
24/7 customer support
As an affiliate, you'll receive a lot of advantages such as
10% commission on bookings
High conversion rate
Weekly offers
You'll also be provided with promotional tools:
The Viator affiliate program is available in 11 languages: Danish, German, English, Spanish, French, Italian, Dutch, Norwegian, Portuguese, Swedish, Japanese.
Tripadvisor Affiliate Program
Tripadvisor is a platform on which travelers can view recommendations and reviews as well as reserve tours, restaurants, hotels, cruises, and vacation rentals. All this helps tourists compare travel services and choose the best offers for their next trip.
Only site owners can earn with the Tripadvisor affiliate program. They can use partner tools, such as links and banners.
The partners of this program aren't rewarded by the CPA (cost-per-action) model, but by the CPC model (cost-per-click). This means that you earn every time a user clicks on a partner tool placed on your website. The partner reward is 8% per click for tours and attractions in the "Things To Do" section (with the exception of Virtual/Online Experiences).
Rakuten Travel Experiences Affiliate Program
With Rakuten Travel Experiences, you can find great experiences in Asia. It is quite a mysterious country which might seem a bit closed, so taking one of the organized trips will definitely help you get a better understanding and unforgettable memories from there. Rakuten Travel Experiences offers:
3,500 experiences in 200 cities in Asia
Best hosts who were interviewed by the company and will help you get the most out of your holiday
Reviews for all types of activities
Over 1,300,000 satisfied travelers
24/7 support for customers: live chat, email, phone
With the Rakuten affiliate program affiliates can get 2% for JR Pass, Tokyo Disneyland, DisneySea and Fuji Q Highland bookings and 4% commission on other bookings. Also, affiliate links have priority in attribution over other referrals.
The website is translated into seven languages and accepts payments in 19 currencies. Top destinations are Tokyo, Osaka, Kyoto, Singapore, Hong Kong, Bali and Seoul.
What Tours and Activities Affiliate Program to Choose
Tours and activities are a very profitable segment in the travel niche because almost everyone strives for great experiences and unforgettable memories. With Travelpayouts, you can join one or a few of these vacation affiliate programs and help your readers choose from a wide selection of traditional and once-in-a-lifetime activities.