Why You Need a Travel App
Nearly 5 billion people used the internet in 2022, and 92.1% of them accessed the web via mobile device. Notably, 45.8% of users used the internet to search for products and brands, while 37.6% did so to research vacation and travel.
So if your travel content already exists on mobile — for example, you run a social media blog or have a mobile version of your website — then you already have the perfect audience for an app. You can also target users who typically book travel via apps (which is a lot of people). Once you've figured out your audience, you can start developing your app. This is where the easy-to-use template provided by Travel App comes into play.
What Is Travel App?
Travel App by Travelpayouts is a tool that helps users create a mobile app in the form of a flight aggregator and/or hotel booking platform based on ready-made templates. You can then name and brand your app before publishing it on Google Play or the App Store.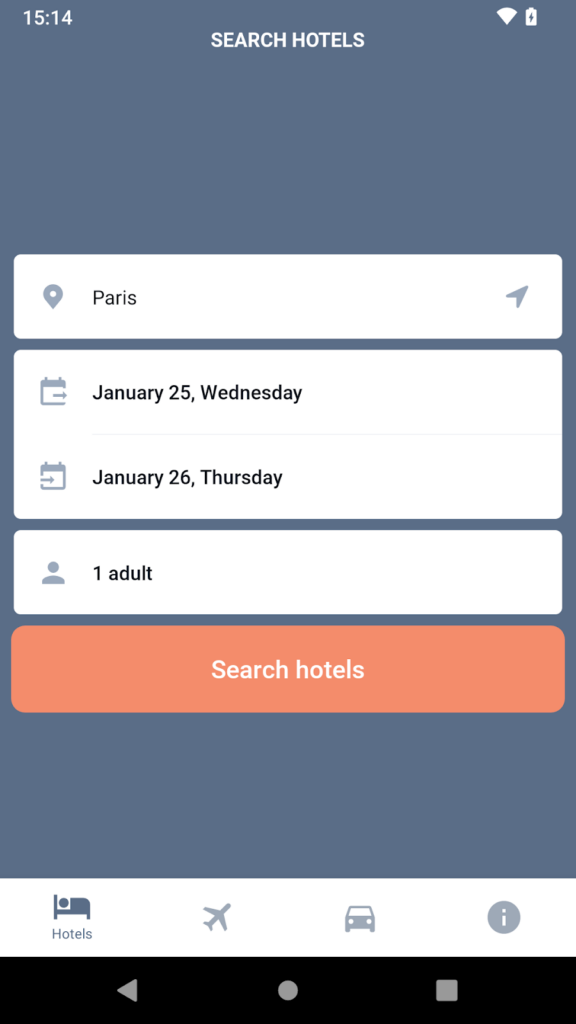 Anyone with an Android or iOS device can then download your app and use it for their travel needs. For every flight and hotel booked, you'll get 50% of the revenue made by Aviasales and Hotellok, respectively, for those bookings.
Travel App includes the following features:
API library – In simple terms, this is a software that hosts data from Aviasales and Hotellook. It ensures that users can see and book the same ticket and hotel listings as on the brands' websites.
Interface templates and customization options – These include the app design, all search forms, filters, buttons, and more. You can customize these elements when configuring the application.
Show Me the Money: How You'll Earn With Travel App
How to Earn With Apps Made With Travel App
Partner Programs
Travel App is not unlike any other affiliate tool offered by partner programs. Just as you're rewarded every time a reader books via your affiliate link, so to every time a user books through your app.
Here are the standard terms for earning with Travel App:
A flight booking will get you 50% of the revenue made by Aviasales for that ticket (approx. 1.1% of the cost).
A hotel booking will get you 50% of the revenue made by Hotellook for that booking (approx. $15-20).
You'll earn from these two brands, specifically, because these are the two brands built into Travel App. You won't be able to swap either brand for similar ones in the same niche.
In addition to flights and hotels, you can also add car rentals to your app—you'd need to simply add the corresponding tab to your template. In order to make this work, join any program in the Car & Bike Rental category except Economybookings.com (this program doesn't track mobile traffic). Your reward will depend on the program, but the average is 9% of the total booking price.
Ads
As the owner of your own travel app, you can earn even more with ads via Appodeal. These ads will appear among a users' search results, and you'll earn an additional income for every time users watch an ad. To start monetizing your app, register an account on Appodeal.
Your Earning Potential With Travel App
According to stats from existing Travel App apps, the record monthly earnings for a single partner in 2022 was $15,000. But there is always potential to go even higher.
Which Partners Should Use Travel App
Partners who have basic programming experience or are able to bring in a programmer for guidance are best suited for Travel App. The tool makes it easy for partners to set up and customize the necessary parameters (e.g., remove a tab, add your logo/brand name, change the colors) and post the completed app to Google Play or the App Store.
The Travel App Audience
Before starting with Travel App, explore your current or potential audience. Learn how your readers plan their travel, what devices they use, whether Aviasales and Hotellook will appeal to them, etc.
In 2022, the search feature on Travel App apps was most used by travelers in:
Uzbekistan
USA
Georgia
Italy
Germany
That same year, the booking feature on Travel App apps was most used by travelers in:
USA
Uzbekistan
Georgia
Turkey
Cambodia
Creating and Promoting Your Travel App
How to Create Your App on Travel App
Register an account on Travelpayouts. Without an account, you can't access the necessary brand assets, such as the API keys needed to build the app.
Join the necessary partner programs. If you want to have a flight aggregator app, join the Aviasales program. If you want your app to include hotel bookings, join the Hotellook program. For car rentals, join any program in the Car & Bike Rental category except Economybookings.com.
Follow the instructions to create the app. We've prepared step-by-step guides for Android and iOS users. If you have any questions during the setup process, contact our support team.
How to Effectively Promote Your App
Travelpayouts designed Travel App to help partners quickly and easily set up mobile applications. But in order to start earning, your audience needs to learn about and download the app. Here are some pro tips on how to get your app noticed:
Stand out from the competition. There are countless travel apps on Google Play and the App Store, so to ensure that your app gets downloaded, give it features that no one else has.
Test your app on a real device. Previewing your app and seeing how it really works on a variety of devices are two different things. Remember to do the latter to ensure there are no errors, glitches, or formatting issues once your app goes live. Simply previewing an app will not give you the best view of the finished product.
Perform ASO (App Store Optimization). Otherwise known as SEO for apps, ASO can help you stand out in an app store. Make sure to include all the necessary keywords in your title and descriptions so that users can find your app easily.
Choose attractive visuals and creative descriptions. Make sure your app includes elements that draw the reader's attention. Include eye-catching visuals and fun descriptions rather than simply including screenshots.
Read and respond to customer reviews. User feedback will help you quickly fix any bugs or improve the quality of your app. By responding to feedback, users will see that you're really working to help them. Pro tip: Reviews are a great way to find keywords.
Update keywords. Keep your keywords fresh to ensure that new users can find your app quickly.
Use a variety of platforms to promote your app. Whether you have one content project or many, make sure to push your app to as many of your audiences as possible. You can also use targeted ads, engage in various forums, or make video promos for YouTube, Instagram, and TikTok.
🆕 March 2023: What's New With Travel App
We recently updated Travel App with new features so that your users continue to get a seamless booking and purchasing experience, while you continue to earn big.
The latest update was in March 2023 and included an improvement to the iOS template. Now, it's compatible with Xcode 14.2.
For Android users, we've added features from the Aviasales app that have been proven to increase conversions. We've detailed these features below.
Tags for Flights
Tags are phrases such as "Cheapest" and "Cheapest direct" that appear on the best search results based on the user's query. These options show up at the top of the list of flights.
Tags are designed to show a traveler the best flight deal and one that they will likely purchase. According to Aviasales, tags can increase your conversion by 3%.
Real-Time Flight Search Update
In the previous version of Travel App, all flight tickets loaded at the same time — the user wouldn't see the results until all tickets were found. In the new version, users will see tickets as they load.
Direct Flight Widget and Filter
Travel App now has a widget that displays direct flights. Such offers now automatically show up at the top of search results and are sorted by best price available. This approach of showing direct flights first has resulted in an average 3% increase in conversion, according to Aviasales.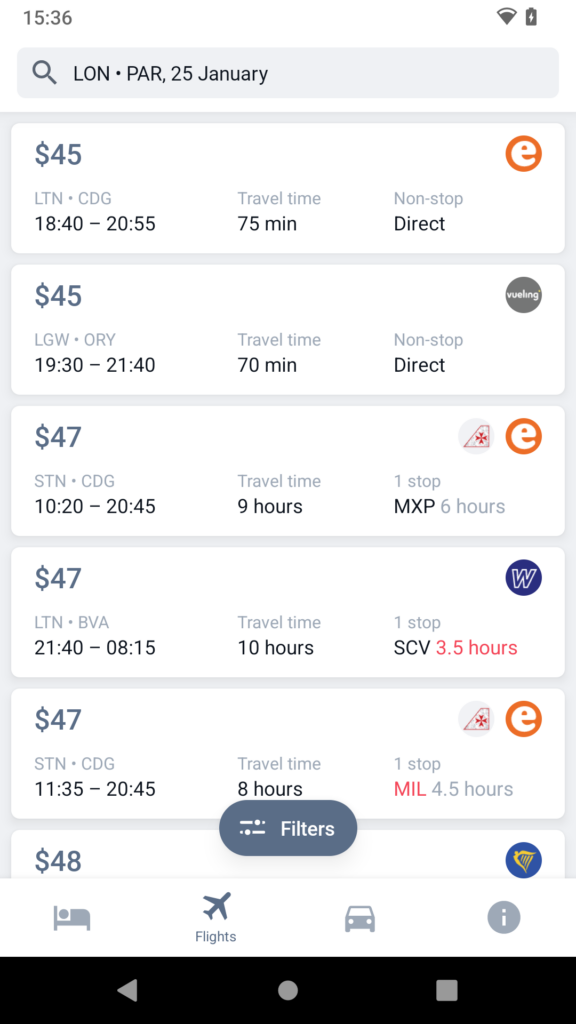 Users now also have the option to filter their search results to only see direct flight options.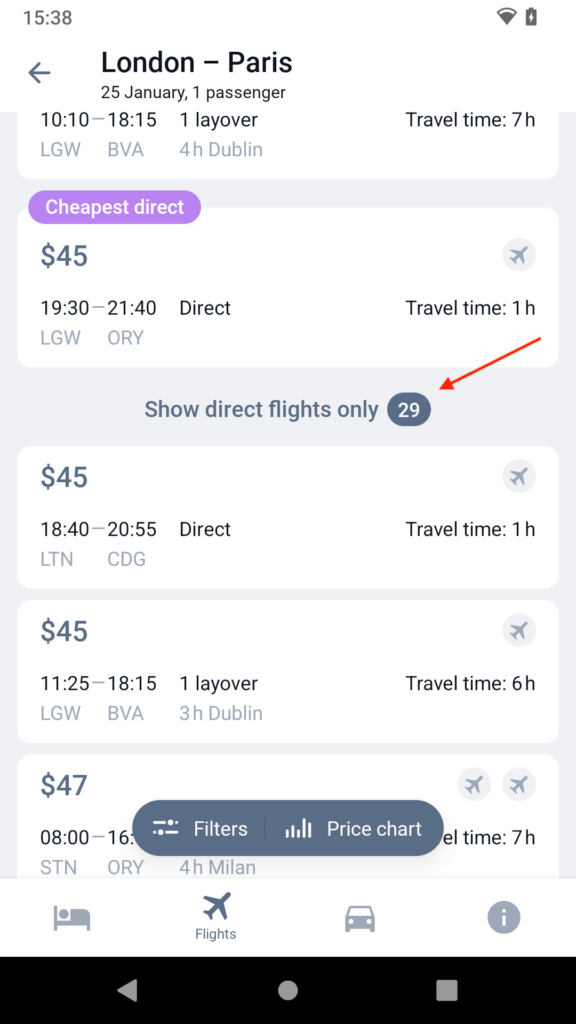 Price Chart
This handy tool shows prices for surrounding dates for a desired destination. The chart helps users figure out the best (and cheapest) day to fly without having to make numerous queries.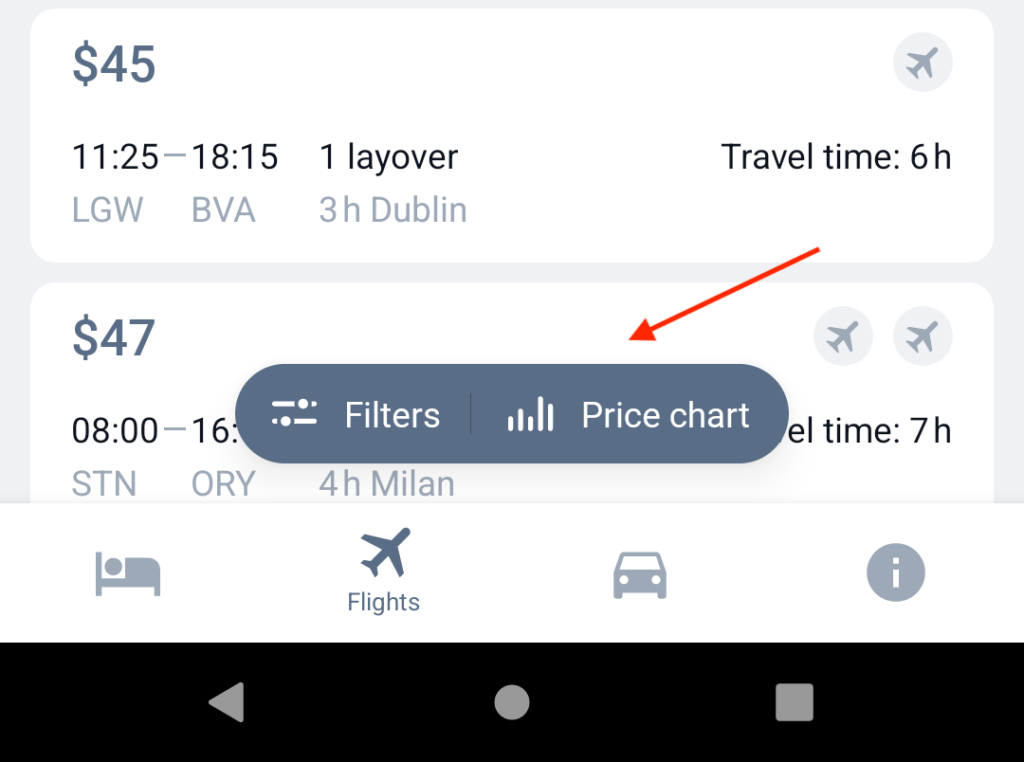 If you're ready to make your own travel app, register with Travelpayouts today. Once you're on the platform, you'll be able to join the partner programs that will help you build your app. In addition, you'll get access to a variety of tools, such as simple no-code links, widgets, banners, that'll help you develop the best user experience for your travel audience.
Join the Travelpayouts Partnership Platform
Access exclusive tools and the best travel affiliate programs, including flights, hotels, car rental, insurance, tours and activities, all in one place.
Join Today
395,000 partners already trust us
120 travel brands
$53M+ total paid since 2011
We want to know your feedback! Have you tried creating an app with Travel App? What features would you like to see added to the tool?