How to choose a theme for an affiliate program
WordPress offers a plethora of themes and tools to boost your affiliate performance, and you may even get lost in this diversity. Remember to consider the needs of your website and then look for themes that accommodate all your needs.
For example, an ideal theme should contain newsletter widgets and email sign up forms, optimize your site and make it mobile friendly, be law-compliant and seamlessly integrate with social media and Google Maps.
Below, we are going to explain why these and other features are crucial for your affiliate business and how you can implement them on your website with the help of countless WordPress themes.
Blocks to show off affiliate products and services
Showcasing the products and services you promote within your content in a stylish and eye-catching way is the key to increasing the CTR (clickthrough rate) of your offers and increasing your overall earnings.
Popcorn Theme is a theme designed with affiliate marketing in mind and is packed full of blocks that can make product reviews and comparisons really POP! No extra plugins are required as they work with the built-in WordPress Gutenberg editor.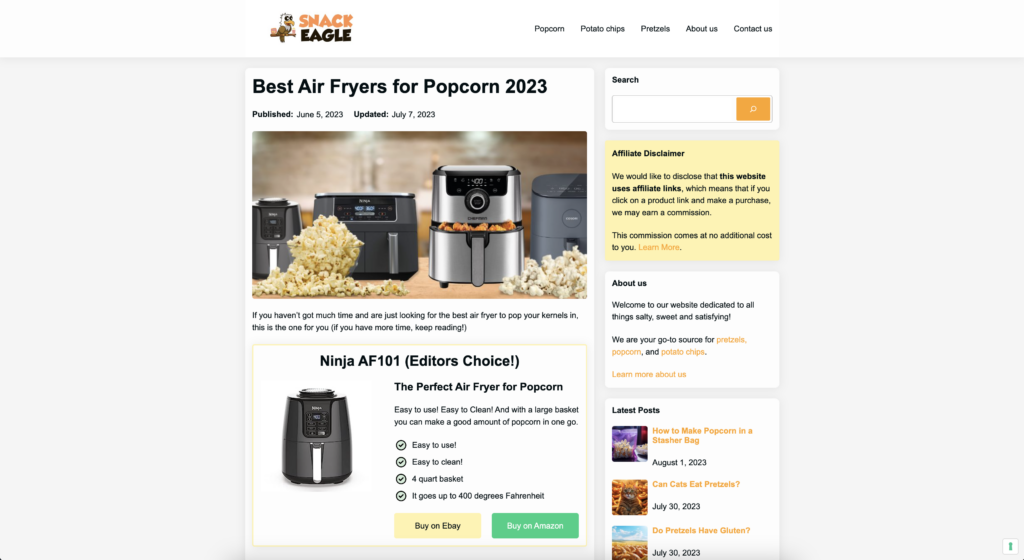 The theme has loads of other patterns including lists, notifications, affiliate disclaimer messages, and more so you can publish beautiful content quickly and easily.
Especially for Travelpayouts partners, there is a promo code for 15% off the purchase of Popcorm Theme. Just enter the travelpayouts promo code at checkout on the website.
Built-in SEO tools
No matter how good the product you promote is and how compelling your website design and its content are, SEO remains one of the key features that influence your affiliate marketing performance. So, make sure your WP theme is SEO-friendly and contains some built-in SEO tools to help your website rank higher in search results and boost your revenue.
Seofy is one of the prime examples of SEO-optimized WordPress themes which provides users with various built-in SEO tools and helps them generate leads and drive sales.
The theme is fully responsive, ready for translation and contains a flexible header builder with presets, more than 30 modules with all the settings you might need, and a child theme. Moreover, extensive documentation and timetable Shortcode is provided.
Mobile friendly
A mobile responsive website can help you reach more customers and provide an enjoyable experience for them no matter what device they use. Optimizing your site for mobile can result in decreased bounce rates, increased engagement rates and higher conversions.
Kalium is an award-winning affiliate WordPress theme which ensures that your website functions seamlessly on all mobile devices with all kinds of touch sensors. The theme also stands out for its high-speed performance, powerful SEO technologies, 15 + header styles and 30+ portfolio item types. Besides, the theme is multilingual and easily customizable. Below, there is an example of a travel Kalium theme.
Moreover, the theme offers about 4,000 web-friendly fonts from Google Fonts, Font Squirrel and Typekit as well as the Adaptive Images tool. The tool detects the size of the screen and tailors your pages to make them appropriately scaled for the device.
Newsletter widgets
Though the amount of traffic driven to a website is usually considered one of the main conditions for your affiliate success, it is also crucial to retain visitors. Email marketing has proven to be of the most powerful tools to increase the retention rate and address the audience interested in your content.
Redwood features custom styling for "MailChimp for WordPress," which allows you to display a newsletter widget. In addition, the theme is mobile-friendly and customizable, it offers five different blog layouts and several post formats, as well as Custom About Me, Custom Facebook, Custom Social and Custom Instagram widgets.
Inserting visuals
Visual content can work miracles for your blog or website. So, when picking a WordPress theme, you should pay special attention to its visual aspect and the opportunities it provides for making your site visually appealing.
Uncode is a multipurpose bestselling theme that enables users to create stunning visual experiences on their websites or blogs. The theme provides users with a wide range of features such as Slides Scroll, Shape Dividers, Gallery Manager, Animated Headings, Powered Media Library, etc and helps them create eye-catching and compelling websites.
Integrating an email signup form
We've already mentioned that email marketing is one of the most effective promotional strategies for a website. However, to maximize its potential, it's crucial to make the sign-up process as easy and convenient as possible. It's a no-brainer with one of the WordPress affiliate themes tailored for building your email list, for instance, Focus Pro.
Focus Pro is an easy-to-use WordPress theme that features a prominent newsletter signup form to its right and offers a right sidebar and a widgetized footer to feature social media icons, custom text, etc. In addition, the theme is mobile responsive and provides six layout options, a custom background, header and menus, as well as threaded comments.
Law-compliant
Tracking links is a key feature of affiliate marketing. It doesn't only help you improve your site's performance, but it also allows attributing sales to affiliates and paying affiliate rewards. Affiliate link tracking is made possible thanks to cookies – small text files stored on the visitor's PC, which can be used by websites to store information about the users who visit.
However, you can't install tracking cookies without user consent, otherwise, it will constitute a breach of the ePrivacy Directive 2002/58/EC(EU Cookie Law), and can lead to a number of issues for European sites. This is why it is vital to ensure that your WordPress site is EU Cookie Law compliant. The cookie compliance process consists of three stages:
Letting users know that you use cookie
Telling them what you use cookies for
Asking for their consent
This process is not as complicated as it might seem thanks to numerous WordPress affiliate themes, which can help you facilitate GDPR compliance. Avada is one of these themes and it provides users with a variety of tools to make sure that their website is law-compliant.
Search Engine Optimization (SEO)
We've already mentioned that optimizing content for search engines can boost the performance of your affiliate website if you utilize it properly. The key factors determining how high your website is ranked by search engines include choosing the right keywords, high-quality content targeted towards these keywords and quality backlinks from established sites.
The internet abounds with SEO-friendly WordPress themes, which can help you do the grunt work of tweaking your website for SEO. For instance, NewsPaper is a handy WordPress theme for affiliate marketing as its main aim is to increase a site's popularity and, consequently, generate more revenue for its owners.
Besides, NewsPaper is considered one of the best WordPress AdSense themes as it leverages a modern and intelligent ad system. The system provides 18 ad locations that apply globally and it lets you include advertisements on individual posts or pages, through the tagDiv Composer and the Ad Box or Single Post Content elements.
Integration with social media
Social media may become an invaluable asset to your affiliate business, if you play your cards right. Sharing your content via social networking sites can skyrocket a website's traffic and conversions and establish your brand awareness and credibility. There are various WordPress themes that can help you boost the performance of your website leveraging the power of social media, for instance, FacePress.
FacePress is a WordPress theme which features content-sharing with front-end uploading, portfolios, image gallery, built-in registration forms, multiple layouts and skins. The theme also allows the creation of unlimited custom posts, combining various content types and liking posts.
Translatable texts
Building a multilingual website is a great way to get maximum online exposure and reach a wider audience. However, creating a multilingual site is quite a complicated process, in which the translation process is one of the main hurdles. Fortunately, some WordPress themes can offer a viable solution to this problem, for example, Jevelin.
Jevelin is a multi-purpose premium WordPress theme, which provides ample opportunities to publish content in more than one language. The theme features the RTL multilingual feature and ensures seamless work with the best WordPress multilingual plugins.
Integration with Google Maps
Currently, Google Maps is one of the leading mapping services, which allows for zooming and panning, directions, satellite views, etc.
There are many ways you can benefit from embedding Google Maps into your website. For instance, it can be helpful for providing contact information and directions, highlighting points of interest, showing reviews and other information about your business.
Some WordPress themes can make the process of embedding Google Maps to your website hassle-free. For example, Doyle is a creative multi-purpose theme that provides seamless integration with Google Maps on your website.
How to choose a niche-specific theme
Though there are numerous top-quality multipurpose WordPress themes that affiliates can leverage to make money with, WordPress also has a wide range of niche-specific themes that target travel, beauty, e-commerce, photography, etc. Niche-specific paid and free WordPress themes for affiliate marketing are tailored to accommodate the particular needs of every sphere.
Photography
If photography has always been your passion and you are eager to turn it into a lucrative revenue stream, the internet has a lot to offer to you. There is plenty of photography affiliate programs to generate income from and WordPress offers plenty of state-of-the-art creative themes and affiliate website templates for photographers.
There are many niche-specific options photography themes should feature:
A static portfolio
An interactive portal for working with clients
An online storefront for selling prints and other products
Tools for placing galleries, sliders and videos prominently on the site's homepage and other high-traffic areas
Photo-proofing gallery
E-commerce tools for selling prints and other products from the site
Contact pages.
Oshine is one of the best WordPress photography themes, which manages to meet the needs of all kinds of photographers. Its highly intuitive visual page builder and 100 pre-built sample pages provide users with a hassle-free building experience. The theme also features stunning portfolio layouts, 30 beautiful demos, one-click import, video backgrounds and parallax and full-screen sections, 50 drag and drop page builder modules, etc.
Real estate
Nowadays, both the real estate business and affiliate business in the niche are impossible to run without an optimized website that will get you closer to potential clients. What are the features essential for a powerful real-estate website?
When it comes to niche-specific features, a good real-estate website should offer a property listing comparison tool, advanced search and filtering tools to help your visitors find exactly what they are looking for. Some other valuable features are Google Maps integration, front-end submission forms, multiple demo versions and support for the IDX property listing service. Visitors may also be allowed to list their properties on the website.
Real Estate 7 is a top-class real-estate WordPress theme which manages to accommodate all the needs of its users providing them with options such as listing statistics, a CT Membership system, Stripe and PayPal integration, wire transfer, Agents VC module, etc.
Travel blogs
Travel is a highly competitive niche, so to launch your travel blog and start generating considerable revenue from it with affiliate marketing, you have to make sure it's of top-notch quality and has all the necessary features to help users get a flawless travel experience. There are numerous WordPress travel affiliate themes that meet these requirements and Hobo is one of them.
Hobo is a digital nomad and travel blog theme, which is known for its stunning design and multiple blog layouts and styles. The theme is powered by the Elementor page builder and features the Essential Grid plugin for creating unlimited photo galleries. Moreover, there is a specific post type offered, which allows for the creation and sale of online courses.
To earn on the flights, hotels, car rentals and other travel services join the Travelpayouts affiliate network for free today.
Cryptocurrency
Digital currencies like Bitcoin, Ether and Ripple have been a hot topic recently and this has resulted in a high demand for cryptocurrency WordPress themes. This type of theme has a range of niche-specific tools such as cryptocurrency conversion calculators with real-time exchange rates, coin price trackers, WooCommerce payment methods, coin price widgets, etc.
Crypton is one of the biggest multi-purpose cryptocurrency WordPress themes which can help you generate increased income from your website. The theme is fully optimized for SEO and easily translatable and multilingual. In addition, it offers users a wide range of tools and features, for example, special cryptocurrency plugin with the latest prices, a pre-built mining farm accessories online shop, 24 unique homepages, 60 creative inner pages, etc.
Online magazines
With dedicated WordPress themes, it is not hard to create a fully-fledged online magazine with beautiful design and perfect structure. These themes are usually mobile-optimized, highly customizable, compatible with high-quality WordPress plugins, and offer a wide range of color options, fonts and widgets. Bazinga can be a prime example of a ready-made online magazine WordPress theme.
Bazinga is a refined and trendy WordPress theme tailored for building stunning magazines and blogs. The theme doesn't only feature three different homepages and variety of blog post layouts, but it also provides users with advertising slots, Instagram Feed support, custom widgets and shortcodes.
Consulting
A top-notch website serves as a promise that the services you provide are equally professional. Thankfully, there are numerous WordPress consulting themes that can tackle the problem of building and maintaining a website for you. In addition, such themes usually offer various customization options to set your website apart from your competitors, SEO tools, plugins and widgets.
Consultor is a WordPress theme that will provide you with plenty of options no matter what consulting site you want to create. The theme is tailored for business consulting, investment advising and tax assistance to corporate and individual clients.
This SEO and mobile-optimized theme features a user-friendly drag and drop editor, multi-language support, multi-layout pages, customizable Google Map embedded, stunning Fontello icons and Google fonts.
Beauty
If you offer services or have an affiliate business in the beauty industry, you need a beautiful converting site to match. Apart from the attractive design, your website has to include an online registration system and store. There is a wide range of WordPress purpose-built themes for the spa and beauty niche which can help you built a stunning site without any trouble.
Jacqueline is one of the most attractive and functional WordPress themes for a website in the beauty niche. This highly customizable theme features several unique wide page layouts, various header styles, numerous shortcodes and widgets, sticky menus, parallax effect backgrounds, etc. The theme is SEO-optimized and mobile-friendly.
E-commerce
Nowadays, e-commerce is in its full bloom, and more and more people choose to launch an e-commerce venture. WordPress is a perfect platform for this purpose as it offers a wide range of themes tailored specially for it and WooCommerce – a plugin that is second to none when it comes to e-commerce.
WooCommerce provides all the necessary options to drive sales in your online store without any effort from displaying product images to processing payments. The only difficulty you have to face, when it comes to WooCommerce, is choosing one of the numerous themes fully compatible with it.
One of the best WordPress themes that integrate well with the plugin is Ozisti. The theme stands out for a revolutionary feature which is called Augmented Reality integration or "Augment." The feature allows consumers to interact with your products online in AR. The theme is also mobile and SEO-optimized, and provides users with several unique and highly customizable page layouts, a header and footer builder, a sidebar manager, sticky menus, etc.
Videography
A website is an ideal way to showcase your videographer talent and reach your target audience. WordPress is one of the perfect platforms for building video websites of different kinds, from simple portfolio websites to complex ones that contain protected video content.
There is a huge variety of WordPress themes that offer numerous valuable features, which will help you monetize your video content, for example, YouTube integration for importing content or social media features.
Drone Media is a purpose-built WordPress theme tailored for creating sites connected with photo shooting, video recording and camera operator services. The theme is fully mobile and SEO-optimized and features a drag and drop page editor, the ThemeREX Addons for managing your custom post types, API keys, social media profiles, a sidebar manager and a lot of shortcodes, etc.
Water-based activities
If you want to start generating revenue on water sports or maritime services, it may be quite challenging to find customers offline, so the best way to reach your audience is to establish a web presence and target audience online. WordPress provides ample opportunities for this, and there are plenty of top-quality WordPress themes which can help you start off on the right foot, for instance, Shaka.
Shaka is a responsive and highly customizable WordPress theme created specifically for water-based businesses. The theme provides all the necessary features for boosting your water business, for example, thoughtfully designed layouts, a real-time customizer, over 30 widgets, sidebars, pricing tables, video sliders, etc.
How to choose a theme for a particular traffic channel
Boosting website traffic and increasing conversions is the prime aim of any online venture. However, the strategies you implement should be different for each traffic channel and we are going to discuss the viable solutions WordPress offers for each of them below.
Organic traffic
Organic traffic refers to all visits to your website triggered by unpaid search results. Though usually, it is one of the most significant traffic sources for most websites, increasing your organic traffic can be rather challenging and time-consuming.
There are many strategies to boost this type of traffic such as:
Producing top-notch content which provides answers to the pain points of your audience
Optimizing your content for relevant search terms
Using relevant keywords
Making your website mobile-optimized
Implementing analytic tools, etc
WordPress offers a plethora of plugins you can leverage to drive more organic traffic to your website. For instance, All in One SEO or Yoast SEO can work miracles for improving your ranking in search engine results and save you a lot of time and effort. It is useful for optimizing your URL, meta description, tags, keyword density, internal and external links, etc.
Moreover, there are numerous SEO-optimized themes which provide ready-made SEO-solutions helping you to include relevant keywords, have a well-organized code, optimized images and good loading speed.
Hestia is one of the best free WordPress themes for affiliate marketing which comes with a powerful SEO-ready structure to boost the amount of organic traffic driven to your website. Other effective SEO-friendly themes on the market are Schema, Zelle Pro, SEO Crawler, etc.
Referral Traffic
Referral traffic represents all visitors who come to your website from sources other than search engines after clicking on a hyperlink on another website. There are several strategies you can implement to boost your referral traffic:
Guest blogging
Leveraging partner sites
Utilizing the power of social media and commenting
Emails that provide some additional value to consumers
Appealing visuals, etc
Though the process of increasing referral traffic is quite challenging, there are several handy WordPress plugins to facilitate it, for example, Referral Candy, Refer a Friend for WooCommerce PREMIUM, Affiliates manager, etc. These plugins are helpful for creating a powerful referral system on your website because they feature referral URLs, referral statistics, effective affiliate marketing website templates, and multiple referral options.
There are also numerous WordPress affiliate themes that can make the process of generating referral traffic hassle-free and help you monetize from it, for instance, REHub, SteadyIncome, Grotte, etc.
Direct traffic
Direct traffic can be defined as visits without a referring website through typing your URL directly to the browser or by bookmarking your website. The main strategies of boosting your direct traffic are:
Simplifying URLs
Building your brand awareness
Increasing the number of return visitors
Leveraging offline marketing strategies, etc
WordPress offers another great way to boost direct traffic by incentivizing users to bookmark your website. There are awesome bookmark plugins, like, CBX – WordPress Bookmark Plugin which allows users to bookmark any content and then manage and share their bookmarks. Almost all bookmark plugins are seamlessly integrated into the majority of WordPress themes.
Paid traffic
The term paid traffic is used to represent any customer who visits your page after you have paid for advertising promotions such as display and social media ads, sponsored content, influencer marketing, etc. In the case of paid traffic, one of the most important things is to make all the traffic you spend money on translate into on-site conversions.
There are several strategies you can implement to boost conversion rates from paid traffic:
Optimizing your landing page to make it compelling and relevant
Creating enticing headlines
Reviewing your CTA (call to action)
Improving the speed of your site, etc
All these tasks may seem to be a complex challenge and it can be quite discouraging. Thankfully, WordPress has a lot in store for you to make the process nearly effortless.
There are plenty of handy plugins that can help you turn clicks into customers. For instance, Leadpages is tailored for creating and testing out landing pages on your website. HelloBar is another useful PPC plugin, which aims at capturing links, promoting sales and getting more likes, etc.
Many conversion-focused WordPress themes provide all the necessary tools for converting paid traffic into purchases and subscriptions, for example, Marketing Pro or Swoop.
WordPress themes for affiliate marketing
To sum it up, the internet swarms with thousands of WordPress themes and templates for affiliate marketing that are promising perfect performance to your website and prosperity to your affiliate business.
However, pay attention to the necessary general and niche-specific features we've listed above. This will help you pick the right theme, monetize your website and make your affiliate business incredibly lucrative.