1. Travelpayouts
Travelpayouts is a travel partnership platform on which six official flight programs are available:
In addition, more than 100 other programs are available on the Travelpayouts. With this platform, you can earn on flight tickets, trains, buses, car rentals, hotels, and other travel services of well-known brands, such as Booking.com, TripAdvisor, Kiwi.com, and more.
Join the Travelpayouts Partnership Platform
Access exclusive tools and the best travel affiliate programs, including flights, hotels, car rental, insurance, tours and activities, all in one place.
Join Today
395,000 partners already trust us
120 travel brands
$53M+ total paid since 2011
How Much You Will Earn
Flight programs in Travelpayouts offer different reward rates (from 1 to 6%). Some of them calculate commissions based on the revenue share. The exact rate written for each program can be found in the dashboard, below is a summary:
| | |
| --- | --- |
| Programs | Rate |
| WayAway | 50% revenue share |
| CheapOAir | $8 per flight ticket |
| Expedia UK | £0.9 |
| Trip.com | 1% |
| Kiwi.com | 3% |
| Omio | 6% |
A higher rate does not always guarantee a higher income. Remember that airline tickets always have small commission rates relative to certain other niches (such as car rentals or insurance), but the demand is high, as almost all tourists need to purchase transportation.
Allowed Traffic Types
Each program has its own traffic conditions. Each program works with traffic from websites and travel blogs, most accept traffic from social networks, and some also work with media buyers.
The conditions of each program are indicated on the program page in the traffic types section: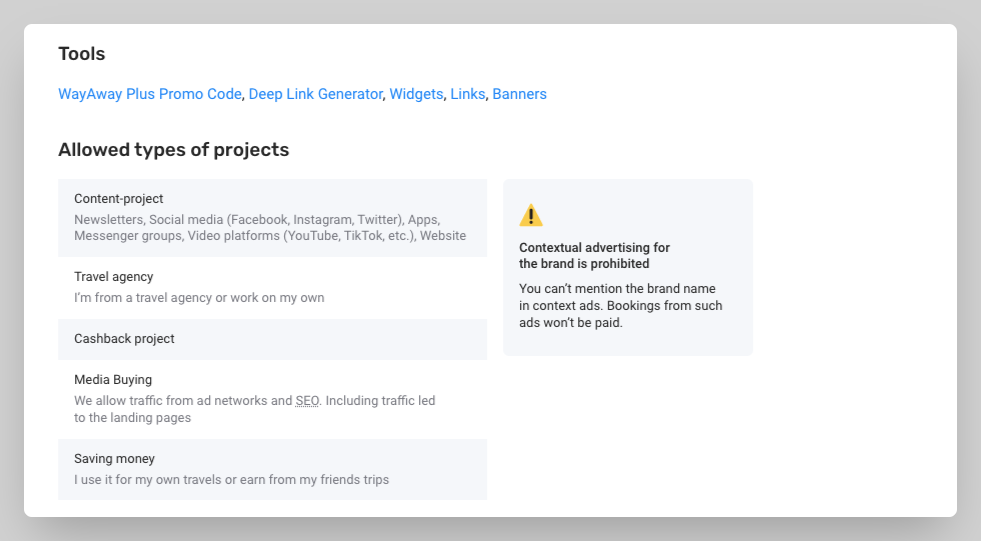 Available Tools
Each program has its own list of available tools, among them are:
Links
Banners
Widgets
API
White Label
Landing pages
And some others
All tools are available in the "Tools" section of a specific program.
To learn more about Travelpayouts tools and how you can use them to your maximum benefit, watch this video:
Payouts
The payout policy is the same for all Travelpayouts travel affiliate programs. Revenue is accumulated in your account and, upon reaching the minimum payout threshold, transferred to your bank account or PayPal account. The minimum payout for PayPal is $50.
Payouts are made between the 11th to the 20th day of each month. In exceptional cases, early payout is possible by contacting the support service.
How to Join
To join any flight partner program in Travelpayouts, simply go to the brands directory, select the desired program, and click the "Join Now" button to apply for the program. Programs connections are only available to registered and logged-in users.
Some programs are available immediately without pre-moderation. For example, the WayAway affiliate program is available immediately after registration for Travelpayouts.
All brands usually approve applications within a maximum of three business days (usually faster). To successfully pass the moderation process, it is enough to provide truthful information that meets the brand's requirements. Below, we will review various affiliate programs so you can choose the best solution for you. We have included overviews of programs available in Travelpayouts as well as others. Among them, you may find a program that best fit your traffic
Join the Travelpayouts Partnership Platform
Access exclusive tools and the best travel affiliate programs, including flights, hotels, car rental, insurance, tours and activities, all in one place.
Join Today
395,000 partners already trust us
120 travel brands
$53M+ total paid since 2011
2. WayAway
It is important to know the difference between online travel agencies and metasearch engines. The main difference is that through online travel agencies (OTA), a client can pay and buy a ticket, while through a metasearch engine, a client can find where to buy a ticket cheaper and then proceed to an OTA to make the purchase. WayAway works as a metasearch engine.
How to Join the WayAway Partner Program
The WayAway partner program is presented in the Travelpayouts partnership platform. It is available for partners with various types of traffic.
Unlike a number of other flight affiliate programs, WayAway does not make you wait for the approval. You can start working with the program immediately.
The WayAway affiliate program accepts partners with various types of traffic, while the main exclusions are concerned with spam and contextual advertising that are prohibited by most airline partnerships.
Who Can Participate?
The WayAway affiliate program doesn't have any traffic volume requirements. So, if you have the relevant travel traffic, you can join in just a couple clicks. For instance, the following partners can participate:
Website Owners: You can add a search form, widget, banner, or text link for your visitors and earn money as soon as they start purchasing tickets and WayAway Plus membership plan.
Travel bloggers: You can do the same for each travel post you publish and get relevant traffic this way, or you can write a separate post describing the advantages of this method of booking tickets.
If your website or blog is powered by WordPress, you can install the Travelpayouts WordPress plugin and connect your website to the partnership platform within minutes. This plugin allows you to add partner tools on your website.
If you are on social networks, you can advertise the WayAway in public travel groups — either your own or someone else's.
If you do PPC arbitrage, you can forward your traffic directly to WayAway, either to some of the landing pages or to your own website.
If you are good at SEO, you can use doorways to get relevant traffic. (Be careful, no cookie stuffing allowed!)
If you have an email newsletter, you can promote offers to your subscribers.
If don't have a website, you can buy ads on travel-related forums, communities, or other websites as well as share your partner link on social networks.
If you travel a lot, you can purchase flight tickets and book hotels via your personal partner link, saving money in the process. Also, you can share your partner link with your friends who travel. To make it even easier, simply install the mobile app and get cash back all around the world.
Which Tools Does WayAway Offer?
WayAway offers a complete set of partner tools for you to maximize your revenue.
Deep links can lead either to the search form itself or directly to the destination you specify.
Responsive widgets:

Search forms allow your visitors to specify departure and arrival points, as well as desired dates and number of passengers. They are fully responsive and also provide search results with the best prices within seconds.
The popular routes widget allows you to display the prices of popular routes to the selected destination.
Low fares calendar offers the cheapest departure dates.
The flight schedule allows you to show the schedule for different destinations.

Banners may be used if you do not want to use a search form. A number of banners are ready to use and are located in the "Tools" section of your members area. However, you can create your own banner and use it along with affiliate links.
WayAway Plus Promo Code. You can create your own promo code that offers a 10% discount to anyone purchasing the WayAway Plus membership plan. Your reward from selling the membership plan will not change, but will still be $10 for each WayAway Plus sale.
Travel WordPress plugin is available for those who run their blogs on this CMS. The installation is very simple and requires only a couple of clicks.
How Do I Get Paid?
Conditions depend on the partner network you've used to join the WayAway partner program. Let's delve into Travelpayouts' conditions.
Travelpayouts sends you reward using the payment method of your choice: PayPal, WebMoney, or a bank transfer in US dollars or euros. You get paid between the 11th and 20th of each month, as long as the minimum amount has been earned in the previous month.
The minimum payout amount is $50 for PayPal, $10 for WebMoney, and $400 or €400 for bank transfer. For example, the money you earned in June will be paid to you between the 11th and 20th of July. Of course, only if you reached the minimum revenue amount. If the amount hasn't been reached, your reward will be accumulated in your Travelpayouts account and you will be paid next month when if you reach the minimum revenue amount.
$10
per sale of WayAway Plus
The WayAway Partner Program
Join Now
3. Wego Affiliate Network (Wan)
Wego is an affiliate network that offers both flight tickets and hotels. However, you do not get paid for every ticket sold or hotel booked — Wego works only with the PPC model. Although anyone is welcome to join it, you will normally require a website to start earning.
How Much Can I Earn?
Your earnings depend directly on the amount and quality of the traffic you send to the brands' website. Wego does not pay you a commission for actual bookings, but pays you for so-called exit clicks. An exit click is considered valid when a visitor who follows your affiliate link has not only opened the Wego search results, but has also clicked one of them and gone further to one of the partner sites, such as Booking.com.
Most affiliates earn $0.05 to $0.40 per flight click and $0.20 to $0.80 per hotel click. Each affiliate's conversion history is tracked, so the more visitors you get paid for who actually make a purchase, the higher your commission.
The benefit of such a model is that you get paid even for those visitors who fail to book a hotel or buy a flight ticket. Yet you must realize that if your traffic is good enough, you may earn more by getting paid a significantly higher commission for each actual transaction rather than receiving several cents for each single click.
At the same time, if the quality of your traffic is poor, your commission rate will decrease and eventually your account may be banned for bad traffic.
Who Can Participate?
Wego welcomes anyone to join. You may use your own website or drive traffic directly to the affiliate network via direct links. Blogs and forums are also welcome. The main criterion is that the website should have relevant traffic, people who are currently looking for a place to visit and who are ready to book a hotel or purchase a flight ticket. They show high click-through and conversion rates.
PPC arbitrage will earn you hardly anything in this model, as the price per click in the travel niche is rather high, while the percentage of people who open your ad, go to the Wego search results and choose one of them seems to be minimal. (However, if you are a PPC guru, this method may still be worth giving a try.)
No spam or fraud is allowed — you may not click on your own ads.
Which Tools Does Wego Offer?
Wego offers several affiliate tools so that you can determine what converts high and gives higher revenue.
Search forms
Text links
Banners
White Label
Fee-based API ($1,000 annual fee)
How Do I Get Paid?
Wego pays either via PayPal or by a bank transfer. The payments are made between the 15th and the 20th of every month. You get paid for the earnings you have made two months beforehand, which means that money credited to your account in June will be paid in August. The minimum amount required to proceed with the payout is $100 for PayPal and $500 for bank transfer.
4. Skyscanner Partner Program
Skyscanner specializes in flight tickets. In addition, it offers a car hire and hotel partner program. Skyscanner pays commissions based on its generated revenue.
How Much Can I Earn?
Skyscanner is a metasearch engine that works worldwide and is available in dozens of languages.
In 2020, the Skyscanner affiliate program underwent changes. If earlier, the company paid for a click-out (driving users to buy tickets), Skyscanner has now switched to a new model:
~80% of traffic is paid for purchases (classical CPA model)
The rest (if Skyscanner itself cannot track if the purchase was made) is paid for click-outs.
This model is still attractive. In fact, most other affiliate programs operate on this model.
Most Skyscanner affiliates earned before $0.15 to $0.25 per exit click and now get 20% revenue. The default exit click price was multiplied by the traffic quality score, which ranges between 0 and 1 and is based on several factors. Its aim is to control the quality of your traffic: the more clicks that result in actual transactions and purchases, the higher quality the traffic is. Poor-quality or spammy traffic may result in your commission being significantly decreased; for example, with a traffic quality score of 0.10, you will get only $0.01 to $0.03 per exit click.
One of the disadvantages of Skyscanner is that, if the service believes your traffic is of poor quality, your account may be blocked without you receiving the money you've earned, even if that money is already credited to your account. With that in mind, you need to have really targeted and relevant traffic if you want to succeed.
Who Can Participate?
Skyscanner welcomes webmasters who have sites with a lot of traffic. Smaller websites may install their search form or an ad and even drive some traffic to the affiliate program, but the account will not be credited if they work with Skyscanner directly.
Yet there is a solution even for smaller websites. If your website earns less than £1,000 per month, you will have to use Commission Junction or Tradedoubler partner networks to connect to Skyscanner and receive your money. Generally speaking, it may be difficult to connect to this partner program and start earning, although large travel-related sites with many visitors may still want to give it a try.
Which Tools Does Skyscanner Offer?
Skyscanner offers several standard affiliate tools.
Travel widgets
Text links
White Label
API
How Do I Get Paid?
As Skyscanner works closely with a number of partner networks and has thousands of offers, the payment dates and minimal amounts depend on the precise offer you choose.
Also, the conditions — including the commission rates — vary from country to country. Skyscanner pays via PayPal and bank transfer. You can find more detailed information in the member area.
5. Kayak Affiliate Program
KAYAK is one of the largest travel brands and is the main source of flight tickets for people around the world. You can earn with the KAYAK affiliate program via the KAYAK partner network.
The mission of KAYAK is to make it easier for everyone to experience the world. KAYAK has been revolutionizing the travel industry since 2004 and is currently a leader in the US and over 20 other markets.
In 2013, KAYAK was acquired by Booking Holdings, the world leader in online travel. As part of a global travel network, the company gets more than six billion travel searches per year.
On the site or mobile app, customers can book flights, hotels, cars, and other travel services. Affiliates can earn on most bookings by joining the KAYAK partner network. This network has a strict moderation process, which only 15,000 partners have passed.
KAYAK's network gives partners access to all KAYAK brands, such as HotelsCombined, Momondo, and others. Partners get access to all of them in a single platform, where affiliate tools and detailed statistics are available.
All partners have access to basic tools, including links, banners and widgets. Only partners with massive traffic volume can access the API and receive dedicated help from the team to customize the product to suit their unique needs.
6. Momondo Affiliate Program
Last but not least is Momondo, a "free, independent and inspirational global travel search site", as it calls itself. Momondo is somewhat picky when it comes to the websites it accepts, but you can work with them — and succeed — even if you do not have your own website. Momondo works only with flight tickets.
How Much Can I Earn?
Momondo works on a revenue share model, as Travelpayouts does, and pays $0.65 (desktop and tablet) and $0.45 (mobile) CPA for each user clickout from its flight search results page. From time to time, it arranges campaigns with even higher commission rates, which is, of course, a great benefit to affiliates.
Who Can Participate?
Momondo welcomes any type of websites, but states that travel, destination-specific or holiday websites usually perform best. Also, it won't accept forum traffic, nor will it accept blogs that are not being updated on a regular basis. At the same time, even small but live blogs are welcome. Under-construction sites (even partially complete ones) are also not accepted.
E-mail newsletters can be used to drive traffic to Momondo, but they must be approved by the moderators first.
You may not use social media networks, PPC bidding and some other traffic types.
Which Tools Does Momondo Offer?
Momondo has a rather poor set of affiliate tools, although they may still work well on a number of sites.
Banners
Text links
Deep links
HTML links
Statistics are displayed on a seven-day delay, which may also be considered a disadvantage.
How Do I Get Paid?
The minimum payout amount is as low as $20 and the payments are made twice a month — after the 1st and 15th days of each month. For example, the money credited to your account between the 1st and the 15th of April will be paid to you after the 1st of May.
So, What Do I Choose?
Once again, it is better to try several affiliate programs to see which one performs better with your traffic and skills. Wego pays per exit clicks and has a two-month delay before you receive your money, while Skyscanner may block your account if it deems that you are not good enough, so you must provide it with really good traffic to keep going.
Travelpayouts and Momondo work on the revenue share model and pay you for actual transactions. Both provide a good commission rate on the market, but Travelpayouts accepts more types of traffic and has a significantly wider set of tools.
Flights Affiliate Programs Short Comparison
| | | | | | | | |
| --- | --- | --- | --- | --- | --- | --- | --- |
| Affiliate program | Flight bookings | Hotel bookings | Tools available | Real-time statistics | White Label | API | Referral program |
| Travelpayouts | + | + | 9 | + | + | free | + |
| Wego | + | + | 5 | + | + | $1000/year | – |
| Skyscanner | + | + | 4 | + | + | free | – |
| Momondo | + | – | 4 | – | – | free | – |
| KAYAK | + | + | 5 | – | + | free | – |
Are the Airline Partner Programs the Best Option for Travel Sites?
First of all, it's very hard to join them as only a few carriers have their own airline partner programs, for example:
They usually demand high requirements of a new partner, and also high limits for the first payout. All of this is limiting your possibilities, but, as we have already said, you should always try new ways of finding better options for your travel blog.
The airline option could be really good if you have traffic that is related to their brands, or visitors who are focused on the main destinations offered by those companies. All of the individual partner programs have their own rules, and usually offer a maximum of 2% of the net revenue for partners.
Such programs with narrow margins can hardly be regarded as the best for travel sites, but you might want to consider them if your site attracts suitable traffic. And they have one more potential advantage – people may have developed loyalty to a brand and, hence, more trust in the official website. All of this could make your job of selling easier.
And don't confuse such offers with simple loyalty programs which might be offered to customers and affiliated carriers with some alliance, like OneWorld or SkyTeam. Loyalty programs come under separate terms and are not related to the affiliate market.
If you want to learn how to monetize your travel content with flight affiliate programs as much as possible, be sure to download our free special guide. This guide will teach you the intricacies of earning in the flight ticket niche, namely:
How to choose the best flight affiliate program
How much money you can make in the niche
Who can earn by promoting airline offers
What type of content to create for your promotion
How to integrate flight offers into your content
And much more
The guide will be useful to travel bloggers, vloggers, social media influencers, and basically anyone interested in monetizing their travel content.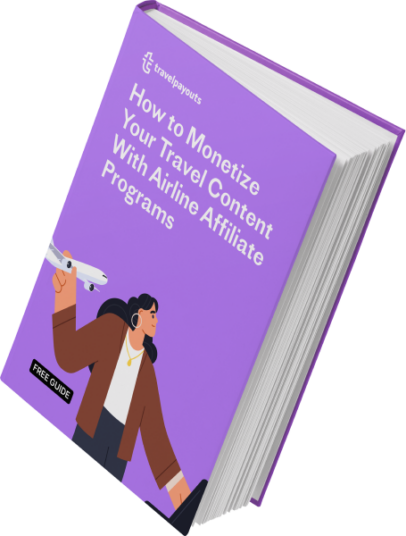 Start earning on flights
Use our free guide to add flights to your affiliate marketing strategy.
Start earning on flights
What Is the Best Flight Partner Program?
Generally, flight partner programs offer a number of other services as well, such as hotel booking or car rental. Here we focus mainly on airline tickets so we will refer to them as flight affiliate programs in this post. There are a number of travel affiliate programs and networks online nowadays, so it is vitally important to choose the proper one to work with.
We have selected five reliable brands that offer a number of advantages, provide a high revenue share and are equally good for newcomers and experienced webmasters and advertisers. Travelpayouts, Wego, Skyscanner, KAYAK and Momondo are the major players on the modern flight affiliate market.
These brands use meta-search technology to provide users with the most affordable prices. After a user sends a search query, they forward it to several online travel agencies (OTAs) at once, collecting all the results on a single search results page. They are flight tickets search engines and no bookings are made on their travel sites, so adding your own markup is not possible.
Therefore, the user saves a lot of time without having to look for the lowest price among all the sellers on the web — the meta-search engine does it by itself. This is one of the major reasons why such meta-search engines are so popular nowadays (and why your conversion rate will probably be much higher than if you were to simply drive your traffic to the particular ticket seller).
Selecting the partner program to work with is not only about theory. It is a good idea to try more than one and get some practical experience: compare the conversion rates, test various marketing tools and ad formats, and use different strategies. Be sure to review the conditions offered by the various affiliate programs above to understand all the pros and cons.
As well as flights, there are many others – hotels, rental cars, and so on. All of them provide a pool of the affiliate programs for travel sites. But be warned – a partner program flight one or other, that is good for someone else doesn't mean, that option, or scheme, is the best one for you. You must be diligent in your search to find the right, and most profitable, one for you. We at Travelpayouts aim to provide you with the outstanding affiliate experience ever.
On our blog, we share the success stories of bloggers who run travel blogs and earn with partner marketing. It's not uncommon for our posts to become step-by-step guides to action with cool tips for beginners and advanced bloggers alike. For example, in one post, the authors of the blog VirginiaTravelTips.com, Megan Starr and Aram Vardanyan, shared how important it is to consider the needs of travelers when choosing partner programs and testing different brands.
We realize that nobody is perfect and that there is always something that can be improved. Answers to the most frequently asked questions are available at our Help Center, where you can also drop us a line, ask a question if something is unclear or suggest an improvement. We value our partners; maybe that is one of the main reasons why they choose us.
Join the Travelpayouts Partnership Platform
Access exclusive tools and the best travel affiliate programs, including flights, hotels, car rental, insurance, tours and activities, all in one place.
Join Today
395,000 partners already trust us
120 travel brands
$53M+ total paid since 2011