Meet the Star Bloggers Who Shared Their Tips With Us
Matthew Kepnes
Matt Kepnes, better known as Nomadic Matt, is a prominent figure in the world of travel blogging. After a trip to Thailand in 2005, he was inspired to quit his job and travel the world full time. Since then, he has been sharing his adventures and travel tips on his blog Nomadic Matt. His practical advice and budget-friendly travel strategies have made him a go-to resource for travelers worldwide.
He has written several books including the New York Times bestseller "How to Travel the World on $50 a Day". Matt is also the founder of TravelCon, an annual industry conference, and runs a non-profit organization called FLYTE, which empowers students from underserved communities through transformative travel experiences.
Nomadic Matt's success story is a testament to his passion for travel and his commitment to helping others achieve their travel dreams. His work has been featured in major publications like The New York Times, CNN, BBC, and The Guardian, further cementing his status as a leading voice in travel.
Shelley Marmor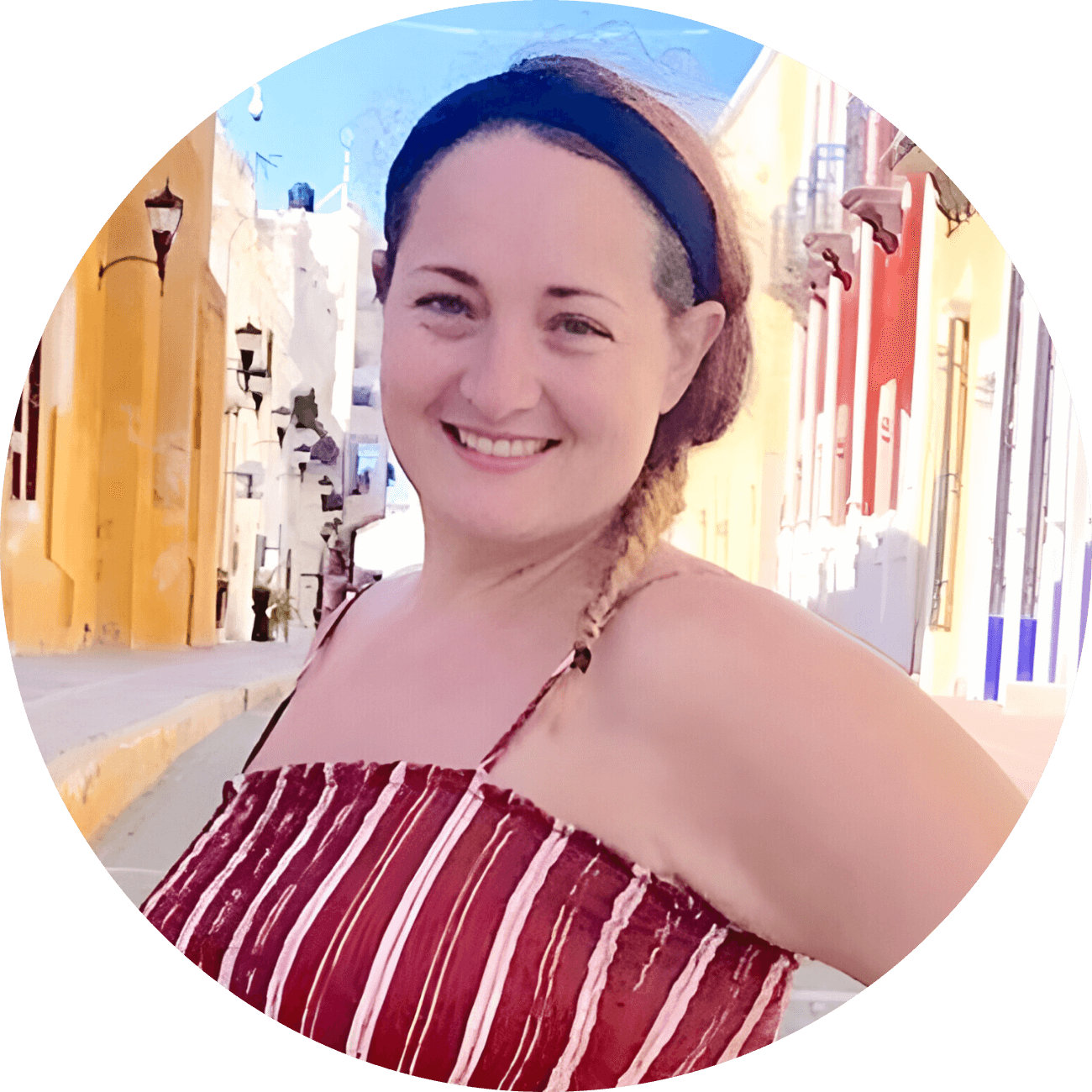 Shelley Marmor is a six-figure travel blogger, known for her insightful and accessible blog, Travel Mexico Solo. Since moving to Mexico in 2018, Shelley has made it her mission to explore the country in-depth, visiting 19 out of its 32 states, many times as a solo female traveler. This immersive experience has earned her the title of a true 'Mexpert' among her readers.
Shelley's Travel Mexico Solo blog is a treasure trove of practical advice for fellow travelers. She offers guidance on a range of topics, from renting a car and securing travel insurance to tips on staying healthy and traveling solo. Her blog also features detailed reviews and recommendations on various Mexican destinations and attractions.
In addition to Travel Mexico Solo, Shelly now has 5 other blogs, including Travelblogging101.com, which helps aspiring travel bloggers.
Jessie Festa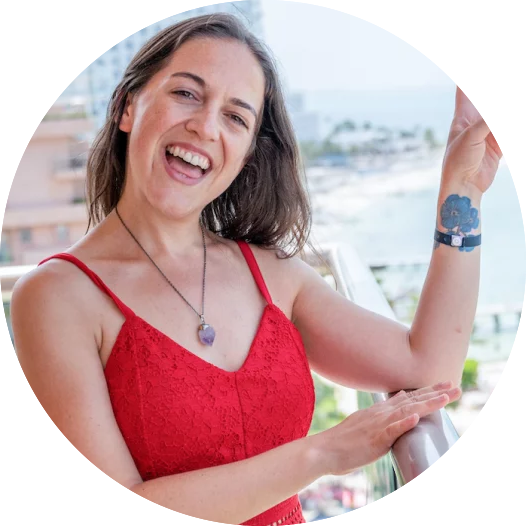 Jessie Festa is the solo female travel and offbeat adventure specialist behind the popular blog, Jessie on a Journey. She has successfully turned her passion for exploration into a thriving career, inspiring others to embark on their own journeys. Having visited more than 50 countries and with over a decade of travel experience, Jessie shares personal stories and practical tips about solo travel, local culture, and immersive experiences.
In addition to running her blog, Jessie also manages Epicure & Culture, a food and cultural travel blog, and teaches online blogging courses. Her passion extends to teaching those wanting to monetize their love for exploration through travel blogging. Whether you aspire to traverse the globe full-time or just want to add an extra income stream alongside your 9 to 5, Jessie firmly believes that you can run a profitable travel blog while keeping your day job.
Looking at the successes of our speakers, it's impossible to assume that they have experienced any problems in the travel blogging industry. But they haven't. And the fact that they've experienced all the problems of blogging firsthand has helped them give the most practical and honest advice. 
1. Stop Comparing Yourself to Others
According to a Travelpayouts study, comparing yourself to other bloggers is the Number 1 cause of burnout. It is also one of the reasons you're likely not getting the results you want.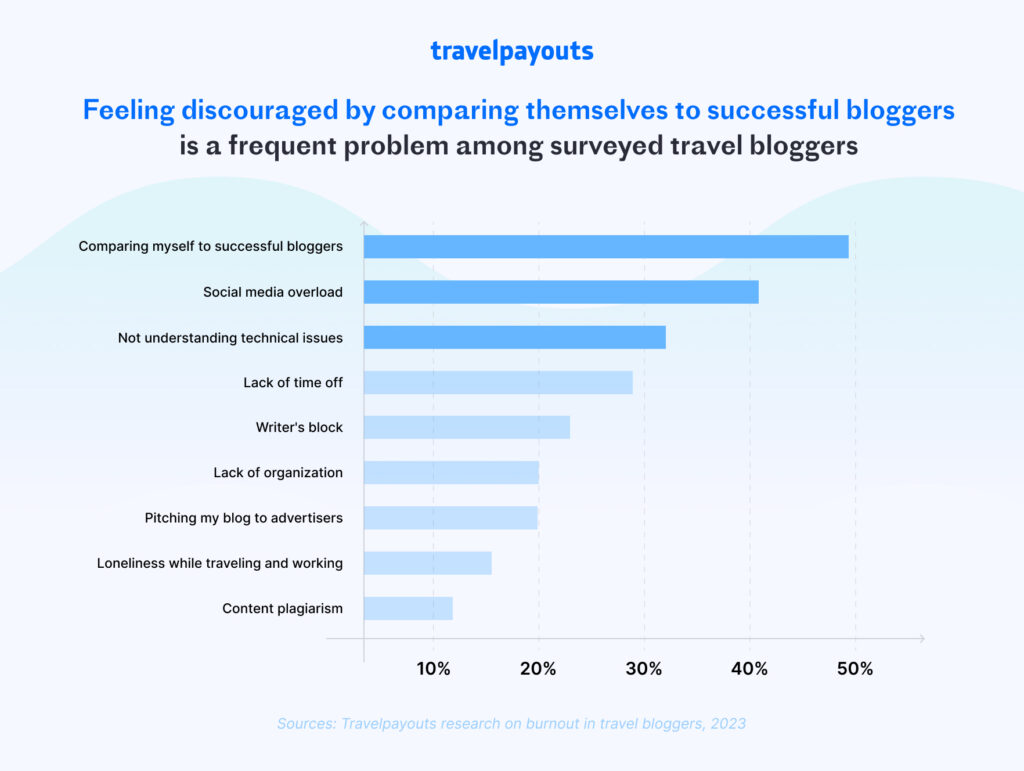 If Nomadic Matt wasted time constantly comparing himself to others, he probably wouldn't have been able to blog for 15 years and become a true travel superstar.
Nomadic Matt in his own words:
"I don't concern myself with what others are doing but rather focus on my own progress. Sure, there might be a momentary pang of envy when someone's video goes viral, but then I move on. I'm more concerned about analyzing my Google numbers and figuring out why they fluctuate. Ultimately, the work you put in will bring income, and comparing yourself does nothing to boost that. It's just a distraction."
Shelley Marmor advises (check out the video) unfollowing content that makes you feel inferior to others. You won't miss anything, and you'll free up energy and time to focus on your own accomplishments. It's ultimately a decision you need to make for your mental health.
2. Deal With Writer's Block
You won't find a single blogger who hasn't experienced writer's block. Shelley Marmor may have six blogs, but even she's not immune. Based on her experience, she's put together tips (check out the video) to help you overcome writer's block.
Progress, Not Perfection: Your goal should be progress. Perfection doesn't exist, so focus on getting work done.
Take a Break: If writer's block feels overwhelming, stop writing. Engage in light tasks, take a walk, or even make yourself a snack.
Start With Just the Outline: Instead of committing to an entire post right off the bat, start with just the outline.
Meditate and Visualize: Close your eyes and visualize yourself typing on the computer. This will stimulate your brain and could jumpstart the writing process.
Engage in Free Writing: Write anything but your blog post. It could be something random about your worst day, the best meal, or where you want to be in five years. The goal is to stretch your writing muscles without the pressure of creating a blog post.
Find Post-Topic Clusters: This technique involves expanding on topics within your existing posts. For example, if you have a post about "Best Tours in Paris," you can create separate posts for each tour type mentioned.
3. Use Special Techniques to Stay Organized
​​According to a Travelpayouts study, lack of organization is another big reason for burnout. If you procrastinate all day or waste time on unimportant tasks, the guilt of a wasted day will haunt you in the evening and prevent you from fully resting.
Jessie Festa discussed the system she developed that helped her stay organized (check out the video).
Step 1: Audit Your Tasks
Grab a pen and paper and write down your annual, quarterly, monthly, weekly, and daily tasks. The goal is to find opportunities to cut and combine tasks. Consider which tasks are not helping you reach your unique business goals. For instance, if you're aiming for passive income through affiliate marketing and Mediavine ads, you don't need to master every single social media network. Instead, focus on tasks that will help you achieve your goals, like SEO, content planning, and link building.
You can combine tasks, too. Your long-form content like blog posts, podcast episodes, or YouTube videos can be dissected into short-form content for social media. Vertical videos can be tweaked and shared across platforms like TikTok, Instagram, and YouTube shorts. Plus, the audio from your YouTube videos can be used for your podcast.
Step 2: Streamline to Save Time
The next step is to streamline your remaining tasks. Look for what can be automated. For example, make sure your opt-in freebies and resources are automatically shared. Plugins can automatically populate your opt-in freebie callouts in your blog posts. On social media, AI chatbots can help automate the sharing of free resources.
Also, consider automating the onboarding of new email subscribers and customers with an automated email sequence. Sales can be automated, too, with evergreen sales funnels. For instance, a limited-time offer on a Thank You page post-opt-in could lead to automatic sales. Moreover, sharing new blog posts can be automated with push notifications.
Step 3: Prep for Success
Lastly, prepare for success. Create an annual content plan instead of deciding what to write about on a daily basis. Taking a few hours to plan your content for the year can save you a lot of time and stress in the long run.
For a complete rundown of tips from Matt, Shelley, and Jessie, and to listen to their responses to listener questions, be sure to watch the full webinar. It's a fantastic resource for combating burnout and achieving blogging success!