About Eatwith

Eatwith is an online platform offering the world's largest selection of culinary experiences and connecting foodies and travelers with local hosts from over 130 countries. Guests can attend all kinds of cooking classes and workshops from the comfort of their homes and invite friends to reconnect.
The platform was launched in 2014 by Jean-Michel Petit and Camille Rumani, who shared a common passion for authentic food and immersive tourism and decided to spread the magic of social dining with a larger community. With Eatwith, guests are invited to pull up a seat at a dinner party in an elegant Paris home, enjoy an Italian feast with a Roman family, take a cooking class in Tokyo, or marvel at the Manhattan skyline over a rooftop brunch.
From home-cooks and food lovers to MasterChefs and Michelin-starred chefs, Eatwith hosts all share one special ingredient: a passion for bringing people together through food. Even though the pandemic has put most travel experiences on hold, Eatwith chefs are now broadcasting live from their homes around the world.
Today, Eatwith boasts an average rating of 4.9 (out of 5), as well as over 29,000 favorable reviews. Clients will enjoy an easy-to-use platform available in seven languages (English, French, German, Spanish, Italian, Chinese, and Hebrew), which offers multilingual classes and customer support.
Guests can book an experience on Eatwith in three simple steps. First, they choose a destination, look through available events, and select the one they want to join. Next, they choose the dates and request to book so that the host receives a notification and confirms their availability. Finally, guests join the event.
Eatwith experiences include cooking classes, workshops, and activities. A cooking class is a step-by-step class led by a host in which guests follow a recipe and prepare ingredients together. A workshop or activity isn't centered around cooking and will be about discovering something new, whether it be a skill, custom, culture, or delicacy. For example, a food walk with beer and wine in Porto.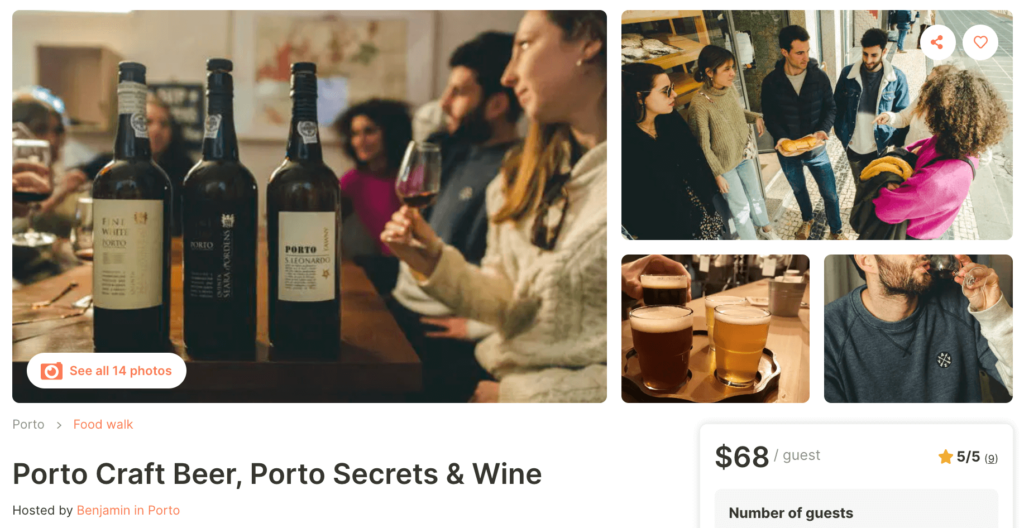 Advantages of Eatwith for Customers
A large selection of online culinary experiences
Thousands of reviews from satisfied guests
Free cancellations up to 48 hours before the start of the event
A dedicated support team available Mon-Fri 10AM-4PM CET
High customer satisfaction rate
Eatwith Affiliate Program
At Travelpayouts, you can join the Eatwith partner program and earn money by promoting online and offline cooking classes and workshops to your audience. You can join the Eatwith program if you own content, provide cashback, offer coupons, or operate a travel agency. You can even save on your own trips with Eatwith.
Eatwith partners can earn a 6% commission on conducted bookings. The reward is marked as "Paid" after the date of the event has passed (as long as the order has not been cancelled).
The program is available in seven languages (English, French, German, Italian, Spanish, Hebrew, and Chinese). Pre-approval is required to join.
Advantages of the Eatwith Affiliate Program
6% commission on every booking
€65 average order value
Outstanding guest satisfaction and thousands of customer reviews
Seasonal deals and offers
High guest repeat rate: Eatwith clients book four online experiences a year on average
A large selection of partner tools is available, including ready-made partner links, creative banners, and a deep link generator, which you can use to turn long URLs into short links with the brand's name without any technical parameters. In addition, you can leverage the experiences widget on your website. This widget will help your audience compare several experiences from different brands and choose the best option. You can learn more about widgets in our post
You can join the Eatwith affiliate program with pre-approval through your Travelpayouts personal account.
Eatwith Target Audience and Booking Statistics
2 out of 3 clients are millennials
2 out of 3 bookers are women
Common interests of Eatwith clients are travel, food, cooking, as well as wine and spirits
Most frequent clients are:

Women looking to organize a unique experience for their partner (couples booking)
Solo bookers who want to try something new
Companies who want to organize group events, such as team building events, and group bookings from C2C audiences who want to organize a private event for their family and friends

Bookings are made equally on mobile and desktop devices
Most bookings are generated by organic searches and direct access
55% of bookings are made on the same day the user visits the platform, the other 45% are made 12 to 30 days after the visit
Breakdown of Eatwith traffic: 55% organic, 10% email, 6% social media, 5% referral websites
A good fit for Eatwith would be any blog that specializes in food and drink, wine and spirits, lifestyle, activities with children (parent blogs), activities for couples, team-building activities and travel, etc.