How It All Began
I have a marketing degree from UNC and before earning money online, I was a mortgage broker making a solid six-figure income in the red-hot real estate market.
In 2006, a year before the mortgage crisis hit the USA, I attended a mortgage industry conference in Phoenix, Arizona. One of the keynotes really stuck out because his presentation was not mortgage-related at all, but in fact about internet marketing.
In this presentation, Sean Roach discussed making money on the internet as an affiliate marketer. This was the first time I ever heard about affiliate marketing.
From everything I knew about marketing, I immediately recognized the enormous potential of this online earning model.
But I already had a great job, so I filed it away for a later date. I would have never guessed that this date would come about a year later.
The housing market bubble combined with subprime mortgages caused the real estate crash of 2007-2008 which put nearly all of us out of work. The company I worked for quickly folded and we were all laid off.
Following this painful event, I decided to start my own marketing business and focused on the online model that I learned about from Sean in Arizona.
Fast forward to today, I have several websites:
I enjoy the unlimited creativity that goes into website design and blog writing. I consider the craft of creating a good blog to be a combination of creative writing and art.
About Highpayingaffiliateprograms
My flagship website is highpayingaffiliateprograms.com.
When I discovered the world of affiliate marketing, I decided to target the high-ticket end of the affiliate market. But first, I needed some products and services to promote.
During my research, I discovered very few resources for high-end affiliate programs. Furthermore, the quality of the existing resources was questionable, so I decided to fill that need and create my own directory.
My goal was simply to create a high-quality website featuring big-ticket affiliate programs in as many categories as I could find.
Unlike the other resources out there, mine would have programs that were fully vetted and researched, with up-to-date content, and tips to promote them.
The result was a resource that allows my audience to quickly find the programs they are looking for, the payout terms they offer, and a direct link to sign up for each one.
Monetization Methods
I earn income from affiliate networks and companies through paid placements, advertisements, and promotions.
In addition, I earn direct affiliate income by promoting automation tools and training programs to other affiliates.
My referral earnings account for approximately 30% of my total income. As with any other method of monetization, it has both pros and cons. The main ones being:
Con: Over 90% of your referred affiliates never produce a single dollar of income. It's definitely a numbers game.
Pro: Finding a few super affiliates who pull all of their weight for you.
How to Earn on Referral Programs
To date, I have driven hundreds of thousands of referrals to companies all over the world. For the Travelpayouts partnership platform alone, I have recruited more than 1,000 new affiliates.
7%
Your cut of referred partners' earnings
2 years
How long your referrals will bring you money
Travelpayouts Referral Program
Learn more
How to Choose a Referral Program
The perfect referral program for me is one that has:
An excellent product or service with great support
A long-term partnership opportunity
A very good track record
High payouts
The most successful referral programs can be found in what I call the "Big 3 Verticals":
Money is, and always will be, flowing into these three broad evergreen categories.
The travel vertical fits neatly into all three of these categories.
How to Get Referrals Using SEO
My primary source of traffic is organic through SEO.
When I first started my website, I didn't have a budget to spend on buying traffic, so I was forced to learn SEO. I'm glad I did, since it is such a valuable, marketable skill.
I believe understanding search intent and keeping people on your pages (user experience) are the two most important elements of SEO today.
SEO is challenging and competitive, but also very rewarding when you get it right.
Making search engines happy is the key to attracting valuable organic traffic to your website. Since the algorithms are always changing and evolving, you have to keep up with it by constantly improving your website following the clues and guidelines Google gives you.
A good user experience that solves the search intent that each site visitor has is the key to it all. Good page speed, internal and external linking, and clean coding also go a long ways to scoring high rankings on Google.
One of the best pieces of SEO advice that I've ever heard is that quality is better than quantity. In my experience, that advice holds true for content, backlinks, and keywords.
How to Promote Goods and Services
First of all, you should do your homework. You have to understand the company, the products and services, and the offer.
What makes people want to buy from them? How can you communicate that?
Focus your efforts on promoting the program directly as an affiliate first, and the referral program second. Think of any referred earnings from other affiliates as a bonus to augment your own production.
If you have a website, blog, or review site you need to write about the products and services you are promoting and include both the good and the bad.
Smart readers will sniff out poorly-researched, lazy, or flat-out BS reviews in a hurry and quickly move on to other content.
If you are after organic traffic, you must properly format your content by using the right types of long-tail and semantic keywords in addition to technical elements, such as header and image tags, Q&As, user signals, snippets, etc.
And you should also always keep your content updated. Updating old content and deleting irrelevant pages that are not generating organic traffic will strengthen your content that is.
Travelpayouts Referral Program
The Travelpayouts referral program is at the junction of two appealing niches: money and travel. This will allow you to attract people who will earn on selling travel services.
I joined Travelpayouts back in 2014. In my experience, the main pros and cons of the Travelpayouts referral program are:
| | |
| --- | --- |
| Cons | Pros |
| The travel niche is competitive, so you have to compete with all of the travel bloggers out there (and there are a lot of them). | The commission rates are very high. |
| | You have access to cool promo tools and creatives. |
I love Travelpayouts. It was the very first travel affiliate program that I promoted from my website. Every person that I have interacted with at Travelpayouts over the years has been wonderful to work with. That says a lot.
7%
Your cut of referred partners' earnings
2 years
How long your referrals will bring you money
Travelpayouts Referral Program
Learn more
How to Promote Travelpayouts
I promote Travelpayouts through my blog review and other relevant travel pages on my site. For example, I have an extended review of Travelpayouts that drives many registrations: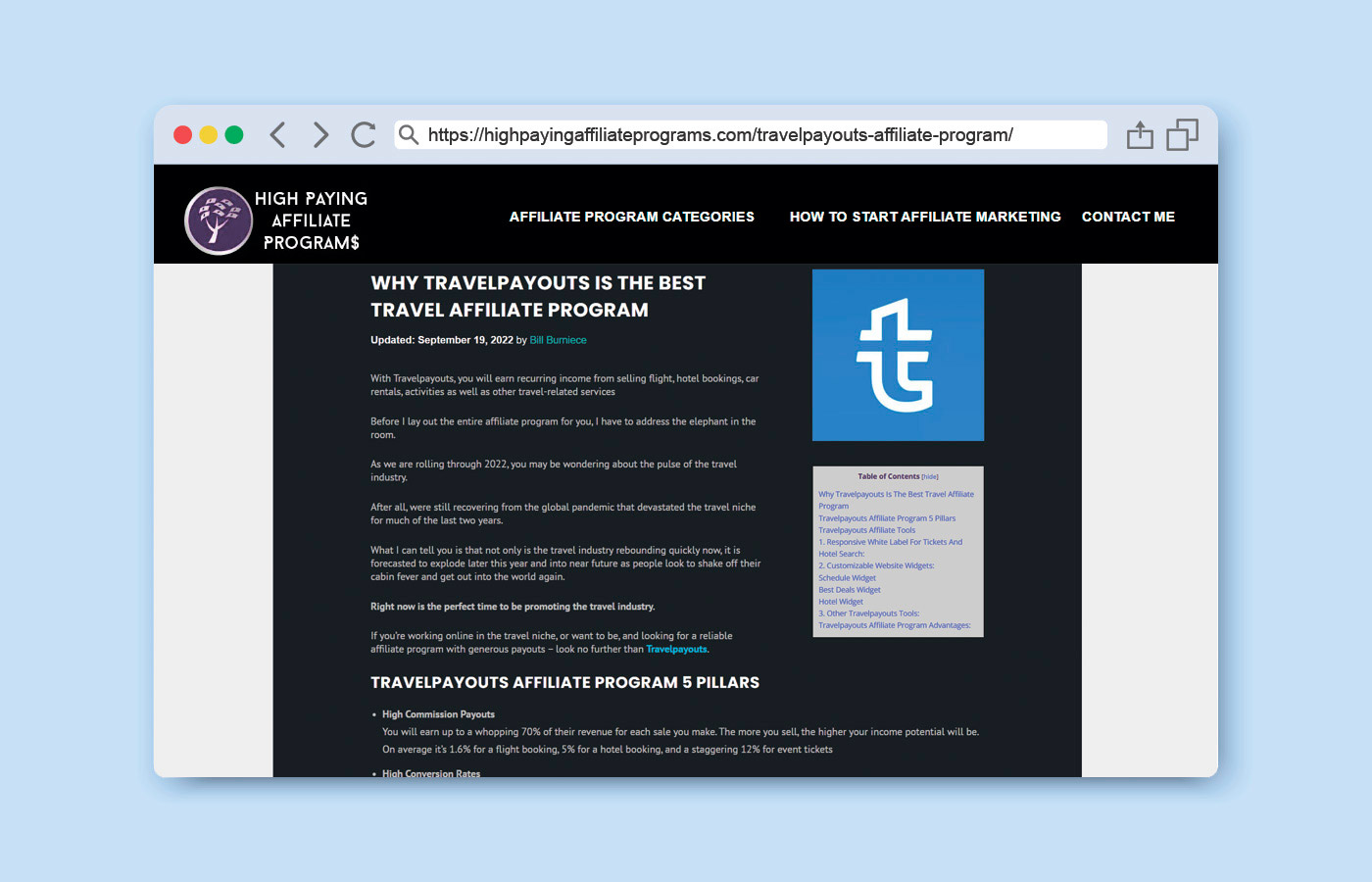 The next source of registrations are my category pages. For example, I rightfully placed Travelpayouts first in my selection of the best travel affiliate programs: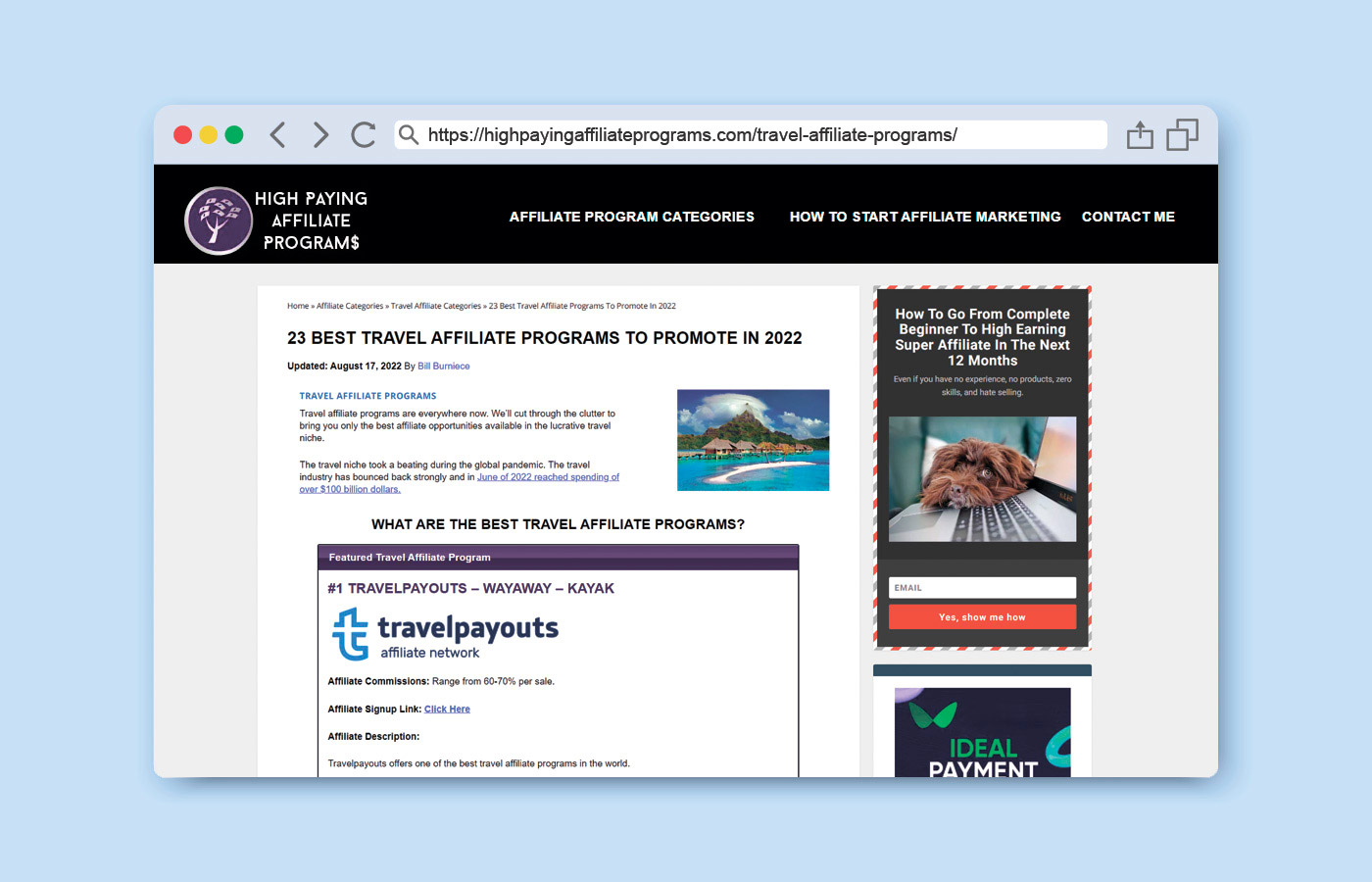 I not only listed Travelpayouts, but all of the company's subsidiaries as well (WayAway, etc.) Each represents a different keyword that you can target to expand your reach online.
Key Takeaways
To achieve optimal results, before promoting any goods or services, you have to really understand the company, the products/services, and the offer.
To choose the right referral program, look at the company's reputation first and the referral program second.
The perfect referral program is one that has a great product or service, long-term partnership opportunities, and offers high payouts.
Referral programs that represent the three most successful and lucrative verticals are: money, health, and relationships.
The travel niche is competitive. You have to be ready for the tight competition.
Among the travel referral programs, Travelpayouts offers very high commissions and high-converting ready-made creatives.
To earn solid income on Travelpayouts referral programs, do not only list Travelpayouts, but add reviews and recommendations of any travel affiliate program available on the platform (i.e., the WayAway Partner Program).
SEO can be your main source of traffic and referrals.
Improve your website's page speed to achieve better positions in the Google search results. Choose faster hosting, clean up code, and follow the Core Web Vitals as closely as possible.
—
Want to share your story? Travelpayouts welcomes all bloggers with any travel-related experience. Write to us at an@travelpayouts.com with the following subject: "Story for the Travelpayouts Blog".