Pinterest Demographics
When picking a platform for your business, you should take into consideration whether it aligns with your audience and marketing goals. So, before you start thinking about how to monetize Pinterest, make sure to check its main audience. Here are some figures which may be useful for a marketer, according to Omnicore:
Pinterest has over 478 million users per month.
US citizens account for 50% of the audience on Pinterest.
The overall number of Pinterest pins is over 240 billion.
More than 2 million Pinterest users save shopping pins on their boards every day.
The majority (60%) of the new Pinterest signups are women.
The market value of the platform is $13.7 billion.
On average, users spend about 14.2 minutes on Pinterest per visit.
84% of users make purchase decisions on Pinterest.
Half of Pinterest's audience makes over $50,000 a year.
What Makes Pinterest Good for Marketing?
Many people perceive Pinterest as a creative outlet and are skeptical about running a business on the platform. So, what makes Pinterest a perfect monetization channel?
Today, Pinterest is one of the fastest-growing social media platforms.
Pinterest is the only social media network offering visual search.
Its built-in shopping feature makes the process of converting visitors into sales much quicker.
Pinterest is an excellent tool for driving traffic to your website.
You can easily integrate Pinterest with your website and other social media networks, for example, Facebook or Twitter. This can help you get more visitors' eyes on your website and accounts.
You can benefit greatly from inbound links from the platform as every pin contains a link leading back to the source of the image.
Pinterest is perfect for discovery. You can easily see what's trending in your niche.
Pinterest is visually-focused which makes it more appealing for the human brain.
Engagement rates are high on Pinterest, which makes building a rapport with your audience much easier.
Can You Make Money on Pinterest?
Thanks to Pinterest's wide and well-off audience, it is no wonder that more and more bloggers are exploring monetization opportunities on the platform. If you are looking for ways to make money on Pinterest, the good news is that there are plenty.
To run an efficient marketing campaign on Pinterest, it is important to learn how to create and optimize beautiful pins that will capture the attention of your audience. Exploring the platform's communities and networking will help promote your pins to a larger audience. From there, you can monetize your traffic by directing it to your website, affiliate offers, or other platforms.
How to Make Money on Pinterest
With its growing popularity, great marketing system, and built-in shopping features, Pinterest offers plenty of opportunities for marketers to make money. Here are the most common ways to earn on the platform in 2023.
Driving Traffic to Your Blog
Once you've created a top-notch website or a blog, it's time for you to monetize it. There is a lot of traffic on Pinterest, and its users are eager to engage with your content. So, make the most of the opportunity to drive Pinterest traffic to your website.
Create your blog board. Whenever you publish a blog post, make sure you pin it to your Blog Board. To get more eyes on your pins, add spot-on, informative descriptions. Make sure your pin images are high-quality, click-enticing and contain text.
Post on Pinterest group boards (boards to which other pinners can contribute). When choosing one, make sure it resonates with your values and with your market. Joining these groups can garner a lot of attention for your blog and boost your following. You can also create your own Lifestyle Boards.
Make your boards and pins SEO-optimized. Use keywords in pin descriptions, name your board with your blog title, include hashtags in your descriptions sparingly and embed keywords into the alt tags of your images.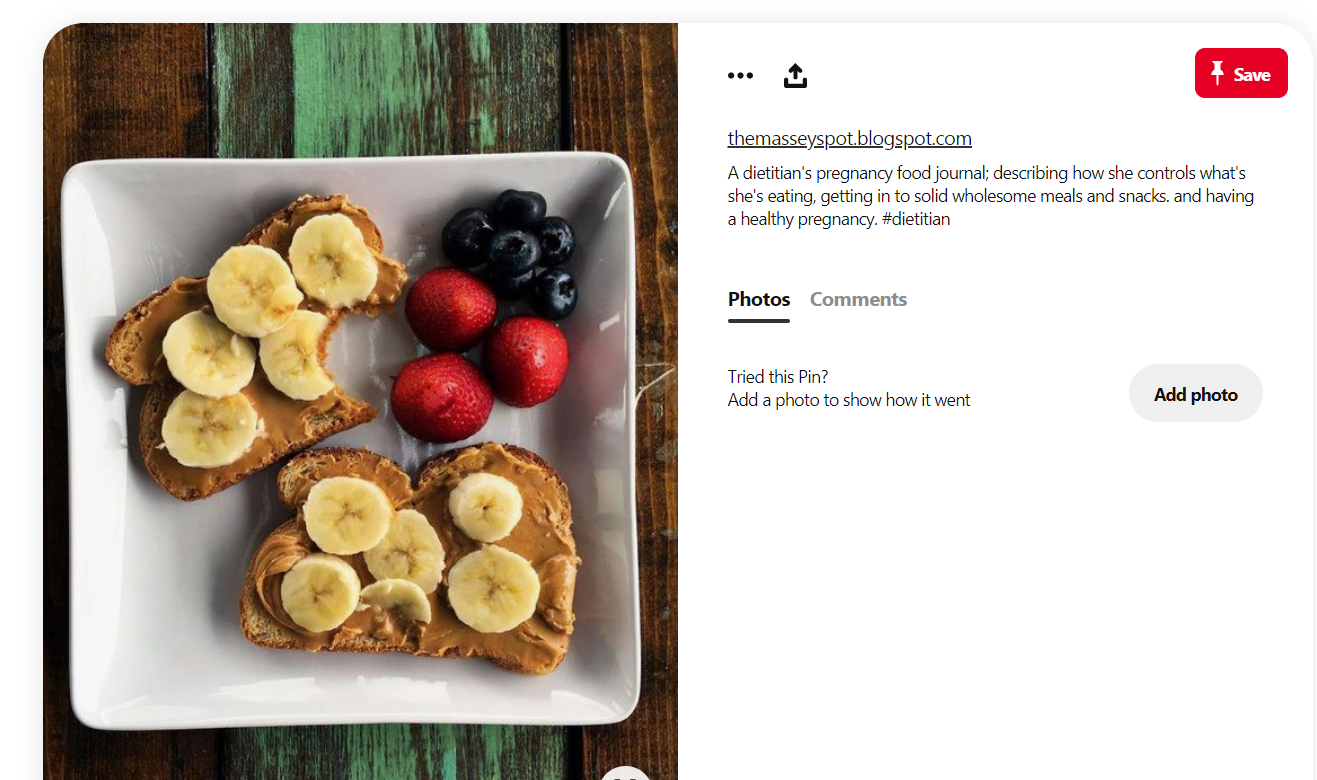 Use contests to drive traffic to your website or blog. Create a contest board for this.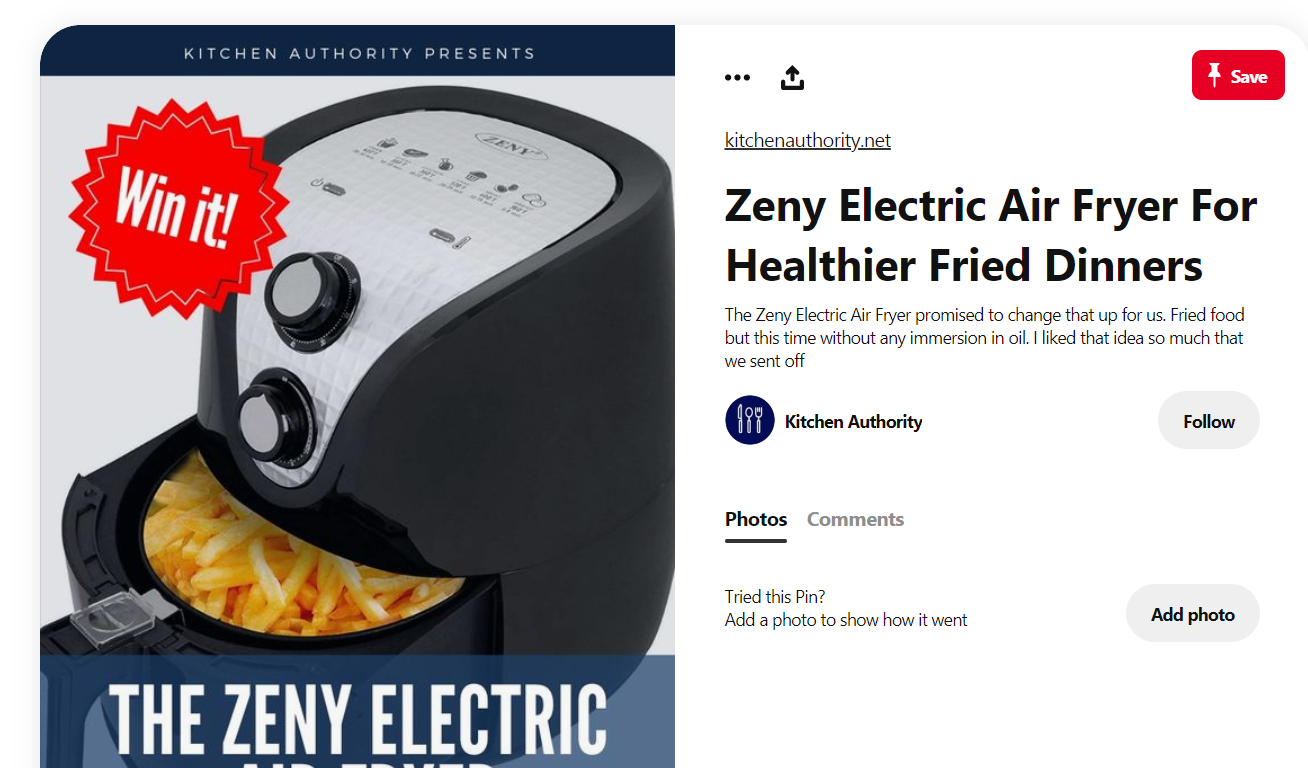 Make sharing easy. For this, embed a "Pin It" button to all your blog posts.
Make the most of Article Pins.
Selling Your Own Products
Pinterest is the go-to social platform if you want to sell products, both digital and physical. What should you do to boost your sales on Pinterest?
Set up your business account. This will give you access to pro tools like analytics and paid advertising.
Study your audience. The better you know who you are selling to, the more likely it is that your pins will strike a chord with them. Besides, Pinterest offers refined targeting options that allow marketers to reach out to the right audience.
Make the most of Shop the Look Pins. They allow users to make purchases hassle-free by just clicking the pin.
Drive sales with a compelling call-to-action (CTA) button.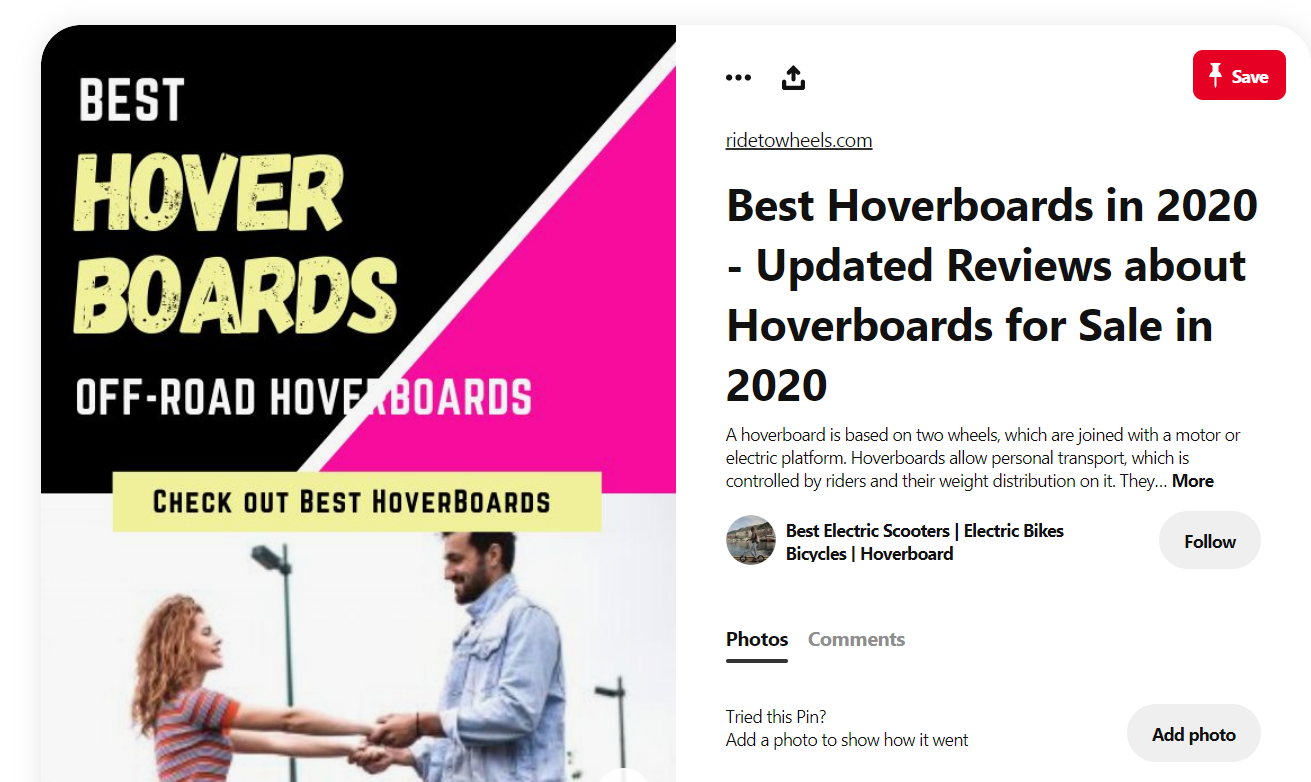 Show your product in use. For instance, you can demonstrate how a customer is using your product.
Provide more information directly on a pin with Rich Pins. There are four types of Rich Pins, including Product, Recipe, Article and App Pins.
Take advantage of user-generated content. Incentivize your customers to post pins featuring your products.
Leverage influencer marketing.
Leverage infographics to demonstrate that your product can solve some pain points of your audience.
Create attention-grabbing images.
Track your campaigns.
Becoming a Virtual Consultant/Assistant
You can establish yourself as an expert in a niche and use Pinterest to promote your services. To achieve this, you should create top-quality content that will provide value to your audience and demonstrate your expertise. For this, make boards on the topics in your niche and give valuable information, tips and advice.
However, don't make your Pinterest venture boring and soulless. Make sure your personality shines through. It'll help you stand out from the rest of the experts on Pinterest. Besides, establishing rapport with your audience and building trust is what really matters on social media.
If you're making a living from Pinterest, you can even become a Pinterest assistant and help people develop their Pinterest marketing strategy and tweak their Pinterest accounts for success.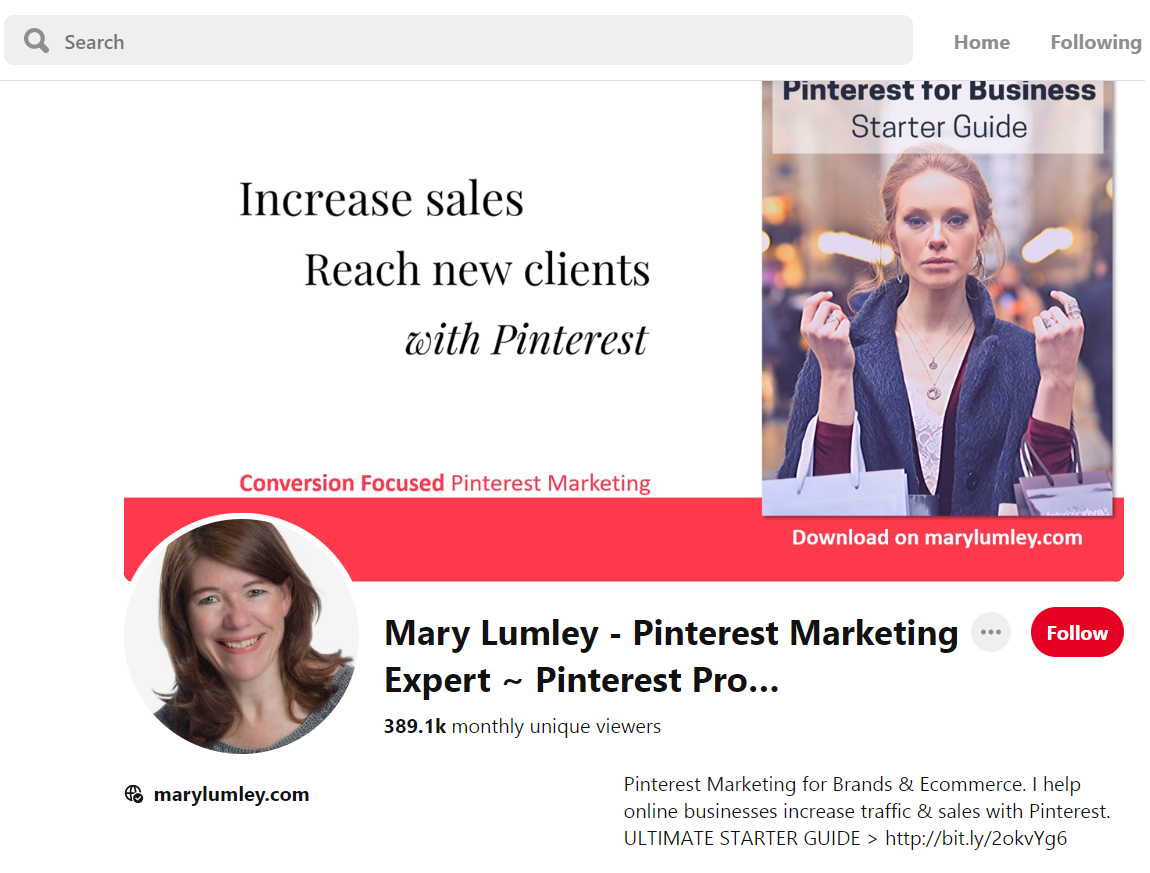 Selling Pinterest Templates, Graphics and Art
Pinterest is one of the most visual social media channels and a source of inspiration for many people. If you're a creative soul, why not make a buck on it? You can sell your art, graphics, templates, designs, etc.
When selling your creative on Pinterest, don't overlook some basic practices such as:
Use keywords in Pin descriptions.
Add a price to every piece you're selling.
Embed a link to your website or blog.
Use boards to create a digital portfolio.
Demonstrate your creative activity in progress.
Build a community. (For this, share other people's pins and comment on them.)
Pin consistently.
Becoming an Influencer
Influencer marketing is a buzz word in online marketing today. This cutting-edge strategy allows brands to strike a chord with their target audience and reach out to more people. What do you need to take off as a Pinfluencer?
Build a massive following. Start by following other pinners in your niche that resonate with you. They might follow you back.
Make sure your content is relevant and search-optimized.
Make group boards.
Create content that garners attention.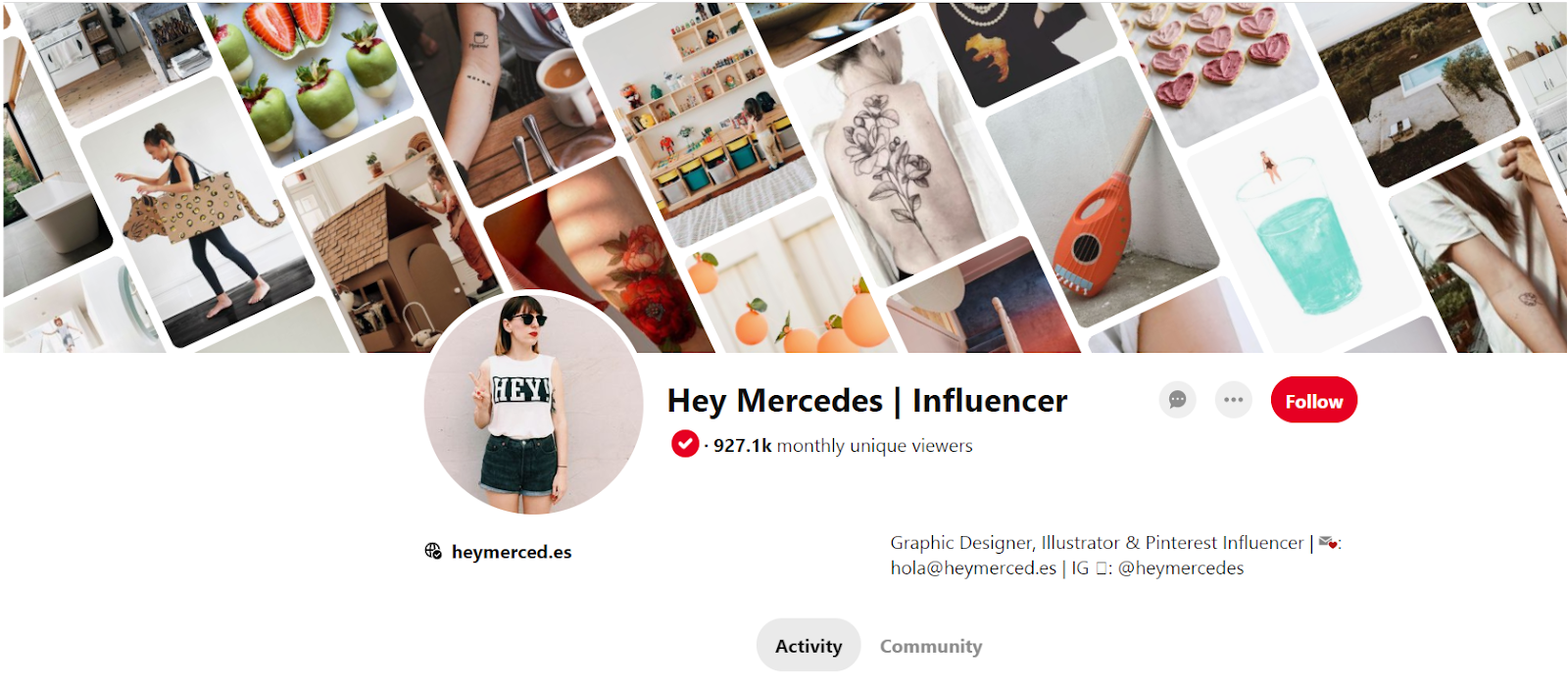 Doing Affiliate Marketing on Pinterest
What is affiliate marketing? It's a marketing arrangement in which affiliates promote a product or a service and drive traffic to an advertiser's website. They get paid if a visitor that is redirected from their website fulfills a desired action on the advertiser's website. It's really easy to get started, even without a website.
Affiliate marketing is one of the most lucrative strategies on Pinterest. Making money with pins is easy because its audience is rather wealthy, and people often come to the platform to discover new products and make purchase decisions.
To monetize your traffic, join Travelpayouts and earn on flight tickets, hotels, car rental, and other travel services.
Another factor that makes affiliate marketing a breeze on Pinterest is its in-built shopping feature, allowing affiliates to drive traffic to merchants' websites without any hassle.
Many people are not sure how to make money on Pinterest with affiliate marketing. This video shares the best practices of promoting affiliate links on Pinterest and other social media platforms.
Watch the replay of the webinar with Somto Ugwueze, an experienced blogger and educator, to learn how to create a successful Pinterest strategy:
8 Actionable Pinterest Affiliate Marketing Tips
Be honest with your audience. Promote only the products or services you can vouch for, and that you'd use yourself.
Add affiliate links directly to your pins.
Drive traffic from Pinterest to your landing page with affiliate links.
Don't just pin product images on your board. Make it clear to your audience which pain points they can solve with these products.
Always disclose affiliate links to avoid getting into legal trouble.
Create attention-grabbing pins.
Make affiliate links easy-to-notice.
Prioritize quality over quantity and don't spam your audience with irrelevant, poor-quality pins.
How to Make Your Pinterest Venture More Effective?
Map out your Pinterest strategy and stick to it.
Create top-quality vertical images that garner attention and entice clicks.
Make sure all the content you pin showcases your brand.
Write detailed descriptions with seamlessly embedded keywords.
Embed your logo into every pin, but make it unobtrusive.
Use text overlays to get your message across.
Focus on storytelling.
Confirm your website. It will give your pins a chance to rank higher.
Embed Pinterest share buttons on your website.
Take advantage of Rich Pins.
Pin consistently during the best times for pinning (according to Coschedule):
Daily: Between 1-3 p.m., 2-4 a.m. and p.m., 8-11 p.m.
Fridays: 3 p.m.
Saturdays: 8-11 p.m.
Remember to combine tactics to boost organic reach and paid promotion.
Advertising on Pinterest
Paid advertising can get your Pinterest business to the next level, no matter what niche you're in. It can also give you more exposure, boost traffic influx to your website, drive more sales, etc.
Types of Paid Ads on Pinterest
There are different types of advertisements on the platform.
Promoted Pins. This is the basic ad type with a single feature image. These pins look like regular pins and don't differ from them apart from the "promote" label. They can be shared, pinned and commented on.
Promoted video pins. This ad type allows you to choose from different video lengths and formats. They appear in the home feed, search results and the "more like this" section. Video pins are perfect for telling a brand's story or garnering people's attention.
Promoted carousel ads can contain up to five images. This helps marketers create a better round-up of a product's qualities.
Promoted ads pins make it possible to download a mobile app directly from Pinterest. This can boost the number of installs considerably.
Buyable pins (or Shop the Look pins) are created to make the shopping process hassle-free. This ad type is perfect for images showing several products.
How to Set up a Pinterest Ad Campaign
Create a business account or convert your existing account into one.
Create an ad.
Choose your campaign objectives, for example, brand awareness, traffic, conversions, App installs, etc.
Name your campaign and set daily and lifetime spend limits. You can also pause your campaign if you are not going to launch it immediately.
Name an ad group.
Choose your target audience. You can select topics related to your brand to reach people interested in them.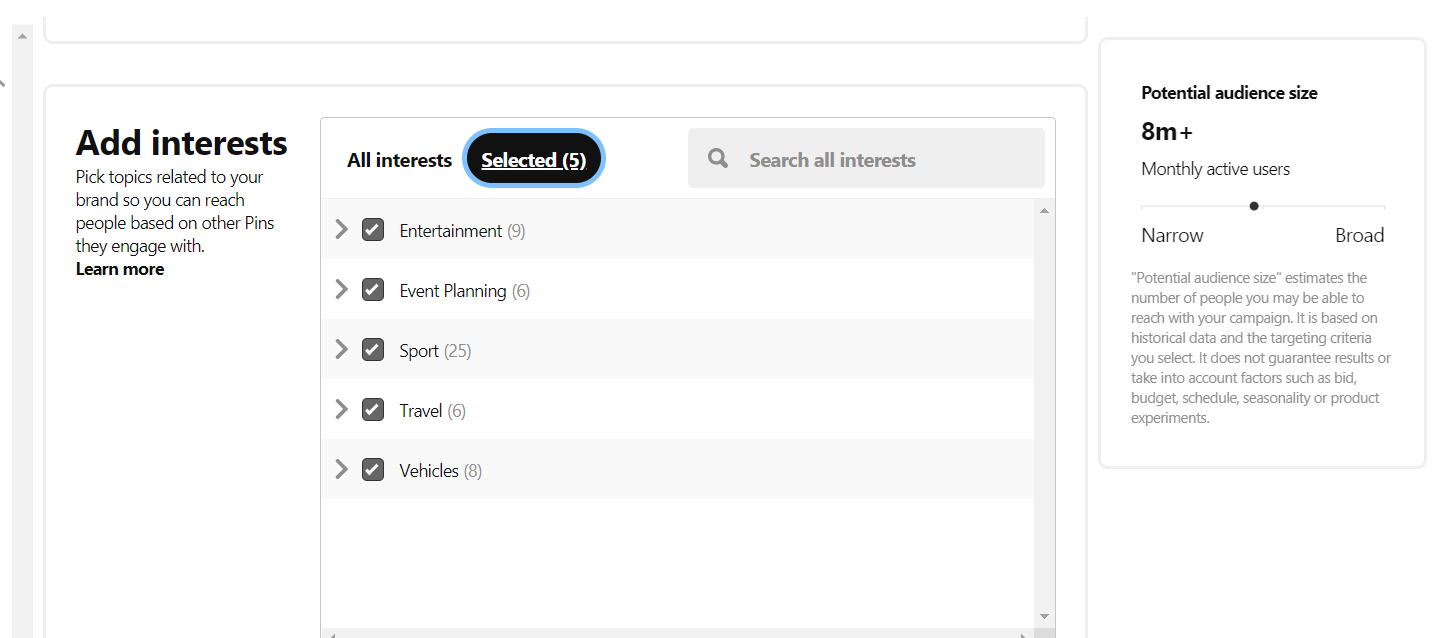 Pick at least 25 keywords relevant to your ad campaign and niche. You can search for related keywords.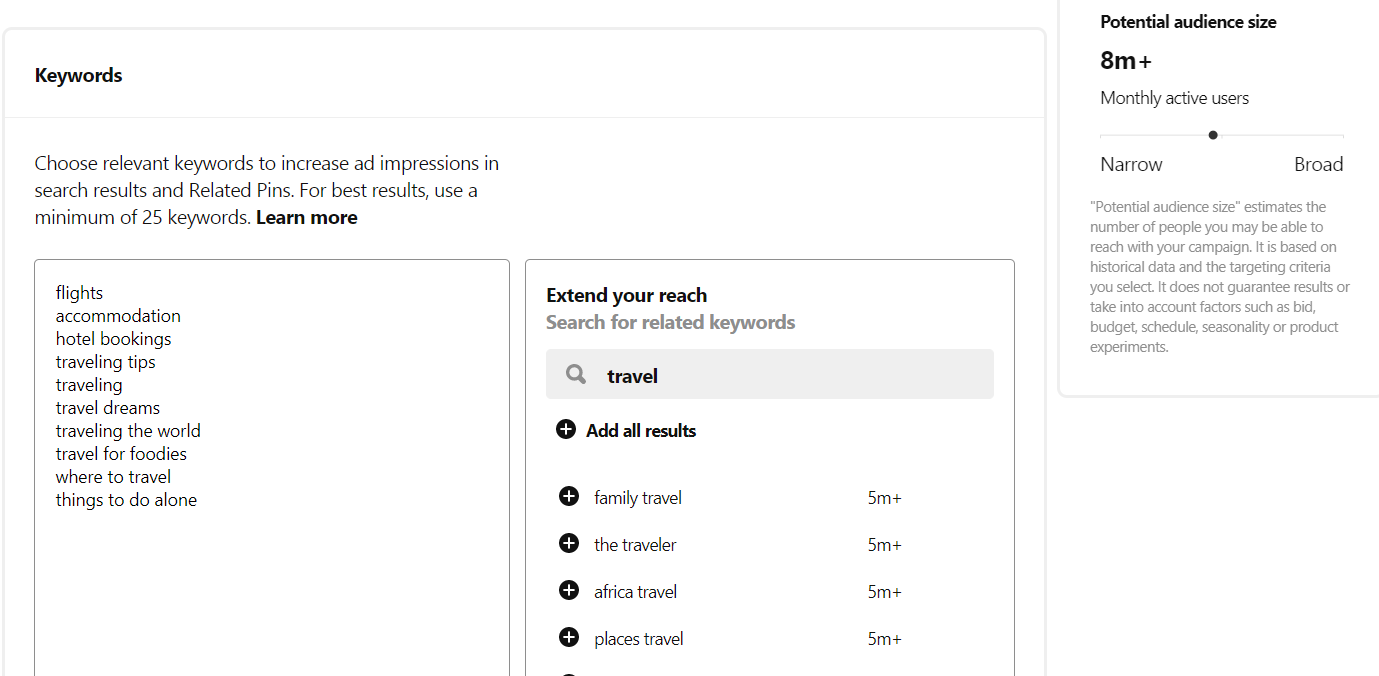 Specify your audience demographics, including ages, genders, locations, languages and devices of your audience.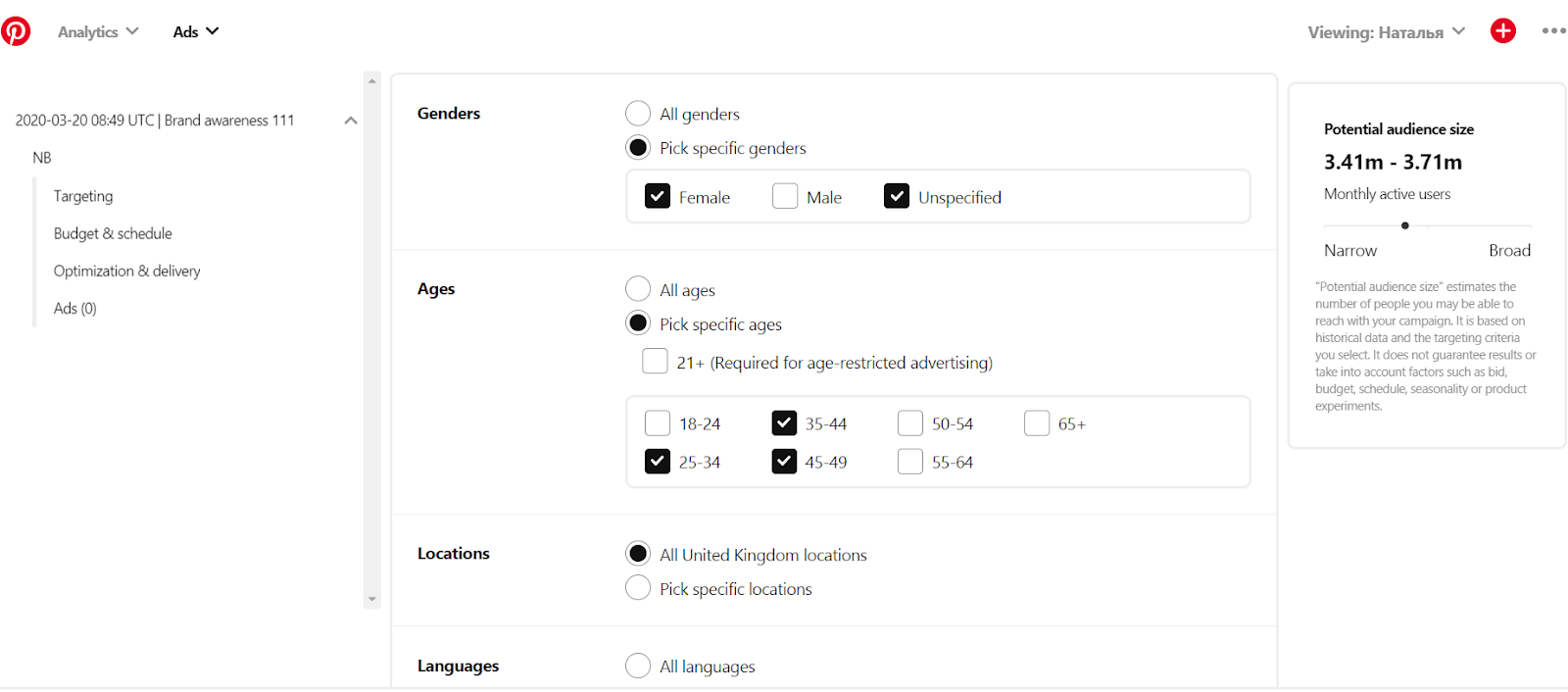 Decide on your ad's placement. Think about whether you want it displayed in search results, when they browse or both.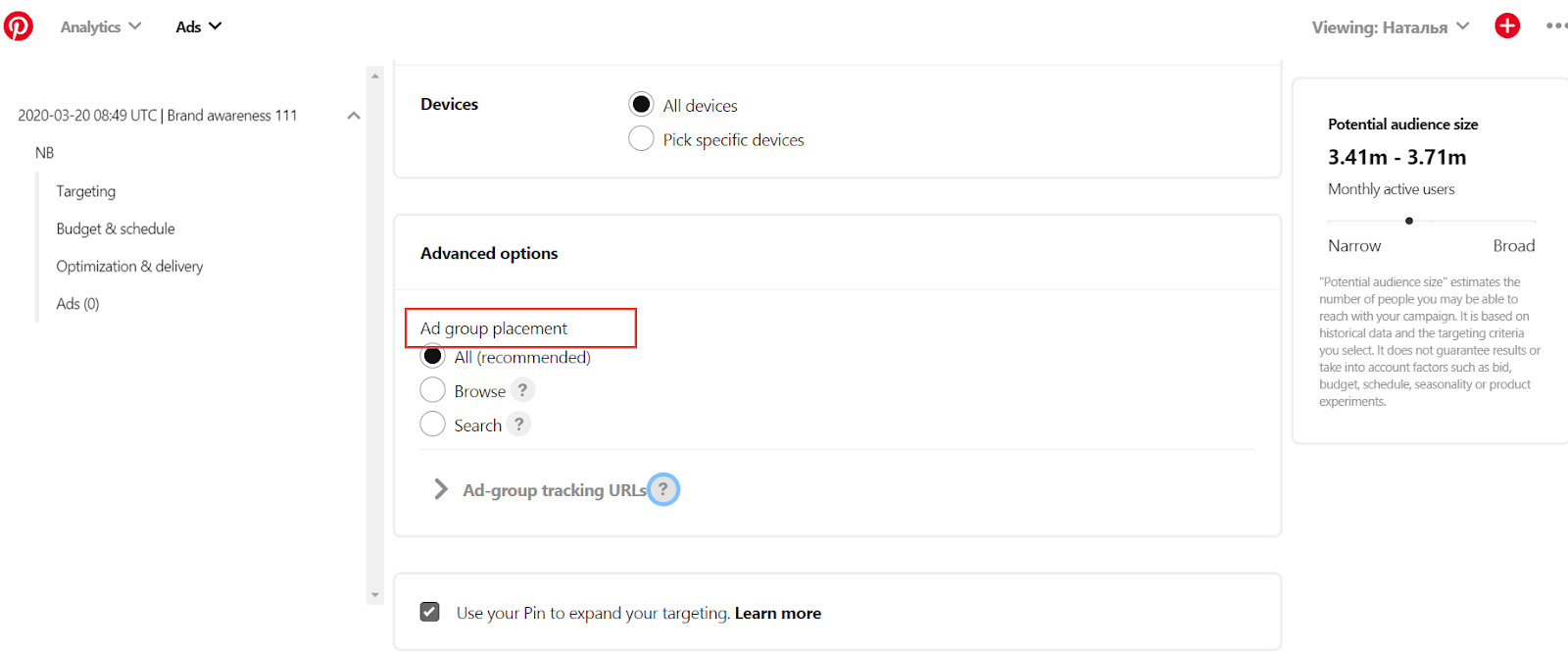 Set your campaign budget (either daily or lifetime), start and end dates.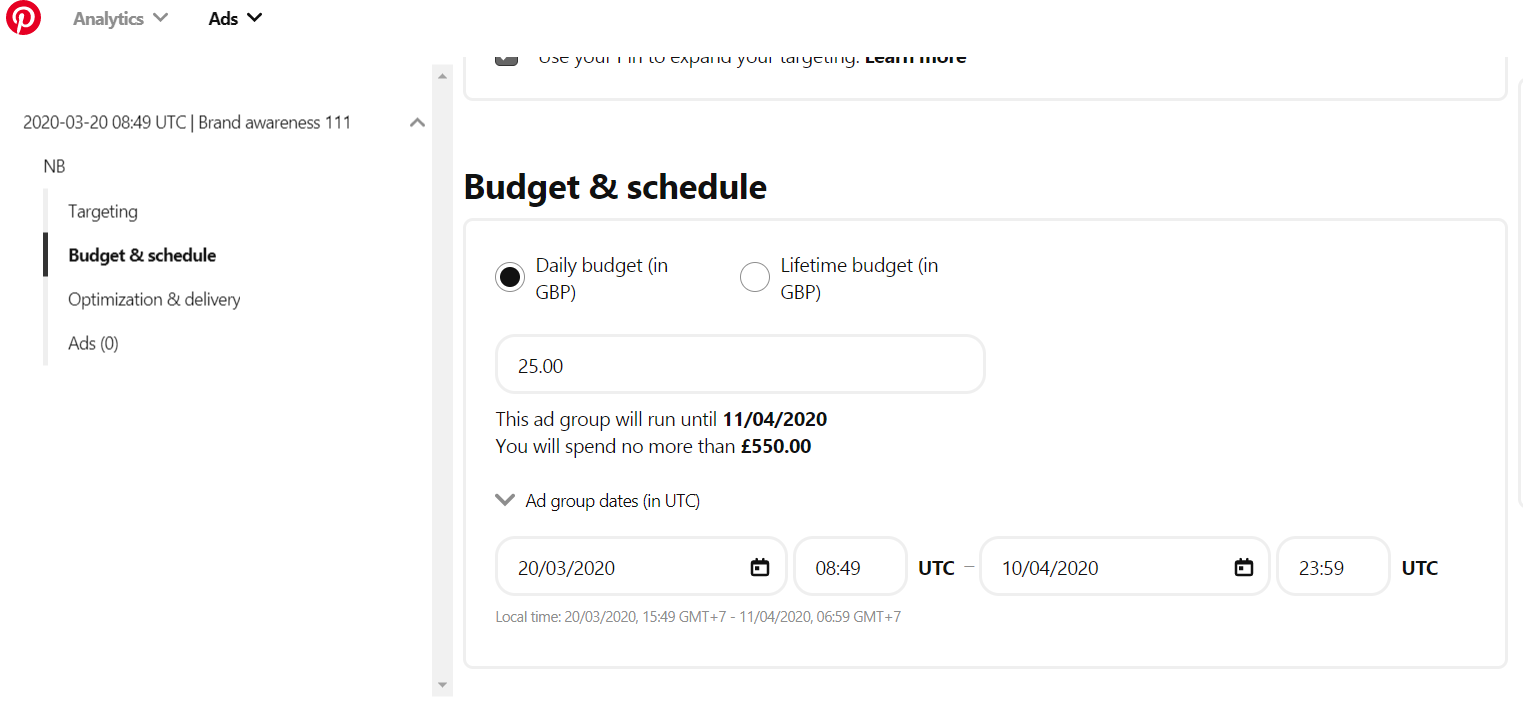 Set an ad group frequency target, monthly frequency cap, target CPM rate and pacing.
Pick a pin to promote. When opting for one, keep in mind what resonates with your audience most.
Have another look at your ad campaign and if everything seems OK, click Launch.
Track your campaign. Click on Analytics to get information about the overall performance of your campaigns and some specific metrics, including impressions, engagement, close-ups, links clicks, etc.
Best Practices for Promoted Pins
Here are some practices which will help you make money from Pinterest with promoted pins.
Track and optimize your campaigns.
Use compelling CTAs in pin descriptions.
Target only the most relevant keywords in your promoted pins. Make sure they align with your audience, campaign goals, and what you're promoting with the pin.
Study your target audience thoroughly and make the most of the targeting options the platform offers.
Use top-quality images of the right size (which is 600 x 900 pixels).
Implement the Pinterest tag on your website to estimate how effective your campaigns are, track your audience's behavior, and define visitors to retarget.
Promote organic pins with the highest engagement rates.
Try different advertising strategies.
Make sure the URL in your pin leads directly to where you want your visitors to arrive.
Avoid using hashtags in promoted pins—they look spammy and may undermine the effectiveness of your campaign.
Tracking Pinterest Campaigns
We've already mentioned that tracking and measuring Pinterest campaigns is vital for your business and can take it to the next level. So, what analytics tools can you use to get insights about your campaigns' performance?
Pinterest provides enough data to help you understand how well you perform on the platform. It gives insights about
Your profile such as repins, top boards, top pins, clicks, close-ups
Your audience including its demographics and audience affinities
Your website analytics including impressions, saves, top pins, clicks, and original pins. To get access to these metrics, you have to claim your website on Pinterest.
Your video content
Google Analytics can be useful for benchmarking Pinterest traffic against other traffic sources.
Third-party analytics tools such as Tailwind, Viraltag, Hootsuite, Pin Pinterest, etc.
Can You Really Make Money on Pinterest?
Sure. The earning potential on the platform is enormous. However, as in every business, hitting the big time on Pinterest requires a lot of time and effort. So, implement all the tried-and-tested strategies we've shared with you and get off to a successful start on Pinterest.